With a long history of development over a thousand years, Hanoi city in Vietnam has always been the center of the nation's culture, economics, and politics, possessing various complex architecture, unique traditional values, and diverse cuisines. This capital is one of the most attractive tourist destinations in the world in general and Vietnam in particular.
- Area: 3,358.6km²
- Population 8,418,883 people (by June 2020)
- The postal - zip code: 100000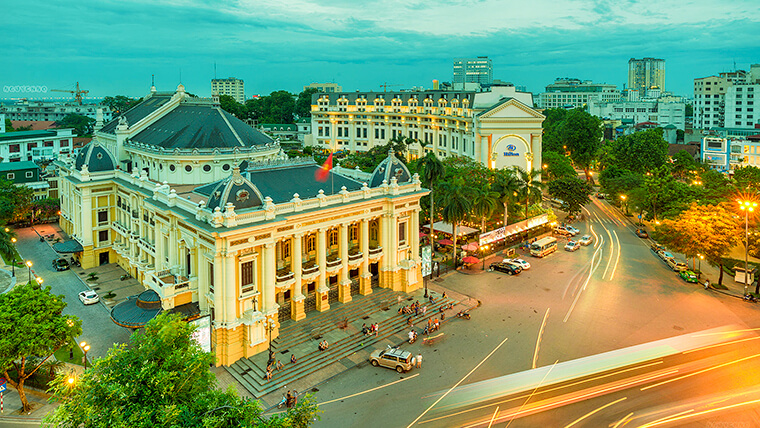 Source: hanoioldquarter
I - The thousand-year history of Hanoi Vietnam
Dubbed the city of a thousand years of civilization, it has been chosen as the capital of most of the feudal dynasties in Vietnam before. In 1010, the first King of the Ly dynasty - King Ly Thai To (907 - 1028) relocated from the ancient capital of Hoa Lu in Ninh Binh to Dai La Citadel, where he built the new capital "Thang Long" (Hanoi city nowadays). This name means "flying dragon", carrying the confidence and pride in the land the king chose to build his capital. Even the next two dynasties of Tran and Le continued to base the capital in Thang Long, though the city name was changed to the present-day Dong Kinh.
From 1831, under King Minh Mang of the Nguyen Dynasty, Thang Long changed into a province and began to bear the name Hanoi with the meaning "to lie in the river". This city was the capital of the Democratic Republic of Vietnam during the Vietnam War and then continued to be the capital of the present Socialist Republic of Vietnam. Finally, in 1976, it was approved by the National Assembly to officially become the capital of the Socialist Republic of Vietnam.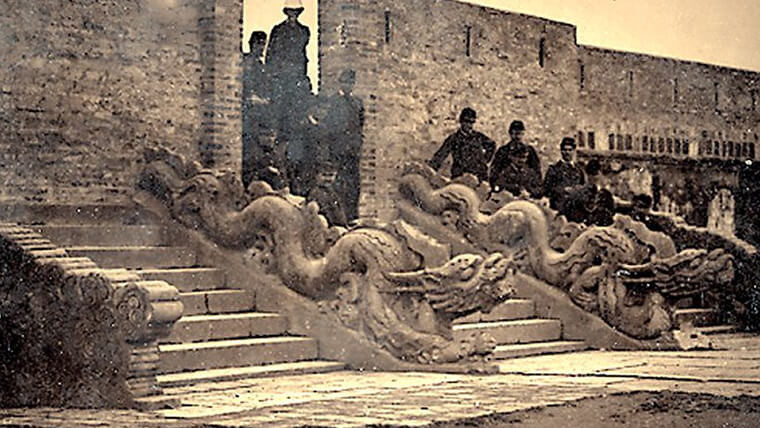 Top pictures of Hanoi Imperial Citadel - Source: Nguoikesu
Having a favorable geographical position in the Northern Delta, this capital city of Vietnam has always been a major economic and cultural center of the country, deeply associated with the ups and downs of this S-shaped country. This ancient city had been established and developed for a long time, through several dynasties and important events, nurturing numerous remarkable talents. All of that has contributed to the formation of a typical ancient and modern Hanoi City as it is today, having become a city with great tourism potential.
II - Interesting facts about Hanoi Vietnam
1 - The crazy traffic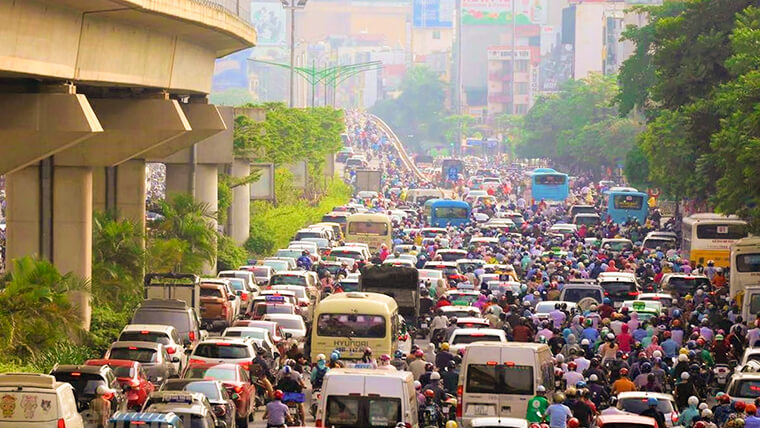 Hanoi traffic jam - Source: vietnamplus
The city's streets are often congested due to overloaded number of transportation in Hanoi compared to incomplete urban infrastructure, poorly designed city roads, construction zones in the middle of the streets,... On the streets of Hanoi city center, sidewalks are mostly occupied by shops, causing pedestrians to walk in the roadway, while motorcyclists often go on the sidewalk whenever there is a traffic jam to go "faster". All of these lead to jostling, chaos, and disorganization. In addition, the number of vehicles participating in traffic is too large, most of which are personal vehicles such as motorbikes, accounting for 86% of the number of vehicles participating in Hanoi capital city with about 5,761,436 units.
Therefore, walking seems to be the safest way to join traffic, but the danger is always lurking, especially when crossing the road here. Even if you follow the right crosswalk for pedestrians, don't be too confident because unless the light is red, other traffic will not give way to you. From our Hanoi travel guide, you should always remember to watch the traffic and cross the road decisively, don't go "wondering" (take 1, 2 steps then back away) and make it difficult for vehicles to predict you. In general, crossing the road in Vietnam is still quite arbitrary and based on feelings, experience, and sometimes fate. It is more convenient when both directions are empty, you can quickly cross the road, but when it's crowded, go slowly because you can't go fast even if you wanted to.
2 - Ho Chi Minh Mausoleum in Hanoi - where Vietnam late president's body is preserved
On September 2 in 1969, President Ho Chi Minh - an outstanding leader of Vietnam, and a cultural celebrity of mankind - passed away, leaving boundless grief for the whole of Vietnam. Following the earnest aspiration of the public, the Politburo of the Party Central Committee decided to preserve President Ho's body and build his Tomb in the center of Ba Dinh Square. As one of the most prominent places that you cannot miss when traveling to Hanoi, Ho Chi Minh Mausoleum is located in the complex including Ba Dinh square, Presidential Palace, stilt house...
Inaugurated on August 29, 1975, Ho Chi Minh Mausoleum consists of 3 layers with the middle one being the central structure, including the body preservation room, corridors, and stairs. The outside of the building is covered with gray granite, the inside is made of polished gray and red stone, surrounded by square granite pillars and the top layer is a triangular roof.
- Address: No.2 Hung Vuong Street, Dien Ban Ward, Ba Dinh District
- Ticket price: 25,000 VND / person ($1.1)
3 - Street vendors - the idyllic beauty of Hanoi Vietnam
For a long time, the small street vendors on the sidewalks have become a dear and unique culture of this city attached to the minds of many people. Just walk a few steps to the beginning of the street, you will encounter all kinds of vendors selling from flowers, fruits, to food and drinks. Anything that can be moved is flexibly arranged by the sellers in a small bamboo frame or baskets to easily reach many places and sell more goods.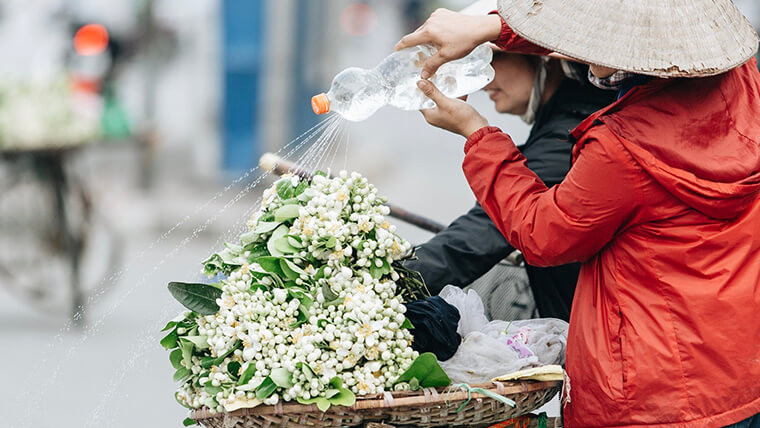 A street vendor - top images of Hanoi - Kenh 14
Many people also choose bicycles as a means of support for street vendors, to be able to go around every alley, every road. Stopping by these vendors, you can find all kinds of snacks, including rolls, pho, sticky rice, donuts,… as well as fruits such as plums, lychees, apples, longans, and so on, forming the sidewalk eating culture of Hanoi. Each dish of street vendors is simple but still carries the unique culinary taste of each region, which you can freely choose depending on your preferences. Traveling there, eating in sidewalk vendors is an interesting experience that you must try at least once in your life.
4 - Various buildings with French architecture in Hanoi Vietnam
French architectural works appeared in this city first from 1803 when King Gia Long rebuilt the Hanoi Citadel under the direction of French engineers. Especially since 1875, more and more works were built by the French, in order to turn this city into the capital of Indochina, including the Hanoi Opera House, Long Bien Bridge, Hanoi Post Office, and so on. The blend of Vietnamese traditions and French classics has created a distinct architectural feature for Hanoi city Vietnam.
As one of the largest ancient performance instructions in Southeast Asia, Hanoi Opera House is a work similar to theaters in Europe in the early twentieth century, with Italian-made marble floors, French murals on the ceiling, and bronze chandeliers. Meanwhile, located in Hang Trong Ward, Hoan Kiem District, St. Joseph's Cathedral is one of the religious attractions not to be missed when traveling to Hanoi capital of Vietnam. Built-in 1887 according to the model of churches in French with typical Gothic architecture, the inside of Hanoi St. Joseph's Cathedral is designed with high colorful glass windows and high domes, surrounded by paintings of Jesus Christ. Other typical French architectures here that still exist today can be mentioned are Dong Xuan Market, Presidential Palace, Sofitel Legend Metropole Hotel, and so on.
5 - "Sidewalk culture" - an outstanding of Hanoi culture
In this ancient capital, the sidewalk is a business space, an open living space, and an art space, where people of all classes, regions, ages, and genders interact, eat, and trade. This idyllic culture is a unique feature of this city, living strongly in the heart of the city, attracting a lot of people. Visiting Hanoi Vietnam, you can easily find small shops with a few plastic chairs and small tables scattered on the sidewalks, selling everything from drinks, delicacies to traditional crafts. It is also not difficult for you to catch sight of the "extravagant" life presented by Hanoians right on the sidewalks, with images of old women combing their hair on doorsteps, shirtless men playing chess, yells echoing from street to street.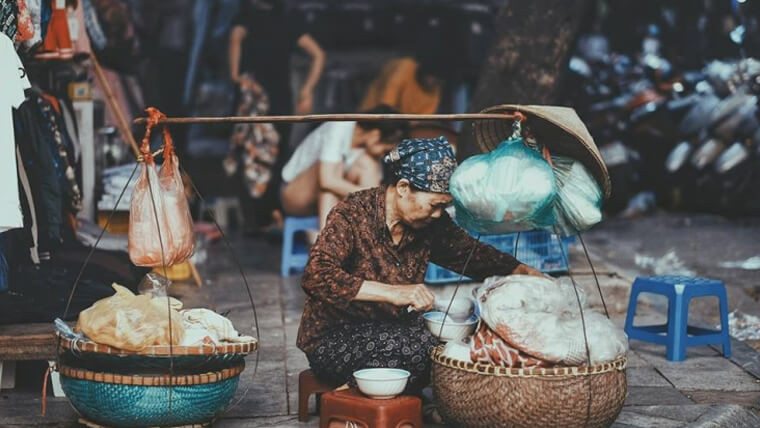 Sidewalk culture is a factor that makes Hanoi tourism unique - Source: Vietsnack
The sidewalk culture of this city has become an indispensable part of life here, everyone accepts its presence as a hobby to entertain after a stressful day. However, in recent years, it has heavily affected the traffic and appearance of the Capital, resulting in the government trying to control the scale as well as finding a new direction - both solving the problems and maintaining this unique sidewalk culture of Hanoi capital.
6 - Hanoi Old Quarter with tiny houses and unique street names
Also known to Vietnamese as "36 Streets", this is a long-standing area of Vietnam's capital city located in Hoan Kiem District, outside the Imperial Citadel of Thang Long, west and north of Hoan Kiem Lake, each street focusing on selling a different type of item. With ancient houses and streets imbued with historical memories, the Old Quarter is one of the attractive destinations you should not miss when traveling to Hanoi Vietnam and where you will have the opportunity to learn about the culture and lives of the locals, as well as enjoy many delicious dishes and countless other interesting things.
The most famous feature of the Old Quarter is the craft streets with people from the villages around the old Thang Long gathering here, focusing on each area specializing in their craft. The most famous feature of the Old Quarter is the atypical craft streets where in the past famous craftsmen of and around Hanoi city gathered here, each area specializing in different products which then became the street names, with the word "Hang" (meaning "product/the") in front. Some famous streets of Hanoi Old Quarter include Hang Bong street specializing in quilts, blankets, and cushions, Hang Bac street with gold and silver jewelry, Hang Buom street selling sweets and jams, and Ma May street specializing in travel and tourism services.
Another feature of the Old Quarter as well as outstanding Hanoi highlights is the architecture of small old brick houses mainly built in the 18th - 19th centuries, mostly tube-style with slanted tile roofs. During the war, many houses were chiseled through, making it possible to go from one end of the street to the other without having to go down the street. From the end of the 20th century, the old houses in Hanoi were gradually replaced by new tube houses, breaking the inherent landscape of the old town. As one of the remaining old houses in the Hanoi Old Quarter, the house at No.87 Ma May street is a must-see attraction that recreates the living space and lifestyle of the old Hanoians. The entrance ticket price is 10,000 VND / person ($0.44).
7 - Hanoi Vietnam is known as the "city of lakes"
Green trees, beautiful lakes, and peaceful space are other features of this ancient city, besides the unique architecture and likable people. This city has many different lakes, most of which are natural, formed through tens of thousands of years of geological fluctuations of the Red River. Some famous lakes in Hanoi capital city can be mentioned such as Hoan Kiem, Thu Le, West Lake, Ngoc Khanh, Nghia Do, Truc Bach, etc.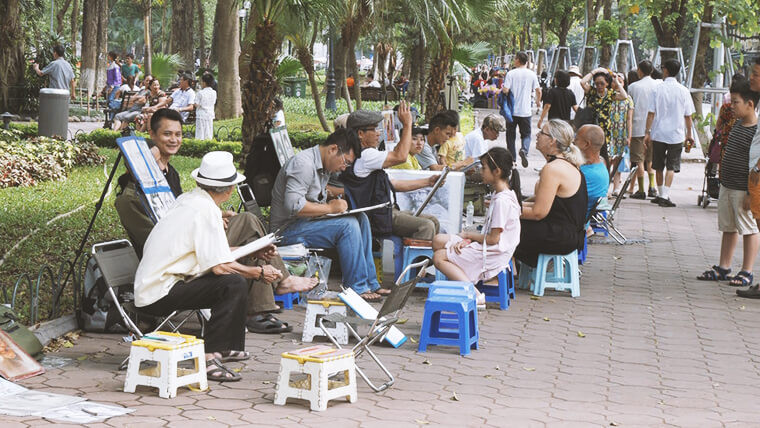 Source: Acoupleofdestinations
Located in the center of the capital, Hoan Kiem Lake is deeply associated with the lives and history of the people, a sacred symbol of the thousand-year-old capital of Hanoi. With an area of ​​about 12 hectares, the lake has deep green water in four seasons and a great number of lustful trees around, adding to the ancient look of the city. You can visit Ngoc Son Temple and Turtle Tower, as well as other tourist attractions nearby in the Hanoi Old Quarter area.
Long a famous scenic spot of Hanoi city, West Lake belongs to Tay Ho District with a width of up to 500 hectares, which can be considered as the largest lake within the inner city. Around the lake, there are also many famous spiritual tourist attractions such as Tran Quoc pagoda, Tay Ho palace,... and entertainment areas such as West Lake water park, flower valley, and so on.
8 - Hanoi capital is a hub of Vietnamese cuisine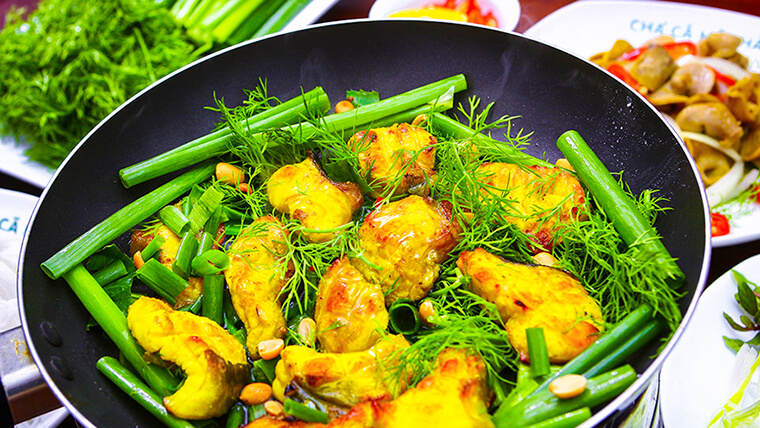 Hanoi grilled fish with dill & green onion - Source: halotravel
Considered the center of Vietnamese cuisine, this city is a point of convergence with the characteristics of Vietnamese culinary, still containing the culture, ingenuity, and sophistication of Hanoians. Visiting Hanoi Vietnam, you can easily enjoy the local specialties, ranging from pho, spring rolls, West lake shrimp cakes, La Vong fermented fried fish with dill (Cha ca La Vong), Hanoi egg coffee, west lake lotus tea,... But there is also a wide range of dishes from other regions from mountainous dishes such as wild bee pupae, Muong pork,... central dishes such as Hue beef noodle soup, Cao Lau,... to Saigon dishes such as Hu Tieu,… Absorbing culinary features of many different cuisines, the cuisine of Vietnam Hanoi city still keeps its own sophistication and uniqueness, making it even more special.
A specialty not to be missed is Com Lang Vong - Vietnamese young green rice, which carries the beauty and sophistication of the local cuisine. As a special gift in all the gifts of the capital, making Com consists of many complicated stages, requiring special attention from the makers. In addition, when it comes to the cuisine of Hanoi, it is impossible not to mention "bun cha" with fragrant and golden brown pieces of grilled meat, both crispy and chewy. White vermicelli, sweet and sour sauce, fresh vegetables, and rich flavored grilled meat will make you remember this dish forever.
With a rich history, culture and cuisine, Hanoi city is definitely a must-visit destination in Vietnam. Take some trips to Hanoi Vietnam, you should not miss out spending time strolling around and immersing yourself in the small streets to feel the vibe of the city.