Located to the northwest of the Red River Delta, Hanoi capital of Vietnam, consists of a central plain and mountainous areas. After many changes in terrain as well as regulations, this city currently has a total area of 3,358km2, divided into 30 district-level administrative units. Each district in Hanoi has different features, contributing to the city in many aspects from tourism, culture, to cuisine, and so on. Here below are top most well-known districts in Hanoi (central & rural areas) with some hightlights of geography, history, and tourism.
I - Top 8 central districts in Hanoi
1 - Hoan Kiem District - hub of tourism with lots of ancient-style works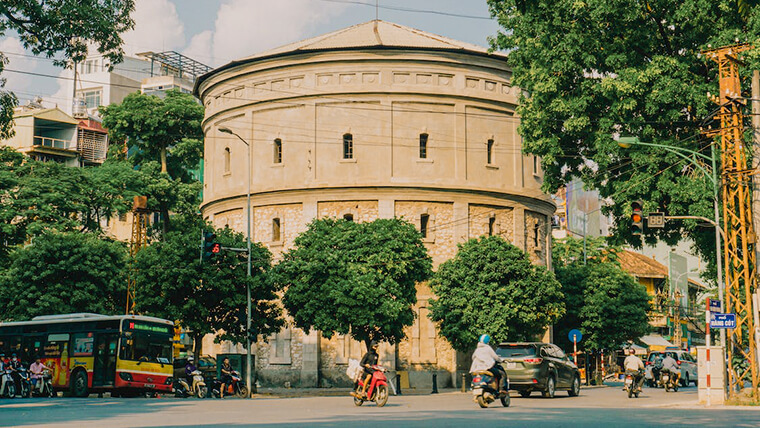 Hoan Kiem District - Source: Anh Tuan
Although small, this district is the political - administrative - commercial - service center of Hanoi, often chosen as the place where important events take place. That is why you can easily find in this district many motels, hotels, restaurants, eateries, and so on, from low-cost to professional and high-end.
In Hoan Kiem District of Hanoi, there are countless interesting attractions associated with the country's thousand-year history such as Hoan Kiem Lake, Hanoi Opera House, Hanoi Post Office, Ly Thai To Monument, Hoa Lo Prison,... and especially the Hanoi Old Quarter.
- Postal code: 111000
- Area: 5.29km2
2 - Tay Ho District - one of the most scenic & quietest districts in Hanoi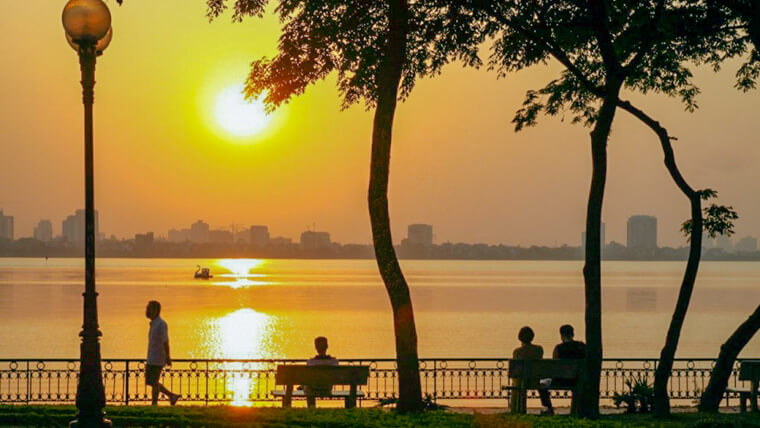 Tay Ho District - Source: yeahtravel
Located in the north of Hanoi's inner city, Tay Ho district is identified as a service - tourism - culture center, this place is also a natural landscape reserve of the capital. Tay Ho district is home to many long-standing traditional craft villages such as Yen Thai dó paper, Yen Phu incense, Nghi Tam kumquat, Nhat Tan peach, Tay Ho lotus tea, etc. There are also various valuable historical sites, including 71 relics, of which 40 have been ranked, and many of them have become famous tourist attractions in Hanoi.
In addition to Tran Quoc pagoda, and Kim Lien pagoda, you can also visit Tay Ho Palace, the worshiping place of the famous and sacred Mother Lieu Hanh. Not only having a rich cultural and historical tradition, Tay Ho District of Hanoi also owns many beautiful ecological landscapes such as West Lake, Truc Bach Lake, Red River Rock Beach, lotus ponds in Nhat Tan, and Quang Ba wards…
- Postal code: 124000
- Area: 24km2
3 - Ba Dinh District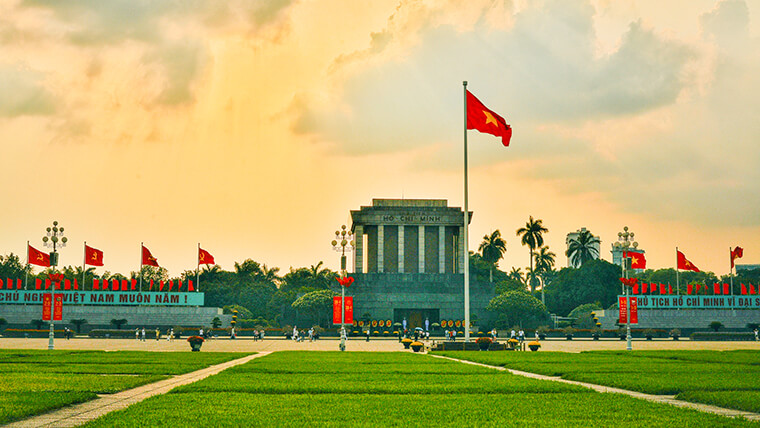 Ba Dinh district - Source: Tú Phạm
As one of the four most central troops & political-center districts in Hanoi, this is the place where many important agencies of the Party and State of Vietnam in general and the capital in particular gather. It has many places associated with the history of Vietnam, especially the relic area of ​​Ba Dinh Square, Presidential Palace, Ho Chi Minh Mausoleum, Thang Long Imperial Citadel, One Pillar Pagoda,... Within the district, there are also 3 worth-visiting museums, respectively the Ho Chi Minh Museum, the Military Museum, the Fine Arts Museum, and many other tourist spots such as Quan Thanh Temple, Thu Le Park, Botanical Garden,... There is also Kim Ma Bus Station here, which is very convenient for traveling.
- Postal code: 118000
- Area: ​​9.21km2
4 - Hai Ba Trung District
Hai Ba Trung is one of top most modern & densely populated districts in Hanoi. Located in the southeast of Hanoi, the district is named after the first two heroines in the history of the nation against foreign invaders - the Trung sisters. This Hanoi district attracts tourists with 2 large parks, namely Thong Nhat Park with tranquil Bay Mau Lake, and a modern Tuoi Tre Park with a variety of fun activities. You can also visit the Times City Aquarium, admire the underwater tunnel and see unique, hard-to-find sharks and stingrays.
Besides that, there are 91 historical, cultural and revolutionary relics, of which 33 have been ranked in this district. Some famous spots can be mentioned such as Huong Tuyet and Lien Phai Pagodas, Hai Ba Trung Temple, Revolutionary Monument 152 Bach Mai, Hoang Van Thu Memorial Area,… You can also find here countless restaurants and eateries selling a variety of foods, and numerous shopping destinations, ranging from local fashion stores to traditional markets.
- Postal code: 113000
- Area: 10.26km2
5 - Dong Da District - top modern & busy districts in Hanoi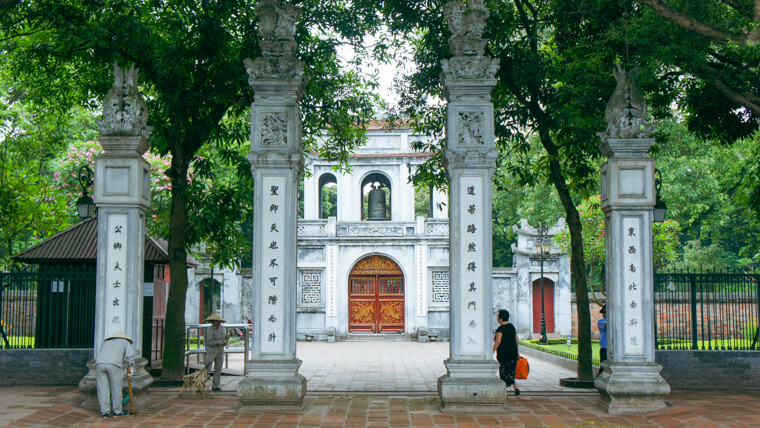 The Temple of Literature - Source: disanxanh
Located to the southwest of Hanoi city, Dong Da district in Hanoi is home to many state-owned manufacturing enterprises and especially large university systems such as Foreign Trade University, Banking Academy, Hanoi Medical University or Law University. You can also find here many relics of high value, typically the Temple of Literature relic site, which was honored as the first university in Vietnam. Within the district, there are more than a dozen lakes of different sizes, suitable for walking around, relaxing and boating such as Ba Mau Lake, Dac Di Lake, Linh Quang Lake,...
- Postal code: 115000
- Area: 9.95km2
6 - Thanh Xuan District
This is one of the most famous urban districts in Hanoi Vietnam, marked by many old and new buildings, remarkable malls & complexes. The formation of residential communities in the district has spanned many centuries, creating a rich system of communal houses and customs of worshiping Area God. There are also many historical sites associated with the war against foreign invaders, as well as precious relics such as ordination, epitaph, ancient bells, and so on. If you are looking for a more modern destination, then a great choice is Hanoi Royal City - a massive commercial and entertainment complex in Hanoi.
- Postal code: 114000
- Area: 9.11 km2
7 - Cau Giay District - one of the most populated districts in Hanoi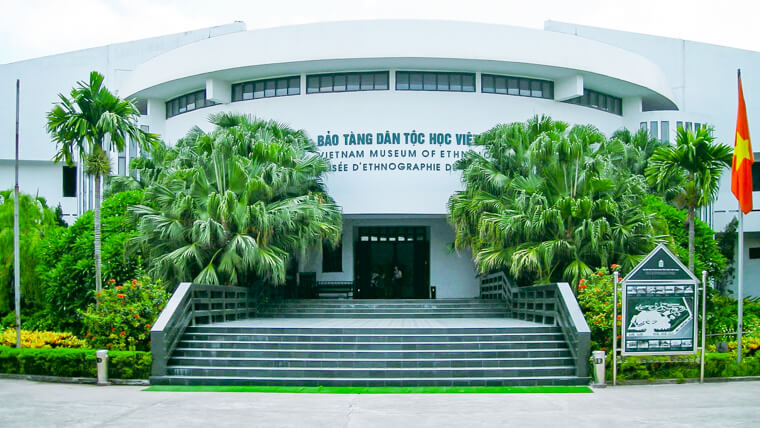 Vietnam Museum of Ethnology - Source: thuviencuocsong
Located to the west of Hanoi city center, Cau Giay district is an ancient land that has long held a strategic position for Thang Long citadel, concentrating many historical sites like the temple of General Tran Cong Tich, Du An, and Ha pagodas,... In addition to these cultural and revolutionary relics, there are various traditional craft villages, the most famous of which is Vong village with green sticky rice.
Cau Giay park, Nghia Do park, Vietnam Museum of Ethnology,... are the most outstanding attractions in Cau Giay District. This Hanoi District is on the rise to become one of the lifeblood districts in Hanoi, especially in terms of modern service industries including finance, informatics, banking, and telecommunications. The system of markets, supermarkets, entertainment, and commercial centers, restaurants, and hotels is growing up more and more.
- Postal code: 122000
- Area: 12.44km2
8 - Hoang Mai District
Hoang Mai district is home to many spiritual sites such as Tu Ky Pagoda, Phap Van Pagoda, Nam Du Church, Gan Hoang Liet Temple, and so on. It also has a great speed of urbanization and infrastructure construction among the districts of the capital, with a series of urban areas, bus routes, bus stations (Giap Bat Bus Station, Nuoc Ngam Bus Station) outdoor playgrounds such as Yen So park, etc.
- Postal code: 128100
- Area: 41.04km2
II - Overview of 22 suburban districts in Hanoi
1 - Long Bien District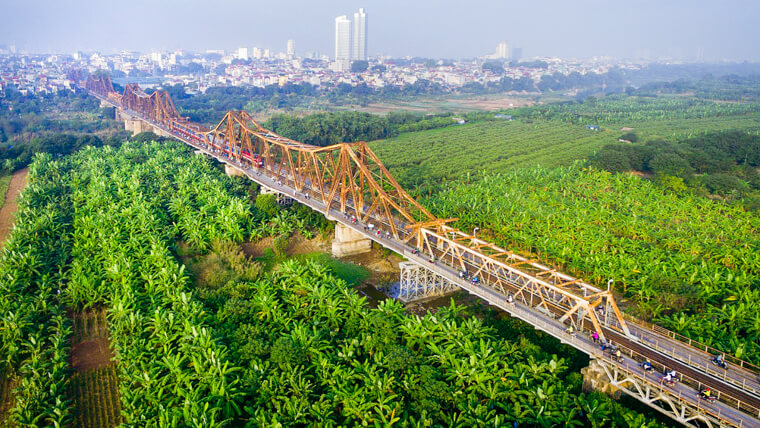 Long Bien bridge - Source: hanoimoi
Located on the left bank of the Red River, this is the largest urban district in Hanoi. Prominent in the rapid urbanization speed in recent years, Long Bien has a very important strategic position in terms of politics, economy, culture, and society. In this district, there are important traffic routes such as railways, roads, waterways, and airways connecting with other provinces, like Gia Lam airport or Gia Lam station for example.
In this Hanoi area, there are still many historical and cultural relics with strong patriotic traditions. These are priceless spiritual heritages that have been preserved and promoted through generations, including Phuc Xa Pagoda, or Tu Dinh Ancient Village with a long history of nearly 2,000 years. You can also find many places here to have fun, sightsee and take beautiful check-in photos such as Long Bien Flower Plateau, Rose Park, Bao Son Ecological Tourist Area,…
- Postal code: 120000
- Area: 61km2
2 - Ha Dong District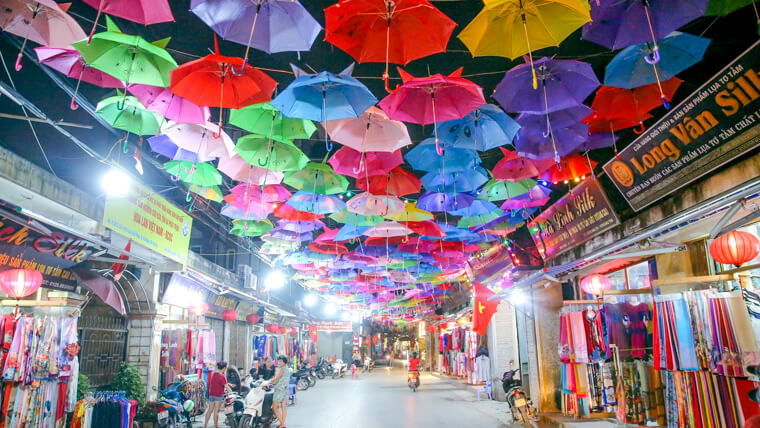 Top districts in Hanoi - Source: toquoc
Located between Nhue and Day rivers, Ha Dong district is a land rich in historical and cultural traditions. It is currently the focal point of many important traffic routes to the Northwest provinces, including the Ha Dong - Cat Linh elevated railway with huge investment.
This Hanoi district has more than 200 historical - cultural relics, including 83 ranked relics, 47 traditional festivals, and many internationally famous craft villages. Some can be mentioned such as the more-than-1000-year Van Phuc silk village, Da Sy forging village providing agricultural tools to all regions or La Khe weaving village with delicate patterned silk products. If you come to Ha Dong district, do not miss the opportunity to visit Mau Luong and Dien Khanh pagodas - works of special historical and architectural value.
- Postal code: 121000
- Area: 49.64 km2
3 - Nam Tu Liem District
Located 10km west of the city center, this is one of the important districts in Hanoi. This is home to many modern and important architectural works such as the National Convention Center, My Dinh National Stadium, Hanoi Museum, Thang Long Boulevard,…
Within the district, there are nearly 20 modern urban areas of different sizes and also 3 large parks: Me Tri, My Dinh and Phung Khoang. There is also My Dinh bus station convenient for traveling by coach or bus. Coming here to travel, you can visit Tay Mo ancient village, Tay Tuu flower village, Chem pagoda, Tam Bao pagoda,... to find a sense of peace, relax your soul in natural space, and admire the rustic scenery.
- Postal code: 130000
- Area: 32.17km2
4 - Bac Tu Liem District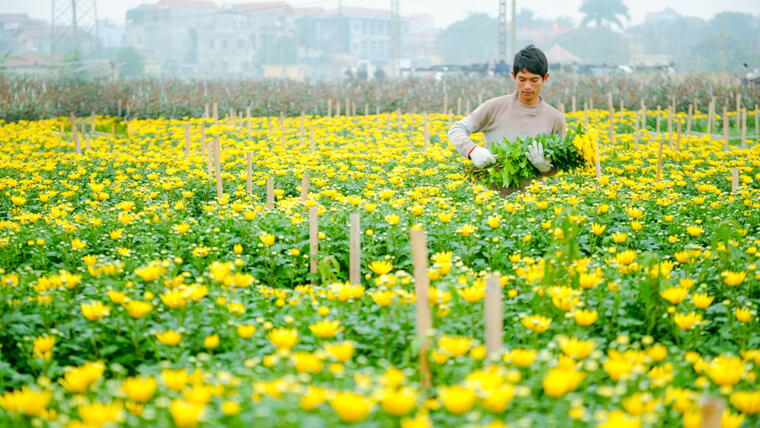 Districts in Hanoi - Source: tiin
Located right next to Nam Tu Liem district, this is the last urban district of Hanoi on this list. Bac Tu Liem district has 133 relics, of which 58 have been ranked as historical and cultural relics, 27 relics of the revolutionary resistance war, 11 relics are marked with signs. Coming here, you can visit famous architecture such as Dinh Chem, Dong Ngac, Thuong Cat, Ky Vu Pagoda, Dong Co Temple,… Relics of the revolutionary resistance are also not a bad choice, including Xuan Tao fortress, Chem missile battleground, Ho Chi Minh Kieu Mai memorial monument, and so on.
In the district, there are many outdoor entertainment places close to nature such as Tay Tuu Flower Village, Orchard Ecological Area, and especially Hoa Binh Park - one of the symbols of the capital, celebrating the occasion of UNESCO awarding the title "City for Peace".
- Postal code: 129000
- Area: ​​45.24km2
5 - Gia Lam District - top districts in Hanoi famous for its craft villages
Located to the east of the city, this rural district of Hanoi is divided into 3 main areas separated by the Red River. This is the homeland of the two immortals in Vietnamese folk beliefs, namely Saint Chu Dong Tu and Saint Giong, and the Giong festival at Phu Dong temple has been honored by UNESCO as an intangible cultural heritage of humanity in 2010.
Gia Lam district also has dozens of craft villages, developing in many industries such as ceramics, garments, food, trading, short and perennial fruit trees, mechanical engineering… Among them are Bat Trang ceramic village, which is now an important tourist spot in Hanoi, and the gold-plated Kieu Ky village, which is honored as a national intangible cultural heritage.
- Postal code: 131000
- Area: ​​117.71km2
6 - Soc Son District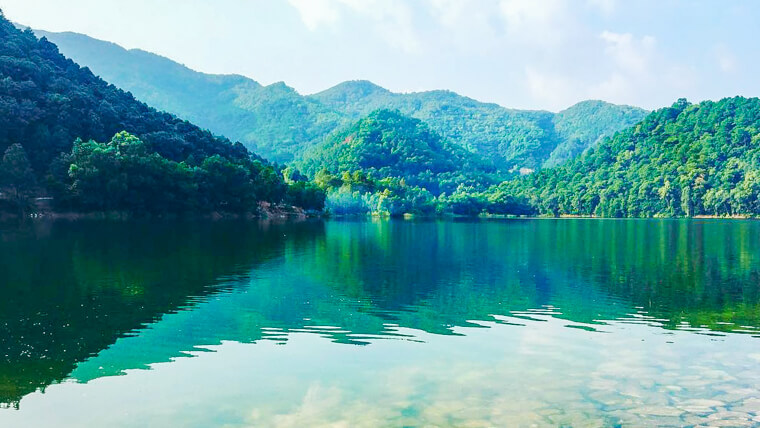 Ham Lon mountain - Source: internet
Located 25km north of the city center, Soc Son is one of the largest districts in Hanoi. This is also the place where Noi Bai International Airport is located. Coming here, you can visit Soc Son temple relic complex, one of the places to worship Saint Giong and was recognized as a national historical relic in 1962. Meanwhile, Rom village, Dong Quan lake or Ham Lon mountain are all ecological areas that many people love to visit for camping, and picnics due to the fresh air, as well as the majestic and poetic mountain scenery. Some other historical and spiritual sites that you should not miss are Non Nuoc pagoda, Thuy Huong temple, Viet Phu Thanh Chuong palace, Duc Hau pagoda…
- Postal code: 139000
- Area: 306.5 km2
7 - Dong Anh District
As a rural district in Hanoi, Dong Anh is located 15km from the city center. Within it, there are many rivers, lagoons and lakes, and various important historical sites, notably the special national relic site of Co Loa citadel. This is one of the major districts in Hanoi which has a long history, creating deep beliefs with numerous temples and shrines, which resulted in various big festivals with many interesting activities.
You can also visit Sai temple, Dong Anh cultural palace and museum, Nam Hong tunnels, Dao Thuc Water Puppet village, Co Loa studio. Meanwhile, the Co Xanh eco-tourism area in Nam Hong village is an interesting place with fresh air, beautiful scenery, and quiet space. You will have the opportunity to enjoy delicious food and participate in interesting games such as fishing around the lake, cycling, and picnic,…
- Postal code: 136000
- Area: ​​185.68km2
8 - Thanh Tri District
On the list of top famous districts in Hanoi, Thanh Tri is located 10km to the southeast of the center of the capital. This is a locality rich in historical, cultural, and revolutionary traditions, with 56 clusters of relics, monuments, and memorials ranked as revolutionary historical, cultural, and artistic relics.
Thanh Tri Hanoi District is also a land with many valuable products, coming from traditional craft villages such as Van Phuc bamboo and rattan village, Tranh Khuc chung and day cake village, Trieu Khuc weaving village, Yen Ngu chrysanthemum wine village,… You can also visit Van An school farm, Thang Long ecotourism area, and Hai Dang experience tourist area, which are all ideal places to organize picnics and events.
- Postal code: 134000
- Area: 63.17km2
9 - Me Linh District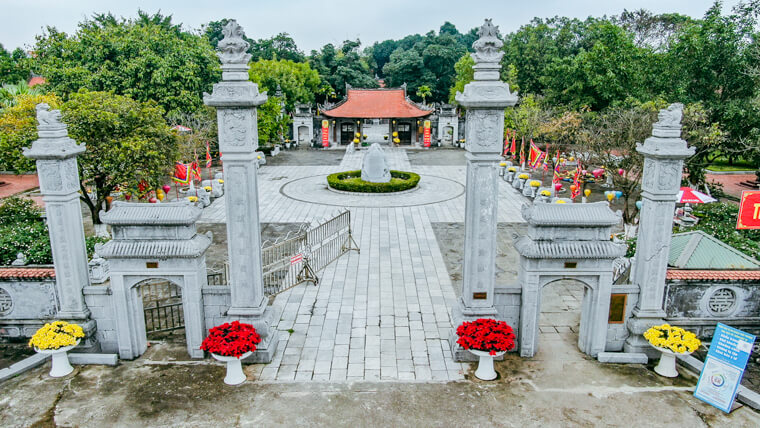 Hai Ba Trung temple festival - Source: baotintuc
Me Linh district has a total of 2 towns and 16 communes, located to the north of Hanoi city. This is one of top districts in Hanoi that boast the beauty of rich history & agriculture of the Red River civilization.
There are 179 historical and cultural relics in the district, most of which mark the glorious feast of the Trung sisters. In addition, there is an archaeological site of Thanh Den discovered in 1970, bearing historical values ​​in the pre-Hung king period (nearly 5000 years ago).
There are many craft villages in Me Linh district in Hanoi, most of which are related to cultivation and food processing such as Trung Ha spring rolls, Yen Bai wine, etc. The district's floriculture is quite famous in the region, with a brand name no less than Dalat. Coming here, you must definitely go to the flower-growing villages of Me Linh, Van Khe, or Dai Bai, immerse yourself in harmony with the flower fields, and take sparkling check-in photos.
- Postal code: 129000
- Area: ​​141.64km2
10 - Son Tay Town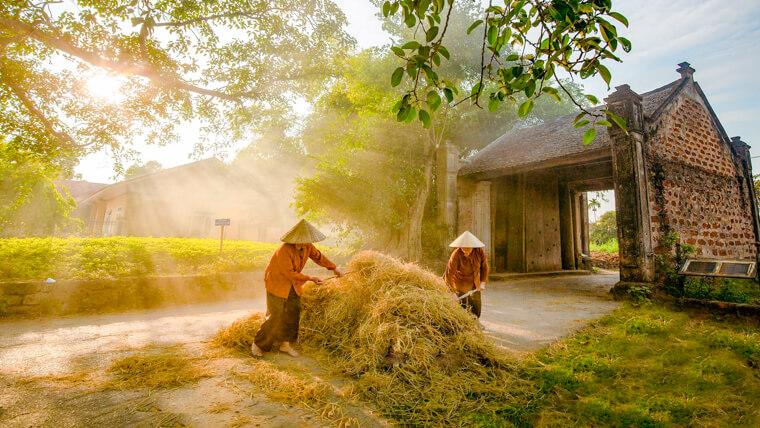 Top ancient districts in Hanoi - Source: truyenhinhthanhhoa
This is the only district of Hanoi that is actually a town but is identified at district level, with 9 wards and 6 communes. Formed on the ancient land, Son Tay has so much potential for tourism, with a unique history, convenient transportation, a culture that preserves many legends with various famous monuments and landscapes. This land currently has 193 monuments, religious works and worship facilities, relics and hundreds of ancient houses built mainly from laterite.
There are many famous monuments associated with Son Tay land and people, notably Duong Lam Ancient Village and Son Tay Ancient Citadel, which is considered the most unique laterite citadel in Vietnam. In addition, there are Va Temple, Mang Son temple, a system of monuments commemorating President Ho Chi Minh, and many other unique historical, revolutionary and cultural relics. There are also famous tourist attractions in recent years, such as the Vietnam Ethnic Culture and Tourism Village or Dong Mo tourist site, attracting countless people to relax and explore.
- Postal code: 154000
- Area: 113.5km2
11 - Ba Vi District - among the most green & largest districts in Hanoi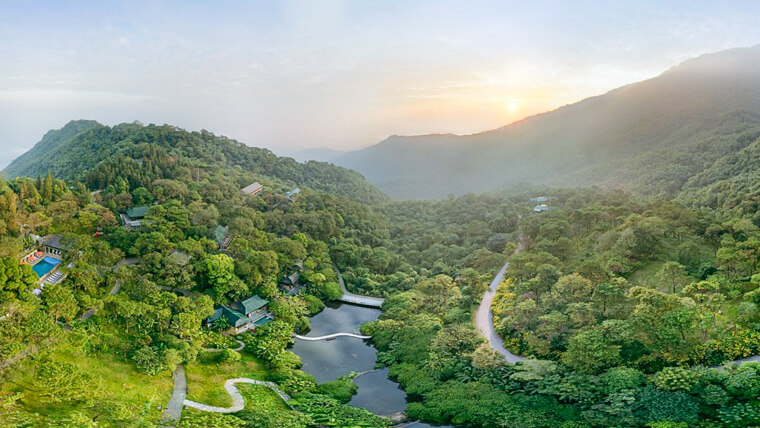 Ba Vi national park - Source: tapchikientruc
Ba Vi is a semi-mountainous district in Hanoi, located to the northwest of the city and divided into 1 town and 30 communes. The district has a mountain range of the same name, with many famous mountains such as Tan Vien peak 1281m high and Mount King 1296m high. Ba Vi mountain range and many surrounding scenic spots belong to the flora and fauna conservation area of ​​Ba Vi National Park, an ideal destination for nature lovers to explore.
In addition to visiting rare flora and fauna species and sightseeing, you can visit the Upper Temple, Uncle Ho's Temple, or the cactus greenhouse with more than 1200 species in range. Ba Vi also has many eco-tourism areas such as Khoang Xanh Suoi Tien, Ao Vua, or Thien Son - Suoi Nga, and attractive places such as Ban Xoi valley, Son Tinh Camp, Detrang Farm, etc. There are also many comfortable and modern resorts, villas and homestays, convenient for you to choose to stay.
- Postal code: 126000
- Area: 428 km2
12 - Phuc Tho District - home to a wide range of temples & shrines
Located about 35km west of the center - next to the Red and Day rivers, Phuc Tho includes the town of the same name and 2 communes, located. This is a purely agricultural district of Hanoi, with many craft villages such as Long Xuyen carpentry, Thanh Da, Hat Mon, Thuong Hiep garment, Phu An safe vegetables, …
With a long history, Phuc Tho is the place to preserve a system of rich cultural heritages and various special festivals. The whole district has 194 historical - cultural relics including: 78 pagodas, 34 temples, shrines, palaces, 21 family and catholic churches, 2 revolutionary monuments. In which, the Temple of Hat Mon worshiping Hai Ba Trung (Trung Sisters) has been ranked as a national relic since the 1960s, and the traditional festival there was also recognized as a national intangible cultural heritage in 2016.
- Postal code: 153600
- Area: ​​117km
13 - Dan Phuong District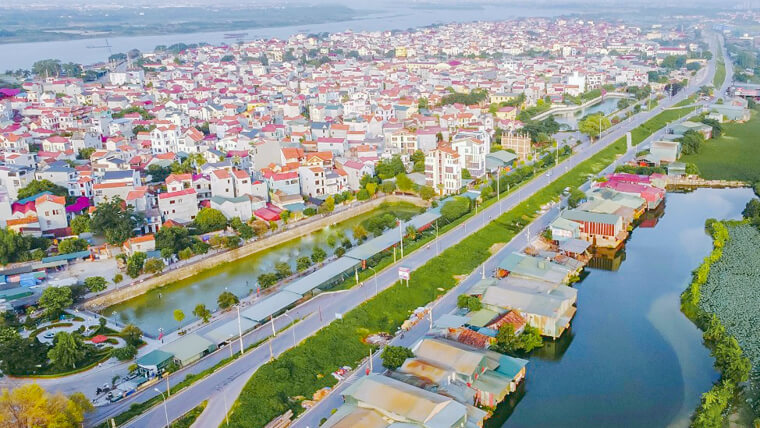 Top famous districts in Hanoi - Source: hanoimoi
Dan Phuong is a small district in Hanoi, located in the northwest of the city center, consisting of Phung town and 15 communes. This is a place with a diverse system of historical and cultural relics, with 155 cultural and historical relics, in which some have typical historical and cultural value associated with the Ly Bi uprising. There are Van Hien temple relic sites, Van Xuan communal house, Hai Giac pagoda, and relics of architectural and artistic value such as Dai Phung and Dong Khe communal houses,…
Dan Phuong district is also the place that has produced many unique folklore forms such as Ca tru Thuong Mo, Ba Giang kites flying, rice cooking at the Day festival, etc. It'd also be a big mistake not to mention Tan Hoi Cheo tau singing, a traditional art form with long origins and flourishing in the 17th - 18th centuries. In addition, you must definitely visit the Dan Phuong ecological urban area, where the natural scenery is surprisingly beautiful with green trees and brilliant flower gardens.
- Postal code: 130000
- Area: ​​77.35 km2
14 - Hoai Duc District
This suburban district of Hanoi has 1 town and 19 communes, famous for Bao Son paradise - a leading amusement park with a diverse system of services. Hoai Duc is also home to many craft villages with 12 out of 52 villages having been granted recognized certificates, most of which belong to the group of food, food and agricultural products processing.
In particular, the art of Kim Hoang paintings is considered a line of paintings no less than famous names such as Hang Trong paintings, Dong Ho paintings and Trinh village paintings. Within the district, there are also a number of monuments and attractions such as Dinh Tien Le, Giao Temple, Sau Gia Monument, Dien Phuc Temple,… There is also Ba farm - an ecotourism area where you can experience interesting activities such as harvesting fruit, catching fish or playing folk games.
- Postal code: 132000
- Area: 84.93km2
15 - Quoc Oai District
About 20km to the west of the urban districts in Hanoi, this place consists of 1 town and 20 communes, as well as 2 important routes of Lang - Hoa Lac and Ho Chi Minh roads. Quoc Oai district has convenient transportation advantages and many famous ancient monuments, attracting tourists from all over the world. Referring to this suburban district of Hanoi, the most prominent are Thay pagoda and So communal house, named in the list of special national monuments. Not only having ancient relics, Quoc Oai now also has the Baara Land entertainment complex, with the most majestic and modern stage in the Northern region, themed "Essence of the North".
- Postal code: 133000
- Area: 147km2
16 - Thach That District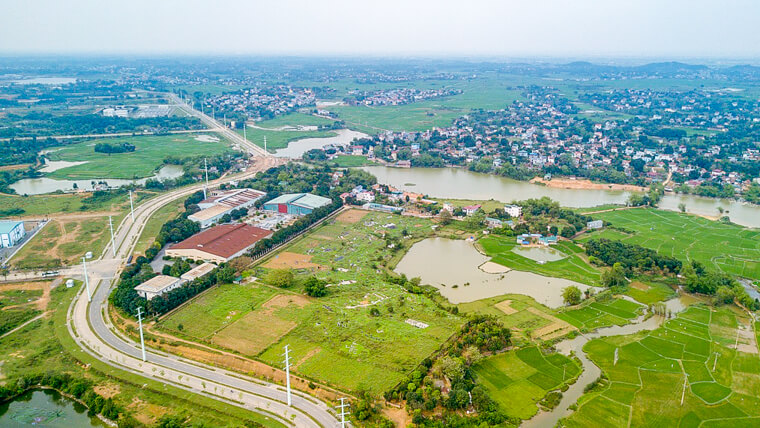 Thach That district - Source: zingnews
This Hanoi district is divided into 1 town and 22 communes, with 1 airport named Hoa Lac within the area. Having a rich culture and long history, Thach That is home to 92 intangible cultural heritages and more than 50 craft villages, such as Chang Son carpentry, Dai Dong che lam, … Among them, Phu Hoa village still preserves the profession of water puppetry with ancient puppets, which are repaired annually by artisans. This place is also famous for Tay Phuong pagoda, with ancient architecture and special spiritual significance, recognized as a special national relic in 2015.
- Postal code: 131000
- Area: 202.05km2
17 - Chuong My District - one of largest districts in Hanoi
This is the western gateway district in Hanoi, with many relics, scenic spots and old craft villages. Famous places can be mentioned as Tram pagoda, Tram Gian pagoda, Vo Vi pagoda, Quang Nghiem pagoda, Linh Thong pagoda, Tram mountain relic complex, and so on.
The development of craft villages has contributed to changing the appearance of the district towards industrialization and modernization, with main rattan and bamboo craft. There are also other famous traditional craft villages, with fields such as conical hat making, carpentry, sculpture, embroidery, agricultural product processing, stone carving, etc. In addition, you can visit spiritual and resort destinations such as EcoGarden Thai Duong Farm, Van Son lake,...
- Postal code: 134000
- Area: 287.9 ​​km2
18 - Thanh Oai District
Thanh Oai is one of the biggest districts in Hanoi. The district is located 15km south of Hanoi center. National Highway 21B, National Highway 6, and National Highway 21C are 3 strong roads passing through the district. The convenience of transportation, natural conditions and especially the richness of various types of cultural heritage has become their own strengths to help develop tourism here.
This Hanoi district has 266 historical and cultural relics, of which 151 have been ranked at the national and city level, such as communal houses - pagodas - Cu Da shrines, Uncle Ho's memorial house, etc. The traditional craft villages here are still preserved, such as Uoc Le village with the profession of making gio, cha, banh chung, Cu Da soy sauce and vermicelli village, Chuong conical hat-making village, etc. Thanh Oai also has potential for ecotourism with beautiful destinations such as Thanh Cao and Cao Vien lagoons, orchards along the Day River, 12 zodiac animals eco-tourism resort,…
- Postal code: 135000
- Area: 142.31km2
19 - Thuong Tin District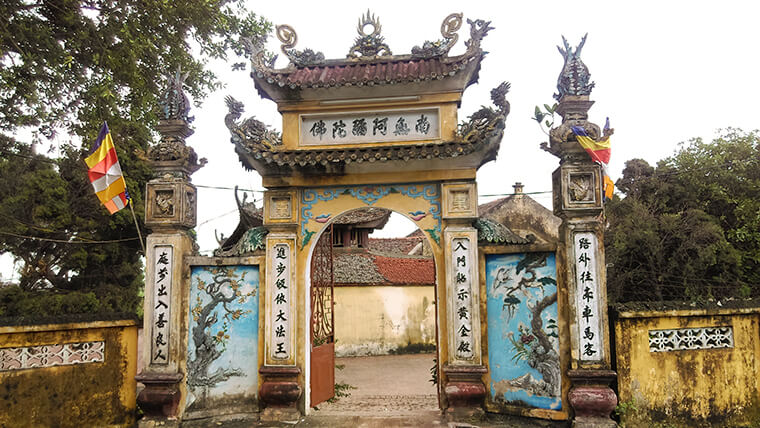 Ancient temple in Thuong Tin district - Source: wikimedia
Located about 20km from the city center, this is one of the leading districts in Hanoi in terms of the number of historical and cultural relics with 462 religious and belief works, such as Dau pagoda, Chuong Duong wharf, Nguyen Trai temple, etc. Besides, Thuong Tin also owns 129 intangible cultural heritages including social practices and folk performing arts such as cheo singing, chau van singing, on-land puppetry…
Associated with the relic system are typical and unique festivals, most notably the Chu Dong Tu - Tien Dung festival, reflecting the rich and diverse cultural and spiritual life of the locals. Thuong Tin also has 126 craft villages, including many famous names such as Thuy Ung horn comb, Ha Thai lacquer, Quat Dong embroidery, Nhan Hien stone carving,… You can join spiritual tours combined with traditional craft villages and ecotourism, experiencing life in the Vietnam Northern countryside.
- Postal code: 136000
- Area: 127.59 km2
20 - Phu Xuyen District
As the most low-lying district in Hanoi, Phu Xuyen is the cradle of many famous craft villages such as Phu Yen leather shoes, Van Tu garment, Chuyen My pearl mosaic, Tan Dan furniture,… In the district, there are currently 37 villages recognized as craft villages, with products having a foothold in the international markets. Like most districts in Hanoi, Phu Xuyen also has many communal houses, temples, pagodas that are recognized and ranked cultural relics, and various famous traditional festivals,...
- Postal code: 139000
- Area: 170.8km2
21 - Ung Hoa District
This is one of the most famous districts of Hanoi, which is home to a myriad of relics and heritages, including 433 relics and 63 intangible cultural heritages, with characteristics of the Red River civilization. Experiencing the war and the destruction of time, many villages still have unique cultural and artistic works, outstanding in their size and scale, reaching high values ​​in terms of architecture.
Typical among them is the temple of Duc Thanh Ca, Hoang Xa communal house which is a national architectural and artistic relic built in the late 16th century,… In particular, you can find a system of sites from the Dinh dynasty, worshiping King Dinh Tien Hoang and his generals....
You can also visit famous churches, and traditional villages like Van Dinh grass ducks, Trach Xa ao dai, and so on. Most of the tours here focus on cultural and spiritual tourism combined with homestay tourism, letting you experience life in Vietnam's Northern countryside.
- Postal code: 138000
- Area: ​​183.72km2
22 - My Duc District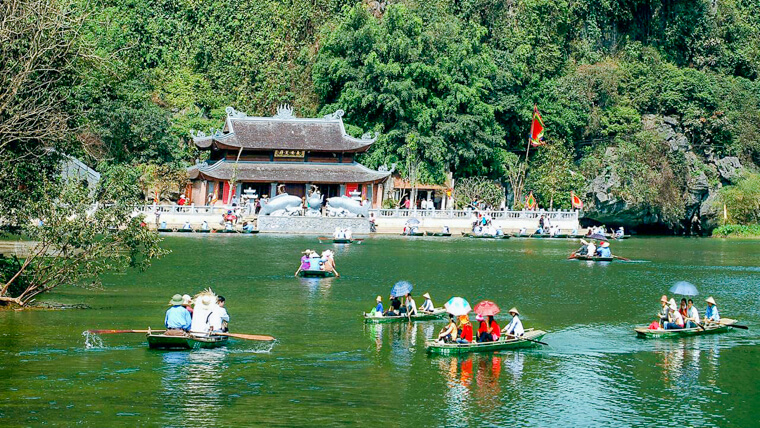 Huong pagoda - Source: bvhttdl
Located in the southernmost side, this is one of the most scenic rural districts in Hanoi, this place is more than 52km from the city center. The East of this place has the Day River flowing through, the south is the Karst cave limestone area with the scenic Huong Pagoda. Every year after the Vietnamese Lunar New Year, the Huong Pagoda festival begins and lasts almost all spring, attracting pilgrims from all over the world. My Duc Hanoi district also has a large Quan Son lake, forming a tourist area with wild beauty like in the picture.
In addition, you can also visit Tuy Lai Lake, the lotus pond in Duc Duong village, Cao pagoda scenic area, the temple ruins of King Dinh Tien Hoang, and so on. In My Duc, there are still many ancient craft villages such as weaving, dyeing Phung Xa, Te Tieu ancient puppetry, Dong My rattan and bamboo,...
- Postal code: 137000
- Area: 230km
Not only is the comprehensive center, the capital of Vietnam itself is a land of thousands of years of civilization, with diverse cultures and numerous attractive tourist attractions. Therefore, it is not surprising that all 30 districts in Hanoi have their own unique and impressive features, filled with traditional craft villages and relics of national importance. Hopefully the above information has helped you have a more general view of the administrative system in this city.