The Hanoi Museum of Ethnology was built in 1981 covering a total area of 4.27ha. The building was designed by Tay ethnic architect Ha Duc Linh, while the interior was designed by French architect Madame Véronique Dollfus. It consists of 3 main exhibition areas: the indoor exhibition areas including the Trong Dong building & the Southeast Asia exhibition area, and the outdoor exhibition area.
I - Where is the Vietnam Museum of Ethnology located?
The museum is located at No.1 Nguyen Van Huyen Street, Dich Vong Ward, Cau Giay District, Hanoi - about 8 km to the west of the Hanoi center. The socio-cultural diversity & the daily life of all tribes are reappeared in detail and vividly through artifacts, objects, antiques & items in the indoor exhibition area, and traditional house architecture of ethnic minorities in the outdoor exhibition area.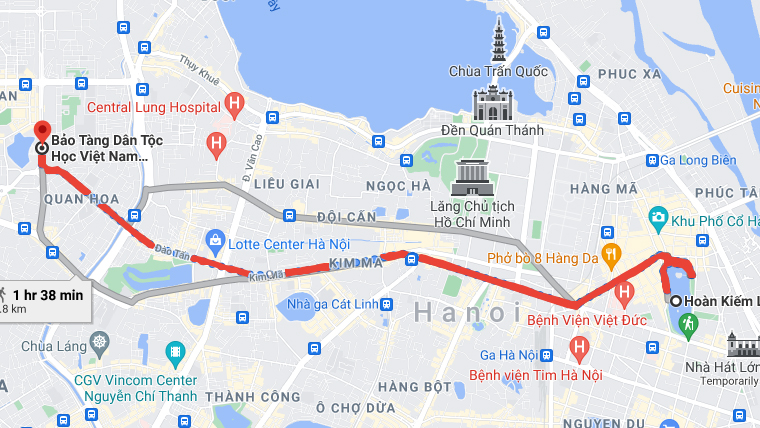 The Vietnam Museum of Ethnology on Google map - Source: Internet
From the Hanoi Old Quarter, you can go to the ethnographic museum by taxi, motorbike or bus
- Taxi cost: about 100,000 VND / 4-seater car ($4.3)
- Bus: Bus No.14 (Hoan Kiem Lake - Co Nhue Ward) has a bus stop 600m from the museum. Ticket price: 7,000 VND / person ($0.3). Visit https://map.busmap.vn for more information.
- Motorbike: You can park your bike for free in the Hanoi Museum of Ethnology parking lot. In case the museum's parking lot is full, Nghia Do park's parking lot opposite the museum is an alternative with a fee of 5,000 VND ($0.21).
II - Guide to explore
1 - General rules
- Ticket price: 40,000 VND/ adult ($1.72); Children under 6 years old, people with disabilities, journalists, sponsors are free of charge.
- Museum of Ethnology Hanoi opening hours: 8:30am - 5pm (except Monday and Lunar New Year)
2 - Exhibition areas
Exhibition area in Trong Dong building
About 15,000 artifacts, 42,000 photographs, 2190 slides, 237 audiotapes, and 373 videotapes are collected and exhibited. Trong Dong building consists of 2 floors:
- The 1st floor is space for displaying the permanent collections of photographs, daily life utensils, customs and cultural practices of 54 ethnic groups in Vietnam.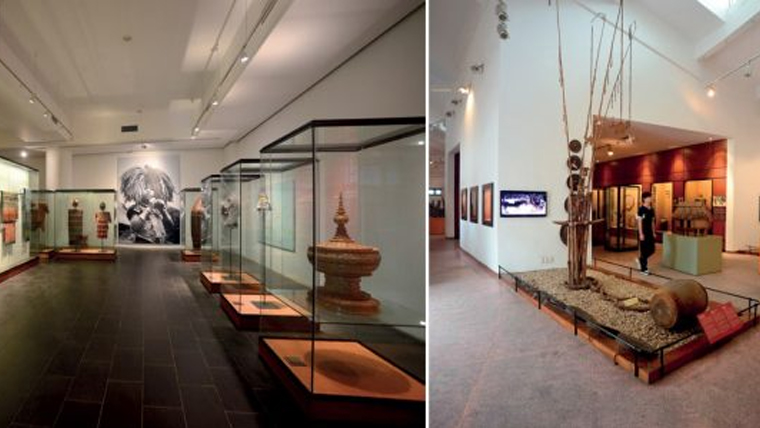 Trong Dong building in the Museum of Ethnology Hanoi - Source: Internet
- The 2nd floor is space for temporary exhibitions, always renewed according to the theme of the exhibition. Discover more about other ethnic minorities in Vietnam such as: Tay, Thai, Hmong, Dao,... under a cross-country arrangement.
Outdoor exhibition area (2ha)
There are 10 traditional houses of different ethnic groups such as the communal house of the Ba Na people, long stilt house of the Ede people, stilt house of Tay people, Hmong people ground house made of pomu wood, Viet tile roof house, Cham people's low stilt houses,... Each kind of house in the Vietnam Museum of Ethnology in Hanoi has a unique architecture presenting about the group's lifestyle, traditions and culture.
The natural landscape with vegetable gardens, green trees, wells, winding roads and meandering streams make the outdoor exhibition space more impressive and realistic. Many outdoor cultural & artistic activities are organized here.
Southeast Asia exhibition area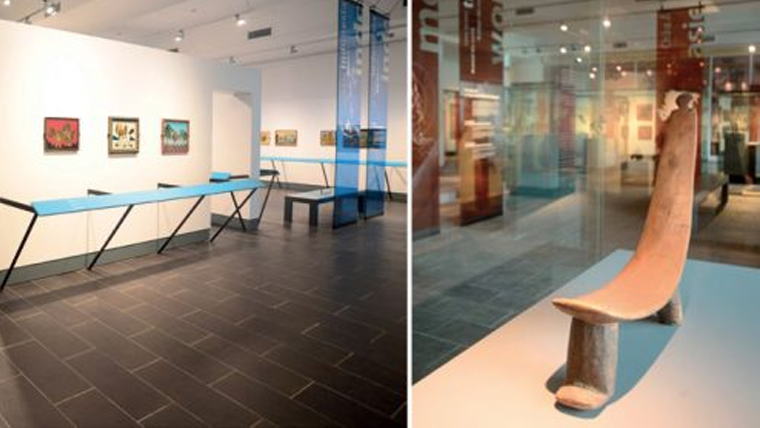 Southeast Asia exhibition area - Source: Internet
The Southeast Asia building in the Hanoi Museum Ethnology is designed in the shape of a kite, where you can visit and learn about the daily life of people in Southeast Asian countries through the exhibits on display. This is a place of organizing educational activities, film screenings about the culture of the ethnic groups in Vietnam & Southeast Asia. All articles and artifacts are annotated in 3 languages: Vietnamese, English, and French.
3 - Activities at the Vietnam Museum of Ethnology
The museum often organizes many interesting activities on special occasions (weekends, Mid-Autumn Festival, Lunar New Year,...) such as outdoor art performances, Vietnamese folk games,... You visit the museum's fanpage https://en-vn.facebook.com/btdth to update information about upcoming programs.
Water puppet show
Water puppetry is a unique traditional art & is often held every weekend at the Vietnam Museum Ethnology's outdoor exhibition area. Water puppet shows with themes related to stories in the daily life and activities of Vietnamese people. The shows are performed by artists from 15 traditional water puppet wards in the Northern Delta. After watching the artists manipulate the puppets skillfully on the water you have a chance to get to interact with them and practice with the puppets.
Ca Tru performance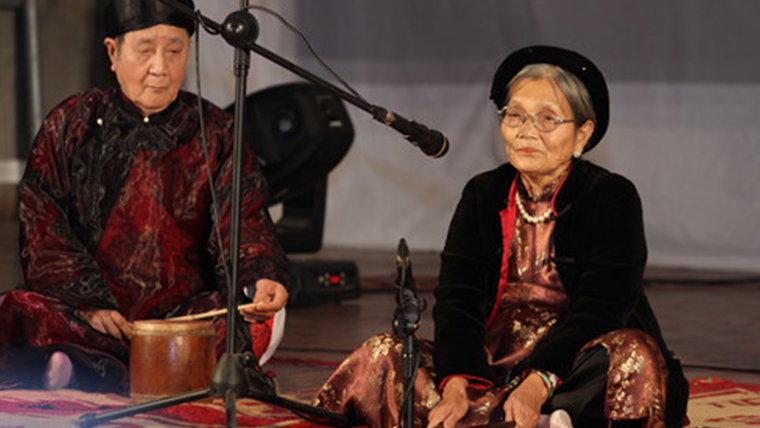 Ca Tru performance - Source: Internet
Ca Tru is a type of traditional music in Vietnam, formed about 600 years ago. Ca Tru performances are organized once a month in the Museum of Ethnology Hanoi Vietnam by the museum management in collaboration with the UNESCO Ca Tru Center. This is an opportunity for you to enjoy the famous Ca Tru tunes performed by Vietnamese artists.
Folk games
Many Vietnamese folk games such as: swinging, walking on stilts,... are held on the campus of the museum.
Activities on Lunar New Year in the Vietnam Museum Ethnology
On each occasion of the Lunar New Year (which takes place at the end of the 12th lunar month), the museum management board organizes many unique cultural activities. Coming to the museum these days, you can enjoy traditional dance performances, admire and ask for good calligraphy, and participate in Chung cake making.
The Vietnam Museum of Ethnology in Hanoi offers a deep insight into the diversity & uniqueness of Vietnamese culture contributing to tangible & intangible cultural values of 54 ethnic minorities. This is really an interesting attraction that should not be missed when you visit Hanoi.