I - Overview of Hanoi cuisine
Coming to Hanoi, you will have the opportunity to enjoy delicious, unique, and attractive dishes of Vietnamese, Asian, and European cuisine. In addition, Hanoi also has special dishes that have made the culinary brand of the capital city such as Thanh Tri rolled rice pancake, steamed glutinous rice of Phu Thuong, Lu Wang fried fish, etc. Currently, there are many culinary attractions for domestic and foreign tourists in Hanoi. If you are a lover of cuisine that is a combination of Vietnamese cuisine and the world, then take a look at the list of top 15 restaurants below.
II - Top 15 best restaurants in Hanoi
There are plenty of eating places in Hanoi which are attracted by small food vendors or nice restaurants in every corner of the city. Here is a list of some most famous restaurants highly recommended for visitors coming to Hanoi.
1 - La Terrasse DU Metropole
Source: Sofitel-legend-metropole-hanoi
Address: No.15 Ngo Quyen Street, Trang Tien Ward, Hoan Kiem District, Hanoi.
Opening hours: 11:00 - 23:00
Price: $2.8 - 7.2/ dish
La Terrasse DU Metropole is inspired by the outdoor coffee of France, bringing a glimpse of Paris in the center of Vietnam.
La Terrasse offers diners the famous French dishes such as Fine de Claires oysters; Cancale oysters or a unique melted variety of cheese, with high-quality ingredients imported from the mother country.
2 - Highway4 Restaurant in Hoan Kiem
This is one of the best restaurants in Hanoi Old Quarter Vietnam.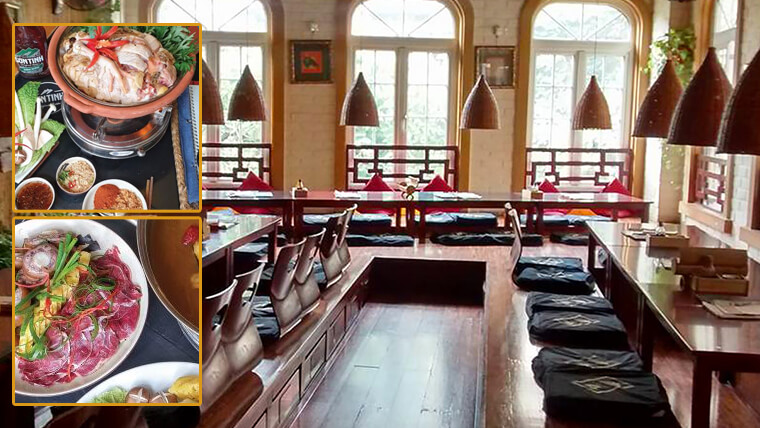 Source: High way 4
Address: No.25 Bat Su Street, Hang Bo Ward, Hoan Kiem District.
Opening hours: 10:00 - 22:30
Price: $4.35 - 8.7/ dish
Highway 4 Restaurants Hoan Kiem is the largest Vietnamese restaurant system in the world with 7 members and was voted in the Top 500 Best Restaurants in Asia.. The dishes at the restaurant that can be mentioned are grilled Pa Pa Top grilled fish, Son La smoked pork ribs, mussels with scrambled rice paper, ants-eggs-rice, sticky rice chicken, chicken with fermented sticky rice and crab soup, are all made from pure Vietnamese raw materials, hygienic.
3 - Sen 60 Ly Thai To
Another nice restaurant in Hanoi to try.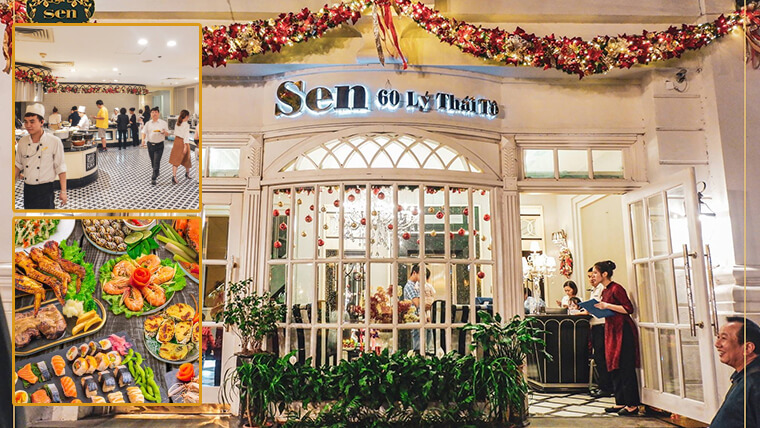 Source: Fb Sen
Address: No.60 Ly Thai To Street, Trang Tien Ward, Hoan Kiem District, Hanoi.
Opening hours: 09:00 - 23:00
Price: $12.8 - 17.2/dish
This is the most famous buffet restaurant chain. With a copious, diverse menu with dishes from 3 regions, European-Asian cuisine, barbecue and Japanese food. Besides, it is impossible not to mention the seafood dishes such as arcas, oysters, lobster, and octopus, processed by a special recipe of Lotus.
4 - KOTO (Know One Teach One)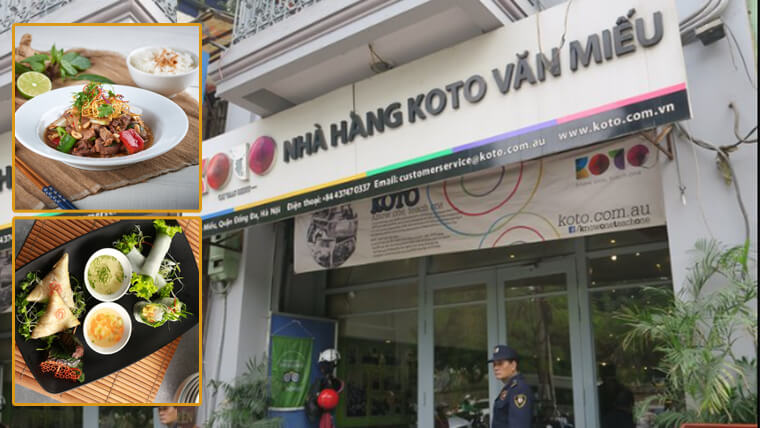 Source: Tripadvisor
Address: A59 Van Mieu Street, Dong Da District, Hanoi.
Opening hours: 10:30 - 13:30; 17:30 - 20:30
Price: $2.6 - 5.7/dish
Koto was born with the mission of creating job opportunities for street children who want to change their lives and want to thrive in life. In Koto, there are special dishes with bold Vietnamese cuisine flavors such as spring rolls, chicken salad, orange-stuffed duck cake, steamed seabass with banana leaves, noodles and grilled meat of Hanoi, and chicken soup with lotus seeds.
Bringing in itself a profound sense of humanity, along with unique dishes, the restaurant has the honor of welcoming famous guests such as the American "chef-king" Christine Ha, Luke Nguyen as well as receiving many compliments from visitors. This place attracts visitors because it is also one of the best western restaurants in Hanoi.
5 - Green Tangerine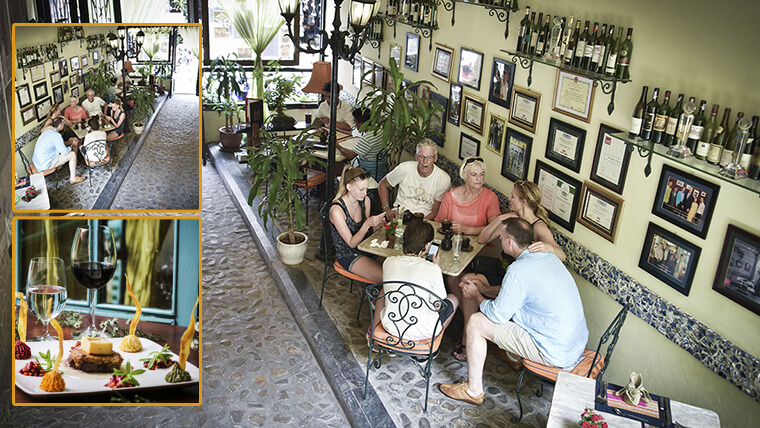 Source: Greentangerinehanoi
Address: No.48 Hang Be & Hang Bac Street, Hoan Kiem district, Hanoi.
Opening hours: 11:00 - 23:00
Price: $2.2 - 14.3/ dish
Green Tangerine was founded in 2003, with unique dishes, combining the classic of French cuisine and the sophistication of Vietnamese cuisine, such as: Curry pork stew; mixed-beef-noodle salad; Eclair with Marengo chicken fillet; and Apple tarts.
The success of Green Tangerine has been acknowledged by the most famous culinary restaurants in Vietnam and France, from Escoffier Vietnam association and Commanderie de Bordeaux Wine. According to Tripadvisor, this restaurant is well known by the best restaurants in Hanoi Old Quarter and the best French restaurant in Hanoi.
6 - Hanoi Social Club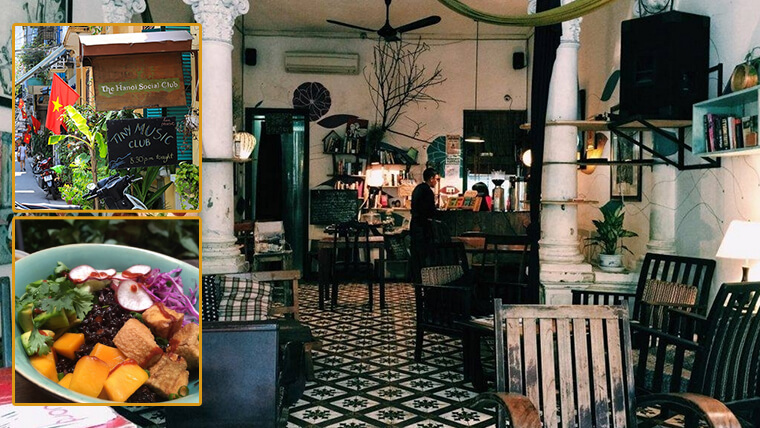 Source: Ghien Cafe
Address: No.6 Hoi Vu Lane, Hang Bong Street, Hoan Kiem District, Hanoi.
Opening hours: 08:00 - 23:00
Price: $4.3 - 9.6/ dish
Hanoi Social Club is one of the best places to eat in Hanoi Old Quarter and is located on the quiet Hoi Vu street, this is a romantic meeting place for Asian-European cuisines, drinks, and music. Here, diners will experience a quiet, close and cozy atmosphere with dishes made from nutritious and fresh fruits, vegetables in Asian and European style such as: Carrot Soup, Tomato Soup, and Rico Cheese Crispy Eggs.
Hanoi Social Club also has delicious-unique cocktails, teas, and coffee.
7 - Quan An Ngon Restaurant
This is one of the best restaurants in Hanoi Vietnam for those who are passionate about Vietnamese food.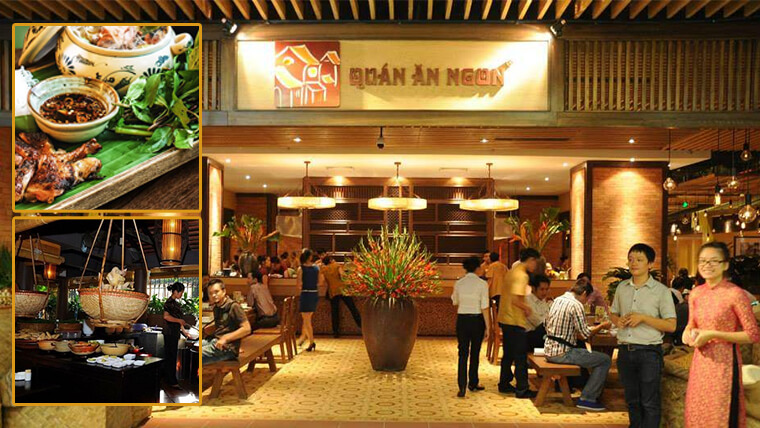 Source: Diadiemanngon
Address: No.18 Phan Boi Chau street, Hoan Kiem district or at 25T2 Trung Hoa Nhan Chinh street and B2-R6 Vincom Royal City.
Opening hours: 10:30 - 21:45
Price: $7.8 - 10.9/ person
This place is one of the best places to eat in Hanoi Vietnam with the prestige and quality of the dishes. Every day Quan An Ngon Restaurant welcomes thousands of customers to visit. The restaurant opened in 2005 until now, is famous for dishes with national soul such as noodles and grilled meat, fresh squid, shrimp salad with meat, and crab spring rolls.
In 2009, the restaurant was honored to be in the top 5 list of the most popular restaurants in Vietnam published by The Miele Guide. In 2010, the restaurant was featured in Reuters Life of Singapore when it continued to be in the top 5 delicious restaurants voted by an Asian organization.
8 - Xuan Xuan Restaurant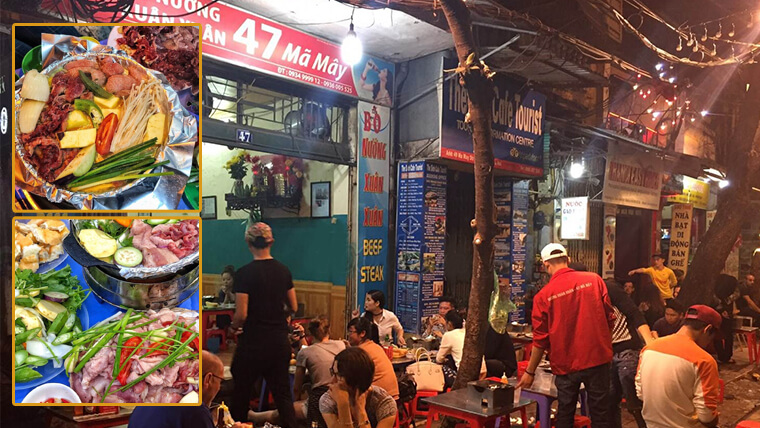 Source: Foody
Address: No.47 Ma May Street, Hoan Kiem District and at No.19 Pham Hong Thai Street.
Opening hours: 15:00 - 22:00
Price: $5.2 - 10.4/person
The restaurant attracts customers with famous dishes such as grilled beef, a unique style hot pot only in Xuan Xuan. The restaurant received a lot of favorable comments and compliments on social networks. With lots of reviews, assessments about food, and restaurant space.
9 - Best restaurants in Hanoi with La Verticale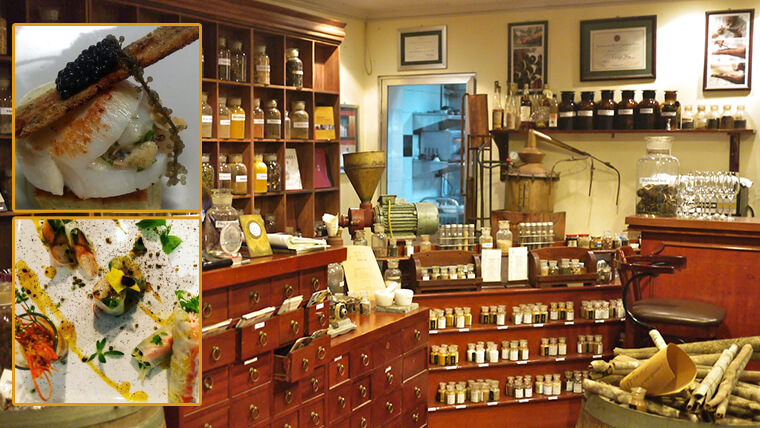 Source: Tripadvisor
Address: No.19 Ngo Van So Street, Hoan Kiem District, Hanoi.
Opening hours: 18:00 - 22:00
Price: $10.4 - 57/person
Among the most luxurious restaurants in Hanoi, La Verticale is impressed by the beautiful French architecture and exquisite French cuisine. The restaurant is a great choice for those who are captivated by the French style.
The famous dishes can be mentioned as 5 types of seafood, smoked sour fish, salmon, lamb leg stew, and grilled minced meat
10 - O'Douceurs Hanoi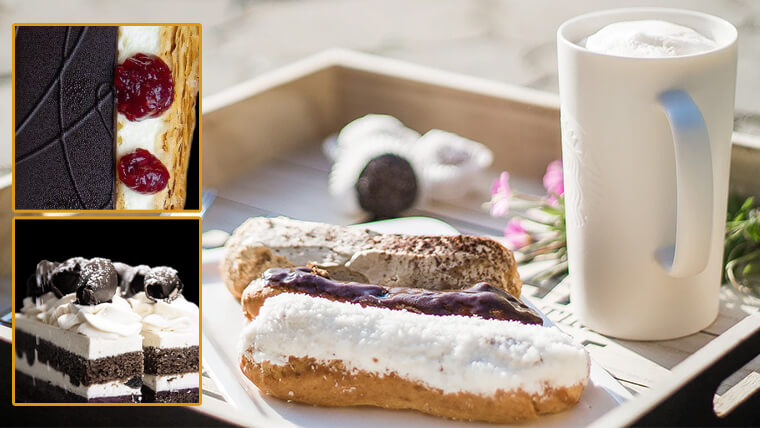 Source: Xenia Bogarova
Address: No.90 To Ngoc Van Street, Tay Ho District, Hanoi.
Opening hours: 07:15 - 20:00
Price: $2.2 - 13/person
O'Douceurs Hanoi is a French bakery founded by French chefs in Hanoi. O'Douceurs are often known for their cakes such as Vanilla Eclair, Chocolate Eclair, Coffee Eclair, Paris Brest, Tiramisu, and all kinds of tarts, all with a French flavor.
11 - Cha Ca Thang Long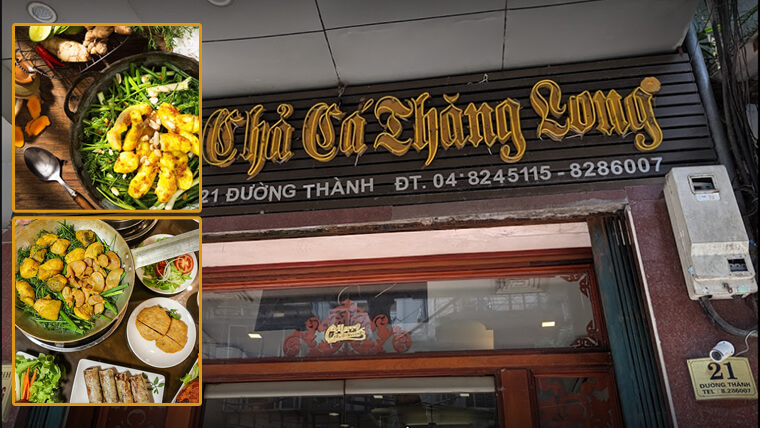 Source: Internet
Address: No.2D-19-21 Duong Thanh Street, Hoan Kiem District, Hanoi.
Opening hours: 08:45 - 22:30
Price: $1.3 - 2.9/set
The Cha Ca Thang Long Restaurant is quite popular with diners because the taste of fried fish here is very attractive and premium sauce is prepared according to its own recipe, hard to mix with anywhere.
12 - Pizza 4P's Trang Tien
One of the best Western restaurants in Hanoi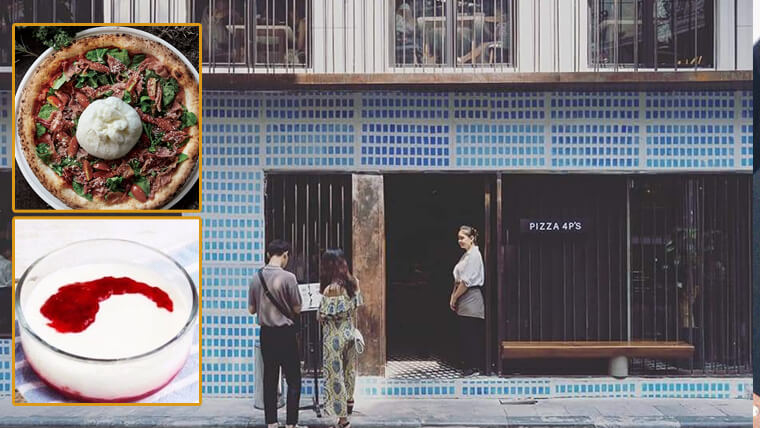 Source: Fb Pizza 4P's
Address: No.43 Trang Tien Street, Hoan Kiem District, Hanoi.
Opening hours: 10:00 - 23:00
Price: $4.3 - 17.4/person
Pizza 4P's Trang Tien serves a variety of delicious dishes such as Salmon Miso Cream, Crab & Tomato spaghetti, Clam & Basil sauce spaghetti, teriyaki chicken pizza and many special drinks in a luxurious and classy space.
13 - The 3 Spoons
Source: Intercontinental
Address: Floor 62, InterContinental Hanoi Landmark 72 Hotel, 3 Spoons Restaurant can be said as a place to improve Vietnamese cuisine.
Opening hours: 06:00 - 22:30
Prices: $4.3 - 43.5/person
With unexpected combinations, the chef at 3 Spoons has inspired the soul of every Vietnamese dish, making it more delicious, and sophisticated than ever. Both classic and modern, including dishes such as Cao Bang roasted duck, grilled calf maize with lemongrass, chicken pho, seafood pho, steamed grouper with leek, steamed seafood, grilled Sapa salmon and dishes of Japan such as Aji, Tako, Tamago, Kani.
14 - The Hung Snake Restaurant
Source: Internet
Address: No.33 Le Mat Viet Hung Street, Long Bien District, Hanoi.
Opening hours: 06:00 - 22:30
Price: $10.3 - 155.3/ person
Hung Snake Restaurant is one of the best restaurants in Hanoi specializing in dishes made of snake meat. At this point, you can choose for yourself a snake and directly see how the restaurant processes it. Snakes are cooked into many delicious dishes, typical Vietnamese villages.
There is also snakes-soaked wine, which you can also try if you like some alcohol in your meal. Surely the experience in the restaurant will make you remember forever because of its specialty.
15 - Red Bean Restaurant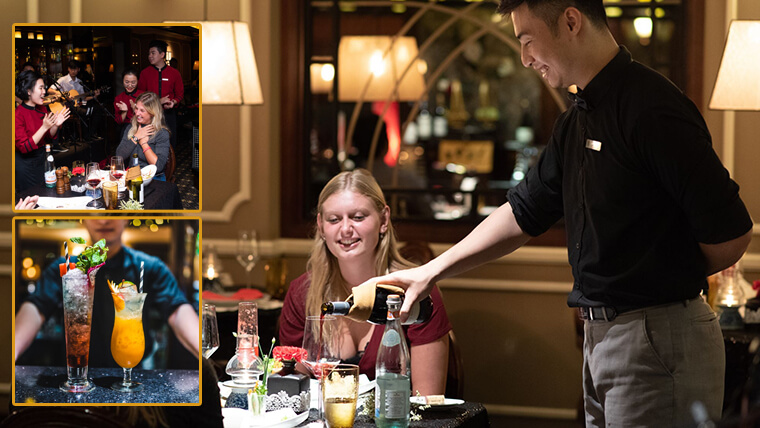 Source: Lasiestahotels
Address: No.94 Ma May Street, Hoan Kiem District, Hanoi.
Opening hours: 11:30 - 22:00
Price: $8.7 - 26/person
Red Bean Restaurant is a popular restaurant with a combination of Vietnamese and European cuisine. The special dishes at the restaurant such as rolls, fresh spring rolls, chicken pho, fried fish, noodles and grilled meat, salmon salad, and roasted duck breast, in addition to many desserts, and special drinks.
Above is a list of the 15 best restaurants in Hanoi Vietnam. Hoping you have an amazing experience here in Vietnam.