Being well-known for the "picturesque" beauty, the Mekong Delta in Vietnam recently attracted more and more tourists with its unique culture and interesting daily activities such as floating market, garden, fishing, as well as bold indigenous dishes namely fish spirit hotpot, coconut candy, durian pia cake, etc. To explore more deeply about this charming paradise, let's take a look with localtravelidea.com.
I - A quick look at the Mekong river delta
1 - Where is the Mekong Delta?
The delta in southwest Vietnam is the result of alluvial sedimentation over hundreds of years in the Mekong River (Cuu Long River) basin. Up to now, the total area of this delta has reached 795,000 km2, stretching over 13 provinces in the South including Can Tho, An Giang, Dong Thap, Long An, Tien Giang, Vinh Long, Ben Tre, Tra Vinh, Soc Trang, Hau Giang, Bac Lieu, Ca Mau, and Kien Giang. It is about 193km from Ho Chi Minh City and 1,624km from Hanoi to the South.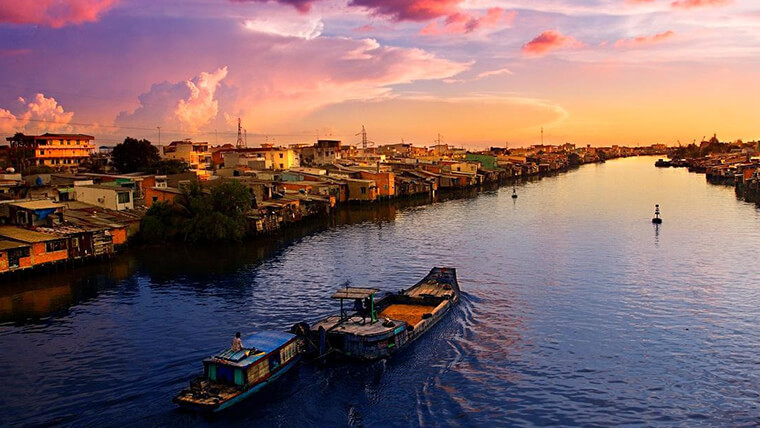 Source: Redsvn
The Mekong River flows through China, Thailand, Laos, and Cambodia, then splits into 9 branches flowing through Vietnam. As a result, a system of dense rivers and canals was created in the delta stimulating the formation and development of several unique cultural features there such as floating markets, monkey bridge, and so on. This "simple" but unique beauty has attracted a number of international visitors to come and explore every year.
2 - The Mekong Delta weather
Located in the tropical monsoon climate of Asia, This river Delta is influenced by the southwest monsoon during May - September while in the remaining time, it is affected by the northeast monsoon. As a result, this area has two distinct seasons: the rainy season (May - September) has high humidity and a lot of rain, and the dry season (October - April next year) has low humidity and little rain. In addition, because its terrain is about 2 meters low on average compared to sea level, this area is markedly influenced by the tide (morning & afternoon), especially from September to March.
In general, the weather conditions here are pleasant and favorable for tourism and outdoor activities. Regardless of the time of year, visitors always can get interesting adventures and travel experiences. However, the best time to visit and travel the Cuu Long Delta - Vietnam is from November to April when the number of sunny hours in a day is high, the weather is dry, airy, and suitable for activities such as fishing, boating on the river, fruit seasoning, ect.
Due to the impacts of climate change, global warming and melting ice, the Mekong River Delta Vietnam is likely to be "submerged" in seawater after a few decades. At the present time, this area of Vietnam is constantly suffering from extreme weather phenomena such as flooding - due to high tide; prolonged drought; saltwater intrusion; lack of fresh water for living and agricultural cultivation. This requires not only the Vietnamese people, but the whole world to re-recognize the immense impacts of climate change and adopt methods to limit those.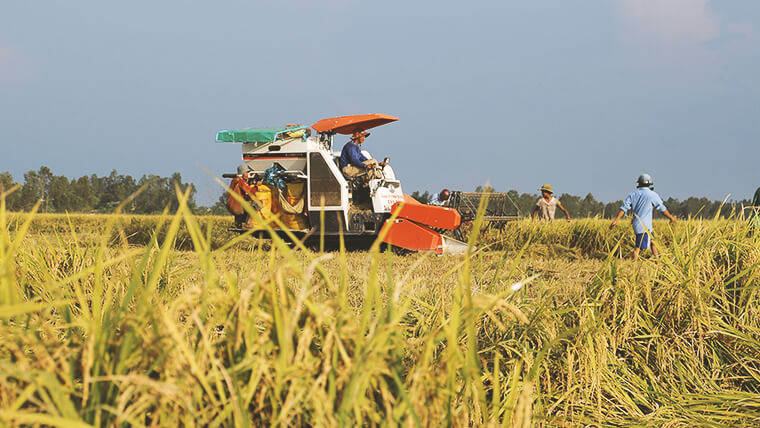 Source: Internet
The rainy season on the Mekong River usually starts from August to November annually. Although it is also the flood season, this season brings a wealthy source of aquaculture to the locals in the lower Mekong region. Besides, this phenomenon also helps the agricultural land have time to "rest" when the locals switch from agriculture to aquaculture. The flood engulfs germs of pests and diseases adversely affecting the plants and brings a large amount of fertile alluvial soil.
3 - Mekong Delta review
The Cuu Long River Delta is one of the most interesting attractions in Vietnam. Besides the floating market, visitors can experience many other tourist activities such as catching fish with the locals, enjoying a tray of a typical local meal or passing the monkey bridge, watching the rice fields, visiting and picking fruit on your first hand at the gardens, boating and sightseeing Vietnamese rivers.
Some feedback from visitors after exploring this place:
Mangocruises: In addition to the unique floating villages and markets; the beautiful tropical scenery, interesting riverside culture, and friendly locals are what you can experience while traveling to this land. From this area, you can also easily travel to other cities and provinces in Vietnam.
Carol W: Beautiful scenery - lovely people - the slow pace of life is what I feel. You should not miss this place.
Charade: Overnight experience in the river is very interesting. Tropical dishes are also extremely attractive to me. It might be an interesting experience when you visit this largest plain in Vietnam.
II - A guide to visit Vietnam Mekong Delta
1 - Top things to do in Mekong Delta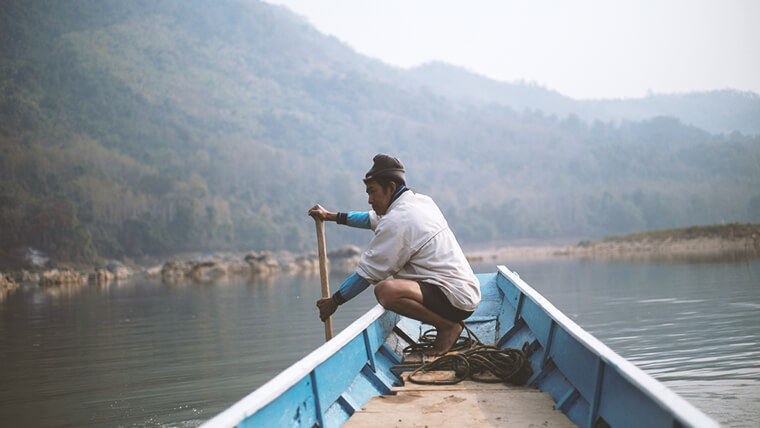 Source: Internet
Exploring the floating market - a cultural characteristic that visitors can only find in this area:
The floating market is usually held on the river. Trading and exchanging activities take place on the boats, each boat will sell a separate item and have a pole (crooked tree) hanging products for buyers to find easily. It is a unique form of "advertising" only found in floating markets. There are some big and famous floating markets:
- Cai Rang Floating Market: No. 46 Hai Ba Trung Street, Ninh Kieu District, Can Tho province.
- Cai Be Floating Market: Cai Be Town, Cai Be District, Tien Giang Province
- Tra On Floating Market: the confluence of Hau and Giang Thit rivers, Tra On district, Vinh Long province.
Mekong Delta cruise:
Experience a boat tour on the river and explore interesting stops. For this type of tourism, visitors will have a pre-arranged itinerary which is extremely time-saving and convenient, especially for those having little time to visit here but still want to have an interesting trip.
Traveling by Three-leaf (Ba La) canoe:
Ba La canoe can be considered as one of the main means of transportation in the South of Vietnam. Those canoes are often made of wood and paddled by hand. They are called three-leaf canoe because they are made of exactly 03 boards. Canoeing yourself or simply sitting on a canoe weaving on canals and mangrove forests is an extremely enjoyable experience for visitors.
Discovering life inside an orchard:
One of the best exciting Mekong Delta activities to have in your to do list. This area possesses fertile alluvial land which is suitable for wet-rice cultivation or planting fruits such as rambutan, oranges, grapefruit, coconut; therefore, it will be a mistake if visitors do not stop by an orchard there. Moreover, visitors can experience the daily activities of locals and enjoy delicious food in the green space. Some famous gardens that should be taken into account are:
- Miet Vuon Cai Mon: QL57, Cho Lach district, Ben Tre province
- Miet Vuon My Khanh: No.335, Lo Vong, Nhon My hamlet, My Khanh commune, Can Tho city
- Miet Vuon Vinh Kim: Vinh Kim commune, Chau Thanh district, Tien Giang province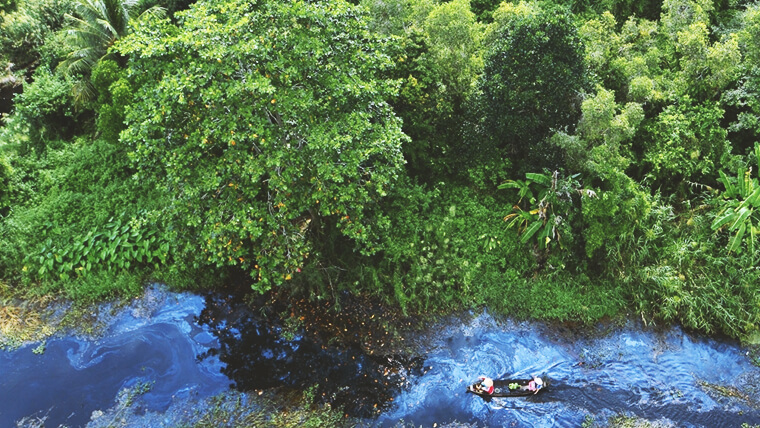 Source: Nguyen Bach Thao
U Minh Forest: one of the world biosphere reserve in the Mekong river Delta:
Besides getting lost in "indigo forest"; visitors can explore several specialties such as bee pupae, fish sauce hot pot, fresh and delicious prawn dish; as well as participate in the Bon Bon harvesting activity. The green space and the harmonious combination of rivers and trees in an area of about 3,500 ha will surely make many visitors excited, especially those who love nature and green trees.
- U Minh Thuong forest in Kien Giang province
- U Minh Ha forest in Ca Mau province
Bang Lang stork garden:
"Stork'' is one of the familiar images of the Vietnamese countryside. To see and have a "real" experience with this image, visitors can visit St Bang Lang Garden - Can Tho which is home to about 300,000 individuals of Storks and many other kinds of birds. Cool green space dotted by white storks creates a beautiful scene that can surprise any visitors.
Location: Thuan An Commune, Thot Not District, Can Tho Province
Tram Chim National Park:
A Mekong delta must see attraction that has an unique area with a total area of about 7,500 ha which is home to many valuable fish species in the Red Book of Vietnam such as Ngua Nam, Et Moi, Ho, and Duong Bay fish. In the rainy season, visitors can travel by boat, and watch the harvest of wild rice, flocks of red-headed cranes, or Hoang Dau An, Nhi Can, Melaleuca flower. Or experience catching fish under the guidance of the locals is also an interesting activity.
Location: Hamlet 4, Tam Nong, Dong Thap
Experience traditional craft villages:
The entire Vietnam Mekong Delta region has about 210 handicraft villages with many typical products such as fish sauce, pottery; hats, coconut candy, brocade fabric, rice paper. At the craft villages, visitors will have the opportunity to explore the process of crafting products, the amazing skill of local people, or make your own items under their guidance. Furthermore, visitors can also choose for themselves delicate souvenirs such as pottery, brocade fabric, bamboo and rattan products, coconut candy, etc. Therefore, do not miss this kind of experience while traveling here.
Tram Su Forest:
This is one of the best places for visitors to explore the typical mangrove ecosystem of Vietnam with a variety of flora and fauna species of flora and fauna namely white catfish, Com fish and so on. Floating on a greenspace, watching Khmer villages, and enjoying typical dishes might be an unforgettable experience for nature lovers.
Location: Tinh Bien, An Giang Province.
2 - Must-try Mekong delta food
There are some typical dishes of the Mekong River region that tourists should try when coming here are: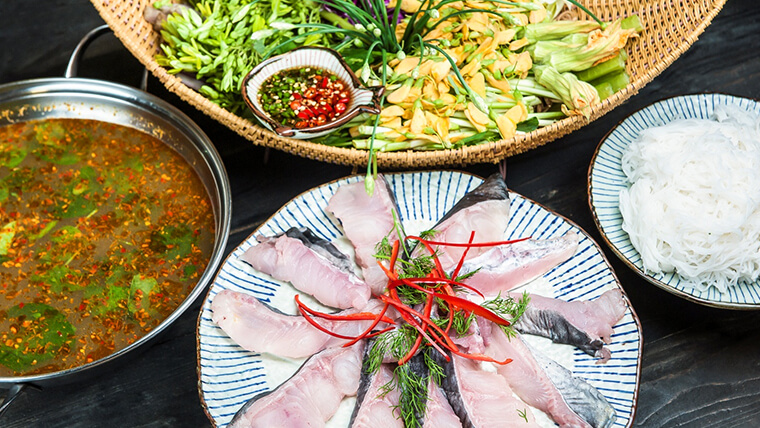 Source: Afamily
Fish hotpot:
The main ingredient of this dish is copper sauce. Sweet broth made from pork bones blends with the aroma and richness of fish sauce, the bitter of melon, etc. All of those things create a natural sweetness that can impress any diners with only one bite.
Linh fish hotpot:
The harmonious combination of fish and sea crazy cotton of this dish can offer you the fatty taste and the sweet aroma of Linh fish as well as the crunchy, and fluff of the sea crazy cotton. Linh fish is easy to catch in the Mekong Delta, therefore, you can have fresh sources any time you want. Although this is only an idyllic dish of the locals in the river region, its unique taste can favor even the pickiest diners.
Boog Dien Dien:
This kind of fauna often grows in large clusters with a characteristic bright yellow color in swamps or brackish waters. It has a very specific mild sour taste, therefore, the locals use it to make many different dishes such as stir-fried eggs, pickled, mixed coconut, steamed fish hot pot, cannabis soup, and Khot Cake. Moreover, according to oriental medicine, its flower is analgesic, anti-inflammatory as well as reduces swelling and deworming.
Coconut candy:
A snack made from the famous coconut in South Vietnam. The delicate aroma and inherent fat of coconut mixed with sweetness create an amazing snack. Besides, this candy has good ductility and adhesion, so it is loved by many visitors and chosen as a gift for friends and families back home.
Ba Khia:
A small crab species that usually lives in brackish water, and saltwater in the Mekong Delta. This is also the main ingredient to process many of the typical dishes of this area such as Ba Khia sauce, roasted Ba Khia, Ba Khia salad, and so on. This kind of crab is quite rich in protein, calcium, fat, and phosphorus, so it is very popular with the locals.
Pia cake:
This type of cake is made from flour and many different types of filling. The most famous and popular type is the Durian Pia Cake - a harmonious combination of durian, salted egg, and delicious cake crust. Therefore, it becomes a common souvenir among visitors.
You may need: Discover Vietnamese cuisine
3 - Mekong Delta accommodation
The increasing demand for tourism has led to the development of the accommodation system. As a result, visitors can find many different types of accommodation such as resorts, hotels, homestays in this region. Recently, homestays are more and more prefered by tourists because they have a reasonable cost as well as being close to the lives of the locals and offer many interesting experiences.


Source: Homestay.review
One of interesting activities that tourists can experience when choosing this type of accommodation is "work together, eat together, live together" with local people that includes listening to and learning to sing traditional songs, catching fish, visiting the floating market, trying monkey bridges, harvesting fruit or trying to be a farmer, etc.
There are lots of accommodation that tourists can consider.
In Can Tho Province:
Vinpearl Hotel Can Tho
This is one of the most luxury Mekong Delta hotels belonging to the chain of hotels - resorts of Vinpearl Group which stretches across many provinces and cities of Vietnam. Vinpearl Hotel Can Tho is designed in the royal neoclassical style and has a very beautiful view of Ninh Kieu Bridge - one of the top attractions.
- Address: No.209, 30/04 Street, Ninh Kieu, Can Tho city
- Phone: 0292 376 1888
- Price: 1,300,000 VND / room / night ($56.03)
Nguyen Shack - Mekong Can Tho
Hostel is built according to the style of the local's houses with bamboo walls, leaf roofs,and small bridges leading down the river next to a three-leaf boat. It is a great place for visitors to immerse themselves in the vibe of the river countryside. Nguyen Shack - Mekong Can Tho still ensures to provide all the essential amenities for your trip.
- Address: Ong Tim Bridge, Thanh My village , Thuong Thanh Ward, Cai Rang district, Can Tho.
- Phone: 0292 6288 688
- Price: 110,000 - 320,000 VND / room / night ($4.74 - 13.8)
Mekong Rustic Can Tho
A place where visitors can enjoy daily life with locals through several activities such as fruit harvesting, fishing,, and fish grilling, etc. The homestay inherits the style from the local combining with modern amenities such as an outdoor swimming pool, a modern toilet system, and so on. A unique, interesting, and exotic feeling is what this Mekong Delta hostel can offer.
- Address: No.79 Chau Van Liem Street, Tan An, Ninh Kieu, Can Tho
- Phone: 097 858 11 43
- Price: 600,000 - 700,000 VND / room / night ($25.86 - 30.17)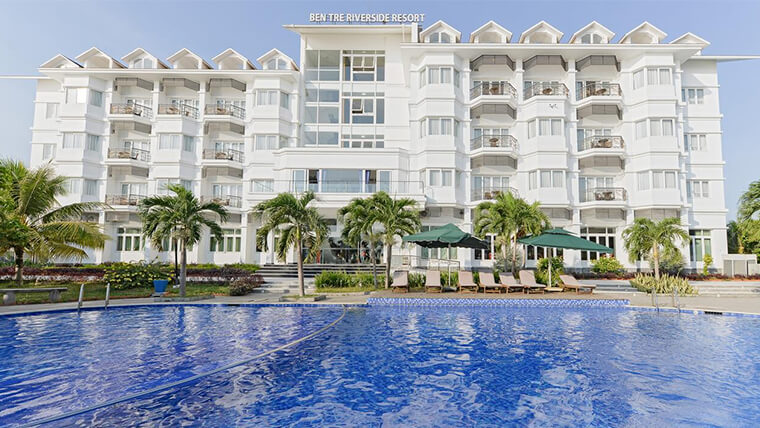 Source: Booking
In Ben Tre Province:
Ve Nha Homestay
This is one of the most interesting places for tourists to stay when visiting Ben Tre. In addition to the classy facilities, it also offers tourists the opportunity to experience many interesting activities with the locals such as wearing Ba Ba (a traditional custom of the locals), passing the monkey bridge, camping, enjoying meals on the canal, swimming, and catching fish which are definitely unforgettable experiences.
- Address: Lo Tho Thanh Trieu, Chau Thanh, Ben Tre
- Phone: 090 676 5768
- Price: 150,000 - 849,000 VND / room / night ($6.46 - 37)
Ben Tre Riverside Resort
One of the places to stay green and convenient for watching the river at night: This is a high-class accommodation with a restaurant system, outdoor swimming pool, dining room according to 4 * standard. Its bedrooms overlook the river bank creating a romantic scene for visitors to relax and chill.
- Address: No.708 Nguyen Van Tu Street, Ward 7, Ben Tre City
- Phone: 0275 3545 454
- Price: 980,000 - 1,950,000 VND / room / night ($42.24 - 84.05)
Jardin Mekong Homestay
This Mekong Delta homestay is covered with many green trees and designed with locals' style, and decorated with familiar items such as wood stove, water jars, hammocks, coconut shells, walls bamboo, and leaf roofs. Some interesting experiences are also available there such as trekking, cycling, and enjoying local food.
- Address: Binh Dinh Hamlet, Hoa Nghia Commune, Cho Lach District, Ben Tre Province
- Phone: 090 314 96 96
- Price: 800,000 - 1.00,000 VND / room / night ($34.42 - 43)
In Tien Giang Province:
Nam Thi Holiday Home
A small accommodation located right next to the river, with a very unique river view room: The entire space of the homestay is designed in mainly light blue tones mixed with other basic tones of wood color or brick color. There, visitors can admire the daily life of the river region, cycling and enjoying the fresh air of Tien Giang land.
- Address: No.133, zone 4, Cai Be district, Tien Giang province
- Price: 850,000 VND / room / night ($36.63)
Ve Nha Chu Homestay
This small beautiful and green space is the best place to stay in the Mekong delta that offers an experience close to nature for visitors. In particular, visitors can experience a three-leaf boat ride, horse-cart ride, honey harvesting, exploring crocodile farm, etc. Visitors also have the opportunity to enjoy many attractive local dishes such as tiger shrimp, grilled fish, fresh fruits. Ve Nha Chu Homestay always ensures to bring interesting experiences to visitors while there.
- Address: Thoi Thuan Hamlet, Thoi Son Commune, My Tho City, Tien Giang Province
- Phone: 0948 175 057
- Price: 200,000 VND / room / night ($8.62)
Mekong Lodge Resort
Surrounded by green space with many green trees and winding Tien River, this Mekong Delta resort is designed in a unique bungalow style with a typical leaf roof, wooden wall, and well-provided all necessary amenities for visitors such as an outdoor swimming pool, restaurant, bar, etc. In particular, its outdoor swimming pool is surrounded by trees and has received a number of good reviews from visitors.
- Address: An Hoa, Dong Hoa Hiep, Cai Be, Tien Giang
- Phone: 0896 633 269
- Price: 950,000 - 1,450,000 VND / room / night ($41 - 62.5)
III - Notes for travelers
1 - The Mekong Delta facts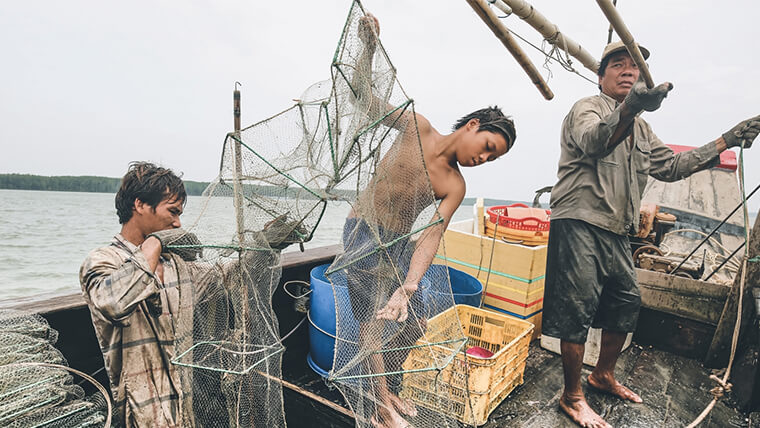 Source: Arena-multimedia
Some interesting facts about this delta that were collected and synthesized:
Simple houses:
Most of the houses of local people are built quite simply with bamboo walls and leaf roofs. In this region, people often use coconut leaves regularly to make roofing because the materials are cheap, easy to find, and can easily be re-roofed. Visitors can also easily find and feel these familiar images at homestays located along the river or homestay located in the middle of the garden.
Boats - the main means of transportation:
This region has a dense river system and is influenced intensively by river floods and tides. As a result, boats and canoes are the best way to see Mekong Delta. Every house has at least a small boat to serve the family's transportation needs which act as the second "feet" of the locals.
Friendly and simple life of the locals: The general feeling of tourists is that local people here are quite friendly, likable, open-minded, and have a simple lifestyle. They do not take material matters too seriously and have a life that is close to nature. Therefore, visitors will easily immerse in the lives of people with simple daily activities such as passing monkey bridges, visiting rice fields, going to floating markets, or enjoying local dishes,...
Traditional costumes:
Due to frequent activities on the river, the traditional costume of this place is Ba Ba tunic and simple bandana. At the present time, when coming here, visitors can still easily see the familiar image of this costume on busy women there.
2 - The Mekong Delta history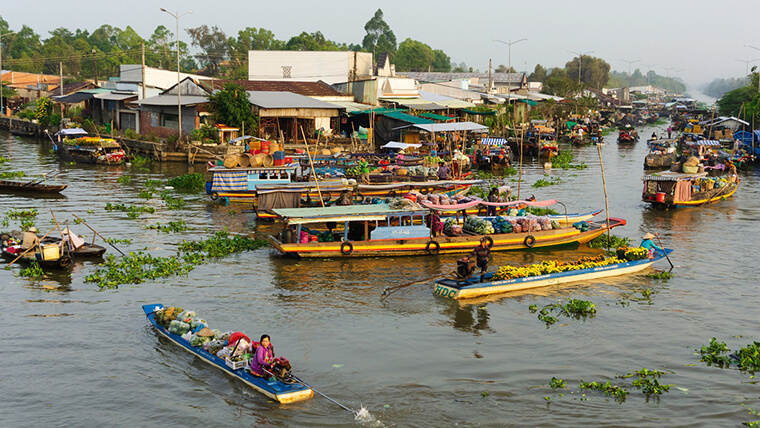 Source: VnExpress
According to archaeology, this region has been inhabited since the 1st century with Malay culture, Indian culture, or Oc Eo civilization. However, at that time, this place was quite sparsely populated. It was still considered a remote area until the 5th century under the Phu Nam kingdom when this place was really populated and more reclaimed. After the fall of the Khmer Angkor empire, this was a frequently disputed area between the countries of Siam, Vietnam, Laos and Cambodia. Furthermore, this was also the area where immigrants often came to settle down. The transformation of history and emigration has brought to this area a unique and mixing culture with diverse faiths, thresholds, festivals, and food. Although there are many ethnic groups living in this area, there is no conflict. People live in harmony with each other because this place is bestowed by nature with abundant living resources.
When it comes to the Mekong Delta Vietnam, most of the international tourists often think of the floating market, however, it's just a part of this vibrant region. Hopefully, with the brief information that we have just provided, visitors will get more new experiences in this land and be ready for their upcoming travel.