Hanoi is located in the center of North Vietnam, surrounded by two biggest rivers there, Red River and Day River. That's the reason why it's called Hanoi, as Ha means river, and Noi means inside, so Hanoi literally means Inside the rivers.
What makes Hanoi special is the diverse culture here and nowhere in Vietnam has so many traditional villages as in Hanoi. Villages with Buddhist, folk, and French architecture are scattered throughout the city, making visitors extremely excited about the cultural values that exist in a busy city like Hanoi.
As the capital of a country, it is not uncommon for Hanoi to have such a bustling lifestyle. Rush hours are from 7:00-9:00 in the morning when everybody is rushing to their offices or schools, and from 5:00 to 7:00 in the afternoon when they head back home. However, after a working day, Hanoi returned to the true nature of an old town, quiet, ancient and peaceful in every house and small street.
Hanoi has not only a "street" culture, but also a "village" culture that has converged into the cultural traditions imbued with the people of Hanoi. They love and care for each other, they are ready to spread their arms to help less fortunate lives.
I - Hanoi things to do in exploring cultural and historical sites
1 - Visiting Vietnamese Women's Museum
Vietnamese Women's Museum is not only attractive to visitors for its quality but also for its innovative service.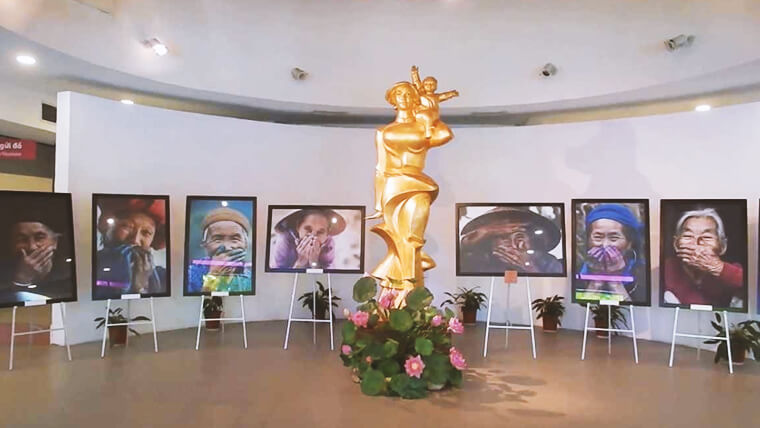 In addition to the annual exhibits, Vietnamese Women's Museum regularly organizes special topics on women from the past to the present occasionally every year. There are many images of women displayed, through which visitors will see Vietnamese women not only gentle, traditional but also strong, resilient and hard-working.
- Address: No 36, Ly Thuong Kiet, Hang Bai, Hoan Kiem
- Entrance fee:
+ Adult: 30.000 VND ($1.3)
+ Child under 10 and disabled: Free
2 - Vietnam Museum of Ethnology
Vietnam Museum of Ethnology shows the history and culture of 54 ethnic groups in Vietnam. These exhibits are displayed in many different categories such as clothing, jewelry, weapons, musical instruments, religion, beliefs and many other spiritual activities. Visiting this interesting museum is one of the most popular Hanoi Vietnam things to do to explore a part of Vietnam's ethnic minority without going to different remote areas in Vietnam.
Looking from outside, visitors will be attracted by the presentation, which is very scientific and logical and helps you easily grasp the cultural colors of every ethnic group.
- Address: No.1 Nguyen Van Huyen street, Cau Giay district, Hanoi
- Entrance fee:
+ Adult: 40.000VND ($1.7)
+ Child under 6: Free
3 - Vietnam Military History Museum
The museum was established on July 17, 1956. This is the place to store and display about 150,000 artifacts of historical, cultural and military value reflecting the context of the resistance wars against the invaders from the Hung Kings era to the President Ho Chi Minh era.
- Address: 28A Dien Bien Phu, Ba Dinh District, Hanoi
- Entrance fee: 40.000VND/person ($1.7)
4 - Watching water puppet show
Having a ticket to watch a puppet show is the top 10 things to do in Hanoi for those who are interested in traditional performing art of Vietnamese. Puppet water is a typical theater performance of Vietnamese culture – created by lower class people, upgraded into a performing art. It shows the intelligence of manual laborers whose souls are artistic.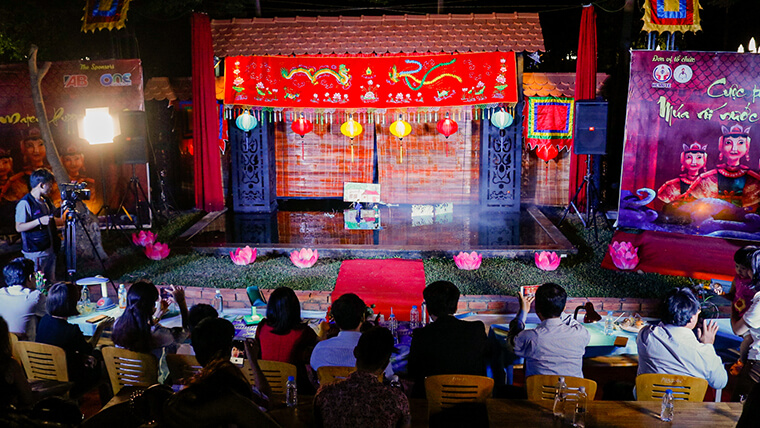 When combined with water, reflected under the lights, water and puppet make a perfect combination. It can be said that water puppetry is like a spiritual meal cooked by farmers to entertain themselves after a tough crop.
Some typical shows that you may watch in a Water Puppet Theater:
- Traditional Water Puppet Show - expressing the daily life activities of Vietnamese farmers in the past, their hardship but also happiness in life.
- Flying from the water - the collaboration between Vietnamese Water puppet and Western classic shows such as "Swan Lake" ballet show, Spanish Bullfighting, etc.
Recommended water puppet theater: Thang Long Water Puppet Theater
- Address: 57b Dinh Tien Hoang street, Hoan Kiem district, Hanoi
- Entrance fee: 100.000 – 200.000VND ($4.3 - 8.6)/person
For more details, please see Hanoi water puppet show
5 - Visiting Duong Lam ancient village
If you are looking for some non-touristy things to do in Hanoi, taking a tour to the suburbs near the city centre like Duong Lam ancient village is a great suggestion. Duong Lam ancient village is located 44 km to the west of Hanoi city center, in Son Tay town, Hanoi. These villages have similar customs, practices, and beliefs that have not changed for thousands of years. You can hire a bike to explore the roads, visit ancient temples and pagodas such as Mia (sugarcane) pagoda, Mong Phu temple, Ngo Quyen tomb etc, and take pictures of the old architectures of Vietnam.
- Entrance fee: $0.9/ person
- Bike rent: from $2-3.5/bike
6 - Learning to make pottery products in Bat Trang Pottery Village
Bat Trang, meaning "big yard", is a village that has hundreds of years of history, since the Le Dynasty. The most interesting thing when coming to Bat Trang is that you can watch artisans making exquisite pottery products or mold the products by yourself.
- Address: Bat Trang village, Bat Trang Commune, Gia Lam district, Hanoi
- Entrance fee: Free
7 - Learning to cook Vietnamese dishes
If you ignore Hanoi cuisine on your trip here, it will be a big mistake in the cultural journey. Joining cooking classes will be one of the best things to do in Hanoi Vietnam.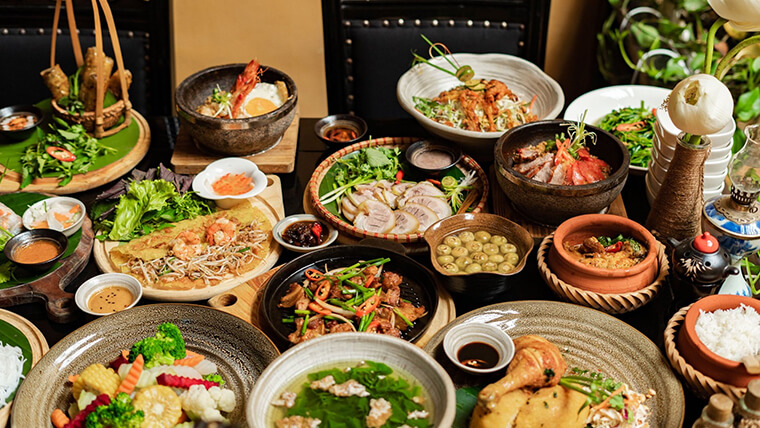 Source: Fb Blue Butterfly Cooking
That is a perfect way to understand Vietnamese cuisine in general, of Hanoi in particular, but also to have unforgettable experiences in learning and processing. In Hanoi now, there are many places offering cooking classes for foreigners such as:
Hanoi Cooking Centre
- Address: 44 Chau Long, Truc Bach, Ba Dinh, Hanoi
- Price: $59/person
Blue Butterfly Cooking Class
- Address: 69 Ma May, Hang Buom, Hoan Kiem, Hanoi
- Price: $55/person
Highway4 Cooking Class
- Address: 25 Bat Su, Hang Bo, Hoan Kiem, Hanoi
- Price: $42/person
8 - Hanoi Temple of Literature
The Temple of Literature is not only the first university of Vietnam, but also a symbol of the fondness for learning of Vietnamese. Inside the Temple of Literature you can see rows of steles that marked the names of doctors in the past, where many students come every year to pray for the success in the entrance exam. Souvenirs are also sold inside the temple, with the price of around 10.000VND (0.4USD)/item
- Address: 58 Quoc Tu Giam, Dong Da, Hanoi
- Entrance fee: 20.000VND/adult (~1USD) and 10.000VND/child (~0,5USD)
9 - Learning about the brutality of wars in Hoa Lo Prison
A short trip to Hoa Lo prison is highly recommended in the list of "Hanoi what to do" in the city centre. Hoa Lo prison was built in 1896 by the French to imprison Vietnamese revolutionists. It was also known as the hell on Earth for the brutal tortures there.
With its historical role, Hoa Lo Prison has now become a famous historical site among tourist attractions in Hanoi, which attracts a lot of domestic and foreign tourists.
- Address: No 1, Hoa Lo, Hoan Kiem, Hanoi.
- Entrance fee: 30.000VND/person (1.3USD)
- Children under 15 and disabled people: Free of charge
10 - Vietnam Fine Arts Museum
The first impression of the museum is an ancient, romantic French-style mansion nestled under the lush green trees. Currently, visitors to the museum are mainly foreigners or artists, painters or students of art schools. Occasionally there are groups of students from inner city schools. They come here mainly to learn, research, contemplate, enjoy Vietnamese fine art masterpieces and enjoy moments about Hanoi in their own way.
Here, there are artifacts preserved from the prehistory, 16th century, 17th-century artifacts to contemporary paintings of the 20th century, all of which are cherished, arranged scientifically and intimately, giving visitors the best sense of possible artistic values.
- Address: No 66 Nguyen Thai Hoc street, Ba Dinh, Hanoi
- Entrance fee: 30.000VND (1.3USD)/person
III - Cultural exchange and making friends with the local
1 - Dating with locals - cool things to do in Hanoi
The most popular way to date a local is through dating apps such as tinder, facebook,...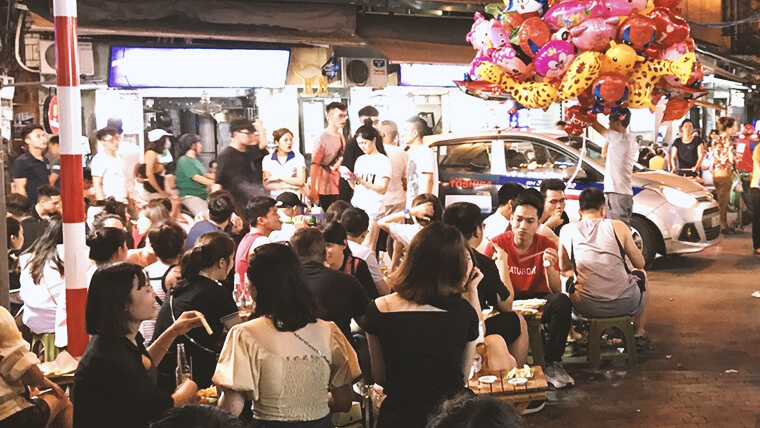 The other way is to find your soulmate in tourist attractions, such as Ta Hien street, Hoan Kiem lake walking streets. Ta Hien street is a small street in the heart of Hanoi, always crowded with people, and is a famous beer drinking place where you can find someone that you may fall in love with.
Another place for a date is Hoan Kiem Lake walking street. Exciting, bustling, sweet and colorful are the words that describe this charming Hoan Kiem Lake walking street. There, you can start a conversation with a local that, who knows, will become your soulmate later.
By having a local girlfriend/boyfriend, you will understand a lot about Vietnamese culture and customs.
2 - Meeting students in Hanoi
Nowadays, Vietnamese students are eager to learn English. They even form in small groups to "hunt" foreigners and practice English with them. Therefore, just stroll along a random park in Hanoi, you may find many students who may also want to talk with you to practice their English. It's a good way to approach students and learn about their thoughts and local culture. You may even find yourself a free local guide.
IV - What to do in Hanoi to enhance your experience?
1 - Discover Hanoi's cuisine
If you don't try some dishes like Bun Cha, grilled fish, banh mi, pho, etc, while in Hanoi, it may be an extreme pity. The price may start from only 15.000VND ($0.6)/dish, especially street food on the sidewalks or walking streets.
Pho: Pho is a dish that people remember right away when talking about Hanoi. Hanoi has all kinds of Pho: Beef Pho (famous at Pho Thin by the Hoan Kiem lake or 11 Lo Duc), Chicken Pho (172 Ton Duc Thang and Quan Thanh), Rolling Pho (Tay Ho), Mixing Pho (Lan Ong) and Saute Beef Pho (Bat Dan). If you come to Hanoi and you don't enjoy Pho, it will be like you were never here.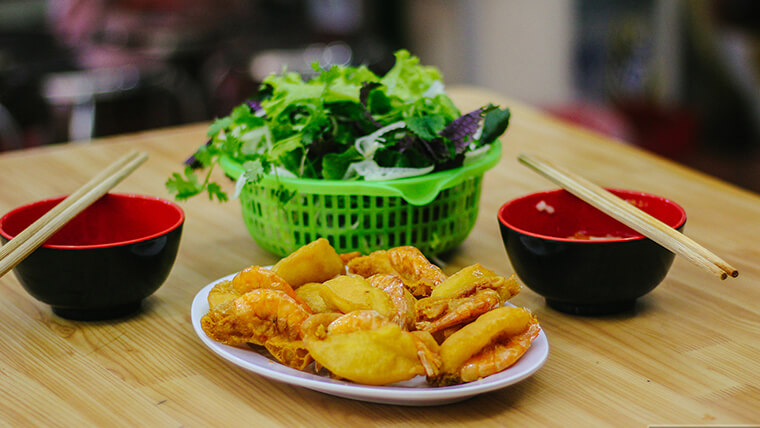 Ho Tay (West Lake) Shrimp Cake: At first a kind of snack, Ho Tay shrimp cakes have now become the precious gift of Hanoi capital. A shrimp cake should be enjoyed while it is still hot because at that time it will keep the crunchiness and shrimp are not fishy. The cake can be eaten with a little papaya salad, finely chopped carrots pickled in vinegar, which soothe the greasiness of this fried dish.
La Vong grilled fish: Fish rolls are often fresh lentils. Take each piece of fish into a bowl, pour boiling soup on top, add some baked rice noodles, roasted peanuts, coriander, basil, dill, freshly chopped onions, dip into shrimp sauce, then enjoy. If you can't stand the flavour of shrimp sauce, you can ask for fish sauce instead, but the fish sauce could potentially reduce the taste of the grilled fish.
Bun Cha: Like pho, bun cha is also one of the typical dishes of Hanoi people. Bun cha is seen in all streets, even in deep alleys. To enjoy it, simply dip grilled patties into sauce, then eat with some tangled vermicelli noodles and a few pieces of crunchy green papaya. I bet you will like to have the second bite right after you take the first bite.
Banh Mi: Banh Mi bread is a dish that appeared from the French time, basically it is the combination of bread and other ingredients such as pate, eggs, meat.... Hanoi has many famous banh mi shops, with all kinds of prices from affordable to expensive. Here are some of the most popular banh mi shops in Hanoi.
- Old Quarter bread – 38 Dinh Liet street
- Ba Dan Bread – 34 Lo Su street
- Nguyen Sinh Bread – 19 Ly Quoc Su street
2 - Shopping activities
It would be a lot of fun to go shopping in Hanoi at famous shopping streets and traditional markets in Hanoi. Below would be four most famous traditional markets you should go not only for shopping, but also to understand more about Hanoi culture.


Hanoi Night Market is one of the best things to do in Hanoi city
Old Quarter Night Market
This is a special "fair" in the heart of the Old Quarter has long been a familiar destination of Hanoians every weekend. This place is not only a trading center but also a culture exchange center, preserving many unique features of 36 old streets in Hanoi, attracting domestic and foreign tourists.
Hanoi Old Quarter Night Market is actually a 3km long street between Hang Dao street and Dong Xuan Market, which is closed from vehicles every weekend. Regardless of the weather, from 6pm to 11pm every Friday, Saturday, Sunday, the streets of Hang Ngang, Hang Dao and Hang Duong are more bustling than ever.
There are about 4000 booths in this special market, with a variety of categories and items ranging from clothes, toys, souvenirs to crafts, fine arts, food, etc. with reasonable prices. The market is overwhelmed with a colorful and vibrant atmosphere. Especially on the Mid-Autumn Festival, Christmas or Lunar New Year, the lanterns, star lights, Christmas decorations, etc. of many colors are being sold, anyone passing by has to stop for a look.
Quang Ba Market
It is not an exaggeration to say that Quang Ba is one of the biggest night flower markets in Hanoi that you cannot ignore. Located only 5kms from the center of Hanoi, Quang Ba has all kinds of flowers from popular to luxury ones. One of the best Hanoi things to do at night is having some night food in the old quarter and walking to this flower market early morning.
Quang Ba market is only open from 2am to 5am. Flowers here are extremely cheap, you can easily bargain for the best prices. Of course, you need to pay attention that the price will increase slightly prior to and during holidays
- Only from 10,000 - 30.000 VND for a bunch of rose buds up to 50 flowers.
- Only 15,000 - 20,000 VND for a bouquet of 20 Easter lilies.
- With expensive flowers like gladiolus, it will only cost you 250,000 - 300,000 VND for a bunch of up to 50 flowers.
And there is a small note that the price of flowers at the end of the market is usually cheaper than that near the gate but the quality of flowers is still very good.
Dong Xuan Market
Referring to Hanoi, it is impossible not to mention Dong Xuan Market, an icon and interesting shopping destination of Vietnamese capital. Dong Xuan Market is located in the old town area with the east in the Dong Xuan market alley, the west in Dong Xuan street, the south in Cau Dong street and the north in Hang Khoai street. The main gate of the market is on Dong Xuan street.
At the market, there are diverse types of items such as clothing, shoes, household items, toys, fabrics with traditional motifs,... In addition, there are also stalls outside of the market which sell candies, souvenirs, food, ...
In addition, next to Dong Xuan market is Dong Xuan Lane, which is an extremely concentrated place for many restaurants and food shops. This is a place you cannot miss if you want to explore Hanoi cuisine. Certainly you can find a lot of delicious, nutritious, cheap dishes such as rib porridge, bun cha, shrimp cakes, eel vermicelli, sweet tea,...
3 - The Old Quarter - hub for free things to do in Hanoi
The Old Quarter is located in the north and west of Hoan Kiem district, formally including 36 streets, which are named after the kind of commodity that it mainly sells: Hang Tre (Bamboo Street), Hang Duong (Sugar Street), Hang Bac (Silver Street),.... It would be great if you can go to all the streets of the Old Quarters, but if you don't have enough time, you can choose to go to some typical destinations.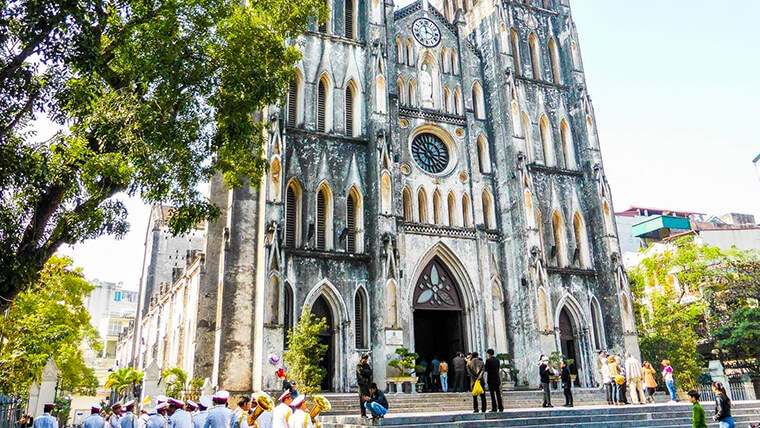 Hanoi St. Joseph Cathedral
With Neo-Gothic style, this old Roman Catholic church is located in the heart of Hanoi. From Hoan Kiem Lake to the west, visitors can easily recognize the faded façade of the church from a distance. The streets around the church area are quite popular with hotels and fashion boutiques.
After years of pause, Masses have been reorganized at the church since 1990 and attracted a large number of parishioners. The ceremony is held every day of the week and is always crowded.
Hang Dau Water Tower
Hang Dau Water Tower is an ancient water tower located at a six-street intersection on Hang Dau street. This unique architecture was built to contain clean water for the city in the 19th century, imbued with French architecture. Now, although it no longer has the capacity to store and supply water, Hang Dau Water Tower exists as evidence of a time of slavery and liberation. It is a historical architectural landmark, becoming a familiar symbol of tourism in Hanoi.
Hoan Kiem Lake
Checking in Hoan Kiem lake definitely is one of the Hanoi top things to do. Hoan Kiem Lake (also called Ho Guom) is the heart of Hanoi. This is not only a place for people to relax, take a walk, but also attach to Hanoians in many cultural and historical aspects. On the weekends, the streets around Hoan Kiem Lake will become walking streets with many interesting activities such as street music and folk games….
Ma May Ancient House
Ma May ancient house is one of the few houses preserved by Hanoi City as an attraction, exhibition, and provider of information about Hanoi history. The house is a typical ancient house in Hanoi, which is a tube house and can be used for multiple purposes. Outer layer is a store that is open to the street to display goods. Inside there is a separate yard. Next is the back room, warehouse and kitchen. The 2nd floor is the worshiping space and the bedroom.
During the day, the ancient house of Ma May is open to receive tourists and can answer visitors' questions. In the evening, this place regularly organizes Ca Trù (a type of folk singing) performances.
Bach Ma Temple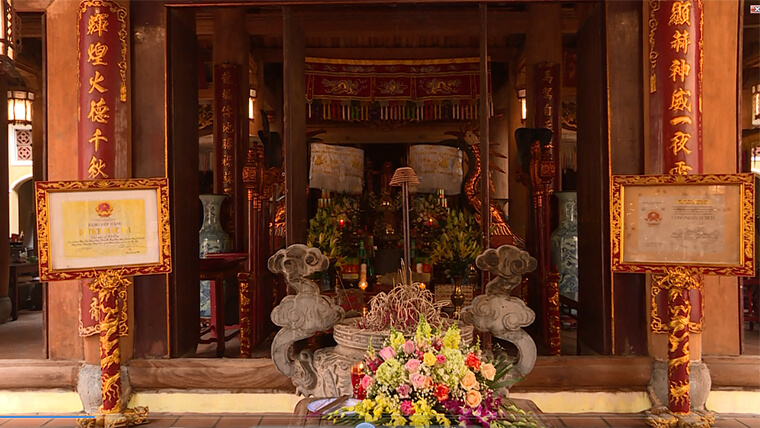 This is one of the four temples of the ancient Thang Long citadel, located at 76 Hang Buom Street, Hoan Kiem District, Hanoi. Bach Ma Temple was built in the 9th century to worship Long Do (Dragon's Navel) - the original deity of Hanoi.
4 - West Lake
West Lake is not only charming by the immense water surface, the purple color of the giant crape-myrtle, the red color of Royal Poinciana when summer comes and the sadness of the space... but also beautiful as it is like a friend that has listened to the sad and happy feelings of so many people. Visiting West Lake is one of the top 10 things to do in Hanoi where you can also visit some other tourist attractions nearby also, such as Van Nien pagoda, Quan Thanh Temple, Tran Quoc Pagoda, Thanh Nien street, lotus lake,... Moreover, you should not forget to try the famous flavor of West Lake shrimp cakes, a bowl of snail noodles or coconut ice cream.
5 - Imperial Citadel of Thang Long
Imperial Citadel of Thang Long is a huge architectural work, built by dynasties in many historical periods and became the most important monument in the system of Vietnam's monuments. Imperial Citadel of Thang Long is a world cultural heritage, as being recognized by UNESCO.
To visit Imperial Citadel of Thang Long, you should go to 19C Hoang Dieu, which is the main gate for visitors. From the center of Hanoi you can easily go there by means of transport like motorbikes, bikes, cars, buses... If you take the bus, get on route 22, this bus will stop at the bus station in front of Hoang Thanh.
Opening time: open on weekdays (except Monday)
- Morning: 8:00 - 11:30;
- Afternoon: 14:00 - 17:00
Tickets
- 30,000 VND/person
- For students, aged 15 and older (must have student cards), seniors over 60, entrance ticket price is 15,000 VND/person
- Free admission for children under 15 and those with meritorious services to the revolution.
6 - Ho Chi Minh Mausoleum Complex
A cultural-historical place to visit besides many other top things to do in Hanoi. Uncle Ho's mausoleum is located in the mausoleum complex including Ba Dinh square, the Presidential palace, Uncle Ho's stilt house,... Normally, visitors will visit the whole area in the order: Uncle Ho's Mausoleum, Uncle Ho's fish pond, Stilt House then visit One Pillar Pagoda and finally to Ho Chi Minh Museum.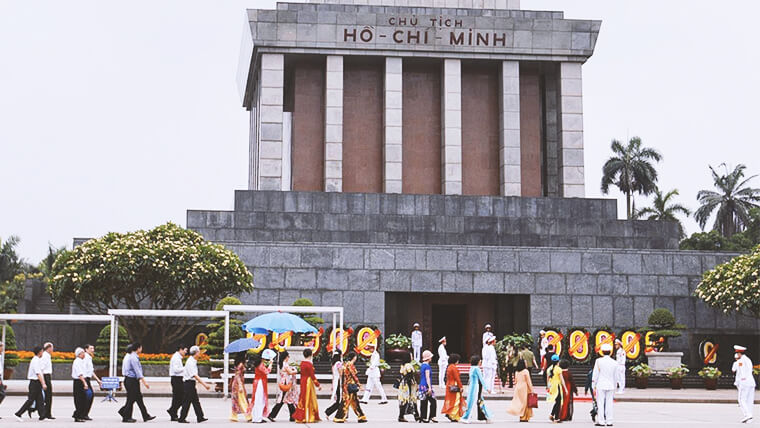 From the gate to Ho Chi Minh Museum No.19 Ngoc Ha, Ba Dinh, follow the instructions of the mausoleum management to join the flow of people visiting Uncle Ho's mausoleum. On summer days or holidays, the queue may be quite long and crowded. Once inside the mausoleum, follow the directions of the signpost and follow the flow of people ahead.
The road from the mausoleum to Uncle Ho's stilt house is very beautiful, with a lake and a garden so the atmosphere is extremely cool. Visitors can learn more about Uncle Ho's revolutionary life and career or visit a small, simple house to learn more about his simple life.
Finally, you can visit One Pillar Pagoda - the thousand-year-old lotus of Hanoi capital, one of the symbols of the capital.
Uncle Ho's mausoleum is usually open in the mornings of the week except Monday and Friday. However, special days such as the 1st of Lunar New Year, May 19 (Uncle Ho's birthday) and September 2 (National Day) that coincide with Monday or Friday will remain open.
- Entrance fee: Uncle Ho's mausoleum doesn't require a ticket.
The entrance fee for foreign visitors who wish to visit the Uncle Ho's stilt house, where Uncle Ho used to live is 25,000 VND/person ($1).
7 - Ba Vi National Park
An ideal place for top things to do around Hanoi by immersing in a fresh and peaceful atmosphere. Ba Vi is a national park that is only 60km from Hanoi center. It is famous for its cool fresh air and the majestic scenery of the mountain forests.
Stepping into Ba Vi National Park, you will have the opportunity to explore the magical natural forest immersed in the mist. A whole pine forest towering with lush greenery, you are spoiled with your best friends to take extremely vivid virtual pictures that are seemingly like being lost in Wonderland. In autumn, you will be immersed in the yellow color of the leaves, like a picture in a romantic movie.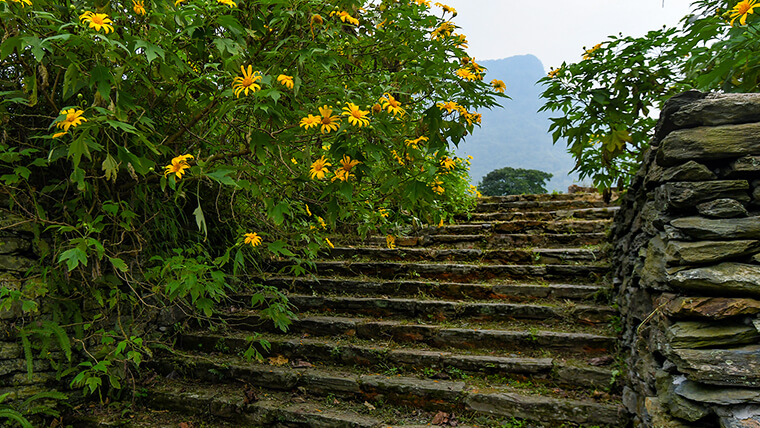 Inside Ba Vi National Park, you can explore spectacular architectures that have been immersed in nature such as Ba Vi ancient church, Cactus Greenhouse, Thuong Temple, etc.
There are many specialties in Ba Vi such as barbs, Da river catfish, goat, piglet, goat milk, grilled goat meat, taro soup, stir-fried pickles, cassava, etc. Especially in the cold season, visitors can burn campfires, show off cooking talents and organize a barbecue party in the middle of the vast space of the forest.
It's the best to visit Ba Vi between April and October. You can go there either by bus, car or motorbike.
8 - Hanoi Ceramic Mosaic Mural
Hanoi Ceramic Mosaic Mural or "Ceramics road" project started in 2007, has a total length of nearly 4km, a total area of nearly 7,000 square meters. Each square meter of mural painting uses about 1,000 pieces of ceramic, each of which has an area of 3x3cm. This road runs from An Duong border gate on Yen Phu road, along Tran Nhat Duat, Tran Quang Khai and Tran Khanh Du streets.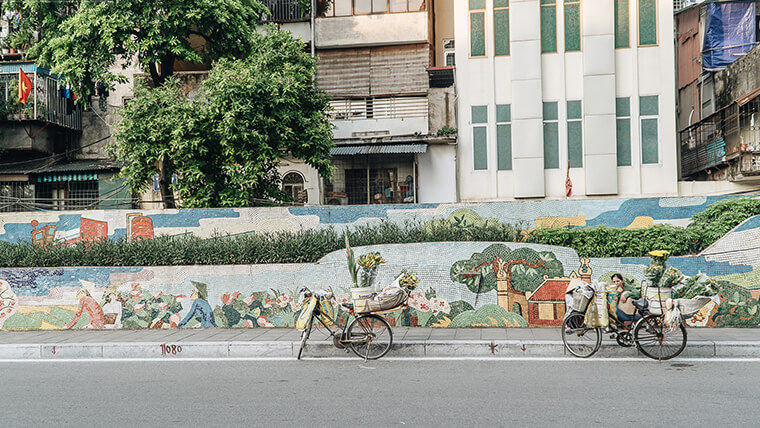 With 21 stages reflecting the flow of Vietnamese history, the pottery painting along the Red River creates a special highlight for the 1000 year Thang Long celebration. The ceramic road is also the place to witness the livelihoods of many working people, struggling to earn a living in the capital.
The project was a gift for Hanoi on the occasion of the 1000th anniversary of Thang Long - Hanoi, and in 2010, the "Ceramics road" was awarded by the Guinness organization as "The world's largest ceramic mosaic". From then on, the road has become a must-visit destination for tourists when visiting Hanoi.
9 - Huong (Perfume) Pagoda
For those who love a peaceful atmosphere and religious trips, this place is highly recommended as one of the best things to do in Hanoi suburban .Huong Pagoda is located in Huong Son Commune, My Duc District, Hanoi, about 60km from the center of Hanoi. At Huong pagoda, you will start your journey from Duc pier on Yen stream. The Yen stream curls at the foot of the mountains, surrounding the forest like a white silk strip linking the noisy mundane life with a pure Buddha corner.
The Huong Pagoda Festival takes place from the 6th of the First and lasts until the end of the Third lunar month. This is the biggest festival of Perfume Pagoda which can be considered to be the biggest in the North only after the Hung Temple Festival.
The main festival takes place from the full moon of the first lunar month to the 18th of the second lunar month, so the number of people who go to worship the Buddha is quite large and therefore can be quite hectic. Upon arrival in Huong Pagoda, you might need to get on a small boat or a cable car to get to different caves and pagodas.
10 - Rockbank of the Red River
Rockbank of the Red River is currently a favorite tourist destination for many young people in Hanoi, located on the banks of the Red River. This is the ideal place to visit and take photos.
V - Recreation and relaxation
1 - Chilling at bars, clubs or pubs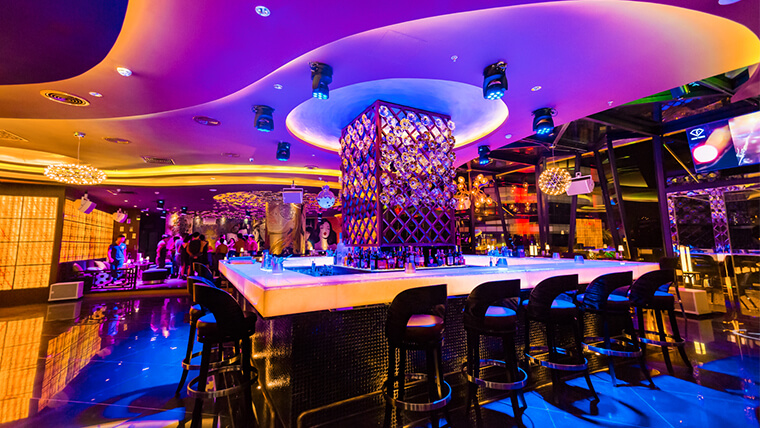 If you are looking for some local entertaining and fun things to do in Hanoi, head to the local bars, pubs and clubs in the centre. Below are some well-known places for bars, clubs and pubs in Hanoi:
- Push Club bar: 23M Hai Ba Trung str., Hoan Kiem district, Hanoi
- The Rooftop bar: 19th floor Pacific Place, No.83B Ly Thuong Kiet street
- King Pirates Pub: 24B Hang Giay str., Hoan Kiem district
- Factory 47 Pub: 47 Hang Buom str., Hoan Kiem district
- Mao's Red Lounge: 7 Ta Hien, Hoan Kiem district
2 - Bao Son Paradise Park
What to do around Hanoi for kids and family recreation? Finding some interesting places like parks. things to do in hanoi with kids
Bao Son Paradise in Hanoi is a place to preserve the beauty of traditional culture, a paradise of arts, technology, ecology, entertainment and cuisine. Bao Son Paradise Park includes 8 specialized locations:Safari combination, aquarium, water park, combination of games, flying cinema, craft village, cuisine and stay.
Among all, Safari combination is the most popular place. It is divided into rare zoos, ocean worlds and ecological zones. Here is the favorite place for children, especially the rare zoo and the ocean world. The rare zoo nourishes wild animals from South Africa and North America such as giraffes, white tigers, Chita leopards, etc. and precious birds from South America like red-winged parrots,..., reptiles from the tropical countries.
At the heart of Bao Son Paradise is the multi-purpose stage of up to 30,000 m2 with a capacity of 11,000 seats. This area attracts many young people with professional dolphin and sea lion circus performances during the day and impressive laser shows and color spray with music shows at night. In general, this place is heaven with many things to do in Hanoi with kids.
In addition, you can also explore the old town with 20 houses built in the style of the late nineteenth and early twentieth centuries' Hanoi. Exciting games, XD high-tech movie theater are also unforgettable experiences for you.
Address: Bao Son Paradise Park, Le Trong Tan Street, An Khanh Commune, Hoai Duc District, just 6km from the National Convention Center, along Thang Long Boulevard.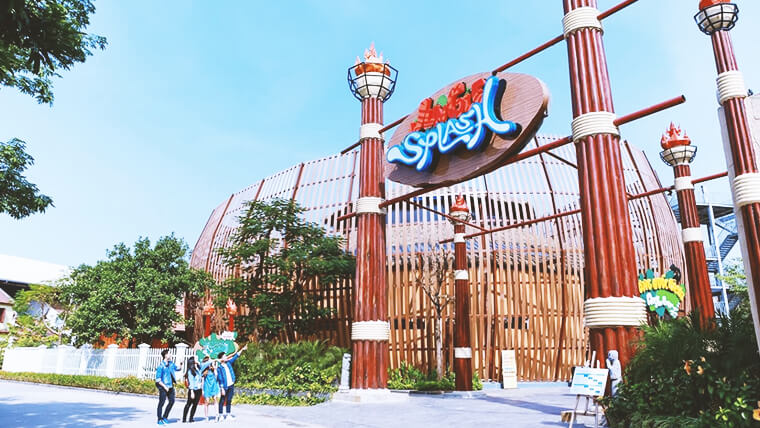 Go to Bao Son Paradise by bus, take the route 50B Long Bien - Urban Area An Khanh (Bao Son Paradise Park). Bus frequency: 15-20 minutes/time. Ticket price: 7000 VND.
Package price:
- Adults: 300,000/person on weekday - 350,000 VND/person at weekend
- Children from 0.9m-1.3m: 220,000/child on week day - 250,000 VND/child at weekend
- Children under 0.9m: free
3 - Ho Tay Water Park
Located right by the beautiful and peaceful West Lake of Hanoi, this is truly an ideal place for you to visit during the hot summer days with many fun things to do in Hanoi city.
The park has 14 water games, all of which are equipped with modern materials imported from Spain, ensuring safety for everyone when coming here for entertainment. In addition, you are completely assured of the water in the park because the water here is treated through an extremely reliable circulating water filtration system.
Address: West Lake Water Park has a main gate located at 614 Lac Long Quan, Nhat Tan, Tay Ho, Hanoi.
Fares:
- Children under 1.35m: Week days VND 100,000 / Person, Saturday & Sunday VND 120,000 / Person.
- Adults above 1.35m: Week days VND 120,000, Saturday and Sunday VND 150,000 /person.
- After 17:00: all are discounted to VND 90,000.
- Children under 0.9m: free
4 - Massage and spa
Top massage and spa places in Hanoi:
- Hương Sen Massage: No.49 Thái Thịnh str., Thịnh Quang ward, Đống Đa district, Hanoi
- Kingston Life Massage: No. 2/168 Hào Nam str., Dong Da district, Hanoi
- Mộc Spa: 65A Trần Quốc Toản, Hoàn Kiếm, Hanoi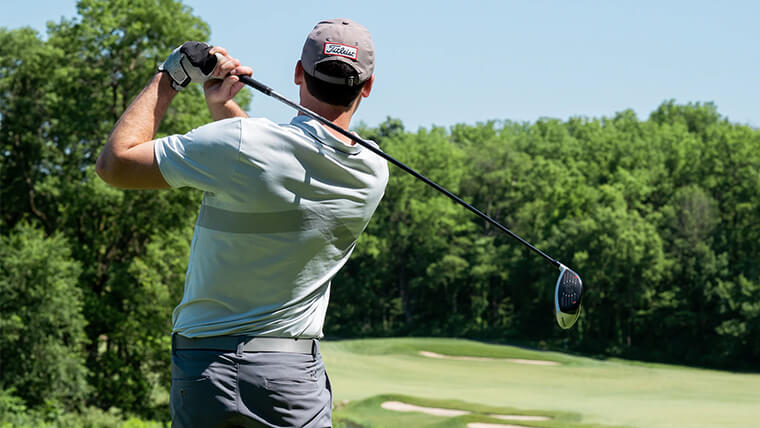 5 - Golf course
Top golf courses in Hanoi:
- Long Bien Golf Course: 918 regiment area, Phuc Dong ward, Long Bien district, Hanoi
- Hanoi Golf Course: Minh Tri commune, Soc Son district, Hanoi
- Legend Hill Golf course: BRG Legend Hill Golf Resort, Soc Son district, Hanoi
- Dong Mo Golf Resort (BRG Kings Island Golf Resort): BRG Kings Island Golf Resort – Dong Mo, Son Tay, Hanoi
VI - Unique things to do in Hanoi
1 - Riding a bike around West Lake
Considered the largest lake in Hanoi, West Lake is located in the north of the capital city. With the surrounding length of up to more than 17km. Walking around West Lake seems to be one of the craziest things you can do. But cycling is much easier. In the early morning or before sunset, when the temperatures are still low, biking is the best way to soak up the cool breeze from the lake, and admire the magical charm here. In addition to escape from the bustling and busy daily life, the lake also gives you the opportunity to see the idyllic life of the people here.
Bike renting places:
The Old Quarter or places surrounding West Lake provide bike rental services. So you can easily set up a cycling trip. You can rent a bike at Hanoi cycling shop on Lac Long Quan street. Or some bike rental shops around Ngo Huyen, located in the Old Quarter. Around the West Lake, some tourist coffee shops also offer this service for your convenience.
The cost of renting a bike is about $ 4 or about 100,000 VND per day.
2 - Wandering around Old Quarters' 36 streets
It can be said that the Old Quarter has a lot of streets, most of which are narrow and very small. Therefore, walking along the old streets is a must-do in Hanoi to feel and observe how the local life is.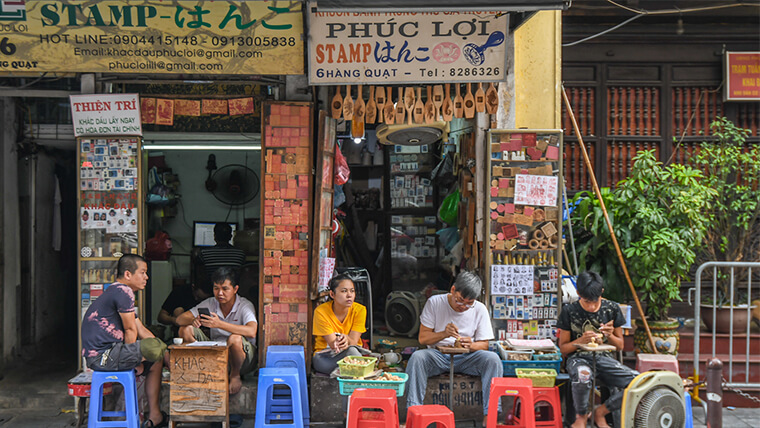 Suggesting schedule for a one-day Old Quarter walking tour:
At 8am, depart for Dong Xuan Market. After that, go to O Quan Chuong and take photos. After that, go to Bach Ma temple and then to 87 Ma May ancient house. Next to Kim Ngan communal house (Hang Bac) - the temple worshiped the ancestor of the Jeweler profession. After that, you find a lunch restaurant, then choose a cafe to rest.
In the afternoon, depart at about 2pm. The first destination is to go around Ho Guom to enjoy the fresh air, remember to visit The Huc Bridge, Ngoc Son Temple and enjoy Trang Tien or Thuy Ta ice cream. After that, you can wander to some eating places such as boiled snails in Dinh Liet, drinking beer in Luong Ngoc Quyen st., stir-fried hearts in Nguyen Sieu st.
Afterward go to the Cathedral or Cho Gao Street to watch the street, drinking lemon tea and having a chit chat. If you go on weekends, you can go to Hang Ngang and Hang Dao streets to have a look at the night market and or souvenirs.
3 - Ta Hien Beer street
What to do in Hanoi at night? Let's discover the old street for a cup of beer, chill out and have fun together with the locals at Ta Hien beer street. Ta Hien Street which converges all the beauty of Hanoi at night is known as the most valuable destination in Hanoi, the combination of Asian and Eastern culture, which is modern, liberal, ancient, and discreet at the same time.
Ta Hien Old street is built based on French architecture with dozens of two-storey houses adjacent to each other, with the same design, echoing the beauty of the early 20th century. Ta Hien's irresistible beauty is often compared with the famous Khaosan road in Thailand. Different from the quiet beauty in the early morning mornings, Ta Hien put on a sexy, exciting outfit when night falls.
There are few places in Hanoi with such a unique, vibrant and bustling beauty as Ta Hien when the night comes. The shops and sidewalk beer pubs located close to each other selling the delicious sidewalk specialties in Hanoi have become an unforgettable impression to the people here in general and international tourists in particular. When you arrive here, you will be overwhelmed by the bustling space with hundreds of people passing by. The image of the young people or the Western backpackers gathering to drink beer, chit chat has made a strong impression on the first time visitors to Ta Hien. It seems that all the barriers of language, culture, cuisine, etc. have been removed.
4 - Experience traffic jam is crazily stuff to do in Hanoi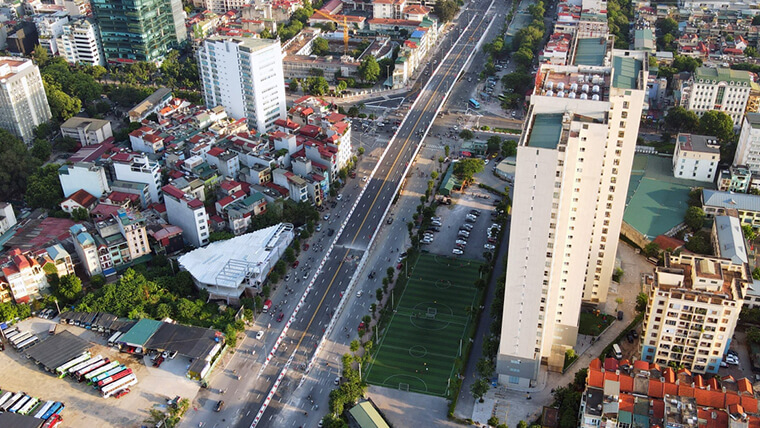 Like most other developing countries, in Vietnam, people tend to migrate from the countryside to large cities like Hanoi and Ho Chi Minh City for job opportunities. However, infrastructure systems in these cities are lagging behind and cannot meet the demand of such a sudden increase in population. Therefore traffic jams have become a "normal" issue in Hanoi. If you have to go anywhere between 7 and 9am or 5 and 7pm, you will experience it here.
5 - Try to bargain
Like many other tourist attractions in the world, shopping in Hanoi does not always have a fixed price. Remember to prepare yourself some of the following bargaining skills to be able to buy the desired items at extremely reasonable prices in Hanoi.
Pre-valuation: When you like an item, you should spend time surveying the items you want to buy in many stores or online to find out how much the price is.
Bargain confidently: When shopping, you should bargain a little "low", if the seller does not agree, then gradually increase the money up. According to the experience of many shoppers, just increase the price to 10 thousand to 50 thousand VND every time you negotiate.
Do not show emotions: When buying, do not be too fond of the item in front of the seller. You should keep a cold attitude and express that you are willing to go to other shops to buy goods at better prices.
6 - Enjoy street food in Hanoi
One of Hanoi's best things to do is spend time on street foods. Hanoi is considered a fertile land for true street food lovers. With 4 distinct seasons, Hanoi offers visitors unique and impressive dishes. In Hanoi on a summer day, the sweet and sour glass of Indochina Dragon Plum juice will be what you remember the most. In the fall, you will fall in love with the scent of fragrant young rice cake in the baskets of street hawkers. Then enjoy grilled corn, potatoes on the cold winter night, or nibble some salted dry apricot on Hang Duong street during an evening rain of the spring. Along with that is the taste of the noodles, rolls or fish cake, etc., which are famous Hanoi street foods that you cannot ignore.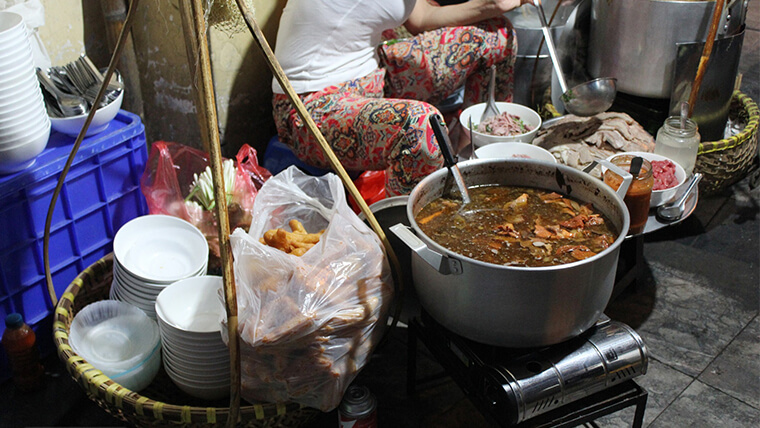 Not processed by professional chefs, the street food here scores points for its closeness, simple processing but with a distinct flavor. The energetic sellers are always welcoming to the customers and that is also the thing that impresses every foreign tourist that comes to Hanoi.
7 - Take photos in beautiful streets in Hanoi
There are roads in Hanoi, not busy and polluted like what people say about the capital. Sometimes you need to find a place to hang out and take some check-in photos with friends, and the two streets below will not disappoint you with an extremely shimmering background!
Phan Dinh Phung is one of the rare streets in Hanoi with a row of green perennial Indochina dragon plum trees. The sidewalk of this street is also one of the largest ones in Hanoi. With a few leaves falling in the summer-spring days, Phan Dinh Phung street has become more and more popular among young people for "hot" pictures.
Hoang Dieu Street is the most peaceful street and contains historical marks of Hanoi. In addition to the three rows of old khaya senegalensis trees that eradicate the sky, on the road, there are a quiet archaeology site of Thang Long Imperial Citadel and buildings built in French architecture that make anyone admire the ancient beauty and tranquility in the center of the capital city.
VII - How long & what to do in Hanoi?
Along with a long history of "thousand years of culture", Hanoi always attracts tourists by its distinctive identity with a rich historical culture and a lot of famous attractions & monuments. Moreover, the unique quintessence of culinary is another reason for travelers coming to Hanoi.
To the first-time visitors, Hanoi seems to be a hub of culture, cuisine & tons of other interesting things to do. In order to experience a "true Hanoi", visitors need to spend at least two - to- three day for sightseeing and exploring activities.
Here are some suggested itineraries that cover the most popular attractions and exciting activities in Hanoi for travelers.
1 - For 1 day trip in Hanoi
Staying 1 day in Hanoi is definitely not enough for a Hanoi exploring trip. From a local's experience, the best option for tourists is to spend your time in the Old Quarter where you can explore the most famous places such as Hoan Kiem Lake, the Opera house, 36 old streets, Ta Hien beer street and night market (Friday - Sunday).
2 - What to do in Hanoi for 2 days
The centre of Hanoi has many other interesting things to see for a 2 days trip. Best places to visit are The Temple of Literature, Hoa Lo prison, and the West lake. Experiencing the nightlife of Hanoi in the bar or at the beer street is one of the most unique activities.
3 - For a 3-day trip in Hanoi
Apart from the popular attractions being mentioned in 1 & 2 days trip, we highly recommend tourists take a sightseeing tour to Hanoi' suburban areas where you can visit the Bat Trang ceramic village, Duong Lam ancient village or Huong pagoda.
What to do in Hanoi Vietnam? Referring to Hanoi, many people will think about the features of an old city and historical sites during many feudal dynasties. But besides that, Hanoi also has a dynamic rhythm of a growing city day by day. Above are our suggestions for things to do when coming to Hanoi. All you need to do now is to come and experience them by yourself