I - What is the population of Hanoi Vietnam?
According to the statistics by GSO (General Statistics Office of Vietnam) in 2020, the population in Hanoi is 8.246.600 people, increasing by 0,976% compared to that in 2019 which is 8.053.663 people. The average annual Hanoi population growth rate in the past ten years from 2009 to 2019 of Hanoi is 2.22% per year, higher than the growth rate of the entire country.
With the population of Hanoi in 2022 being 8.246.600 people, it is the second-most populous city in the country, also has the second-highest population density among 63 provinces and cities with 2,398 people/ km2, 8.2 times higher than that of the whole country. Compared to 1999 and 2009, the city's density increased relatively rapidly with 469 people/ km2 in 2009 and 833 people/ km2 in 1999.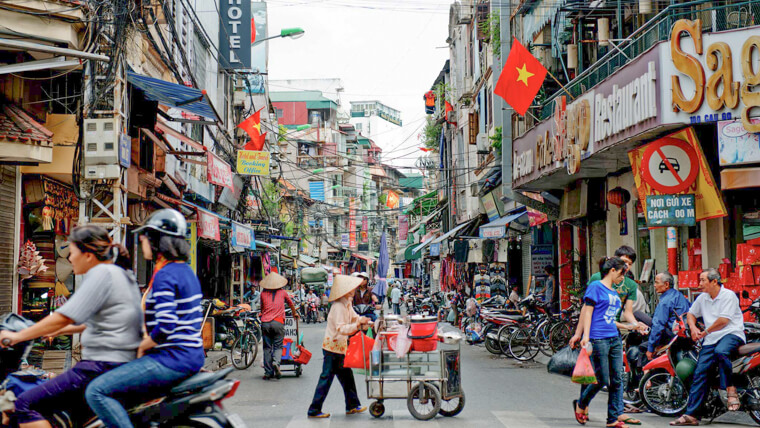 Source: ft.com
The population of Hanoi is unevenly distributed among districts and sub-districts. The districts of Dong Da, Thanh Xuan, Hai Ba Trung, and Cau Giay have the highest population density in the city with 37,347 people/ km2; 32,291 people/ km2; 29,589 people/ km2, and 23,745 people/ km2, respectively. According to Hanoi population statistics, the districts such as Hoang Mai, Nam Tu Liem, Bac Tu Liem, and Ha Dong have witnessed rapid population growth as well.
The population distribution among suburban districts is also unequal with the two most populated districts of Thanh Tri and Hoai Duc, 4 to 6 times higher than others like Ba Vi and My Duc.
II - More about Hanoi demographics & Population of Hanoi
1 - Sex ratio
The sex ratio of the population in Hanoi is calculated by the male population per 100 female population. The sex ratio witnesses the tendency of increase in the past 10 years from 96.6 men/ 100 women in 2009 to 98.3 men/ 100 women in 2019, which is considered as the gradually increasing speed, lower than the national ratio with 99.1/ 100 women.
2 - Age and marital status
According to the statistics of the GSO in 2019 about the population of Hanoi, the percentage of people in Hanoi above 15 years old and those getting married accounts for 69.6%, and getting divorced or separated accounts for 1.7%. This figure is quite equal to the rate of married people of entire Vietnam (69.2%), divorced or separated spouses accounted for 2.1% of the country.
3 - Education
Hanoi has made remarkable achievements in education. The percentage of the Hanoi population aged more than 15 who are literated has increased sharply in the period from 2009 to 2019. It has made significant progress in achieving universal primary education which has been implemented throughout the city.
According to the statistics about the population of Hanoi, by the end of 2018, in Hanoi, there have been 2709 schools and educational centers, including 2,190 public schools and 519 non-public ones. Among those, there are 1,128 preschools, 735 primary schools, 624 junior schools, 624 junior high schools, 222 high schools, 393 Information technology - foreign language centers, and 584 Community support centers.
4 - Religion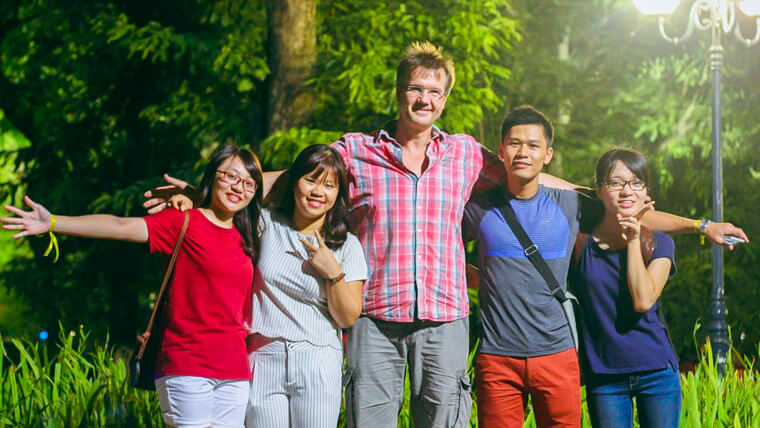 Source: enmota.com
As of mid-2020, Hanoi has 7 religions recognized by the Government as legal entities including Buddhism, Catholicism, Protestantism, Cao Dai, Islam, Baha'I and Minh Su Dao; at the same time, there exist a number of other religious groups. Regarding folk beliefs, there are 5,211 relics of communal houses, temples, family churches, mausoleums, shrines..., of which there are about 1,200 nationally ranked relics and about 900 city-level relics.
More specific about religion & the population of Hanoi
Currently, there are more than 800,000 Buddhist followers with 2,060 monks and nuns, more than 1,000 religious sub-dignitaries and activists at 2,059 temples and monasteries in Hanoi.
Catholicism has about 250,000 followers, active in 400 places of worship, 83 parishes, and 306 branch parishes; 19 religious communities with over 270 monks and religious activists in 20 monasteries. The Catholic hierarchy has 1 Cardinal, 3 bishops, more than 90 priests, and nearly 2,000 sub-dignitaries.
The statistics about the population of Hanoi indicated that Protestantism has 33 denominations, of which 7 are recognized by the Vietnamese Government as legal entities with 167 points, groups, and more than 10,000 followers. Specifically, there are over 6,000 Vietnamese believers, about 1,400 Koreans and more than 3,000 foreigners of 40 different nationalities living and working in Hanoi.
Islam has 1 Mosque with 1 Management Board consisting of 5 members, including 1 dignitary belonging to the Imam rank. 86 followers are Hanoians, about 300 Cham and Tay Ninh people, and more than 500 believers are employees of embassies, businessmen of 18 Arab countries working in Hanoi.
According to the statistics about the population of Hanoi, some other religions have a smaller scale such as Cao Dai with 3 families belonging to Cao Dai Ben Tre, 2 of them are Cao Dai Tay Ninh families, with 21 dignitaries, 30 sub-dignitaries and nearly 400 followers. The Baha'i religion has 15 local spiritual councils, in which 3 councils have been recognized by the city People's Committee, including Hai Ba Trung, Thanh Tri, Thach That, with more than 400 followers and 20 sub-dignitaries. The Church of Jesus Christ of Latter-day Saints has 1 Representative, 5 members of the Representative Board with about 200 followers, operating at 3 group points in Hanoi. Meanwhile, Minh Su Dao has 1 Organization with 1 dignitary, 50 followers and 3 sub-dignitaries.
5 - The population of Hanoi & career
According to preliminary survey data of the General Statistics Office, by 2020, the labor force of Hanoi aged 15 and over is about 4,124,620 people, of which the number of people working in economic sectors is about more than 3.5 million. As of the first quarter of 2021, there are about 27,200 people unemployed, with more than 8,400 in urban areas and 18,800 in rural areas of Hanoi. In which, there are more unemployed men at 14,900 people, and the rest are more than 12,300 unemployed women. The quality of Hanoi's labor force is among the highest in the country. By 2019, the labor force in the agriculture - forestry - fishery sector of Hanoi accounted for 31.4%, the labor force in the industrial sector accounted for 27.7% and 40.9% in the service sector.
6 - The population of Hanoi & income
As of the first quarter of 2021, the average salary of workers aged 15 and over in Hanoi is 8,738,000 VND / person / month, of which the average salary for men is 9,226,000 VND, for women is 8,191,000 VND.
Meanwhile, the Hanoi Department of Labor, War Invalids and Social Affairs also had a preliminary summary of the salary situation in 2021 based on reports from 6,227 enterprises. For employees of a one-member limited liability company with 100% charter capital held by the Government, the average salary in 2021 is 6,800,000 VND / person / month. Employees of companies with a controlling stake in the Government have an average salary of 6,700,000 VND / person / month. For private enterprises, the average salary in 2021 is 6,550,000 VND / person / month & the average salary of employees in FDI enterprises is 7,150,000 VND / person / month.
In general, after a period of 10 years from 2009 to 2019, the population of Hanoi has changed significantly with an average population growth of 2.2 % per year, which has considerable effects on the economic development process and many other facets of life.