Mu Cang Chai Yen Bai is located in the northwest of Vietnam and about 314km from Hanoi city, corresponding to 6h30m traveling by car along the NH32C route. This place is only about 159km from Sapa to the Northwest along NH32C and QL4D, corresponding to travel time of about 4 hours 20 minutes.
I - How to get here?
1 - From Hanoi to Mu Cang Chai
From Hanoi, you can choose to travel by motorbike or coach depending on your needs, health as well as schedule.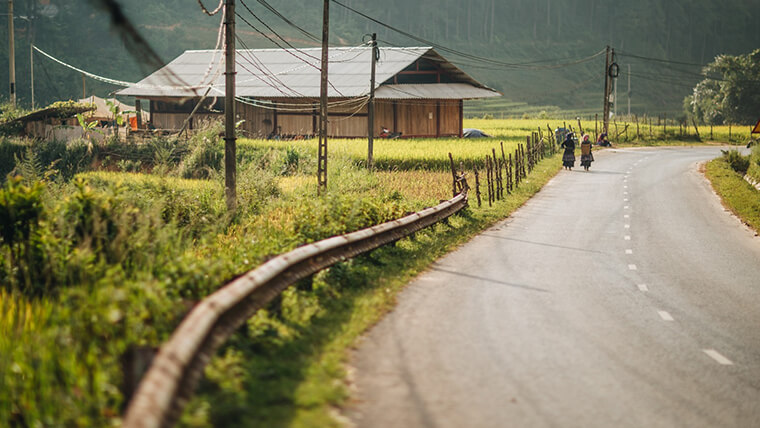 Bus
Catching a bus from Hanoi takes you around 7 -7.5 hours depending on each bus company and weather conditions. And, the drop off places will be at the town center.
Motorbike
Riding a motorbike from Hanoi to Mu Cang Chai is cost-effective and also suitable for those who are healthy, love nature, and want to have the opportunity to explore the beautiful mountain passes in Vietnam. Tourists will move along the NH32 route easily. You can also visit Tien Nu Cave (Tu Le commune, Van Chan district, Yen Bai province) on the way. However, this road also has many relatively sharp turns and turns at the end of the stage, so visitors need to pay attention.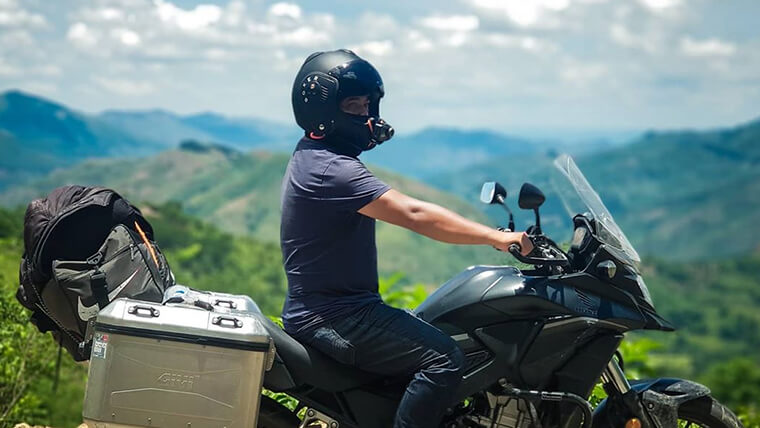 2 - From Sapa
Moving from Sapa to Mu Cang Chai is not too difficult, and you can go along NH32. Please note that: Till 2020, none of the bus companies have exploited or launched transfer services between the 2 destinations.
Taxi
The price is about 3,500,000 VND/ 4-seater car /one-way (~ $150.86).
Motorbike
Traveling by motorbike will give you a lot of experience, especially having a panoramic view of O Quy Ho pass - one of the most beautiful passes in Vietnam. However, most of the roads are mountain roads, winding pass paths with fog and cold wind, so it is quite dangerous. Make sure you wear enough protective gear and run at a slow and steady pace.
II - Mu Cang Chai weather information
Due to the influence of monsoons, this land also has 4 distinct seasons like other provinces in North Vietnam, but due to its location at an altitude of 1,000 m above sea level, the temperature will be slightly lower. The temperature is generally cold. The average annual temperature here is about 19.6oC, the highest temperature is only 33oC and the lowest is 0oC in winter.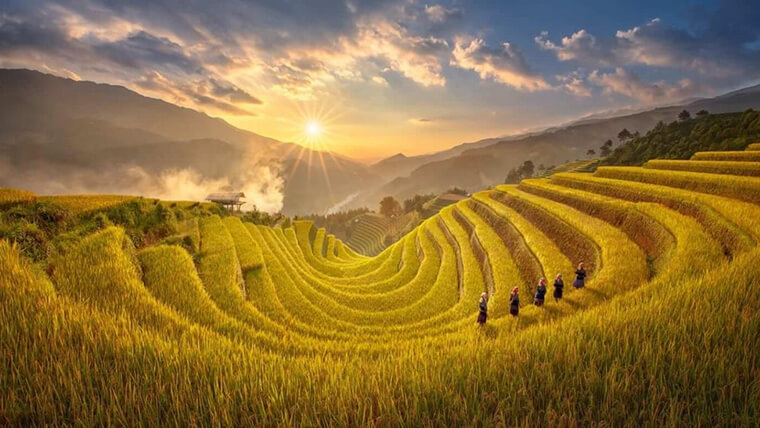 The best time to come here is from May - June when the waterfalls and the scenery here will be filled with the sparkle of the water like a giant mirror in the middle of the forest. In the ripe rice season from September to October, this land will put on a beautiful bright yellow "coat". Especially, until this time, visitors have the opportunity to admire the wet rice cultivation/harvesting activities of the local people.
III - Place to visit
The sights bring many unique and attractive experiences that tourists should visit when coming here such as:
1 - Mu Cang Chai rice terraces
The terraced fields here were recognized as a national intangible cultural heritage in 2007, and this is also one of the largest and most beautiful terraced towns in the North. The three communes with abundant rice fields here are Di Xu Phinh, Che Cu Nha, and La Pan Tan.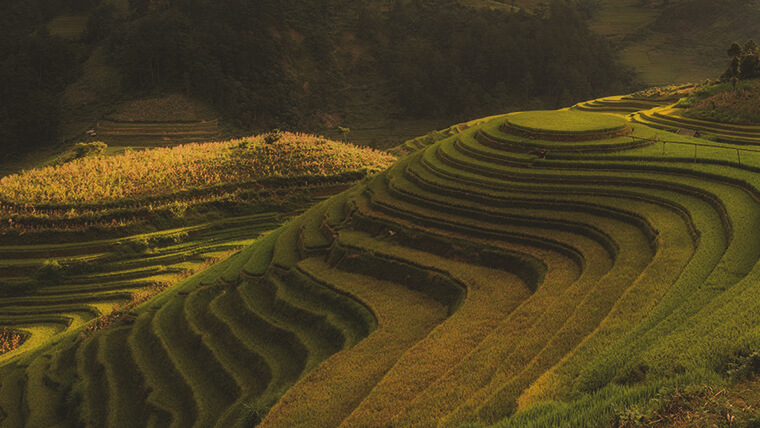 Standing down from above, the whole rice field appears like an ink painting with golden sunshine, green trees, and terraced fields of people with different elevations, only in Vietnam. It surely will surprise visitors with the creative mind, as well as the way of living in harmony with the nature of the Northwestern people.
2 - Mam Xoi Hill
Mam Xoi Hill is at an altitude of 1,000 - 1,600 meters above sea level, and it is called the Mam Xoi Hill because the hills are round, protruding with many floors like large raspberries. This is also an ideal place for those who love nature and want to see the sunrise of the Northwest forest or the dreamy sunset or watch the typical Tam Giac Mach (Buckwheat) Flower fields.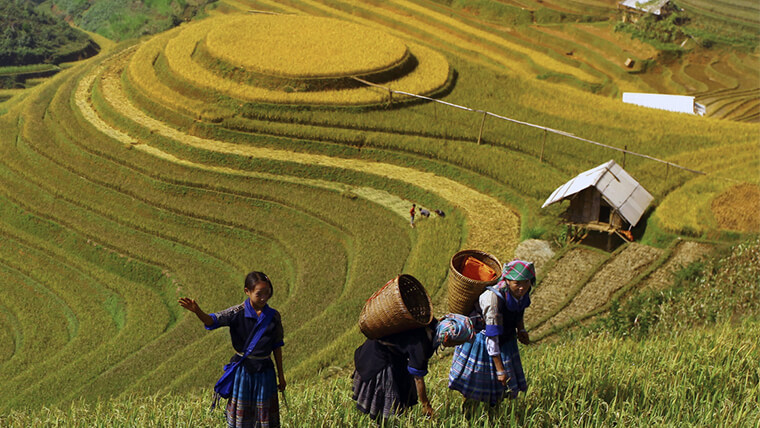 Mam Xoi Hill (Source: VnExpress)
The appropriate time to welcome the sunrise is from 5 to 5:30, and the sunset is about 16:30 - 17:00. To get the best pictures, you should choose a high angle that covers the entire scene with mountains, fields, and sky. The ideal time to take pictures is in the morning from 8 to 10 am or from 2 to 3:00 in the afternoon.
The way to the Mam Xoi hill in Mu Cang Chai Vietnam is quite easy, visitors can ride a motorbike with a driver about 60,000 VND / one-way (~ 2.5 $), entrance tickets are about 20,000 VND/person (~ 0.86 $). Tickets to the Tam Giac Mach (Buckwheat) flower garden are about 10,000 VND / person / time (~ $ 0.43).
2 - Khau Pha Pass
Khau Pha Pass - one of the "four greatest passes" of Northwestern Vietnam is located at an altitude of 1,200 - 1,500 meters above sea level. That is why the top of the pass is like a floating mountain on the flying cloud that the local people named Khau Pha (means Heaven Gate - Thai national language).
It is the place where H' mong people pray to the Giang God (the god of the upland ethnic people) when crops fail or something bad because they believe that from here, God can hear them. At the same time, Khau Pha is also the place where the "Cloud Warriors" have made great contributions to the nation's anti-French colonialism by taking advantage of the rugged terrain and cloudiness all year round.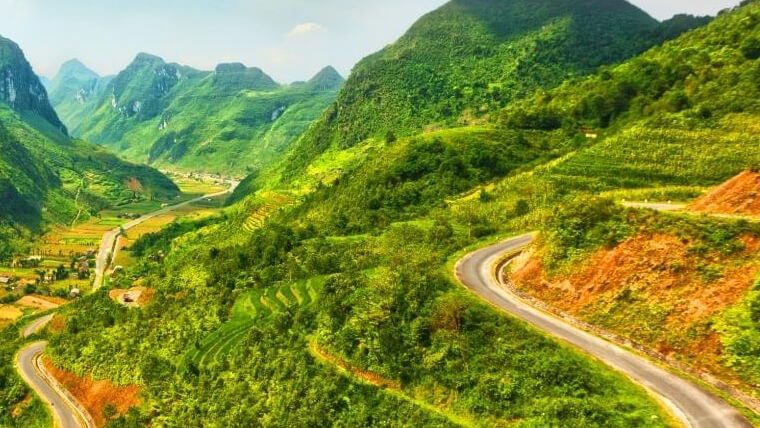 Khau Pha pass (Source: Internet)
Thanks to the possession of an altitude of over 1,200m above sea level, Khau Pha Pass is also an ideal place to hold a Paragliding Festival - a theme for each year, usually held in September. From the pass in Mu Cang Chai You can experience this extreme sport while enjoying the panoramic view of ripe rice fields from above that are extremely attractive.
The entire pass is a gravel, bumpy and pebble road with dozens of sleeve bends (short slope, short bends and zigzag), so many adventurous tourists love that. However, this road is also quite dangerous because there are no barriers, no signs, and landslides easily occur.
3 - Che Cu Nha Commune
Che Cu Nha is one of the places famous for its inherent wild, idyllic, and rustic beauty that has not been influenced by the tourism industry. Additionally, the way to Che Cu Nha is not easy to go, so there are not too many tourists. This is a suitable place for tourists who love nature, want to learn more about life as a method of cultivating terraced fields here. From far away Che Cu Nha, visitors can also find many beautiful, peaceful and poetic "camera angles" that are extremely valuable.
4 - The villages in La Pan Tan
La Pan Tan is one of the communes in Mu Cang Chai Vietnam and has a large number of beautiful and idyllic homestays like the houses of indigenous people. Coming here, visitors not only have the opportunity to observe the daily activities of the people, but also enjoy a free after-hours breakfast for local children. This is also a very popular experience for visitors. For those who have ever come to La Pan Tan must admit that "The terraced fields here are round and beautiful like the fingerprints of "God".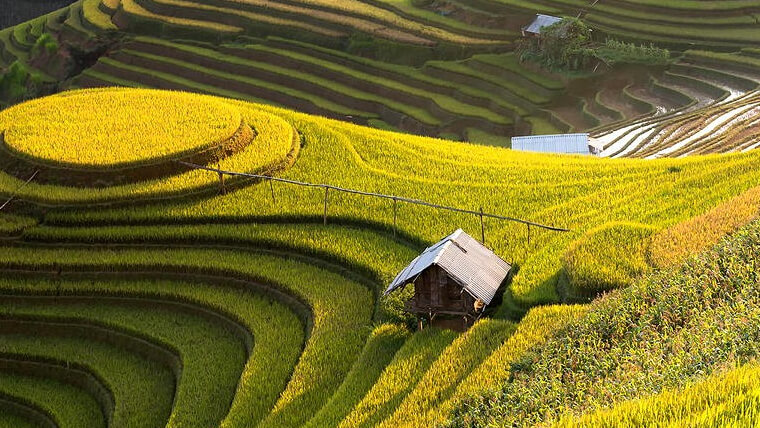 La Pan Tan village (Source: Vietdiamondtravel)
5 - Lim Mong village
The road to Lim Mong village is very difficult to go, the slope is about 10o with gravel and stone. The road is gravel, the dust is hazy and the rainy days are muddy. Although it is difficult to go, once they reach the village of the Mong people here, visitors feel "deserved" for those difficulties. Lim Mong is not only beautiful, but stilt houses peeking on the hillside, hidden among the Northwest mountains also make visitors extremely excited. Lim Mong is immersed in the romantic natural scenery with the clear blue sky, white clouds, yellow ripe rice, and green hillsides.
6 - Mo Waterfall
Mo waterfall with 7 most beautiful stops in Mu Cang Chai Yen Bai. Each stop is a small waterfall with clear water, white foam. Coming to Mo waterfall, visitors can experience the feeling of floating on small rafts, see the surrounding scenery with plum blossoms, banana flowers,...You can also try a relaxing foot massage at the one-story waterfall, also extremely interesting. Or drop yourself along the white foam waterfall at the 4th-floor waterfall point. Especially along the Mo waterfall, many small rock caves which are also a very unique rain shelter are waiting for you to explore.
7 - Thai Village
One of the small villages is leaning against the mountain and is located in the middle of a poetic valley. Here visitors can enjoy the typical dishes of the Thai people, take an herbal bath, rest at the stilt house or make a campfire. Charming scenery with mountains, yellow rice fields, peaceful streams will surely bring you an experience of peace.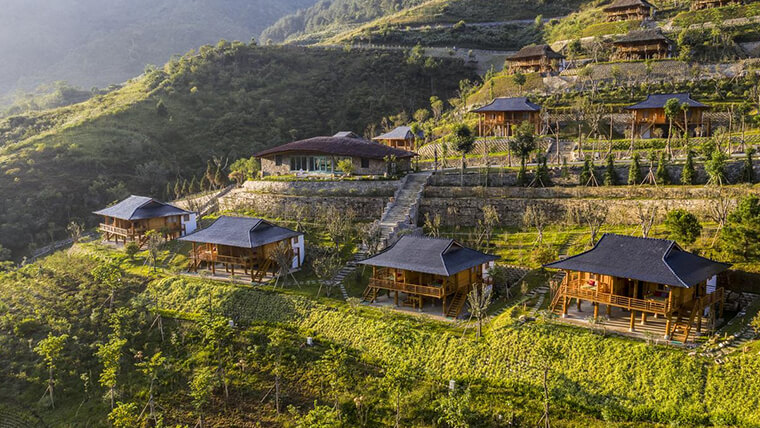 Tu Le village (Source: Dulichcongvu)
8 - Tu Le Village
Tu Le conquers visitors by the beautiful natural scenery, the colorful rice fields, and the yellow light shining on the top of the mountain while the houses are still immersed in the morning mist. Each scene here is beautiful and harmonious like a painting. Not only that, this place is the main place where Thai people often have a bathing activity called "fairy bathing" - a unique feature only in Tu Le commune. Every morning or evening, the local people gather to bathe and chat by the stream. Coming here, visitors can also experience the spring bathing and keep beautiful photos.
IV - Unforgettable experiences in Mu Cang Chai
You will have an unforgettable experience only here such as: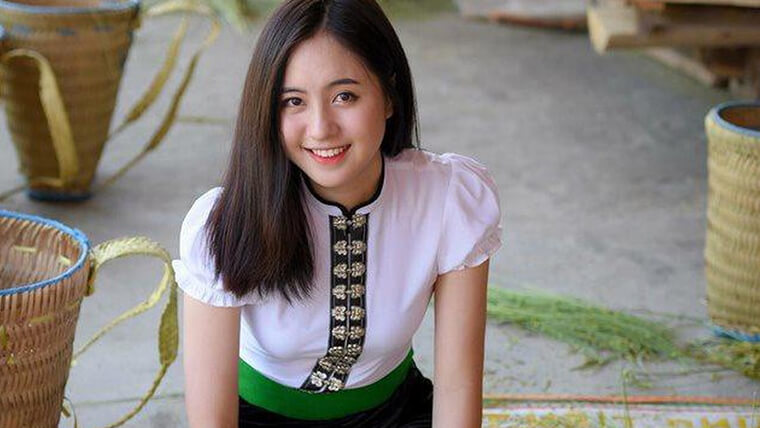 1 - Wearing costumes of the upland ethnic groups
Coming here, you can also try wearing colorful costumes of the H'mong or Thai people living here, the rental price is from 20,000 - 30,000 VND / set (~ 0, 86 - $ 1.29). Some places to rent costumes associated with tourist destinations such as:
- Mam Xoi Hill - Terraced fields.
- Khau Pha Pass - the area of ​​the photo with Tam Giac Mach flowers.
2 - Traveling by motorbike
For those who love adventure and wish to explore this destination by themselves, they can choose the form of "traveling" by motorbike. There are high-difficult roads here that "hide" many beautiful landscapes such as Khau Pha Pass, the way down to Lim Mong village, the road to Che Tao Commune - Muong La, ...
Each street owns a peaceful corner, the wild beauty of the Northwest mountains with murmuring streams, terraced fields, charming scenery or small houses along the forest rolling white smoke every afternoon. All create a unique attraction for this mountainous area, making each "adventurer" remember forever even once. Moreover, the daily life of indigenous people such as harvesting, bathing in streams, ... also makes visitors excited.
3 - Discovering cuisine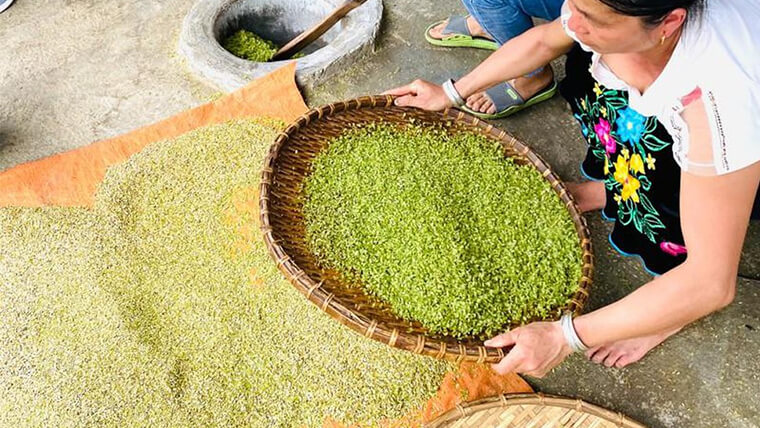 Tu Le green sticky rice (Source: Internet)
Referring to Mu Cang Chai Vietnam, it is impossible to ignore the important role of cuisine, the local people's "highland" dishes which always make tourists surprised. Only by natural ingredients that people bring colorful, flavorful, and nutritious dishes such as:
Tu Le sticky rice
Just a bowl of white sticky rice, but the rice seeds in Tu Le give the sticky rice dish much more fragrant and sticky than usual. The legend of the ancients said that the rice grain here is a heavenly seed and has the hand planted by a goddess so it can keep the sweetness of heaven and earth, the aroma of such glutinous seeds. A plate of hot sticky rice in the morning with white shrimp or sesame salt will surely surprise visitors by its rich and delicious taste.
Tu Le green sticky rice
Also from those delicious rice seeds, but under the skillful hands of the people, you can produce fragrant, sticky rice. The ingredients for making nuggets are young sticky rice (rice seeds with intact milk) that are harvested and then crushed by hand and roasted over high heat. The side dish with nuggets is usually a ripe banana.
Five -colors sticky rice
Sticky rice in Mu Cang Chai Vietnam with 05 different colors made from natural ingredients such as sticky rice, gac, pineapple leaves, fresh turmeric, ... Each color has its own meaning: green is the color of the Northwestern mountains and forests; yellow represents one's wishes; the red color represents aspiration; Purple represents loyalty and love in white.
Roasted Grasshopper
For many tourists, this dish seems quite "horrifying", but when you try it once, you will remember it forever. The grasshoppers are fried golden, crispy, and spicy with lemon leaves. However, to enjoy this dish, visitors have to come here around May - September because this season there are many new grasshoppers and it is best to book in advance.
Meo Apple
A popular fruit of the Northwestern mountains has a characteristic acrid and sour taste but can be processed into many different delicious dishes such as wine immersion, salt guava, making umbrellas, ... Meo Apple is also a valuable medicine in traditional medicine that supports heartburn treatment, diarrhea control, low blood pressure, ... with the name Son Tra. Here, visitors can easily enjoy a glass of cider, sweet, mellow, and quite easy to drink.
Some restaurants could be mentioned as:
- Quyen Huong Restaurant: Group 3, Town center - 0942,447,103.
- Tuan Thuy Restaurant: Group 3, Town center - 0977 279 165.
- Hang Beo Restaurant: Group 4, Town center - 0944 904 047.
V - Other information
1 - Mu Cang Chai Tours
Some places that you should not miss are Tu Le - Lam Mong - terraced fields in 3 communes of La Pan Tan, De Xu Phinh, Che Cu Nha - Thac Mo - Ban Thai. Some tour providers are:
- Dai Nam Investment Trading and Travel International Company: Time 2D1N, tour price is 1,450,000 VND / person (~ 625 $). Contact phone number: 0243 2 22 72 555 / +84 948 895 836. Depart from Hanoi.
- Dream Travel Co. Ltd.: Tour 3D2N, 1.750.000d price / person (~ $ 75.43). Contact phone number: +84 903 288 255. Depart from Hanoi
- Origin Viet Nam Company Limited: Tour 2D3N, prices from 136.8 $ / person. Contact phone number: Tel: +84 243 954 1206. Depart from Hanoi
For those who want to experience this land by motorbike, you can refer to the following motorbike rental locations: Tuyen Mai rental shop, Group 6 - Town center - Yen Bai. Phone: 0962 640 931.
2 - Places to stay in Mu Cang Chai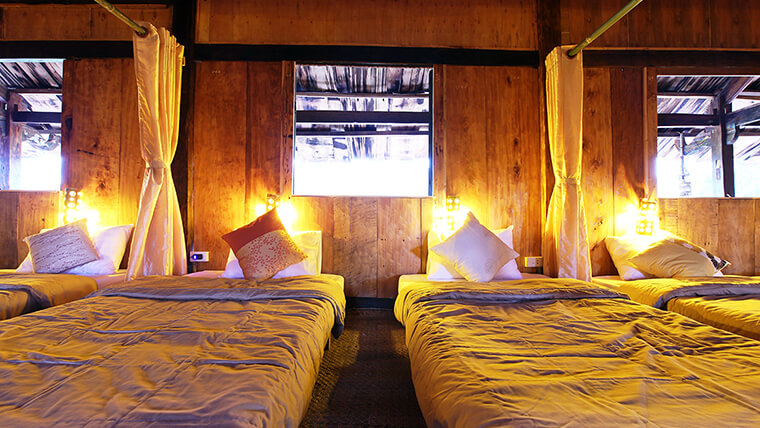 Mu Cang Chai Ecolodge (Source: Fantasea)
Types of accommodation available here include homestay and ecolodge. Some accommodation places that tourists can refer to such as:
Mu Cang Chai Ecolodge - 3 *
The resort possesses airy space, a large view, and is designed according to the typical stilt house architecture of the people here. Here visitors can admire the daily activities of the indigenous people such as terraced fields in the pouring season, sowing, transplanting rice, ...
- Address: Nam Khat Village
- Room price: 250,000 - 425,000 VND / person / night ( ~ 10.7 - 18.3 $)
- Phone: 098 90 90 90 8
Huong Siu Homestay
Place residence is designed in the style of the floor of the indigenous people with an area of 100m 2 with full utility subdivision, bringing the most comfortable experience. From here, visitors can easily catch the sunrise, enjoy the dishes prepared by indigenous people or immerse themselves in the green space of flowers. It has 4 bedrooms, a large community room suitable for groups of 8 - 15 people.
- Address: Town center
- Room price: 250,000 - 320,000 VND / room / night (~ 10.7 - 13.79 $)
- Phone number: 0346612443
Mu Cang Chai Dream House
Possessing airy space, designing houses in the style of indigenous stilt houses with natural wood material, creating a cool winter feeling. Coming here, visitors can enjoy the fresh air, peaceful to try wearing the colorful costumes of the H' mong people, or watch the romantic road with Triangular Flowers.
- Address: La Pan Tan communes
- Room price: ~ 250,000 VND / room / night (~ 10.77 $)
- Phone number: 098 979 2884
3 - Mu Cang Chai map

It is obvious that Mu Cang Chai Vietnam is one of the most beautiful upland districts in the Northwestern mountainous region where people still retain the traditional beauty, inherent wet rice cultivation methods, and national delicacies.