Being recommended as a mountainous province, Hoa Binh Vietnam is among top best places to visit for trekking in the northern region. The North borders Phu Tho Province, the South borders the provinces of Ha Nam and Ninh Binh, the East borders Hanoi Capital City, and the West borders the provinces of Son La and Thanh Hoa. The natural area of the province is 4.662,6km2, accounting for 1.41% of the total area of the country. The province's topography is mainly high mountains with steep slopes and no large fields like Lai Chau and Son La provinces.
- Administrative unit: 1 city & 10 districts including Hoa Binh City, Luong Son district, Cao Phong district, Da Bac district, Kim Boi district, Ky Son district, Lac Son district, Lac Thuy district, Mai Chau district, Tan Lac district, and Yen Thuy district.
- Postal code: 36000
I - How is Hoa Binh weather all year round?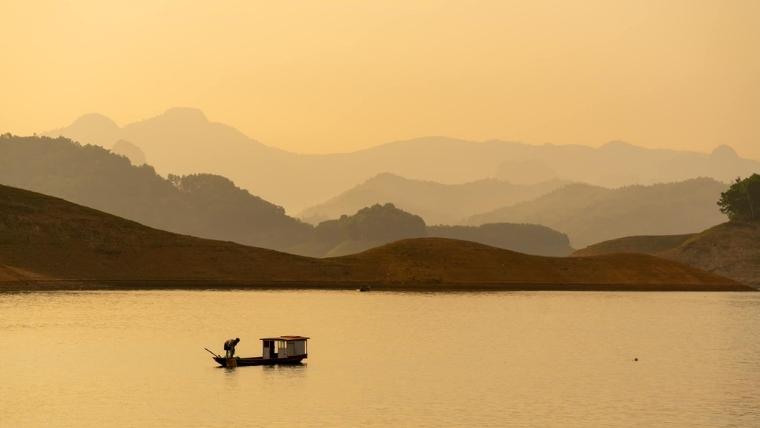 Source: Nguyễn Ngọc
This province has a tropical monsoon climate with cold winters and hot, rainy summers. The average annual temperature is more than 23°C. July is the hottest month of the year with an average temperature of 27-29°C and the highest one of 40°C whereas the coldest month is in January with an average temperature of 15.5 - 16.6°C. Extreme weather conditions such as heavy rain and storms usually happen from June to September with an average rainfall of 1,800 - 2,200mm annually.
You can visit Hoa Binh province any time of year because each of the tourist spots here boasts its distinct beauty in different seasons. If you want to join special festivals, you should visit the province from April to June of the lunar calendar. Otherwise, you can pay a visit to this Northern mountainous province from January to March to admire the utmost beauty of the lush forests and at the end of September - October to immerse yourself in the vast golden paddy fields. It rains heavily and frequently in July and August, which results in the extreme phenomenon of landslides.
II - What are the best places to visit in Hoa Binh Vietnam?
Mother Nature has bestowed on this land plenty of magnificent and majestic landscapes with all-year-round white-cloud covered valleys, gentle and calm waterfalls, mysterious caves, and rich culture of ethnic minorities, etc. All factors have become the huge potential for tourism development in this Northern mountainous province. Here are the most outstanding tourist attractions that you should not miss when traveling to this province.
1 - Mai Chau Valley in Hoa Binh Province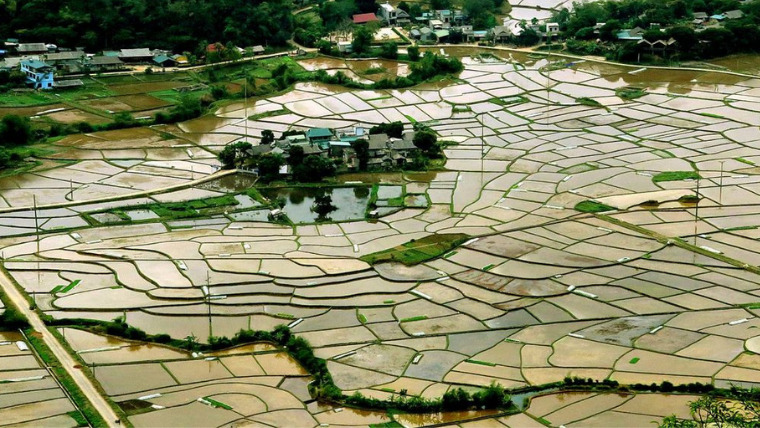 Source: Nguyễn Tuấn Hải
Located in the Southwest of Hanoi, Mai Chau Valley belongs to Mai Chau District. The extraordinary beauty of landscapes here promises to linger in visitors' minds. Some of the most outstanding tourist spots in Mai Chau Valley can be mentioned as:
Thung Khe Pass
At Thung Khe Pass or Da Trang Pass (White Rock Mountain), you will be strongly impressed by the majestic natural scenery of Vietnam's Northwest mountains, soft winding pass, miraculous space of smog, and curtains of white "snow".
Lac Village
This is the most beautiful village in Mai Chau Valley, Hoa Binh Vietnam, outstanding with its simple and rustic beauty. Lac village is surrounded by majestic mountains covered with mist. Over 700 years, Lac village has become the symbol of the rich culture of the Thai ethnic group with 5 families. You will be overwhelmed by the magnificent landscapes of winding passes, towering rocky mountains, and steep cliffs on the way to Lac village.
Pom Coong village
The unique name of the village means a drum lying on a hill, which symbolizes the image of stilt houses lying on a hill surrounded by gigantic green rice fields. You can visit Pom Coong village in Hoa Binh Province Vietnam in any season to enjoy the idyllic atmosphere exuding from the vast space and majestic mountains and forests. The typical feature of the village is the clusters of Thai stilt houses with traditional architectural style and environmental materials such as bamboo.
Mai Chau fair
The fair is held in the stadium of Mai Chau town, about 1km from Lac village on Sunday mornings. From the early morning, the ethnic groups such as the Thai, the Mong, the Muong, etc. get together and bring along a wide variety of items and local specialties to the fair to exchange the products with one another.
Chieu Cave in Hoa Binh Vietnam
To get to the cave, you have to pass 1.200 stone steps amidst Xa Pung green trees. The cave features a myriad of sparkling stalactites and mesmerizing stalagmites in different and complex shapes
Mo Luong Cave
The natural cave is located in the limestone mountains, formed after thousands of years of water erosion, which creates many layers of multi-shaped stalactites around the cave with many different vivid images like flowers and clouds. The cave has two mouths overlooking the fields and villages in the Mai Chau Valley and Hoa Binh Province. Particularly, in the third cave, there is a small stream murmuring, which creates ear-pleasing sounds.
Visiting Mai Chau Valley, you can stay at the following accommodations:
Mai Chau Ecolodge
The bungalows in Mai Chau Ecolodge are built and designed in the style of traditional stilt houses of ethnic minorities in the Northwest with an open-air bath but still discreet with brocade motifs. The interior is made entirely from natural materials. The restaurant here serves traditional Vietnamese dishes and typical Thai dishes with completely fresh ingredients.
- Address: Na Chieng Village, Na Phon Commune, Mai Chau District, Hoa Binh Vietnam
- Hotline: +84 218 381 9888
- Website: https://maichau.ecolodge.asia
Mai Chau Countryside Homestay
The homestay includes a stilt house with the capacity of 20 people and 5 private field-view rooms. All the rooms are made from natural materials such as bamboo, cork, and palm leaves, which are incredibly rustic, simple, and naturally friendly.
- Address: Mai Chau Town
- Hotline: +84 344 235 140
- Facebook: https://www.facebook.com/MaiChauCountryside
Lalastay Homestay
Lalastay Homestay is one of the best places to stay in Hoa Binh Province features a large garden and impressive bedrooms with a harmonious combination of classic and modern architecture. The dorms in the traditional stilt house are made of wood and well-equipped.
- Address: Lac Village
- Hotline: +84 917 671 066
- Facebook: https://vi-vn.facebook.com/LalaStay.vn
2 - Thung Nai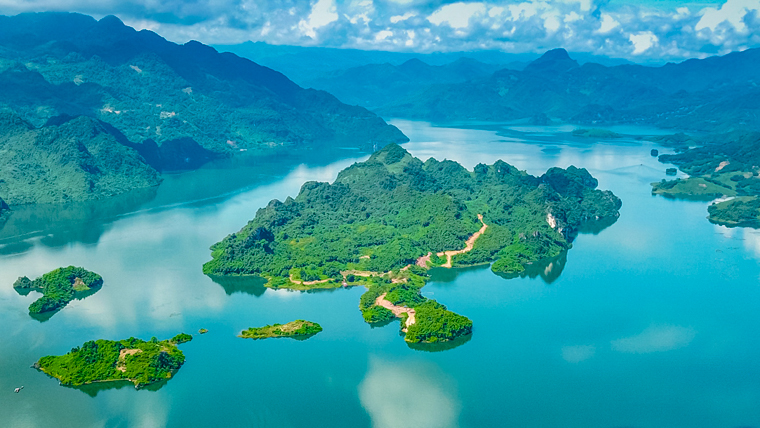 Source: Internet
Covering an area of 36.38km2, Thung Nai or Nai Valley belongs to Thung Nai Commune, Cao Phong District, Hoa Binh Vietnam gathering plenty of submerged limestone mountains. The current name stems from the fact that there are a large number of deer and sambar deer in the valley (Deer means Nai in Vietnamese). In the 1980s, the Song Da hydroelectric power plant was constructed, then Thung Nai officially turned into a reservoir, and the high mountains became beautiful islands. Therefore, Thung Nai is also called Halong bay on the mountain by many.
There are plenty of fascinating activities you can participate in Thung Nai such as:
Hoa Binh Lake
Located on the Da River, this lake is the largest artificial reservoir in Vietnam with a length of 230km and a capacity of about 9,45 billion m3. It features hundreds of large and small islands undulating on the water. The water is emerald, mirroring the limestone karsts covered with lush green trees, creating breathtaking scenery. Surrounding the lake are primeval forests, which keep the vegetation intact.
On the boat to explore Hoa Binh Lake, you will have an extremely broad view of the vast space of the middle area of the lake, the emerald water with the towering limestone karsts, and hear the sound of flowing water, blowing wind, and the echo of forests and mountains. You can enjoy the local specialties right on the boat such as chicken cooked with sour bamboo shoots, grilled freshwater fish, and indigenous pigs,...
Thac Bo Temple
Thac Bo Temple possesses a system of 38 statues, of which are two bronze statues dedicated to two goddesses that had the merits to help locals transport food and boats across Thac Bo (Bo waterfall) to Muong Le to quell the rebellion.
Thac Bo Temple of Hoa Binh Vietnam is located near a cave surrounded by fanciful stalactites. The temple leans against the mountain and faces the vast jade lake, which captivates many visitors to come to offer incense and sightsee.
Thac Bo Cave
Located on the bank of Hoa Binh Lake, Thac Ba Cave is divided into three areas decorated with mesmerizing stalactites. Inside the cave is the area to worship the Budha, Guan Yin Bodhisattva, the Gods governing this area, and an altar dedicated to Uncle Ho. Going deeper into the cave, you can discover the diversity of stalactites formed by the sediment of dripping water over hundreds of thousands of years with strange and vivid shapes.
Some suggested accommodations when you visit Thung Nai of Hoa Binh Province:
Coi Xay Gio homestay
The homestay is built from brick with thatched roofs, featuring a kitchen and tennis court. If you get to the homestay in the dry season, you will have to climb over 152 steps from the water surface.
- Hotline: +84 917 185 704
Dao Dua stilt houses
The stilt houses are designed according to the traditional architecture of the Muong and Thai people. Each house can accommodate 30-50 people with full living facilities. The campus is very large with different areas for campfires, community cultural exchanges,...
- Website: http://daoduathungnai.com
- Hotline: +84 986 416 286
Dao Xanh Homestay
With the large and spacious yard, Dao Xanh Homestay is a very suitable place for couples to have soothing moments together.
- Hotline: +84 917 914 378
3 - Hoa Binh Hydropower Dam
Source: baochinhphu
Hoa Binh Hydropower Plant is the largest one in Vietnam and the 2nd largest in Southeast Asia, which was under construction on November 6, 1979. Hoa Binh Hydropower Dam is located on the Da River with a height of 128m and a length of 970m, producing up to 8,160GWh of power annually. Today, the reservoir of this hydroelectric dam has an area of hundreds of kilometers with a capacity of billions of cubic meters of water and has become an attractive tourist site. You get to visit a system of constructions here including:
- The complex of underground installations
- Ho Chi Minh Statue on Tuong Hill
- The traditional area to commemorate the Vietnamese and Soviet experts sacrificing when building the hydropower plant.
- Museum includes artifacts about the process of constructing the dam.
Ticket price: 50,000VND/ adult ($2.15), 35,000VND/ kid ($1.5)
4 - Kim Boi Mineral Spring - an outstanding spot in Hoa Binh Vietnam
Source: thuevilla
Kim Boi Mineral Spring is located in Mo Da Hamlet, Ha Bi Commune, Kim Boi District, about 70km from Hanoi. Nestled among mysterious wild valleys and surrounded by thousands of mountains and forests, Kim Boi Mineral Spring has become one of the attractive destinations for those who would love to relax and immerse in the freshness of nature.
- Ticket price: 60.000 - 90.000 VND/ adult ($2.64 - 3.9)
- Free of charge for kids under 1.2m
Suggested accommodations near Kim Boi Mineral Spring
Serena Kim Boi Resort
This high-class 4-star resort impresses visitors with its rustic and simple beauty, carrying the typical vibe of the countryside. You can freely make use of indoor/ outdoor swimming pools, gyms, and entertainment areas for kids,...
- Address: Khai Doi Hamlet, Sao Bay Commune, Kim Boi District, Hoa Binh Province Vietnam
- Website: https://serena.com.vn/index.html
Cong Doan Hotel
The two-star hotel consists of nearly 100 well-equipped rooms and also provides the service of bathing in hot mineral hot springs.
- Address: Mo Da Hamlet, Ha Bi commune, Kim Boi district
- Hotline: +84 218 387 1128
V Resort Kim Boi
V Resort features more than 90 rooms and luxurious villas, which not only provide you with comfortable accommodation but also give you a relaxing moment when you can immerse yourself in the vast surrounding mountains and forests.
- Address: Kim Duc Hamlet, Vinh Tien Commune, Kim Boi District
- Hotline: +84 218 3871 523
- Website: https://vresort.com.vn
5 - Cuu Thac Tu Son Tourist Site in Hoa Binh Vietnam
Source: @legacyhillhoabinh
Cuu Thac Tu Son Tourist Site belongs to the Kim Boi Natural Reserve in Cu Hamlet, Tu Son Commune, Kim Boi District, about 60k from Hanoi city center. This is an ideal off-the-beaten path for you to come to find peace and enjoy the unspoiled natural beauty during your vacations or at the weekends.
Cuu Thac Tu Son comprises 9 waterfalls of Au Co, Tien Tam, Trai Chieu Quan Lang, Ut Lot, Bac (Silver), Truong Phu, Thuong Ngan, Mau, and Thien Ngoc Thach, each of which possesses distinctive beauty, combined with the magnificent landscapes, which allure a number of people.
Coming to Cuu Thac Tu Son Tourist Site in Hoa Binh Province, trekking through the lush forests and the trail around the waterfalls to immerse yourself in poetic space and a fresh, airy atmosphere is worth trying here.
If you want to stay at the tourist site, Cuu Thac Tu Son Resort is the best choice. Cuu Thac Tu Son Resort is a closed ecotourism architectural complex with a swimming pool, slide, amusement park, mud bath area, four-season sunbathing pool, massage sauna, spa, etc. In addition, there are also halls, conference rooms, prince villas, mini-hotels, large stilt houses to serve business purposes, and others.
- Website: https://www.facebook.com/suoithactusonresort
III - What are the best food in Hoa Binh Vietnam?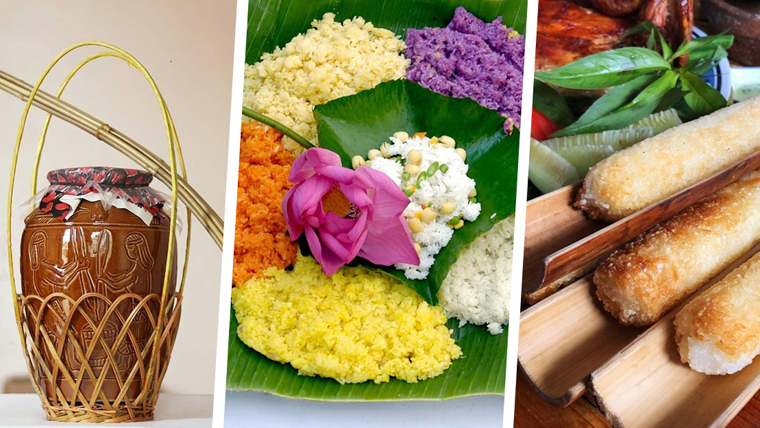 Source: @ducquy
Below are some of the most typical local dishes you should try once traveling to this peaceful province
Bamboo tube rice
Com lam or bamboo tube rice has a very special flavor and tastes thanks to the traditional local ingredients - top-quality fragrant upland rice. After soaking, the rice is mixed with shredded coconut to stuff it into the bamboo tube, adding a little greasy fresh coconut milk. Finally, bamboo tubes are put on charcoal to grill until cooked.
Red beef cooked with creeping smartweed (Thit trau nau la lom)
This is a specialty of the Muong in Hoa Binh Province. Red beef is charred, shaved cleanly, then sprung until soft. Then, it is cut into smaller pieces and put in a deep stewed clay pot. Lom leaves (Sour-soup creeper) are pounded, then put into the pot until rice expands. Well-stewed beef soaked with the sour taste of lom leaves and the soft aroma of rice creates a very attractive dish that appeals to diners at the very first try.
Grilled hill chicken
Luong Son's grilled chicken with macadamia nuts is a favorite dish of many diners. The dish itself and the way of processing and marinating the chicken are really impressive.
Boiled and charred carried - under-armpit pig
The pork in Hoa Binh Vietnam is more fragrant and firmer than other domestic pork in Vietnam because it is naturally raised on the hillsides. The pork is charred until the skin turns golden. Next, it is boiled until well-cooked and sliced thinly and served with dipping spices. The hot piece of pork mixed with the slightly pungent aroma of dổi seed (a kind of indigenous spice) and the bold taste of roasted salted will "conquer" the diners.
Mai Chau glutinous rice
Mai Chau's upland glutinous rice, also called colorful sticky rice, is a typical dish of ethnic groups on every holiday, Vietnamese New Year, and festival. You will taste the sweetness of the sticky rice right from the top of the tongue and the scented aroma of the grain of the well-steamed glutinous rice. In Hoa Binh, this dish is usually served with grilled wild boar, shredded hill chicken, grilled fish, etc.
Straw liquor (Ruou Can)
Making straw liquor requires sophistication and meticulousness, and the way to enjoy it is not simple, either. People enjoy it with bamboo straws and the wine flowing through the long straw adds more flavors of the liquor and the sweetness, making the wine more seductive. The yeast to make wine is made from forest leaves, herbs, rice husks, chili, and ginger, therefore, the wine has a sour taste, features gray-green color, and a characteristic aroma.
Below are some restaurants for you to refer to:
Dong Sun restaurant
The restaurant is large and airy, suitable for holding parties.
- Address: No.353 Tran Hung Dao Street, Phuong Lam Ward, Hoa Binh Vietnam
- Signature dishes: different kinds of hot pot such as seafood, chicken, grilled beef.
- Website: https://tripzone.vn/ck10433-dong-sun-quan-hoa-binh
- Hotline: +84 977 136 345
Bep Muong restaurant
Bep Muong is located near the Kim Boi Mineral Spring, so you can both relax right at the hot spring and enjoy the delectable dishes here.
- Address: near Kim Boi Mineral Spring
- Signature dishes: cuisine of the Northwest like porcupine meat, sturgeon, wild boar, wild chicken, and seafood.
- Website: https://www.facebook.com/nhahangbepmuong
- Hotline: +84 886 991 989
Vua ca Long Phuong restaurant
The large river-view restaurant is decorated gloriously with sparkling lights and a warm brown background and wooden facilities. There are several flower pots and green trees inside the room to create an airy and environmentally friendly space.
- Address: Huu Nghi Ward, Hoa Binh City
- Signature dishes: dishes made from fish like grilled fish, fish hot pot, steamed fish, etc.
- Website: https://www.facebook.com/Longphuongvuaca/
- Hotline: +84 945 583 807
Phuc Tung frog hot pot
Besides the exquisite frog hot pot, the restaurant also serves other kinds of hot pot with diverse ingredients at a very affordable price of about 200.000 - 250.000VND ($8.8 - 11).
- Address: No.245, group 16, Da Phuc commune, Yen Thuy district
- Signature dishes: impressive frog hot pot and other types (beef shin, cartilage and mushroom, chicken, etc. ).
- Hotline: +84 977 136 345
With the benefits of geographical location and the rich culture of the Muong, Hoa Binh Vietnam has become an appealing tourist magnet for both domestic and international visitors for vacations with family and friends.