Ho Chi Minh city - with its dynamic, young, and fast-paced lifestyle; street vendors & cafés; humble street foods & fancy restaurants - is one of the best cities in the world for traveling and working.The harmonious combination of old and new, western & asian-style features make Saigon the top worth-visiting destination of Vietnam.
akbasbkasbv
I - Where is Ho Chi Minh City located?
Also known as Saigon, this is the largest city of Vietnam which is located in the Southern region. Covering an area of 2,061km2, the city is also the most crowded & vibrant city in Vietnam.
Located in southern Vietnam - Ho Chi Minh city has been divided into 16 central districts, 5 suburban dístrict, and 1 city is Thu Duc. District 1 is the most bustling and dynamic area, which is home to lots of famous tourist attractions, and is the hub of food & beverage, shopping centers, hotels & apartments, high-class services and entertainment.
Ho Chi Minh city location is quite prime and convenient for accessing southern provinces and cities of Vietnam. From the city, you can find it so convenient to travel to nearby destinations such as the Mekong river delta, Phu Quoc island, Con Dao island, Vung Tau city and Dalat city.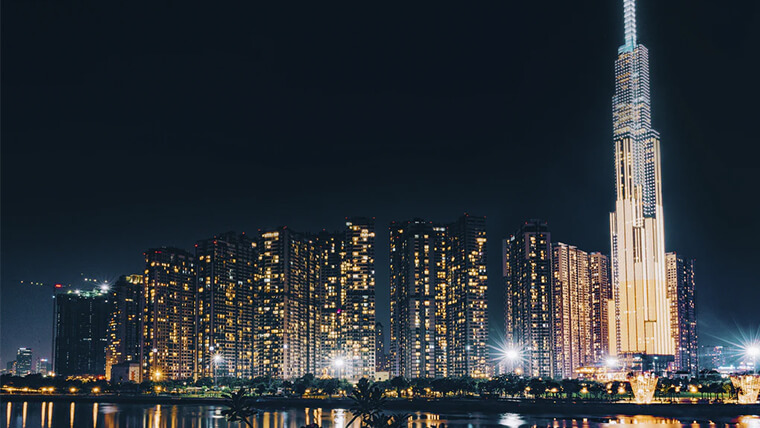 Ho Chi Minh city at night - Source: Tron Le
II - Weather & best time to visit Ho Chi Minh city
The weather is dominated by a hot & humid subtropical climate, with high and stable temperature all year round. There are 2 seasons in a year: rainy season (from May to November), and dry season (from November to April).
- Humidity: 79.5%
- Average temperature: 27.5°C
- April is the hottest month, the temperature can rise up to 35°C
- Average rainfall: 1.979 mm
The best time to visit the city is in the dry season, when the weather is pleasant with less rain.
III - How to travel to Ho Chi Minh City?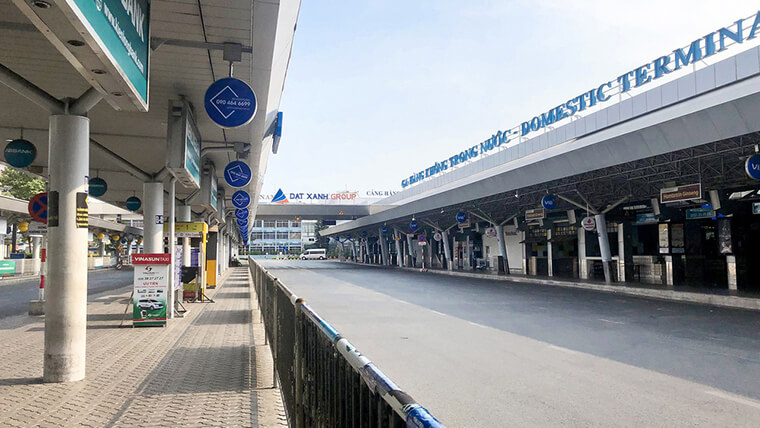 Tan Son Nhat airport - Source: Zing
The traffic in Saigon is quite chaotic and crazy if you are a first-time visitor to Vietnam. The massive quantity of scooters, cars, and buses can drive you crazy and scared, however, once you get used to the local's traffic laws & secrets, everything turns out "full of experience". The transportation in the city is quite well-developed and convenient for you to get around the city.
1 - Airway in Ho Chi Minh city
Tan Son Nhat airport - the solely & available airport in Saigon, ís the main gateway to access to southern Vietnam by airway.
- Location: Truong Son street, ward 2, Tan Binh district
- IATA code: SGN
The distance from Tan Son Nhat Airport to the city center is about 8km. Transferring by taxi costs about 200,000 VND ($8.6), while taking a bus ticket costs 20,000 VND ($0.86).
Some bus routes to get around Ho Chi Minh city:
- Bus 152:
+ Route: Trung Son Residential Area - Ben Thanh - Tan Son Nhat Airport
+ Operating time: 05:15 - 19:00
+ Ticket price: 5,000 VND/time
+ Travel time: 50 - 55 minutes/trip
+ Frequency: 15-25 minutes/trip, 96 trips/day
- Bus 119:
+ Route: Tan Son Nhat airport – Mien Tay bus station of Ho Chi Minh city
+ Operating time: 04:00 - 21:00
+ Ticket price: 12,000 VND / time (under 5km) and 20,000 VND / time (over 5km)
+ Travel time: 60 – 65 minutes/trip
+ Frequency: 25-30 minutes/trip, 76 trips/day
- Bus 159:
+ Route: Mien Dong bus station – Tan Son Nhat airport – An Suong bus station
+ Operating time: 5:30am - 7:55pm
+ Ticket price: 7,000 VND (Under route) and 10,000 VND (Over route)
+ Travel time: 60 – 65 minutes/trip
+ Frequency: 25-30 minutes/trip
2 - Railway in Ho Chi Minh city
The Vietnamese railway network consists of 5 main routes connecting 34 cities across the country and has a total length of 4,161 km. If you have a plan of traveling to Saigon by train, the Saigon train station will be your ending point.
Saigon train station is located in No.1 Nguyen Thong street, Ward 9, District 3. From Saigon train station, you can take a train to other famous tourist cities such as Nha Trang, Danang, Hue, Quang Binh, Ninh Binh, Hanoi.
3 - Roadway
From other provinces, you can get to Ho Chi Minh city by long-route buses with 2 main bus stations:
- Mien Dong bus station - No.292 Dinh Bo Linh street, Ward 26, Binh Thanh district. Providing bus routes from Saigon to the provinces & city in the Northern, Central and Southwestern regions.
- Mien Tay bus station: No.395 Kinh Duong Vuong street, An Lac Ward, Binh Tan district: From here, passengers can find lots of buses to get to Mekong Delta provinces such as Kien Giang, An Giang, Bac Lieu, Vinh Long, Tien Giang, Tra Vinh, Soc Trang, Dong Thap, Ca Mau.
IV - Ho Chi Minh city facts & guide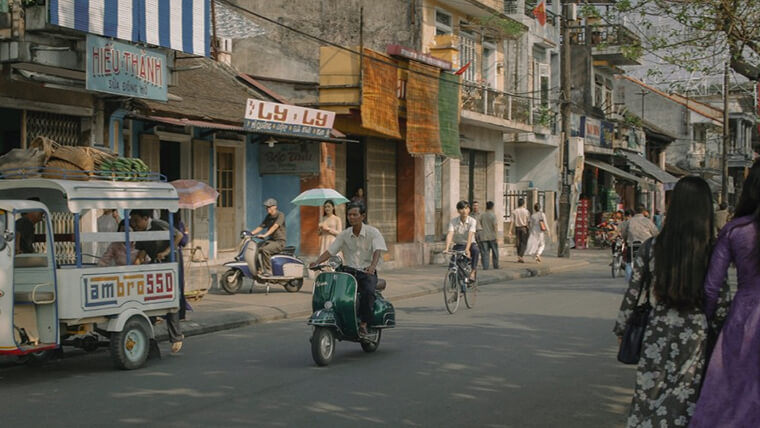 A picture of Saigon in the 90s - Source: Vietnammoi
1 - A brief history
In the past, the area of the city belonged to the ancient country of Funan. Then this land was once the residence of the Champa people. In 1698, Lord Nguyen sent Nguyen Huu Canh to the South, establishing the government, administrative units, officially establishing Dai Viet's sovereignty over this land.
When the French entered Indochina, Saigon was planned to become a multi-functional city. In the flow of Ho Chi Minh city history, Saigon was also the capital of the Indochina Federation in the period 1887-1901 (later France moved the capital of the Indochina Federation to Hanoi). In 1949, Saigon became the capital of the Nation of Vietnam - a polity of the Indochinese Federation and later the capital of the Republic of Vietnam.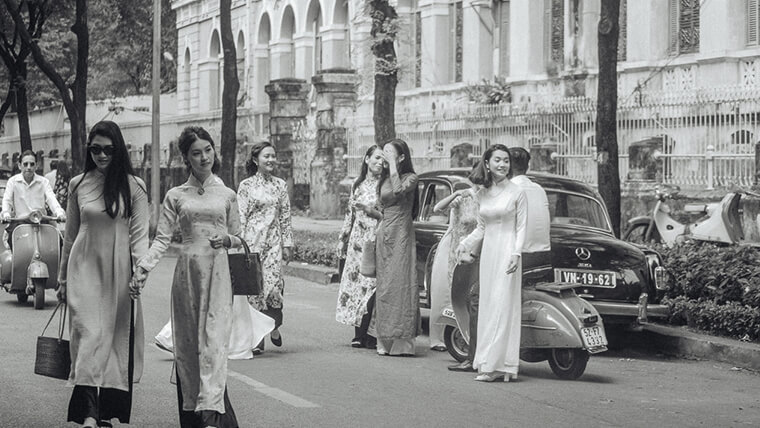 Ho Chi Minh City in 19th century - Source: Thanh Binh
After the Republic of Vietnam collapsed in the event of April 30, 1975, the territory of Vietnam was completely unified. On July 2, 1976, the National Assembly of Vietnam unanimously decided to change the name of Saigon to "Ho Chi Minh City".
2 - Ho Chi Minh city or Saigon
To most first-time visitors coming to southern Vietnam, the name of the biggest city in Vietnam may cause some confusion. For those who might not know, Saigon is the former name of the city before July 1976. However, lots of locals and tourists alike call it Saigon, and both names are still commonly used and is mentioned as the semi-official name of this city.
3 - Is Ho Chi Minh City safe for tourists?
Saigon is a young and dynamic city, Saigonese are so friendly, kind and hospitable. Vietnam is a country without terrorism or demonstrations, and people are not allowed to use guns, so the social security situation is relatively stable. Cities and provinces in Vietnam are all ideal, attractive and safe for traveling and exploring.
V - Ho Chi Minh city tourism
Saigon is a top must-visit city in Vietnam which attracts millions of tourists every year. This city is home to many remarkable colonial architectural landmarks and constructions, great street food, nice boutiques and shopping malls, street & sidewalk culture, fancy restaurants, budget-minded hostels to luxurious hotels, a wide array of bars and spas,...
- Top places to visit in Ho Chi Minh city: Reunification Palace, Notre Dame Cathedral of Saigon, Saigon Opera House, Ben Thanh market, Saigon Chinatown, War Remnants Museum, Tan Dinh church, Binh Tay market, Cu Chi Tunnels. Cat Tien national park,...
- Top things to do: walking around District 1, visiting the famous attractions, enjoying street food at street vendors & local markets, trying a cup of pavement coffee, experiencing the nightlife in Nguyen Hue walking street, exploring Bui Vien street, having a cruise tour on Saigon river,...
Ho Chi Minh City Vietnam is a young and dynamic destination for traveling. This is considered the top-rated street food paradise in the world, hub and home to lots of French-style constructions, iconic historic sites, and entertaining activities. Saigon - the sleepless city of Vietnam, is a must-visit spot in Vietnam for backpackers.