Ecotourism is a type of tourism associated with the nature, cultural identity of the locality, and must be associated with environmental education, natural preservation, leading to sustainable development. Ecotourism is growing in Vietnam with many suitable landmarks such as national parks, etc. Visitors can choose one of the following locations to combine in the trips in Vietnam.
I - A bit of Hanoi eco tours
1 - Why should you choose ecotourism?
Ecotourism gives each tourist a lot of benefits not only for themselves but also for the people and nature in that locality. Some of the benefits that can be found are: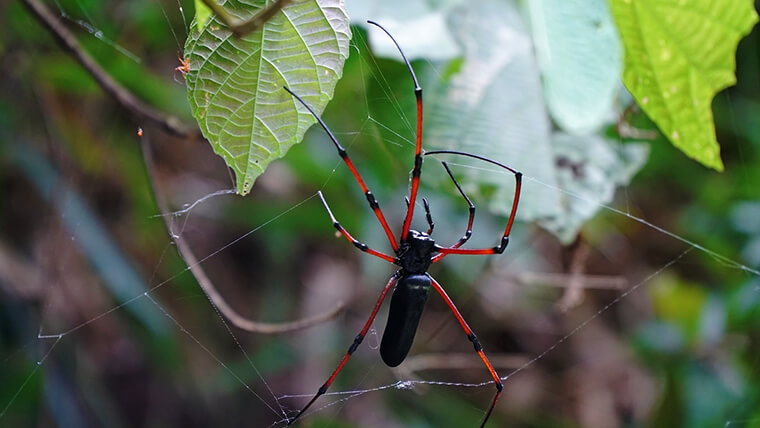 Source: Internet
- Providing in-depth knowledge about local culture, flora and fauna systems.
- Helping you improve your fitness by moving a lot.
- Reducing thoughts and burdens, and stress in everyday life.
- Bringing many economic, cultural and social benefits to the locality that has the ecotourism destination.
- Creating job opportunities for more local people, leading to improved life.
- Helping environmental preservation and management, for example entrance fees from visitors can be transferred to the maintenance and management of the site.
- Most importantly, ecotourism can also be a tool to raise environmental awareness and educate yourself about nature and the environment.
2 - Hanoi eco tours facts and advantages
Ecotourism is now a growing trend, and Vietnam in general and Hanoi in particular is not out of that trend. By 2020, Vietnam has 23 national parks and 35 natural reserves that organize ecotourism activities. In 2019, ecotourism in national parks accounts for 2.5 million visitors, with a revenue of nearly 200 billion dong. Hence, ecotourism in these areas has great potential for development.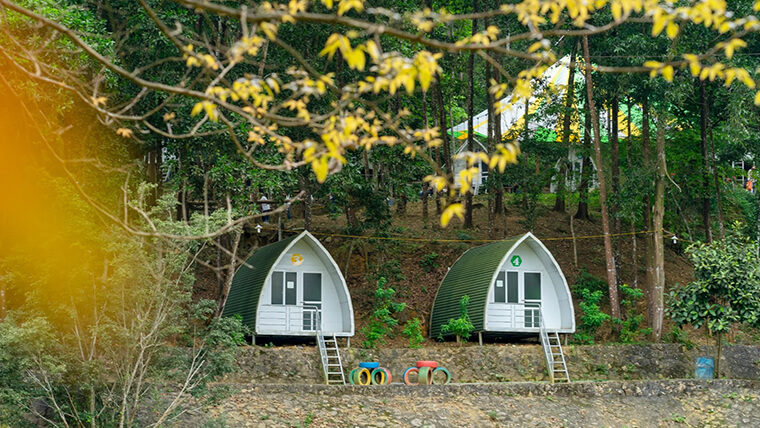 Source: Internet
Regarding Hanoi in particular, the development potential is concentrated in suburban districts and towns such as Son Tay, Ba Vi, Quoc Oai, etc. Green tours Hanoi development in these localities is in the long-term plan of the city. Hanoi has synchronously implemented many solutions to develop tourism in association with natural, environmental protection, such as: tourism electric cars and tricycles in suburban areas, such as Bat Trang village, Dong Mo tourist area, Thien Son Suoi Nga tourist area, etc.
Despite its potential, ecotourism in Hanoi has a number of difficulties such as lack of practical experiences, low awareness of environmental protection.
II – Best Hanoi green tours
1 - Ba Vi National Park
- Location:
Ba Vi National Park is located in the Ba Vi mountain range and is a part of Ba Vi district of Hanoi and Luong Son & Ky Son districts of Hoa Binh province. This national park is located about 15km from Son Tay town, about 50km to the west of the center of Hanoi city.
With a diverse ecosystem, beautiful scenery and nearly all year round comfortably cool climate, this place attracts many tourists coming for a short vacation or for photography, especially at the end of the year when wildflowers blossom.
- How to get to this Hanoi eco tourist area:
Visitors can travel from Hanoi's city center to Ba Vi National Park in many ways. The first way is to take a bus by bus route 71, 74 or 20B. Route 71 starts from My Dinh bus station to Son Tay bus station, route 20B from Cau Giay to Son Tay station, and route 74 from My Dinh bus station to Xuan Khanh. From Son Tay and Xuan Khanh bus stations, there is bus route 110 going to the gate of Ba Vi National Park, from here you can take a motorbike taxi to go deep inside other locations. If you do not like to go by public transport, you can go by motorbike or car along the straight route along Thang Long Avenue for about 45km and then turn left at Tam My market and go straight, or you can follow Highway 32 and then to Son Tay town, turn left to Chua Thong and go straight to arrive.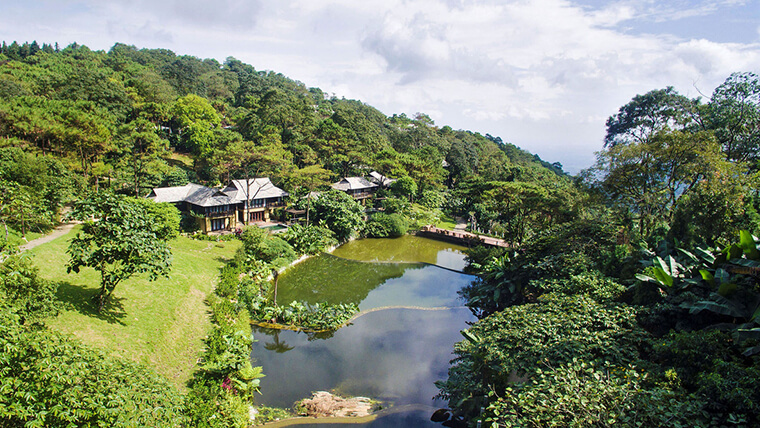 Source: Internet
Entrance ticket & opening time for this Hanoi green tour:
Ba Vi National Park is open from 6am to 7pm daily. Admission fee is from 10,000-60,000 VND ($0.43 - 2.6), depending on the types of visitors: a student, an adult, a person with a disability, etc. And parking tickets are about 3,000 - 55,000 VND ($0.13 - 2.3) depending on the type of vehicles: bicycle or motorbike, car, etc. In addition, in Ba Vi National Park, there is a specific price for filming and photography. The minimum price for film and photography services is 800,000 VND ($34.48)/group/day, while the narrator service is at least 300,000 VND ($12.9)/group/r/day.
- Things to do:
Having a Hanoi eco tour to Ba Vi National Park, visitors can visit many beautiful and famous places such as Thien Son Suoi Nga, Cactus greenhouse, King pond or Khoang Xanh - Suoi Tien. Thien Son Suoi Nga is a suitable place to take pictures or swim. The natural scenery here is beautiful, majestic, magnificent, separate from the cramped city space and smog. Cactus greenhouse is another special place here, with up to 1200 species of cactus with all sizes from large to small, full of thorns, which can satisfy the passion of photographers.
Located right on the foot of Tan Vien mountain, Ao Vua tourist area is recommended as an ideal Hanoi green tour for sightseeing and leisuring. There are many folk games such as boating, ring throwing, dart throwing, as well as singing activities, etc. This place is suitable for travelers who want to combine relaxation and entertainment activities. Khoang Xanh - Suoi Tien is like Ao Vua, a combination of entertainment and relaxation, however, there are more adventure games here, such as wave pool, water slide, swing, flying saucers, queen swings, skiing, flying mats, ... In addition, there is a hot spring pool service, mineral mud bath, etc.
2 - Thien Phu Lam Hanoi eco tour
- Location:
Thien Phu Lam ecotourism area is located in Lam Truong village, Minh Phu commune, Soc Son district, Hanoi, just about 45km from the city center. This is the right place for fun, entertainment, beautiful scenery, and photos.
- Things to do:
This resort is very suitable for picnics with BBQ parties, campfires. Also, you can see windmills, red bridges across the lake, unique models of the Eiffel Tower, and pine forests.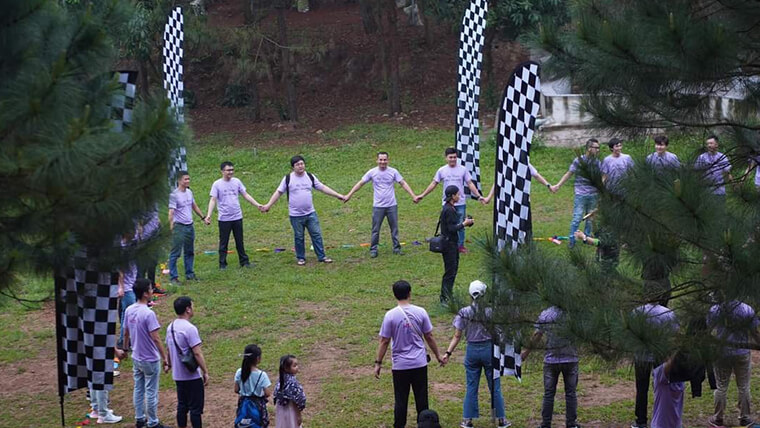 Source: Internet
- How to get:
To get to Thien Phu Lam Hanoi eco tourism area, you can go by bus, taxi or motorbike. Traveling by bus, you can take bus route 64 from My Dinh bus station, then get off at Thien Phu Lam stop. If you travel by motorbike or car, you can follow the direction of Thang Long Bridge or Nhat Tan Bridge to Road 35 in Soc Son and go straight to Thien Phu Lam.
- Entrance ticket & opening time:
This resort is open from 8:00 to 22:00. Admission fee for single guests is 60,000 VND (2.59 USD)/one way. The rental service for tents, kitchens has a price of 50,000 - 350,000 VND ($2.16 - 15.09) or a full-service program with a price of 1,200,000 - 5,500,000 VND ($51.7 - 237.07)/group.
3 - Dong Mo tourist area - one of the greatest Hanoi green tours
- Location:
Dong Mo tourist area is located in the Vietnamese ethnic cultural village tourist complex, in the territory of Son Tay town and Ba Vi district of Hanoi.
- How to get:
This place is only about 40km from the capital center, you can get here by bus or taxi. If you take a bus, you can take bus 71, 71B from My Dinh bus station, bus 75 from Yen Nghia bus station or bus 107 from Kim Ma and ask for a stop at the Ethnic Culture Village and then go to the tourist area. Fares are from 9,000 - 25,000 VND ($0.39 - 1.08)/ticket.
Traveling to this Hanoi eco tourist area by private transportation, you can go by Highway 32 and then turn to Chua Thong Street or the second way is to follow Thang Long Avenue, from these two routes, you just need to go to Son Tay town. Then turn on Highway 21A and go straight and you will arrive.
- Entrance ticket & opening time:
This resort is always open to tourists with an entrance fee of 80,000 VND ($3.45)/person or 130,000 VND ($5.60)/2 people.
- Things to do here to have one of the best Hanoi eco tours
Visitors can come here to travel in any season of the year, however, summer and autumn are the most suitable because at that time you can enjoy the scenery and have fun in the most comfortable way. And it should also be noted that you should avoid going on rainy days.
At Dong Mo tourist area, visitors can participate in many recreational activities such as grass skiing for 40,000 VND ($1.72)/hour/person, golf in the golf course area, fishing at Dong Mo Lake, camping, visiting cultural villages of ethnic groups, etc.
4 - Rose Park Dam Tranh Ecological Area
- Location:
Rose Park Dam Tranh Hanoi eco tour area is located on Bat Khoi Street, Thach Ban Ward, Long Bien District, Hanoi City.
- Entrance ticket & opening time:
The opening time is from 8:00 to 18:00 daily. Admission fees are 50,000 VND ($2.16)/child and 75,000 VND ($3.23)/adult.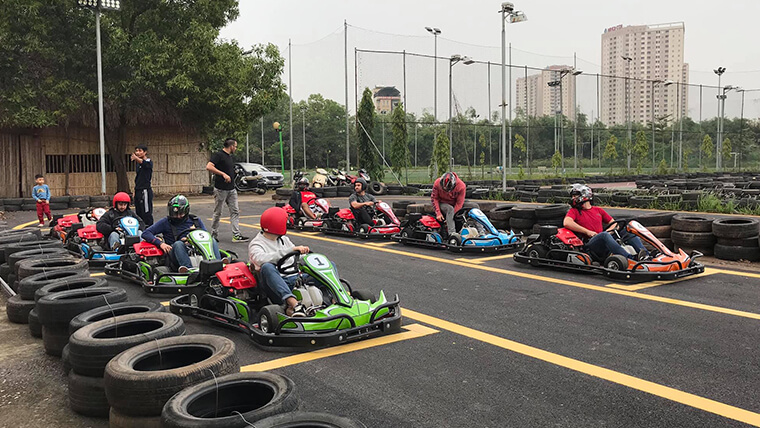 Source: Internet
- How to get:
This ecological area is about 10km from the center of Hanoi capital, so it can be easily reached by motorbike, car or bus. You can take bus number 47A from the Long Bien transfer station, which will have a stop at the gate of this Hanoi green tourist area.
Going by private vehicle can be much easier, you can go in many different directions. Go across Long Bien Bridge, Chuong Duong Bridge or Vinh Tuy Bridge, go all the way and ask the way to Xuan Quan dike then go straight and you will arrive.
- Things to do:
It is famous for its decoration like a large maze with 10 concentric circles and are made from the rose trees from Ben Tre province in southern Vietnam. In addition to this maze area, this place is also a combination of many other services such as picnics, restaurants, events, fishing, film studios, etc. This Hanoi green tourism's maze has a total area of up to 10,000m2, the largest circle has a radius of 42.8m, the total walking distance in the maze is about 2km, this will be an interesting challenge for visitors to conquer. In addition to conquering the maze, you can relax in the cool ecological space with restaurants, food courts, sports, fishing, children's play areas, water playgrounds. There is also a green lawn overlooking the lake, which is ideal for camping.
5 - Ngoc Linh Hanoi Eco Tourism Area
- Location:
Ngoc Linh Ecotourism Area is located at 79 Area E, Dong Quan lake, Quang Tien Commune, Soc Son District, Hanoi City, only about 35km from the city center.
- Entrance ticket & opening time:
This eco-zone is open from 7:00 to 23:00 daily, the entrance price is from 50,000 - 300,000 VND ($2.16 - 12.93)/one way.
- How to get:
To take this Hanoi green tour, you can take a private vehicle from the city center in the direction of Nhat Tan Bridge, go straight along Vo Nguyen Giap street for about 25km to Mai Dinh commune health center, turn left, go straight to road 35 then turn right and go straight to the place.
- Things to do:
Ngoc Linh ecotourism area welcomes you with delicate villas, ornamental plants, swimming pools surrounded by a peaceful and fresh atmosphere from lake, green grass, leaf-roof house, bamboo cluster, etc. In addition, you will be delighted to "struggle" under the clear blue water of the lake and the swimming pool, and then there will be a culinary journey with a mountain flavor, cooked by professional chefs.
The above are a few suggestions of Hanoi eco tours for those who want to get associated with nature and spend more time for leisure and relaxation.