Hanoi in November enters the last month of Autumn and prepares to move to winter. The weather is quite cool and has mild sunshine. The colorful burden of street vendors creates a unique beauty for Hanoi this time.
I - What is the weather in Hanoi in November like?
1 - Rainfall
November is in the autumn time of Hanoi, the weather is quite dry & cool with low rainfall. The total rainfall is about 59mm, which is very low when compared to the total yearly rainfall in Hanoi - 1,611mm.
2 - Average temperature in Hanoi in November
The average temperature is 18.2°C. The temperature difference between day and night is about 5-6°C. Early morning and late night, the temperature goes down to the bottom.
So what to wear in Hanoi in November? Traveling in Hanoi at this time, remember to pack a thin jacket to keep warm. Hanoi this month is the perfect time for nice dressing to stroll on the streets.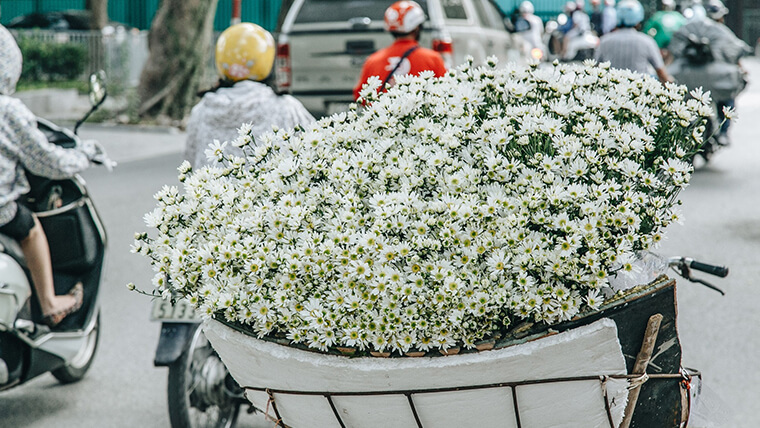 Hanoi streets are full covered with tiny lovely daisies - Source: Kenh14
3 - Humidity
Hanoi this month is not influenced by the north-eastern monsoon, the winter wind (dry wind) blowing from the mainland of China making the air become drier and the slightly-decreased humidity. The humidity is estimated at around 81.9%.
Related topic: When is the best time to visit Hanoi?
II - What to do when visiting Hanoi in November?
1 - Admiring Hanoi streets full of flowers
In November, you can easily see the burden of street vendors full of several kinds of colorful flowers on every street of Hanoi. The elegant beauty of Hanoi is much enhanced by flowers. You can experience the streets and street vendors coming to West Lake, Nguyen Chi Thanh Street, Phan Dinh Phung Street, Hoang Dieu Street,...
2 - Strolling around West Lake - top things to do in Hanoi in November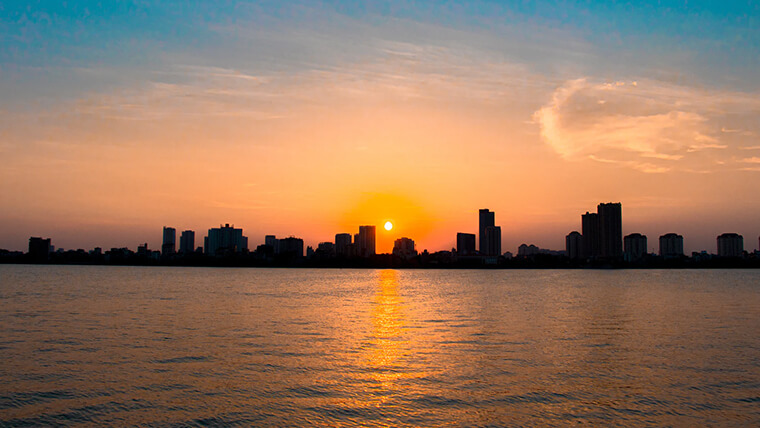 Dawn from West Lake - Source: Ins @duytoo
One of the ideal places for you to admire the sunrise, sunset, and enjoy the delicious dishes of Hanoi. Wandering around the lake, taking a deep breath, enjoying the fresh cool air, having some snacks or street food such as fish balls, rolled pho, shrimp cake, snails, ice-scream, pho soup… are nice things to do when visiting Hanoi in November.
3 - Visiting 19/12 Tran Hung Dao Book Street
19/12 Tran Hung Dao Book Street is a great place for bookaholics where you can find many books of all genres and languages. Having a sip of Hanoi coffee, watching the bustling flow of Hanoi people, and enjoying some pages of a book are the ways to feel peace inside.
- Location: No.19/12 Street, Tran Hung Dao Street, Hoan Kiem District, Hanoi City
- Opening hours: 8am - 10pm
Visiting Hanoi in November, you can choose to visit other historical monuments in addition to the tourist attractions that we suggested above, such as the Temple of Literature, Thang Long Imperial Citadel, One Pillar Pagoda, Ho Chi Minh Mausoleum,...