Every time the end of the year comes, the cold creeps into every corner of the thousand-year-old capital, causing people to put on colorful thick clothes. Everyone is afraid to leave the warm blankets, leaving the streets a bit empty in the morning with only a few stalls selling white daisies - the iconic flowers represent this season. Despite that sense, winter in Hanoi is actually considered the best time for you to visit, with countless beautiful scenes, events and dishes that you will be enchanted with.
I - When is the winter in Hanoi?
Winter season in Hanoi usually lasts from November to March next year, but it can come and end sooner or later than that mark. It is cold and dry from the end of November to the first half of February, while from the second half of February to the end of March, it is cold and wet with drizzle lasting intermittently. The city's average temperature during this season does not exceed 22°C (71.6°F), with the coldest in January averaging 16.4°C (61.5°F), sometimes as low as 2.7°C (36.9°F). The average rainfall in winter is 150mm, with the humidity being 80.9 - 87.9% and little sunshine.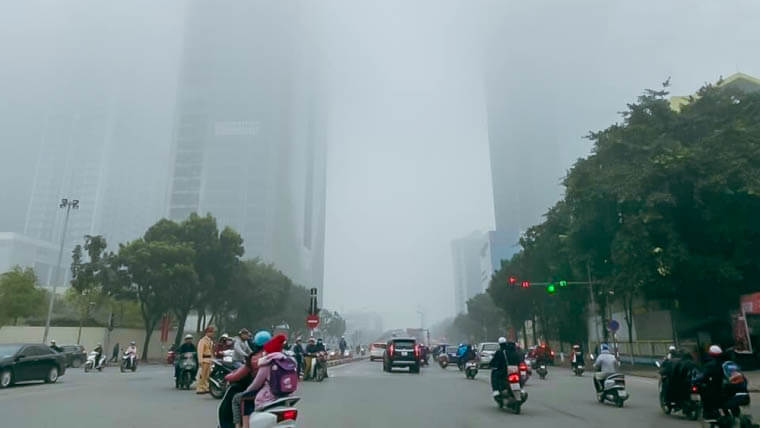 Cold weather in Hanoi - Source: vov
The weather in winter in Hanoi has the characteristics of the tropical monsoon region, with the dry cold numbing the whole body, worsened by the non-stop drizzle. However, interspersed with countless cold winds from the northeast monsoon, there are still some warm sunny days, extremely warm and romantic. Traveling here in this season, you need to prepare warm clothes such as felt coats, bomber jackets, fur coats, skinny pants, jeans, long skirts, etc. It's also best to have full accessories such as a scarf, gloves, beanie, sneakers or boots, because even though it's almost impossible to get snow in Hanoi in winter, cold winds and rain can come at any time.
II - Tourism characteristics of winter in Hanoi
1 - Hanoi winter's ceneries & vibes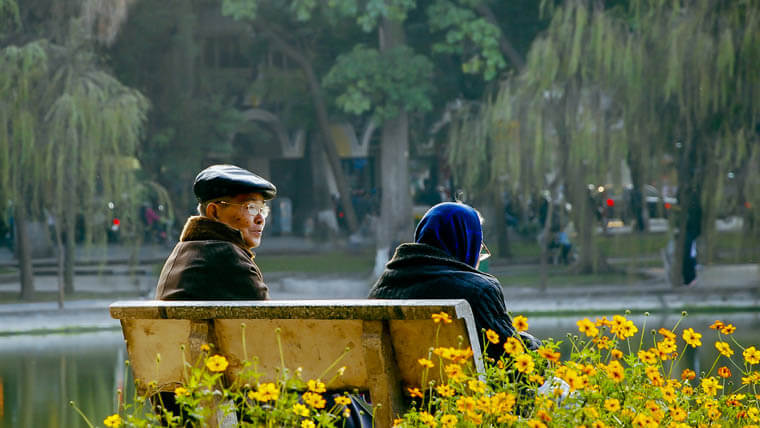 Sitting on the bank of Hoan Kiem lake and enjoy the atmosphere of winter - Source: reatimes
Each season of Hanoi will welcome you with different beauties, but winter has a very special quiet and soothing feature. The pace of life seems to slow down, everyone admires the romantic scenery, while inhaling the cold air and the scent of milk flowers left from autumn. The cold of Hanoi in winter is very special, so dry to the point of cutting skin and flesh, making people just want to lie in a warm blanket and soft mattress all day. But for many others, going out to the street in winter in Hanoi at this time is a unique pleasure, when you can feel the ancient and peaceful beauty of the capital best.
During this season, the sky is gloomy and the fog drifting covers everything, from the streets and roofs, to piles of daisies - a flower that blooms only once a year. It is unknown when this flower has become a "specialty" of Hanoi in winter, likened to a symbol of the purity and gentleness of the local people. Waking up one morning, walking on the streets, and seeing the daisies carefully wrapped on bicycles is knowing that winter in Hanoi has come. Those white, small and beautiful petals can be easily seen on streets such as Giang Vo, Phan Dinh Phung, Tran Nhat Duat, Yen Phu,...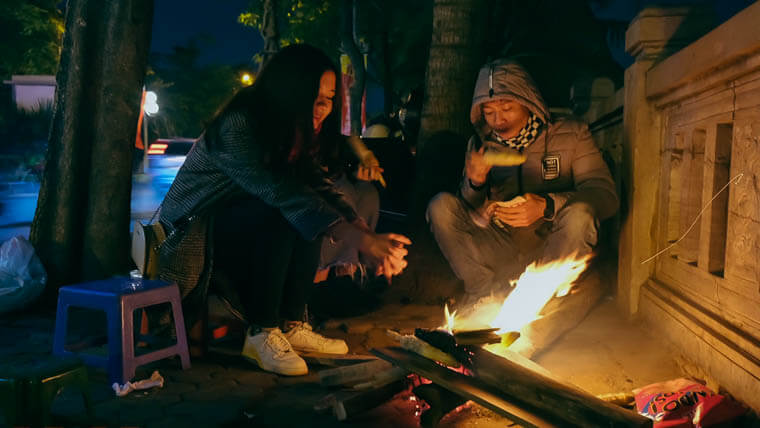 Source: truyenhinhvov
That winter is even more lovely on those rare sunny days, not as harsh and sultry as in the summer, but sweet and mixed with a little cold wind. The yellow color dyes the whole city golden, dries the gloomy souls and makes people's hearts glow with new excitement for a new year to come. In the evenings of Hanoi in winter, the whole street is fragrant with the smell of boiled corn, baked potatoes, especially in the Old Quarter and around Sword Lake areas. As if fascinated, people don't hide in blankets anymore, but put on colorful thick coats, step out into the street and enjoy warm food.
2 - Destination and events in Winter in Hanoi
Winter is also when there are many big festivals with countless interesting performances and entertainment activities. One of the most special ones must be Christmas, which takes place on December 25 every year, when shopping centers and many big churches in Hanoi put on a new and colorful shirt of sparkling lights. After that is New Year's Eve, with countdown shows attracting people to go out with friends or family. It is also impossible not to mention the traditional Vietnamese Tet, which lasts from December 27 to January 5 of the lunar calendar. Usually the holiday will take place around the end of January to February, when it's time for the whole family to gather together, eat and wish for a lucky new year.
Noel in Hanoi - Source: vietq
If you are really passionate and want to experience the true feeling of Hanoi winter slowly seeping into your skin, try to wake up early and cycle through the roads around Sword Lake. At this time, the lake surface is covered with a thin mist, making the space here quiet and peaceful, for you to have a tranquil feeling in contrast to the hustle and bustle of the daily Hanoi. You can also visit West Lake in the afternoon on a warm sunny winter day, admiring the wonderful sunset while walking around. The sky of winter in Hanoi is not as bright as summer, leaving only orange rays flashing against the blue-violet sky, but it is enough to bring you heartfelt feelings.
Winter is when the daisies are in full bloom, covering the roadside stalls with white flowers, weaving in every corner of the city. You can also find this flower in places such as Nhat Tan or Tay Tuu flower village, Red river rock beach. Hanoi in winter is also the time when the canola flowers bloom, most brilliant from mid-December onwards but in a very short period, only for about 2 weeks. If you have the opportunity to travel to Hanoi in winter, remember to take time to check-in at the canola gardens of Yen Vien Gia Lam, Trau Quy, Phu Dong, Thach Ban, and so on.
3 - Top dishes to try in winter in Hanoi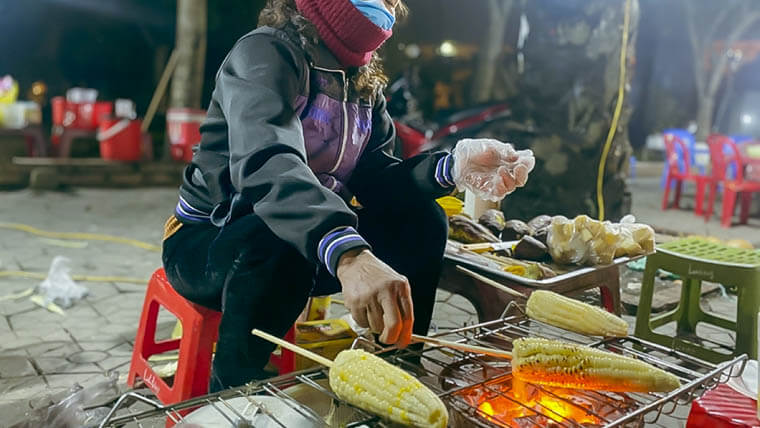 Grilled corn & sweet potato - Source: congthuong
In winter, Hanoians often like to eat hot dishes, especially the smoky hot pots which have a bit of spiciness that can wake up every sense in the body. Meanwhile, many people love the feeling of sitting on the sidewalk in the cold winds, having bites of hot grilled potatoes or corn. There is also nothing more interesting than tasting the cool Trang Tien ice cream in the cold days in Hanoi. It will take longer to melt and you will feel the taste more clearly, bringing a different feeling to when eating in summer. Vietnamtrips would like to suggest a few other foods that you should also try in winter in Hanoi, which are snail dishes, banh gio, rib porridge, pho, egg coffee, crab noodle soup,…
When the cold monsoon comes, it would be extremely wonderful to bury yourself in a warm space, sipping every bitter drop in a cup of fragrant coffee. It can be a cup of milk coffee with a strong flavor, or a cup of egg coffee with a sweet, fatty and chảming aroma. Having enjoyed Hanoi cuisine in the winter, of course, you cannot ignore the legendary, full and beautiful hot banh gio. A piece of soft white cake, mixed with the brown color of minced meat, fragrant fried wood ear, tasty sauce, and a little green of vegetables, creating a unique flavor that you can hardly forget.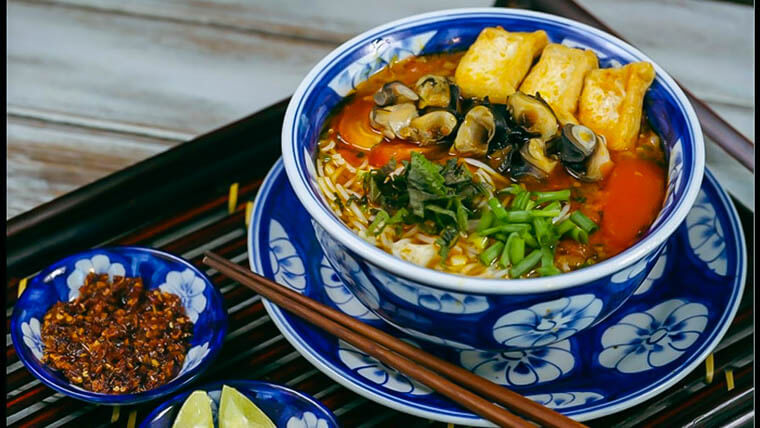 Vietnamese snail noodle soup - Source: myhanoi
In the cold days of winter in Hanoi, just passing by the smokey boiled snail shops you will definitely have to stop by. Every snail is greasy and fragrant with the smell of lemongrass, crispy and chewy, mixed with sour, spicy, salty and sweet dipping sauce, just take one bite and the flavor already spreads to the bottom of the throat. Bun rieu is also one of the special delicacies in this season, with soft noodles, sweet crab meat, and a rich broth perfect for a cold day. You can also find countless aunties selling the golden, crispy, and fragrant fried potato, banana, corn tortillas on street corners.
Cassava sweet soup is probably the name worthy of the title of "specialty of winter in Hanoi", because this dish almost only appears during this season. There is nothing better than tasting a hot square piece of cassava just scooped out of the pot, cooked with ginger juice and grated fresh coconut. You will also easily find floating rice cakes with the soft sweetness of molasses, faintly smelling of black sesame or crushed green beans and fresh ginger. Last but not least, it is impossible to ignore the bowl of hot rib porridge, which is smoother than regular porridge, blended in the sweetness of the rib broth and the salty taste of minced meat, fish sauce and ground pepper.

For many people, the delicious food of the winter in Hanoi is the main reason why they cannot leave this land to live elsewhere. Unaccustomed people may fear freezing winds and sudden drizzles, but the beauty of the city in this season is enough to blow away any obstacles. So, let's prepare warm clothes and hit the road - visiting Hanoi in winter, you will definitely get many interesting experiences and memories.