Located in the middle of ancient streets, Hanoi night market gathers nearly 4000 mobile stalls, always lit up with sparkling lights, selling numerous different items at affordable prices. Entering this night market in Hanoi, you will be immersed in the space of colors and vibrant atmosphere, especially on special occasions or holidays of the country. If you have the opportunity to set foot in the capital, you definitely cannot ignore this attractive destination.
I - Where is Hanoi night market located?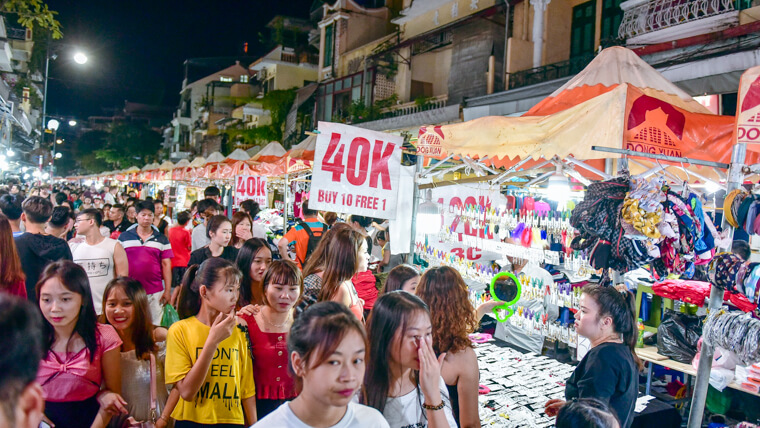 Vibrant atmosphere at night market - Source: vietnamnet
This special night market in Hanoi, also known by many as Hanoi Old Quarter Night Market, has long become one of the must-visit places in the capital of Vietnam. Belonging to Hoan Kiem District, this attraction has a total length of about 3km, passing mainly through three streets of Hang Dao, Hang Ngang and Hang Duong. The Hanoi night market opening hours are from 6pm to 11pm every Friday and weekend, when the shops and mobile restaurants here start welcoming visitors regardless of the weather. You should consider coming here before 7pm to park your vehicle first, to avoid overcrowding and running out of slots.
II - What are there at Hanoi night market Vietnam?
Officially opened in 2003, this night market has always been a popular attraction for people inside and outside the capital, even thousands of foreign tourists. The vibrant atmosphere of this night market in Hanoi City seems to have become a familiar image, combining trading and entertainment activities, food and souvenirs, sounds and colors.
1 - Food at Hanoi Old Quarter Night Market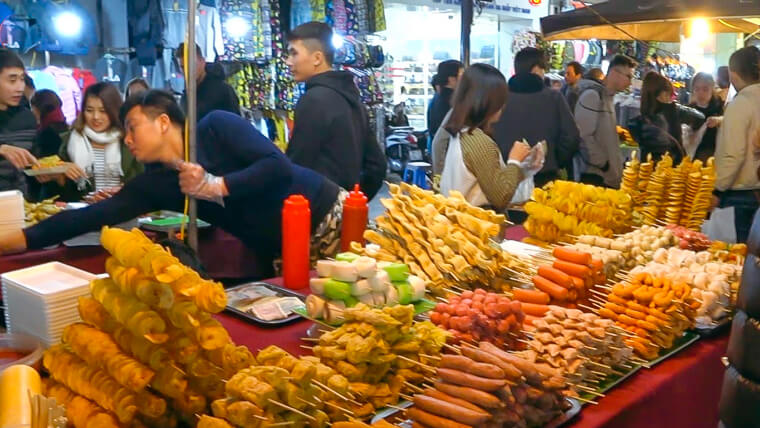 Night market street food carts - Source: youtube
Visiting this night market, you will surely be mesmerized by an extremely rich and attractive food paradise with all kinds of different dishes. Walking along the streets in the Hanoi night market, you can freely choose from various traditional Vietnamese dishes to Korean or Asian-European styled dishes. Here you can find all the attractive street foods and specialties of Hanoi, namely green sticky rice, pickled mango or sugarcane juice, coconut milk, etc. Meanwhile, youngsters often love grilled or foreign, exotic foods such as grilled spring rolls, cheese sticks, tokbokki, udon noodles, and so on.
Not only delicious and unique, Hanoi night market food is also reasonably priced, attracting a lot of people as well as tourists to gather and chat with each other. Coming to this night market in Hanoi, you can enjoy simple, and rustic dishes with prices ranging from only 1 - 2 dollars to a maximum of 10 dollars. Below are some suggestions of dishes that you must try when coming here:
Fruit beams
This is a favorite cooling dish of many people, favored by youngsters because of its delicious taste. Each shop at Hanoi night market sells a lot of varieties with different mixes, depending on the season, sometimes unusual fruits are also added to create a unique flavor. The most common type is a cup of mango, ambarella or guava mixed with chili salt, creating a very attractive spicy and sour taste. Another type is simpler, just fruits cut into squares and mixed together, typically apples, mangoes, watermelons, dragon fruit, … sometimes added apricot salt or sugar by the seller.
- Price: 10,000 - 20,000 VND / serving ($0.44 - 0.87)
Grilled skewers
Barbecue shops in Hanoi night market sell very well, because they not only have their own way of marinating food, but the menu is also very diverse. You can freely eat crispy golden roast pork and beef skewers, or seafood such as squid, shrimp, or "tornado" potato skewers, sausages and cheese sticks when visiting this night market in Hanoi
- Price: 7,000 - 20,000 VND / serving ($0.31 - 0.87)
Rolled ice cream
Ice cream roll is a dish imported from abroad, but has quickly attracted people with its delicious taste and unique way of making. People visit Hanoi night market not only to eat but also to watch the ice cream making process, when the makers use their hands quickly mixing the ingredients to create a desired serving. With the ingredients available, you can ask them to create ice cream with the shape and flavor as you like.
- Price: 30,000 VND / serving ($1.31)
Korean food
Young people especially love dishes like Gimbap, kimchi or tokbokki, black soy sauce noodles,… The spicy taste of these dishes at Hanoi night market is not as strong as the original but a bit sweet, quite suitable for Vietnamese people, but you can also ask the owner to add more chili or chili sauce.
- Price: 20,000 - 30,000 VND / serving ($0.87 - 1.31)
Variety of sweet soups
Che or Vietnamese sweet soup is also a snack that you should not miss when coming to this vibrant night market in Hanoi Old Quarter, with many shops located along the street so you can just stop and enjoy whenever you want. A cup of che at Hanoi night market Vietnam has very diverse ingredients - the beans alone are red beans, black beans, white beans, adding coconut milk, dried coconut or fresh coconut, with pretty tapioca pearls… The sweet soup is put into large cups, serving not only the delicious and sweet taste, but also the beautiful color, making everyone fall in love right away.
- Price: 15,000 - 30,000 VND / serving ($0.66 - 1.31)
Ta Hien Beer Street
This market is also not too far from the most famous nightlife paradise in Hanoi - Ta Hien Street, which is famous for its sidewalk beer culture.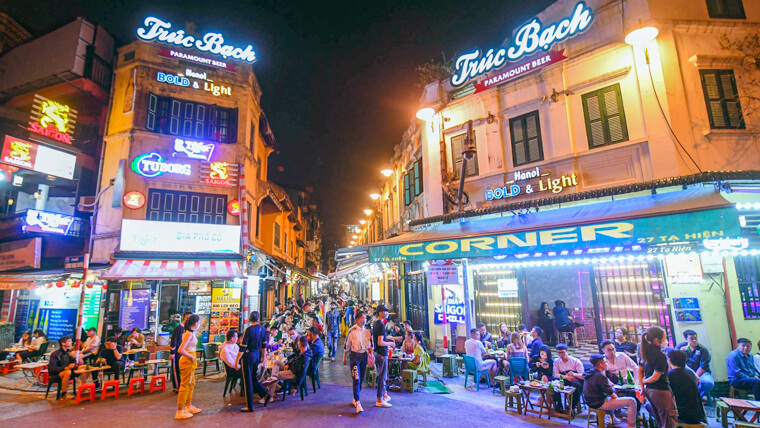 Ta Hien street near Hanoi night market is one of the best nightlife in Hanoi - Source: dantri
There are few places in Vietnam with a unique, vibrant and bustling beauty nightlife like this street, always filled with sidewalk shops selling delicious dishes and draft beer. Looking at the image of people gathering and chatting, sipping cold beer, you will feel as if all barriers of language and culture have been erased.
You can also turn to Hang Buom food street to enjoy a variety of delicious and attractive dishes such as boiled snails, potato cakes, banana cakes, quay (fried bread sticks), porridge, crabs, steamed clams,...
2 - What to buy in the Hanoi night market?
At this night market in Hanoi Vietnam, there are numerous different items for sale, from household items, clothes, jewelry to handicrafts, souvenirs, etc,. Especially on occasions like the Mid-Autumn Festival, Christmas or Lunar New Year, you will find all kinds of lanterns, star lights, Christmas decorations, etc. All of that makes the space so much more vibrant and colorful, attracting people from everywhere. Coming here is your chance to freely admire, then shop for the things you like at affordable prices.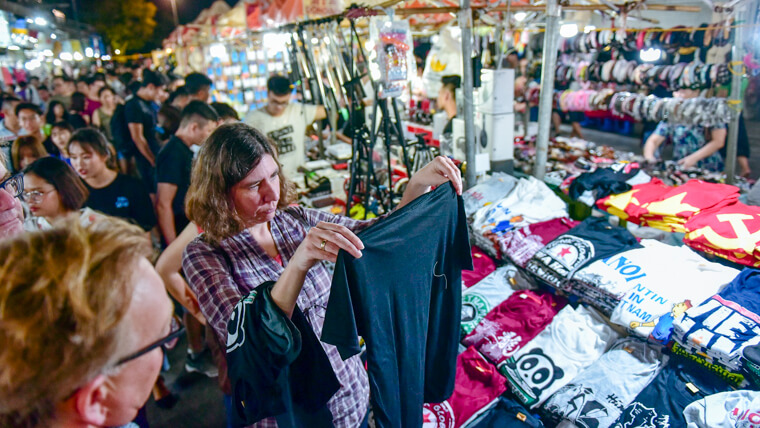 There are tons of interesting things to buy at this night market - Source: vietnamnet
At Hanoi night market, there are many things for you to choose from, all of which are sold in mobile shops or in small houses along the street. However, you should check and consider carefully before deciding to buy a certain product, because there are still many fake ones. In addition, most of the shops here sell Chinese goods imported through border gates, or some selling damaged or faulty items. Being careful will help you avoid losing money on unwanted stuff, making the trip full of good memories only.
III - What are there to note when visiting Hanoi night market?
1 - How to travel to Hanoi Old Quarter Night Market?
If you stay in the Hanoi Old Quarter, you can easily walk here in a few minutes; if you are far away, a taxi or grab-car is the most appropriate means of transportation. Riding a motorbike is also an option when you can come early for a parking space, however, this is not recommended as it will be hard for you to take the bike out.
Hanoi Pedestrian Street is a few minutes walk from Hanoi night market - Source: dantri
After stirring up this night market in Hanoi, you can stroll around Hanoi Walking Street and admire the charming Hoan Kiem Lake at night. While enjoying the fresh air in the middle of the city, you can also enjoy the special performances every weekend on the street. There are dance covers, singing by young people, interesting folk games, or concerts, live shows on big festivals and holidays. You can also feel the unique street culture of Hanoi just by sitting at an iced tea shop, a beer shop on the roadside or buying a cup of sugar cane juice, skewers of meat,…
2 - Hanoi night market bargaining
Items at the night market in Hanoi Old Quarter are often sold at quite affordable costs, but the situation of tourists being tricked into paying higher prices still occurs. Therefore, if you have to buy items up to several hundred thousand VND, while feeling something is not right, you should definitely bargain, there's a high chance the seller will reduce it. Besides, you can consult the price of the same item in many different stalls, then choose for yourself one with a suitable price and good quality.
The sellers at Hanoi night market only accept cash and usually in Vietnamese currency, so remember to prepare in advance to avoid not having money to pay after eating or choosing things to buy. As of March 15, 2022, the exchange rate between the US Dollar and Vietnam Dong is 22,900 VND = $1, and if there are fluctuations, it will not be much.
Another point you need to keep in mind is to secure your personal belongings, because this night market in Hanoi City is always very bustling here with hundreds of people - an opportunity for thieves to take advantage of.
Hanoi night market Vietnam is not only a place to buy and sell, but also a place containing the unique cultural features of the thousand-year-old capital. It combines the bustling modern features of the urban area, with the traditions of the ancient streets, creating a unique and attractive space in the heart of the capital. Visiting Hanoi Old Quarter Night Market is an experience that never gets old for anyone who sets foot here.