I - Hoi An history
Hoi An city was officially born in the late 16th century under the Le dynasty. Located on the banks of the Thu Bon River before and the coastal plain of Quang Nam province today, in the past, this was one of the major commercial ports and the most crowded place in Vietnam. During the cultural exchange process, the meetings among Japanese, Western, and Chinese merchants (17th century - 18th century) has created a unique cultural diversity here. At that time, many traders from China and Japan settled here, which played an essential role in the development of a prosperous commercial port.
Earlier, several traces were found here showing the lives of the ancient Cham people (Sa Huynh culture); there are plenty of names and locations that are still present and are used to this day such as Cham Islands (Chiêm Bất Lao), Cửa Đại (Hải Khẩu), etc. This has created a multicultural Ancient Town, uniquely traditional craft villages, a rich culinary scene,...
II - Best time to visit Hoi An
This city is located in the tropical monsoon climate region of south Hai Van. Thus, it has many characteristics of the coastal climate in Central Vietnam - hot and humid all year round and seasonal rain. The average annual temperature is relatively comfortable, only at about 25.6°C. The highest in the dry season (February - August) is 39.8°C and the lowest in the rainy season (September - January) is 22.8°C.
Therefore, the best time to go to Hoi An in Vietnam is every year from February to June, since the weather at this time is less rainy; the temperature and the amount of sunshine hours a day are very suitable for tourism activities and experiences. If you love cultural-tourism and want to experience the cultural space of this city at night, you should go for 14-16 of the lunar days every month. These days, the entire old town would put on a bright, colorful "shirt" of paper lanterns. which is incredibly romantic.
III - How to get to Hoi An?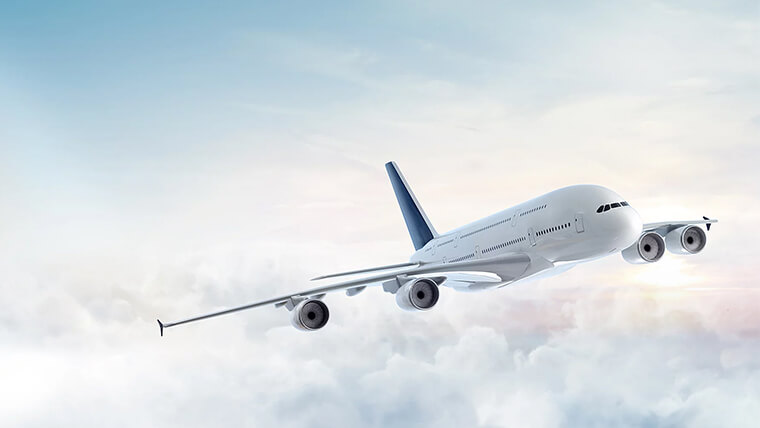 By owning a large port and transport infrastructure system that focuses on synchronous investments in inter-regional, inter-provincial, etc., it is relatively easy for tourists to travel around this city. A variety of modes of transport can be selected to get to there, such as:
1 - Traveling by plane
At present, there is no airport in this city. The nearest airport to this city is Danang International Airport (30km).
2 - Traveling by train
You can choose to stop at one of the following two train stations:
Da Nang Railway Station (30km): No. 791 Hai Phong street, Tam Thuan ward, Thanh Khe district, Da Nang city. This station is ideal for travelers traveling from the Northern destinations of Vietnam. From Da Nang Railway, you can go by taxi or bus to Hoi An Vietnam:
- Traveling by taxi: The cost is about 350,000-400,000 VND/4-seater car (~15.08-17.24 USD); 40-50 minutes/route.
- Traveling by bus: Bus route 01; running time is around 40 minutes/ route; ticket price is 40,000 VND/ person/ way (~$1.72). Walking about 520m from the station to Hung Vuong Park bus stop to catch the bus 01. (No. 84, Hung Vuong Street, Hai Chau 1 Ward, Hai Chau District, Da Nang City).
Tam Ky Railway Station (50km): Nguyen Hoang Street, An Xuan Ward, Tam Ky City, Quang Nam Province. If you travel from destinations in the south of Vietnam, you can opt to stop at Tam Ky station. It's also pretty easy to travel from Tam Ky to Hoi An station.
- Traveling by taxi: Travel cost is about 500,000 - 600,000 VND/4-seater car/ route (~ 21.55 - 25.86 $); Travel time is about 1 hour/ route. Some of the Tam Ky taxi brands include: Mai Linh Tam Ky Taxi: 02533838383; VinaSun Taxi: 02353686868; Tien Sa Quang Nam Taxi: 02353595959.
- Traveling by bus: Bus route 11 can be selected by guests; running time is around 90 minutes/ way; Ticket price: VND 30,000 / person/ way (~ $ 1.29). From Tam Ky station, tourists walk about 500m to Huynh Thuc Khang Street Bus Stop and take Bus Route 11.
3 - Traveling by bus
There are two bus stations serving travel needs right in the city center. Booking a coach is also very convenient when using intermediaries such as vexere.com; Saodieu.vn;... The locations of the two bus stations in this city are as follows:
- New bus station: Nguyen Tat Thanh street, Cam Pho ward, City Centre
- Old bus station: No. 96 Hung Vuong Street, Cam Pho ward, City Centre
IV - A guide to exploring Hoi An Vietnam
1 - Hoi An transportation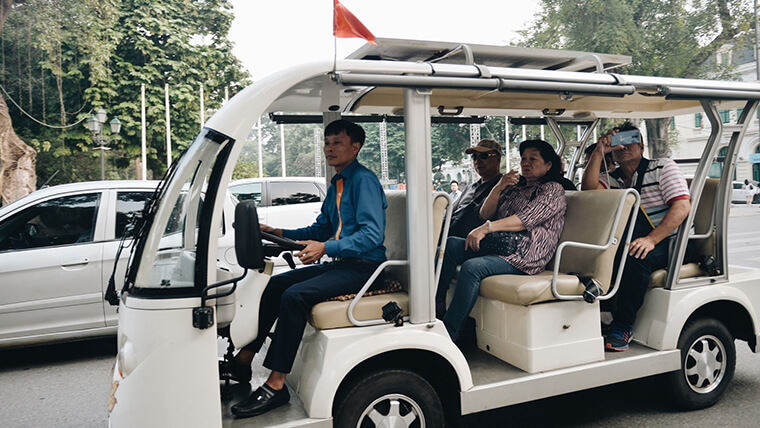 The classic electric bus system
The bus system has a classic design, using electricity to run around the city with nearly 30 units (2019), each can carry 6-10 people. Buses serving visitors are available around popular tourist spots from the old town to the beaches, pottery village and Tra Que vegetable village.
There are 8 main pick-up and drop-off points: Ly Thuong Kiet parking lot, 01 Hoang Dieu, Thanh Ha parking lot, Cua Dai port, Song Hoai square, An Bang beach, Thanh Ha pottery village, and Tra Que vegetable village.
- Route under 4km: 10,000 VND / ticket ~ 0.5 $
- Route over 4km: 15,000 VND / ticket ~ 0.65 $
Taxi: You can contact one of these taxi brands below:
- Mai Linh Taxi: 0510 3 92 92 92
- VinaSun Taxi: 0511 3 68 68 68
- Tien Sa Taxi : 0510 3 59 59 59 59
Bicycle: You can take the initiative in time for this means of transportation, so you can enjoy the relaxing space of the old town. Some bicycle rental addresses in Hoi An City such as:
- Le Van Trung shop: No.15/1 Tran Hung Dao Street, Cam Pho Ward, City Centre; rental price 30,000 VND /motorbike/day (~ $ 1.29); Phone number: 0905 892 315.
- Le Thi Anh Tuyet store: No. 80 Tran Hung Dao Street, Cam Pho Ward, City Centre; A total of 20 bikes; Rental price: 1 USD/motorbike/day; Phone number: 039 102 268.
- Nguyen Thi Lanh shop: No.30 Nguyen Duy Hieu Street, Cam Chau Ward, City Centre; rental price: 30,000 VND/motorbike/day (~ $ 1.29); Phone number: 0935 041 891.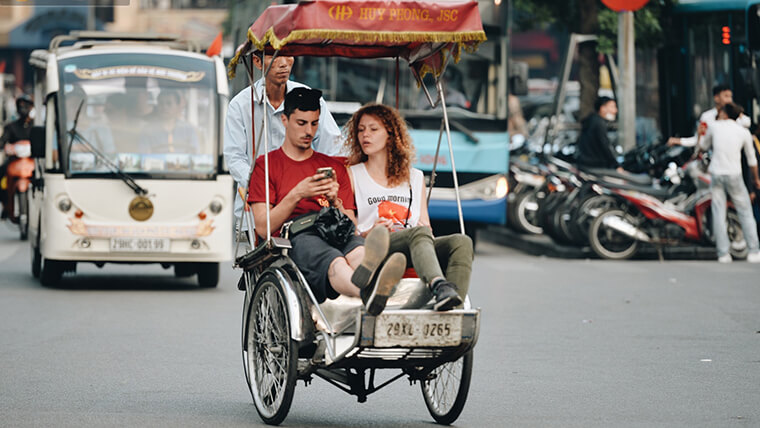 Traveling by cyclo is an interesting experience - Source: Kenh14
Cyclo
For those who enjoy exploring the beautiful little hidden corners of this ancient city, you can choose to go by cyclo. The cyclo drivers here have quite a good level of English. The rental price is 150,000 VND/unit/hour/person (~6.46 $). On the streets of Phan Chu Trinh, Cam Pho Ward or Tran Phu, Minh An Ward, you can easily hire a cyclo.
Boat
You can experience a boat trip on the Hoai River or the Thu Bon River for about 30,000-50,000 VND/person/boat for 2-4 passengers (~$1.29-2.15). You can buy flower lanterns and admire their dreamlike beauty in the evening as with the price from 5,000 - 10,000 VND/lantern. To hire a boat, you can travel to the boat station.
2 - Hoi An festival
Some typical traditional festivals that you can attend while visiting this city such as: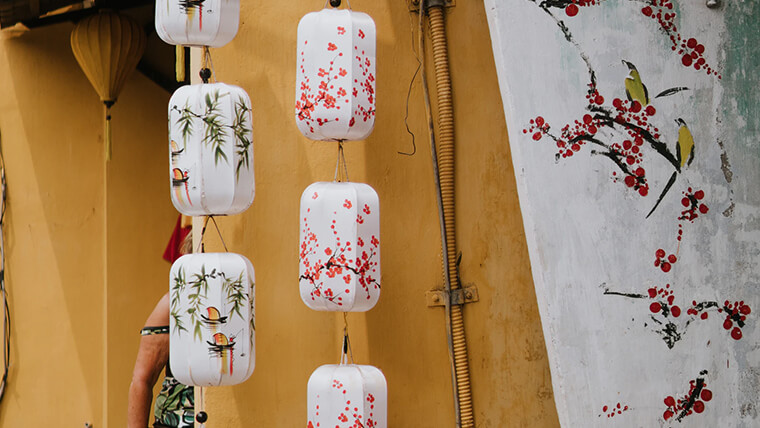 Lantern Festival - Source: Di_An_h
Lantern Festival: Usually held on the occasion of the Lunar New Year and the full moon day of each month; this is a traditional festival that has been held for more than 15 years.
Cau Bong Festival: Usually held on January 7 of the lunar year every year in Tra Que village, Cam Ha commune. This is held to pay tribute to seniors and wish for a peaceful, rainy year.
- 2021: February 18, 2021
- 2022: February 7, 2022
The ceremony of Lady Thien Hau Thanh Mau: To commemorate Lady Thien Hau Thanh Mau's merits, this ceremony is held every year, on March 23 of the lunar calendar.
Location: Phuc Kien Assembly Hall or Ngu Bang Assembly Hall
- 2021: May 4, 2021
- 2022: April 23, 2022
Thanh Ha pottery village festival: This festival in Hoi An Vietnam commemorates the great merits of the ancestor of the field of pottery. It takes place annually on January 10 of the lunar calendar with many exciting activities and fascinating games, such as the Lion dance, the procession ceremony of the palanquin, shaping ceramic product competition, boat procession, liturgy, chanty, and a whole host of other enjoyable folk games.
- 2021: August 22, 2021
- 2022: August 12, 2022
Commemoration Day of swiftlet farming: On the 9th - 10th of the 3rd lunar month every year, the residents of Tien Hiep commune - Cham Islands will hold a ceremony to pray for a new year of quiet calm sea waves and to commemorate the class of father of swiftlet farming. The festival takes place with many enticing events, such as tug-of-war at sea, sailing, etc. You may also have a chance to enjoy the local specialties: sea cucumber, abalone, etc when coming here.
- 2021: April 20 - 21/2021
- 2022: 09 - 10/04/2022
3 - Places to visit in Hoi An in Vietnam
Not only do the culture and festivals draw visitors, but the ancient town of this city is also popular for many fascinating places to explore and experience. Outstanding among them could be mentioned as:
The Ancient Town
The Ancient Town is poetic, peaceful, and separate from the bustling atmosphere in other localities. There are several hundred-year-old old houses here, the golden walls embracing vivid bougainvillea trellises.
Cau Pagoda (Bridge Pagoda)
The pagoda illustrates the interference between the Vietnamese and Japanese architectures with the traditional "Thượng gia hạ kiều" (above is the house, below is the bridge) architecture. This is also the illustration printed on Vietnam's 20,000 VND coin, the mossy walls, the wooden pillars, the curling roof highly attracting tourists.
The Assembly Hall of Cantonese Chinese Congregation or Assembly Hall of Chaozhou
The cultural intervention between China and Vietnam is perfectly indicated by this place. The buildings are made from stone, wood, etc engraved with many intricate and elegant details and dressed in vivid colors. The assembly hall displays a lot of old pottery pieces, plays, etc. All maintain the traditional cultural characteristics of the Cantonese when they come to live in Hoi An Vietnam.
Thanh Ha Pottery Village
This 300-year-old craft village is where the famous ceramic works of this ancient city were made. You may admire or participate with artists in the creation of a ceramic object or visit the exclusive terracotta park here.
The silk village: Not only popular for silk goods but also green spaces, close-knit old houses offer a lot of new experiences for tourists. Besides watching the weaving stages of the fabric, you may select a good cloth to sew at a reasonable price.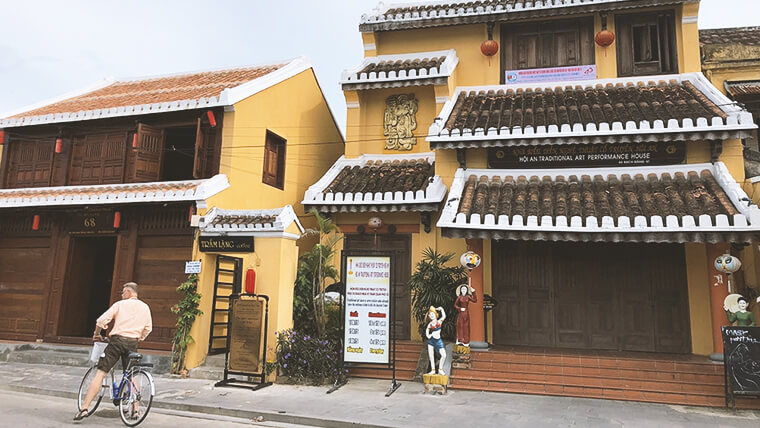 Old houses
Hundreds of years old houses made of wooden materials and divided into many rooms with various functions. Space inside retains the ancient features of wooden furniture, words, diaphragm, etc. Here, you will have the opportunity to learn about ancient Hoi An architecture. The 2 famous old house can be mentioned as Tan Ky Old House and Phung Hung Old House (both in the Ancient Town)
Ecological Coconut Area
A stopover for those who love nature and want to feel the excitement of the thrilling game with "turning the punt on the river". A seven-acre green coconut forest, fresh air like taking tourists back to live close to nature.
This city not only has a variety of tourist attractions, but also the top 100 most beautiful beaches in the world. You can immerse in a typical tropical beach atmosphere, experience beautiful resorts, and classy services, or enjoy sightseeing, play on the beach, etc. Three beautiful and famous beach in this city, which should be visited could be mentioned as:
Cua Dai Beach
The convergence of the flow of three big rivers: Thu Bon, De Vong, and Truong Giang. Cua Dai Beach has white sand, green coconut trees typical of tropical beaches. This place is just about 5km from the center of town, so it's very convenient to travel.
Ha My Beach
This place is considered one of the most lovely and pristine beaches in Hoi An Vietnam. It attracts tourists with white sand, typical emerald green seawater, and is very suitable for enjoyable sports, camping, beach sunbathing. Ha My Beach has entered the Top 16 of Asia's most beautiful beaches, according to the Telegraph.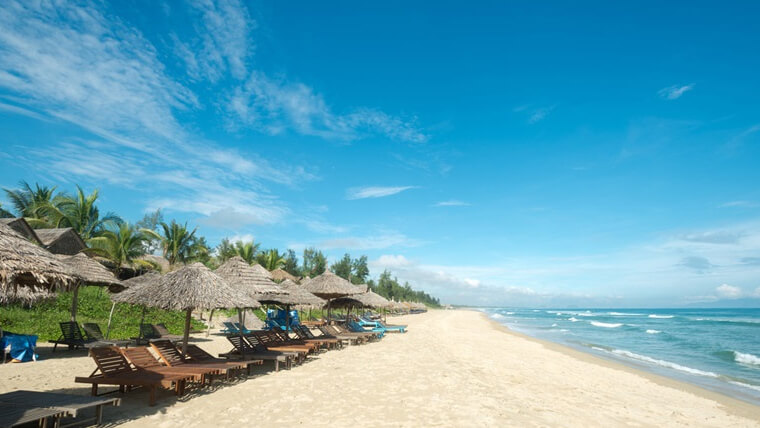 An Bang beach - Source: Anhtutravel
An Bang Beach
This is the world's top 100 most beautiful beaches with peaceful space, smooth white sand, and the region's purple sea lilies. You can watch the sunrise on the sea from here with fanciful light, conquer every wave with a motorcycle, canoe, etc. The beach is just about 5 km from the center of the city, so it is extremely convenient to drive around.
4 - Information on assistance
Pharmacies in Hoi An
Some of the pharmacies where you can stop and purchase a few basic medicines if necessary, such as:
- Huy Hoang Pharmacy: 268 Ly Thuong Kiet Street, Minh An Ward, City Centre; Opening hours: 7:00 - 21:00; Phone number: 0235 3 916 312.
- An Phong Pharmacy: No. 316, Nguyen Huy Dieu Street, Cam Chau Ward,City Centre; Opening hours: 8:00 - 21:30; Phone number: 0235 3 916 465.
Post Office: No. 06, Tran Hung Dao Street, Son Phong Ward, City Centre; Opening hours: 6:30 - 20:00 (Monday - Saturday) and 8:00 - 17:00 (Sunday); Phone number: 0235 3 862 888.
General Hospital: No. 4, Tran Hung Dao Street, Son Phong Ward, City Centre; Opening hours: all day; Phone number: 0235 3 914 660.
Police: No. 06, Ngo Gia Tu Street, Son Phong Ward, City Centre; Opening hours: 7:00 - 17:00 (Monday - Saturday); Phone number: 0235 3 861 204.
It is obvious that Hoi An Vietnam is a desirable destination.