I - Imprints of Hoi An Vietnam history

Hoi An was officially born in the second half of the 16th century, under the Le Dynasty, but it was not until 1570 that the economy of this region was developed. Foreign trade was expanded and Hoi An City became the busiest economic exchange center, the largest urban - commercial port of international stature in Southeast Asia at that time. During its prosperity, especially in the first half of the 17th century, this land was a trading convergence welcoming ships from all over the world, from Southeast Asia to Europe. Many foreign nationals, especially Chinese and Japanese, have been allowed to stay and set up streets, open shops, and live with their own customs.
Due to changes in the country and the world, the role of Hoi An Vietnam gradually disappeared from the end of the 19th century, but thanks to that, this place has been preserved relatively intact to this day. You can still find in this ancient land the relics of the harbors, old town, houses combined with shops, family worshiping works, temples, shrines, the assembly halls, tombs and a bridge named Japan Bridge. The richness of Hoi An architecture, with the unique lifestyle and customs here are like a mirror reflecting a long journey of cultural interference, integration and acculturation.
The existence of an intact ancient city like this is unique not only in Vietnam, but also rare in the world, considered a living museum of the architecture and urban lifestyle of the past. The streetscape is covered by an ancient mossy color, creating a unique nuance for Hoi An culture, which is both national and indigenous, and has a balance between endogenous and exogenous factors. In addition to the diverse architectural values, this place also preserves many intangible cultural activities, with festivals being promoted along with traditional craft villages, culinary dishes, and so on. That's why Hoi An heritage was recognized at the world level by UNESCO in 1999.
II - A quick Hoi An Vietnam travel guide
1 - Top attractions on Hoi An tourism map
Source: Howard Mitchell
Here below are top most famous tourist attractions in Hoi An that tourists should not miss out:
Hoi An Ancient Town
After many ups and downs of history, Hoi An old quarter still retains the traditional architectural beauty of houses, quietly mossy in each tile roof, brick, tree line, and so on. The most common here are the narrow but deep one or two-story tubular houses, made from materials with high strength and durability due to the harsh climate of the central region. Each house in Hoi An ensures the harmony between living space and nature, with a courtyard paved with stones and decorated with small lakes, fake mountains and ornamental plants.
Streets here are arranged horizontally along a chessboard style with beautiful and short streets, along with the peaceful and winding Hoai river. Every night, colorful lanterns hanging around every corner of Hoi An Vietnam ancient town are lit up, reflecting on the sparkling immense water. Weaving through each of those streets, you will open a window to have a glance at the peaceful and simple daily life of the locals. Hoi An architecture is very rich and beautiful, so this place has been and will always be a special attraction to domestic and foreign tourists to explore and enjoy their vacation.
- Bridge Pagoda - an iconic Japanese-covered bridge
Walking in the Hoi An old quarter, you cannot miss the chance to check out the famous ancient works, which are the result of the exchange and acculturation of many different cultures that were present here. The most prominent is the Bridge Pagoda - an invaluable asset that has officially been selected as the symbol of Hoi An Vietnam. This was originally an architectural work built by Japanese merchants, who came to trade, then stayed and lived in this famous Southeast Asian trading port in the middle of the 16th century. Due to natural disasters and wars, this Japanese pagoda in Hoi An ancient town has undergone many restorations and gradually lost their old architectural elements, replaced with Vietnamese and Chinese features.
Crossing the creek leading to Hoai river, Bridge Pagoda is made of wooden planks with a roof, curved in the middle and carved with many delicate motifs. On its side is a small temple worshiping Bac De Tran Vu, the god controlling winds and floods, showing the ancients' implication in building this bridge was to protect peaceful life from sea monsters.
- Religious works in Hoi An Vietnam:
Hoi An ancient town is also home to many other temples, such as Ong Pagoda, built in 1653, after 6 times of restoration, it still retains its majestic and majestic architecture. Quan Am Minh Huong is the only remaining Buddhist temple in the old town, with beautiful architecture and landscape, still preserving almost intact wooden sculptures made by Kim Bong carpentry artisans. In addition, there is an ancestor hall of the Tran family, which is also a famous place of worship for the people of Hoi An and the surrounding area, built in 1802 according to traditional feng shui principles.
- Ancient houses:
In addition, there are some other destinations on the Hoi An tourism map that you cannot ignore when walking around, which are the ancient houses. Dating back more than 150 years, Quan Thang ancient house is one of the most beautiful and still intact, with vivid and delicate wood carving. Tan Ky ancient house, built nearly 200 years ago, has the typical tubular architecture of houses in Hoi An Vietnam with many compartments. Meanwhile, Phung Hung ancient house is over 100 years old, distinguished by its unique structure representing the exchange between architectural styles. These two houses were granted national historical - cultural status in 1990 & 1993, respectively.
- Assembly halls:
Some other works often introduced in each Hoi An travel guide are the ancient assembly halls, mostly built by the Chinese who came here to settle. The first to mention, arguably the most brilliant, is the Fujian Assembly Hall built over 300 years ago, granted national historical - cultural relic status in 1990. Trieu Chau Assembly Hall, built in 1845, is of special value with its intricately carved wooden frame and beautiful porcelain embossed works. Built in 1885, the Cantonese Assembly Hall used wood and stones in its structure and motifs, bringing its own majestic beauty.
My Son Sanctuary
Belonging to Duy Phu commune of Duy Xuyen district, My Son sanctuary is about 40km from the city - making this one of the top day trips from Hoi An Vietnam. This was once the most important central Hindu holy place of the Champa kingdom, built from the 7th to the 13th centuries and discovered by a French scholar called M.C Paris in 1898. Hidden in the heart of the valley and sheltered by 2 majestic mountains, this area has a diameter of about 2km with more than 70 brick and stone structures.
One of the most unique features in Cham tower architecture is that it does not use any adhesives in construction. The bricks were fired and cut into blocks, then cleverly stacked, and carved directly by the hand of artisans at the time. Over the centuries, the My Son sanctuary in Hoi An Vietnam has not been weathered but only cracked a very small part, still keeping the meticulous and delicate motifs. The main temples here worship a Linga or an image of the god Siva, along with the king Bhadresvara. In addition to the Champa style carved statues of female dancers, there are many other typical artifacts found, with images of gods, of worshiping animals as well as of community activities.
The Apsara dance inspired by sandstone statues is one of the most interesting things to see. This art is currently used to perform in Hoi An tourism. If you come in July, you also have the opportunity to immerse yourself in the atmosphere of Kate festival, with rituals to pray for peace, procession, and many unique cultural performances. Coming here on the nights of the full moon, you can fully feel the shimmering and deep beauty, as well as immerse yourself in the cold, quiet atmosphere of the surrounding mountains.
Beautiful beaches in Hoi An Vietnam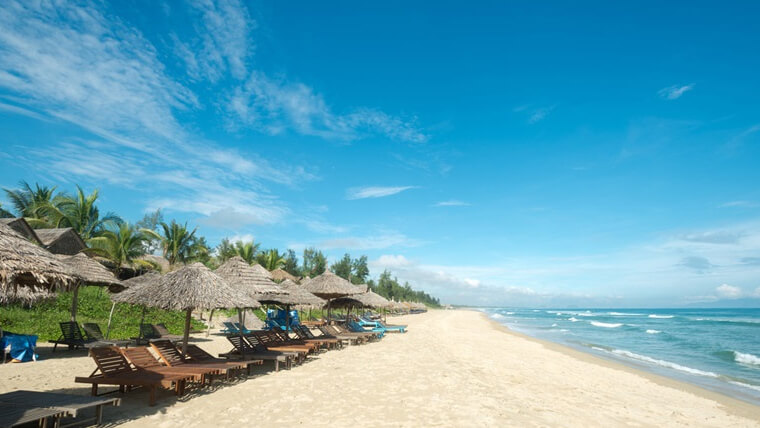 An Bang beach - Source: Anhtutravel
The most famous beaches in Hoi An and close to the center of the ancient town are An Bang, Ha My and Cua Dai, which are among the top beaches in the world or in Southeast Asia. In particular, An Bang Beach in Cam An ward is the closest to the Hoi An center (about 3km), but still wild, clean and not too crowded. With its relaxing and peaceful nature, this place was honored to be in the top 50 most stunning beaches in the world by CNN in 2011. Only about 3.5km away is Ha My beach, famous as one of the 10 best beaches in Asia voted in 2017 by the British newspaper Telegraph. Finally, it is impossible not to mention Cua Dai Beach, only about 5km from the center of Hoi An, in 2013 was voted in the top 25 most breathtaking beaches in Asia by Tripadvisor.
Traditional craft villages
Hoi An Vietnam is known as a land with a long history of development, and in order to serve their lives, the people here have formed a number of diverse professions since ancient times. Traditional craft villages have contributed significantly to creating the treasure of cultural heritage of this ancient trading port, which is the crystallization of the creative labor process, inherited from generation to generation. Today, some famous craft villages in Hoi An have also captured and participated in tourism development, outstanding with rare poetic beauty, peace and interesting practical experiences.
- Thanh Ha pottery village
Only about 3km from the old town, Thanh Ha pottery village is located right on the banks of the peaceful and poetic Thu Bon River, is one of the most attractive places to visit in Hoi An Vietnam which also provides valuable and beautiful ceramic products. Here, you can see with your own eyes the whole process of terracotta products created by experienced and skillful hands of artisans in the village, such as wine bottles, kettles, jars and even small statues. You will also have the opportunity to create your own creation if you wish, receive a souvenir included in the ticket, or visit the ceramic museum on site.
+ Ticket price: 35,000 VND / person ($1.4)
- Tra Que vegetable village
Only about 1km from An Bang beach, Tra Que village in Cam Ha commune has long been known for many vegetable products with guaranteed quality and distinctive aroma. This is also an interesting green tourist destination in Hoi An, offering the chance to experience once as a farmer in the field to grow vegetables, harvest, make rice paper,… Tra Que vegetable village has over 20 varieties of vegetables and spices fertilized with seaweed, moss from the nearby De Vong river and sea, contributing to the creation of rustic specialties of Hoi An.
- Hoi An silk village
Located on Nguyen Tat Thanh Street, the traditional handmade Silk Village in Hoi An Vietnam is a must visit place, at which you have a chance to admire the process and different stages to create beautiful products. You will be introduced to the ancient mulberry garden, silkworm raising, cooking cocoons, and where artisans weave fabrics from iridescent silk threads on the loom to produce colorful shirts and scarves. You can also learn how to distinguish real and fake silk, then sip a cool cup of mulberry juice in the garden.
+ Ticket price: 50,000 VND / person ($2)
- Hoi An lantern village
Lanterns have long become an indispensable part of Hoi An nightlife, used for decorating from homes, hotels to restaurants, cafes, etc. Up to now, lantern making here has been 400 years old with more than 30 production facilities, honored in the top 9 typical craft villages in Vietnam in 2011. Hoi An lanterns are made from the main materials of bamboo and cloth, which through the skillful hands of the artisans become a work of art. Currently, the products here have followed consumer tastes, so they are also more diverse in designs, models and colors, but still retain the traditional beauty.
- Kim Bong carpentry village
About 16km from the old town, Kim Bong carpentry village in Cam Kim commune, located on the right bank of the lower Thu Bon river, is one of the top day trips from Hoi An Vietnam. Starting to focus on carpentry since the 16th century, this place has created many works of art marking the unique cultural values that remain to this day. Kim Bong Moc Village is famous for making household products, building boats and temples, including a big project like Hue Imperial Citadel. The artisans also join in the restoration of historical monuments and typical architecture in the Ancient Town.
2 - Top unique experiences to try in Hoi An Ancient Town
Source: Chudu24
Ordering a speed tailoring
To serve tourism, an interesting product was born in the heart of Hoi An, which is a fast tailoring service that is extremely suitable for tourists who do not have much time. In the ancient town, there are about 100 households offering quick tailoring in Hoi An town, you just need to take a walk and choose a place that is satisfactory in terms of price and design, then give your measurements. A set usually only costs about 500,000 VND ($20.15) and takes 3 - 5 hours to complete depending on the style and details, usually you will be scheduled to come back in the afternoon to pick up the product.
Discovering Hoi An cuisine
During your trip to Hoi An Vietnam, you definitely cannot miss the opportunity to experience the unique cuisine of this land, which is a combination of many cultures both domestic and international. The typical Hoi An food here that must be mentioned are Quang Noodles and Cao Lau sold everywhere in the Ancient Town, attractive with delicious broth, unique spices and beautiful appearance. You can also freely choose street food snacks from countless shops and vendors, such as corn sweet soup, pound cake, fried mussels, Ba Buoi chicken rice, Phuong or Madame Khanh's bread, etc.
Watching Hoi An Memories show
Considered as the soul of ancient town cultural tourism, the Hoi An Memories show has an extremely large scale that takes place outdoors, with a stage area of up to 25,000m2, a modern light and sound system and specialized props. The show has the participation of a total of more than 500 professional performers, lasts for 70 minutes with a total of 5 main acts, recreating the 400 years history of Hoi An and especially at its peak as the largest trading port in Southeast Asia. This program is held from 7:30pm - 8:45pm daily at Hoi An Impression Theme Park (Nguyen Tri Phuong street), with ticket prices ranging from 400,000 - 1,200,000 VND / person ($16.12 - 48.36).
Participating in festivals in Hoi An Vietnam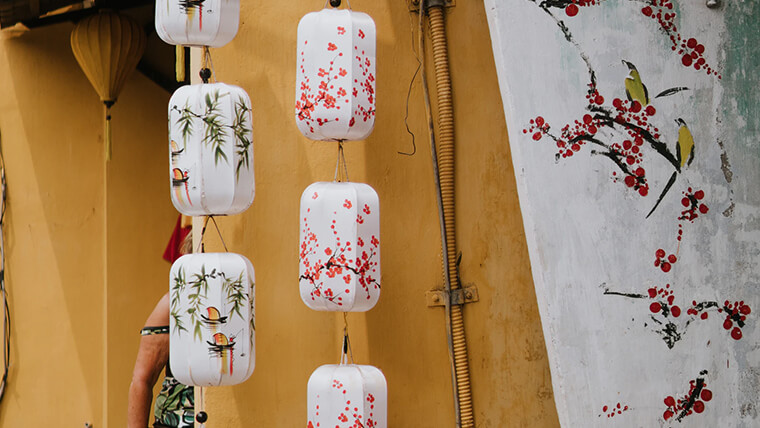 Lantern Festival - Source: Di_An_h
Hoi An ancient town has no shortage of traditional festivals with many interesting activities and attractive performances, each with its own unique poetic features. Most of the Assembly Halls, temples or craft villages each year will have a procession or prayer, if you intend to visit you should check that place in advance. Particularly in the heart of the ancient town, there is a lantern festival held on the evening of the 14th every lunar month, including turning off all electric lights and dropping flower lanterns on Hoai River. There are also a number of other events that you can arrange to attend such as the Mid-Autumn Festival, Vu Lan's filial piety ceremony, Nguyen Tieu,...
Snorkeling to see coral in Cu Lao Cham
As the best destination in the top day trips from Hoi An Vietnam, Cu Lao Cham (Cham island) is charming with its image of unspoiled islands, clear beaches, fresh nature and long standing historical landmarks. Coming to this UNESCO world biosphere reserve, you also have the opportunity to experience Hoi An diving, watching the amazing underwater world, swimming schools of fish and colorful coral reefs. You can choose the simplest way to see corals which is snorkeling, a bit more advanced with diving, or directly touch the ocean's bottom with sea walking service. The price list is:
- Snorkeling: 150,000 VND / person (6.04)
- Diving: 800,000 VND / person ($32.24)
- Walking under the sea: 950,000 VND / person ($38.28)
Having a Hoi An eco tour at Seven-acre Coconut Forest
As a famous eco-tourism area in Hoi An, the seven-acre coconut forest is located in Cam Thanh commune, only about 3km from the ancient town, very suitable for a day trip. In fact, this place has an area of up to 100ha, extremely cool and peaceful with a space filled with green trees and a calm river. Seven-acre coconut forest is also unique with an extremely rich and internal system of rivers and forests, flora and fauna. Coming here, you will be able to sit in a basket boat weaving in the coconut trees whispering in the wind, watch basket dancing, boat racing and fishing nets spreading, as well as enjoy extremely delicious specialties. The service prices are:
- Entrance ticket: 30,000 VND / person ($1.2)
- Renting a basket boat: 150,000 - 200,000 VND / boat ($6.04 - 8.06)
Attending a Hoi An cooking class
In addition to enjoying attractive Hoi An food, you can also participate in learning and making local dishes yourself at cooking classes here. Most programs will range from having you pick ingredients at the market or harvest them in person, practicing basic cooking skills to being taught by professional chefs. Participating in a Hoi An cooking class will help you delve deeper into the cuisine of this region in particular and Vietnam in general, as well as in terms of culture and lifestyle. Some reliable famous addresses with many good reviews that you can refer to are:
- Bay Mau Eco Cooking tour:
+ Price: $32 / person
+ Duration: 8:20am - 2pm or 1:20pm - 6pm
+ Contact: (+84) 905 131 149
- Tropical Cooking tour:
+ Price: 690,000 VND / person ($27.8)
+ Duration: 8am - 1pm
+ Contact: (+84) 905 028 393 - (+84) 905 609 469
- Bay Mau Eco Cooking tour:
+ Price: $28 / person
+ Duration: 8:30am - 1:30pm or 2pm - 7pm
+ Contact: (+84) 906 467 428 - (+84) 905 876 796
III - How to travel to Hoi An Vietnam?
1 - Where is Hoi An & how to get there?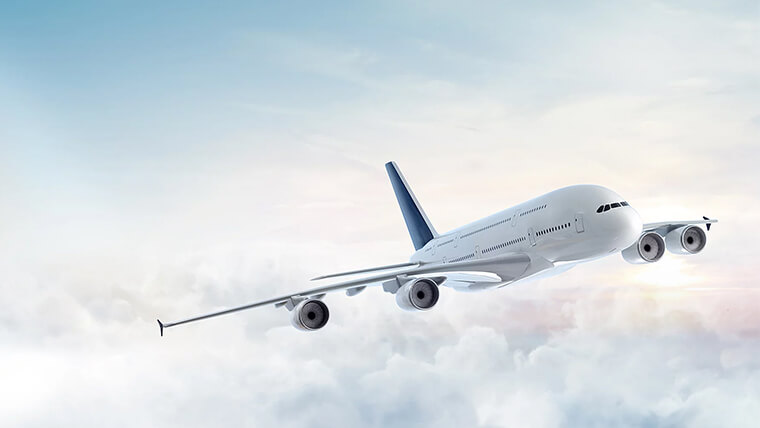 With a total natural area of 61.71km2, Hoi An city is located in Quang Nam province, on the north bank of the lower Thu Bon river and 25km east of Da Nang city. It is relatively easy for tourists to travel to this ancient land thanks to its large ports and developed transport - infrastructure system within the city and intercity. There are a few ways of travel that you can freely choose to be most convenient for you such as:
- Airport: There is no airport in Hoi An City so you will have to land at Da Nang International Airport, which is about 30km from the Ancient Town.
- Railway: Similarly, there is no train station in Hoi An yet, but you have 2 other options that are equally convenient, including
+ Danang Station: No.791 Hai Phong Street of Tam Thuan Ward, Thanh Khe District.
+ Tam Ky Station: about 48km from Hoi An Ancient Town, located at No.2 Nguyen Hoang Street, Tam Xuan Ward, Tam Ky City in Quang Nam Province.
→ The bus station is not located in the train stations, so you need to move out to catch the bus to Hoi An city, with a fare of about 20,000 - 50,000 VND / person ($0.8 - 2). If you want to travel by taxi, you can pick up the car at the train station with the cost ranging from 350,000 - 600,000 VND / 4-seat car ($14.1 - 24.18).
- Traveling to Hoi An by bus: Line 01 from Da Nang City with ticket price of 40,000 VND / person ($1.72), a travel time of 40 minutes, running hours from 5:30am - 5:30pm and a frequency of 20 minutes / trip.
2 - When is the best time to go to Hoi An in Vietnam?
As a central city located in the northern and southern climate transition zone, Hoi An has the rainy season (August - December) and the dry season (January - July). In general, every season here has its own beauty, but to be able to walk around the Ancient Town, visit outdoor destinations, and participate in festivals, the dry season is the most ideal. During this time, the weather is hot but does not exceed 33°C, pleasant and sunny with little rain. Meanwhile, the rainy season is quite impressive with chilly air and light rains, bringing a strange romantic and peaceful beauty for Hoi An City. In general, you need to keep an eye on the Hoi An weather forecast for the most perfect trip.
3 - Hoi An transportation for getting around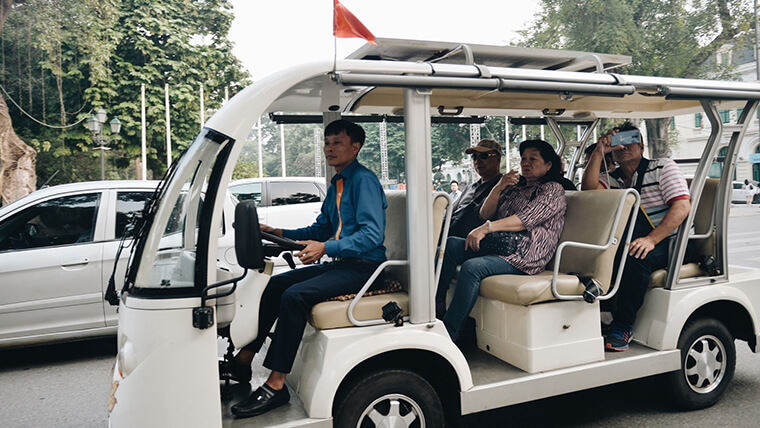 - Motorbike: This is a personal vehicle that people prioritize when visiting Hoi An ancient town. With only 120,000 - 150,000 VND / day, you can do a tour at your own discretion, weave into small and large alleys, or stop to check-in whenever you want.
+ Rental Hoi An: (+84) 905 37 34 34
+ Style Motorbikes: (+84) 915 139 796
- Taxi: If you go in a group and don't want to waste time finding ways, this is the most ideal choice, with some famous and reliable firms you can choose from such as VinaSun (0511 3 68 68 68) or Mai Linh (0510 3 92 92 92).
- Cyclo: This is an interesting and memorable travel experience you should try in Hoi An Ancient Town. You can catch a cyclo at Tran Phu or Phan Chau Chinh street, for about 150,000 VND / cyclo / hour ($6.04).
- Bicycle: Using this vehicle, you can weave around and explore the peaceful beauty of Hoi An ancient town. Some hotels and homestays have free bicycles for you, or if needed you can rent one for only 40,000 VND / day ($1.6).
4 - Hoi An Vietnam discovery tour

A Hoi An 1 day itinerary example:
- 8:30am: Starting this Hoi an city tour, you will depart to Son Tra Peninsula.
- 9am: Visit Linh Ung Pagoda.
- 9:30am: Depart to Ngu Hanh Son.
- 10am: Stop at Non Nuoc stone art village.
- 10:45am: Go up the mountain to visit mysterious natural caves, ancient architectural works such as Vong Giang Dai, Xa Loi Tower and Tam Thai Pagoda.
- 11:30am: Depart for Hoi An and stop for lunch.
- 1pm: Visit the old houses, Bridge Pagoda, assembly halls and temples with unique architectural style, learn about the lives of locals and the history of the ancient town.
- 5:30pm: Move to the restaurant and have dinner.
- 7pm: Get on the boat, release flower lanterns on Hoai River, enjoy Bai Choi singing.
- 8pm: Disembark and freely explore Hoi An ancient town at night.
- 9pm: End of this Hoi An city tour.
Some reliable Hoi An travel agencies
- VM Travel:
+ Address: No.93 Nguyen Thi Minh Khai Street, Cam Pho Ward
+ Contact: (+84) 917 126 661
+ Email: vmtravelhoian@gmail.com
- Hoi An Eco Discovery:
+ Address: Van Lang Hamlet of Cam Thanh Village
+ Contact: (+84) 235 3933 444
+ Email: tuanlienhoian@gmail.com
- Xuan Tu's Vietnam Tours:
+ Address: No.73/12 Truong Dinh Street, Man Thai Ward, Son Tra District, Danang
+ Contact: (+84) 904 089 251
+ Email: xt@xuantuvietnamtours.com
5 - Accommodation in Hoi An Vietnam
Throughout Hoi An are tourist attractions, beautiful natural landscapes with their own advantages, so you can easily find places to stay from resorts, villas, to hotels, motels or homestays. To be able to easily visit and have fun, you should stay in areas such as the Hoi An city centre or next to the famous beaches here, and choose a form of accommodation that is suitable for your trip. With a long coastline and beautiful scenery, Hoi An is unsurprisingly a center for many famous, highly appreciated by world travel magazines resorts, such as Vinpearl, Almanity, La Siesta, Victoria,…
Meanwhile, the beautiful villas of Hoi An are concentrated in the periphery, especially Cam Thanh coconut forest, bringing you fresh and refreshing air. They are suitable for groups with a large number of people and want to enjoy a sense of self-sufficiency and individuality, wanting to do things as they please without interference from outsiders. Next, the most popular types of accommodation that can be found anywhere in Hoi An Vietnam are hotels, ranging 1 - 5 star, meeting the needs of convenient accommodations for visitors. In the ancient town, there are also homestays opened by local people, suitable for small outings, as well as people who like to be close and learn about local culture.
Almanity Hoi An Resort & Spa
- Address: No.326 Ly Thuong Kiet Street in Minh An Ward
- Price: 5,025,000 - 10,682,000 VND / room / night ($202.5 - 430.5)
- Contact: (+84) 2353 666 888
MGallery Hoi An Hotel
- Address: No.326 Dao Duy Tu Street in Cam Pho Ward
- Price: 2,540,000 - 3,391,000 VND / room / night ($102.36 - 136.65)
- Contact: (+84) 2353 950 777
Loongboong Homestay
- Address: Tra Que Village in Cam An Ward
- Price: 300,000 - 600,000 VND VND / room / night ($12.1 - 24.2)
- Contact: (+84) 943 333 333 - (+84) 25 7777 7777
6 - Other information about Hoi An ancient town
- Hoi An Vietnam population: 98,599 people as of 2019
- Hoi An zip code: 51300
- Hoi An hospital: No.4 Tran Hung Dao Street in Son Phong Ward
The above is detailed information about Vietnam Hoi An city, covering everything from basic information, attractions to transportation, cuisine and accommodation. For the best experience when coming here, you should book services and check the weather forecast carefully in advance, so as not to affect your plans with unwanted situations. Hopefully, through this post, you can prepare yourself for a perfect trip to Hoi An ancient town - the once bustling trading port of ancient Vietnam.