There are dozens of museums scattered around the capital of Vietnam, which help the residents and tourists to understand more about almost every aspect of the city and the country. Vietnam National Fine Arts Museum is one of leading importance in preserving and upholding the wealth of traditional and cultural heritages of Vietnam. Let's take a closer look at this construction with Locacltravelidea in the following information.
I - History of Vietnam National Fine Arts Museum
As a part of the Vietnam National Museums system, the Vietnam Fine Arts Museum was founded in 1966 with a mission to be a place for researching, collecting, preserving , displaying materials, artifacts, classical artworks and promoting cultural and artistic quintessence of Vietnam.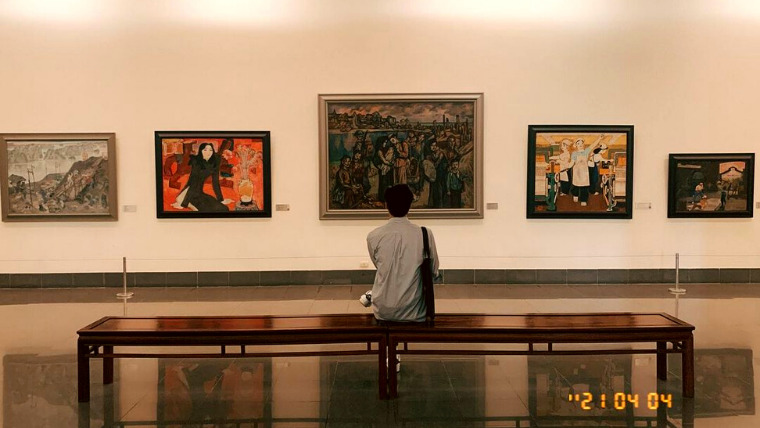 Source: didaucogi.com
The building is a French architecture located at the heart of Ba Dinh district, Hanoi. Therefore, the museum draws the attention of tourists not only for its valuable aesthetic masterpieces but also for its design and the surrounding landscape. Like other French constructions in Hanoi dated back to the end of the 19th century, the beginning of the 20th century, the Vietnam National Fine Arts Museum was first named "Famile de Jeanne d'Arc" and used as a boarding school for daughters of French Officials all over Indochina.
From 1957 to 1960, the property served as the headquarters of Ba Lan delegations in the War Oversight Committee to Vietnam. During the periods of 1960 to 1962, it was the office of experts from the Soviet Union. In 1962, the building was reconstructed and turned into a museum of art, where fine paintings of Vietnam were exhibited. From a structure imbued with Western color, Vietnam fine arts museum was included with traditional nuances of Vietnam in order to better fit the new title and function.
In 1966, the museum with an area of 4,200 m2, of which the galleries is 1,200 m2 was officially opened for public visit. After the expansion in 1997 to 1999, the total area was increased to 4,737 m2 and the exhibition area was above 3,000 m2.
II - The exhibition in the Vietnam National Fine Arts Museum
1 - The conservation and exhibition space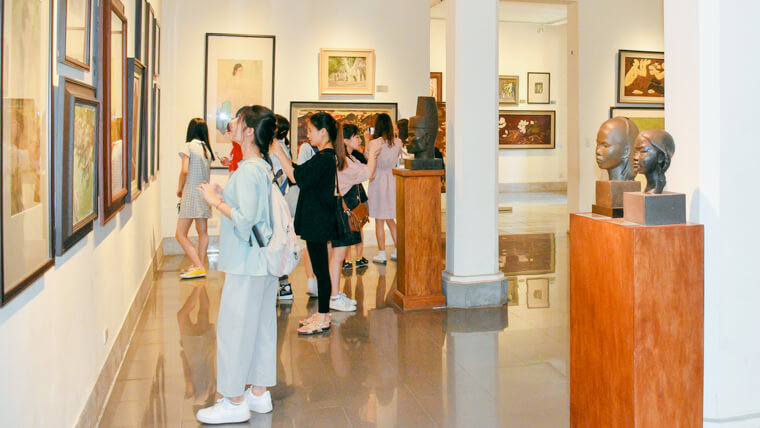 Source: vnfam
With a long-term and unique history, Vietnam art shaped itself at an early age, therefore, the quantity of the artifacts collected and displayed at this museum is significant. Currently the museum is home to more than 18,000 items, 2000 of which are permanently showcased. They are classified into a diversity of themes namely national arts in Vietnamese families, Stone and Bronze age arts, arts during feudal dynasties, folk arts and handicraft arts, contemporary and modern arts.
The permanent display at Vietnam National Fine Arts Museum includes topics such as Prehistory and Early fine art, Art from the 11th to 19th century AD, Art from the Early 20th century AD to the present day, Traditional Applied Art, Folk Art and Vietnamese Ceramic art from the 11th century to 20th century.
Wandering around 20 galleries scattered on 3 floors, visitors are going to get lost in ample objects at Vietnam Fine Arts Museum that embody the creativity, the aesthetic taste and the skillfulness of Vietnamese artists over generations. From vivid patterns on traditional costumes, to delicate handicrafts made of bamboo and idyllic but understated paintings, particularly Dong Ho paintings, all are tinged with the national identity. Statues made of bronze, stone or wood are wonderful symbols reflecting the development in taste and belief of the people over the time. At the conservation and exhibition space of Vietnam National Fine Arts Museum, no matter which style or age, they can still provide you a fine touch of something very "Vietnam".
Different from the arrangement in chronological order, the storage of the museum also maintains several items classified into collections preserved in separate chambers with different preservation methods. The collections are specifically National Treasures, Lacquer Paintings, Oil Paintings, Silk Paintings, Paper Paintings, Folk Paintings, Sculptures and Vietnamese Ceramic Arts from 11th century to 19th century. The Vietnamese National Fine Arts Museum is a priceless treasure of the visual art in Vietnam and a cultural address of tourists worldwide.
2 - Vietnam National Fine Arts Museum's creative Space for Children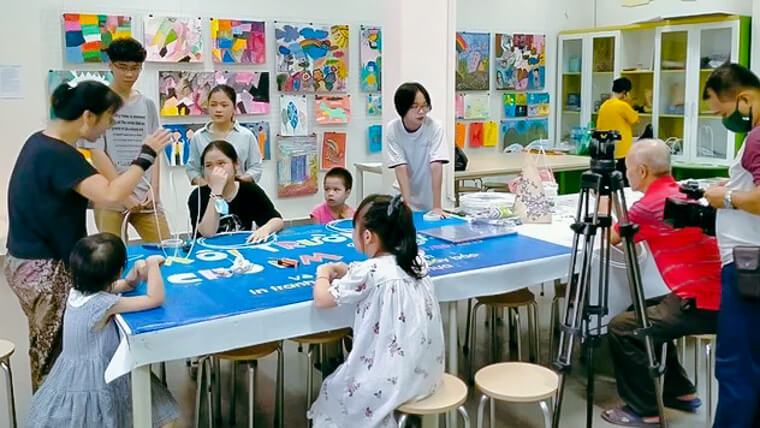 Source: vnfam
The Creative Space was opened on May 21, 2011 as an opening event for the arts education programme of the museum. With a floor of 70m2 on the third floor of the building, this is an opportunity for the kids to learn and explore the folk and contemporary arts of Vietnam and the world under the guidance of artists, sculptors and educators. Visiting Vietnam Fine Arts Museum, children are engaged in 8 experiential and creative activities like freestyle drawing, puzzling, statue shaping,... From there, the small nurture their artistic intelligence from a young age.
III - Helpful information about Vietnam National Fine Arts Museum
1 - Ticket price (updated in 2022)
The ticket price list in 2022:
- Adult: 40,000 VND ($1.7)/person
- College/university students: 20,000 VND ($0.9)/person
- Child between 6 and 16: 10,000 VND ($0.4)/person
- The disabled and child under 6: free
2 - Opening time
From 8:30 a.m to 5 p.m everyday except for Mondays and Lunar New Year holidays.
3 - Location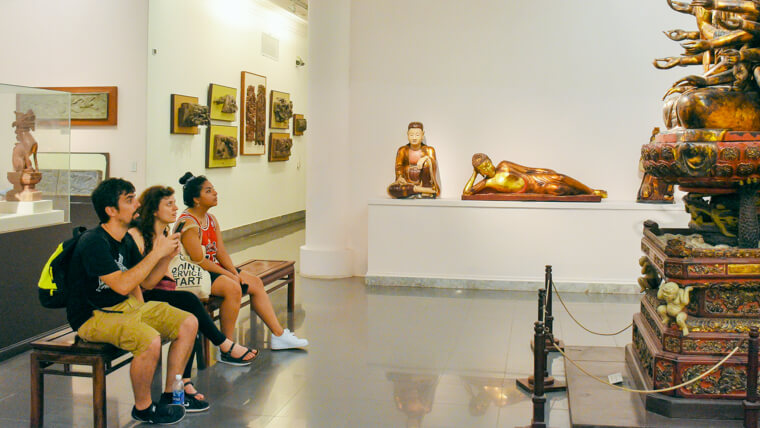 Source: vnfam
The Vietnam National Fine Arts Museum is located at No.66 Nguyen Thai Hoc street, Ba Dinh district, Hanoi. If you want to reach here by bus, you can refer to the following:
- Buses No.18: National Economics University - National Economics University; ticket price: 7,000 VND/person; frequency: every 15 - 20 minute
- Buses No.34: My Dinh bus station - Gia Lam bus station; ticket price: 7,000 VND ($0.3)/person, frequency: every 10 - 20 minute
- Buses 38: Nam Thang Long bus station - Mai Dong ward; ticket price: 7,000 VND ($0.3)/person; frequency: every 15 - 20 minute
- Buses No.50: Long Bien district - Van Canh urban area; ticket price: 7,000 VND ($0.3)/person, frequency: every 15 - 25 minute
4 - Note for visitors when visiting Vietnam National Fine Arts Museum
- No photographs and video records
- No touch on objects
- Visit with tour guide at a fee of 150,000 VND ($6.5)/group no more than 20 members (Contact: 024 3823-3084, 3733-2131 ext. 131)
- Visit with assistance of Smart Guide IMuseum VFA available in 9 languages including Vietnamese, English, French, Chinese, Japanese, Korean, Spanish, German and Italian) at a fee of 50,000 VND ($2.2)/adult or 30,000 VND ($1.3)/student
- Accessing Tour 3D audio service at https://vnfam.vn/ to explore the museum without visiting in person
5 - Coffee shop inside the Vietnam Fine Arts Museum
A highlight of this destination is a coffee shop situated inside the building. There are both indoor and outdoor spaces for tourists to conveniently stretch their legs after the journey discovering every corner of the architecture. The shop is open daily from 7am to 10:30pm.
That is a brief look at the Vietnam National Fine Arts Museum - one of the most impressive museums in Hanoi. The museum with its long-standing history, unique architecture, and countless interesting things to see is a great place to visit.