Hanoi is the center of history, culture, cuisine and the soul of Vietnam. To know more about how amazing this city is, take an around trip to the Hanoi's attractions.
I - Overview about top places to see in Hanoi
Back to hundred years ago, under the Ly Dynasty, Hanoi was known as "the flying dragon" capital, the land of spirituality, prosperity, development, and longevity. Nowadays, Hanoi which remains the capital of the Socialist Republic of Vietnam, the capital of a thousand years of civilization, so far has been the commercial, cultural, and educational center of the country.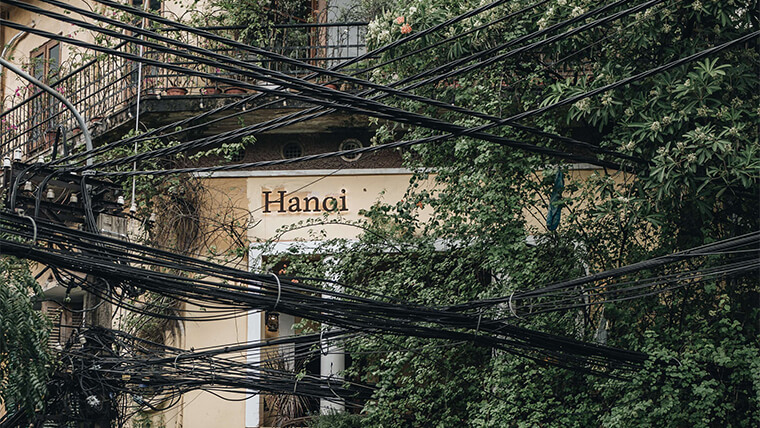 A corner of Hanoi - Source: Kenh14
Following up the international integration and globalization, Hanoi has changed a lot. It is bustle and hustle, energetic and creative, modern and young. However, the city still remained its elegant, gentle, especially associated with an ancient soul somewhere among the busy life. At anywhere from the Old Quarter to the modern streets of the city, visitors can meet historical places, spiritual constructions, heritage sites, various kinds of museums, and so many other alluring destinations. Therefore, coming to the thousand-year-old capital of Vietnam, it is undeniable that tourists should visit as many of these attractions as possible. Every chance to experience will be definitely worth your journey.
II - Historical places to visit in Hanoi
1 - The Thang Long Imperial Citadel
- Location: 19C Hoang Dieu Street, Ba Dinh District, Hanoi
- Opening time: Daily 8:00 – 12:30 & 13:30 – 19:30
- Entrance fee: VND 30,000 ($1.5) / person
The Thang Long Imperial Vestige is considered as one of the must visit places in Hanoi for tourists who are interested in ancient art. Following the main axis of the Central Sector of the Thang Long Imperial Citadel there are 7 areas that visitors will meet respectively:
The Flag Tower (Hanoi Flag Tower) was completed in 1812 under the Nguyen dynasty. After more than 2 centuries, it remains the most intact and monumental construction within the entire Thang Long Imperial Vestige.
Doan Mon Gate was built in the 15th century, under the Nguyen dynasty. Experiencing U-like architecture, the gate was divided into 1 central gate for King and the two others for mandarins to enter the Forbidden palaces.
Kinh Thien Palace is the most sacred construction inside the Citadel. However, in 1886, it was damaged to build the French artillery headquarters. Currently, the four stone dragons from the 15th century are all the vestige.
Building D67 (D67 House and tunnel) was built in 1967. It is one of the revolutionary historical sites which remains undamaged after the Vietnam- American war. During 7 years within the war, D67 completed the role of protecting the members of Vietnam Politburo.
Hau Lau Palace (Palace of the Princess or Ladies pavilion): The Ladies' pavilion was the place for princesses, queens, and ladies to stay. Because of several reconstructions, Hau Lau palace has blended between Vietnamese Royal Court and French architecture.
Bac Mon Gate, built during the Nguyen dynasty is one of the most intact gates in the Central Sector of the Citadel. It is now the place to worship the two former governors of Hanoi.
The archaeological excavation at 18 Hoang Dieu street is the largest archaeological site in Vietnam. It covered a large area under Hanoi's ground, reflecting a unique South-East Asian culture, especially the features of Vietnam feudalism dynasties.
2 - Ho Chi Minh Mausoleum and Ba Dinh Square
- Location: 25 Hung Vuong Street, Ba Dinh district, Hanoi
- Opening time: from Tuesday to Sunday
- Entrance ticket: Free
- Opening hours:
+ April to October: 7.30 a.m – 10.30 a.m (Saturdays, Sundays and public holidays: 7.30 a.m – 11.00 a.m)
+ November to March: 8.00 a.m – 11.00 a.m (Saturdays, Sundays and public holidays: 7.30 a.m – 11.00 a.m)
Both Ho Chi Minh Mausoleum and Ba Dinh Square belong to the Ho Chi Minh Mausoleum Complex that are places of interest in Hanoi where visitors understand more about Uncle Ho's life as well as the Vietnamese liberation process under his leadership.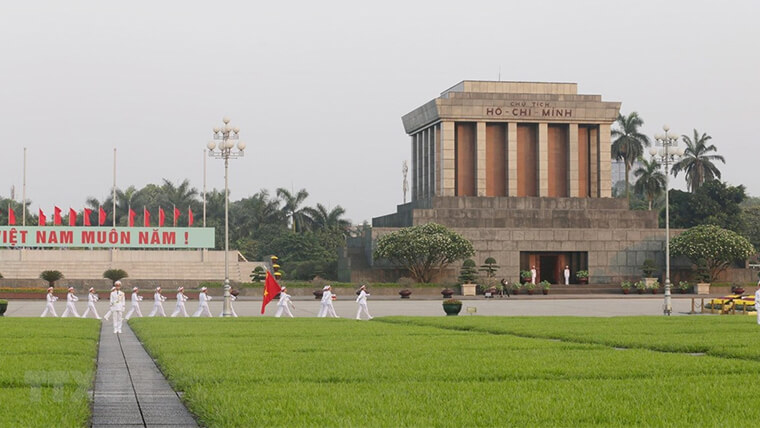 Ho Chi Minh Mausoleum - Source: Anh Tuan
- Ho Chi Minh Mausoleum:
The Mausoleum was officially started building in 1973 and inaugurated in 1975 and now is the final resting place of Ho Chi Minh. Being modeled on Lenin's mausoleum in Moscow, Russia, Ho Chi Minh Mausoleum is also a monumental marble edifice.
Three layers with a height of 21.6 meters and a width of 41.2 meters. The surrounding view of the Mausoleum is particularly special. In the back and rear of the Mausoleum, 79 "long live" trees (Cycas revoluta tree) were carefully grown, representing the equivalent time of Uncle Ho's life. Two ranges of bamboo in the south and north symbolizing the Vietnamese's spirit. In front of the Mausoleum is Ba Dinh Square, which means that Ho Chi Minh's ideology always looks towards freedom and independence.
- Ba Dinh Square:
The Ba Dinh square which is the largest square in Vietnam, has witnessed several historical events of the country: On September 2rd, 1945, at Ba Dinh square, Ho Chi Minh President read the Proclamation of Independence the Democratic Republic of Vietnam (now the Socialist Republic of Vietnam), officially founding the Vietnam Democratic Republic. After that, Ba Dinh Square is widely recognized as the birthplace of independence, freedom, happiness and a new Vietnam.
3 - The Temple of Literature
- Location: 58 Quoc Tu Giam street, Van Mieu ward, Dong Da district, Hanoi
- Entrance fee: VND 30,000 ($1.4) for adults; VND 15,000 ($0.7) for students.
- Opening time: from Tuesday to Sunday
+ In summer (From April to October): 07:30 a.m - 11:30 a.m; 1:30 p.m - 5:30 p.m
+ In winter (From October to April): 08:00 a.m - 11:30 a.m; 1:30 p.m - 5:00 p.m
Notices: Tourists should not laugh or talk too loud inside the worshipping area.
There are many things to see in Hanoi, but you should not miss this one. The Temple of Literature was founded in 1070 under the Ly dynasty by Emperor Ly Thanh Tong to worship philosopher Confucius and his four great fellows. In 1484 stelae were erected to record the names, places of birth and achievements of the greatest scholars. In 1779, the university ended its function after more than 700 years. In 1802 the National Academy Quoc Tu Giam was moved from Hanoi to Hue and Van Mieu played the role of a local school. In 1919, the last exam of Feudalism took place, and then the country changed into the Latin exam.
The Temple of Literature experienced the most distinct features of traditional-style Vietnamese architecture under the Ly and Tran dynasties. The Temple had 4 main courtyards; then it was broadened to 5 main courtyards which remained unchanged nowadays:
- The First Courtyard - Dai Trung Mon (The great middle gate)
- The Second Courtyard - Khue Van Cac (The Pavilion of Constellation)
- The Third Courtyard - Thien Quang well ( Well of Heavenly Clarity) and Doctor Stelae.
- The Fourth Courtyard - Dai Thanh Mon and Dai Bai Duong.
- The Fifth Courtyard - The Grounds of Imperial Academy.
4 - Hoa Lo prison
Location: No.1 Hoa Lo street, Hoan Kiem district, Hanoi, Vietnam
Opening time: From Tuesday to Sunday, 8:00 a.m to 5:00 p.m with a lunch break from 11:30 a.m to 1:30 p.m
Entrance fee: VND 30,000 ($1.5) for adults; VND 15,000 ($0.7) for students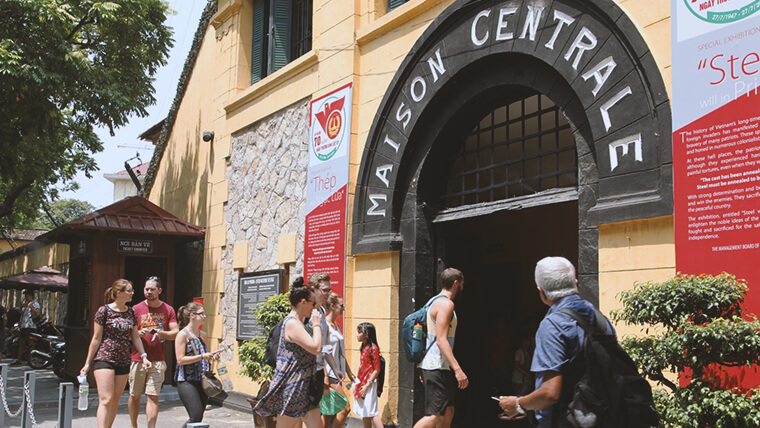 Hoa Lo prison - Source: Tuan Hai
Not only is one of the most famous Hanoi tourist attractions, the prison is a special historical relic of Vietnam. Hoa Lo prison known as Hanoi Hilton in the Vietnam war as well as "A Hell on Earth" during the French colonialism is the symbol of the Vietnamese patriots' indomitable spirit, myriad sacrifices for national independence associated with spirit. Nowadays, Hoa Lo prison has become the familiar address for patriotic and revolutionary education to all classes of people, especially the young generation.
The prison is called "unbreakable prison" with the special design of gray lacquered floors, solid walls, and tile roofs. The surrounding wall which was carefully built with steel bars and superb thick stones, is topped with high-voltage electric wire and uncountable pieces of broken glasses. All the materials such as brick, steel and wood were carefully collected and imported from France.
Hoa Lo prison nowadays has four main areas for visiting. Nowadays, there remains some of the most typical cells that visitors should notice: Cell D is one of the biggest cells in the prison, especially imprisoning male prisoners. Cell E is the place to detain the core political prisoners with the cruelest torture tools. "Cachot" is the place keeping the prisoners breaking out the rules during some months under the most subhuman conditions.
III - Religious places to visit in Hanoi
1 - One Pillar Pagoda
Location: Ong Ich Khiem Street, Ba Dinh district, Hanoi, Vietnam ( near to Ho Chi Minh President Mausoleum)
Opening time: 8 a.m to 11:30 a.m; 2:00 p.m to 4:00 p.m except Monday and Friday afternoon.
Entrance ticket: free
One Pillar Pagoda was built in 1049 and was destroyed by the French colonies in 20 century. Afterward, the Vietnam Ministry of Culture carried out the restoration project to rebuild One Pillar Pagoda depending on the original model. In 1955, One Pillar Pagoda in Hanoi was reconstructed and preserved until nowadays.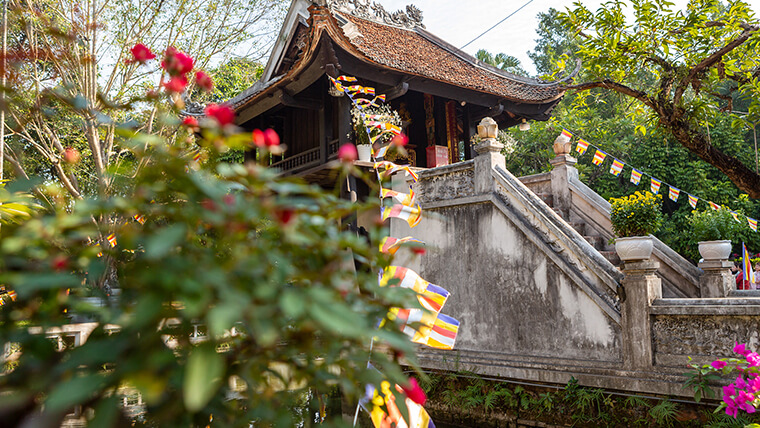 One Pillar Pagoda - Source: Nick John
In October 2012, in Faridabad city, India, One Pillar Pagoda's architecture was considered as the most unique architectural monument in Asia. The whole temple was placed on one stone pillar, along with a system of supporting bars under the temple's floors created a special appearance which looks like a lotus emerging out of water. Accordingly, the pagoda is the symbol of not only Buddhism but also Vietnamese's spirit.
2 - Huong Pagoda Complex
- Location: about 60 km to the South-Western Hanoi, at the center of the whole cultural-religious complex, Huong Tich Cave, Huong Tich Mountain, Huong Son Commune, My Duc District, Hanoi, Vietnam. For purposes of sightseeing and visiting a religious place, this is a suggestion for the question of where to go in Hanoi.
- Opening time: all days in week
- Ticket price: VND 80,000 ($3.6) entrance ticket for adults and the VND 20,000 (~$1) boat ticket; children under 10 years old and people at the age of 60 and over are provided a 50% discount.
In addition, if there is a need to visit other spots such as Long Van and Tuyet Son, tourists have to buy another ticket costing VND 25,000 ($1.1). Fee for a Huong Pagoda round-trip cable car for adults and children is VND 140,000 ($6.4) and VND 90,000 ($4.1) respectively. (Children from 1.2m high are considered as adults)
Huong Pagoda known as Perfume Pagoda was recognized as the world cultural heritage site by UNESCO. Coming to Perfume Pagoda, visitors will understand more about Vietnamese agricultural civilization, traditional beliefs associated with Buddhism.
Although legend says that Huong Pagoda complex was built over 2,000 years ago by a Buddhist monk who was meditating nearby, it is believed that people started building the complex in the 15th century. The annual festival is organized in order to commemorate the Bodhisattva Kwan Yin who reached enlightenment at Huong Pagoda complex.
Some noticeable destination:
Yen stream: Visitors will have a chance to experience a 3 km tranquil Yen stream, enjoy stunning landscape on the two sides, know a lot of interesting legends of surrounding constructions from the friendly boatman.
Trinh Temple: Trinh Temple which means "registration shrine" is Thien Tru Pagoda, a heavenly kitchen. Thien Tru Pagoda is one of the most beautiful constructions within the Huong pagoda complex.
Huong Tich Cave: It is a giant cave which is considered as the most beautiful cave in Vietnam. From a panoramic perspective, Huong Tich Cave looks like a dragon's head opens its mouth with a pearl inside. You will be amazed at the fresh atmosphere and incredible beauty of natural stalactites and stalagmites of a magnificent cave.
3 - Tran Quoc Pagoda
- Location: Eastern West Lake, Thanh Nien street, Ba Dinh district, Hanoi.
- Opening time: from Monday to Saturday: 7a.m - 11:30 a.m and 1:30 p.m - 6 p.m, on Sunday and special holidays 7 a.m - 6 p.m.
- Entrance fee: free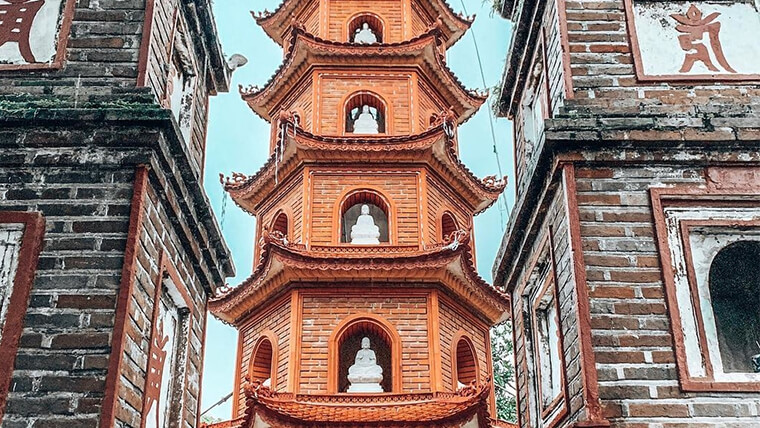 This is the oldest pagoda in Hanoi (Source: Internet)
In 1962, Tran Quoc pagoda was recognized as a national monument in cultural and historical values by the Ministry of Culture and Information. With a history of more than 1500 years, it is the Hanoi's oldest pagoda.
Originally playing the role of a Buddhist construction, Tran Quoc Pagoda was built on the Red riverbank under the reign of Emperor Ly Nam De Dynasty (544 - 548) with the old name Khai Quoc ( which means found the country). Then, King Le Thai Tong (1434 – 1442) changed its name to An Quoc (means secure the country). Afterward, in the early 17th century, it was relocated to the Kim Ngu (Golden Fish) Islet on the West Lake and changed into Tran Quoc Pagoda (means defend and secure the country). Since then, it has remained unchanged until nowadays. Tran Quoc pagoda is the typical style of Vietnamese Buddhism. The blending of a sacred construction and natural landscape has made Tran Quoc the most spiritual attraction in Hanoi. There are four main areas within Tran Quoc Pagoda:
- The ancient bell tower and tomb garden: There are 6 Amitabha statues made of gemstone on each floor. On the top of the stupa, stands a nine-storey lotus which is the typical flower of Buddhism as well as Vietnamese.
- Tien Duong (the Front House): Several poems and parallel sentences of kings and mandarins under Nguyen Dynasty writing about Tran Quoc's alluring scenery are kept in the exhibition sight.
- Nha To (the Ancestor House): The area is a small museum storing priceless relics with a quite complete system of hundred-year-old Buddhist statues still preserved.
- Nha Bia (the Stelae House): exhibit 14 stone stelae tell about the renovating process of the pagoda from 1813 to 1815.
- The sacred Bodhi Tree: According to Buddhism, it is a symbol of supreme knowledge and enlightenment.
Recommended traveling time: On the 1st and 15th day of each month in the Lunar Calendar, the pagoda is often crowded. Buddhist monks, local people, and tourists come there praying for happiness, prosperity, good luck and health. It will be a favorable time for you to explore the Vietnamese' traditional religion and culture. However, if you want to enjoy the tranquility of a spiritual pagoda, it is highly recommended to go on the other days.
- Location: 40 Nha Chung street, Hang Trong ward, Hoan Kiem district, Hanoi, Vietnam
- Opening time: 8:00 a.m- 11:00 a.m and 2:00 p.m- 5:00 p.m from Monday to Sunday.
- Entrance fee: free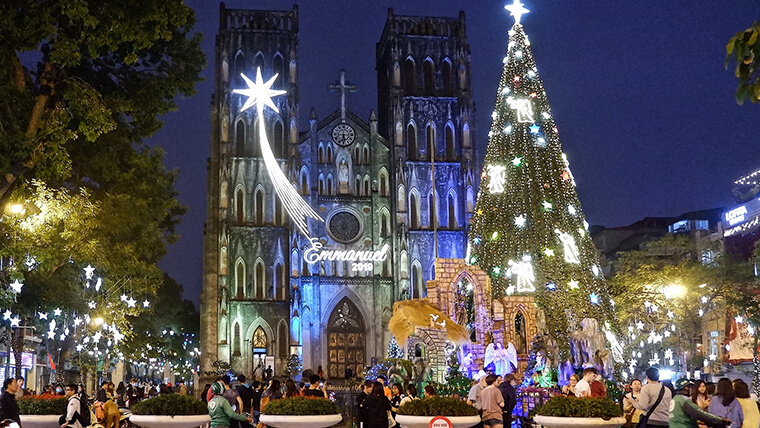 The St.Joseph's Cathedral considered as The Hanoi Big Church is one of the most attractive religious Hanoi old quarter attractions which remains the image of the beauty of the old Hanoi, keeps the ancient beauty among the hustle and bustle capital and also is the home of Catholic within the city.
Visitors will be immersed in a majesty and spiritual space with colorful tall glass windows, sacred pictures and high domes. With a total length of 64,5 meters and width of 20,5 meters, the Hanoi Big Cathedral is divided into three main parts containing the reception hall with a post of choirs and musicians; area for prayers and sanctuary to celebrate the Catholicism Mass. The front of the cathedral was formed by two square bell towers and a lower clock tower in the middle.
5 - Ngoc Son Temple
- Location: A small islet in the middle of the Sword Lake
- Opening time: From Monday to Friday: 7 a.m to 6 p.m; weekend: 7 a.m to 9 p.m.
- Entrance ticket: Adult: VND 30,000 ($1.4); children VND 15,000 ($0.7)
The Temple was built in the Ly dynasty under the name Ngoc Tuong. Then, it collapsed because of weather conditions and in 1865, it was comprehensively repaired by a Confucian Philosopher. The unique architecture of traditional Vietnamese harmoniously combines with Buddhism style. After passing Dac Nguyet Gate, visitor will see the three-shape of Ngoc Son Temple with three houses:
- Tran Ba House means "Guarding the Tidal Waves". It is located in front of the main temple to protect it from negative weather conditions and impure spirits.
- Kinh Thu house: the place to worship one of the greatest Vietnamese heroes Tran Hung Dao and the Taoist philosopher Van Xuong De Quan.
- Hau Cung or the Back House where the turtle's body is exhibited inside Ngoc Son Temple. It is one of 4 giant softshell turtles living in Sword Lake.
Some related constructions:
- The Huc Bridge: The Huc Bridge connects the Sword Lake's shore to a small islet where Ngoc Son temple was located, which is considered as the link between a real-world and a spiritual one.
- Pen tower and Ink slab: they located right on the way to Ngoc Son Temple are the symbol of Vietnamese education, knowledge, and spirit.
IV - Beautiful Hanoi tourist spots
1 - Sword Lake or Hoan Kiem Lake
- Location: Hoan Kiem district, Hanoi, Vietnam
Legend says that thanks to a powerful magic sword from the Dragon King, Le Loi, and the Lam Son troops defeated Chinese invaders. Then, the war ended and Le Loi became Vietnam Emperor, Le Thai To. He retrieved that magic sword to the Dragon King via a Golden Turtle at the lake. To commemorate this magic event, Emperor Le Loi called this lake by the name "The Returned Sword Lake". Now it has a shorter name: "Sword Lake".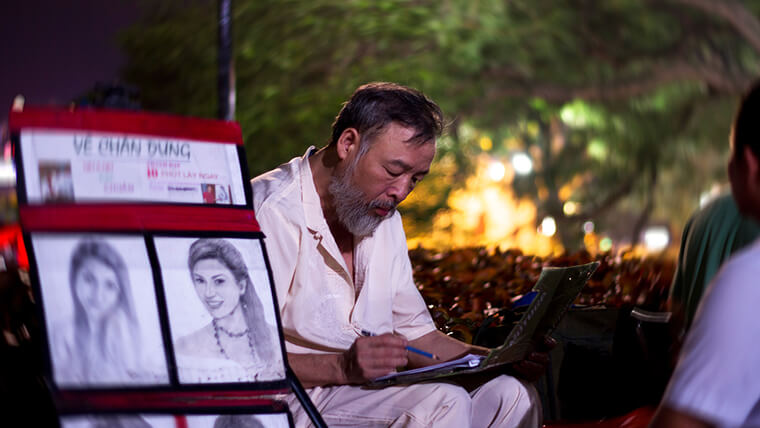 The ancient Turtle Tower which was located in the middle of the Sword lake, known as a symbol of Hanoi. The Statue of Liberty standing on top of the Turtle Tower was a smaller version of the "Statue of Liberty" in the U.S. Take a walk around Walking street near the Sword Lake to feel vibrant Hanoi nightlife, enjoy street music performance and join in some games. You can also take a food tour, explore the traditional and typical cuisines of Hanoi old quarters.
2 - West Lake Hanoi
- Location: northwestern of Hanoi, Tay Ho district, Hanoi, Vietnam
Covering an area of over 500 ha and a shore of nearly 20 km, West Lake is one of best things to see in Hanoi which also is the biggest freshwater lake within this capital city. In the Hanoi lovers' heart, West Lake perhaps is the most romantic corner of Hanoi, the most suitable place to heal all the pain, the stress and sorrow of a modern life among a bustle city. The surrounding sight of West Lake is well known for several historical monuments which mostly are Buddhist architecture.
- Quan Thanh Temple - the Northern guardian of Hanoi
- Thien Nien pagoda - a millennium-year-old pagoda
- Van Nien pagoda - the most unique of wooden architecture in Hanoi
- Vong Thi Pagoda - a tranquil place for your soul
When visiting West Lake, visitors can take part in some activities such as going for a walk or bicycle tour and swan pedalo tour. Moreover, you can take some beautiful photos in West Lake Valley Flowers, try cuisine of West Lake like Thuy Ta Ice cream, West Lake shrimp cake and shellfish.
V - Top museum - Hanoi points of interest
1 - Ho Chi Minh Museum
Location: 19 Ngoc Ha street, Ba Dinh district, Hanoi, Vietnam
Opening time: Everyday except for Monday and Friday, from 8:00 a.m -11:30 a.m and from 2:00 p.m - 4:30 p.m
Entrance fee: $1.1
Ho Chi Minh Museum is a place to visit and research about the career and life of revolutionary activities through documents and artifacts about President Ho Chi Minh - the hero of national liberation Vietnam, the celebrity of World Culture. Officially starting construction in 1985, the museum was completed and inaugurated in 1990 on the Centenary birth of President Ho Chi Minh.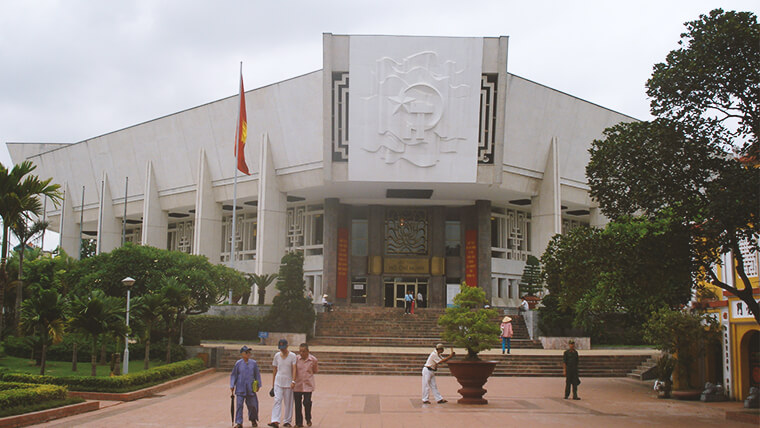 Nearly 20m high Ho Chi Minh Museum was designed in the shape of a white lotus representing the simple, refined life of President Ho Chi Minh and denoting the respect and profound gratitude of the Vietnamese toward Uncle Ho as well as the ideology to follow Ho Chi Minh's revolutionary direction.
The President Ho Chi Minh's statue was built in the 360m2 Solemn Room. Every detail inside this room is carefully arranged to create the most respectful and meaningful messages. Moreover, on the right of the room is the Sac of one hundred eggs and on the left of the room is the Thanh Giong statue.
2 - Vietnam Museum of Ethnology
Location: Nguyen Van Huyen Street, Cau Giay district, Hanoi, Vietnam
Opening time: 08:30 a.m - 5:30 p.m, close on Mondays
Entrance fee:
- Admission: VND 40,000 ($1.8)
- Discount: Students: VND 15,000 ($0.7)/ student; Pupils (6 - 18 years old): VND 10,000 ($0.3)/ pupil; Elder people/ disabilities people: 50% discount;
- Free admission: Children under 6 years old; Special severe disabilities; Donors.
Vietnam Museum of Ethnology, whose construction started in 1987 and was completed and inaugurated in 1997, is one of the largest and interesting museums in Hanoi and Vietnam, Visitors will have a chance to experience both an interesting indoor tour and adventurous outdoor tour.
VI - Other tourist attractions in Hanoi
- Location: 48 km to the West of Hanoi, Tan Linh, Ba Vi, Hanoi
- Opening time: 6 a.m to 7 p.m
- Entrance fee: VND 60,000 ($2.7)
It must be regretful to skip trying local cuisine which is made of the typical productions from Ba Vi mountainous areas such as bamboo-tube rice, fishy rice, barbecued goat, chicken hill, forest pork. You will never forget the harmonious taste of wind and jungle inside those dishes. Ba Vi National park is centered around three-peaked mountains including Emperor Peak, Tan Vien, and Ngoc Hoa. The park is home to some species such as birds, reptiles and amphibians. You can not skip those following destination:
- Ngoc Hoa Cave
- Pine hill
- The wildflower forest
- Ancient French construction
2 - Viet Nam National Village for Ethnic Culture and Tourism
Location: 40 km away from Hanoi, Dong Mo, Son Tay district, Hanoi
Opening time: 8:00 – 11:00 a.m and 1:00 – 4:30 a.m from Tuesday to Sunday including holidays.
Entrance fee:
- VND 30,000 ($1.4) for adults
- VND 10,000 ($0.5) for tertiary students
- VND 5,000 ($0.3) for primary and secondary students
- Free for children below 6 years old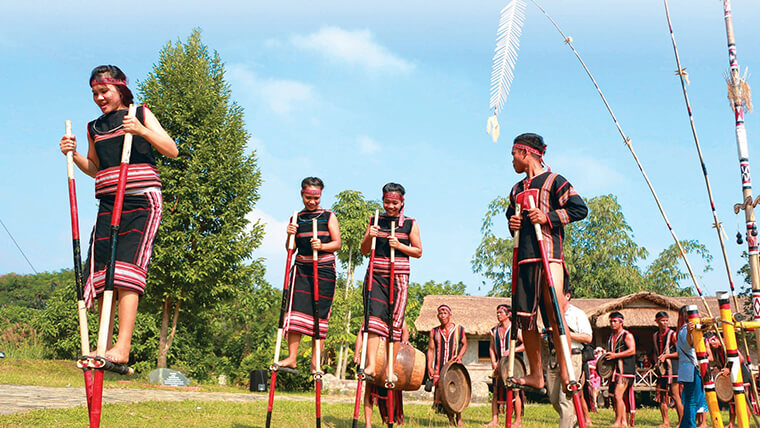 Source: Internet
Visiting the village you will have the chance to directly experience several of the traditional festivals and customs of different Vietnamese ethnic minority groups such as the new crop celebration of the San Chay group in Phu Tho and the horse races of the Mong group of Bac Ha. The Viet Nam National Village for Ethnic Culture and Tourism with 7 main parts is one of the famous places in Hanoi to visit and broaden knowledge of ethnic minorities of Vietnam.
- Ethnic villages area: reappear their village structure and hamlets of the Vietnamese ethnic groups with folk planning and architecture.
- The world's cultural heritage area: reappearing architectural cultures
- Center for culture and entertainment: the cultural activities, sports, multi-functional entertainment center
- General tourism, services area: complex area of general tourism services
- Marina area: Dong Mo lake water surface, green trees and forest
- Green water surface Area of Dong Mo Lake: landscape space
- Office management area: central management area
3 - Bat Trang Pottery Village
- Location: 10km south-east of the city center, Gia Lam District, Hanoi, Vietnam
- Opening time: Daily 08:00 a.m - 8:00 p.m
- Entrance fee: free
Bat Trang Ceramic Village is considered the most ancient traditional pottery village in Vietnam. Bat Trang is believed to have been constructed in the 14th- 15th century. However, many villagers said that the village perhaps had appeared much earlier, possibly in the 10th century. Accordingly, lots of businessmen, crafters from all over the country came to settle down here to work and trade, and Bat Trang was formed from that time. This is definitely one of the best places to visit in Hanoi Vietnam.
Bat Trang Porcelain and Pottery Market: You will be amazed by the amazing world of abundant and colorful Bat Trang potteries. Depending on the users' purpose, Bat Trang ceramics are divided into some main categories: Utilitarian pottery, cult pottery.
Ancient houses: including hundred-year-old Vietnam architecture houses especially Van Van ancient house which is one of the tenth most beautiful old houses within Vietnam.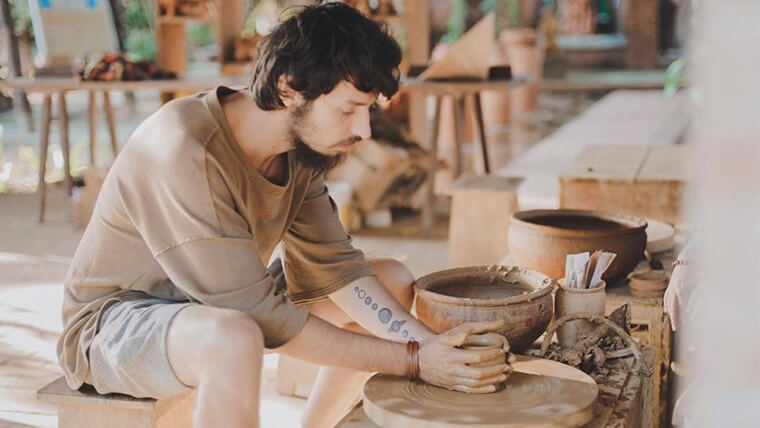 Source: Ins @patrick_lemon
The most interesting things in Bat Trang is experiencing how to make ceramic by yourself: You will directly try to make pottery products: bowl, vase, a cup or anything you want. Just enjoy the relaxing time playing with clay, water and colors. Normally, the fee for hand making ceramic products is from VND 20,000 - 50,000 ($1- 2.3).
In general, just writing about Hanoi attractions via those letters and images is never enough. At least once in your life, try visiting this ancient but modern land. It is surely worth all the things you will spend. Only by yourselves, travelers can feel exactly the beauty of Vietnam's capital, Hanoi.