The weather in Hanoi in September is extremely pleasant and cool, therefore, this is considered one of the best times to travel to Hanoi, which is convenient for outdoor exploration activities. The wind gently pushed the fog that lingered through the alley, softening the dim rays of the sun, and making the blue sky even more immense. If you come to the capital of Vietnam on this occasion, you will also be able to comfortably walk the streets and enjoy delicious seasonal specialties.
I - The weather in Hanoi in September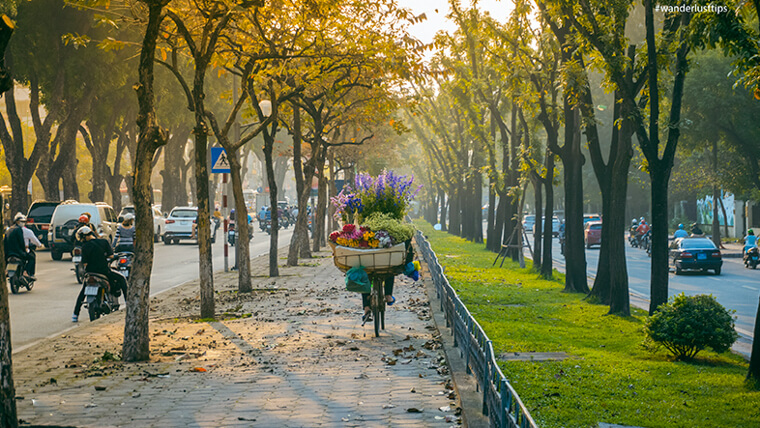 Autumn street - Source: wanderlusttips
The average temperature in September in Hanoi fluctuates between 24.9 - 31.2°C, with the daily average being 27.5°C and the average humidity being 87.2%. Although the humidity is still high, the rainfall and number of rainy days are lower than in previous months, only 243mm and 13.6 days, respectively.
In Hanoi, September is said to be the transition between summer and winter, so the weather is a harmonious blend of the positive traits of both seasons. The weather is cool and not too cold, still sunny and dry with little rain, suitable for sightseeing activities or exploring the Hanoi streets.
II - Notable activities and events when visiting Hanoi in September
1 - Vietnam National Day on September 2
Taking place annually on September 2, the National day is one of the most important public holidays in Vietnam, commemorating the day the Declaration of Independence was read by President Ho Chi Minh at Ba Dinh Square, Hanoi. This event formalized the independence of this nation, giving birth to the Democratic Republic of Vietnam - the predecessor of the current Socialist Republic of Vietnam. Everyone in Hanoi gets a day off on this occasion and the street is very very busy, covered with red coming from decorations with national flags, flowers and large posters, panels, etc.
Visit Hanoi in September, the most sought-after destinations on this occasion are often historical attractions, typically Ba Dinh Square including the Ho Chi Minh Mausoleum, Uncle Ho's stilt house,… People from all over Vietnam come here to pay their respects to this renowned hero of national liberation, learning about his simple and rustic life when he was alive. In addition, the areas around Hoan Kiem Lake or West Lake are always crowded on this occasion, filled with people coming to immerse in the festive atmosphere, enjoying unique performances and street food.
2 - Mid-Autumn Festival in Hanoi in September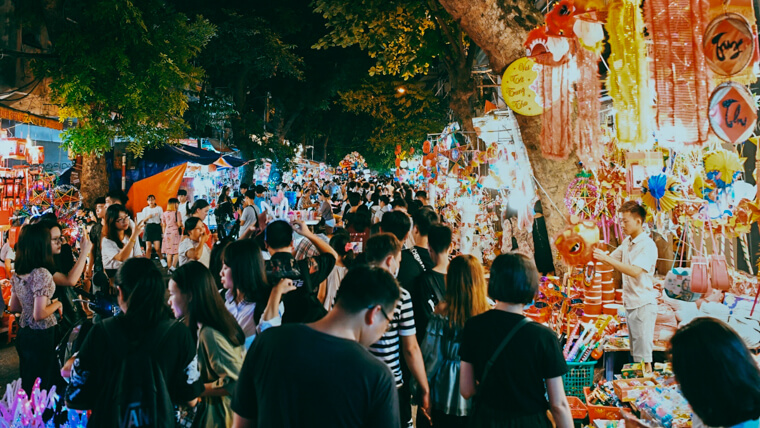 Mid-Autumn Festival in Hanoi is very worth-experiencing - Source: vov
As a special occasion in Vietnam, the Mid-Autumn Festival takes place on the full moon day (15th) of the eighth month of the lunar calendar every year, also known as Children Festival or Moon Admiring Festival. The bustling atmosphere of the festival crept into the Hanoi Old Quarter, adorning the ancient here with the brilliant colors of cellophane lanterns, star lanterns, and so on, concentrated in the main trading areas like Hang Ma Street or Dong Xuan Market.
In Hanoi in September, the section around Hoan Kiem Lake and the Hoan Kiem Lake Walking Street is also crowded, filled with art activities and folk games, attracting the participation of all ages. On this occasion, all amusement parks and shopping malls in Hanoi such as Royal City, Times City,... also have many new programs, becoming a favorite destination for the whole family.
3 - Enjoy the special cuisine of September in Hanoi
Com or Vietnamese green rice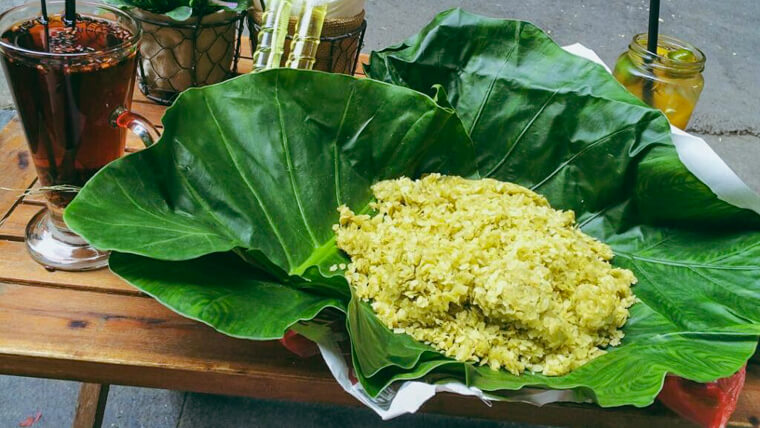 "Com" is a special souvenir from Hanoi - Source: digifood
Referring to the flavors that make up the autumn of Hanoi in September, Com - Vietnamese young green rice - is a gift created from the quintessence of nature. According to the elders, this specialty originated thousands of years ago, during heavy rain that ruined the whole farming season. The hungry people decided to pick up the young rice grains and dry roasted them to eat, which coincidentally created a strangely tasty and fragrant dish. Com now appears in many places in Hanoi, but Vong Village is still famous for its ability to create the most original and delicious flavor that cannot be found anywhere else. Visit Hanoi in September, you can easily see many street vendors selling com.
Com is not only used as a snack but can also be processed into many equally attractive dishes thanks to the creativity of Vietnamese people. There are steamed young green sticky rice that is fragrant and sweet, or cha com (grilled meat and green rice) eaten with all kinds of street food in Hanoi including noodles, grilled dishes,... This is also an indispensable ingredient in che or Vietnamese sweet soup such as mixed or pomelo, bringing both deliciousness and beautiful color. There are also other dishes such as fried nuggets with vanilla-flavored coconut milk, fragrant rice cakes with bean paste, etc.
Egg coffee
Visiting Hanoi in September without drinking egg coffee is a great pity - Source: vietcetera
In the cool and gentle atmosphere of September in Hanoi, you should definitely not miss the opportunity to visit a small cafe and enjoy an attractive cup of Vietnamese egg coffee. This drink is made from very simple ingredients including coffee, fresh eggs, condensed milk, and sugar, processed with ingenious techniques of the bartender. A cup of egg coffee is not only beautiful but also carries an irresistibly delicious taste that is suitable for those who cannot stand the bitterness of pure coffee. There is nothing better than sipping a cup of egg coffee while watching the ancient beauty of Hanoi in September from a cafe on a small street corner:
Cafe Giang - The owner of this shop is the creator of Vietnam's legendary egg coffee, bringing the original flavor and extremely attractive aroma.
- Address: No.39 Nguyen Huu Huan Street, Hoan Kiem District
- Price: 35,000 VND / cup ($1.5)
Dinh Cafe:
- Address: No.13 Dinh Tien Hoang Street, Hoan Kiem District
- Price: 25,000 - 50,000 VND / cup ($1.08 - 2.16)
Cafe Pho Co
- Address: No.11 Hang Gai Street, Hoan Kiem District
- Price: 25,000 - 60,000 VND / cup ($1.08 - 2.6)
Hanoi - the ancient capital of Vietnam with thousands of years of civilization always has its own charm, filled with new and unique things at every time of the year. Hanoi in September is filled with the sweet scent of milk flowers spreading through the streets, the taste of specialties such as young green rice or guava, and the red-yellow color of the trees changing leaves. Traveling to Hanoi, you can be immersed in this poetic and delicate beauty, as well as experience interesting festivals and activities.