While Lao Cai province and Ha Giang province are famous for golden rice terraces in harvest season, Bac Son valley in Lang Son province exudes its own beauty via flat rice fields stretching beyond eyesight. Coming to Bac Son valley, you can not only admire a ceramic picture of mountainous nature but also match yourself with the unique lifestyle, culture and cuisine of the locals. In recent years, it has become a favorite community tourist destination that travelers are fascinated by.
I - Overview of the Bac Son valley Vietnam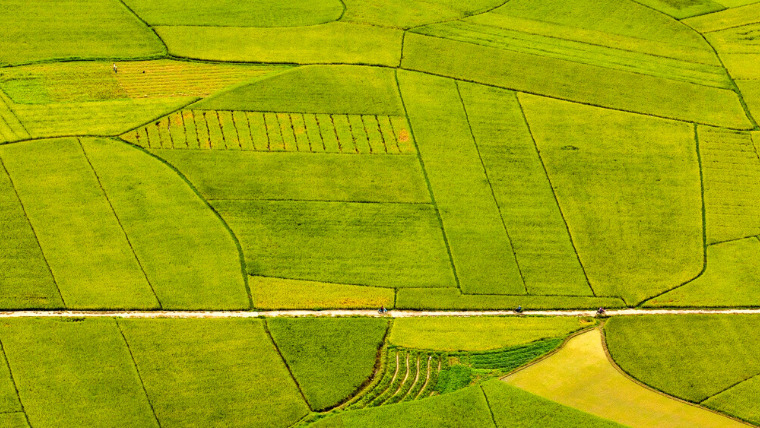 Source: Khổng Hoàng Giang
The valley of Bac Son Vietnam is about 160km to the north of Hanoi, located to the West of Lang Son province. This is a plain valley, wrapped by majestic ranges of towering limestone mountains and vast rice fields. Dotted on that peaceful scenery are stilt houses imbued with the color of time of Tay, Nung and Dao people, ethnic minorities of Vietnam who usually reside in the mountainous area in the Northeast of the country.
In the past, Bac Son valley place used to be a resistance base associated with the notable Bac Son rebellion in 1940. Archaeologists have found remains of the prehistoric people dated back to thousands of years ago in this land. This adds a reason for your visit here. With an area of nearly 700 km2, Bac Son Lang Son is currently home to 72 thousand people.
II - What is attractive about Bac Son valley Vietnam?
1 - Tam Canh pass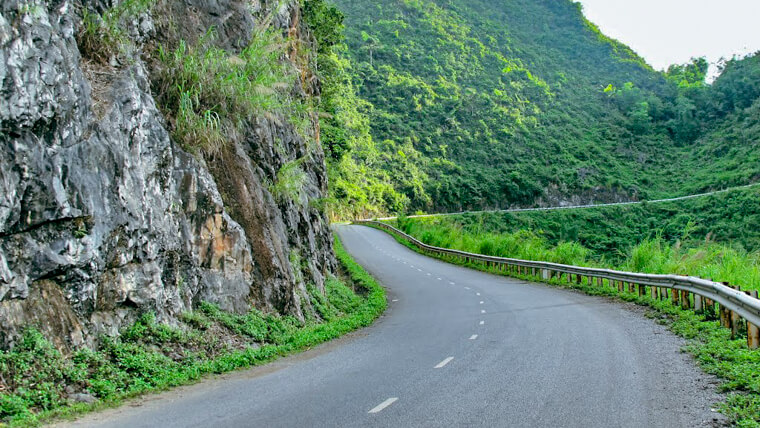 Source: mapio
The Tam Canh pass is a part of Bac Son Rebellion relics site, located in Lan Luong hamlet, Long Dong commune, Bac Son district. This majestic slope winding rugged limestone cliffs is considered one of the most risky and dangerous roads in Lang Son province. Looking back in 1945, right on this pass, Bac Son guerrilla soldiers ambushed and attacked a Japanese army, killed 7 enemies, confisticated quite a number of armors, lessened the Japanese force in the area. Today, on the top of this pass, there is a stele where tourists can take a rest, sightsee and learn more about this historical event.
2 - Quynh Son community tourism cultural village
Among top attractions to visit in Bac Son valley, Quynh Son village is a must-visit site. This community tourist village is famous for its beautiful nature featuring a limestone mountain range with several caves, flat rice fields, and winding streams. The system of typical cultural - historical relics, scenic locations are namely Quynh Son communal temple - a long term construction worshiping Quy Minh Dai Vuong, who chased away invaders, keeping peace for people at the border; Ra Rieng bridge where Bac Son militia ambushed and attach the French troop, contributing to the victory of the Bac Son rebellion (September 27, 1940). Other tourist attractions to visit are karst caves, Yin-Yang tilts manufacturing workshops.
In Bac Son valley Vietnam, the daily life of the locals happens under the roof of stilt houses in traditional architecture of Tay people. These rustic buildings cluster together, manifesting clearly communality. Tourists dropping by are offered with experiences such as eating and living in the space of the traditional stilt houses and directly joining hands in agricultural activities.
- Address: Quynh Son commune, Bac Son district, Lang Son province
3 - Dang Mo waterfall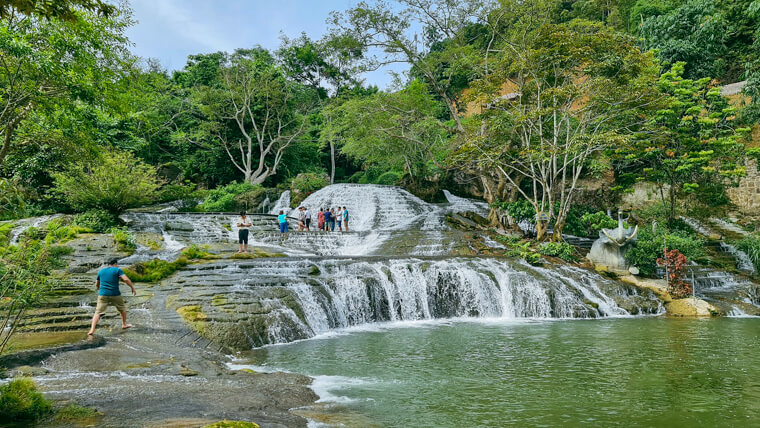 Source: wikipedia
Because the Dang Mo waterfall with poetic beauty is situated in Binh Gia district, about 20km from Binh Son town, it is often mainstreamed in the trip to Bac Son valley. From the top to toe, the fall is about a couple of meters passing by 3 floors of rocks. Viewed from afar, it looks like an elegant strip of silk dropped in the middle of the forest. The fall maintains its water source all year round, therefore, you can always catch sight of flows of water hitting rocks, creating pure white foams.
Not a majestic waterfall in Bac Son Vietnam, Dang Mo is wide and long, gradually steep, running through rocky steps, pouring down a small lake underneath, creating an extremely dreamy scenery. Along it are rocks of several shapes and sizes overlapping each other, covered with green moss. On both sides grows arrays of old trees, of which branches shade a corner of the sky.
4 - Na Lay mountain in Bac Son valley
Compared to other mountains in the Northeast mountainous area of Vietnam, the Na Lay is not considered a high one. With an altitude of more than 600m, the mountain is not only suitable for tourists to strengthen their health but also high enough to provide you an unobstructed view of the valley.
From the na Lay mountain top, you can spin 360oC to see the green and yellow of fertile rice fields, blurry fog banks in the early morning, and magical blue mountains far away. In the autumn, when Bac Son Vietnam enters harvest season, standing here can help you observe a whole valley imbued in a golden carpet dotted with a small gentle stream, such a picturesque scenery that you can hardly find anywhere else!
5 - Nong Luc communal temple in Bac Son valley Vietnam
Source: toquoc
Among top cultural-historical sites in Lang Son Province, Nong Luc communal house is an artistic architectural relic built in the early twentieth century with the most typographic architecture. Covering an area of ​​about 180m2, the highlight in its structure is the combination between the stilt house of the Tay people and traditional house of Northern people. The building was constructed in 1924 under the Nguyen dynasty (1802 - 1945) on the top of a hill.
Along with the architecture, Nong Luc communal temple in Bac Son valley is also attached to historic stories, specifically the meeting of revolutionary soldiers after getting away from colonial prison on September 2, 1940 to plan an opportunity to issue a general uprising against French colonists. Besides, it was also related to the meeting in the evening on September 27, 1940 to form a revolutionary management board. This was an important event marking a new page in the process of liberalization of the land.
- Location: Hung Vu commune, Bac Son district - about 90km from the city center
III - Helpful information about Bac Son Vietnam
1 - The best time to visit Bac Son valley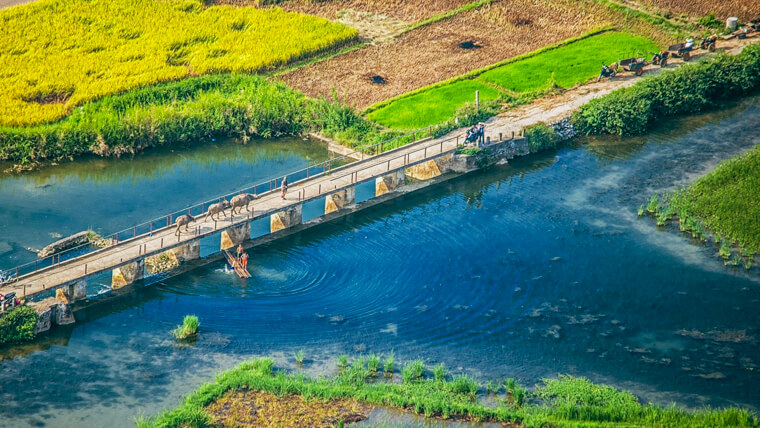 Source: baohatinh
The valley of Bac Son in particular and Lang Son province in general is characterized by the typical monsoon tropical climate with an annual average temperature of 17oC to 22oC. A year in this area is classified into 4 seasons: spring, summer, autumn and winter, of which the winter is severely cold because it is located at the gateway of the northeast wind. This feature results in the fact that the cold starts the earliest and ends the latest in the country. The ideal time to visit Bac Son is probably the end of June and the middle of November since they coincide with harvest time when the view is pretty stunning.
2 - Traveling from Hanoi to Bac Son valley
- Distance: 160km
- Travel time: 4 hours
- Means of transportation: Dung Nghi bus
+ Pick-up point: My Dinh bus station (No.20 Pham Hung street, My Dinh 2 ward, Nam Tu Liem district, Hanoi)
+ Drop-off point: Bac Son district, Lang Son province
+ Ticket price: 120,000 VND/person ($5.2)
+ Contact: 0912357717 - 01694814789
3 - Accommodation in Bac Son valley
Duong Cong Chich homestay
This homestay is located near the community tourism cultural village; therefore, it is super-convenient for traveling. The homestay has a style which is mingled between stilt houses and modern houses. Rooms here that are clean and unclustered. Staff are in fact the indigenous folks, hence they comprehend the land and know how to help you in necessary situations.
- Address: Na Rieng 2 Hamlet, Quynh Son commune, Bac Son district, Lang Son province
- Contact: 097 825 10 55
- Room rate:
Trong Dung Homestay Bac Son
Source: @trongdunghomestaybacson
Located in the heart of Bac Son valley, this homestay is constructed in the shape of a collective stilt house including 8 floors with a capacity of 30 - 40 people, which is ideal for traveling in groups. Besides, Trong Dung Homestay Bac Son also provides private rooms, according to the demand of guests. In terms of quality, the guest room here is seen as clean and fully-furnished. The biggest plus point is that from the bedroom, you can contemplate the whole view of the valley in breaking dawn and twilight.
- Address: Tham Pat Hamlet, Quynh Son commune, Bac Son district, Lang Son province
- Contact: 097 925 13 25
Bac Son valley Vietnam with its pristine & tranquil beauty is absolutely worth a visit if you have a plan of traveling to the northern provinces of Vietnam.