English learners in Hanoi can be employees, students, or even preschoolers. Many people are willing to pay a high price to learn English from native speakers in order to improve their pronunciation and grammar.
I - General information
1 - Teaching English in Hanoi salary
The average wage for native lecturers in Hanoi English centers ranges from 500,000 to 1,500,000 VND/session (~ $21.6 - 64.7), depending on the experience and qualifications of teachers.
2 - Requirements when recruiting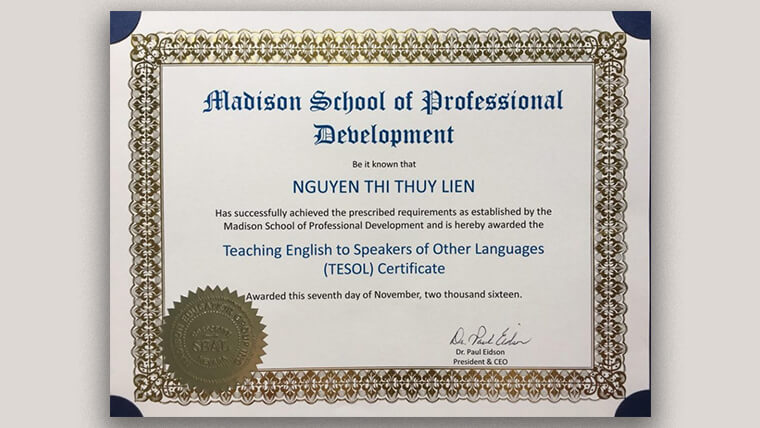 International teaching certifications - Source: Tesol.simpleenglish
Some of the requirements that English centers have for native speakers who want to get a teaching job at the center are as follows:
- Lecturers must have a standard voice and be able to communicate.
- A university degree or a pedagogical certificate is required when teaching English in Hanoi Vietnam.
- Have international teaching certifications such as TESOL, CELTA, TEFL, and so on.
- Have teaching experience in Vietnam or other countries In the world; this is a significant advantage.
- To complete the dossier, several documents must be prepared, including a visa, work permit, criminal record (police check), and temporary residence card.
II - English centers for English teaching jobs in Hanoi
If you are looking to apply for English teaching positions in Hanoi, you can consider the following five centers:
1 - British Council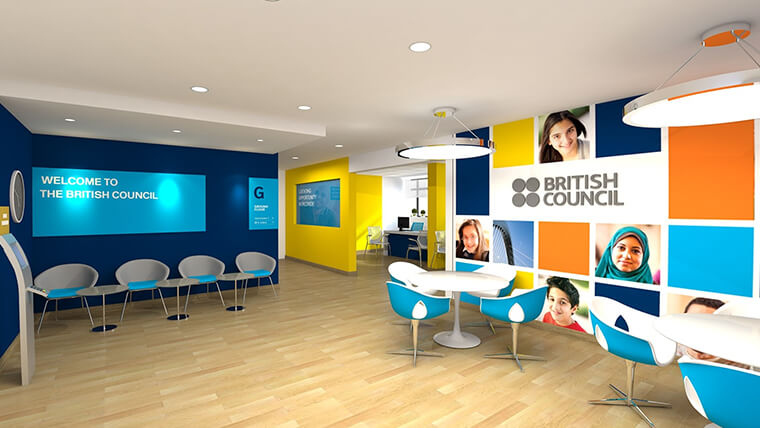 British Council - Source: Internet
British Council, founded in 1934, is the United Kingdom's international cultural and educational cooperation organization. It has been present in Vietnam since 1993. There are currently three British Council English centers in Hanoi, all of which are equipped with modern devices and a great working environment. Applying for teaching English in Hanoi in British Council is more challenging than applying to other English centers, but salaries will be more competitive as well. Details about salary and remuneration will be revealed during the interview process.
More information is available at https://www.britishcouncil.vn/en/about/jobs.
2 - Langmaster
Langmaster was founded in 2011, and it now has 9 campuses spread throughout Hanoi. The center is currently using the NLP (Neuro-linguistic programming) method, so a lecturer who wants to apply for English teaching jobs in Hanoi here must be able to be in line with this teaching program: have good English pronunciation, love of work, teaching skills, international certificate, and ability to encourage students to speak English. Foreign lecturers at the center are paid between 18 and 23 USD per hour.
More information can be found at https://langmaster.edu.vn/.
3 - ISpeaking - top places to find English teaching jobs in Hanoi Vietnam
The ISpeaking English Center system began operations in 2010, was founded and developed by Mr. Nguyen Viet Huy and Ms. Helen Garvis, and has consistently ranked among the top five most prestigious children's English centers in the city.
The center's lecturers are all foreigners. They all have Celta, Tesol international certificates, and extensive teaching experience, which is also a requirement for those who want to teach at the center. Currently, the center operates 20 centers throughout Hanoi.
More information is available on https://www.ispeaking.vn/.
4 - Ocean Edu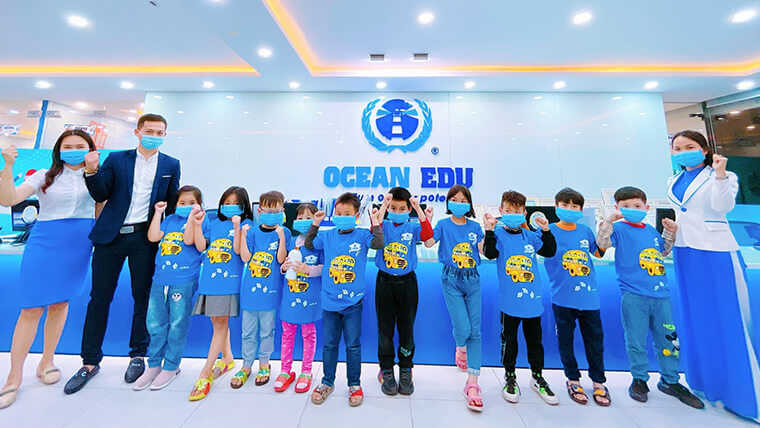 Teaching English in Hanoi - Source: OceanEduVietNam
Ocean Edu has been invested in schools in Singapore with the brand built for about 13 years and has a network of more than 100 branches across Vietnam, with 19 campuses in Hanoi. Ocean Edu employs 100% foreign teachers in order to maximize students' ability to pronounce and use words like native speakers.
To be eligible to apply for the center, you must have a language certificate in pedagogy, such as TESOL, TEFL, or CELTA, or a degree in linguistics from a prestigious foreign university. When teaching English in Hanoi here, you must also have extensive teaching experience, know how to lead a classroom, and, most importantly, be active, inspired, and can motivate students. The monthly salary for lecturers at Ocean Edu is approximately 800-1200 USD, and the number of teaching hours per week is approximately 22-36 hours.
More information is available at https://en.ocean.edu.vn/.
5 - Language Link
Language Link Vietnam - a member of the Language Link International Education Group - was founded in 1996 and is a good place to find English teaching jobs in Hanoi Vietnam. This is one of the first institutions in Vietnam to offer international standard English courses. Over the past 23 years, it has steadily grown into Vietnam's leading education system, offering a wide range of training options to suit various students. The salary for lecturers at the center is approximately 20-25 USD per hour, and the number of working hours is approximately 70-80 hours per month.
More information is available at https://llv.edu.vn/en.
6 - Apply to Apollo for teaching English in Hanoi
Apollo English Center was founded in 1995 with the mission of preparing the next generation for global citizenship, promoting prosperity, and assisting people in making positive changes. The center uses the LETS teaching methodology, which not only helps students use English fluently and confidently but also develops the life skills required for high academic achievement and future success.
The lecturers at the center are entirely foreign, with high qualifications and many years of experience. CELTA certificates are required for lecturers at that center (or equivalent: Trinity TESOL, TEFL). This center has over 40 locations across the country.
More information can be found at https://apollo.edu.vn/.
III - Teaching English in Hanoi blogs & websites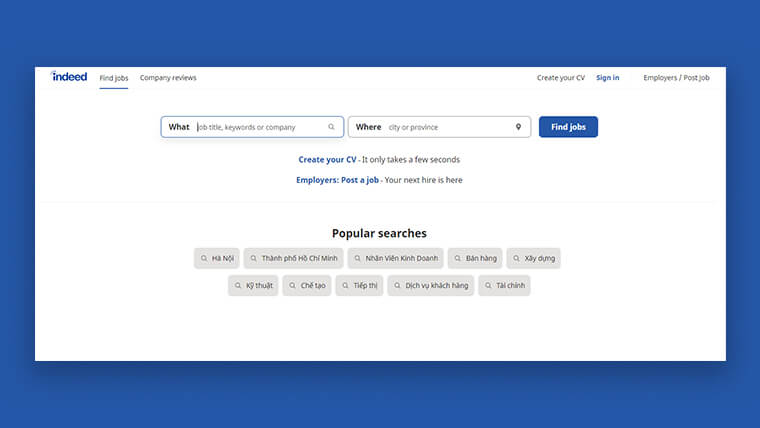 Indeed.com - Source: Internet
You can find more opportunities by visiting popular recruitment websites in addition to consulting the recruitment information on the websites of English centers.
1 - Vn.indeed.com
3.45 million visits per month on average, this website is for free posting
Website: https://vn.indeed.com
2 - Vietnamwork.com
This website receives 3.1 million visits per month, suitable for experienced workers, senior staff, and foreigners looking to work in Vietnam. You have to charge a fee to post.
Website: https://www.vietnamworks.com
3 - Careerbuilder.vn
With 2.7 million visits per month, this site ranks third in traffic. This website is also not free to use and is only for experienced people.
Website: https://careerbuilder.vn
It can be seen that looking for English teaching jobs in Hanoi Vietnam is not so difficult. Foreigners who want to get a job can apply to centers, receive tutoring, enroll in teaching in schools.