Started construction in 1958, Thong Nhat Park since its opening in 1961 has always been a must-see weekend attraction for Hanoians. This is considered a heritage of the capital, bearing the imprint of culture and development process, where the community improves the quality of life. In the park, you can take a walk and breathe in the fresh air, participate in some interesting activities, or watch entertainment programs on special occasions.
I - Where is Thong Nhat Park Hanoi located?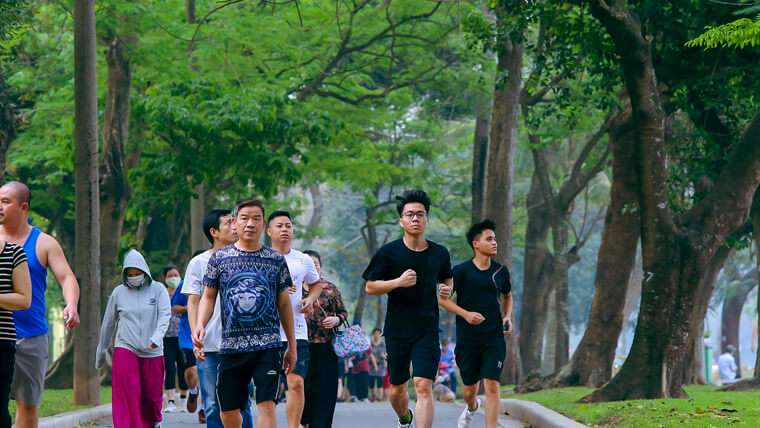 Source: dantri
Built-in 1958, the park of Thong Nhat came into existence when Vietnam was still divided, which is why it was named "unification". With a total area of over 50ha, this is one of the largest parks in Hanoi, belonging to Le Dai Hanh Ward, Hai Ba Trung District. The park is surrounded by Dai Co Viet, Tran Nhan Tong, Nguyen Dinh Chieu and Le Duan streets, corresponding to 4 gates on each side. All of them have very convenient parking spaces no matter which direction you come from, but the main entrances to Thong Nhat Park are on the latter two streets.
Depending on the time, you can either enter the park for free or have to buy a ticket of 5,000 VND / ticket ($0.22), particularly on days of book fairs or festivals. The park is open from 6am to 10pm, but you should be careful when visiting late or going to secluded corners as you may encounter addicts. The simplicity of access and the number of gates make it easy for all kinds of people to get in and out, including bad people.
(Nhúng GG map)
II - What are there in Thong Nhat Park Hanoi?
1 - Take a walk in the green space
Like most other parks in the world, Thong Nhat owns a green space filled with old trees, creating a fresh and airy atmosphere. This place has a land stretching out to the lake, on which there are many rows of coconut trees shading a large space, so it is named Dua Peninsula (Dua means coconut in English). In the middle of it is the banyan tree planted by Uncle Ho, which is the most beautiful old tree in the park with dozens of large deep roots. In Thong Nhat Park, you will also encounter numerous areas of ornamental plants, colorful flowers with hundreds of varieties of orchids, and many tanks of different sizes with countless beautiful and fancy fish.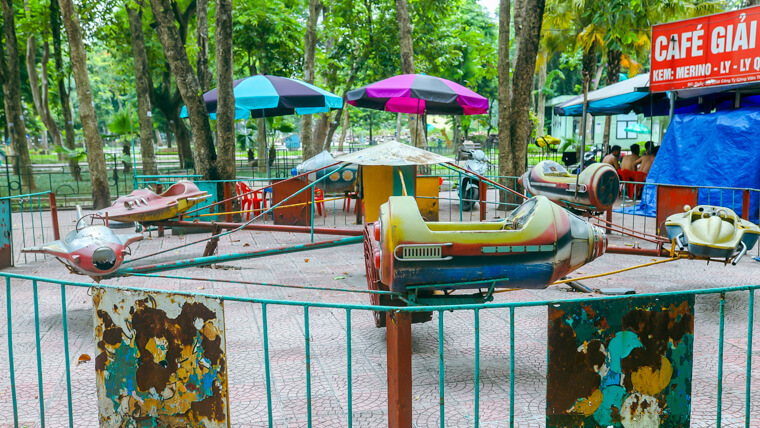 Source: danviet
On Thong Nhat Island in the center of this park is the monument of two talented leaders of Vietnam - President Ho Chi Minh and President Ton Duc Thang. This work expressed the desire of the people of the country at that time, to unify the country and link the North and South regions.
There are also small paths connecting to various miniatures and play areas in Thong Nhat Park, dotted with rows of long stone benches where visitors can rest, chat or relax. Young people and families with young children often come here to organize group activities or performances, having picnics, especially on weekends.
The game system for children here is quite diverse, but many of them are outdated or broken because they were built a long time ago, so you should focus on ones with many people around. The games are mostly free, such as swings, seesaws, trampolines or slides; but there are also some paid ones including sand painting, watercolor painting,…
Ball house in Thong Nhat Park
This is a game site loved by many children, with a circular structure including many colorful plastic balls to help them comfortably play without injury. Inside the ball house there are also a number of slides, children can consider this as a dry swimming pool where they can slide and "swim" comfortably in it.
- Ticket: 15,000 - 20,000 VND / ticket ($0.65 - 0.87)
Sightseeing train
There is a mini sightseeing train inside Thong Nhat Park Hanoi, passing through points named after different cities in Vietnam such as Hue, Da Nang, Saigon, etc. The train is painted in beautiful colors and going at a slow speed, so you can easily admire the whole landscape without making you dizzy, especially if you go with babies.
- Ticket: 20,000 - 30,000 VND / ticket ($0.87 - 1.3)
Mirror house
The 40-year-old Mirror house was revived recently in mid-2017. Used to be a degraded building, the Mirror house in Thong Nhat Park has taken on a new look after about 6 months of renovation, by the artistic hands of 3 talented painters. This is said to be a miniature Truong Sa, with the vast blue ocean world represented by continuous paintings made of 2 million pieces of ceramic, fitted on a total of 812m2 of walls, ceilings and floors. Inside the house is the illusory and whimsical world of more than 50 Czechoslovak mirrors made nearly 40 years ago.
- Ticket: 20,000VND / ticket ($0.87)
2 - Take a boat to Hoa Binh Island in Thong Nhat Park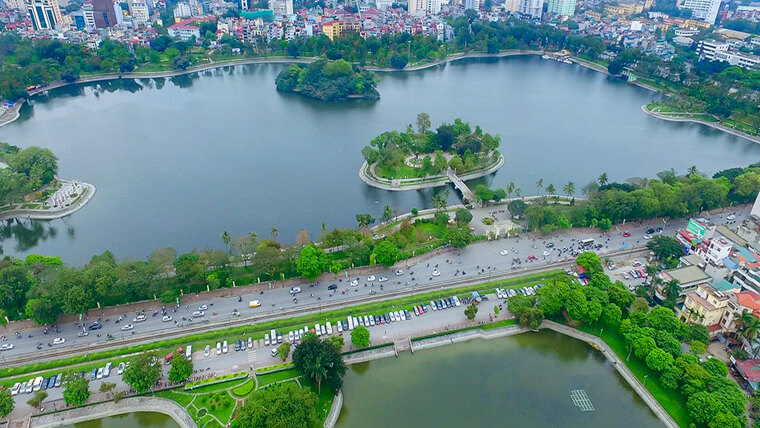 Source: justfly
Occupying more than half of the park is Bay Mau Lake, in which there is Hoa Binh Island, where community and collective activities take place. This area used to be called Co Island because there were often flocks of storks perching on the trees around the lake, but the bustling city has made them gradually stop returning. To visit the island, you will have to take a small boat, a canoe or swim because no bridge has been built to connect with the shore.
Not as crowded as Thong Nhat Island, Hoa Binh Island in Thong Nhat Park has the romantic and peaceful features created by the mix of trees and water, as wild as a deserted island. Your whole vision will be covered by the green color of hundreds to thousands of trees, from grass, palms to banyan trees, dotted with colorful wildflowers. In particular, on the island, there are many small shrines scattered along the paved roads, in addition to other areas for worshiping and burning votive papers.
3 - Swim on Bay Mau lake
With a surface of about 28ha, Bay Mau freshwater lake is a special feature of Thong Nhat Park in Hanoi, gradually becoming a public beach for local people. Despite the fact that there is a warning sign, swimming here to cool off on hot days has gradually become a common thing, especially during the summer in Hanoi. This season usually lasts from May to July, with the daily temperature possibly reaching 42°C. Coming here, you can easily encounter people, from adults to children, swimming mostly near the shore and Hoa Binh Island. If you intend to participate, you should be careful and wear a life jacket because in some places, the water is quite deep.
4 - Enjoy coffee at The Sipping Bar Waterfront in Thong Nhat Park Hanoi
The Sipping Bar is located right at the entrance of the park on Dai Co Viet Street. You can park your bike or motorbike here for free after talking with the cashier, but you'll have to pay the fee for cars. The bar is designed in modern style, with warm brown tones bringing a sense of elegance, but still close and familiar. In addition to luxury cocktails and wines like a normal bar, there are also coffees, juices and teas.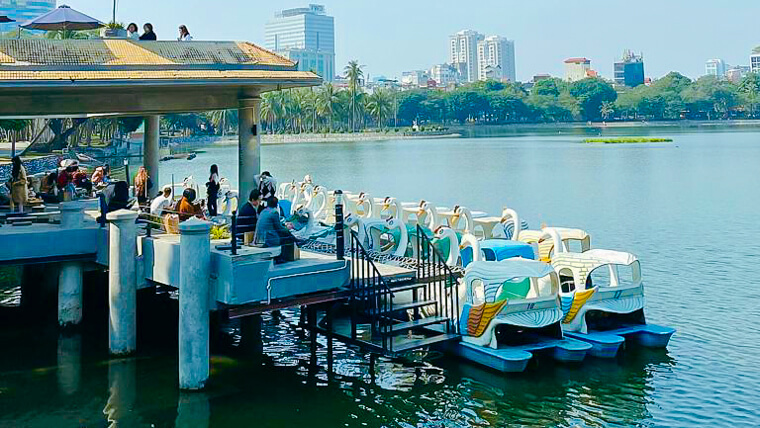 Thong Nhat Park is an ideal place for duck pedaling in Hanoi - Source: checkinvietnam
The restaurant's must-try drink is Alpenliebe, with a sweet aroma, and greasy taste of cream and milk, combined with coffee and caramel flavor. In particular, you should not miss the opportunity to enjoy the extremely delicious homemade cakes here, with the signature dish being banana cake. Visit at the right time, you can also try products that only appear on some special occasions such as valentine, halloween,…
Visiting Thong Nhat Park on weekends, you have the chance to join special activities, notably live shows of various genres such as pop, ballad, indie, and light music,... Stopping here to play, listening to melodious tunes, while sipping a cup of coffee in the sunset will definitely be good choices for you to relax. In addition to those activities, The Sipping Bar Waterfront also offers an extremely interesting duck pedaling service, taking place from 9am - 5pm, with a price of 80,000 VND / hour ($3.48).
- Opening hours: 9am - 9:30pm
- Contact: 098 329 22 58
- Website: https://www.facebook.com/thesippingbar
5 - Participating in fairs - exhibitions in Thong Nhat Park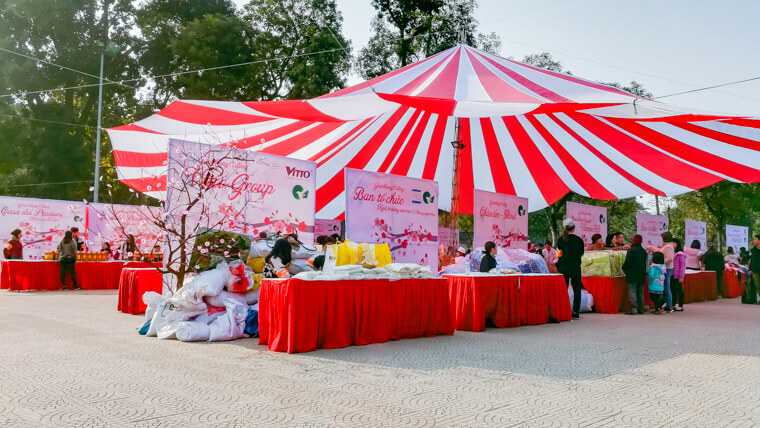 Source: Nam Đặng
Because of its large and green space in the center of Hanoi, the park of Thong Nhat is often chosen as a place to organize large exhibitions and fairs. You can often encounter scenes of organizations spreading roofs and setting up tents, to introduce all kinds of products: vegetables, traditional medicines, clothes, souvenirs,…
In particular, this is also the place to organize the Spring Fair, which usually takes place about 1 week in mid or late January (15th - 20th). On the occasion of Spring Fair in Thong Nhat Park Hanoi, you will find many Tet ornamental plants and flowers on display such as peach blossoms, apricot flowers or kumquat.
It is impossible not to mention the Book Fair, which is held annually in response to Vietnam Book Day on April 21 and usually lasts for 5 - 7 days. There are about 100 - 150 booths of publishing units attending, bringing numerous quality books in many fields with attractive discounts, souvenirs, and bookmarks. There are also meaningful exchanges and discussions about books or current issues of social interest, the appearance of the authors, or the introduction of new literary works.
Dubbed the "lung" of Hanoi City, Thong Nhat Park promises to be a great destination not only for tourists from all over. This airy space, filled with trees and interesting play areas, is the ideal place for you to relax with your family and friends.