Water puppet show in Hanoi is an interesting program that you should not miss. You know, puppet is an art form that has appeared in many countries such as India, China, and Southeast Asian countries. However, Water Puppet is a typical form of art in Vietnam. Thanks to its uniqueness, from a folk art, Water Puppet quickly became a traditional form, lying at the same rank as "Tuong", "Cheo" - those are well-known as having high position in Vietnam's traditional stage arts. Enjoying a water puppet show is an ideal thing to do at night in Hanoi.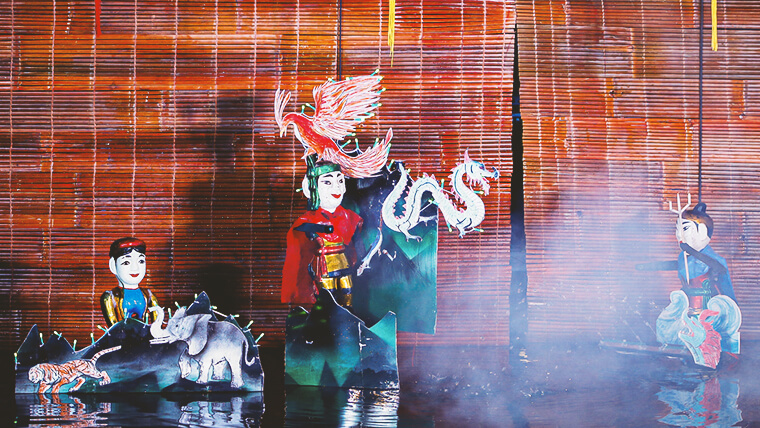 Source: Vnexpress
I - Places to see the best water puppet show in Hanoi
1 - Thang Long Water Puppet Theater Hanoi
- Address: No.57B Dinh Tien Hoang Street, Hoan Kiem District, Hanoi - 1 km from some famous tourist attractions in Hanoi such as Hoan Kiem Lake, The Old Quarter, Ngoc Son Temple,...
- Show schedule:
+ Monday to Saturday: 13:45, 15:00, 16:10, 17:20, 18:30, 20:00, 21:15
+ Sunday: 09:30, 13:00, 15:00, 16:10, 17:20, 18:30, 20:00, 9:15
- Contact: 024 38249494 - 024 38255450
- Ticket price: 100,000 - 200,000 VND / ticket ($4.3 - 8.7)
- Water puppet show Hanoi buy tickets via http://thanglongwaterpuppet.com
2 - Lotus Water Puppet Theatre Hanoi - best places to see water puppet show in Hanoi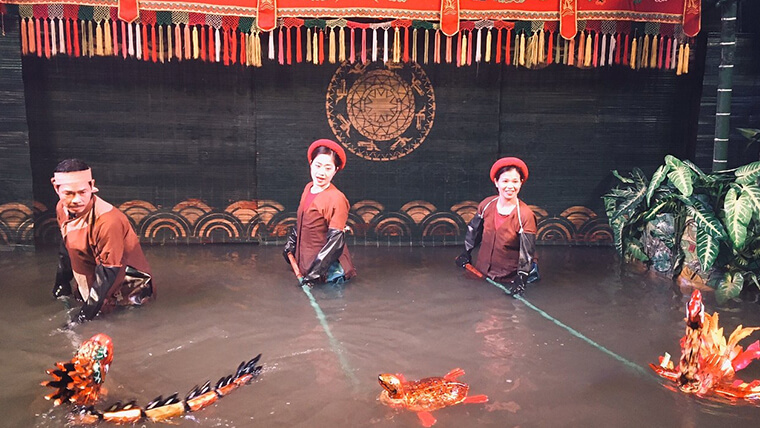 A show in Lotus Theatre - Source: Tripadvisor
- Address: No.16 Le Thai To Street, Hoan Kiem District, Hanoi. Lotus theater is also really close to Hoan Kiem Lake, Ngoc Son Temple, and Hanoi Old Quarter. In addition, you can go shopping at the most luxurious commercial center in Hanoi: Trang Tien Plaza - a few minutes' walk from Bong Sen Water Puppet Theater.
- Schedule: 15:30; 17:00; 18:30 from Monday to Sunday
- Contact: (+84) 972 03 04 20 - 024 3938 1173
- Website: http://bongsenwaterpuppet.com
- Water puppet show Hanoi ticket price: 80,000 - 100,000 VND / person ($3.4 - 4.3)
3 - Vietnam Puppet Theater
- Address: No.361 Truong Chinh Street, Thanh Xuan District, Hanoi
- Ticket price: 80,000 - 300,000 VND/ticket ($4 - 13)
- Schedule: under contract
- Website: http://nhahatmuaroivietnam.vn/en
- Contact: (024) 3853.4545 - (024) 3853.1333
- Nearby places to visit: From the Vietnam Puppet Theater, visitors can also visit the Air Force Defense Museum at No.173C Truong Chinh Street, Thanh Xuan District or go shopping at Big C Artemis Shopping Mall at No.3 Le Trong Tan Street, Khuong Mai Ward, Thanh Xuan District.
II - Things you may not know about water puppet show in Hanoi
1 - History
According to a few pieces of research by artists, craftsmen, and puppet researchers, Water Puppet in Vietnam emerged a long time ago, associated with rice field civilization in the North Delta. Different documents about Puppet in Vietnam have proved that in 1121, Water Puppet was allowed to perform at the birthday celebration of the King, and the clearest testimony is the Sino inscription on the ancient stone stelae dating back to the Ly Dynasty era.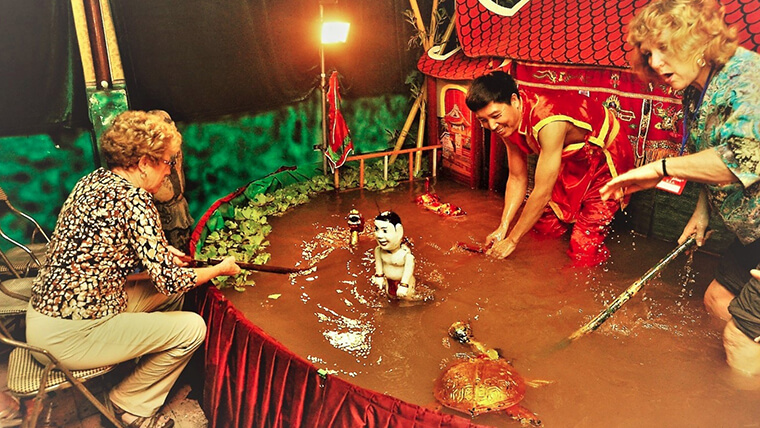 Source: Incensetravel
2 - Factors that make water puppet show unique
Stage
Unlike other art forms, the water puppet show in Hanoi has a special stage, which is the water surface, also known as the water court. It is located in front of the game chamber. Under the water surface is a system of stakes and strings of the Puppet controlling machine. The stage backdrop is made of bamboo curtains decorated with dragon and phoenix pictures. Along the either side of the stage erects a line of railings, before the game chamber are dozens of flags, greeting gate…. Water Puppet artists hide themselves by lying in the chamber to manipulate puppets. They use rods, jerk puppets with a system of strings positioned outside or underwater.
Music
It is to say that music in water puppet show in Hanoi is such a powerful tool in presenting the insight of inanimate puppets that even narratives cannot fulfill. Music links all the sketches together, keeping the audience away from the feeling of disruption at the interval, imparting the total content, creating contact between puppets and audiences. Music instruments that are commonly used are drums, cymbals, flutes, bangers....
Puppet shows need loud sound, strong bass to keep the rhythm and stir up the atmosphere in an outdoor space, in teeming holidays. Language, the manner of Cheo art is fully applied into Water Puppet. The puppet monologue on the stage is not merely the lines but is expressed by saying in rhyme and rhythm like in the Cheo theater art.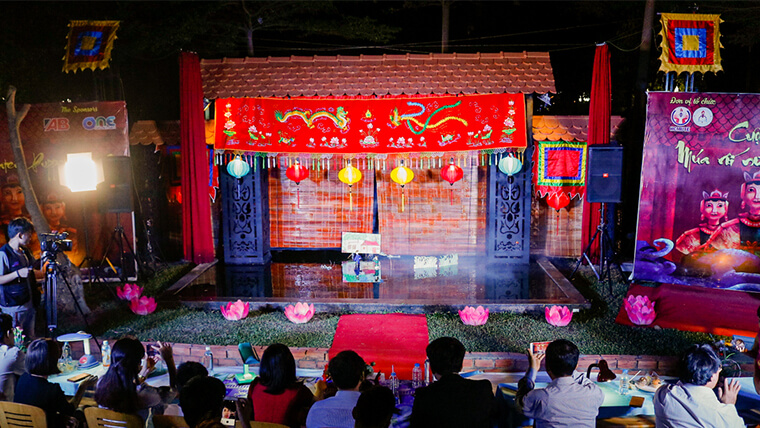 Source: Vnexpress
Hanoi water puppet show story
Another pivotal factor contributing to the success of puppet plays is to draw up scripts. Water puppet art stems from folk games, associated with working laborers. Due to climate and the nature of farming, Water Puppet is built up with the heart and soul of the working-class, it reflexes their life and expectation, praising love to homeland and nation, upholding solidarity, mutual help, encouraging gratitude, which can be seen in plays such as Buffalos fighting, Fox captures chicken, Frog catching…The lyrics in traditional water puppetry are rhyming, random poems, not in a regular form.
There is no doubt that the water puppet show in Hanoi is a precious traditional shade which you will understand more about the history and culture of ancient Vietnamese people once you dig deep in. Behind each and every show is a whole attempt of the theatre and the artists to bring audiences the most meaningful, vivid, and thrilling stories.