Royal City Hanoi is located right on Nguyen Trai street, which is very easy for you to find. To get here, the easiest way is to use apps like Grab, Be to book a car.
If you want to go to Royal City by bus, the good news for you is that this place has many bus routes running through. You can refer to the following bus routes:
Bus 01: Afternoon from Gia Lam bus station - Yen Nghia bus station
Bus 02: Afternoon from Uncle Co - Yen Nghia bus station
Bus 19: Afternoon from Tran Khanh Du - Vinhomes Thang Long urban area
Bus 27: Afternoon from South Thang Long bus station - Yen Nghia bus station
I - Architecture of Vinhomes Royal City Hanoi
It has a square of nearly 30,000 square meters, displaying many art sculptures made of monolithic in the royal style.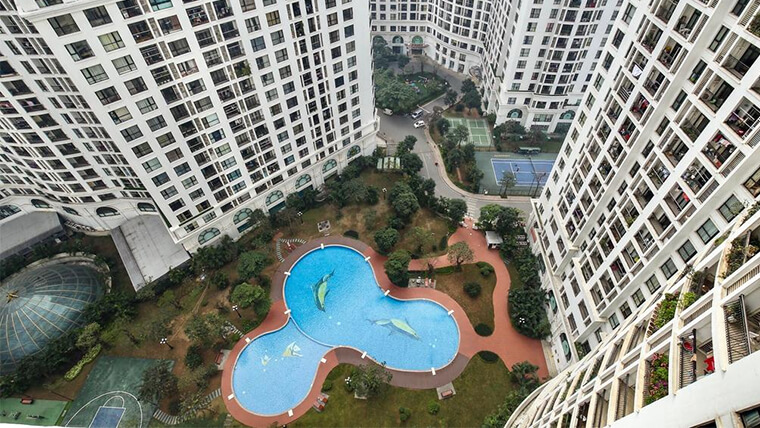 Source: Internet
The commercial center and supermarket area is also very large, up to 230,000m², and divided into 2 basements and 2 floors. In the entertainment area of ​​the center, there is the largest ice rink in Vietnam with an area of ​​3,000m². The center is built into an underground parking system with an area of ​​more than 300,000m².
The apartment complex in Royal City Hanoi is a miniature picture of a European city, giving residents the feeling of living in a real royal city. The apartment complex is located in 6 buildings, R1, R2, R3, R4, R5, R6
Apartments in buildings R1 and R2 are arranged from floors 3 to floors 35. In which: Layout from floors 3 - 29, apartments are designed with an area from 88m² - 187m². The layout of the 30th floor, apartments are designed from 88m² - 200m². Floor plan 31-35, apartments are designed with an area from 88m² - 200m².
R3 Royal City is the central building in the heart of Vinhomes Royal City. The R3 building is only 17 floors high, apartment floors from floors 2A - 15A. Including apartment areas from 109m² - 221m².
R4 and R5 buildings are designed with the smallest area of ​​93m2 and the largest one is 140m². Here the apartment is designed with 2 or 3 bedrooms. The smallest area in the R6 building is 55m² (1 bedroom), the largest is 145m² (4 bedrooms). R6 building is located right next to Nguyen Trai Street. Royal city Hanoi apartment for rent. The rental price of the R6 building is the lowest, and the R3 building is the highest. The rent of a 1 bedroom apartment is about 10-13 million VND ($431.03-560.34) / month, a 2 bedroom apartment is 20-24 million VND ($862.07-1034.48) / a month, a 3 bedroom apartment costs 18-25 million VND ($775.86-1077.59) / month, this makes the price of a flat rented out without any furniture if the apartment is rented. For furniture, the monthly rental will add from 4-18 million VND ($172.41-775.86) / month. In addition, the apartment also has a homestay rental for a day, a 2 bedroom apartment for rent is about 1,300,000 VND ($56.03) / night.
II - Fun activities, entertainment in Royal City Mall
Lounge having an area of ​​100-200m² is built very modern in all buildings to serve the needs of guests.
On the rooftop area, there are nourishing gardens inspired by the Marina Bay Sands high-rise park - Singapore and a community room of the R3B dome for residents to organize activities on demand.
The common yard area has a yard for residents to participate in sports activities such as swimming pools, tennis courts, basketball courts, badminton courts, and also a private playground for children.
1 - Vincom Mega Mall Royal city - Huge underground commercial center system
It is the first commercial center in Vietnam to develop according to the international standard Mega Mall model. With a total area of ​​more than 230,000m², stretching both underground floors, this is the largest and most modern underground commercial center in Southeast Asia.
2 - The largest real indoor ice rink in Vietnam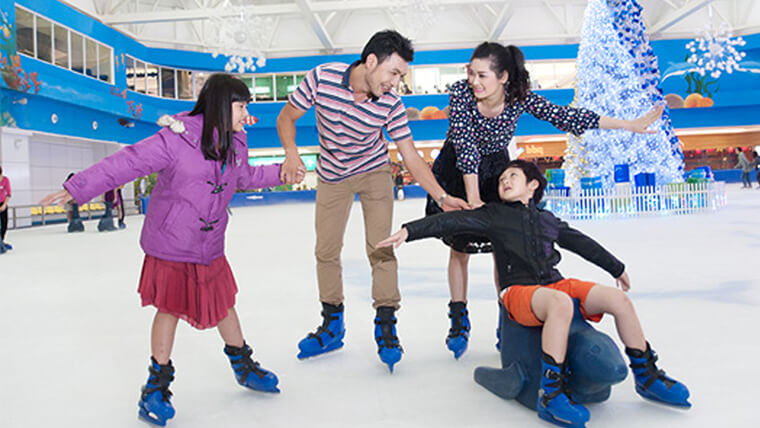 Source: Internet
Vinpearl Ice Rink Royal City has a huge area of ​​3000m², which can accommodate up to 150 people/game. The ice rink is located on the 2nd floor of Royal City, opens at 9:30, and closes at 22:00.
Ticket price: on days from Monday - Friday: Children: 100,000 VND / ticket; Saturday, Sunday and holidays: Children: 170,000 VND / ticket.
3 - Bowling Heroworld Area in royal city Hanoi
It is considered one of the three big Bowling areas in Hanoi with a large area of up to 3000m², modern facilities highly appreciated with international standards, 12 throw lines, and standard lighting systems. Therefore, it will surely give you a great experience.
Ticket price at Bowling Heroworld in Royal City:
Monday - Friday: Game / person: 70,000 VND, 1 hour / 1 Lane (maximum 6 people): 400,000 VND.
- Saturday, Sunday and public holidays: Game / Person: 80,000 VND, 1 hour / 1 Lane (maximum 6 people): 450,000 VND.
Shoe rental costs 20,000 VND / time and buying socks costs 20,000 VND / pair.
4 - Shopping Area
There are lots of goods available to purchase ranging from fashion, cosmetics, accessories, shoes, handbags to electronics, electric refrigerating machines... Vincom Mega Mall Royal City shops with famous brands, from fashion to electronics, technology like Zara, Adidas, Converse, Sony, Canifa,...
5 - Food Area
There are many famous restaurants in Royal City such as:
Galbi BBQ (Korea): B2-R4-08, Royal City, price: 200,000 - 260,000 VND / person.
Garden Buffet (Vietnamese cuisine): B2-R6-40A, Royal City, price: 200,000 - 250,000 VND / person.
Beard Papa's (cake): B2-R2-07A, Royal City.
In Hanoi today, there are many urban areas similar to Royal City, such as Vinhomes Times City Park Hill: 458 Minh Khai, Hai Ba Trung District. Times City is planned with a total area of ​​364,500 square meters with Singapore's ecological architecture style with high-end apartments, commercial centers, and especially with the largest aquarium in Hanoi. Ecopark - Eco-Green City - the model green urban area of ​​Vietnam. Ciputra South Thang Long Urban Area: is an urban area including many works built in the territory of Bac Tu Liem district and Tay Ho district. However, Royal City Hanoi is still the most convenient and attractive destination for tourists. So don't forget to take the time to visit this place