Danang city is the star in central-coast of Vietnam with an incredible growth in economy & tourism. The great living standard & environment, rich culture and incredible cuisine make the city "the most worth-living city in Vietnam".
Being well-known as the city of beaches and bridges, ancient & modern landmarks, luxury resorts and hotels, Danang tourism has lots of things to offer tourists. The city also is the top MICE destination by hosting lots of important international events & festivals.
- Area: 1,284.88km2
- Population of Danang: 1,134,310 people
- Zip code: 550000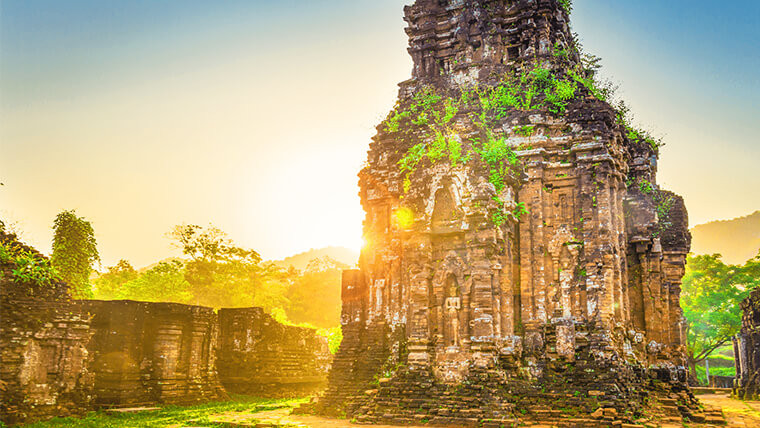 Source: VR 360
I - Where is Danang Vietnam?
1 - Location of Danang city
Danang is the 4th largest city in Vietnam, and one of the strategically located port cities of the central region. The city includes 06 districts: Hai Chau, Thanh Khe, Son Tra, Ngu Hanh Son, Lien Chieu, Cam Le and 02 districts: Hoa Vang and Hoang Sa island district.
With a coastline of about 92 km, a deep-water bay with Tien Sa seaport, and a continental shelf territorial sea with a depth of 200m, Danang is a suitable place for general marine economic development, international goods exchange and trading.
2 - How to get to Danang Vietnam?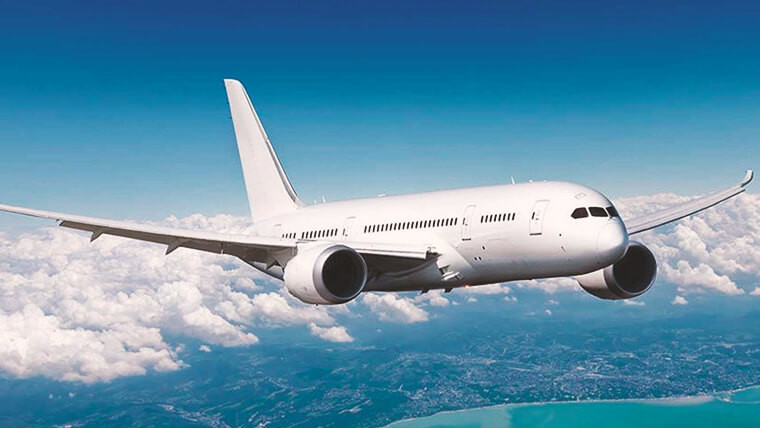 Source: Internet
Airway:
Located about 3 km from the city center, Da Nang International Airport - third largest airport in Vietnam - is the main gateway to get to Danang & Hoi An Vietnam.
- Location: Duy Tan Street, Hoa Thuan Nam, Hai Chau Ward
- ICAO code: DAD
- IATA code: VVDN
Railway:
The train station in Danang Vietnam was built in 1902, and completed in 1936. Currently, this train station still plays an important role in the north-south line transportation system. Each day, the train station serves nearly 75,000 passengers. From here you can buy train tickets to get to other top stopovers in the north and south.
- Location: No.791, Hai Phong Street, Tam Thuan ward, Thanh Khe district
Roadway:
National highway 1A is the main road running across the city. There are 2 core bus stations in Danang city:
- Trung Tam Bus Station (City central bus station): Ton Duc Thang street, Hoa Minh ward, Lien Chieu District.
- Mien Nam Bus Station (Southern bus station): Intersection National highway 1A and Nam Ky Khoi Nghia Street, Hoa Phuoc commune, Hoa Vang district.
3 - Danang transportation
Traveling & getting around the city is a hassle-free experience with a wide range of private and public transport options. It is so convenient & easy to find a bus, taxi, motorbike for rent, or private car rental to get around the city or to nearby destinations like Hoi An & Hue.
Source: Internet
#Public bus:
By the beginning of 2020, the city has about 20 bus routes, including 6 inter-provincial routes, 12 inter-city routes, and 2 tourist routes. Tourists can easily find bus lines to visit famous stops like Bana Hills, Marble Mountains,... To get to Hoi An ancient town, you can take bus No.1 with a cost of about 30,000 VND.
#Taxi in Danang:
- VinaSun Taxi: 0236 3 68 68 68
- Airport Taxi: 0236 3 27 27 27
- Tien Sa Taxi: 0236 3 79 79 79
- Mai Linh Taxi: 0236 3 56 56 56
- Song Han Taxi: 0236 3 72 72 72
- Hai Van Taxi: 0236 3 93 93 93
#Motorbike rental:
Here below are some famous Danang bike rental
- Danang Easy-riders
Address: No.405/17 Le Duan Street
Contact: 0903 595 989
Opening hours: 7am - 10pm
- Tigit motorbikes:
Address: No.113 Le Van Duyet street, Nai Hien Dong, Son Tra district
Contact: 0386 518 481
Opening hours: 9am - 5pm
#Cyclo rental in Danang city:
- Cycle rickshaw:
Cyclo tour price: 100,000 VND ($4.3) / hour
Address:
+ Phuong Dong Hotel: No.97 Phan Chau Trinh, Hai Chau district
+ Cham Museum: No.2, 2/9 Street
+ Green Plaza Hotel: No.238 Bach Dang street, Phuoc Ninh, Hai Chau district
Contact: 0905 499 639
III - Danang travel guide
1 - Top outstanding places to visit
Danang has an endless charm with lots of white sandy beaches, spectacular islands & islets, impressive man-made landmarks & theme parks, and countless historic-cultural sites. Plus, the cuisine is an indispensable part of culture and top things to experience for tourists.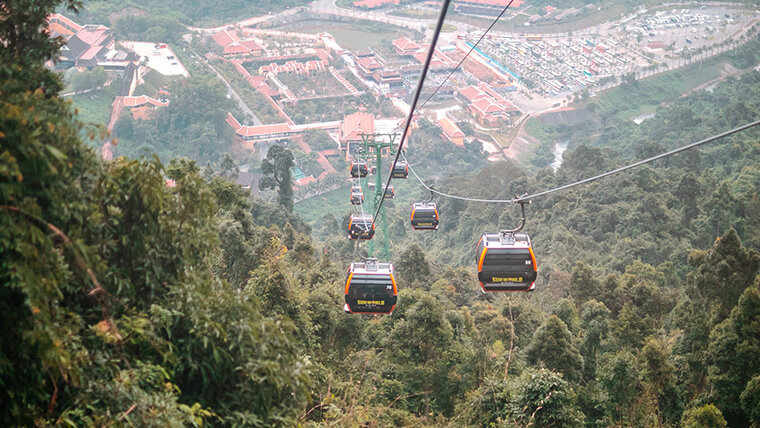 Source: Dohyung kwon
Check out top iconic landmarks in Danang Vietnam:
- Bana Hills Sunworld:
Sun World Ba Na Hills is the most luxurious resort and entertainment complex in Vietnam. Located at an altitude of nearly 1500m, this place is likened to an attractive fairyland because of its picturesque landmarks like cable car system, French-style village, golden hand bridge, majestic surrounding landscape, diverse food experience, many festivals & exciting entertainment activities.
- My Son sanctuary - about 50km from Danang city
My Son Sanctuary is a famous historical heritage of Quang Nam province with an architectural complex including many Champa temples with unique Hindu architectural style. The relic site was discovered in 1885 and recognized by UNESCO as a World Cultural Heritage site in 1995.
- Son Tra peninsula:
Dubbed the "green lung of the city", Son Tra peninsula is likened to a precious jewel that nature has bestowed on Danang city. Son Tra has fresh and cool air all year round, along with diverse flora and fauna ecosystems, fresh pristine beaches, luxurious resorts, extremely suitable for relaxing activities, and interesting experiences such as snorkeling, windsurfing, skydiving, etc.The outstanding check-in points in Son Tra peninsula are Linh Ung Pagoda, Ban Co peak, Bai But (But beach), Tien Sa port & Tien Sa lighthouse.
- Dragon bridge:
Dragon Bridge in Danang city has a dragon-shaped design, with a length of 568m is the symbol of the city. This is a great spot to admire the beautiful scenery of the Han River. The bridge is much more beautiful at night when more than 2,500 LED lights of different colors are active, and impressive performances of fire-breathing and water-breathing dragons every week.
- My Khe beach:
This is one of the most beautiful beaches in Vietnam, processing a long sandy shore, deep blue and clean water. My Khe beach in Danang City is the best place for surfing, diving, snorkeling, swimming, sunrise admiring, and relaxing.
- Marble mountains:
Ngu Hanh Son or Marble mountains are formed by a population of five mountains Kim - Moc - Thuy - Hoa - Tho which are "wrapped" by many different legends. Ngu Hanh Son scenic spot is likened to a natural masterpiece with a unique landscape created by mountains and a series of mysterious caves such as Huyen Khong cave, Huyen Vi cave, Van Thong cave, etc.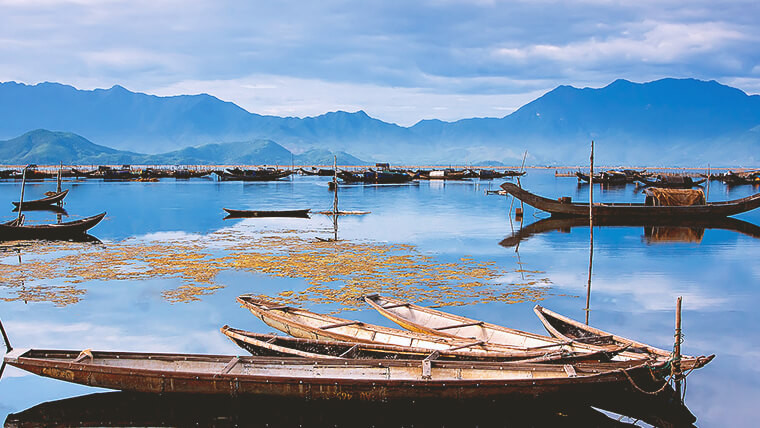 Source: Lagunalangco
Top travel agency in Danang City:
- Da Nang Green:
Address: No.376 Nguyen Tri Street, Vinh Trung, Hai Chau district
Contact: 0974 818 106
Website: danangxanh.vn
- Premium Travel Vietnam:
Address: No.100 Tran Van Du Street, Ngu Hanh Son district
Contact: 0979 613 777
Email: premiumvietnamtravel@gmail.com
2 - The best time to visit Danang city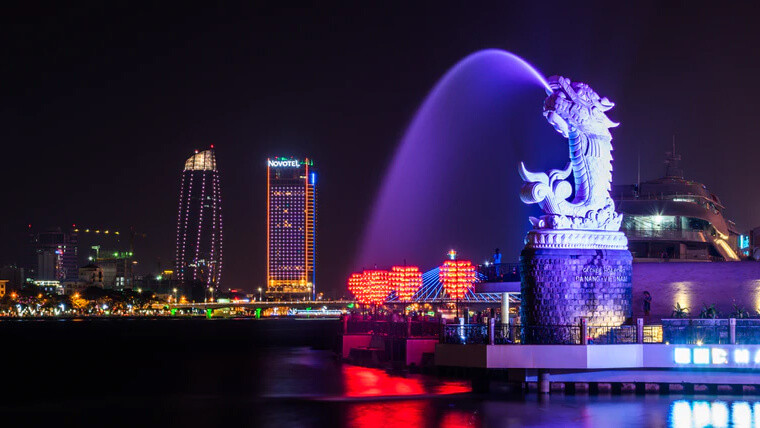 Source: Ins @thanhtungo
The weather in Danang is characterized by the tropical monsoon climate with 2 different seasons (dry & rainy season).
- Rainy season (August - December): high rainfall, hot & humid atmosphere, storm season.
- Dry season (January - July): stable temperature (from 20-26°C), cool breeze, less rainy.
It is clear that the dry season is the most enjoyable time for visiting Danang when the weather is quite pleasant for sightseeing, the sea is calm and clean for diving and surfing.
This is a quick guide to visit Danang City Vietnam from vietnamtrips.com. Hopefully, you can get more useful information about the tourism and travel in this city.