Top Hanoi luxury hotels are the best place to stay offering guests the most luxurious rooms and high-end services. Most of the luxury hotels belong to the most famous international hotel groups such as Accor hotel group, Marriott hotel, InterContinental Hotels Group (IHG), Meliá Hotel International,... Located in the prime location, these luxury hotels are great accommodation in Hanoi to stay for both business and leisure tourists.
Opened in 1911, this is the oldest hotel in Hanoi. Having stood the test of time, the hotel has always been considered a historic symbol of the capital. Unique French architecture, splendid interiors, and 5-star facilities are typical hallmarks of Sofitel Legend Metropole.
This high-class hotel consists of 364 rooms, from standard to high-class, harmoniously arranged in the historic Metropole building where the ancient and magnificent features of France are preserved and the new Opera building was built later in charming neoclassical style.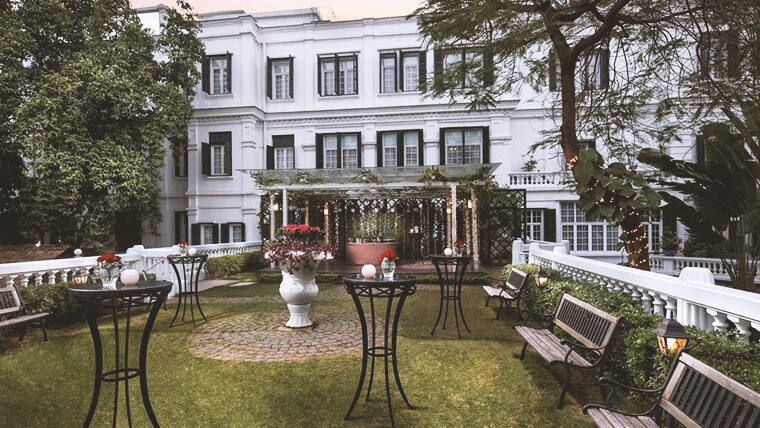 Sofitel Legend Metropole is the best luxury hotel in Hanoi - Source: Booking
Le Beaulieu - first French restaurant in Hanoi, located on the grounds of this hotel is a place for luxurious parties and excellent dishes. Therapeutic massage services and high-class travel services will bring great experiences to guests.
- Address: No.15 Ngo Quyen street, Trang Tien ward, Hoan Kiem district, Hanoi
- Website: https://www.sofitel-legend-metropole-hanoi.com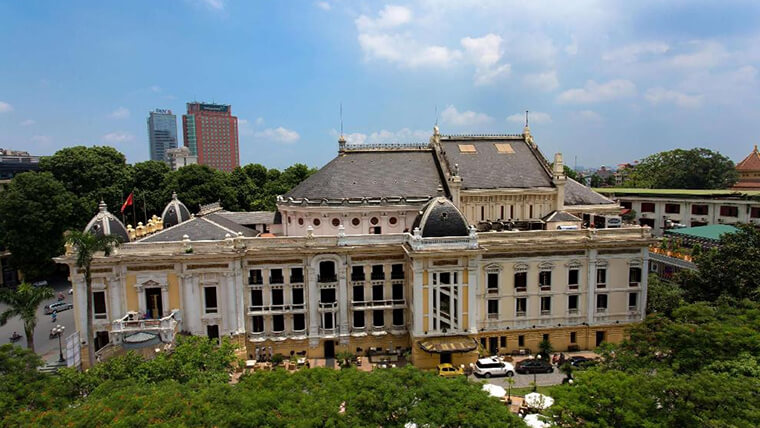 Hilton Hanoi Opera - Source: Agoda
Hilton Hanoi (Hilton Hanoi Opera), built in 1993, is one of the best luxury hotels in Hanoi Old Quarter. Surrounded by the city's restaurants, museums, Old Quarter street and Hoan Kiem Lake, it's the perfect place to stay and visit Hanoi.
The hotel's architecture is inspired by the Hanoi Opera House and blended with Vietnamese elements. The interior of the hall is Asian-style with many decorative details from traditional Vietnamese handicrafts. Red and green are the two main colors that create a unique feature for the rooms.
Hilton Hanoi Opera Hotel offers guests luxurious services from rooms, restaurants, bar & lounge, fitness & massage, to travel services and tours.
- Address: No.01 Le Thanh Tong street, Hoan Kiem District, Hanoi
- Website: https://www.hilton.com/en/hotels/hanhitw-hilton-hanoi-opera
3 - Movenpick Hanoi - a luxury hotel in Hanoi
Located in a prime location on Ly Thuong Kiet Street, staying at the Movenpick Hotel is quite convenient for visiting famous tourist attractions in Hanoi.
Movenpick Hotel is designed delicately and luxuriously with French architectural style. Plush restaurants, massage services, fitness centers, entertainment services of high quality well meet the needs of guests. The hotel is fully equipped with other services including meeting rooms, business center and wireless internet in all rooms and public areas in this Hanoi luxury hotel.
- Address: No.83A Ly Thuong Kiet street, Hoan Kiem district, Hanoi
- Website: https://www.movenpick.com
Hotel de l'Opera Hanoi is one of the best luxury boutique hotels in Hanoi with outstanding French colonial architecture and exquisite & luxurious interior. The rooms are luxuriously furnished in an elegant European style and feature impressive works of art hanging on the walls. You can enjoy fine cuisine from French restaurants, spa & sauna services, fitness center & swimming pool, tour and car rental services,...
- Address: No.29 Trang Tien Street, Hoan Kiem district, Hanoi
- Website: http://hoteldelopera.com/
5 - Lotte Hanoi Hotel - top luxury hotels in Hanoi West Lake
Lotte Hanoi Hotel is located at the intersection between Lieu Giai street and Dao Tan street in Ba Dinh district - 2km from West Lake. As the tallest hotel in Hanoi, staying here you can see the whole vast city scene. Lotte Hanoi offers excellent accommodations with modern & luxurious design, and international 5-star entertainment services. With indoor and outdoor swimming pools, commercial center, plush restaurants & bars, attentive spa & & massage,... this is one of the most luxurious 5-star hotels in Hanoi.
- Address: No.54 Lieu Giai street, Cong Vi ward, Ba Dinh district, Hanoi
- Website: https://www.lottehotel.com/hanoi-hotel
6 - Intercontinental Westlake Hanoi Hotel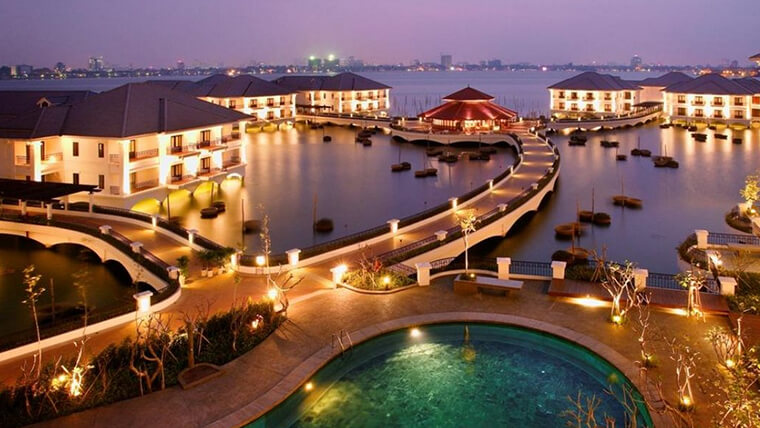 Intercontinental Westlake Hanoi Hotel - Source: Intercontinental
Intercontinental Hanoi Westlake is a famous in the list of the best luxury hotels in Hanoi Vietnam with impressive design on the bank of the largest lake in Hanoi. This hotel is about 22 km from Noi Bai International Airport and near many famous attractions like West Lake, Tran Quoc pagoda, Quan Thanh temple,...
It is rated as the top hotel in Hanoi with spacious rooms, fully equipped with high-end facilities. Great Vietnamese & international cuisine are prepared and served at the highest quality. Other high-end services are yoga & pilates classes, fitness center & swimming pool,.. are offered to bring a wonderful stay.
- Address: No.5 Tu Hoa street, Tay Ho district, Hanoi.
- Website: http://www.hanoi.intercontinental.com/
7 - JW Marriott Hotel Hanoi - a Hanoi luxury hotel rated 5/5 on Tripadvisor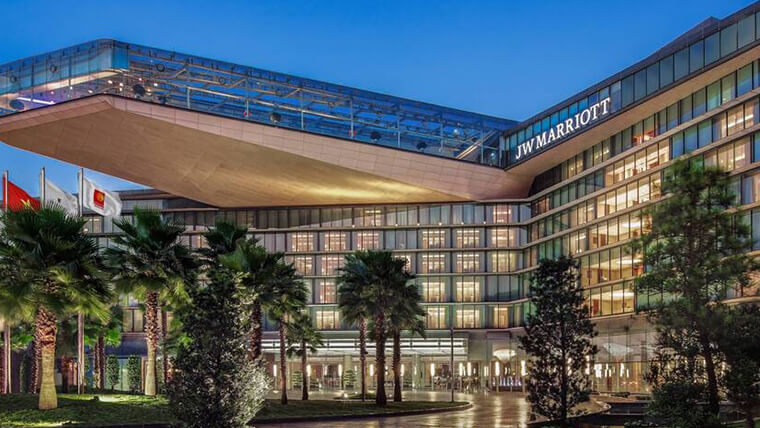 Jw Marriott Hotel Hanoi - Source: Cache.marriott
Located in the west of Hanoi city center, this is the leading luxury hotel for business and leisure travelers. It is inspired by the image of the legendary dragon in folklore and the beautiful coastline of Vietnam. This hotel has a beautiful architectural style that harmonizes modern and traditional, located in an airy, quiet area next to the National Convention Center.
JW Marriott Hanoi offers the best luxurious rooms & suites filled with advanced facilities and open city views. The elegant international restaurants bring an excellent food experience to guests. The conference & meeting rooms and other great entertainment services can meet all guests' needs.
- Address: No.8 Do Duc Duc, Nam Tu Liem District, Hanoi
- Website: https://www.marriott.com/
The best luxury hotels in Hanoi Vietnam mentioned above are ideal choices for those who are looking for a great place to stay and want to experience the best services from the top hotel brands in the world when coming to Hanoi.