I - What is the Apricot Hotel Hanoi address?
This hotel is located at 136 Hang Trong Street, Hoan Kiem District, right in the heart of Hanoi. Apricot's distinguishing characteristic is that, in addition to the high quality of service and the commitment of the staff, the hotel possesses a large collection of valuable artworks and sculptures. There are 600 original paintings, drawings, and sculptures by well-known Vietnamese artists displayed on the walls of the hallways, corridors, and dining rooms in the Hanoi Apricot Hotel. You would most likely grasp some of the qualities of the Vietnamese people and their nation after seeing 600 artworks.
From the hotel, you can easily move to some of the popular travel destinations of Hanoi such as Hoan Kiem lake (600m), Hoa Lo prison (900m), St Joseph's Cathedral Hanoi (240m), Ngoc Son temple (850m),... If traveling by plane, you can contact for pick-up service in the airport.
Contact info:
- Hotline: 024 3828 9595
- Email: info@apricothotels.com
- Website: http://apricothotels.com
II - Rooms in Apricot Hotel Hanoi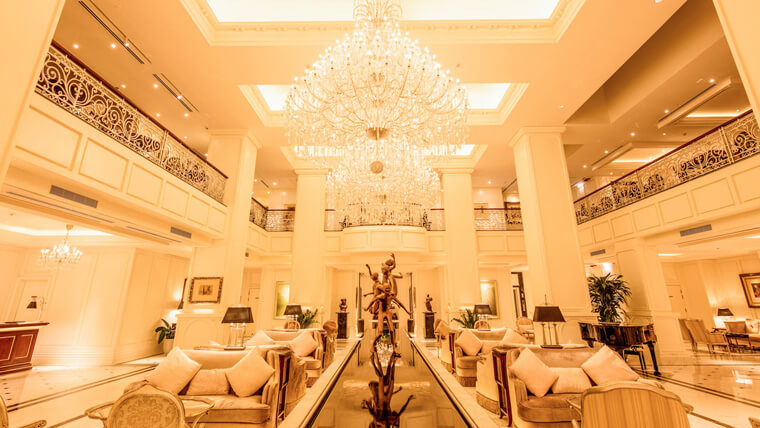 Space inside the hotel - Source: Apricothotels
At daytime, Apricot is an outstanding building with elegant white paintwork, huge retro windows and a vaulted entrance path reminiscent of the colonial architecture of the last century. At night time, the building becomes more glamorous with many yellow lights which brings the luxurious and cozy vibe at the same time whenever you see this building. Apricot's enormous hall is distinguished by a sophisticated design crystal chandelier system and Vietnamese artworks. The 123 rooms at Apricot Hotel in Hanoi are 123 elegant and refined places that perfectly combine aspects of Vietnamese culture, art, architecture, and traditional French architecture. The 123 bedrooms are grouped into six categories as follow:
| | | |
| --- | --- | --- |
| Room | Area (m2) | Price/night($) |
| Sketch room | 25 - 30 | 120 |
| Canvas room | 30 - 32 | 181 |
| Canvas room (Hoan Kiem lake view) | 30 - 32 | 217 |
| Canvas room (with garden) | 30 - 32 | 261 |
| Gallery room | 50 | 321 |
| Gallery room (with garden) | 50 | 371 |
| Junior Studio room | 56 | 217 |
| Studio room | 56 | 261 |
| Masterpiece room | 80 | 541 |
| Masterpiece room (with garden) | 80 | 591 |
III - Restaurants & Bars in Apricot Hotel Hanoi
This hotel not only has an art-filled atmosphere but also serves various art-inspired cuisine. It offers four restaurants and a bar, offering a variety of delicate and exquisite experiences.
1 - Palette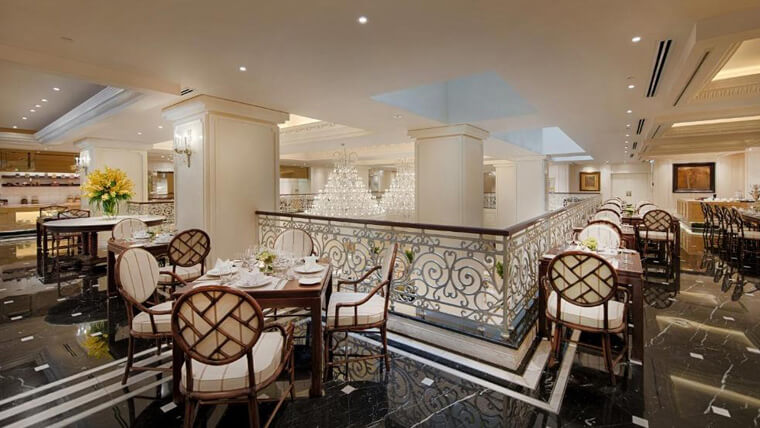 Palette restaurant - Source: Apricothotels
With hardwood and bamboo interiors, as well as door details and unique tiles, the palette recalls a Southeast Asian lifestyle. There are also several green trees within the restaurant, which contribute to the overall impression of freshness.
You may need: Top 5-star hotels in Hanoi
2 - L'Artiste restaurant in Hanoi Apricot Hotel
L'Artiste is a breakfast-only restaurant. The restaurant sits on the mezzanine floor of the hotel, with a side view of the grand lobby. The restaurant's walls are adorned with murals depicting Vietnamese life and culture from the past. The open kitchen approach of French cuisine allows guests to experience the culinary essence in a beautiful and pleasant setting.
3 - A'telier Lounge
A'telier Lounge is on the first level of the Apricot Hotel Hanoi, with decor influenced by art-filled spaces in France and a view of the city through large glass windows. When you visit A'telier, you could enjoy afternoon tea parties with the finest teas from across the world in a tranquil and comfortable environment.
Open time: 2pm - 6pm
4 - One 36 Bar
The One 36 bar, located on the hotel's rooftop, is ideal for a relaxing beverage and watching a night out in Hanoi. In addition, One 36 has a romantic swimming pool with a violet-neon light system.
IV - Other services at Apricot Hotel Hanoi
1 - Healthcare service
Spa L'Art
Spa L'Art is always devoted to providing special recovery and wellness treatments as well as memorable client experiences.
Open time: 9am - 11pm. Booking before 10pm
Gym club
This hotel provides gym facilities with top-of-the-line equipment and experienced trainers. Moreover, Apricot's modern sauna system is another appealing feature.
Open time: 6am - 10pm
2 - Travel tourism service offered by Hanoi Apricot Hotel
Apricot also offers a variety of vacation tours that allow hotel guests to experience Vietnam's culture and natural beauty. Hanoi discovery trip, Duong Lam Ancient Village tour, Bat Trang Pottery Village tour, Trang An tour, Halong Bay tour are some of the most popular tours.
3 - Party & conference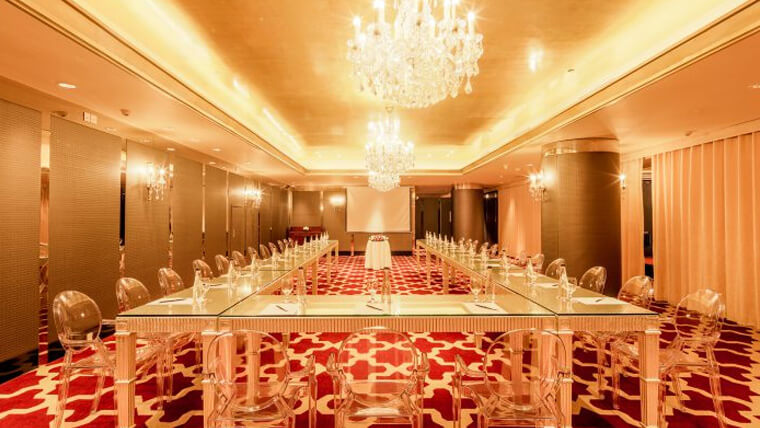 Conference room - Source: Apricothotels
Apricot Hotel in Hanoi offers a beautiful and big area fully equipped with modern amenities which is ideal for entertainment events, parties, and conferences. These include the Avanti performance stage in basements 1 and 2 with an area of about 500m2 and a capacity of fewer than 300 visitors; the Ballroom meeting room in cellar 3 with a capacity of around 250 attendees...
Apricot Hotel Hanoi is clearly regarded as a hotel that is worth staying at when visiting Hanoi. Apricot, with its elegant and stylish attractiveness and exceptional service quality, will undoubtedly contribute to a delightful vacation in Hanoi.