1 - What is the Melia Hanoi Hotel address?
Melia is located at No. 44 Ly Thuong Kiet Street, Tran Hung Dao Ward, Hoan Kiem District - 500m from Hanoi Train Station, 900m from Hoan Kiem Lake, 1.4km from Hanoi Opera House, 1.5km from Temple of Literature - Quoc Tu Giam and 25km from Noi Bai International Airport... If traveling to Hanoi by plane, you may call the hotel to arrange for an airport pick-up service.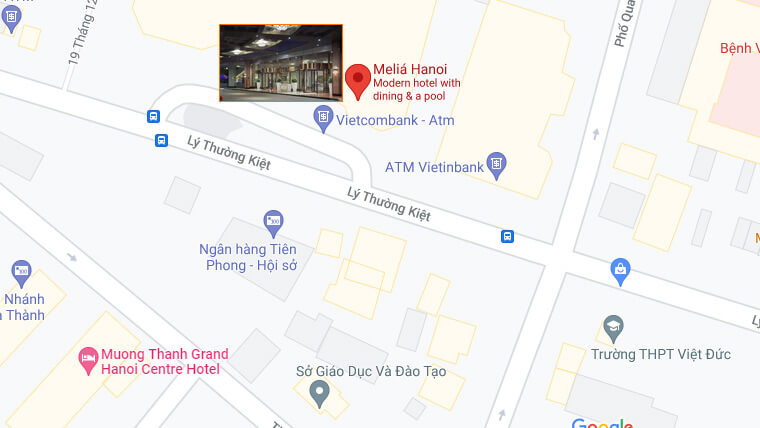 Melia Hotel in Hanoi on the map - Source: Internet
It is undeniable that Melia is one of the most sumptuous hotels in Hanoi, outstanding with the classic Western architecture combined with the modern and sophisticated design. It consists of full-equipped 306 rooms of different types, all of which are meticulously designed with luxurious space, providing a broad view of the street outside, which makes you "touch" the bustling atmosphere of Hanoi's streets.
In addition, the 22-story Melia Hanoi Hotel features a green space with plenty of green trees and flowers, creating a sense of comfortability and relaxation. It also owns two top-notch restaurants (El Patio restaurant and EI Oriental restaurant), a classy bar and lounge, an attractive outdoor swimming pool, high-class gymnastics, and a spacious meeting and conference room, which can meet all your needs.
Booking information:
- Check-in: 2pm
- Check out: 0pm
- Website: https://www.melia.com/vi/hotels/vietnam/hanoi/melia-hanoi
- Hotline: 02439343343
- Email address: rsvn@meliahanoi.com.vn
2 - How is the room quality of Melia Hanoi Hotel?
The hotel has 22 floors and 306 rooms, which are divided into 5 major room classes, all of which are completely equipped with modern conveniences and excellent services in accordance with worldwide 5-star standards. The Deluxe rooms feature either a double bed or a single bed; the remaining rooms have Super King beds. Floors 19 through 22 of the Melia Hanoi have first-rate service.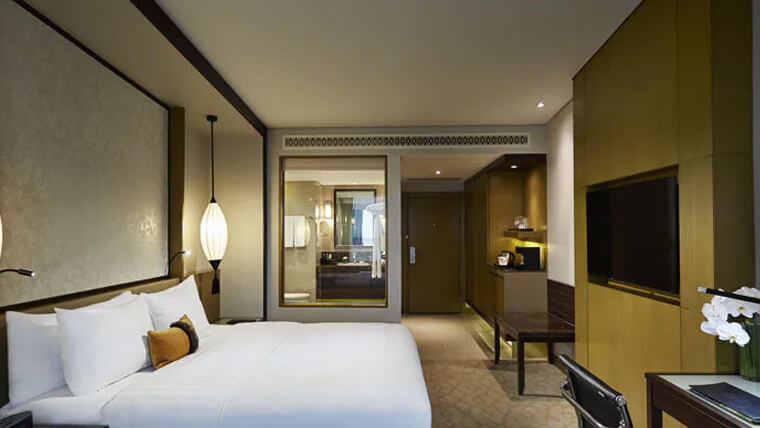 Rooms at Melia hotel - Source: Internet
Room rates:
- Deluxe King Room: From 3,300,000 VND/night
- Premium Room:From 4,800,000 VND/night
- Grand Premium Room: From 5,800,000 VND/night
- Premium Level Room: From 7,100,000 VND/night
- Level Suite: From 8,300,000 VND/night
3 - Melia Hanoi restaurants and bars
El Patio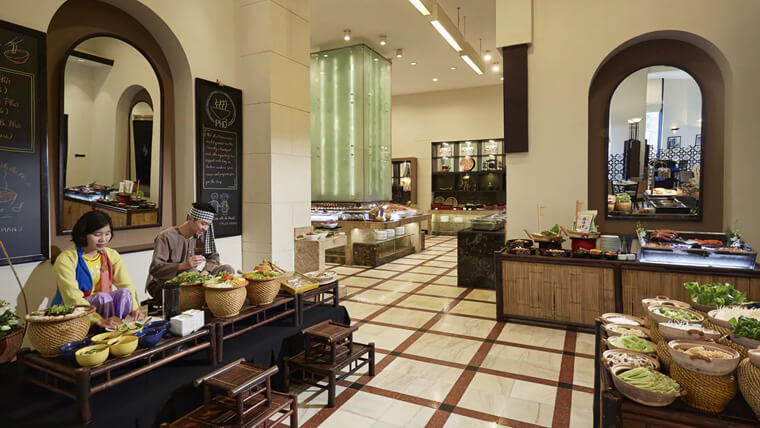 El Patio Restaurant - Source: Internet
El Patio restaurant specializes in international cuisine and was constructed in a Mediterranean style with Hanoi city characteristics such as a painting of Hoan Kiem Lake and street stalls along the street. The restaurant serves breakfast, lunch, and dinner. The buffet offers great seafood including lobster, oysters, king crab, beefsteak, sashimi from Japan.
- Price: 900,000 VND/person ($38)
- Opening hours: 6am - 0am
EL Oriental
El Oriental in Melia Hanoi Vietnam offers guests great food and an excellent eating experience in the plush restaurant with a nice view. The decor is primarily composed of wood and oak hues, creating a cozy atmosphere. The restaurant specializes in Thai and Vietnamese cuisine, with a variety of signature dishes such as oriental dawn salad, grilled dill crab, and snowflake fish salad.
- Price: 250,000 - 550,000 VND/ dish
- Opening hours: 11:30am - 2pm and 5:30pm - 10pm
Melia Deli
Deli Bakery in Melia Hotel in Hanoi is located on the ground floor, directly beside the El Patio restaurant. Fresh cakes, pastries, bread, cakes, and other delicacies are available at the restaurant. This is ideal for a light breakfast or a sweet afternoon snack for travelers.
Opening hours: 8:am - 9pm
Cava Lounge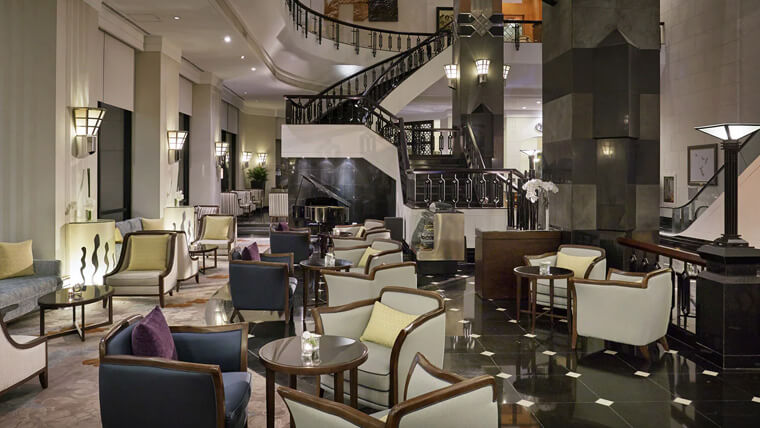 Cava Lounge bar - Source: Internet
Cava Lounge is the bar located on the ground floor of the hotel, next to El Patio. This Melia Hanoi bar is designed with a large space and gray paintwork which brings luxury and modern style. Guests can enjoy great cocktails in a chill atmosphere.
Price range: 50,000 – 200,000 VND/dish
Opening hours: 7am - 00am
4 - Healthcare services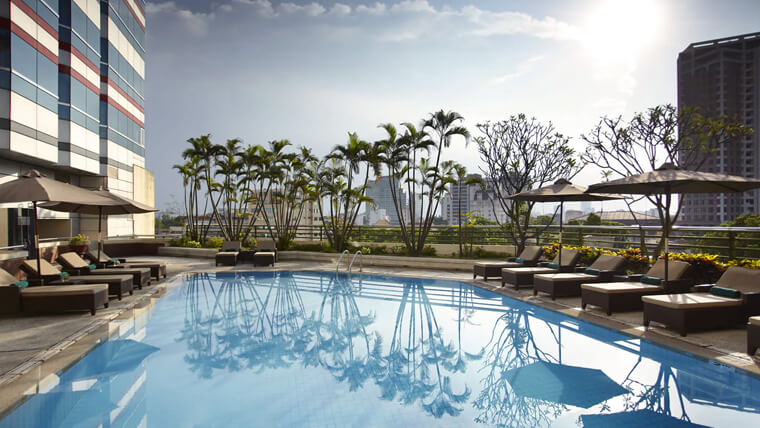 Outdoor swimming pool at the hotel - Source: Internet
You also experience professional healthcare services, including:
- Gym: open 24/7, with all kinds of modern equipment
- Outdoor pool: A nice outdoor pool surrounded by a fresh atmosphere is a great place to relax and swim.
- YHI Spa: YHI distinguishes itself with full-body therapy spa equipment that combines classic and contemporary treatments.
- Melia also has Hair Salons with high-quality services
5 - Party and conference room in Melia Hanoi Hotel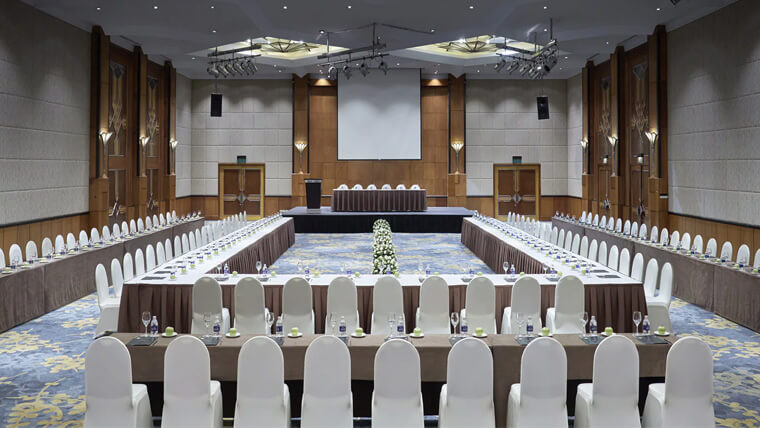 Conference room in Melia hotel - Source: Melia
Melia is known as a famous hotel offering great banquet and conference rooms with high-quality rooms and equipment, as well as professional service.
The conference room in Melia includes:
- Grand Ballroom: The largest conference room, can accommodate up to 1200 conference guests or 800 party guests
- Thang Long Ballroom: Can accommodate 540 conference guests and 360 party guests.
- 9 function rooms in Melia Hotel Hanoi can accommodate from 70-200 guests – suitable for small and medium-sized conferences and seminars
- Executive Boardroom: Located on the 12th floor, equipped with 12 leather executive chairs and panoramic city views. This is an ideal place for senior leadership meetings.
The average price for these rooms ranges from 9 million to 15 million VND.
With a prime location in the Hanoi Old Quarter, and high-end services from room to entertaining offers, the Melia Hanoi Hotel is highly recommended for both leisure and business travelers.