Sapa Vietnam is called a "meeting land between heaven and earth" thanks to its high-altitude location and scenic landscapes. Visiting Sapa, you can enjoy the splendid rice terraces, unique rope bridges, tiny houses of the ehnic minorities, and splendid colors at the fair markets,...
I - Where is Sapa Vietnam?
This is a misty town of Lao Cai province in the northwest of Vietnam. This mountainous town is about 38km from Lao Cai city and 376km from the Hanoi capital. There is no airport in Sapa, so it is impossible to take a flight to Sapa. Instead, buses and trains are the more popular ways to get there.
From Hanoi, it is highly recommended to take overnight trains from Hanoi train station, which takes about 7 hours to get to Lao Cai train station & 30 minutes to get to Sapa town. Another choice is to get a sleeping bus for about 5 hours, and you can get directly to the beautiful Sapa town.
II - Sapa Vietnam tourism
1 - Quick look at weather & best time for visiting
With an altitude of about 1,500 - 1,800m above sea level, and characterized by the mountainous & subtropical climate, the weather of Sapa is quite pleasant with an average temperature of about 15°C. In summer months, the temperature can be up to 25°C, and it can drop to below 0°C on summer days at the peak of winter. Snow in Sapa can appear on the coldest days.
Sapa Vietnam is an ideal place to visit nearly all year round. In which, the most enjoyable time to visit here is from September to November - time for trekking & hiking, from December to March - time for admiring the vast forests of blooming flowers & exploring the traditional festivals of the ethinic minorities, and from April to May - time for sightseeing when sky is clear, and climate is is warm and dry.
2 - A brief Sapa Vietnam travel guide
Sapa is truly an amazing paradise for traveling and relaxing on the Vietnam travel map. The spectacular beauty of landscape, the richness of culture from different ethnic minorities, rustic homestays and splush resorts make Sapa charming and stunning at all times of day and year.
For a quick tour to Sapa Vietnam, 2 days for visiting the top iconic spots is highly recommended. In 2 days, you can choose to visit top famous attractions such as Cat Cat village, Muong Hoa valley, Fansipan mountain by cable car.
For a long vacation here (from 3 - 5 days), you can spend more time trekking and experience culture. Apart from mentioned attractions, other must-see spots in Sapa Vietnam are Silver waterfall, Bac Ha market, Lao Cai border gate, and a wide array of small villages of ethnic minorities such as Lao Chai village, Ta Van village, Giang Ta Chai village, Ta Phin village,...
Fansipan mountain - the rooftop of Indochina with a height of 3143m, is one of the best mountains in Vietnam for hiking. The best time for climbing the mount is from late September to November, and from April to May.
3 - Sapa reviews from international tourists
Let's see what tourists said about Sapa Vietnam tourism:
- User Kevspain from the United Kingdom visited Fansipan Peak and left a comment on Tripadvisor which stated "From the cold mist of the valleys we ascended to the top of the mountain via cable car. We emerged through the clouds into a beautiful sunny morning overlooking the mountains and valleys which stood out below us. We were so lucky to have witnessed such views on a truly memorable day"
- User Mawa N from Campuchia after visiting Muong Hoa Valley in Sapa Vietnam left said "One word to describe this place is: Amazing. Rice terraces, the hills, the clouds, the river, are just beautiful. Do not want to go home. Definitely will return"
Above are 2 of many reviews of tourists who have been here and their experiences here.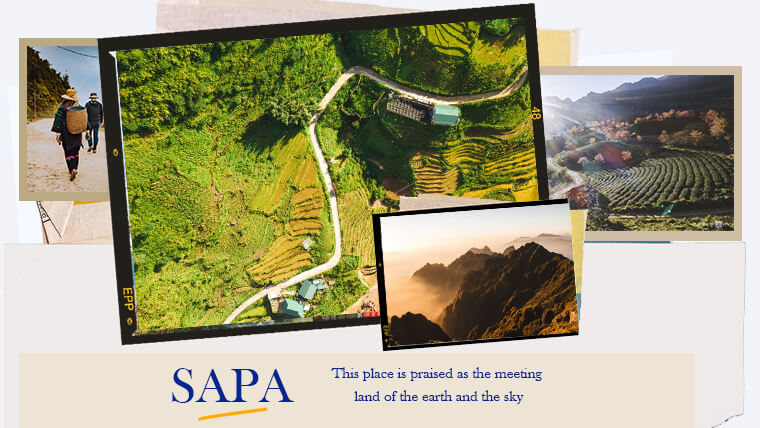 Sapa stunning landscape - Source: Internet
III - Getting around in Sapa Vietnam
In Sapa, it is so convenient and easy to take a taxi, or rent a scooter for getting around.
1 - Traveling by taxi
- Mai Linh Taxi: 0214 3 833 388
- Hung Vuong Taxi: 0214 3 855 855
- Hoang Hop Taxi: 0214 3 843 843
- Hai Yen Taxi: 0214 3 835 835
- Van Ngoc Taxi: 0214 3 758 758
- Thanh Cong Taxi: 0214 3 685 685
- Thien Hai Taxi: 0214 3 686 868
- Thuy Hoang Gia Taxi: 0214 3 775 686
2 - Self-driving with motorbike rental in Sapa Vietnam
Almost all hotels & hostels here offer scooter rental services at a price of about $7.8 per day. Some motorbike rental shops:
Sapa motorbike rental
- Address: Sapa Olympia Hotel - No.144 Thach Son Street
- Phone number: 0975 874 987
Sapa motorbike rental
- Address: No.1 Ham Rong Street
- Phone number: 0986 259 477
Hoc Ly motorbike rental
- Address: No.08 Hoang Lien Son Street
- Phone number: 0915 190 874
IV - A bit of Sapa Vietnam history
This land used to be a wild hill surrounded by a beautiful natural landscape. In 1905, this place was discovered, invested by the French, and developed into an ideal tourist resort. Over the past 100 years, this place has gradually become a favorite destination of tourists, attracted by both the beautiful landscape and the uniqueness of the indigenous culture.
Sapa is an ideal place for backpackers to hike and trek in northern Vietnam. Hope this brief can inspire you to have an awesome trip to visit sapa Vietnam.