Cat Ba - the pearl island is a well-known archipelago with gorgeous and untouched charm as well as its diverse culture. Located in the North-East of Hai Phong with a total area of about 20,000 hectares, Cat Ba is the biggest island out of the 366 islands on the Lan Ha Bay. This magnificent natural area might be on the must-see list of almost every traveler to Vietnam.
One of the most significant features of Vietnam Cat Ba Island is its biodiversity. About 16 species listed in the Vietnam Red Book and 114 species in the World's Red List have been discovered in the area of Halong Bay-Cat Ba archipelago. According to the criterion of biodiversity, Halong Bay-Cat Ba archipelago has a large number of rare species including ones under global conservation has proved itself able to be the World Heritage Site.
Even though tourism development has threatened the ecological integrity and biodiversity of the island, there have been many campaigns to raise awareness of environmental problems among tourists and locals. As a result, the island is becoming greener and greener. If you are a nature lover, you might be born to visit this island!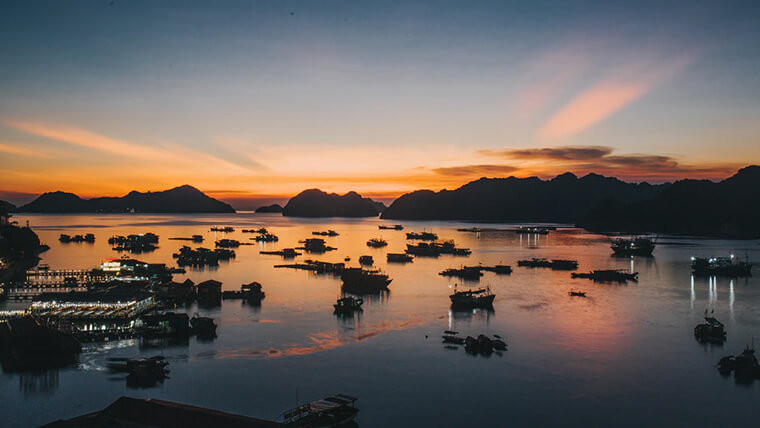 Sunset in Cat Ba Island - Source: Cole Keister
Moreover, its historical value is also an attractive point. Before being well-known as a rising star of the tourism industry, Cat Ba Island was inhabited mostly by Viet-Chinese fisherman and was largely influenced by both French colonization and the American war. The island was a strategic look-out point and bombing during the wars forcing local residents to hide among the Island's many caves. Today, the best reminders of the two wars such as Hospital Cave or Cannon Fort have been turned into tourist attractions.
Cat Ba island weather is always agreeable. The average temperature ranges from 25 to 28°C. Tourists should visit Cat Ba among late September to November because it is near winter time- top mildest weather. Cool wind along with little sunshine exalt the breathtaking beach and scenery surrounding.
Besides, if tourists want to experience the superb amazing feeling of basking in the sun then sinking under the cool sea, to visit this destination in the summer is the best choice. That is also the reason why during summer Cat Ba is always crowded. Moreover, an autumn trip there must be the most romantic. The air is fresh. The sea is crystal clear as diamond. Cool breeze blowing mildly from the sea eases up the sunlight. Each season, the island wears its own distinctive clothes. Therefore, anytime of the year, there always be a wonderful destination.
I - How to get to Cat Ba Island?
Many kinds of transportation that transfer you to Cat Ba regarding by air, by road, by train, by ferry, and by hydrofoil. They are all due to your start destination.
Notice that if you bring along baggage or vehicles to ferry, the cost may have some changes accordingly.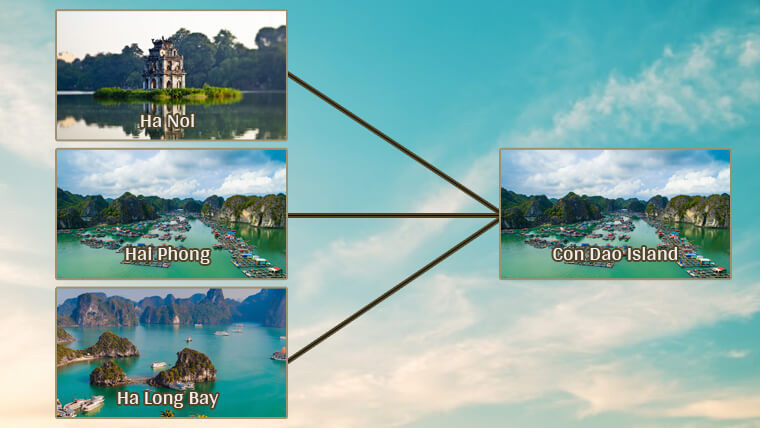 Hanoi, Halong, Haiphong to Cat Ba - Source: Internet
1 - From Hanoi
Tourists can easily travel from Hanoi to Cat Ba island by train, shuttle bus, tourist car or coach
It will take 2.5 hours to go by train. The ticket price is quite cheap, about $3 for a hard seat and $4 for a soft one. However, the train only carries you from Hanoi to Hai Phong City. From there, the only way to get to the Island is by ferry or speedboat.
With the shuttle bus to Cat Ba, you will spend less 1 hour traveling than by train. However, you will spend $4-8 for a ticket bought at the bus station. Your last destination is also Hai Phong City. Then you get to Cat Ba by speedboat or ferry.
Tourist cars or limousines will transfer you directly from Hanoi to the centre of the island lasting 3.5 to 5 hours without any postponing. This is the most convenient way, but the most experience one.
2 - From Halong bay to Cat Ba island
Up to now, there still has been no road going straight to the island from Halong bay. Therefore, if you start from Ha Long, you have to go to Tuan Chau - Cat Ba ferry or canoe. Then you will experience a 3.5- 5 hours trip by ferry to Gia Luan ferry terminal located on your last destination - Cat Ba town.
Ferry ticket: 80,000 vnd ($3.4) / way
The 7-12 seater canoe: 2,800,000-3,500,000 vnd ($120 - 150) / way
Reaching to Cat Ba, to save money you should take a local bus to town with the ticket price 40,000 vnd ($1.8). Calling a taxi is much more convenient and quick.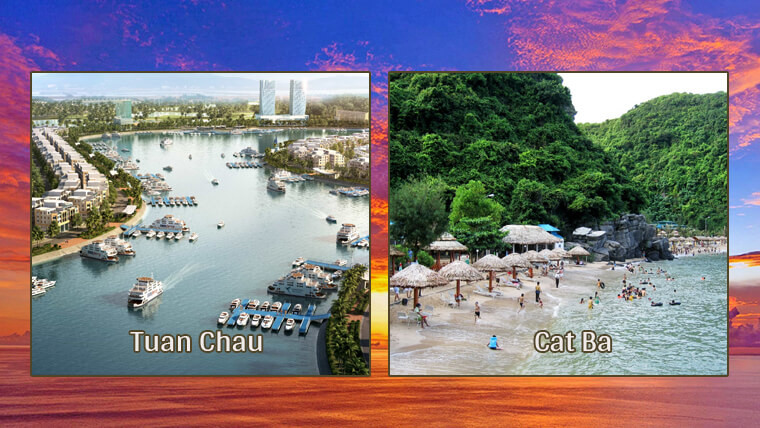 From Tuan Chau – Halong to Cat Ba - Source: Internet
Route and timetable:
Summer
Tuan Chau port - Gia Luan port: 7:30, 9:00, 11:30, 13:30, 15:00
Gia Luan port - Tuan Chau port: 9:00, 11:30, 13:00, 15:00, 16:00
Winter
Tuan Chau port - Gia Luan port: 7:30, 11:30, 15:00
Gia Luan port - Tuan Chau port: 9:00, 13:00, 16:00
3 - From Hai Phong
From Hai Phong to Cat Ba town, you can choose either of two following ways:
Speedboat or ferry: From Binh ferry terminal to Cat Ba: 45 minutes, cost 250,000 vnd (~ $11) / way.
Hai Phong - Cat Hai Island by driving over the Tan Vu - Lach Huyen bridge. Then take a ferry to Cat Ba with only 7,000 vnd (~ $0.3) /seat every 30 minutes from 4am to 11am, duration: 30 mins. Otherwise, you can choose a speedboat with 50,000 vnd (~ $2.2) / seat for an 8-minute trip to Cat Ba.
Ferry prices:
| | |
| --- | --- |
| Ticket types | Price |
| Traveler | 7,000 VND/person |
| Motorbike | 25,000 VND/bike |
| Under-9-seater car | 95,000 VND/car |

In addition, if you want to make an itinerary from Sapa to Cat Ba, you need to move from Sapa to Hanoi first, then catch a bus from Hanoi to Cat Ba.
II - Cat Ba Island things to do and see in
1 - Cat Ba National Park
One of the most exciting spots to visit here is the Cat Ba National Park - 152 km2 Special Use Forest (SUF) and also the World biosphere reserve. You can go trekking and discover huge natural forests by paying only 40,000 VND. Feel the fresh air, relax among the music of nature, enjoy the beauty of every flower, grass and tree, and meet various kinds of animals and birds. Just escape from a busy life, spend some minutes to know, understand and respect the wildlife. Especially, tourists will clearly feel the God-given sceneries when visiting Doi cave, Trang Trung cave and lots of famous destinations in the national park. More information about those places will be denoted in some of the next points.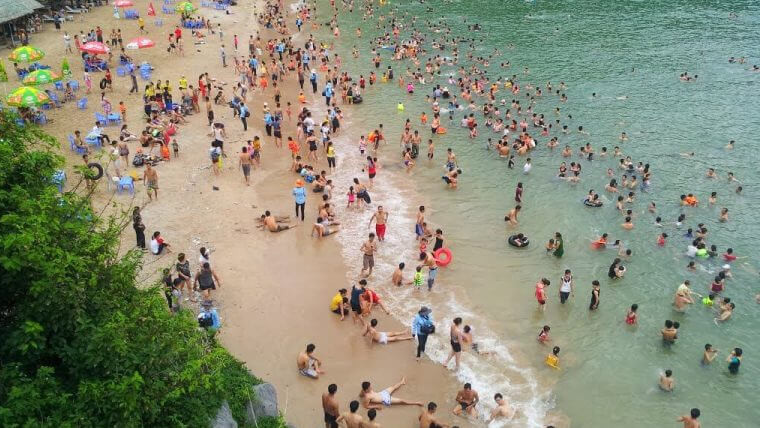 Cat Co Beach - Source: Vmtrip
2 - Cat Ba beaches
Traveling here, it must be so regretful to forget the beautiful beaches, especially Cat Co no 1, 2,3 and Tung Thu which are all located in the town. They are all amazing in their own way. However, if you don't have enough time to travel through all of them, try Cat Co 2 first. From the town's centre, spending a small amount of money, you can take any means of transport like motorbikes, taxi, or electric car to see Cat Co 2- top most beautiful beaches in South East Asia.
Right at the time you see the beach, tourists will be impressed by what a surprised scenery. It's quite crowded; however, you need to know why the beach attracts so many people like that. You will have the best time here. Therefore, by yourself, let's try and explore it, the secret will be revealed. Visitors also need to remember that before 6.30 pm, you should leave the beach to ensure safety because at that time the seawater rises higher and the tidal waves also become heavier as well.
3 - Lan Ha Bay
In the East of Cat Ba Island, there is a bay called "Secret paradise". Not too many visitors are familiar with the name Lan Ha bay. However, containing more than 400 beautiful islets with various shapes, Lan Ha bay is considered as one of the most wonderful bays in Vietnam. A tranquil picture of pristine colors. The green of trees covering each islet impresses viewers.
A blue sky along with turquoise seawater around. Winding white sand appears among the grey mountains as a brushstroke completing a painting. The bay is peaceful but charming like a pure and innocent countryside girl who hasn't been badly affected by anything from the outside world.
Among hundreds of islets, Sen Island, Cu Island and Monkey Island are some of typical destinations for you. Tourists will have chances to experience amazing activities especially diving and kayaking in Cat Ba bay because inside these places, seawater is so serene. Diving shows life under the sea surface. Meet diverse marine creatures, see the beauty of lively coral reefs which are needed to be protected immediately. Kayaking is also interesting to boat around and enjoy the landscape. There are 2 kinds of kayaking experiences. One is renting a kayak to take a look around. The other one is booking a kayaking tour which brings you to the most wonderful and famous destinations among Lan Ha bay.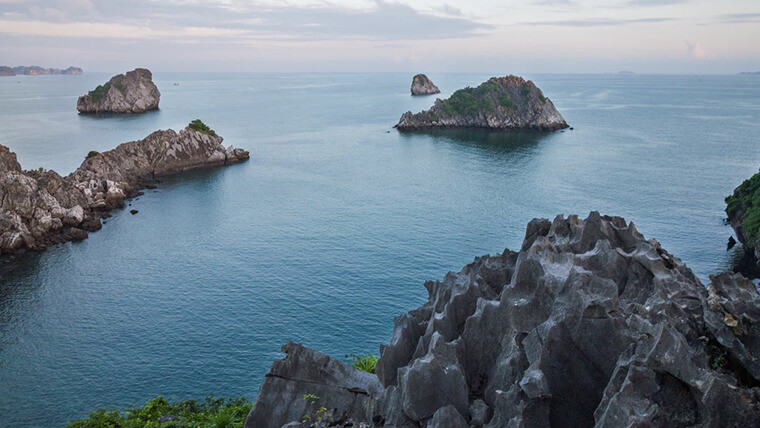 Monkey Island in Cat Ba - Source: Rowan Heuvel
4 - Cat Ba monkey island
Money island- Khi island is a part of Lan Ha bay. To see Monkey Island, you have to go 1 kilometer from Cat Ba town to Cai Beo fishing villages by boat. Monkey Island was known as Cat Dua Island (Pineapple Sand Island) because there are lots of pineapples planted in the sandy land here. However, lately, due to a number of monkeys found on this island, the name was also changed accordingly.
Most of the monkeys on the island are released by rangers, so they are not scared of humans. Sometimes those cute and playful monkeys make visitors startled. Therefore, they especially attract children.
The island beside Cat Ba National Park is also an ideal place to get closer to nature. However, if in the forest tourists can only enjoy the wildlife, in Money Island, visitors can organize several outdoor activities such as playing football and volleyball. Let's imagine, in a match, when you are going to kick a ball, a lovely monkey suddenly joins your team; he, instead of supporting you, steals the ball. There is nothing funnier than that. Therefore, the island is considered as a bridge between human life and the wildlife.
Furthermore, other kinds of interesting activities like Cat Ba hiking, swimming, going fishing, snorkeling and kayaking also bring amazing experiences for your trip. At least, as mentioned, you should try kayaking by yourself to feel the peacefulness here and also feel the beauty of the island as well as the surrounding islet in a lively way.
5 - Fishing village
There are two famous fishing villages known as quiet storybook hamlets that can help you to escape temporarily from the hustle and bustle in the center of Cat Ba island: Viet Hai village and Cai Beo village. Local people there are friendly, hospitable and kind (as most of Vietnamese). Visiting the villages, you have a chance to know more about the actual life and traditional culture as well the unique features of coastal villages. If you come there together with your group or family, it's a must-try to hire a little boat, go to the sea (with the help of local people), enjoy the immense ocean and experience the fishermans' work. Besides, you can also ask to stay at some local fishermans' home and live as them. They all will bring unforgettable memories.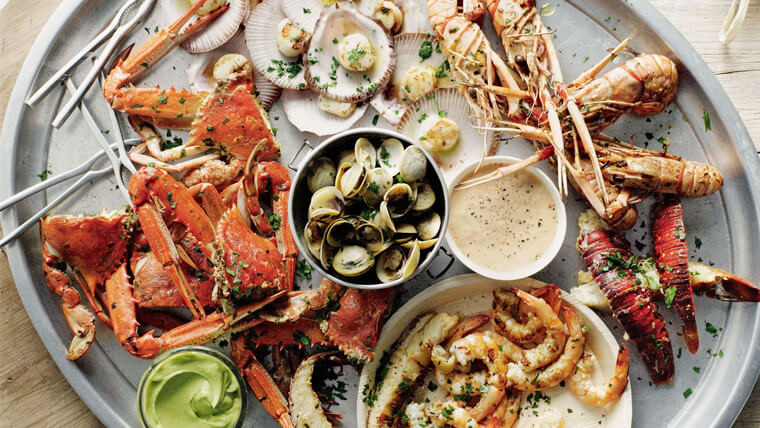 Seafood in Cat Ba - Source: GrandViet
6 - Seafood
Cat Ba is an island of fishermen. They are known for shrimp, clams, octopus and a variety of fish. If you get off the main strip, there are tons of great local spots where you can enjoy the best Cat Ba island foods with mainly part of fresh seafood dishes for a fraction of the price. The closer you get to the fishing ports, the better the food will be.
7 - Sunset on Canon Fort
Cannon Fort is also known as High Point 177 because it is 117 meters higher than sea level. Due to this location, Cannon Fort plays an important role in ensuring ocean security. That's also the reason why, from there, tourists can capture the most amazing moment when the sun is going down.
8 - Sing Karaoke on a Barge
This is an entertained must-do activity when you take a Cat Ba discovery. It can bring you a pretty good laugh and fun. I can tell you one thing; you don't have to be very good to try.
9 - Cat Ba butterfly valley


Cat Ba butterfly valley (Source: Vina)
People call Butterfly valley or Lien Minh valley "the heart" of the island because from the above it looks like a heart.
The name has already shown a lot about the valley. What can you find in this valley? Yes, welcome to the "paradise of butterflies". In each season the valley has its own special beauty. Spring and summer, when most of the flowers there blossom beautifully along with the ideal weather, several butterflies arrive in the valley. This will be the best time for tourists to see the romantic and tranquil picture by nature's creation. Some people might be allergic to butterflies or the pollen, so you should be careful.
Immersing in the paradise scenery is not enough. Visitors also can experience Cat Ba rock climbing in Butterfly valley. It might feel a little scary, nerve racking and risky at first. However, in the end, you will be champion when standing on the mountain's top. That's so amazing.
Tickets to the valley only cost 50,000 vnd- $ 2.2/ per person.
III – Famous Cat Ba restaurants
According to Tripadvisor, five restaurants below are the most-viewed restaurants in Cat Ba
Quiri Pub Cocktail & Restaurant
- Open time: 10:00 AM - 11:45 PM
- Address: Tung Dinh Streets No 135, Cat Ba 187380 Vietnam
- Cuisines: Seafood, Vietnamese, Gastropub, Street Food, Dining bars
- Special diets: Vegetarian Friendly, Vegan Options, Gluten Free Options
Casa Bonita
- Open time: 07:00 AM - 11:00 PM
- Address: 82 Nui Ngoc, Cat Ba 180000 Vietnam
- Cuisines: Cafe, Healthy, European
- Special diets: Vegetarian Friendly, Vegan Options, Gluten Free Options
Oasis Bar 2 and Bungalow
- Open time: 07:00 AM - 11:45 PM
- Address: 254 Street 1/4, Cat Ba 180000 Vietnam
- Cuisines: Bar, European, Asian, Vietnamese
- Special diets: Vegetarian Friendly, Gluten Free Options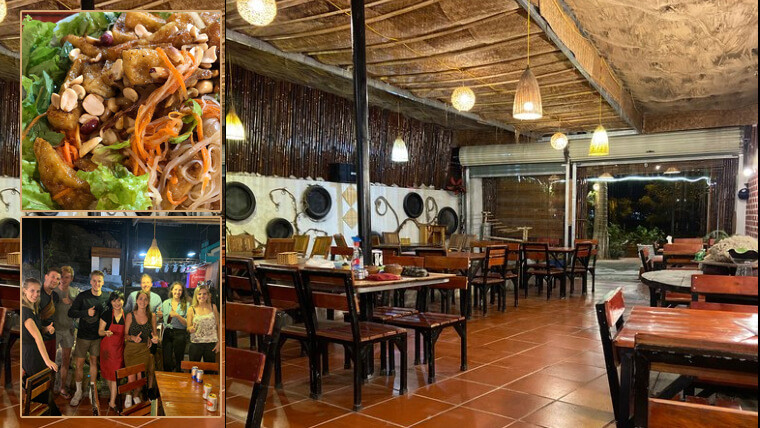 Vietnamese's soul food - Cat Ba (Source: Tripadvisor)
Vietnamese's soul food
- Open time: 08:00 AM - 10:00 PM
- Address: 131 Tung Dinh Street, Cat Ba Vietnam
- Cuisines: Cafe, Seafood, Deli, Vietnamese, Diner
- Special diets: Vegetarian Friendly, Vegan Options, Gluten Free Options
The Little Leaf
- Open time: 08:00 AM - 10:00 PM
- Address: 91 Nui Ngoc, Cat Ba 180000 Vietnam
- Cuisines: Cafe, Seafood, Vietnamese, Healthy, Street Food
- Special diets: Vegetarian Friendly, Vegan Options, Gluten Free Options
IV - Bars and Pubs in Cat Ba Island
Quiri Pub Cocktail & Restaurant
- Open time: 10:00 AM - 11:45 PM
- Address: Tung Dinh Streets No 135, Cat Ba island
Oasis Bar 2
- Open time: 07:00 AM - 11:45 PM
- Address: 254 Street 1/4, Cat Ba island
V - Cat Ba Island accommodation
Most tourists come to Cat Ba island by a package Halong bay tour with 01 more nights extended to come to Cat Ba Island to visit Cat Ba national park or Lan Ha bay or Monkey Island. Some tourists come to Cat Ba by going directly from Hai Phong city with a speed boat. Here is a list of the best hotels and best resorts in Cat Ba Island for you to choose.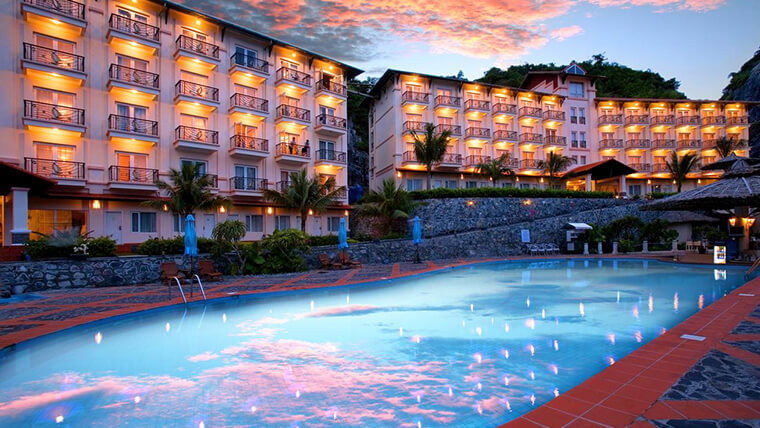 Cat Ba Island Resort & Spa (Source: Booking)
Cat Ba Island Resort & Spa
- Address: Cat Co 1, Cat Ba Island
- Room rate: $50/night
See more: Resorts in Cat Ba Island
Monkey Island Resort
- Address: Bai Tam 2, Cat Dua island, Cat Ba, Hai Phong, Monkey Island, Cat Ba archipelago
- Room rate: from $49.5/night
Catba Sandy Beach Resort
The resort lies at the 3 stars chain.
- Address: Cat Nam Island, Ben Beo, Cat Ba island
- Room rate: $42.43/night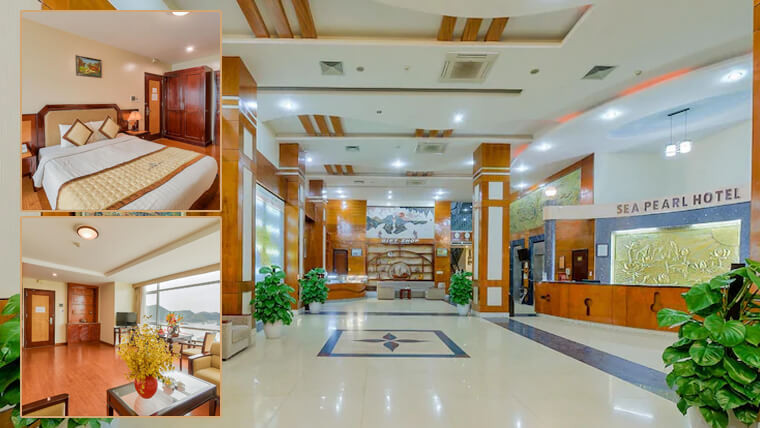 Seapearl Hotel Cat Ba (Source: Agoda)
Seapearl Hotel
- Address: 219, 01/4 Cat Ba town, Cat Hai, Hai Phong
- Room rate: from $30/night
Seaview Hotel
- Address: 220, 01/4 Cat Ba town, Cat Hai, Hai Phong city.
- Room rate: 700,000 - 1,200,000 VND ($30.43 - 52.17)/night
VI - Suggested itinerary for a perfect tour
There are so many different things to do on Cat Ba Island and most people spend around three days on the island. Below we made a three days itinerary which is, of course, just a suggestion.
Day 1
The first thing you should do at Cat Ba island is visiting the beaches as mentioned. You should take a tour through all Cat Co no 1, 2 and 3; however, if you do not have time, we highly recommend you go to Cat Co 2 because of several reasons as we mentioned above.
If you are afraid that the sunlight will raise the melanin inside your skin, don't forget to apply the sunscreen. If you want a bronzed skin tone, sun and wind will make your dream come true.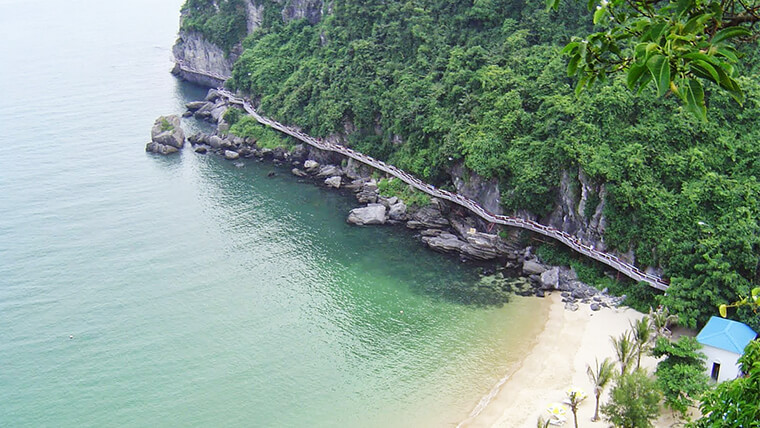 Cat Co - Source: Litcheetravel
After enjoying the beach, Cannon fort will be the next destination because as we mentioned above, in the must-do lists, you should leave the Cat Co 2 beach before 6.30 pm. Therefore, going to Cannon fort at that time will be perfect to admire the amazing sunset.
Then when the last light of the day disappears, you can find any restaurants and bars Cat Ba to enjoy fresh seafood and traditional cuisines.
Day 2
You should travel to Lan Ha Bay to take in the wonderful scenery. You can take a kayak tour to have an overview of the bay. Don't forget to arrive at Monkey Island, meet some playful monkeys, go diving to enjoy life underwater, go snorkeling or just simply go for a nice refreshing swim.
After a long day of Cat Ba tour, we think you should stop at one restaurant to try some unique seafood called 'Tu Hai' which contains a high level of nutrients.
Day 3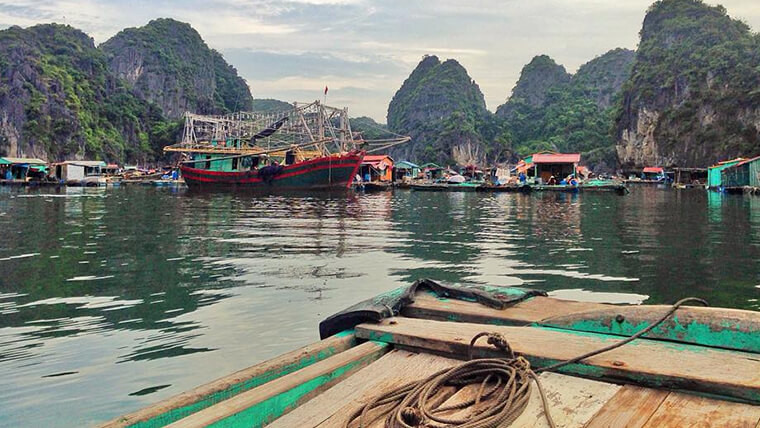 Cai Beo fishing village - Source: Internet
Visit Cai Beo fishing village. This village is considered to be one of the oldest coastal villages in Vietnam.
You will have a chance to hear many interesting stories from friendly local people, experience their life, learn how the professional fisherman catch fish and learn how to cook the delicious seafood.
If you are not interested in the daily life of local people there, you can take a different choice to visit Cat Ba Island National park. We have already shown that the park there is pristine. However, in case you love both of them, you can arrange the schedule to visit both the fishing village and Cat Ba National Park on the same day!
This island is a great ideal destination for beach and sea lovers. There are numerous Cat Ba island tours highly recommended to all tourists with a lot of interesting and exciting activities such as sightseeing, kayaking. diving, swimming,... From the local experience, booking a Cat Ba island cruise with all mentioned activities and food & accommodation services are the best choice to explore and enjoy.