I - Where is Vung Tau Vietnam located?
This city is located in the Southern region - only about 100km from Ho Chi Minh City. The weather here is characterized by a tropical monsoon climate with two distinct seasons: rainy season (May - October) & dry season (November to April). This city is less affected by storms making it a great place for traveling all year round. In general, the best time to visit Vung Tau city is in the dry season because the weather is more favorable with the beach fun activities.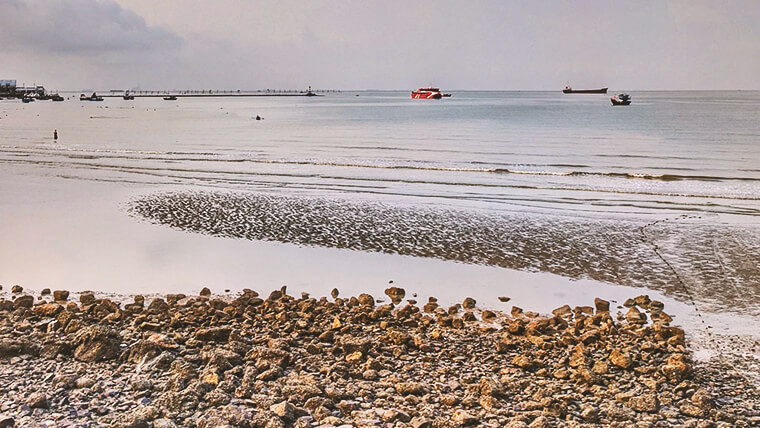 The rocky beach - Source: Aine Nguyen
The marine culture is a special highlight of the city. Some festivals that tourists should not miss if having a chance to visit and experience are Nghinh Ong festival (lunar August 16, 17, 18), Duc Thanh Tran's anniversary (lunar August 20), Ba Ngu Hanh Temple festival (lunar October 16, 17, and 18).
Vung Tau Vietnam is a coastal city and most of the local people live by fishing. Travelers are recommended to visit the beaches in the early morning to see how vibrantly a new day starts here.
- Area: 140,1km²
- Postal code: 780000
- Administrative units: 16 wards + 1 island commune: Wards of 1, 2, 3, 4, 5, 6, 7, 8, 9, 10, 11, 12, Thong Nhat, Thang Nhi, Thang Tam, Rach Dua & Nguyen An Ninh and Long Son Island Commune.
II - Top 6 attractions in Vung Tau Vietnam
1 - Con Dao Island
Con Dao Island is famous for Con Dao Prison - "hell" on earth shocking the world by the brutal torture and mistreatment acts against about 20,000 Vietnamese patriots for over 100 years. This is a historical relic associated with the traumatic past of the Vietnamese people during the war against the French and the Americans. It has been more than 40 years since the truth about this prison was exposed to the light, but when mentioning "Prison of Con Dao", many people still feel shiver and fear.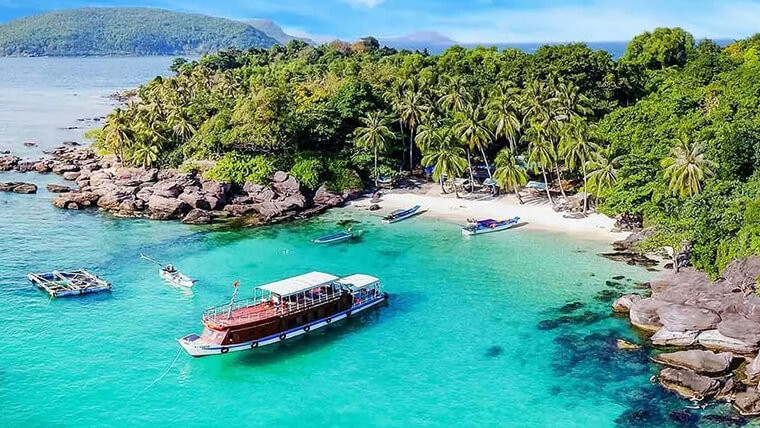 Con Dao Island - among the best attractions in Vung Tau city - Source: Saigontimestravel
Currently, the Vietnamese government takes advantage of the richness of nature here to build a new life, develop tourism,... step by step proceed to build a more developing Con Dao island. This is also the archipelago that owns many beautiful beaches that tourists should once get and explore.
2 - The charming beaches in Vung Tau City Vietnam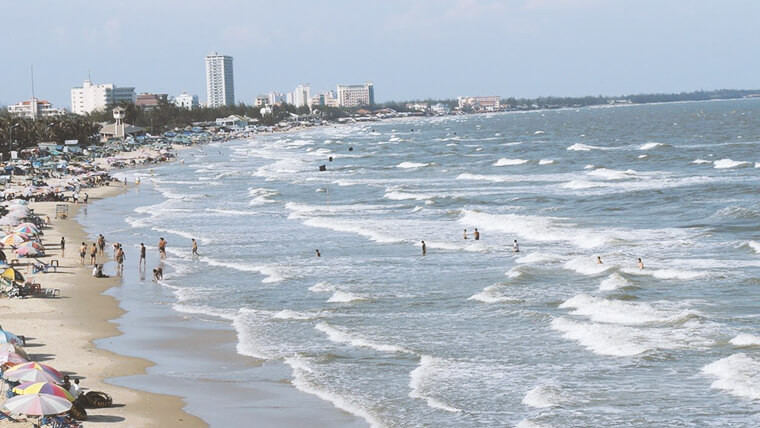 Back Beach - Source: Internet
This city is famous for its countless beautiful beaches and it is very flawed if you come here without immersing in the clear blue water, under the golden sunlight so all fatigue will fade away. Front Beach, Back Beach, and Vong Nguyet Beach are always the best beaches here.
Front Beach (Bai Truoc)
Front Beach or Bai Truoc or Tam Duong Beach in Vung Tau Vietnam owns a long and beautiful beach, clear blue water, so many people and tourists play and swim in the sea. The special thing is that at every sunset, many people gather here to admire the scenery and go for a walk along the coast, enjoying delicious seafood dishes.
Location: the beach stretches along the streets of Tran Phu, Quang Trang, and Ha Long
Back Beach (Bai Sau)
Back Beach or Bai Sau or Thuy Van Beach is a famous tourist spot in Vung Tau City. It stretches for nearly 10 km, it has smooth white sand, the water temperature is stable and the waves are very safe. Bai Sau has a semicircular beach with a modern coastal park, lots of green trees and a solid shoreline.
Vong Nguyet Beach
Vong Nguyet Beach is romantic, with a pristine beach and clear sea water at the bottom. However, to reach Vong Nguyet beach, tourists will have to go through a steep and dangerous trail.
3 - Vung Tau lighthouse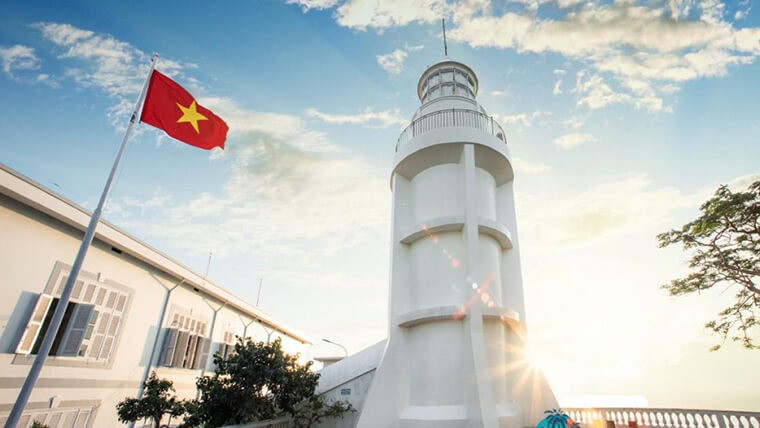 The iconic lighthouse - Source: Tranduy
The lighthouse, located on top of Small mountain, in Ward 2 - near Front Beach is a bright spot for ships and a symbol of this city. This lighthouse, built in 1862, is now one of the oldest lighthouses in Vietnam. To get here, you have to go through a tunnel and climb 55 spiral steps 170 meters above sea level. You should go in the evening to enjoy the colorful shimmering space.
Opening hours: 7am - 10pm
4 - Quan The Am Bodhisattva Pagoda in Vung Tau
This Pagoda is located on the roundabout of Big Mountain, about 500m from Dau Beach. This pagoda has a statue of Avalokiteshvara Bodhisattva holding a vase of Sweet-mist standing on the Lotus overlooking the East Sea, airy and pure space. From the pagoda looking out, tourists will see the wonderful beauty of Dau Beach.
Location: Tran Phu Street, Ward 5
5 - Niet Ban Temple (Vihara of Nirvana)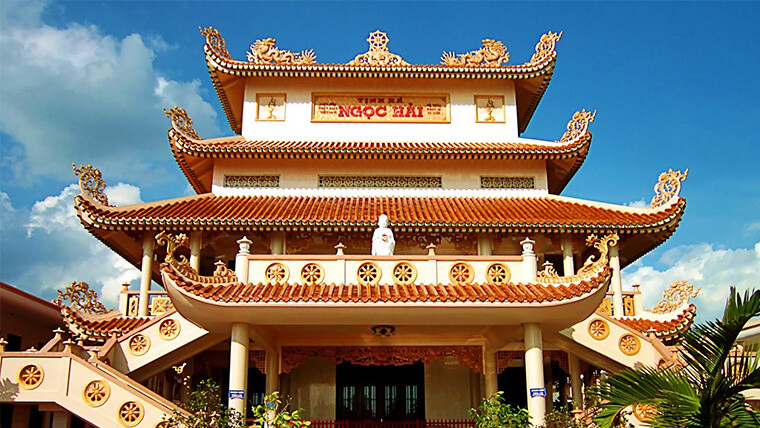 The Niet Ban temple - Source: Foox
Niet Ban Temple is one of the most beautiful and largest temples in Vung Tau Vietnam, located on the slopes of Little Mount in ward 1. This temple possesses modern architectural lines, with a reclining Buddha statue and Praija boat, facing the sea. Temple space always creates a feeling of peace and tranquility for tourists every time they visit.
6 - The local markets in Vung Tau City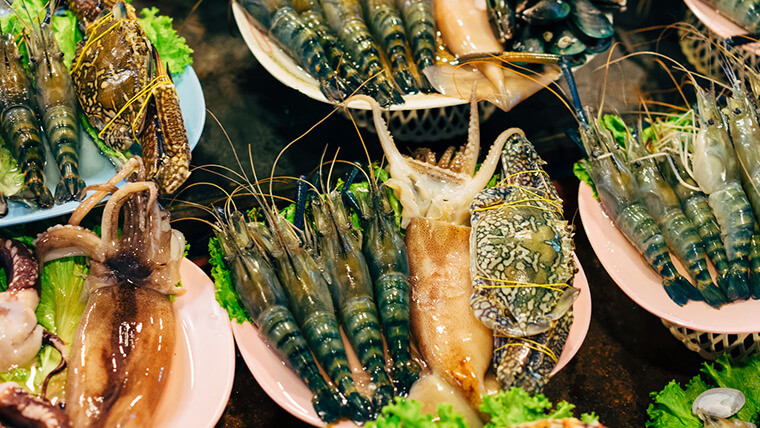 Fresh seafood - Source: Markus Winkler
The local markets are always the most ideal places for tourists to explore more about the daily life & culture of the locals. Some of the most popular markets in this city can be mentioned as:
Xom Luoi seafood market
- Location: Phan Boi Chau Street and Nguyen Cong Tru Street, Ward 1
- Opening hours: 6am - 6pm
Vung Tau Night market
- Location: Near Nguyen Bieu and Dao Duy Tu junction (behind the Imperials Hotel)
- Opening hours: 4pm - 3:30am
Co Giang Seafood market
- Location: Co Bac Street, Ward 4
- Opening hours: 5am - 6pm
Ben Da market
- Location: Tran Phu Street, Ward 5
- Opening hours: 6am - 6pm
III - Top 6 best things to do in Vung Tau Vietnam
1 - Watching the dog-racing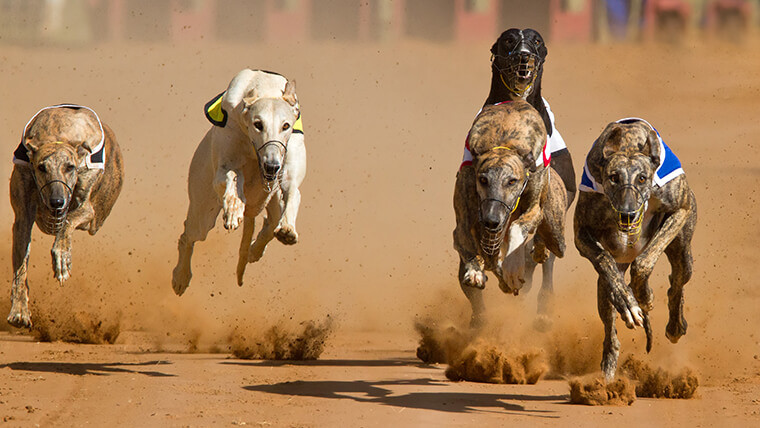 The interesting dog racing - Source: Timothyrhaslett
Dog racing is only held at Lam Son Racecourse. This is a new and unique recreational sport including fierce races from dogs with a 450m long track. The race attracts a lot of curiosity of tourists and the locals coming for relaxing and watching.
- Location: Lam Son Racecourse - No.15 Le Loi Street, Ward 1
- Time: 7pm - 10:30pm every Friday and Saturday.
- Ticket price: 60,000 VND/ adult ($2.6); 30,000 VND/ kid ($1.3)
- Website: http://duachovietnam.net
2 - Shopping in Vung Tau Vietnam
For fresh seafood, you should visit the local markets, while for more interesting souvenirs you should not miss:
Thanh Them Handicraft:
- Address: 8/3 Nam Ky Khoi Nghia Street, Thang Tam Ward
- Contact: 0919 250 919
Imperial Plaza Shopping Center:
- Address: No.159-163 Thuy Van Street, Thang Tam Ward
- Contact: 0643 526 688
3 - Enjoying Vung Tau food
Seafood is always the most outstanding food here. However, Stingray hotpot and Khot cake are also worth a try.
Seafood dishes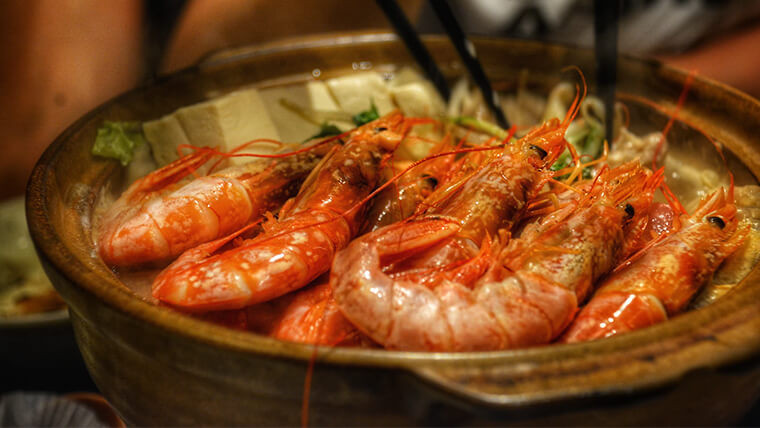 Top seafood dishes - Source: Jerry Shen
A beach city is the most ideal place to enjoy the finest fresh seafood in Vietnam. Some top dishes that you should not miss when you visit Vung Tau Vietnam can be mentioned as deep-fried stingray, eel hotpot, pineapple fish hotpot, grilled shrimp, steamed clams. Seafood restaurants or local markets such as Xom Luoi seafood market and Vung Tau night market are the best places to try.
Price: 40,000 - 200,000 VND / dish ($1.7 - 8.6).
Stingray hotpot
This coastal city is quite famous for stingrays. The firm stingray meat is served with some vegetables like bamboo shoots, bean sprouts & fresh green veggies; fresh rice noodles; and the hotpot broth. You can enjoy a stingray hotpot with price of 130,000 - 200,000 VND / pot ($5.6 - 8.6)
Khot cake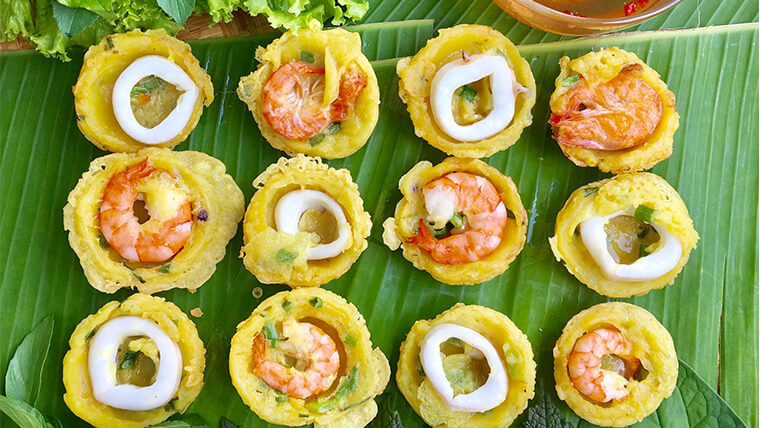 Khot cake - Source: Afamily
This cake is made from rice flour with fresh shrimp. It is served with some fresh vegetables, sliced ​​papaya and sweet and sour dipping sauce.
Price: 40,000 VND / portion ($1.7)
4 - Vung Tau golf courses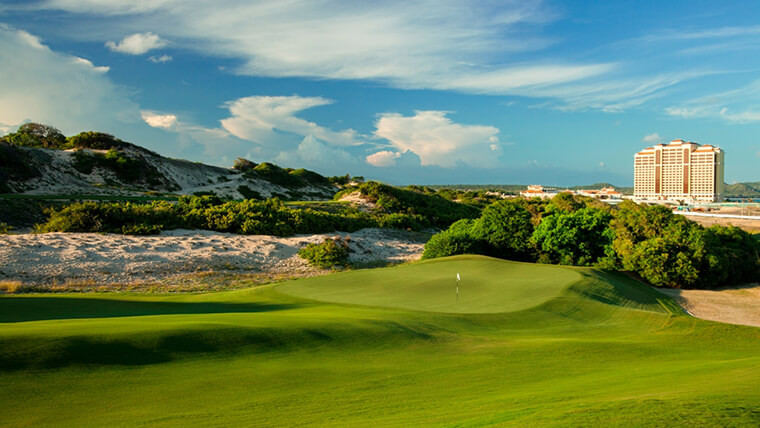 A beautiful golf course - Source: Golfnews
This city is famous for its golf clubs and many classy golf courses with great services.
The Bluffs Ho Tram Strip Golf Course
- Address: Phuoc Thuan commune, Xuyen Moc district
- Cost: 3,570,000 - 4,250,000 VND / person ($154 - 183)
- Contact: 02543 788 666
- Website: https://thebluffshotram.com
Paradise Golf Course
- Address: No.01 Thuy Van street, Nguyen An Ninh ward
- Cost:1,300,000 - 2,000,000 VND / person ($56 - 82)
- Contact: 0254 3853 428
- Website: http://www.golfparadise.com.vn
5 - Admiring the beauty of Vung Tau from above by helicopter
Traveling by helicopter is one of the most wonderful experiences when you can see the beauty of a nice beach city from above. A helicopter has 02 seats available for 01 pilot and 01 guest. There are several tours lasting from 15 minutes to 60 minutes offered to tourists. The helicopter takes you past some of the outstanding attractions in Vung Tau City such as Bach Beach, Christ Statue, Long Hai Beach, Lighthouse, Paradise golf course
Price list:
- A 15-minute tour: 3.5 million VND/person ($150)
- A 30-minute tour: 6 million VND/person ($258)
- A 45-minute tour: 9 million VND/person ($388)
- A 60-minute tour: 12 million VND/person ($517)
For more details, please visit http://www.helicoptertraining.vn
6 - Experiencing Vung Tau cable car
Ho May tourist site offers a great cable car service that connects from the ground to the peak of the Lon mountain which has an altitude of 210m above sea level. With a large transport capacity and 30 cabins, each with 8 seats, the travel by Vung Tau cable car from the sea to the top of the mountain takes less than 10 minutes. When taking the cable car, you have the opportunity to see the whole city and the immense blue sea.
Cable car ticket prices:
- Adults: 400,000 VND/2-way ($17)
- Children from 1m to 1.3m: 200,000 VND/2-way ($8.5)
- Children under 1m: Free
IV - Vung Tau map
Vung Tau Vietnam is a really nice destination to visit for days that is quite near Ho Chi Minh city. This city is recommended for beach joining beach activities and enjoying fresh seafood.