Located 300km from Hanoi capital, this province is now a tourist destination attracting a large number of visitors because of the majestic, magnificent landscape of the mountains and the gentle, pristine beauty of the flower hills. Let's explore this land right away through the Ha Giang travel guide with Local Travel Idea through the article below!
I - Overview
1 - Location
This province is located in the far northern mountainous region of Vietnam, close to many other famous tourist destinations such as Hanoi (about 300km), Sapa (about 250km), Ba Be Lake - Bac Kan (about 220km). This is known as the final frontier of Vietnam which is home to many ethnic minorities. This land is also a less-known tourist attraction due to the fact that it's a bit hard to reach and the topography mostly is high mountains and karst limestone ranges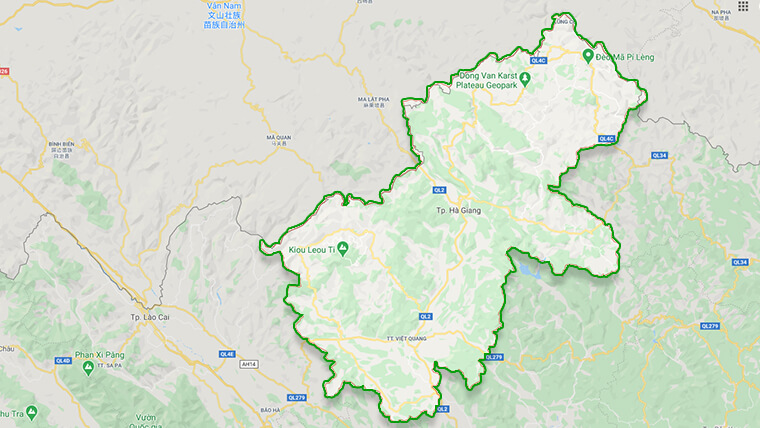 2 - How to get to Ha Giang?
From Hanoi
The way of getting to this northern final frontier is not so easy to go due to the rugged mountainous terrain. Having no trains and railway or flight route to here, traveling by bus or limousine bus is the most popular means of transportation.
Traveling by bus from Hanoi to Ha Giang, visitors can contact a number of bus companies such as:
Ngoc Cuong bus
- Pick up place: My Dinh bus station, No. 20 Pham Hung, My Dinh 2, Nam Tu Liem, Hanoi.
- Drop-off place: Ha Giang bus station, 19/5 street, Nguyen Trai ward
- Frequency: 2 flights / day: 12:30 - 20:30 and 20:15 - 4:15
- Ticket price: 60,000 VND / hard seat - 200,000 VND / bed ($3- 8.63)
- Contact: +84 904366279
Hung Thanh bus
- Pick up place: My Dinh bus station, No. 20 Pham Hung, My Dinh 2, Nam Tu Liem, Hanoi.
- Drop-off place: Ha Giang city
- Ticket price: 220,000 VND ($9.5)
- Contact: +84 90 225 2200
From Sapa
The distance between two destinations is approximately 240km (measured by kilometers along the road). The popular transferring ways are bus or motorbike.
Travel by bus from Sapa to Ha Giang, tourists can choose one of the following two bus agents:
Quang Giang bus
- Pick up place: Hotel in Sapa
- Drop off place: Ha Giang bus station
- Frequency: 2 flights / day: 7:20 - 15:30; 7:00 am - 4:00 pm
- Ticket price: 250,000- 300,000 VND (~ 10.8- 13 $)
- Contact: +84 943 696 611
Quang Tuyen bus
- Pick up place: Sapa Bus Station, Highway 4D, TT Sa Pa, Lao Cai
- Drop off place: Ha Giang bus station
- Frequency: 1 trip / day: 7:00 - 15:00
- Ticket price: 250,000 VND (~ 10.8 $)
- Contact: +84 979 110 111
Traveling by bus is relatively convenient, simply because tourists can choose the departure time and the price is relatively affordable.
3 - Best time to visit Ha Giang province
This province has a cool climate with lots of rain. There is frequent drizzle, fog and frost. In general, each season this province has its own unique beauty that tourists say "every season is beautiful". However, the best time to visit this province is the end of October and the beginning of November, when Buckwheat flowers are in full bloom.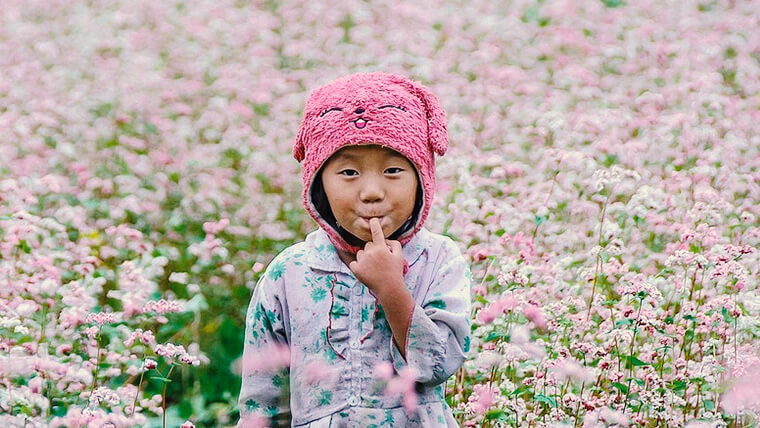 4 - Culture and people
This is home to ethnic groups such as Pa Then, Giay, Phu La, Co Lao ... with languages ​​such as Mandarin, Phu La... Also, there are many traditional festivals, Some notable festivals are:
Long Tong Festival: This is a festival of the Tay ethnic group, held on the first days of January to pray for good weather, prosperous life, and fertile crops.
Gau Tao Festival: The festival takes place from the first day to the full moon day of January every year, and is the most important festival of the H'mong.
II - Top Ha Giang attractions
Being well-known as the last frontier in north Vietnam, this mountainous region attracts thousands of travelers by its wild and pristine beauty. Having several attractions and tourist spots to explore, most popular and impressive are Lung Cu flag pole, Quan Ba heaven gate, Dong Van town and karst plateau geopark, Nho Que river, Ma Pi Leng pass, Tu San abyss…All of them are connected by the rolling high mountains and winding long roads. It is tough to drive these roads but definitely worth visiting.
1 - Lung Cu flag tower
Lung Cu flag pole located on the top of Dragon mountain, Lung Cu commune (Lung Cu meaning where the dragon lives), is a flagpole higher than 30m (including the column). Although the Lung Cu flagpole is located about 2km from the northernmost point of Vietnam, this place has always been considered a symbol of Vietnam's sovereignty.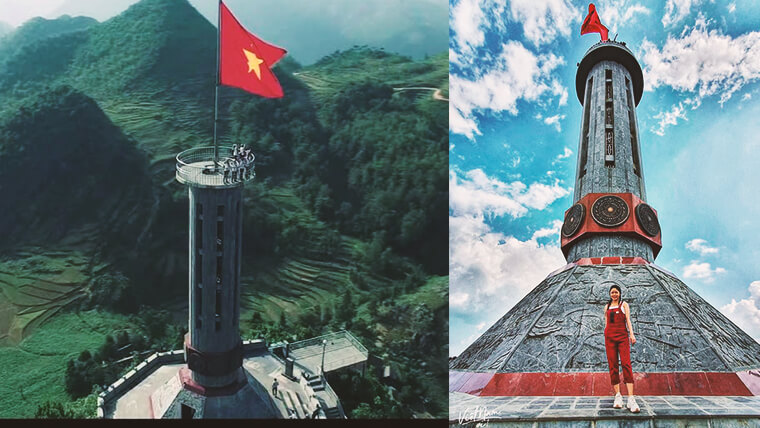 Source: Vietnamoi-Yan & R.D Flycam
2 - Cultural and historical attractions in Ha Giang
The Vuong family house
The palace of the Vuong family is also known as the mansion "King Meo" with an area of ​​3,000m2, built in 1898 and inaugurated in 1907, the construction cost of 15,000 Dong Duong white silver - equivalent about 150 billion dong today ($ 646,552). The mansion was fortified as a fortress capable of defending. This place also preserves many ancient architectural features that prove the new prosperity of the Vuong family such as: the diaphragm, the entrance to the public roof, the tile roof, the floor, the stone pillar with the shape of a poppy fruit, ... Here, visitors will partly understand more about the culture as well as the lifestyle of the Vietnamese people - the former Northern mountainous region.
Address: Sa Phin commune, Dong Van district.
The Provincial Museum
Ha Giang Provincial Museum is located on the main road of the city, designed as a lotus radiating fragrance in the blue sky. This place has booths displaying artifacts such as bronze drums, traditional costumes of the ethnic groups long settled here, stone artifacts from prehistoric times and many objects of cultural value and other history.
- Address: Tran Hung Dao, Tran Phu Ward.
- Ticket price: Free
- Opening hours: 6am - 10pm
Dong Van Ancient Town
Dong Van Ancient Town was the living place of the H'mong, Tay and Chinese people in the early years of the 20th century. Later, perhaps the presence of the Dao Kinh people made the neighborhood more bustling with about 40 houses. The old town space is still quite intact with many ancient architectural features, covered with moss. Visitors can also enjoy the dishes of indigenous people such as: thang-den cake, au-tau porridge, corn wine, thang co, Bac Me bamboo cooked rice, ... or shop for souvenirs and sip a cup of coffee at the Ancient Town Coffee Shop.
If visiting on January 14,15,16; March; June; September; In December of the lunar calendar, tourists can also enjoy many performing arts activities and can choose to buy a brocade set. Especially to get to Dong Van Ancient Town, tourists will have to cross the winding pass road with many bends of sleeves, which is also an experience that many tourists love.
3 - Natural landscapes
This final frontier is the landscapes of high rocky mountains, limestone and granite outcrops and breathtaking natural sceneries is mind blowing at first sight. Traveling here means taking a loop with tons of Ha Giang things to see along the loop route such as:
Dong Van karst plateau geopark
Address: Dong Van rocky plateau is located in four districts of Quan Ba, Yen Minh, Meo Vac and Dong Van.
Dong Van rocky plateau has a majestic and pristine beauty. Many tourists call it the "gray paradise". This place is a historical demonstration of the development and change of the earth's crust over millions of years with many different geological - strata. From here, visitors can easily "collapse" the majestic natural scenery of the Northwestern mountains and forests hidden in the fog and clouds. Then spend time exploring the Trinh Tuong house of indigenous people built from the main material of soil but with bright natural colors and it's relatively solid.
Quan Ba ​​Heaven's Gate
Address: Located on Highway 4C, Quan Ba ​​district.
Located at an altitude of 1,500 meters, the gate or the way to the sky is an ideal stopover for a marvelous Ha Giang loop tour. This is the area between two mountain peaks and a small space just enough for a road to run through, viewed from below it's like a "gate to heaven" which separates the natural boundary between heaven and earth.
From here, visitors can easily enjoy a panoramic view of the Northwest from above with green mountains, golden rice fields, cloudy clouds or small gleaming houses. This is also a sacred place for indigenous people with the belief that "Heaven's gate is the convergence of the spirit of earth and heaven. healthier."
Ma Pi Leng Pass
Address: Highway 4C, Dong Van district.
Ha Giang's most breathtaking pass is located on Hanh Phuc street with a length of about 20 km. This place is known as the most dangerous pass in Vietnam. Especially if you come here in the fourth lunar month of every year, visitors will have the opportunity to participate in the Khau Vai love market, discover and better understand the culture of ethnic people here. The market is a meeting place for couples who are interested in each other but have no desire to become husband and wife.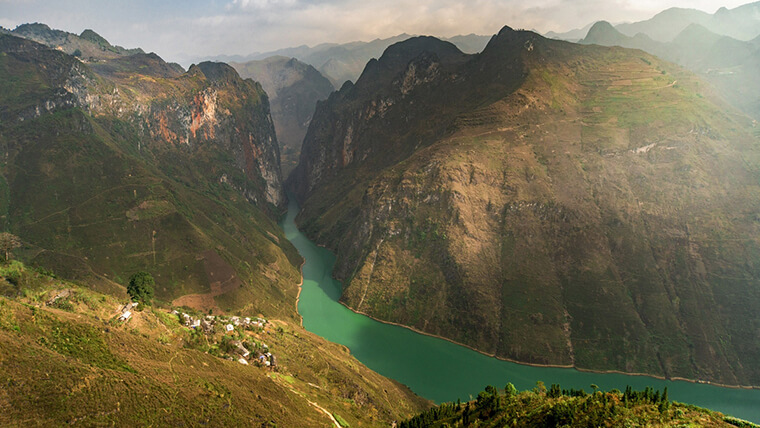 Tay Con Linh Peak
Address: located in the west, stretching over two districts of Hoang Su Phi and Vi Xuyen
Tay Con Linh Peak is the roof of the Northeastern mountain forest - one of the highest mountains in Vietnam. Conquering this mountain peak is considered to be much more difficult than conquering Mount Fansipan because the road to the top of Tay Con Linh Ha Giang mountain is very remote, dangerous and has not yet been formed.
Nho Que River and Tu San abyss alley
Nho Que River is a very beautiful river with the water color always green as jade. The river area flowing through the pass has the majestic Tu San abyss alley - the deepest canyon in Southeast Asia. For those who love adventure travel, this will certainly be a place not to be missed, some activities that visitors can experience such as: Rowing upstream to explore Tu San - deep alley Southeast Asia is the largest with an altitude of 1,500 meters and a depth of 700 meters, and a panoramic view of the Nho Que River from above is the Sam Pun range (Thunder in ethnic languages) and the other side is Ma Pi Leng Pass.
4 - The villages of ethnic minorities
If you have time to visit all the villages of ethnic minorities in Ha Giang province, you will surely be overwhelmed by the creative ability and use of natural materials of the people here. There are not only stilt houses, communal houses, but also houses with earth walls (the main material is earth) with leaf roofs, stone roofing houses, ... Or the fences using steady and solidly stacked crushed stones ... It is the simplicity in using materials, the creativity in the application that has attracted visitors here.
In particular, each village for each ethnic group has different traditional costumes. Colorful brocade outfits that always attract tourists such as: Co Lao ethnic group - the outfit is bright red; Phu La people - green and blue are the main color; the unique patterns on the Giay ethnic costumes,
5 - Hoang Su Phi terraced fields
Address: Communes of Ban Luoc, San Sa Ho, Ban Phung, Ho Thau, Nam Ty and Thong Nguyen.
Hoang Su Phi terraced fields are considered to be the most beautiful in Vietnam with a long history of hundreds of years of reclamation of many generations of ethnic minorities. For La Chi people in Ban Phung commune, this is the result of the whole process of tireless work of their ancestors, an invaluable asset passed down from generation to generation.
III - Things to do in Ha Giang
1 - Take pictures with flower fields
When travelers come here, they will definitely not be able to ignore taking pictures in the fields of triangular flowers - "specialties" of this land already. The triangular circuit season here starts from October to the end of November and you can easily find this flower field in many places such as Sung La, Lung Cu flagpole, Dong Van, Pho Cao, Ma Lé ...
Besides the vascular triangle, other flower hills such as peach blossoms, plum blossoms around March, wild chrysanthemums around August and September, and yellow canola flowers in December also have a passionate beauty.
2 - Enjoy the specialties of the ethnic people
Thang co
Thang-co means "bone soup". The composition of a pot of victories is mainly bones, meat, and viscera of cattle and horses. This is the traditional dish and specialty in the list of famous Ha Giang food..Mong men go to Dong Van market to have a bowl of Thang co and drink a few bowls of wine with friends.
- Price range: 50,000 VND / bowl (~ $ 2.15).
- Address: Thang's specialty can be found in markets
Rice rolls
Unlike conventional rolls that use fish sauce, the rice rolls are dipped in a simmered bone broth, creating a unique combination. If in Hanoi, rolls are often dipped with fish sauce mixed with spices, cakes here are often served with bone broth, chicken eggs. When eating, diners can feel the sweetness of the bones, the fatty taste of meat, the crispy mushrooms, the fragrant egg yolks and the aroma of onion and coriander. All create an unforgettable taste only here.
- Place for enjoy: Mrs. Bich rice rolls
- Address: 29 Ancient Town, Dong Van
- Prices range from 30,000 VND - 40,000 VND (~ 1.3-1.7 $)
- Opening time: 06:00 - 12:00
Bac Me bamboo cooked rice
Besides specialties, Bac Me bamboo cooked rice is also a very popular dish for tourists who visit Ha Giang. This is a dish with a fairly sophisticated preparation and process that requires carefulness and meticulousness by the chef. The rice is put in a blue tube with water and then grilled on a charcoal stove until it is done, the aroma of the blue tube blends with the rice when eaten with sesame salt.
- Address: Bac Me lam rice specialties can be found in markets
- Price: 5,000 - 10,000 VND / tube (~ 0.25 - 0.43 $).
Some of the popular restaurants in Ha Giang Vietnam:
Al Forno Italian Restaurant: The restaurant specializes in serving Italian dishes such as Pizza, French fries, ... in addition, there are also Vietnamese and Israeli-style dishes serving the dining needs of tourists.
- Address: 3-2 House number 45, Group 3, Dong Van 310000 Vietnam
- Prices range from: 70,000 - 350,000 VND (~ 3- 15.1 $)
Quang Dung restaurant: Vietnamese dishes restaurant: Specializes in serving special Vietnamese dishes such as bread, rice, rice rolls, fried dishes.
- Address: 19 Ancient Town, Dong Van, Vietnam
- Price: From 50,000 VND and up (~ 2.3 $)
3 - Going to Khau Vai love market
Time: 27/3 of lunar year each year
Khau Vai Love Market, also known as Phong Luu love market, is a dating place for couples to meet, ask about each other's health and life or drink a few cups of wine together. This is a fair that celebrates the pure love of a couple and has the power to spread in the community. This interesting experience has attracted many tourists coming to feel and explore the atmosphere filled with love of this place.


IV - Necessary information
1 - Getting around
Tourists can choose to explore by car, motorbike or easyrider by contacting the service providers below.
Ha Giang motorbike rental services:
GIANG SON
- Address: Km 3 Cau Me, City
- Contact: +84 988 470 863 - +84 94 171 99 55.
HANG THUONG
- Address: 15B Pham Hong Thai, Group 17, Minh Khai Ward.
- Contact: +84 398 399 888 hoặc +84 836 399 888 (Mr Thuong).
Motorbike with drivers service:
Ha Giang Backpacker
- Website: Backpackerhagiang.com
- Contact via whatsapp: +84936345111
- Prices range from 500,000 VND to 700,000 VND (~ 21.5- $ 30.20)
Car rental services
Minh Anh Vehicle Company - Specializes in car rental from Hanoi with vehicles from 4 to 45 seats:
- Address: Room 404, Don Nguyen 1, Phu Thuong Ward, Tay Ho District, Hanoi
- Contact: +84 976 11 89 89 or +84 963 5822 33
- Price: Contact the company for advice
Vietsense Travel Company - Ha Giang tourist car rental company from Hanoi:
- Address: No. 88 Xa Dan - Dong Da District - Hanoi
- Contact: +84 982 691 919
- Price: Contact the company for advice
Note: You should rent a car to travel with a driver instead of driving yourself, because the pass roads here are extremely dangerous. Only drivers who regularly travel on this road can afford to handle abnormal situations.
2 - Famous tour operators
For those who want to explore on a package tour with a tour guide, you can contact some of the following travel agents:
MR LINH'S ADVENTURES
- Address: 83 Ma May street, Hoan Kiem district, Hanoi
- Contact: (+84) 243 6425 420
- Price: 21.350.000 VND (~920.85$)
Jungleman Ha Giang Tour
- Address: 39 Hai Ba Trung, Nguyen Trai, Ha Giang
- Contact: +84 376796999
- Price: from 800.000- 2.400.000 VND (~34,5- 103,5$)
Qt motorbikes and tours
- Address: Lam Dong, Phuong Thien, Ha Giang city
- Web: https://qtmotorbikesandtours.com.vn/
- Contact: 84 (0)975 278 711
- Price: Contact the company for details
3 - Itinerary for Ha Giang loop guide
Suggested itinerary for you as follows: Ha Giang city - Quan Ba ​​- Yen Minh - Lung Cu - Dong Van - Meo Vac - Du Gia - Ha Giang - Hoang Su Phi.
The best way for a rich experience is via motorbike tour. At some stopovers like Quan Ba, Yen Minh, Dong Van, Ha Giang trekking or hiking tours are suitable and much more amazing with a local guide.
From Hanoi or Ha Giang city, you can rent a quality motorbike with the price of about 10USD per day and start your own trip to the true heaven on earth in Northern Vietnam. Normally, to the loop by car or motorbike, it takes at least 3 days 2 nights. The best time for a loop or trekking tour is in the dry season from November to March.
In particular, Hoang Su Phi is a remote district located in the west of Ha Giang city, so this place takes 2 days for a seperate trip. The best time for Hoang Su Phi is in late September when the rice terraced fields are filled up with shiny yellow color.
4 - Ha Giang accommodation
The main forms of accommodation here are hotels and motels. Some of the hotel addresses that tourists love here are:
Huong Thao Hotel
- Address: No. 350 Ly Tu Trong Street
- Phone: 097 612 51 52
- Prices range from: 230,000 - 350,000 VND (~ 9.9- 15.1 $)
Kiki's House
- Address: 134B Ly Tu Trong, Tran Phu
- Phone: 098 890 39 90
- Prices range from: 80,000 - 330,000 VND (~ 3.45- $ 14.24)
5 - Important contact phone numbers
- Police: (+84) 0692429163
- Emergency: 115
- Search to rescue: 112
It is hoped that information about Ha Giang travel - a beautiful land located in the North Pole of Vietnam with a fresh, cool climate, countless beautiful scenes and unique cuisine are helpful to you in conquering this northern frontier land.