Hanoi is in the top 17 of the largest capitals in the world, with an area of 3.358,6km² after being expanded in 2008. This is the headquarters of Vietnam, with many cultural and entertainment venues, many traditional craft villages, festivals and unique cuisine. This is also an interesting destination with 4 distinct seasons, each of them has a different beauty, which attracts tourists and evokes the question "Where is Hanoi?"
I - Where is Hanoi located geographically?
As one of the five cities directly under the central government of Vietnam, Hanoi is also the capital, located to the northwest of the center of the Red River Delta and adjacent to 8 provinces. To the north of this city are Thai Nguyen and Vinh Phuc, to the south is Ha Nam, to the west is Phu Tho, to the southwest is Hoa Binh, and to the east are Bac Giang, Bac Ninh and Hung Yen provinces. The weather here is typical of the Northern tropical monsoon climate, with four seasons - hot and rainy in summer, cold and dry in winter, but overall convenient for travel all year round.
Where is Hanoi on the map of Vietnam - Source: wikiperdia
Hanoi has a fairly dense system of rivers and dykes, creating two main regions: the low and flat plains in the inner city, and the mountainous areas concentrated in the north and west of the city. The core of this city includes 12 districts: Hoan Kiem, Ba Dinh, Cau Giay, Dong Da, Ha Dong, Hai Ba Trung, Hoang Mai, Long Bien, Tay Ho, Thanh Xuan, North and South Tu Liem. These are all urban-districts of Hanoi, located within a radius of about 10km from the center being Hoan Kiem Lake; meanwhile Son Tay Town and suburban-districts are located further away.
- Postal code: 100000
- Timezone: GMT+7
II - How to get to Hanoi?
1 - Getting to Hanoi by plane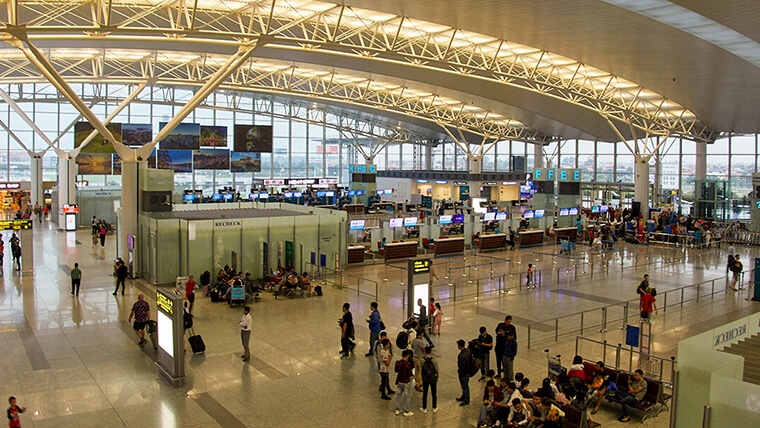 Where is Hanoi main airport - Source: themangoroad
Airplanes are being chosen as a means of transportation to Hanoi mainly because of its speed and convenience. You will land at Noi Bai airport, which is located about 25km from the city center, at Phu Minh Commune in Soc Son Province. You should book tickets early, a few months to 15 days before departure, and avoid peak hours to receive more favorable fares. The IATA and ICAO codes of this airport are HAN and VVNB respectively. Noi Bai International Airport connects with many provinces of Vietnam and countries around the world, very convenient for you to travel around.
- Domestic routes: Ho Chi Minh City, Hue, Danang, Dalat, Phu Quoc Island, Nha Trang, Buon Ma Thuot,
- International routes: Bangkok, Beijing, Busan, Chiang Mai, Doha, Delhi, Frankfurt, Fukuoka, Guangzhou, Hongkong, Istanbul, Kaohsiung, Kuala Lumpur, London, Singapore, Seoul, Taipei, Tokyo,...
2 - How to go to Hanoi by train?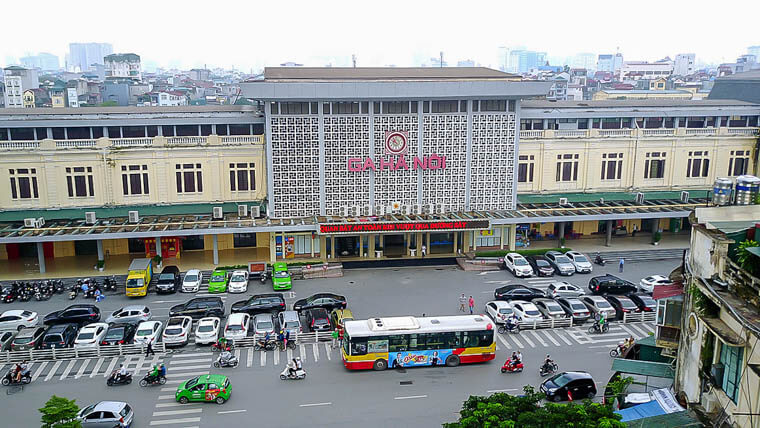 Where is Hanoi train station- - Source: dangcongsan
Train is also a means of transportation that many people choose to go to Hanoi, especially convenient after visiting other places in Vietnam. On the way, you can leisurely admire the scenery through the window, best for those who are not under pressure of time because usually the duration will be longer than flying. Hanoi Railway Station is located at no.120 Le Duan Street, belonging to Van Mieu Ward, Dong Da District, about 2km from Hoan Kiem Lake. It has a rail link to Beijing (China) and many European countries, acting as the traffic hub of Vietnam connecting to 5 domestic railway lines, including:
+ North - South Railway
+ Hanoi - Lao Cai Railway
+ Hanoi - Quan Trieu Railway
+ Hanoi - Dong Dang Railway
+ Hanoi - Hai Phong Railway
3 - How to get to Hanoi by bus?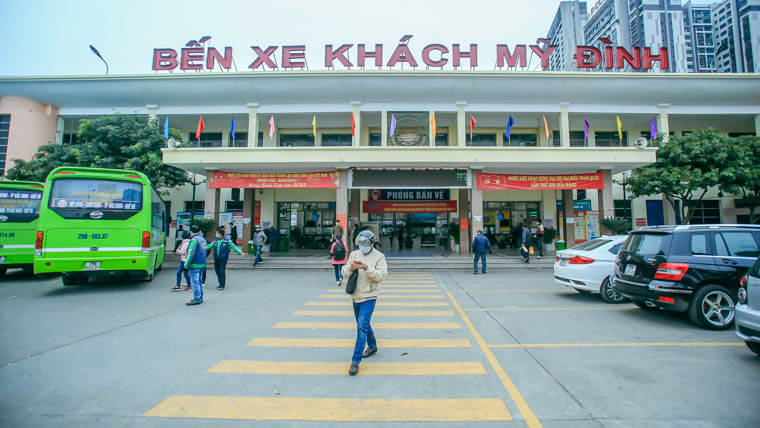 Where is Hanoi main bus stations - Source: vneconomy
Hanoi is the central point of many national highways and inter-provincial roads, so it can be easily reached by bus, with the stops at the major Hanoi stations below:
My Dinh bus station
This is the most modern and large-scale famous bus station in Hanoi, the gateway to many provinces in the North, North Central and a few other provinces in the South. In addition, My Dinh bus station also has a system of modern facilities, a spacious terminal, a cool and clean waiting area and a strict management team.
- Address: No.20 Pham Hung Street, My Dinh Ward, Nam Tu Liem District
Giap Bat bus station
This is one of the famous bus stations with a long history not to be missed in Hanoi, put into use since 1989. Giap Bat bus station is located right on one of the main roads of the city, convenient for those who want to move to Hanoi from other provinces.
- Address: Km6 Giai Phong Street, Giap Bat Ward, Hoang Mai District
Nuoc Ngam Bus Station
This is a familiar bus station for passengers traveling frequently on the Southern provinces - Hanoi routes and vice versa. Nuoc Ngam bus station is located right at the intersection of Phap Van - Giai Phong, convenient for traveling into the city center.
+ Address: No.1 Ngoc Hoi Street, Hoang Liet Ward, Hoang Mai District
Gia Lam bus station
This is currently one of the important passenger transport locations in Hanoi, with a large number of passengers each day and an average of more than 300 trips. Gia Lam bus station is quite convenient for people to take short routes to different places on the route between provinces around Hanoi.
- Address: No.9 Ngo Gia Kham Street, Gia Thuy Ward, Long Bien District
Yen Nghia bus station
Formerly known as Ha Dong bus station, this is an important focal point of the eastern part of the city, especially for the routes connecting with Hoa Binh. Yen Nghia is considered as one of the most modern and largest bus stations, not only in Hanoi, but also in the Northern area.
- Address: National Highway 6, Phu Lam Ward, Ha Dong District
III - The tourism potential of Hanoi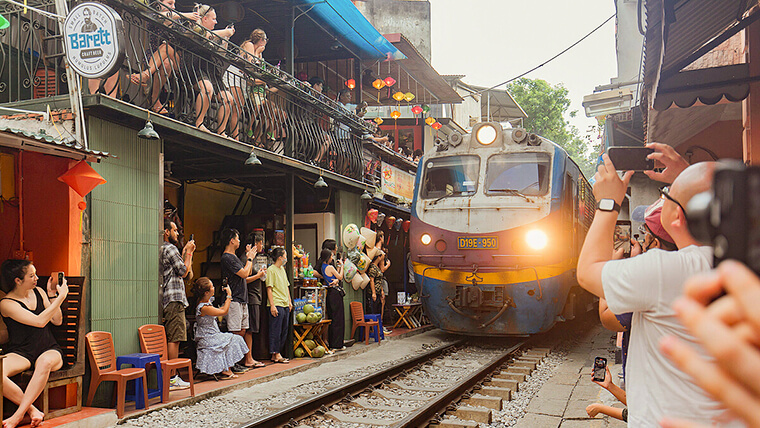 Where is Hanoi top places to visit - Source: VnExpress
Hanoi Capital is the center of politics, economy, culture, science and an important traffic hub of Vietnam thanks to its convenient location and terrain. This place is the center of receiving and distributing tourists to other regions in Vietnam, as well as to other countries in the region. This is also one of the busiest shopping centers of the country, especially in the Old Quarter area with narrow streets but full of stalls and shops. In addition to commercial roads, there are also many large commercial centers serving tourists with shopping needs when traveling to Hanoi.
With a long history of development, this city possesses a lot of rich cultural tourism resources such as relics, festivals or traditional craft villages, along with natural landscapes with its own value such as West Lake or Hoan Kiem Lake. This city is attractive with its quiet, elegant and classic beauty, along with many new services, one of which is taking a cyclo to explore the ancient streets. This place is also famous for its culinary tradition with many delicious dishes such as pho, La Vong grilled fish, bun cha, young green rice,… Therefore, the current strength of Hanoi is ecotourism, cultural and spiritual tourism, as well as the combination types.
Hanoi is now one of the famous tourist destinations, not only within Vietnam but also to the whole world. This place has countless cultural relics, entertainment sites and exciting activities, promised to bring you an exciting and memorable trip. Hopefully the above information has answered the question of "Where is Hanoi?", and made you more looking forward to visiting this beautiful city.