Hai Phong - a port city is one of the direct-controlled municipalities of Vietnam, also known as "Red poinciana flower City". This is absolutely an attractive destination that should not be missed in North Vietnam for a beach vacation.
I - Where is Hai Phong Vietnam?
1 - Location
Located 120km southeast of Hanoi and more than 60km from Ha Long city, this is a great destination in northern Vietnam for exploring.
From Hanoi to this port city, 3 most popular routes are:
By train
Train departs from Hanoi station (at No.120 Le Duan street, Van Mieu ward, Hoan Kiem district, Hanoi) to Hai Phong station (at No.75 Luong Khanh Thien, Ngo Quyen district). Travel time is about 2.5 hours, the fare ranges 100,000-130,000 VND / ticket (~ 4.3 - 5.6USD). Visiting the website https://dsvn.vn/#/ for more details and ticket booking.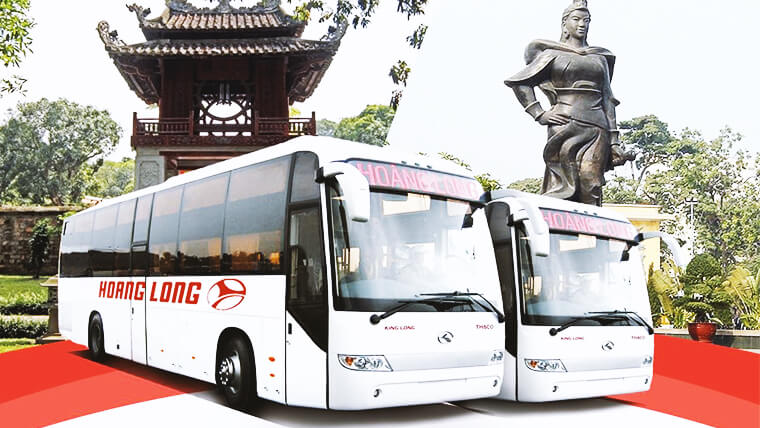 Source: Hoanglongasia
By bus
It takes about 2.5hours traveling by bus. Some bus companies:
Hoang Long bus:
- Contact: 02253920920
- Bus ticket price: 100,000 VND (~ 4.3USD)
- From: Yen Nghia bus station
- To: Niem Nghia bus station
O Ho bus:
- Contact: 02252211666/0974989989
- Bus ticket price: 70,000 - 80,000 VND (~ 3 - 3.5USD)
- From: Gia Lam bus station or Yen Nghia bus station in Hanoi
- To: Hai Phong city
Hai U bus:
- Contact: 02253717717
- Bus ticket price: 95,000- 100,000 VND (~ 4 - 4.3USD)
- From: Gia Lam bus station or Nuoc Ngam bus station
- To: Niem Nghia station or Thuong Ly bus station or Cau Rao bus station
By limousine
Tourists can take the limousine bus from Hanoi to Hai Phong, with fewer passengers and higher service quality.
Hoang Long Limousine:
- Contact: 02253920920
- Bus ticket price: VND 180,000 (~ 7.8USD )
- From: at No.28 Tran Nhat Duat or at No.21 Vinh Tuy, Hanoi
- To: No.5 Pham Ngu Lao or No.726 Thien Loi or No.726 Pham Van Dong, Hai Phong
Dcar Limousine:
- Contact: 19001500
- Bus ticket price: 175,000-185,000 VND (~ 7.54 - 8USD)
- Pick up and drop off up: door-to-door service
Anh Huy Limousine:
- Contact: 0911863919/0989854199
- Bus ticket price: 170,000 VND (~ 7.3USD)
- Pick up and drop off up: door-to-door service
2 - Weather information
Hai Phong province is located in the tropical monsoon region, close to the East Sea, this place is strongly influenced by monsoons. The climate has 04 seasons (Spring, Summer, Autumn, Winter). Cold and dry winter usually lasts from November to April. A humid and rainy Summer is from May to October (in which the rainy season occurs from June to September). Average monthly temperature is 20-23°C, the highest temperature is 40°C in July and August, while the lowest temperature is sometimes down to 5°C. The average annual rainfall is from 1,600 to 1,800mm.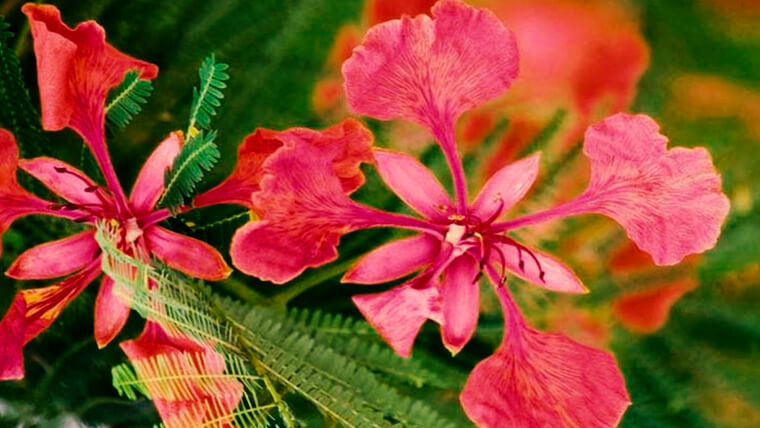 Source: MrBangthamai
The best time to visit the city is in the summer, because the weather is quite cool, which is ideal for tourists to visit the beach. In addition, visitors can admire the beautiful landscapes of the city covered in the red color of phoenix flowers.
II - Hai Phong tourist attractions
1 - Cat Ba Island, Lan Ha Bay
Cat Ba Island and Lan Ha Bay are 2 most well-known attractions in this province. Cat Ba Island consists of hundreds of immense small islands; a national park with a large primeval forest that is home to many rare animals; stunning beaches, murmuring streams, and monkey island. Taking a trip here for swimming, snorkeling, kayaking, and trekking is worth a try in Vietnam.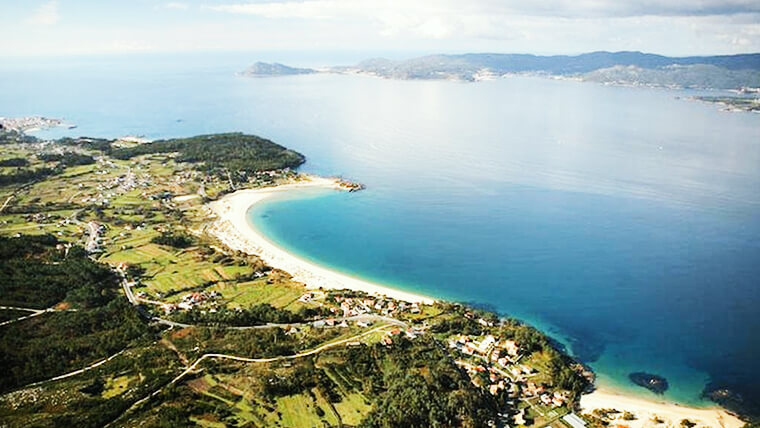 Source: Booking
2 - Do Son beach area
Do Son beach is located about 20km southeast of the city center and is a famous tourist destination in Hai Phong Vietnam. You can visit:
Do Son Beach:
The best time to go to Do Son beach is in the early years to participate in festivals and in summer to swim and have fun with a water motorbike for 50,000 VND (~ 2.16USD) / minute, parachute for 500,000VND (~ 21.55USD)/ trip.
Villa of Bao Dai King:
Located on Vung Hill, in Do Son 2 area. The villa is attracted by the magnificence of a king's mansion and its ancient antiquity. As soon as stepping on the top of Vung Hill, visitors can enjoy the panoramic view of Do Son tourist area and a large blue sea. Entrance fee for this spot is 20,000 VND (~ 0.86 USD)/ person, and the car parking fee in the villa is 40,000VND (~ 1.72USD)/ car.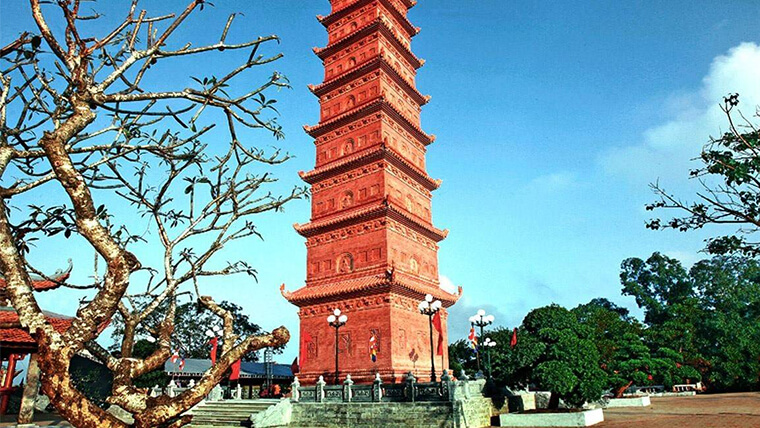 Source: Internet
Tuong Long Tower:
Tuong Long tower, one of the most popular Haiphong attractions, is located on the top of Long Son hill in the Do Son 1 area. From a distance, Tuong Long 9-floor tower is like a pen drawing on the blue sky. Visitors to Do Son spend time visiting Tuong Long tower to admire the historical relics of the port city and also to feel the tranquility of the soul.
Hon Dau:
This tourist area is located in the Do Son 3 area with beautiful natural scenery. It includes 2 parts, a natural beach and an artificial beach. A high-end entertainment-complex with: dinosaur park and aquarium park. Also, a luxury resort with villas which are designed in modern and traditional architectural style.
The entrance fee of the amusement park is 60,000 VND (2.6USD) / person.
The price of the resort room is 800,000-4,500,000 VND (35 - 194USD) / night.
3 - In the city center
The central area of ​​Hai Phong city Vietnam stretches along a distance of 2.7km with a long line of trees and unique architecture. More impressive spots:
Hang Kenh Temple:
Hang Kenh temple is located in Le Chan district, has an ancient ironwood architecture, arranged in the shape of a peacock. The sculpture art with 268 pieces of dragon-themed carvings is one of the most remarkable points to see here. In the temple, there are still many precious artifacts such as epitaph inscribed with the names of the people who succeeded in the past, stele praising Ngo Quyen - a famous Vietnamese general who won the battle against northern invaders on the Bach Dang river.
Du Hang Pagoda:
Located in Du Hang Street, Ho Nam Ward, Le Chan District, this pagoda is the oldest pagoda in this province. The pagoda has many precious relics such as bells, art decorations made from ceramics and the sacred book of A Ham. This pagoda was ranked as a national historical - cultural relic in 1986.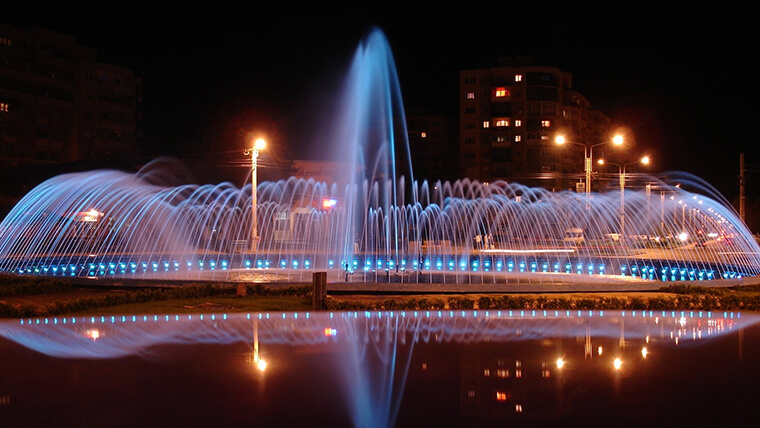 Source: Igochaiphong
Tam Bac Lake:
The lake is located in the city center, associated with many ups and downs in the history of the locals in this port city. Visitors who come here should spend time walking on the paved pavements around the lake, admiring the red poinciana flowers. At night is when the lake becomes shimmering by the symmetrical lighting system on the pavement.
Hai Phong Opera House:
Located in Hoang Van Thu street, this construction was built by the French according to the prototype of the Paris theater. Outside the theater has a large square with a beautiful flower garden and an artistic fountain. A lot of cultural events and artistic activities are organized here. The theater was recognized as a national monument in 2015.
Quan Hoa (Flower market):
Quan Hoa is a French built construction which is prominent with 5 curved arches. This small flower market has long been a symbol of this city's beauties and people. There are many types of flowers being sold here that come from famous flower planting places such Dang Hai, Dang Lam, or even from Dalat, China or Netherlands.
4 - Elephant mountain
Elephant Mountain is located about 20km to the southwest of Hai Phong city center. From a distance, this attraction looks like a giant elephant lying on a large rice paddy field. On the way to conquering the mountain by climbing the stone steps, tourists can visit some fairy caves such as Long Tien cave, Nam Tao cave, Thong Voi cave with a lot of stalactites in different shapes of animals like dragon or tiger. The way up the mountain path is quite slippery and steep. Visitors need to be careful and well-prepared with suitable shoes.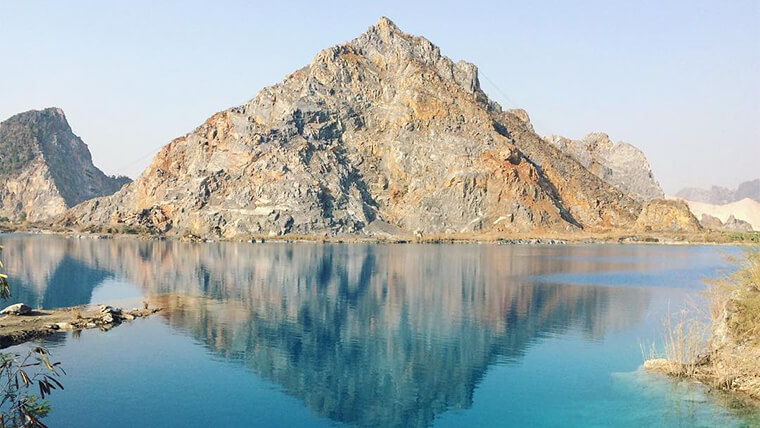 Source: Metrip
5 - Tuyet Tinh Coc - a fairy lake
Tuyet Tinh Coc in Hai Phong Vietnam located 25km northwest of the city center is a lake located among the rocky mountains. The two main colors of blue and white are the highlight of the tranquil scenery which is a great check-in place for those who are passionate about photography. Visiting this stunning lake is a great choice for a day of escaping the bustle of city life. Due to the relatively zigzag road, many small turns, visitors should go motorbike for convenience or rent a taxi to be safer.
6 - Trang Kenh - Bach Dang relic complex
Trang Kenh - Bach Dang relic complex is located 20km northeast of the city center. This place is highly recommended for admiring which is made up of a unique system of limestone mountains, caves and rivers. The relic was recognized as a national historical-cultural-scenic relic in 1962.
III - Best things to do in Hai Phong
1 - Enjoy best dishes
This city has long been a famous destination on the culinary map of Vietnam with countless dishes and desserts. The typical dishes of the port city such as: jelly & coconut sweet soup, Gang leaves gruel, sticks bread, Beo cake, Duc Tau cake (plain rice flan), crab noodle, dishes of snails, crab hot pot, seafoods like squid pie, fish pie, crab rolls,...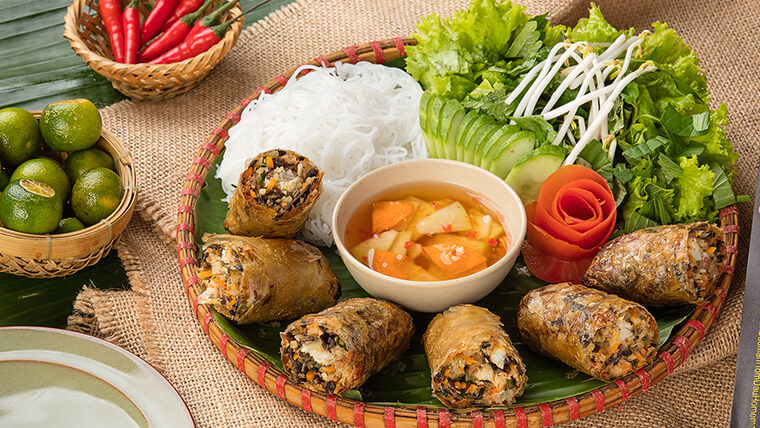 Source: Dau Homemade
Recommended restaurants to enjoy the best Hai Phong food:
- Crab noodle soup at No. 179 Cau Dat, Cau Dat ward, Ngo Quyen district, the price is from 15,000 - 33,000 VND (~ 0.65 - 1.42USD) / bowl.
- Huong restaurant at No.7 Pham Ba Truc, Hong Bang, famous for its crab hotpot with prices from 50,000 to 150,000VND/ person (~ 2.16 - 6.47USD).
- Snails restaurant at No.17 Dinh Dong, Ngo Quyen district, the price is from 30,000 to 200,000VND (~ 1.29 - 8.62USD) / dish.
- Spicy bread on Dinh Tien Hoang street at the price of 10,000- 33,000VND (~ 0.43 - 1USD) / person.
- Hien Beo restaurant Lach Tray: Located at No.124 Lach Tray, Ngo Quyen district, the famous dish is jelly & coconut sweet soup with a price of 25,000VND (~ 1.1USD) / cup.
Adding to a complete food tour, tourists can have a cup of coffee at "No 1986 coffee shop" located at No.33-35 Dinh Tien Hoang, Hong Bang district. This coffee shop has a spacious & natural-style space. The price of drinks ranges from 35,000 - 75,000VND (~ 1.5 - 3.2USD).
2 - Experiencing Hai Phong nightlife
Experiencing nightlife is also one of the things to do when visiting this city. The scenery at night is brilliantly shimmering with many colorful lights. The best entertaining places are bars and clubs. Here are a few recommended addresses: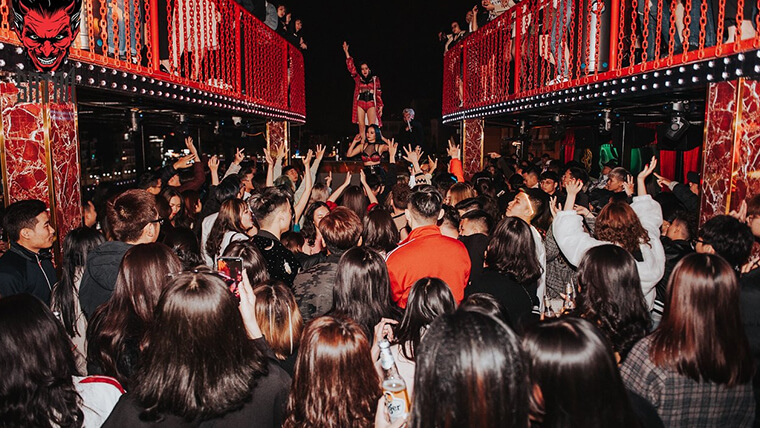 Source: Tripadvisor
In city center:
- Satan Sky Bar: located at No.103 Tam Bac, Hong Bang district. This interesting bar has a large outdoor space, unique and creative design brings a comfortable feeling to visitors.
- Martini Bar: located at No.12A / 182 Van Cao, Ngo Quyen district. The bar has a comfortable space of 2 floors, and coffee and ice cream are available on the menu.
Near Do Son beach:
- Bar 6789 Club: located at the intersection of Ba De Temple & Nguyen Huu Cau, Ngoc Hai Ward, Do Son District. This is a famous Hai Phong club and bar near Do Son beach with an affordable price, the service staff is very enthusiastic.
IV - Accommodation
1 - Haiphong hotels In the city center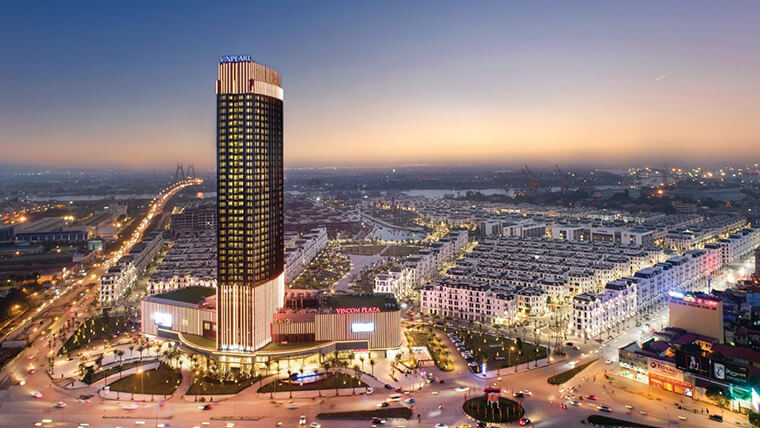 Source: Vinpearl
- Vinpearl Hotel Imperia: View the whole city at a 5-star hotel, take pictures at the rooftop Sky Bar, enjoy the typical food. This is a great place to organize events.
Address: located at Vinhomes Imperia urban, Hanoi Street, Thuong Ly Ward, Hong Bang District
Contact: 02253266888
Room rate: 2.620.000- 4.120.000 VND (113 - 178USD)/ night.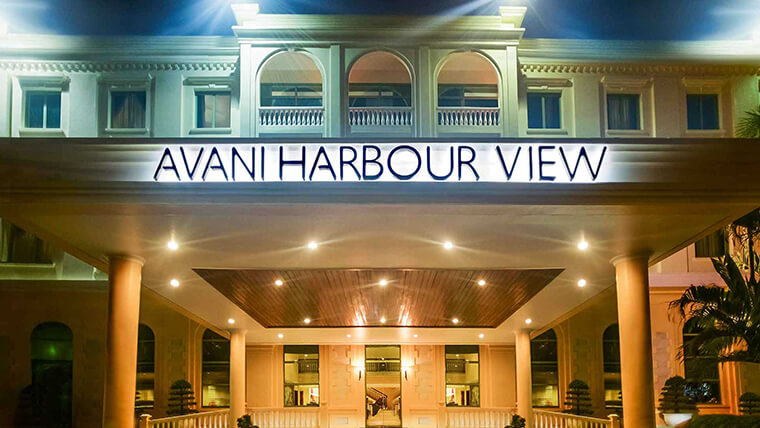 Source: Fantasea
- Avani Hai Phong harbour view:
Address: No.12 Tran Phu, May To ward, Ngo Quyen district
Contact: 02253827827
Room rate: 1.390.500- 4.542.300 VND (60 - 196USD)/ night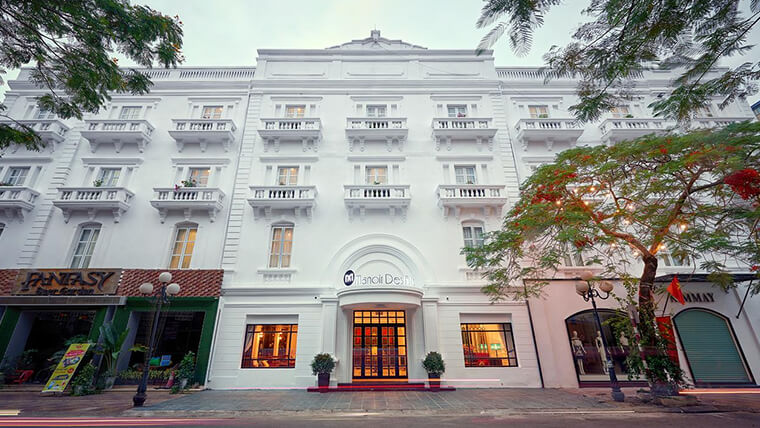 Source: Booking
- Manoir Des Arts Hotel:
Address: located at No.64 Dien Bien Phu street, Minh Khai ward, Hong Bang district
Cantact: 02258831522
Room rate: 2.500.000- 5.300.000 VND (108 - 229USD)/ night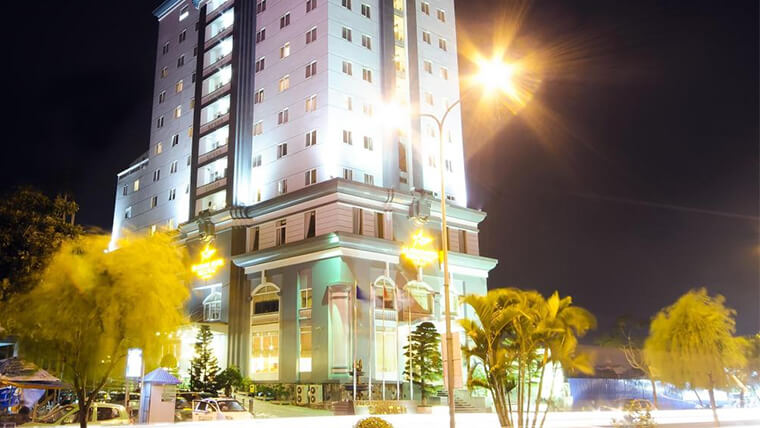 Source: Agoda
- Seastar Hai Phong Hotel:
Address: at No.1/3A Le Hong Phong, Dong Khe ward, Ngo Quyen district
Contact: 0906004089
Room rate: 1.600.000- 5.800.000 VND (69 - 250USD)/ night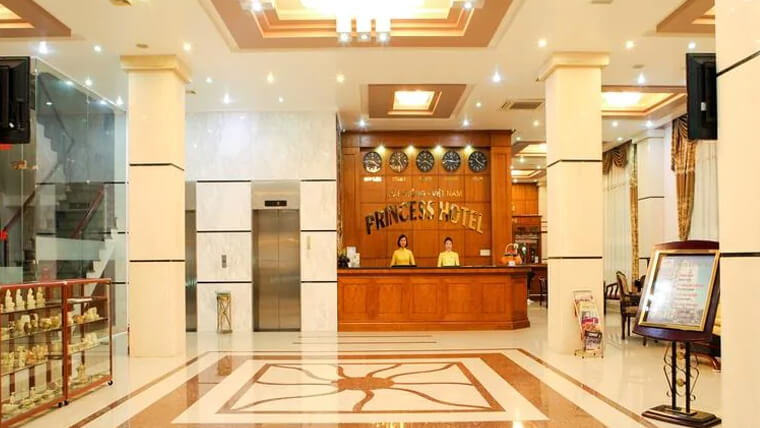 Source: Agoda
- Princess Hotel:
Address: at No.3B Le Hong Phong, Dong Khe ward, Ngo Quyen district,
Contact: 0901588660
Room rate: 1.050.000- 2.200.000 VND (45 - 95USD)/ night
2 - Hai Phong hotel near Do Son beach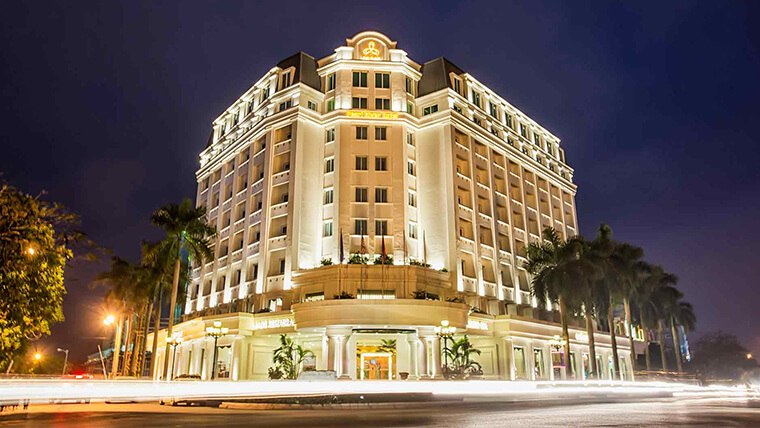 Source: Pearlriverhotel
- Pearl River Hotel Haiphong:
Address: at km8 Pham Van Dong street, Anh Dung ward, Duong Kinh district
Contact: 02253880888
Room rate: 2.275.350- 17.000.000 VND (98 - 733USD)/ night.
V - Other information
1 - Suggested Hai Phong travel tours
Here are some suggestions for visitors who want to explore this port city on your own. Spending 3 days is an ideal itinerary. The schedule is as follows: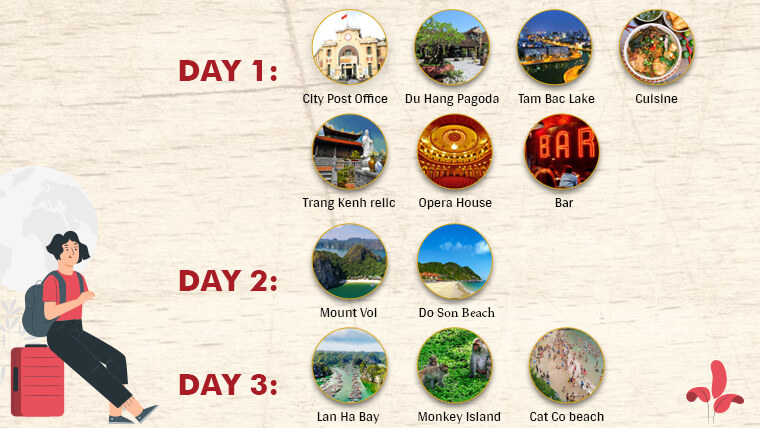 Source: Internet
Day 1:
Morning:
- Have breakfast with stick bread at No.28 Dinh Tien Hoang Street, Hoang Van Thu Ward, Hong Bang District
- Go to the 1986 cafe at No.33 Dinh Tien Hoang Street, Hoang Van Thu Ward, Hong Bang District
- Visit famous attractions in Hai Phong central city: French streets, Chinatown, Du Hang pagoda, Hang Kenh monument, Tam Bac lake.
Noon:
- Enjoy crab noodle soup at Ba Co restaurant at No.179 Cau Dat, Cau Dat ward, Ngo Quyen district.
- Resting time
Afternoon:
- Arrive at the historical site of Trang Kenh - Bach Dang, then return to the city center
Evening:
- Thang To spicy fish noodle soup at No.47 Lach Tray, Ngo Quyen district.
- Jelly & coconut sweet soup at Hien Beo Lach Tray restaurant at No.124 Lach Tray, Ngo Quyen district
- Take a walk on the streets, to Chinatown, opera houses, or bars & clubs.
Day 2 of Hai Phong tour:
Morning:
- Enjoy Troi Tau cake at Co Chuyen restaurant - No.186 Hai Ba Trung, Le Chan district
- Coffee with coconut milk at Co Hanh restaurant - No.102 Lam Son, Le Chan district or No.148 Luong Khanh Thien, Cau Dat district
- Conquer Elephant Mountain
Noon:
- Having a crab hot pot in Quan Huong restaurant at No.7 Pham Ba Truc, Hong Bang district
- Take a rest
Afternoon:
- Visiting Do Son beach
Evening: staying at the hotel near Do Son Hai Phong beach, walking on the sea or making a campfire in the evening
Day 3:
Morning
- Visiting Lan Ha bay - most famous Hai Phong Bay, World Biosphere Reserve or Monkey Island.
Afternoon: relaxing or swimming in Cat Co beach
After that, visitors can choose to continue their journey to HaLong Bay or another destination.
2 - Hai Phong Population
According to the latest data from the General Statistics Office, the population of this province in 2017 was 1,997,700 people, increasing by 8.06% up to 2,013,800 people in 2018, and up to 2,033,300 people in 2019. The population growth rate is lower than the average growth rate of the whole country of 10.62% in 2018 and 19.20% in 2019 respectively.
3 - Hai Phong Map
Hai Phong Vietnam has been more and more developed in economic and tourism as well. Visiting this city and having a cruise trip in Lan Ha Bay or a vacation in Cat Ba island is highly recommended.