Ta Hien Street in Hanoi is featured as the junction where different cultures meet each other. There are side-by-side small houses in French style combined with Vietnamese tiled roofs stretching along this narrow street. The street becomes more lively and crowded at night.
I - The typical features of Ta Hien Street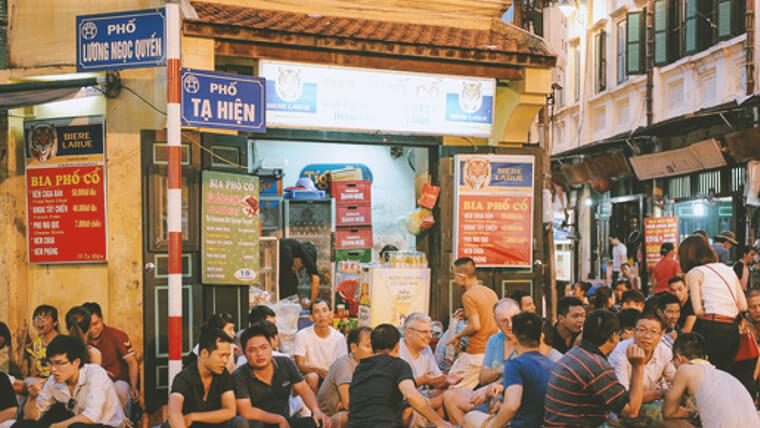 It is undeniable that the later at night, the more crowded this street is. This bustle normally lasts until 1 a.m or 2 a.m. Therefore, foreigners often come here to have fun and enjoy the nightlife of Hanoi. In particular, on weekends, this street is much more crowded because there are many Hanoians - mainly young people coming here to chat and date.
Ta Hien Beer Street is appealing because it is a place in Hanoi where people can exchange cultures. Located right in the heart of Hanoi Old Quarter where many tourists stay, it is a must-visit destination for travelers who want to experience Hanoi culture as well as enjoy the Hanoi beer, street food, and cuisine of Vietnam.
Ta Hien Street Hanoi creates a strong impression on international tourists, especially backpacking travelers. Tourists from many different countries, religions, colors, languages, and cultures often gather here to meet and make friends. This has created the vitality and attraction of a small street.
Being a place to exchange culture and hang out, when coming to Ta Hien Street, it is indispensable to have cold beer containing the typical taste of Hanoi. You can easily see the image of groups of friends gathering together on the sidewalk to chat and enjoy cool cups of beer. That is the reason why this street is famous for its street beer culture and it is also called "Hanoi Beer Street Old Quarter" or "Beer junction"
Coming to any restaurant on this street, you can easily enjoy the taste of various types of beer. However, the most unique beers here are draught beer and cheap-price beer. Some funny foreign tourists often call these beers "carbonated iced tea" because the price of a cup of this beer is very cheap, just a little bit more than a cup of iced tea but the taste is extremely different, fresh, and rich.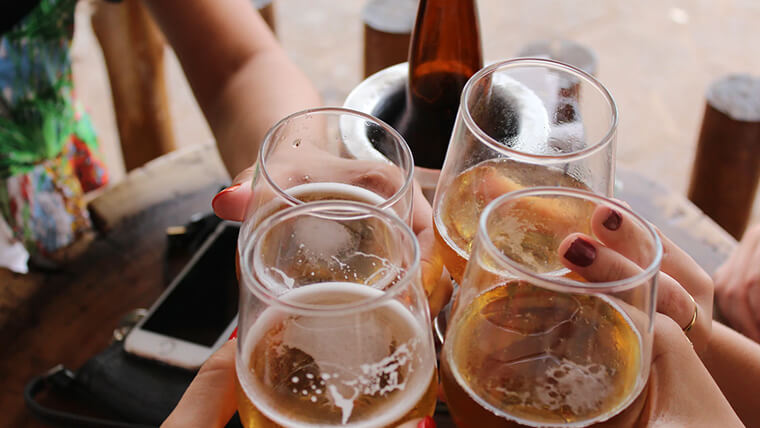 In Ta Hien Beer Street, there are some famous beer shops that you can visit:
Quan Bia Pho Co (Old Quarter Beer Shop)
- Address: 18 Ta Hien, Hang Buom Ward, Hoan Kiem District
- Opening hours: 8am - 10:30pm
- Price: 50,000 - 110,000 VND/person ($2.2 - 4.7)
Hay Bar
- Address: 12 Ta Hien, Hang Buom Ward, Hoan Kiem District
- Opening hours: 6pm - 1am
- Price: 100,000 - 500,000 VND/person ($4.3 - 21.6)
1900 Club Hanoi
- Address: 8B Ta Hien, Hang Buom Ward, Hoan Kiem District
- Opening hours: 8:30pm - 3am
- Price: 100,000 VND/person ($4.3)
In addition, Ta Hien street food is also famous for such food as grilled hot pot, fried spring rolls, fried potatoes, chicken feet, beef noodles soup,... Honey-grilled quail is also a special dish only available in this street, with the price from 50,000 - 110,000 VND/person ($2.2 - 4.7). The nightlife here is the dynamic symphony made of noisy sounds from human voices, music, working, the oil-smoky smell, the aroma of street food.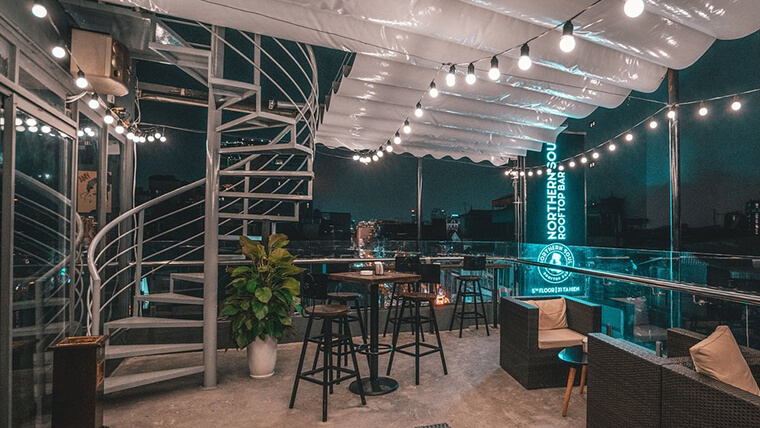 If you want to find some more places to entertain, you can also visit the bars and pubs to immerse yourselves in the rhythm and vibrant atmosphere. It is not difficult to find good bars and pubs on Ta Hien Street:
Northern Soul Rooftop Bar
- Address: 31 Ta Hien (5th Floor), Hang Buom Ward, Hoan Kiem District
- Opening hours: 5pm - 3am
- Price: from 50,000 VND/person ($2.2)
Funky B Bar
- Address: 2B Ta Hien, Hang Buom Ward, Hoan Kiem District
- Opening hours: 8:30am - 11:30pm
- Price: from 60,000 VND/person ($2.6)
Local Bar
- Address: 16 Ta Hien, Hang Buom Ward, Hoan Kiem District
- Opening hours: 6pm - 2am
- Price: from 60,000 VND/person ($2.6)
Ta Hien street is also the place where attractive street performances are regularly held with a variety of genres, from traditional folk music to vibrant youth music. Even unique musical instrument performances by talented street artists sometimes take place in the street. All these sounds create a bustling and cheerful street, bringing visitors the most interesting experience.
You may need: Top-rated bars in Hanoi
II - Notes and advice for tourists coming to Ta Hien Street
1 - Means of transport
To get there, you can walk about 400m from Hoan Kiem Lake. You can also go by bus if you are far away from the Old Quarter area:
- Route 31: Stop at Hang Can Street
- Route 04, 14, 18, 31, 34, 36, 40: Stop at Tran Nhat Duat Street
- Route 04, 08, 11, 14, 18, 23, 31, 34, 36, 40: Stop at Nguyen Huu Huan Street
However, for foreign tourists staying far away from the Old Quarter area, travel by taxi or motorbike taxi is the fastest and most convenient option.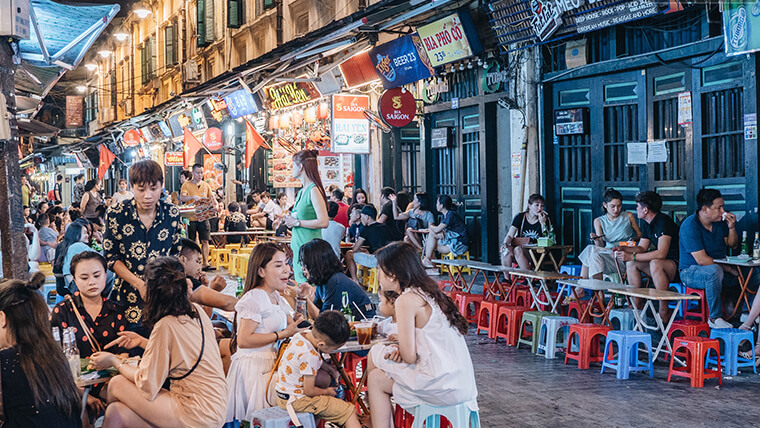 2 - Ta Hien Street opening hours
This street is open all day. On Friday, Saturday, and Sunday, this street always welcomes a huge number of visitors, especially the young Vietnamese. Therefore, this is a good opportunity for foreign tourists to exchange and experience the lifestyle of young Vietnamese. If you want a space to be less noisy and quiet, you should visit Ta Hien Street on the other days.
3 - Other notices
- Although the security is quite stable, foreigners, especially the ones coming there for the first time, should also pay attention to the preservation of luggage.
- If you have trouble with finding the way or other problems, do not worry too much because police are everywhere on the street and ready to help when you need them.
Ta Hien Street is the most exciting and fun place to visit in Hanoi where you can have a burning night with lots of things to do and see. Having a sip of cool fresh beer and enjoying wonderful moments with friends and local people is an unmissable experience.