Tran Quoc Pagoda, the oldest pagoda in Hanoi, was built in the 6th century and was a favorite worshiping place for Kings & Royal families on special occasions such as the Lunar new year and Buddhist anniversaries. This sacred pagoda is the top cultural and spiritual site for local devotees to come and pray. Every 1st, full moon, or new year, many people of Hanoi come here to offer incense, pray for peace and prosperity. In particular, on October 31, 2016, the pagoda was recognized by the Daily Mail Magazine as one of the 16 most beautiful pagodas in the world.
I - What is Tran Quoc Pagoda address?
This pagoda is located on Thanh Nien Street, Yen Phu Ward, Hanoi City - beside the charming West Lake.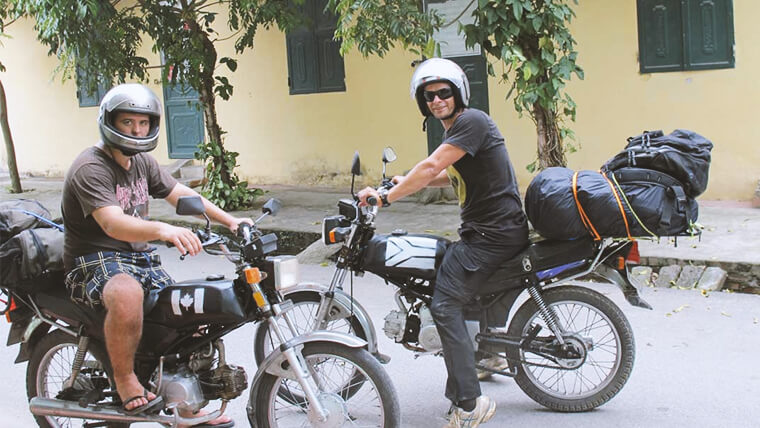 Travelling by motorbike in Hanoi - Source: Stingynomads
You can travel here by bus, motorbike or taxi.
By motorbike
- Parking lot: There is a parking lot located opposite to the pagoda, next to an ice-cream shop.
- Parking fee: 5,000 - 10,000 VND/motorbike ($0.25 - 0.5).
By bus No.50: The bus stop on Thanh Nien Street. After getting off the bus, you take a 2-3 minute walk to Tran Quoc Pagoda Hanoi Vietnam.
- Bus schedule: 5am - 8:45pm
- Bus ticket price: 7,000 VND/persom ($0.3)
By taxi: Some taxi brands in Hanoi such as:
- Mai Linh Taxi - 024 38 333333
- Group Taxi - 024 38 26 26 26
- Thanh Nga Taxi - 024 38 215 215
II - The architecture of Tran Quoc Pagoda Vietnam
After being relocated from the banks of the Red River and the mound area on West Lake, the pagoda still retains the inherent architectural beauty of the Ly Dynasty with the three-door gate - gold painting, towers, incense burners,... up to the present. In the past, the pagoda was the Buddhist center of Thang Long City (an old name of Hanoi), and also the place where Kings often went sightseeing and had rituals.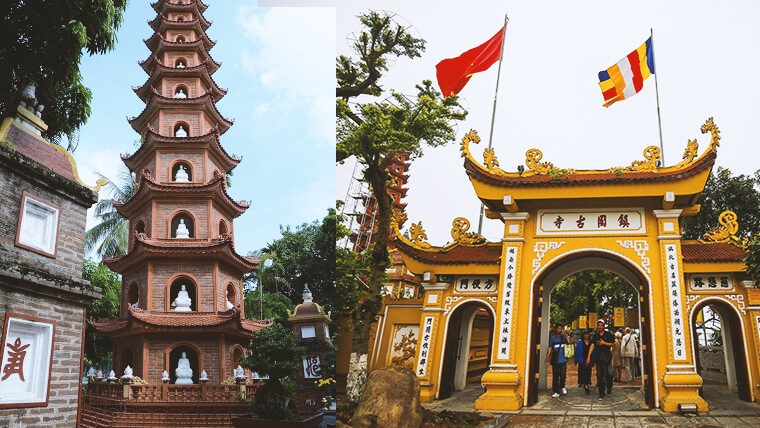 Source: Internet
Tran Quoc pagoda in Hanoi has a total area of up to 3,000 m2 and was renovated in 1815 with 03 main areas: upper, tower operators, and garden. You will be impressed by the architecture of the three-door gate (three gates - one main gate with two auxiliary gates) - the upper was carved with a dragon image bringing majestic and ancient beauty.
Due to the influence of Eastern Buddhism, three houses in Tran Quoc Pagoda including the front house, the incense burning house, and the upper palace; were built in the shape of GONG character (公). In front of the temple, there is a large bronze incense burner behind the bell tower. This place also preserves many stone steles marking the history of the pagoda in Nom script.
Inside Tran Quoc Pagoda pagoda's garden is an 11-story stupa with a height of 15m, each with an arched doorway. At each floor of the tower is placed a white gemstone Buddha statue. On the top of the stupa is a nine-story lotus tower, the Nine-product Lotus flower is made of precious stones. The special feature facing the stupa is the bodhi tree extracted from the Great Bodhisattva tree - where Shakyamuni Buddha meditated and attained himself. The entire space of the pagoda exudes a quiet, opposite to the bustling Thanh Nien street in front of the temple.
III - Things you may need to know about before visiting the pagoda
1 - Tran Quoc Pagoda opening hours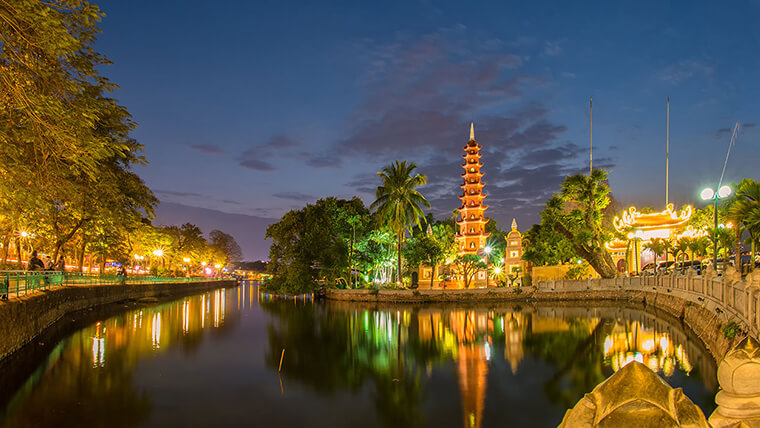 Source: Internet
Opening hours are from 8am - 4pm
On the 1st or 15th of the lunar calendar and on the Lunar New Year, there are lots of people who visit the pagoda to pray for peace and luck. If you love to learn more about Vietnamese's culture, these days are the best time to visit this pagoda.
2 - Entrance fee
Entrance fee: 5,000 VND / person ($0.25).
3 - Best dishes to try near Tran Quoc Pagoda
Some specialties of Hanoi and places to eat near the pagoda:
Highland coffee
Sipping a delicious cup of Hanoi coffee at Highland coffee and admiring the picturesque lake view are great ways to enjoy your trip in Hanoi
- Address: No.9, Thanh Nien Street, Quan Thanh Ward, Ba Dinh District, Hanoi
- Price: 40,000 - 65,000 VND/drink ($1.7 - 2.8)
- Opening hours: 7am - 11pm
Ho Tay shrimp cake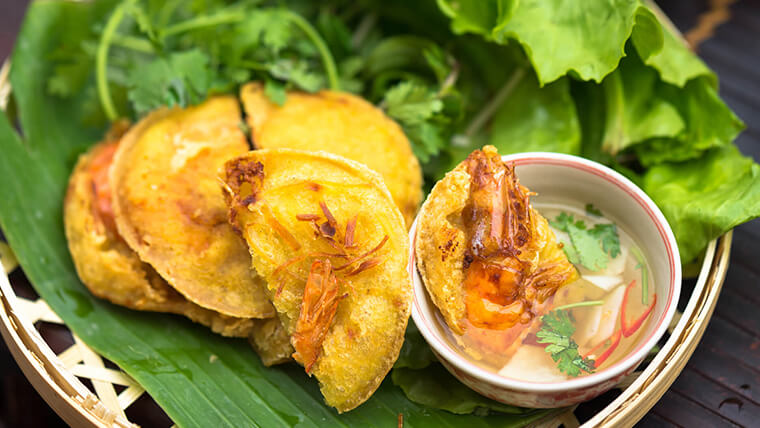 After visiting Tran Quoc Pagoda Hanoi, you should not miss the shrimp cake - Source: Internet
When eating shrimp cake, you can feel the crispy dough, the sweet and sour fish sauce just eaten, and fragrant shrimp meat.
- Address: Ho Tay Shrimp Cake restaurant - No.1, Thanh Nien Street, Yen Phu Ward, Tay Ho District, Hanoi
- Price: from 80,000 VND/person ($3.45)
- Opening hours: 9am - 9pm
Huong Mai Noodle Rolls
Delicious, fresh and healthy are the best words used to describe this dish. The chewy noodle rice paper, finely stirred beef, vegetable & herbs are nicely wrapped and rolled. The noodle rolls are dipped into the sweet & sour dipping sauce.
- Address: No.31, Ngu Xa Street, Truc Bach Ward, Ba Dinh District, Hanoi - 800m from Tran Quoc Pagoda
- Price: 50,000 - 100,000 VND/dish ($2.2 - 4.3)
- Opening hours: 9:30am - 9:30pm
Popiah (Bò Bía in Vietnamese)
This is one of the famous street foods loved by young people, because of the wonderful combination of soft rice paper, sweet molasses, sesame seeds, and fat shredded coconut.
- Address: food stalls along Thanh Nien Street near Tran Quoc Pagoda.
- Price: 10,000 VND/roll ($0.43)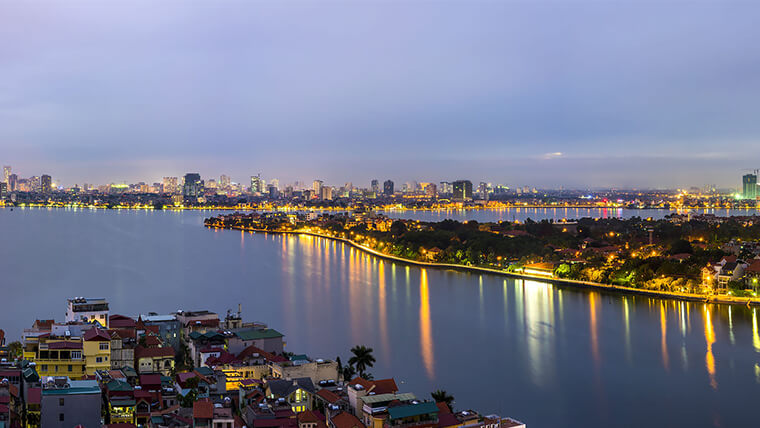 West Lake at night - Source: Vietnam-Travel-Guide
Ho Tay Ice Cream
Ice cream is a good thing to try when walking along Thanh Nien street.
- Address: No.1, Thanh Nien street, Truc Bach ward, Ba Dinh district, Hanoi
- Price: 6,000 - 35,000 VND/stick or cup ($0.25 - 1.5)
- Opening hours: 8am - 9:30pm
Experiencing many ups and downs in the history of Hanoi city, the Tran Quoc Pagoda Hanoi still stands majestically as a symbol of Hanoi culture.
People also searched: Chua Tran Quoc, Pagoda Tran Quoc, Tran Quoc Temple