Today, enjoying coffee in Hanoi is also gradually becoming more popular than ever. From the young to the old, from college students to office workers, each person, each age has its own unique way of enjoying. Catching the above trend, a lot of cafes have been launched to serve customers in the best way. Among them, it is impossible not to mention the coffee in Hanoi Old Quarter and in the train street.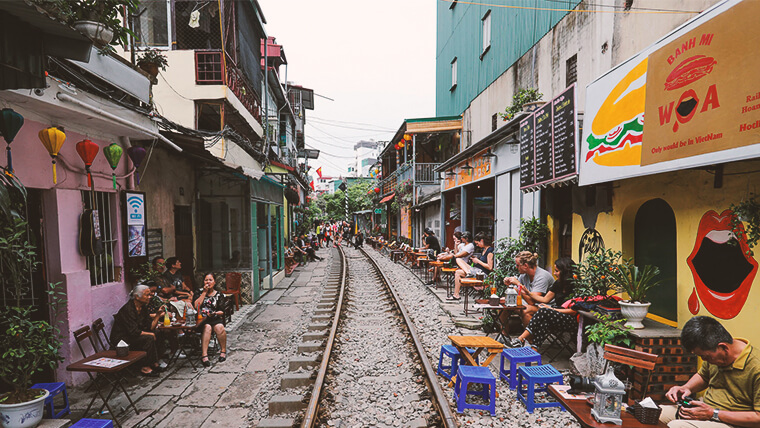 However, we also note that railway cafes are currently banned by the authorities because of concerns about safety-related implications. If you are too curious and want to enjoy it once, you can contact the owner in advance.
I - Popular types of Hanoi coffee
1 - Egg coffee
This is an outstanding feature of the coffee drinking culture of Hanoi city and is admired by many tourists. Depending on the requirements of customers, the bartender will change the ingredients to produce different, authentic flavors.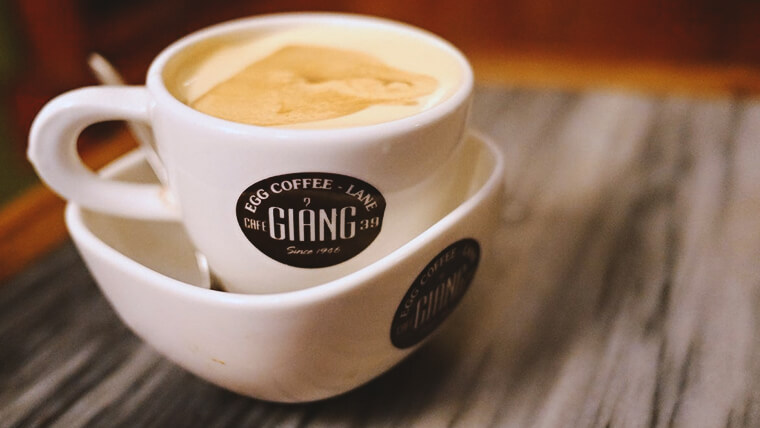 Addresses selling famous egg coffee in Hanoi must be Giang Coffee Shop - 39 Nguyen Huu Huan str, Quan Thanh ward, Ba Dinh distr, Hanoi. Reference price: 15,000 - 35,000 VND/cup ($0.64 - 1.6). [Read more about Vietnamese egg coffee...]
2 - Coconut coffee Hanoi
This coffee is impressed with the aroma of pure coffee beans mixed with the greasy taste of the milky layer of coconut milk.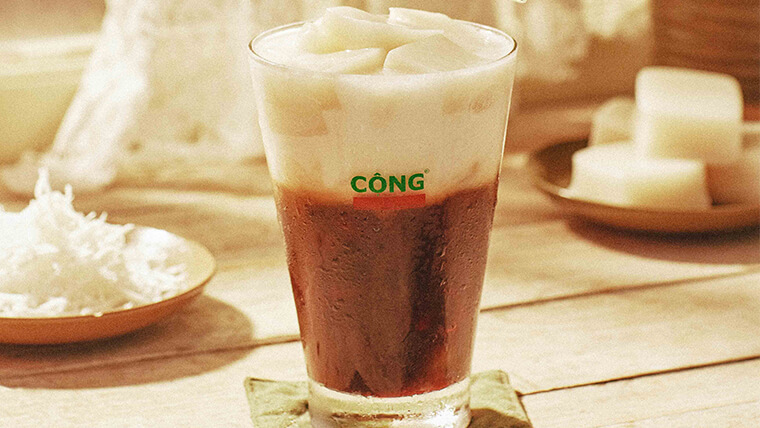 Addresses selling famous coconut milk coffee in Hanoi can include Cong Coffee - 46 Trang Tien, Hoan Kiem, Hanoi. Reference price is 15,000 - 35,000 VND / cup ($0.64 - 1.6).
3 - Filtered Coffee
This is the name for the coffee that is brewed with a filter (a cup-shaped aluminum object, with a small perforated bottom, and a compression device to compress and filter the coffee grounds). Filtered coffee includes hot coffee and milk coffee (ice), these are two familiar types and are chosen by many customers.
In Hanoi, the number of coffee shops serving filtered coffee is also quite many, but the most prominent is Lam Coffee shop at 60 Nguyen Huu Huan, Hoan Kiem, Hanoi. Reference price: 20,000 - 35,000 VND / cup ($0.86 - 1.6).
III - The best coffee shops in Hanoi
1 - Trung Nguyen Legend
Address: No. 2 Hang Bai, Trang Tien
If you are in need of a bold traditional coffee made from hand-ground ground coffee beans, Trung Nguyen Legend will be the perfect choice. Average price: 50,000 - 85,000 VND / glass ($2.16 - 3.66).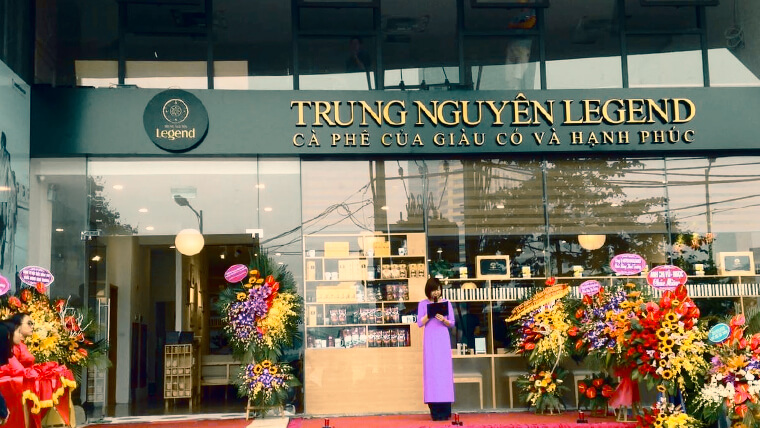 Source: Fb Trung Nguyen Legend Café
2 - Dinh Coffee
Address: 13 Dinh Tien Hoang, Hang Bac Ward, Hoan Kiem District
This shop is nearly 30 years old. It is located on the second floor in a small alley of the Old Quarter. This place is extremely famous for its delicious egg coffees, at the price being two third of other places. The feeling of coming here in a chilly early morning and curling up in a corner to sip a cup of hot and warm egg coffee will be great for any visitors. Average price: 15,000 - 40,000 VND / glass ($0.65 - 1.72).
3 - Thai Coffee
Address: No. 27 Trieu Viet Vuong
Thai coffee - a long standing street coffee shop in Hanoi, is not picky with customers and has a time of establishment and development up to 80 years. Coffee here is also extremely special thanks to its selection from Dien Bien, Buon Ho and Phu Quy. Along with that, the coffee beans are carefully roasted and ground according to the family's secret. If you have the opportunity to come here once, surely you will not forget the passionate aroma of Thai coffee. Average price: 15,000 - 35,000 VND / glass ($0.64 - 1.6).
4 - The Note Coffee
Address: No. 64, Luong Van Can Street, Hang Trong, Hoan Kiem, Hanoi.
The space of the restaurant deeply impresses visitors with its walls filled with sticky notes. Those are the "letters" that convey the thoughts, feelings or confidences of customers when visiting here, like a confession to strangers.
Drink prices from 25,000 - 55,000 VND / glass (1.07 - 2.37).
5 - Starbucks coffee shop
Address: No. 314 Ba Trieu, Hai Ba Trung District, Hanoi.
This coffee shop in Hanoi specializes in selling coffee lines under the famous Starbucks brand in the world. If you are a lover of novelty and unique in the way of mixing drinks, this is the place worth checking out. Drink prices here range from 60,000 - 130,000 VND / glass ($2.6 - 5.6) - quite high compared to the common ground of cafes in Hanoi.
6 - Nola Coffee
Address: No. 89 Ma May Street, Hoan Kiem District, Hanoi
The space of this Hanoi coffee shop is designed with furniture and decorations in the style of the 80's, bringing a cozy and close space. In particular, the restaurant impresses people with a variety of drinks with unique flavors, which makes visitors, even when they first visit this place, feel unforgettable.
Drink prices here range from 25,000 - 85,000 VND / glass ($1.07 - 3.67).
Hanoi Social Club is a cozy and welcoming space located in the heart of Hanoi, Vietnam. The cafe offers a relaxing atmosphere and a menu featuring a range of Vietnamese and Western coffee drinks, including drip coffee, cappuccinos, and lattes.
The coffee shop is a popular destination for locals and visitors alike, offering a comfortable spot to work or catch up with friends over a cup of coffee. The cafe's decor reflects the city's artistic and creative spirit, with cozy seating areas, colorful artwork, and live plants adding to the ambiance.
In addition to its coffee offerings, the Hanoi Social Club Coffee Shop also serves a range of sweet and savory treats, including pastries, sandwiches, and salads. Visitors can enjoy a locally-sourced coffee and a bite to eat while taking in the lively atmosphere of the cafe.
IV - Where to buy the best coffee beans in Hanoi?
Traveling to Hanoi, picking some things up such pottery products, traditional paintings, ao dai ...are highly recommended, but buying some Vietnamese coffee (ground coffee, weasel coffee) is a great idea to memorize your trip here.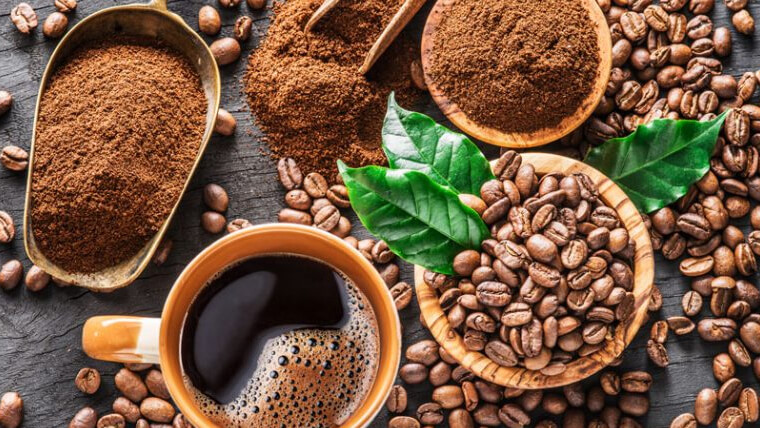 Pre-roasted coffee beans usually have a strong flavor, a little bitterness, dark brown color and caffeine content in it is not too high. You can also find quality pre-roasted coffee beans at Mai Coffee Shop at 96 Le Van Huu Street, Hanoi for about 110,000 VND / kg ($4.74).
As for weasel coffee, it's a bit special because this is one of the rarest types in the world. The connoisseurs often joke that this is the most "luxurious" coffee flavor in the world. Weasel coffee has a quite bitter taste, when drinking it, it will numb the tip of the tongue, but the more you sip, the more you feel the sweetness later.
You can also go to buy coffee at Duong restaurant at 54 Bui Thi Xuan, Hai Ba Trung, Hanoi with a price of about 400,000 VND / 100gr ($17.24).
Above is our introduction to Hanoi coffee - a characteristic characteristic of Ha Thanh people. If you come here once, please visit one of the famous cafes that we share to experience this taste.