If one day you come to Hanoi and can't sleep, you can walk out to the street to hear the sound of Hanoi nightlife, to see a Hanoi in an old calm appearance. In those nights you can feel the quietness and simplicity in Hanoians' life. On the other hand, there are always dynamic places like bars, pubs or beer streets if you prefer vibrant activities.
I - Overview about nightlife in Hanoi
Hanoi is always in a hurry and rush at daytime. So if you want to see the beauty of ancient Hanoi, it's best to wait until the night, when there are no traffic jams and noise of cars' honking.
If in the day you do not have time to admire the beauty of the old houses or the old streets, at night the whole space will be reserved for yourself. In addition to Hoan Kiem lake and the Old Quarters, Ba Dinh square, West Lake, Opera House, Ngo Quyen Street, Long Bien Bridge, Quang Ba Flower Market, Long Bien Night Market and many other places are also worth a visit at night.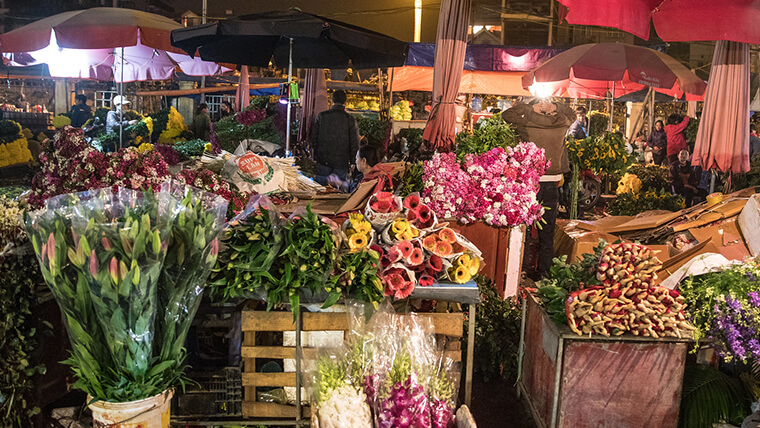 Quang Ba Flower Market - Source: Flickr
But if anyone says that Hanoi night is boring, he or she must have never tried to hang out once. Although hidden in the ancient beauty, Hanoi still exudes a lot of different shades of life. If one day you can not sleep, let's hang out with some of your buddies at the following places for a crazy night in Hanoi.
II - Bars, pubs and nightclubs in Hanoi
If you want to find a lively space for a Hanoi city nightlife, immerse yourself in extremely "chill" music, bars, pubs or clubs in Hanoi are the perfect choice. A place to help forget the pressures of daily life with vibrant music, glasses of beer, with extremely bustling space in the city.
A common point of bars in Hanoi is that the cocktails are mostly prepared according to recipes inspired by familiar indigenous drinks, which not only appeal to the Vietnamese customers but also impress international visitors. A good example is Pho cocktail, a creative drink imbued with Hanoi, which has helped Vietnam put its name on the world cocktail map. Besides beer, whiskey, gin tonic and many other beverages are also served in bars, pubs and clubs in Hanoi.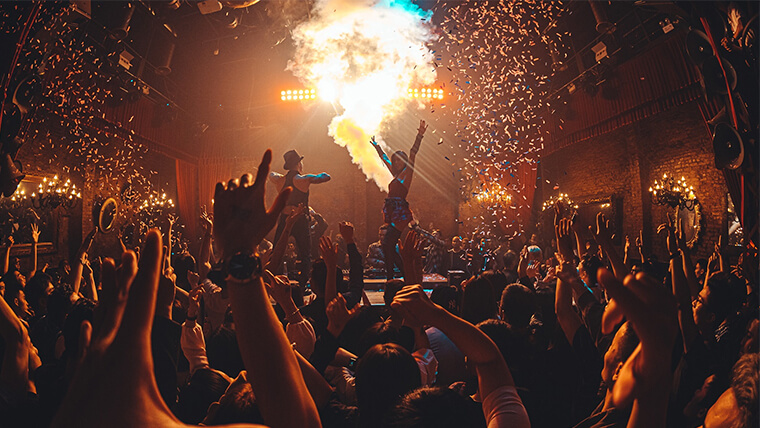 1900 Bar - Source: Fb 1900
Recreating the style of the Prohibition era bars, bars in Hanoi also hide in small and hidden places, but the space is splendid and magical. They are normally open between 9pm and 2am.
Please note that there can be drunken guests inside or outside a bar who cannot control their behaviors. So please take care of yourself and stay away from drunk people, beware of traffic accidents when you go home late and you're too sleepy or drunk to drive. You should also avoid making loud noises or you might wake locals up at midnight.mNow, let's discover the top popular Hanoi nightlife attractions that are so well-known among young people..
1 - Bars, pubs and clubs in West Lake area
Sunset Bar at InterContinental Hanoi West Lake
True to its name, Sunset Bar is like a place to bring you a picture tinged with sweetness when the sun sets. With the design embracing the view of West Lake, Sunset Bar will bring you shimmering background images for "cool" pictures. In addition to the wonderful scenery here, Sunset Bar also brings a showy beauty with many lights illuminating the night.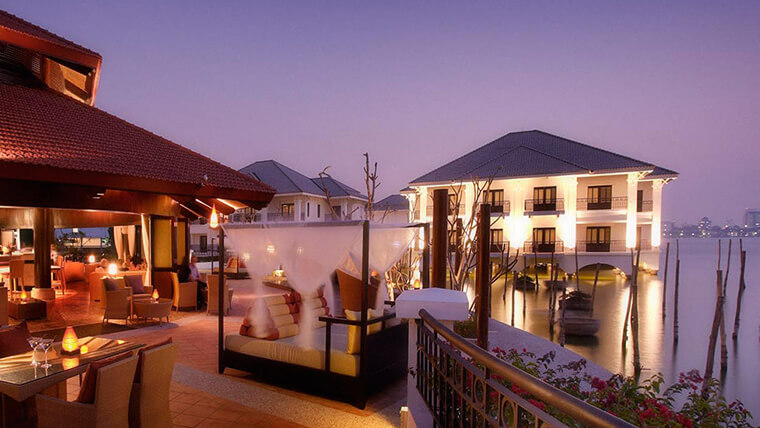 Sunset Bar West Lake - Source: Hanoi.intercontinental
Along with the beautiful view, Sunset Bar - Intercontinental Hanoi Westlake also owns an extremely rich beverage menu. Mojito, Negroni, Sunset Martini, Cosmopolitan ... are seductive cocktails by slightly spicy yeast. Besides, Mixed Drinks, including Rum & Coke, Campari & Orange, Gin & Tonic,... will bring new and fresh flavors. Or the Mocktails drinks group with Hanoi Sunset, Sun Riser, Milk Shake,... have the gentle and sweet taste of the combination of available drinks and fresh fruits,... And other drinks can fascinate you right from the first enjoyment.
- Address: No.5 Tu Hoa street, Tay Ho district, Hanoi
- Telephone: 024 6270 8888
Savage Club Hanoi
Savage Lounge is an integral part of Savage Club - an underground club with Boiler Room model which first appeared in Southeast Asia, newly launched in Hanoi but received extremely enthusiastic welcome from House and Techno House music lovers
With the design of jungle industrial, Savage Lounge is one of the best clubs for nightlife in Hanoi, a place where concoction is brought to the forefront combined with a unique space, seemingly very simple, rustic but actually built in a very sophisticated way.
An indispensable part of Sagave Lounge is music. One of the founders and music director of Savage, the famous DJ Ouissam never disappoints his customers with his great taste in music.
- Address: No.1, Alley 9 Dang Thai Mai, Tay Ho, Hanoi
- Website: www.savage-hanoi.com
- Telephone: 024 6686 6150
2 - Bars, pubs and clubs in the Old Quarter
The old quarter is considered as the best Hanoi nightlife area with the best Hanoi party street - Ta Hien and Hang Buom street which are so famous for drinking, bars and pubs.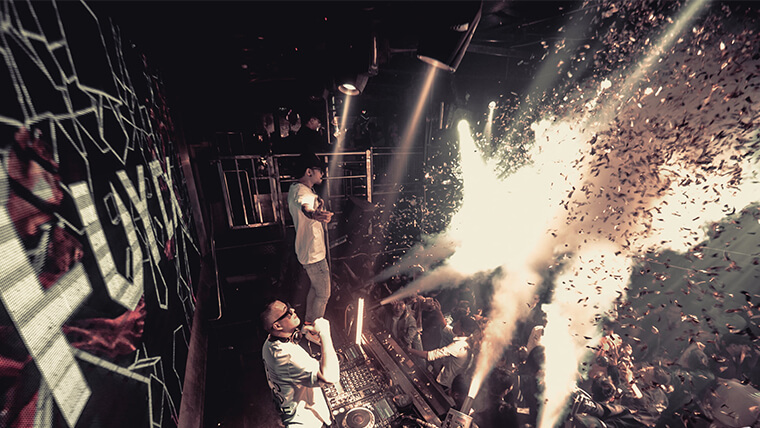 Hero Club Hanoi - Source: Fb Heroclubhanoi
Hero Club Hanoi
Famous for its high-end DJ, Hero Bar is a place to hang out with many young people in Hanoi. Known for its low price, the Hero Bar can help you get the most out of music, drinks and shisha.
Usually drinks at Hero Bar are quite cheap, about 60,000 VND, shisha ranges from 200,000 - 350,000 VND depending on the type. Although there is no combo like many other bars, these prices are quite reasonable for drinks.
- Address: 42M Yen Phu Street, Ba Dinh District, Hanoi
- Time: 8pm - 0am
The Opera NightClub
Being on the top clubs for having a nightlife in Hanoi, the opera nightclub has its uniqueness to attract and keep you visiting. The characteristic that anyone coming to The Opera Luong Ngoc Quyen must admire is the X-Stage stage. Besides, the spacious space and high ceilings also make you overwhelmed. The speaker system is reasonably arranged around the "theater" making music always more passionate than ever. Not to mention with the large space like this, the sound will have reasonable resonance and bank, not giving customers a headache. High-energy music such as Progressive House, Bigroom, Psytrance, ... are also easier to enjoy.
Luxurious and mysterious black tones combined with imported led lights make the space more magical. The stage right in the middle of the center will also help you keep track of the performances even at a distance.
Investors are always willing to spend money to invite the most talented DJs. The prominent names such as KENVINEVIN, TEA, DUYB, KS or HARDMONKEY always bring the most exciting tunes. Customers will not only hear the vibrant sound but will also be pleased with the passionate dance. The dancers will make the atmosphere hotter than ever. Don't forget to quench your thirst with fine beer bottles or cool cocktails. Besides beer and cocktails, The Opera Nightclub also has quality foreign wines. Dance in the music, chit chat with friends and sip a drink. What could be better to enjoy the best nightlife in Hanoi?
In addition to special events, The Opera Nightclub also has annual programs and offers. Every Wednesday night will be Ladies Night - a night when ladies can have free drinks until 12pm.
- Address: 18 Luong Ngoc Quyen, Hang Buom, Hoan Kiem
- Telephone: 0913515351
- Price range: 100.,000 - 1,000,000 VND ($4.3 - 43.4)
Mojito Bar & Lounge
Mojito Bar & Lounge is artistic in every little corner. The table is simple, the flower beds are attached to the wall - the furniture made of wooden bars (pallets) is rustic but full of personality. Light bulbs are made from bottles and rattan. The wooden floor is raised, creating a light effect below – fresh green but also mysterious light. The glass roof creates a sense of freedom, cherry trees are romantic, small landscape waterfalls and fish springs in the sky...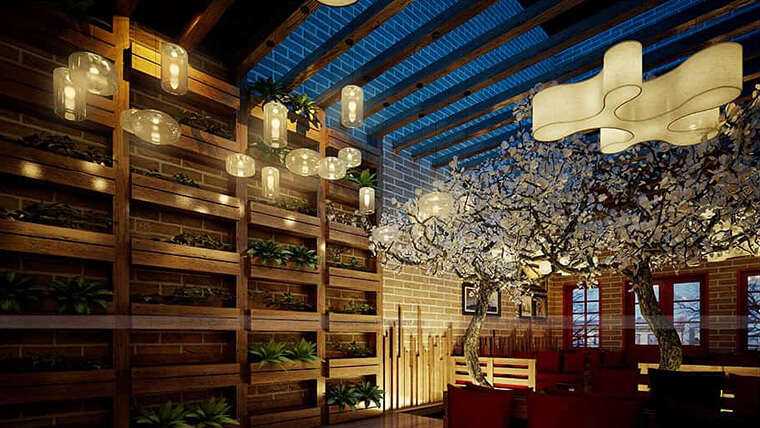 Mojito Bar & Lounge - Source: A&More
Not only is the space unique and different, drinks at Mojito also have their own characteristics. Mojito - the name of the restaurant, is also the name of a famous and long-standing cocktail. That speaks up its characteristic of drinks here, all exquisite and full of love from bartenders. Mojito has cocktails that you cannot find anywhere else like Pho cocktail, Gam Cau bridge cocktail, Family cocktail ...
- Address: No.19 Nguyen Quang Bich, Hoan Kiem, Hanoi
- Telephone: 096 236 19 99
Golden Cock Bar
Golden Cock Bar is famous gay bars for enjoying a nightlife in Hanoi Old Quarter. It will be very crowded on Friday and Saturday nights, full of gay locals, expats and foreigners.
The bar was newly renovated. It has a pool table, some stools and chairs. Located near the Hoan Kiem Lake, it's easy to find the location. From the lake, walk down Ngo Bao Khanh Street (away from the lake) and turn right at Bao Khanh Street. GC Bar is about 50 metres from the turning point.
- Address: 5 Bao Khanh, Hang Trong, Hoan Kiem, Hanoi,
- Phone: 024 38250499
Dragonfly Bar Lounge
Dragonfly Bar - Lounge is a cozy space, an ideal dating place on the weekends, where you will enjoy wine and cocktails from many countries around the world ... There are also special programs for the weekdays.
You can sit in a lounge room, enjoy the tranquility in jazz, R&B, gentle rock ballad while playing linga, petits chevaux, and chess. If you like something a little more exciting, you can go to the opposite room - shisha room, decorated with ancient Egyptian patterns.
Besides smoking shisha, you can also enjoy exciting music from hip hop to dance. If you want to dance, the dance floor on the first floor always welcomes you. This place is a very lively space with very exciting music. Not only dancing but if you want you can also play billiards. If you want to find a good place to observe everything, you can sit in the bar on the first floor. The service here is pretty good and the price is relatively cheap compared to other bars and pubs.
- Address: No.15, Hang Buom street, Hoan Kiem district, Hanoi.
- Telephone: 0936 993 557 - 0439 262 177
1900 Le Theatre
The 1900 Le Theater Bar is located in the bustling center of Hanoi's Old Quarters – No.8b Ta Hien Street. This is famous for being one of the best places for a Hanoi city nightlife. The bar was built based on the architecture of the old Quang Lac theater. With more than 100 years of age, Quang Lac theater used to be one of the most unique traditional performing arts venues in Vietnam in the early 20th century. More than 100 years later, the 1990 Le Theater bar was founded as a combination of traditional culture and classic style mixed with modern style in the architecture and interior design of the bar.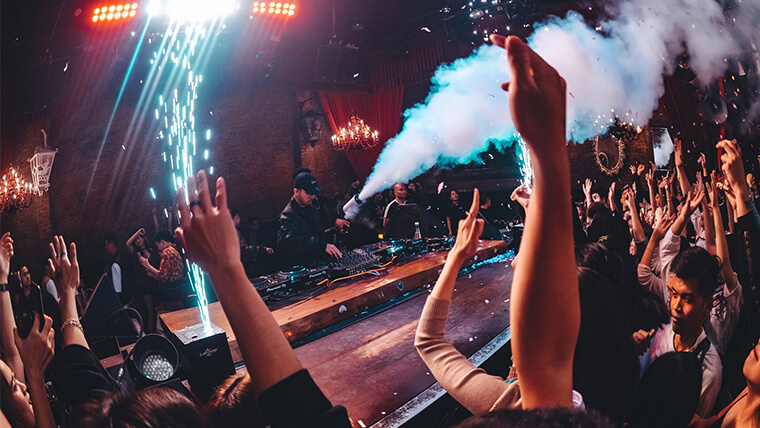 1900 Le Theatre - Source: Fb 1900
1900 Le Theater offers modern services with a variety of drinks ranging from beer, soft drinks, soda to strong spirits such as whiskey, vodka, champagne, etc. Especially, this is the gathering point of the hottest music shows. In addition, with the modern audio and visual system, the presence of famous DJs will surely bring you the moments of enjoying the most vivid music. Every month at the 1990 Bar, there is a special event with many famous guest artists from around the world attracting about 500 people every night.
In order to fully enjoy the sublimation moments of this extreme cool music space, you should visit the 1900 bar from 23 pm onwards. At this time, young people will be able to live the moment of super cool music together with the effect of firing paper fireworks and releasing smoke.
The price of the bar is relatively good, but on weekends there is often an extra charge because the bar invites many famous DJs. Beverages at the restaurant range from 60,000 - 120,000 VND ( $2.6 - 5.21 ) depending on the type of drink. You can refer to some very tasty drinks at the bar such as Tonic, Long island, Tet bar, Budweiser,...
The staff of the bar are also extremely friendly and stylish, but getting some Hanoi nightlife tips at bars or clubs are always useful for you: if you want to attend the 1900 bar on the weekend, you should call to book in advance because the bar is always busy, crowded with visitors on Saturday and Sunday.
- Address: No.8b Ta Hien, Hoan Kiem, Hanoi
- Phone: 091 111 19 00
- Price: 60,000 - 500,000 VND ($2.6 - 21.7 )
3 - Bars, pubs or clubs in other areas
Not so far from the old quarter but are the suitable places for those who are seeking a new vibrant out of the noisy atmosphere at the old quarter area. Coming to those bars is not only to enjoy luxurious services but also another way to experience nightlife in Hanoi by going through the big streets and see how the locals spend their night time.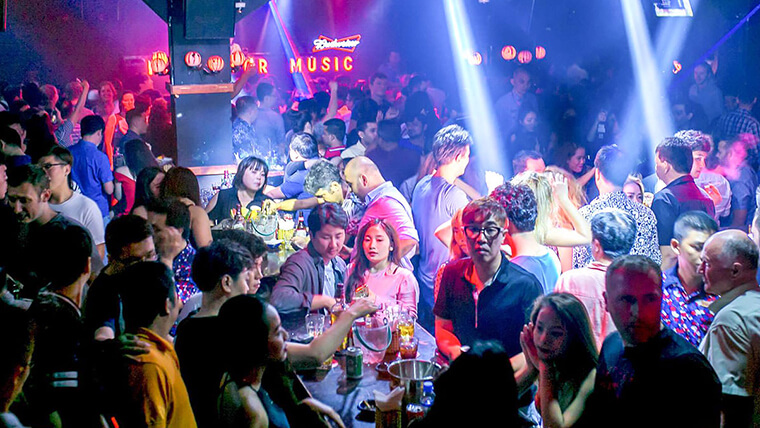 Apocalypse Now - Source: Internet
Apocalypse Now
Apocalypse Now was designed with many different areas: Bar, garden, etc, which can meet the demands of various customers.
Beautiful, luxurious, generous but still warm, pleasant is the first feeling you may feel when walking to Apocalypse Now. Everything here from facilities to sound and light are carefully cared for, up to the standards of a luxurious bar and restaurant.
Space, music and drinks are the three important factors that help Apo win the hearts of customers. The scent-stimulating cocktails help the mood of diners more refreshed, to slowly immerse in Live music from famous bands, top DJs from Korea, Malaysia, Philippines etc. This is much suitable for expats
- Address: No.40 Dong Tac street, Kim Lien ward, Hoan Kiem district, Hanoi
Seventeen Cowboys Club
Seventeen has a wild architecture, the space is designed entirely of wood, a unique decoration reminiscent of American West. It is one of the top destinations of rock lovers.
With dishes bearing the impression of America such as Texas grilled ribs, garlic lamb legs. Staff are friendly and provide services in a professional manner. This is definitely a place you cannot miss when coming to Hanoi.
- Address: No.98B Tran Hung Dao street, Hoan Kiem district, Hanoi
- Phone: +84 4 3942 6822
III - Experience Hanoi nightlife with spa and massage services
Spa and massage have become popular services in Hanoi. After a long day of walking and exploring the streets of Hanoi, it will be a good choice to relax yourself in a massage salon to regain energy for the next day of your trip. There are various spa and massage salons that can meet exactly your requirements.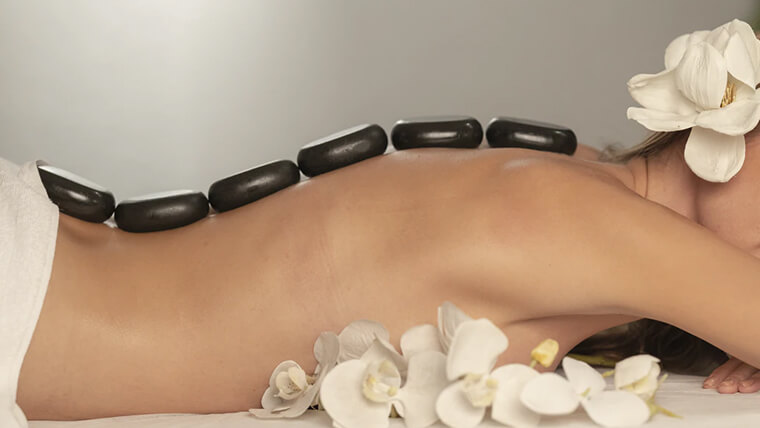 Huong Sen – Tai Thu massage - Source: Engin Akyurt
Huong Sen – Tai Thu massage
Huong Sen - Tai Thu is a famous massage place in Hanoi with a team of experts of up to 200 people with good technology, professional and healthy service. Coming here, you can take a sauna and massage.
Price: 250,000 VND ($10.8)/ 1.5hours for normal rooms, 800,000 VND ($34.7)/1.5 hours for VIP rooms
Address:
- Branch 1: 78 Yen Phu, Long Bien district
- Branch 2: 68 An Duong, Tay Ho district (VIP facility)
- Branch 3: 15 Luong Ngoc Quyen, Hoan Kiem district
Massage Oasis
This is one of the massage places in Hanoi that is loved by many gentlemen. Beautiful young staff are with great customer service and dedicated massage service.
Price: 450,000 VND ($19.5)/1.5 hours
Addresses:
- Branch 1: 17 Lang Ha street, Dong Da district, Hanoi
- Branch 2: 16 Pham Hung street, Nam Tu Liem district, Hanoi
- Branch 3: Nguyen Khang street
Spa Adam
Spa dedicated to "gays" in Hanoi.
- Price: 60,000 VND /person ($2.6)
- Address: Alley 4 alley 61 Lac Trung street, Hai Ba Trung district, Hanoi
IV - Others things to do in Hanoi at night
Other activities that you should definitely try in Hanoi at night especially the nightlife in Old Quarter Hanoi - the best area for tourists.
1 - Drinking cheap beer at Ta Hien street
Nobody knows since Ta Hien has become a bustling beer street in Hanoi. At day, it's just like every other street, but at night, it becomes so much busier. No traffic was allowed there, all eateries will set their tables and chairs on the street and most people would love to gather, enjoy some draft beer outdoors and chit chat.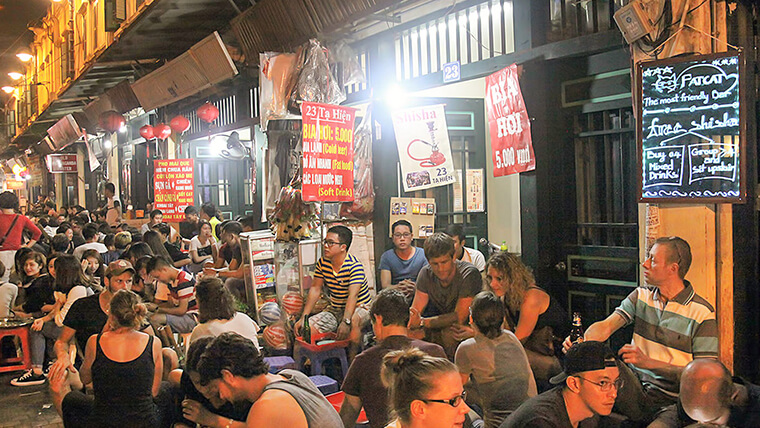 Ta Hien Street at night - Source: Internet
- Address: Ta Hien Street, Hoan Kiem district, Hanoi
- Time: 8:00pm - 0am
- Price: 50,000 - 110,000 VND ($2.1 - 4.7)/person
2 - Visiting night markets
Night Market is actually the two streets of Hang Dao and Hang Ngang, Hoan Kiem district, Hanoi that are close to traffic on the weekends and reserved for stalls only.
The market is open from 6pm - 11pm on the weekends of Friday, Saturday and Sunday. Clothes, accessories, decorations, handicrafts,... have very affordable prices with good quality. In addition, visitors can stroll around, enjoy the beauty of the culture of the Old Quarters with unique street music and shows. Visiting the night market is a must thing to do to explore nightlife in Hanoi old quarter.
- Address: From Hang Dao street to Dong Xuan Market, Hoan Kiem district, Hanoi
- Price: 10,000 - 100,000 VND ($0.4 - 4.3)
3 - Visiting Quang Ba flower market
Quang Ba flower market is on Nghi Tam dike (Tay Ho district). The market usually starts from 23:00 to dawn. Flowers in Quang Ba market are transferred from the outskirts of Hanoi such as Dong Anh, Tay Tuu, Gia Lam districts. The market is the most crowded at 1-2am. You will see a very different Hanoi. When the whole city is sleeping, Quang Ba flower market is bustling, full of flowers. The light emitted from the overhead lights makes the whole market immersed in shimmering, fanciful colors.
- Address: Nghi Tam street, Tay Ho district, Hanoi
- Time: 11pm - 5am
4 - Watching art performances in the Central Circus
What to do at night in Hanoi apart from drinking, walking? The best answer is booking a show. If you are looking for a place to watch Vietnamese circus and traditional performance, visit the central circus. The Central Circus is the venue for performances of many famous circus artists in Vietnam and internationally.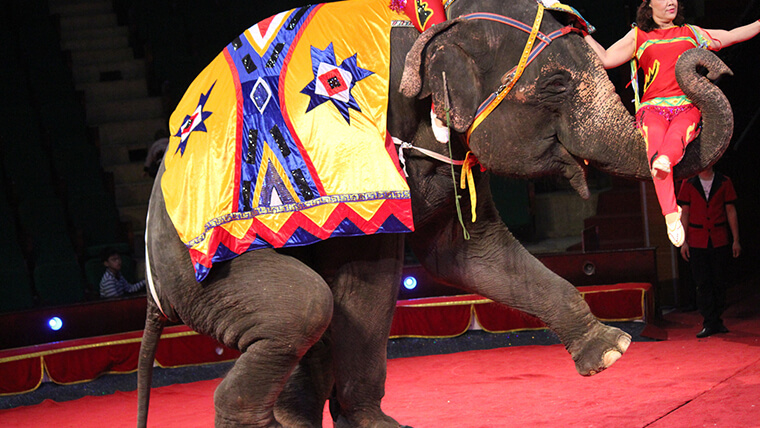 The Central Circus - Source: Justgola
With the location in the central area, the Central Circus is very convenient for tourists to visit. If you want to watch a performance in the Central Circus, there are always various choices of programs, which can change due to the occasions that are coming.
- Address: No.67-69 Tran Nhan Tong street, Hai Ba Trung
- Ticket: 120,000 - 200,000 VND ($5.2- 8.6)
- Opening hours: 8am - 10pm
5 - Exploring the Opera House at night
Hanoi Opera House is located in a favorable position, facing Trang Tien Street - the busiest street in the city, on the right of the theater is the Hilton Opera Hotel - a hotel with ancient French architecture.
There is no admission ticket to the theater at nighttime and guests can only enter the theater when buying tickets for the performances held here.
Hence if you plan to explore inside the Opera House at night, you should find if there is any performance available that night, buy a ticket and get inside.
If you just want to wander around the theater at night, it's also not a bad choice. The theater will still be bright and vivid at night due to many lights on the streets and on the theater itself.
- Address: No.1 Trang Tien street, Phan Chu Trinh ward, Hoan Kiem district, Hanoi
- Entrance fee: None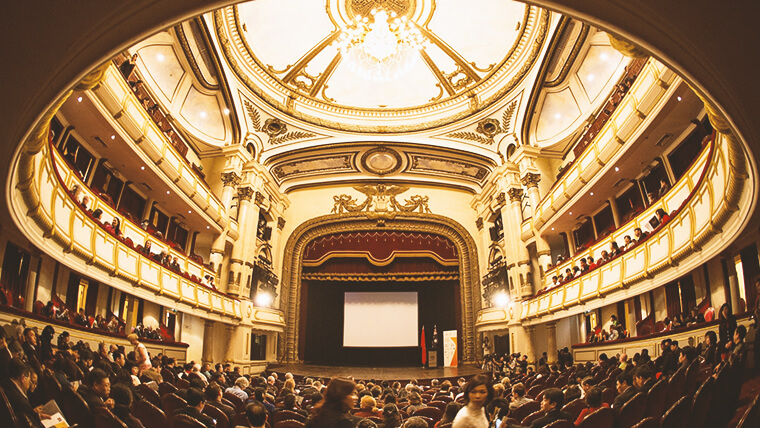 Hanoi Opera House - Source: Pinterest
6 - Strolling on walking streets
Hanoi Walking Streets or Hanoi nightlife street operate every weekend. They will start from 19pm Friday to 12pm Sunday every week in the area around Hoan Kiem Lake and the surrounding Old Quarters.Strolling on walking streets, you can see or join folk games, street performances, painting, or the night market.
- Address: Hanoi Old Quarter, Hoan Kiem district, Hanoi
7 - Enjoy coffee and the fantastic view at Highland Café's nearby Hoan Kiem Lake
Highland Coffee shop near the Hoan Kiem Lake is famous for its "extremely beautiful" view, because it is located on the third floor of Ham Ca Map building, where you can see the entire Hoan Kiem Lake and observe how vibrant the Hanoi nightlife is. Despite being located in such a beautiful location, the price of drinks is not higher than other coffee shops of the chain.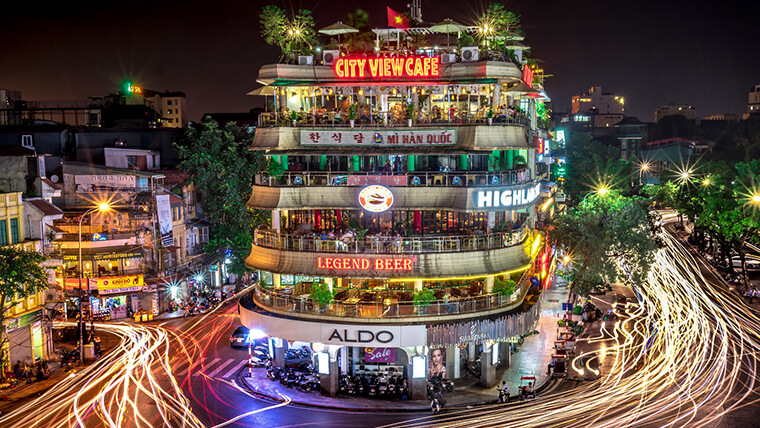 Source: Internet
Coming here, customers can sip a cup of coffee, cocktail or a smoothie, and enjoy the scenery of Hoan Kiem Lake from above, and enjoy the fresh, cool atmosphere of the Hanoi night to temporarily stay away from the hustle and bustle of the capital.
- Address: No.1-3-5 Dinh Tien Hoang street, Hang Trong ward, Hoan Kiem district, Hanoi
- Price: 9,000 - 65,000 VND ($0.4 - 2.8)
Hanoi is very beautiful when it lights up, the whole capital is covered in bright and sparkling light. Every night, the people of the capital have their own relaxing and fun activities after a hard working day. How about you? In addition to exploring Hanoi during the day, try going out at night, you will see a vibrant and vivid nightlife in Hanoi that you have never seen.