Considered as the center of North Vietnam, the weather in Hanoi is characterized by the tropical monsoon climate with 4 distinctive seasons in a year.
- Spring (February - April): the weather is cool with warm rays of sunshine. Humidity is quite high, about over 80%. Cold wind and drizzle are the main characters of Hanoi in spring.
- Summer (May - July). Hanoi weather ín the summer months is not so pleasant because of the high temperature, approximately 34°C on average. July in Hanoi is the hottest month and the heavy rains come frequently.
- Autumn (August - October): The weather is much more comfortable than in summer. The temperature slowly goes down to around 30°C. The rains still occur but last shortly. In October, Hanoi welcomes better weather with cool and dry winds and fewer rains.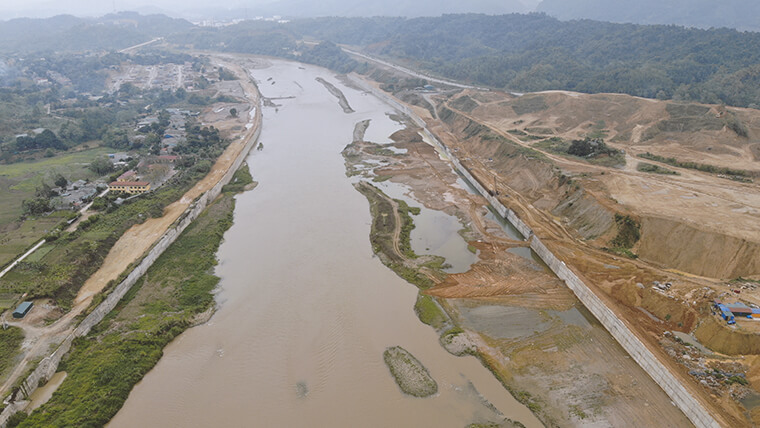 The Red river - Source: Nguyen Bac
- Winter (November - January) In the first period of winter, it is dry and cold. The next one is more cold, foggy, and wet.
The average temperature in Hanoi is 23.6°C. In the winter, the average temperature is about 16.4°C and in summer is about 34°C. The annual rainfall is from 1800 to 2000mm. The best time to visit Hanoi is either from February to April or August to October.
I - The weather in Hanoi in spring
1 - Characteristics of spring in Hanoi
Spring lasts from February to April. The temperature in Hanoi Vietnam ranges from 20 to 26°C in daylight, the temperature drops to just 17°C at night. The average humidity is about 58 to 98%. Spring is considered as the season of fertility and prosperity; therefore, it is the time that all the trees and flowers start a new cycle of life with new green shoots and colorful buds after a cold winter. Winds of spring are not cold. Sunlight is gentle. Sometimes, drizzles suddenly come, making the scene more lively and fresh. The most typical element of spring in Hanoi is muggy weather.
2 - Things to do in Hanoi in spring
Weather in Hanoi in the spring is an ideal weather condition for sightseeing and experiencing activities. In spring, Hanoi welcomes more important holidays and festivals - the most important one is the Vietnamese Lunar New Year (in late January or early February).
Visiting Hanoi on this occasion, tourists should take a tour to Nhat Tan peach blossom garden or Quang An flower market to enjoy and take in the most beautiful scenery of Hanoi spring. Hanoi streets these days are colorful and vibrant. Strolling around the streets and seeing everyone busily shopping and preparing for the Tet holiday must be an interesting experience.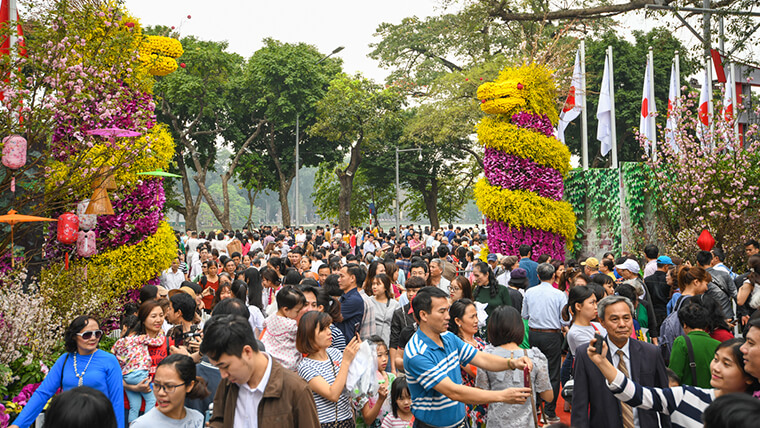 weather in Hanoi in spring is so favorable - Source: VnExpress
The first lunar month is considered as the month of sightseeing and exploring more about Vietnamese cultural festivals. Visiting Hanoi at that time, you will have a chance to experience numerous festivals such as Co Loa Festival, Go Dong Da festival, Huong pagoda festival, and so on. Top places to see in Hanoi include Hoan Kiem Lake, One Pillar Pagoda, Quan Thanh Pagoda, Tran Quoc Pagoda, Van Nien Pagoda, and so much more.
3 - Notes about Hanoi weather in the spring
The festivals during the beginning periods of the Lunar New Year are usually crowded, visitors should be careful when going to famous cultural and spiritual sites. You should prepare suitable clothes, umbrellas, raincoats in case of sudden rain. Plus, visitors should pay attention to the seasonal flu and other kinds of diseases that easily appear due to the cold and wet conditions in spring.
II - How is the weather in Hanoi in summer?
1 - Characteristics of summer in Hanoi
Summer in Hanoi lasts from May to July. Hot periods are fairly long and intense. Sometimes sudden showers appear. The temperature ranges from 29 to 38°C and decreases to approximately 25 - 26°C at night.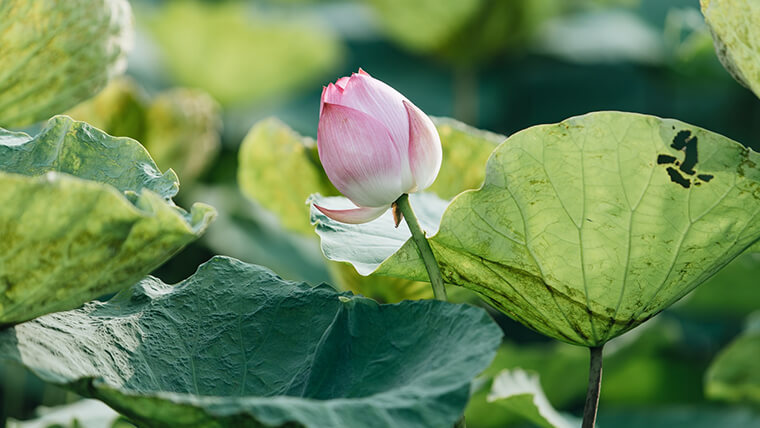 Lotus flower of West Lake in the summer - Source: Kenh14
Hanoi weather in May: May is the beginning of summer. The temperature increases quickly, around 25 - 33°C.
Weather in Hanoi in June & July: June and July are the 2 hottest months. Sometimes, the temperature can rise up to 40°C or even more.
Hot is the typical characteristic of summer weather. Along with the frequent heavy rains, the humidity in Hanoi gets quite high (always over 80%).
2 - What to do in Hanoi in the summer?
If traveling to Hanoi these months, you can consider spending 2 or 3 days in Hanoi to visit the most famous attractions such as the Hanoi Old Quarter, Hanoi West Lake, Hoan Kiem Lake, and other historical & heritage sites.
The weather in Hanoi in summer makes Hanoi nightlife more attractive with lots of fun things to experience. Apart from those mentioned places, you can get to the Hanoi water park or shopping centers.
One great point of traveling to Hanoi in the summer is that the travel cost is lower than the peak season - highly recommended for budget-minded travelers.
III - What is Hanoi weather in autumn like?
1 - Characteristics of Hanoi autumn
Autumn is known as the most beautiful and pleasant season of the year in Hanoi. The Hanoi average temperature in autumn is much lower than in summer, ranging from 25 to 29°C.
Details about the weather in Hanoi in August and September: In these months, the temperature is lower than summer months. Rains come more frequently and last longer.
In October, the temperature of Hanoi drops to 28°C (about 23°C at night)
It is obvious that Hanoi weather in the autumn is quite pleasant, cool, and fresh. The trees begin to change color from green to brown-orange and gradually fall down to the ground. Hanoi streets look so beautiful and romantic with more fallen leaves in the chilly breeze.
2 - Notes about the weather in Hanoi in autumn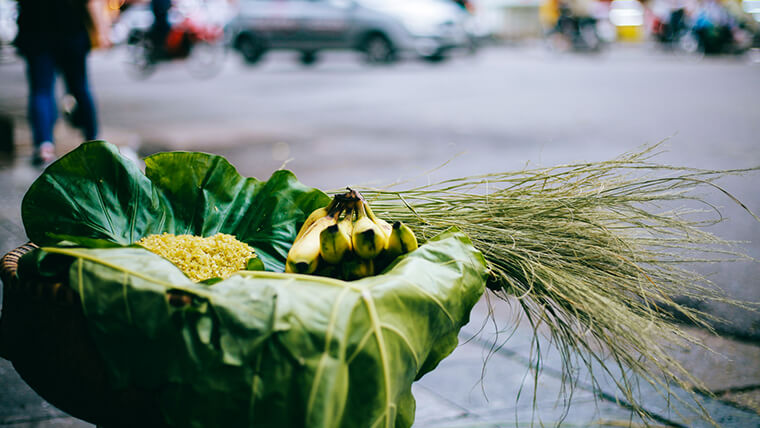 Green sticky rice - Source: aFamily
Autumn is the best time to get around Hanoi to see the streets & the ancient architectural houses, visit all the points of interest, and sample the most authentic dishes of Hanoi cuisine. The most exciting thing to experience is to explore the Mid-Autumn Festival with many interesting activities at Hang Ma Street, Hoan Kiem Lake, and the old quarter streets. In Particular, you will have a chance to enjoy the vibrant atmosphere of the Vietnam National day with numerous activities.
IV - Weather in Hanoi in winter
1 - Characteristics of Hanoi winter
Winter in Hanoi is extremely cold. It lasts for 3 months from December to January. The average Hanoi winter temperature ranges from 10°C to 20°C.
November is considered as the last month of autumn and the beginning month of winter; therefore, the temperature decreases a little, ranging from 19 to 24°C.
Hanoi weather in December: December is the coldest month of Hanoi winter with a temperature of only about 17°C to 19°C. Northeast monsoon winds appear and make temperature decrease sharply and sometimes reach 10°C.
In January in Hanoi, the temperature increases by 1-2°C compared to December, ranging from 18°C to 22°C. The humidity is about 70%.
2 - Notes about the weather in Hanoi in winter
Winter is the season of love, with the Christmassy vibe. Traveling to Hanoi in winter, you should try walking around the streets on a winter night, especially under cold drizzly rain. You will have your own feelings and memories that make you miss Hanoi so much whenever you travel somewhere far away.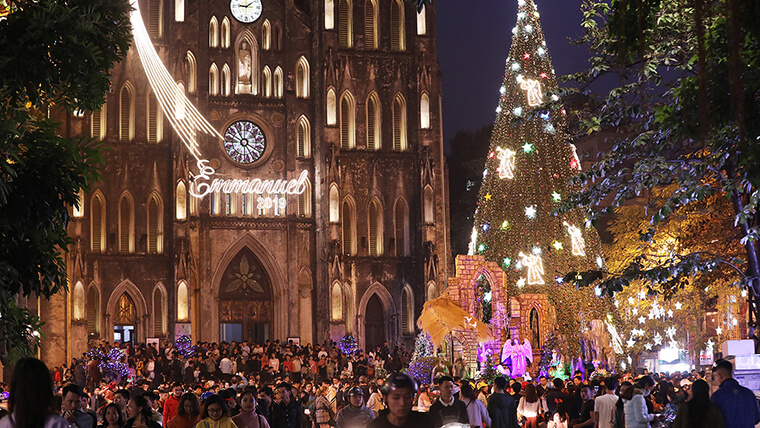 Christmas in Hanoi - Source: VnExpress
Experiencing the street food of Hanoi winters such as grilled corn, baked potatoes, grilled chestnuts, and many delicious grilled and hot pot dishes is a top thing to do. The weather in Hanoi in winter is so dry and cold, so do remember to pack some light jackets and scarves.
Traveling to Hanoi this time, you should not miss sitting down on the streetside, having a sip of hot coffee or tea to enjoy and experience more about the local lifestyle and winter vibe in this over 1000-year capital. Winter is also the time of the peak season for international tourists. Hanoi will be more bustling and busy with lots of things to see.
That is a brief look into the weather in Hanoi Vietnam and things to experience in each season of the year. In general, Hanoi is a great destination to visit at any time. To have a more suitable and ideal trip, do not forget to check the Hanoi weather forecast.