The legend has it that Ha Long Bay and Bai Tu Long Bay are the remnants of the dragon's mother since she tried to help the Vietnamese defeat foreign invaders at sea. While Ha Long Bay is the place where Mother Dragon landed; Bai Tu Long is where the Baby Dragon descended into the world. Accordingly, the large and small limestone mountains on the bay were caused by the Dragon blasting pearls to form a wall to stop enemy boats from entering and were left after the battle.
I - Overview
1 - Where is Bai Tu Long Bay?
This bay shares part of the boundary with Ha Long City, Van Don Island District and Cam Pha City. The entire bay is the convergence of hundreds of islands with a variety of sizes. This is also home to more than 300,000 people living mainly by fishing and aquaculture.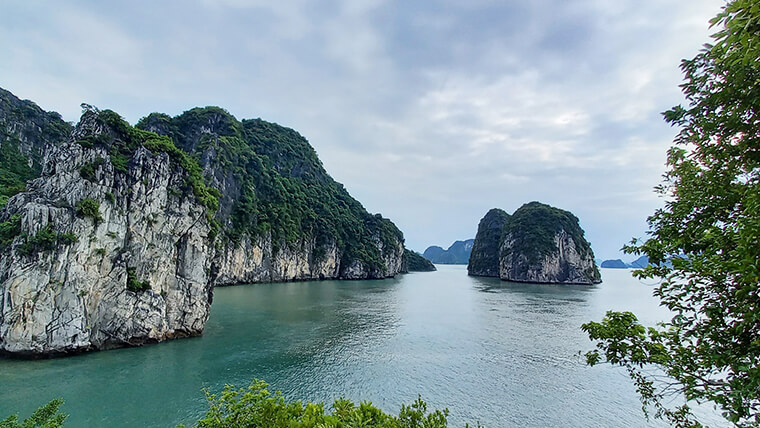 Source: Khanh Tran
Compared with Ha Long Bay, Bai Tu Long bay impressed tourists with its pristine beauty which has not suffered negative impacts from tourism activities or human exploration. There are fewer boats and tourists, the air is fresh and nature is more untouched. Bai Tu Long Bay Vietnam is really the ideal stopover for nature lovers with a system of islands, beaches, national parks with mangrove forests, conifers, corals, and tropical forests. You can find 391 different species of marine life, including 51 species of plankton, 79 species of coral, sea cucumber, serpent, etc. It also preserves a number of cultural sediments of ​​Van Don which is considered as the "cradle" of ancient Vietnamese culture.
2 - Bai Tu Long Bay weather information
Similar to Halong Bay, Bai Tu Long carries all the features of the island's climate with a distinct summer and winter. Summer (from May to October) there is hot and humid with an average temperature from 27 - 29°C. Meanwhile, winter (from November to April) is dry and cold, the temperature fluctuates between 15-25°C. In general, the weather is extremely cool. The seawater has a salinity of about 31 - 34MT, the sea is shallow and calm. Therefore, it is suitable for beach sports namely swimming, diving and watching coral, and so on.
The best time to visit Bai Tu Long is from March to May and September to November. During those periods, the water at the bay is fresher, the sky is clear and there are no sudden rain showers affecting your schedule. The stable temperature is suitable for swimming, outdoor play, and nature exploration.
II - How to get to Bai Tu Long Bay from Hanoi?
From Hanoi, you have to use two means of transportation including car and boat to get to Bai Tu Long. You can go to Hon Gai port and choose one day tour to explore the bay as well as 2 days 1 night one depending on needs, preferences, and time.
Source: Internet
Step 1: From Hanoi to Hon Gai port
From Hanoi to Hon Gai port takes about 2.5 hours by bus. Some limousine bus you can consider:
Phuc Xuyen Limousine:
- Ticket price: 180,000 VND/person (~ $7.76).
- Pick up point: Cau Giay Park, Cau Giay district, Hanoi
- Drop off point: Ha Long office, 239 Nguyen Van Cu street, Ha Long city
- Phone: 1900 6799
Hoang Phu Limousine:
- Ticket price: 200,000 - 250,000 VND/person (~ $8.6 - 10.7)
- Pick up point: Hanoi city centre
- Drop off point: Hon Gai port
- Contact: 1900 1085 - 0243 877 2236
Trung Thanh Limousine:
- Ticket price: 220,000 VND/person (~ $9.48).
- Pick up point: Can NV19 Minh Tam villa area (near lane 34, Tu Dinh street), Long Bien, Hanoi
- Drop off point: Welcome gate to Tuan Chau, Ha Long City
- Phone: 0966 896 896
Step 2: From the drop point to Hon Gai Port
From the drop point, you can call a taxi and continue to move to Hon Gai port at a cost of 50,000 - 100,000 VND/way/4-seater car (~ $2.2 - 4.3); Traveling time ranges from 15 to 20 minutes. There are some taxi companies in Ha Long City such as:
- Taxi Ha Long: 033.62 62 62
- Taxi Mai Linh: 033 628 628
- Taxi Hon Gai: 033 84 84 84
Step 3: From Hon Gai Port to Bai Tu Long Bay
Afterward, you can choose between moving by high-speed boat service or take a cruise tour service depending on your preferences, budget, and time.
High-speed boat contact:
- High-speed boat VinaShin - Hon Gai - Quan Lan: Traveling time: 60 minutes/trip; Departure time from Hon Gai: 9:30, ticket price: 180,000 VND/person (~ $7.75).
- High speed boat Ngoc Vinh - Cai Rong - Quan Lan: Traveling time: 45 minutes/trip; Departure time: 8:15 and 15:15 daily; Ticket price: 100,000 VND/person (~ $4.31)
Cruise tour service contact:
- OneVivu Travel & Service Company Limited: office address: T&T Riverview Building, Vinh Hung, Hoang Mai, Hanoi; Phone number: 0906 230 886.
- Happy Asia Travel Company - Happy Travel; Address: R316, G3Cd Building, Vu Pham Ham Street, Cau Giay, Hanoi; Phone: 0916 999 668.
II - Bai Tu Long Bay highlights
1 - Attractions
Bai Tu Long is widely known as a harmonious combination between nature and human life. You can explore the unique limestone islands and mountains on the bay as well as several natural caves, beautiful beaches, fishing villages, floating pearl-making villages, and Bai Tu Long National Park and so on.
Beaches
You absolutely should not miss beautiful beaches with fine white sand and blue seas such as Bai Con beach, Van Don beach, Quan Lan Beach, and Minh Chau beach. Each of them retains its inherent unspoiled beauty that can amaze any nature lovers. There are also some interesting activities you can try namely swimming, kayaking, sunbathing, or watching the sunrise.
Islands
Beautiful islands that tourists should stop over to feel the pristine natural beauty of Bai Tu Long Bay North Vietnam include Pair La Island, Quan Lan Island, Van Don Archipelago, Ngoc Vung Island, etc. Recently, all these islands have been inhabited by people and tourism services.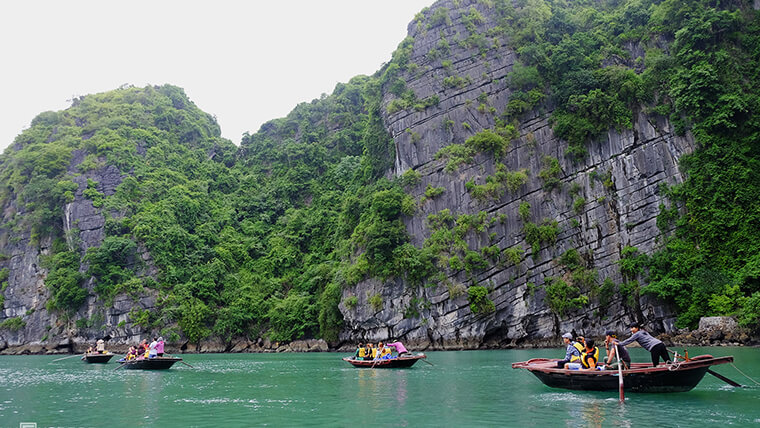 Source: Khanh Tran
Caves
Besides stunning islands, caves are also one of the indispensable highlights of Bai Tu Long. The most prominent that has to be mentioned is Thien Canh Son cave - a pristine cave with hundreds of millions of years old stalagmites and stalactites in unique shapes. Otherwise, you can take a look at Luon Cave - one of the unique geological formations where you can get lost in steep cliffs with a variety of living plants and birds.
Fishing villages
Inhabited by dozens of households, Vung Vieng Village, and Cong Dam Village making a living with fishing, and aquaculture all year round. There, you have the opportunity to see and experience a simple life with several daily activities such as fishing with fishermen, cooking, etc.
Pearl Making Villages
At Bai Tu Long Bay Vietnam, you will be surprised because the area where people live is a closed water area, surrounded by many large and small limestone mountains. At the same time, you can explore the process of raising pearls according to the traditional methods of the locals. Visitors can also choose to buy raw pearls or interesting jewelry there.
Bai Tu Long National Park
Consisting of 40 islands with a total area of 157.83 km2, a buffer zone with a total area of 165.34km2, and three main areas: group of Ba Mun island, group of Dau island, group of Tra Ngo island with, the national park is home to many rare species such as spotted monkey, mainland ibex, etc. Visitors can also explore Bat Cave - the "home" of thousands of bats, fish, civets, and foxes. Bai Tu Long National Park is also a place to store archaeological relics of the existence of the Vietnamese since 14,000 thousand years ago, with traces of a busy Van Don commercial port.
2 - Specialties
Bai Tu Long Bay is filled with fresh and available seafood from which the locals have invented a number of delicious and attractive dishes. Some dishes that you should not miss:
Tu Hai: A rare and expensive kind of seafood. Besides the delicious taste, it has high nutritional value, especially good for health. Normally, it is served with onion and fat, sometimes with peanuts creating a unique fresh - sweet - rich - fatty taste.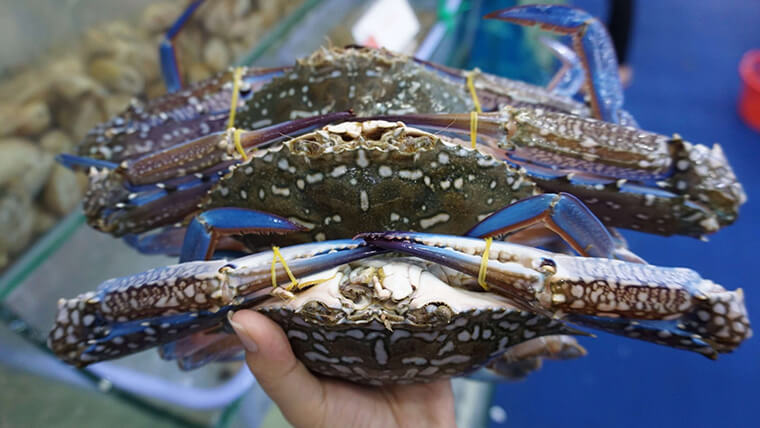 Source: Bhfood
Green crab: Green crab served with green pepper sauce has attracted a lot of dinners. The crabs in Bai Tu Long are sweet, retaining their fresh and delicious flavor which can favor even the pickiest tourists.
Gat Gu cake: This cake looks quite simple on the outside, but its delicate taste combined with the fatty, spicy leopard sauce offers you a surprisingly unique taste.
Sa Sung: Sa Sung is a rare kind of sea worm with high nutritional value. It is also one of the "mysterious" ingredients that make up the delicious broth for Pho. There, you can enjoy the delicious and greasy sauteed Sa Sung.
3 - Bai Tu Long Bay accommodation
Currently, there are two types of accommodation that you can consider when traveling to Bai Tu Long including hotel/homestay or cruise. In which, the cruise is more convenient and suitable for international tourists.
Some of the hotel/homestay that you can refer to:
Quan Lan Nam Phong Hotel: The hotel is located right next to the beach, has a romantically decorated campus with shining lights at night. It is mainly painted in elegant pale yellow color that brings a relaxing feeling to you. The check-in and breakfast area are spacious and airy with a typical wooden furniture design.
- Address: Thai Hoa commune, Quan Lan island, Van Don district, Quang Ninh province
- Room rate: 150,000 / night (~ $6.4)
- Phone number: 0988 961 358
La Panoma Hotel: This Bai Tu Long Bay hotel is designed simply but fully equipped with an outdoor swimming pool system, dining room, large lounge. This is an interesting stopover for tourists, especially those who love to explore nature with green surroundings.
- Address: Minh Chau Commune, Quan Lan Island, La Panoma Resort, Ha Long City, Quang Ninh Province.
- Room rate: 300,000 VND / night (~ $13)
Dau Dau Homestay: The compact and unique homestay design has comforted many visitors with the best experience. The campus is designed with a cool green area, a play area, and an outdoor tea table. Furthermore, from there you can easily explore the beach, admire the peaceful natural space of Minh Chau beach and enjoy the local dishes prepared by the owner of the homestay.
- Address: Dien Xa, Minh Chau, Van Don, Quang Ninh
- Room rate: 110,000 VND / night (~ $5)
- Phone number: 0399 678 986
Tuan Thuy Guesthouse: This Bai Tu Long Bay accommodation is renovated from a local's house so it is quite airy and clean. Moreover, the space is minimalistic but still offers a cozy vibe with light yellow and white tones. Staying there, you can comfortably use the facilities needed for their travel without worrying too much.
- Address: Thai Hoa, Quan Lan, Van Don, Quang Ninh
- Room price: 140,000 VND / night (~ $6)
- Phone number: 0948 14 51 48
If you want to explore Bai Tu Long Bay cruise, there are some companies that your can consider:
- Oriental Sail Cruise: Wooden yachts are designed with full amenities such as sunbathing area on the deck, restaurant, cafe, spa,... Designed in cozy golden tones, wooden floors, and bold furniture carrying a Vietnamese vibe, this yacht also offers you several interesting activities such as cooking class, tai chi practice, kayaking, swimming.
- Price: 3,400,000 - 3,900,000 VND / person (~ $146 - 168)
- Phone number: 0243 9264 009
- Address: Halong International Ship Port, No. 9 Ha Long Road, Bai Chay, Ha Long City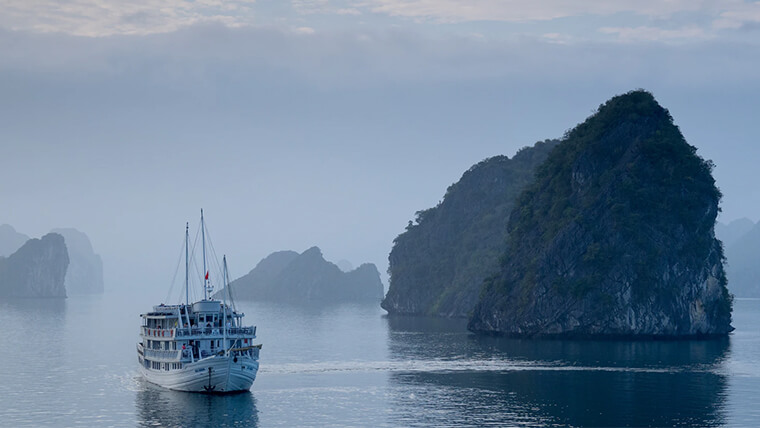 Source: Andre Ouellet
Swan Cruise: The yacht has two floors, decks decorated as a beautiful outdoor bar, and a romantic lighting system. Bedrooms are designed mainly with blue color to bring a fresh feeling of the sea.
- Price: $222 - 296 / person
- Phone number: 0974 00 10 62
- Address: No.44 Ham Tu Quan Street, 1st Floor, Bach Dang Building, Hoan Kiem District, Hanoi
Athena Luxury: This Bai Tu Long Bay cruise is designed with 3 luxurious floors and offers many different service subdivisions such as restaurants, bars, café, and sauna. Staying at Athena Luxury, you will have a luxurious, airy, and comfortable feeling, like at home. Some activities loved by tourists there include fishing, squid fishing, evening music programs, kayaking, and so on.
- Tour price: 4,200,000 - 8,500,000 VND / person (~ $181 - 366)
- Phone number: 0243 923 39 88
- Address: Room 406, No.1 Dinh Le Street, Hoan Kiem District, Hanoi
Dragon Legend: The entire yacht is designed with bright and fresh yellow tones. It also offers a range of modern facilities such as massage, fishing, kayaking, local food at the restaurant. In addition, you can try tai-chi in the morning, outdoor swimming pool on deck, sunbathing, and so on.
- Tour price: 3,600,000 - 6,000,000 VND / person (~ $155 - 258 )
- Phone number: 0243 926 4085
- Address: No.43, Street 5, F361, An Duong Ward, Tay Ho District, Hanoi City
III - Recommended Bai Tu Long Bay tours
In order to fully explore the beauty of Bai Tu Long, you should take the time to experience 3 days and 2 nights on the bay. And below is our suggested itinerary: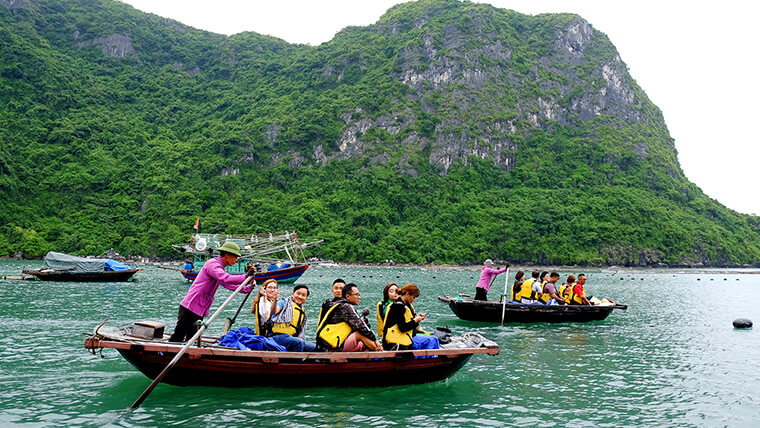 Source: VnExpress
Day 01:
8:30 - 12:30: Getting to Bai Tu Long from Hanoi
12:30 - 14:30: Having lunch and enjoying the bay on the boat
15:00 - 17:00: Exploring Pair La Island; Kayaking through limestone mountains, admiring the bay and swimming.
17:30 - 18:30: Enjoying tea and watching the sunset on the bay
19:00 - 20:30: Having dinner
20:30 - 22:30: Guests can choose the entertainment options on the yacht or try a squid fishing tour.
Day 02:
6:30 - 7:00: Practicing Tai Chi on the sundeck, watching the sunrise over the sea.
7:00 - 8:00: Having breakfast
8:00 - 11:30: Exploring Bai Tu Long Bay, visiting Thay cave or swimming
11:45 - 13:30: Having lunch
14:00 - 16:00: Visiting and exploring the life of fishermen in the fishing village of Vang Vieng.
16:30 - 18:30: Resting, taking time for yourself
19:00 - 20:30: Having dinner and admiring the bay at night
20:30 - 22:30: Joining group games, listening to music, enjoying coffee or fishing at night.
Day 03:
6:00 - 7:00: Enjoying the view and fresh air
7:00 - 8:00: Having breakfast
8:00 - 9:30: Visiting and exploring Thien Canh Son cave
10:00 - 12:00: Having lunch or enjoying the sea view
12:30 - 15:30: Back to Hanoi.
Bai Tu Long Bay map

Hopefully, our sharing can help you have better understood Bai Tu Long Bay Vietnam, as well as set up a suitable schedule to explore the bay. Wishing you the best experience in Bai Tu Long Bay.