The legend has it that Ha Long Bay and Bai Tu Long Bay are the remnants of the dragon's mother since she tried to help the Vietnamese defeat foreign invaders at sea. While Ha Long Bay is the place where Mother Dragon landed; Bai Tu Long is where the Baby Dragon descended into the world. Accordingly, the large and small limestone mountains on the bay were caused by the Dragon blasting pearls to form a wall to stop enemy boats from entering and were left after the battle.
Bai Tu Long Bay is a stunning natural area located in Quang Ninh province, Vietnam. Part of the larger Halong Bay UNESCO World Heritage Site, Bai Tu Long is known for its beautiful rock formations, crystal clear waters, and abundant marine life. Visitors can enjoy activities such as boat tours, kayaking, swimming, and cave exploring, and can also learn about the traditional way of life in the region by visiting the area's fishing villages. Plan your trip to Bai Tu Long today and experience the beauty of this amazing destination.
I - Where is Bai Tu Long Bay?
This bay shares part of the boundary with Ha Long City, Van Don Island District and Cam Pha City. The entire bay is the convergence of hundreds of islands with a variety of sizes. This is also home to more than 300,000 people living mainly by fishing and aquaculture.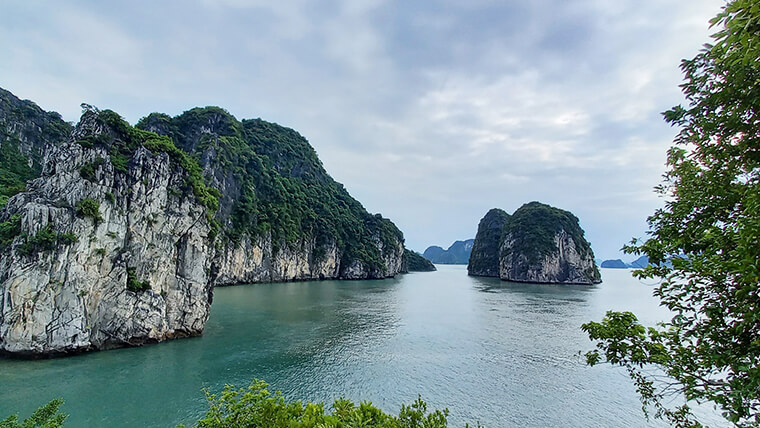 Source: Khanh Tran
Compared with Ha Long Bay, Bai Tu Long impressed tourists with its pristine beauty which has not suffered negative impacts from tourism activities or human exploration. There are fewer boats and tourists, the air is fresh and nature is more untouched. Bai Tu Long Bay Vietnam is really the ideal stopover for nature lovers with a system of islands, beaches, national parks with mangrove forests, conifers, corals, and tropical forests. You can find 391 different species of marine life, including 51 species of plankton, 79 species of coral, sea cucumber, serpent, etc. It also preserves a number of cultural sediments of ​​Van Don which is considered as the "cradle" of ancient Vietnamese culture.
II - How to get to Bai Tu Long Bay from Hanoi?
From Hanoi to the bay of Bai Tu Long, you can take a limousine or private car to get to Hon Gai port. With a distance of about 160km, it takes about 2.5 hours to transfer. Here below are some limousine for referring:
Luxury Transport:
- Pick-up: No.28 Au Trieu street, Hoan Kiem, Hanoi
- Drop-off: Hon Gai port - No.6A Le Thanh Tong street, Hon Gai ward
- Departure: 5:30 | 6:30 | 8:30 | 9:30 | 14:00 | 15:00 | 16:30 | 17:00
- Ticket price: 270,000 VND / way
- Contact: 0901 291 290
Green Lion Limousine:
- Pick-up: No.16E Phung Hung street, Hanoi
- Drop-off: Halong city & Bai Chay ward
- Departure: 8:30am
- Ticket price: 240,000 VND / way
- Contact: 098 470 96 69
Hoang Phu Limousine:
- Pick-up: Free pick up in the Hanoi city center
- Drop-off: Hon Gai ward
- Schedule: 3am - 9pm
- Frequency: 30 min / trip
- Ticket price: 250,000 VND / way ($11)
- Contact: 0243 877 2236 - info@hoangphutransport.com
Limousine to Bai Tu Long Bay Vietnam - Source: Internet
Note: If you are dropped off at Halong city, you can take a taxi to Hon Gai port. The distance is about 4km, and a taxi costs about 75,000 VND ($3.3). Some taxi brands in Halong city:
- Ha Long Taxi: 033.62 62 62
- Mai Linh Taxi: 033 628 628
- Hon Gai Taxi: 033 84 84 84
From Hon Gai port, to explore the bay you should book a cruise tour to experience the bay to the fullest with lots of interesting things to do such as cruising, kayaking, visiting the caves & fishing villages. The luxury cruises with great service quality and unique itinerary are the best choice for relaxing and experiencing.
III - Bai Tu Long Bay weather & best time to visit
Similar to Halong Bay, Bai Tu Long carries all the features of the island's climate with a distinct summer and winter. Summer (from May to October) is hot and humid with an average temperature from 27 - 29°C. Meanwhile, winter (from November to April) is dry and cold, the temperature fluctuates between 15-25°C. In general, the weather is extremely cool. The seawater has a salinity of about 31 - 34MT, the sea is shallow and calm. Therefore, it is suitable for beach sports namely swimming, diving and watching coral, and so on.
The best time to visit Bai Tu Long is from March to May and September to November. During those periods, the water at the bay is fresher, the sky is clear and there are no sudden rain showers affecting your schedule. The stable temperature is suitable for swimming, outdoor play, and nature exploration.
IV - Bai Tu Long Bay top places to visit
Bai Tu Long is widely known as a harmonious combination between nature and human life. You can explore the unique limestone islands and mountains on the bay as well as several natural caves, beautiful beaches, fishing villages, floating pearl-making villages, Bai Tu Long National Park and so on.
1 - Beaches
You absolutely should not miss beautiful beaches with fine white sand and blue seas such as Bai Con beach, Van Don beach, Quan Lan Beach, and Minh Chau beach. Each of them retains its inherent unspoiled beauty that can amaze any nature lovers. There are also some interesting activities you can try namely swimming, kayaking, sunbathing, or watching the sunrise.
2 - Beautiful islands in Bai Tu Long bay north Vietnam
Beautiful islands that tourists should stop over to feel the pristine natural beauty of the bay include Pair La Island, Quan Lan Island, Van Don Archipelago, Ngoc Vung Island, etc. Each island has a geological shape formed about 300 million years ago, exuding ancient and unique beauty, which makes the bay like a picturesque painting. Recently, all these islands have been inhabited by people and tourism services. These islands are not only pieces in a miraculous natural picture of the entire bay but also bring about a diversity of natural resources. Particularly, on these islands, you can admire mesmerizing karst caves, typically Quan cave (Hai Quan cave or Navy cave), which used to be home to many boats and ships in the past when the sea was rough.
Here you can make use of the yacht rental service to visit Bai Tu Long bay in general and the surrounding islands in particular. On the yacht, you have a chance to admire the breath-taking scenery of the mountains, the sea and breathe the cool breeze from the sea. Otherwise, you can experience kayaking to discover the utmost beauty of limestone islands and ancient caves with incredible stalagmites and stalactites. Enjoying the feeling of floating on the immense water surface amidst vast space of majestic surrounding mountains and paddle a kayak in turn with your travel mates would be an amazing experience when visiting the bay. Each kayak can carry a maximum of 2-3 people and normally, you are provided life jackets and electric pump for kayaking.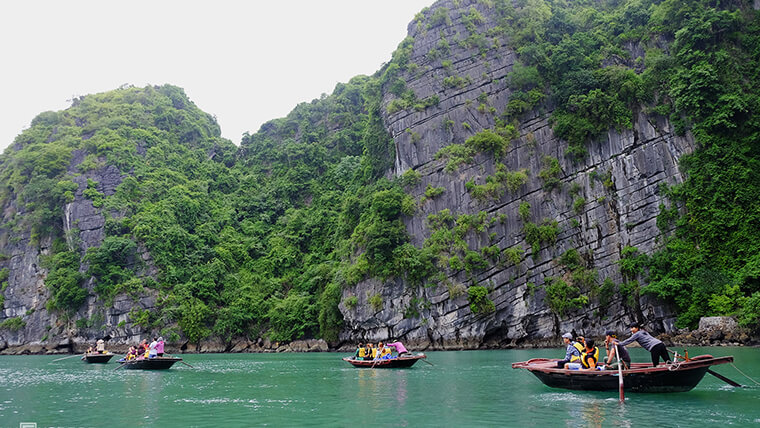 Source: Khanh Tran
3 - Bai Tu Long bay famous's caves
Besides stunning islands, caves are also one of the indispensable highlights of Bai Tu Long. The most prominent that has to be mentioned is Thien Canh Son cave - a pristine cave with hundreds of millions of years old stalagmites and stalactites in unique shapes. Otherwise, you can take a look at Luon Cave (Cai De cave) - one of the unique geological formations where you can get lost in steep cliffs with a variety of living plants and birds.
Luon Cave
Luon cave is one of the most breathtaking & worth-visiting caves in Bai Tu Long bay. The cave is 500m long with the widest part of around 50m, featuring rows of limestone mountains. Clinging to the ceiling of the cave and both sides are stalactites with various sizes and shapes looking like bunches of fruits and floating clouds in the fairy land. From the entrance of the cave, you row a boat about 200m to reach the dry section, then a large valley with an area of around 10ha, featuring hundreds-year-old trees, and a truly diverse biodiversity of fauna and flora inside the cave.
Thien Canh Son cave
Also known as Hang Co (Co Cave), it belongs to Cong Do Nature Reserve, renowned for its unique natural beauty and poetic scenery. Inside the cave features a myriad of miraculous stalagmites and stalactites with eye-catching shapes and various sizes, formed thousands of years ago. Surrounding the cave is lush vegetation with colorfully blooming flowers on cliffs. The route leading to the cave features a charming soft glittering white sand embracing transparent emerald seawater.
4 - Fishing villages in Bai Tu Long bay
Inhabited by dozens of households, Vung Vieng Village, and Cong Dam Village make a living with fishing, and aquaculture all year round. There, you have the opportunity to see and experience a simple life with several daily activities such as fishing with fishermen, cooking, etc.
Vung Vieng fishing village or Vung Vieng village, about 25km from the mainland, is a large floating fishing village, home to thousands of fishermen. It has a strong impression on visitors' minds because of its pristine beauty, rustic and simple life that are rarely seen in other places. Visiting the village, you can let your hair down and let your mind wander the soothing and tranquil space as well as immerse yourself in majestic mountains and the charming sea of Bai Tu Long bay.
Cong Dam village is very far away from the mainland, completely separated from tourist routes, so it still retains wild and unspoiled scenery with an absolutely clean natural environment. The fishing village is home to a wealth of colorful coral reefs, aquilaria and underground lakes in the heart of limestone mountains as well as many underground caves. In addition, there are also many enchanting beaches with crystal clear emerald water, soft sand, which makes you relaxed. Once coming here, you can join interesting activities with locals such as fishing, squid fishing, planting, kayaking, or getting on a coracle to explore small houses in the village.
5 - Unique pearl farm in Bai Tu Long Vietnam
At Bai Tu Long bay Vietnam, you will be surprised because the area where people live is a closed water area, surrounded by many large and small limestone mountains. At the same time, you can explore the process of raising pearls according to the traditional methods of the locals. Visitors can also choose to buy raw pearls or interesting jewelry there.
6 - Bai Tu Long National Park
Consisting of 40 islands with a total area of 157.83 km2, a buffer zone with a total area of 165.34km2, and three main areas: group of Ba Mun island, group of Dau island, group of Tra Ngo island with, the national park is home to many rare species such as spotted monkey, mainland ibex, etc. Visitors can also explore Bat Cave - the "home" of thousands of bats, fish, civets, and foxes. Bai Tu Long National Park is also a place to store archeological relics of the existence of the Vietnamese since 14,000 thousand years ago, with traces of a busy Van Don commercial port.
V - More tourist information
1 - Specialties
Bai Tu Long Bay is filled with fresh and available seafood from which the locals have invented a number of delicious and attractive dishes. Some dishes that you should not miss:
Tu Hai: A rare and expensive kind of seafood. Besides the delicious taste, it has high nutritional value, especially good for health. Normally, it is served with onion and fat, sometimes with peanuts creating a unique fresh - sweet - rich - fatty taste.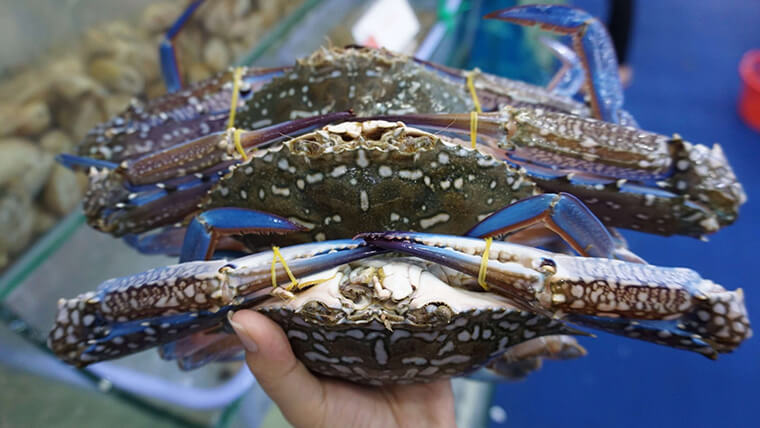 Source: Bhfood
Green crab: Green crab served with green pepper sauce has attracted a lot of dinners. The crabs in Bai Tu Long are sweet, retaining their fresh and delicious flavor which can favor even the pickiest tourists.
Gat Gu cake: This cake looks quite simple on the outside, but its delicate taste combined with the fatty, spicy leopard sauce offers you a surprisingly unique taste.
Sa Sung: Sa Sung is a rare kind of sea worm with high nutritional value. It is also one of the "mysterious" ingredients that make up the delicious broth for Pho. There, you can enjoy the delicious and greasy sauteed Sa Sung.
2 - Bai Tu Long Bay accommodation
Apart from some onland hotels or homestays, cruises are top-rated places for an amazing overnight stay on the bay. More information about accommodation to refer:
Dau Dau Homestay
Dau Dau is one of the top favorite homestays to stay on Minh Chau beach. A nice homestay offers a clean room, and good standard services for a nice stay.
- Address: Dien Xa, Minh Chau commune, Van Don district, Quang Ninh province
- Room rate: 110,000 VND / night ($5)
- Phone number: 0399 678 986
La Panoma Hotel
This is a simple-designed but fully-equipped Bai Tu Long Bay hotel for those who want to have a cheap stay near the bay.
- Address: Minh Chau commune, Quan Lan island, Quang Ninh Province.
- Room rate: 300,000 VND / night ($13)
Tuan Thuy Guesthouse
This is a good place to stay for budget-minded travelers that is located on Quan Lan island.
- Address: Thai Hoa, Quan Lan commune, Van Don district, Quang Ninh province
- Room price: 140,000 VND / night ($6)
- Phone number: 0948 145 148
If you want to explore Bai Tu Long Bay cruise, there are some companies that your can consider:
Oriental Sail Cruise
Wooden yachts are designed with full amenities such as a sunbathing area on the deck, restaurant, cafe, spa,... Designed in cozy golden tones, wooden floors, and bold furniture carrying a Vietnamese vibe, this yacht also offers you several interesting activities such as cooking class, tai chi practice, kayaking, swimming.
- Price: 3,400,000 - 3,900,000 VND / person / 2D1N ($146 - 168)
- Phone number: 0243 9264 009
- Address: No.9 Ha Long Road, Bai Chay, Ha Long City, Quang Ninh Province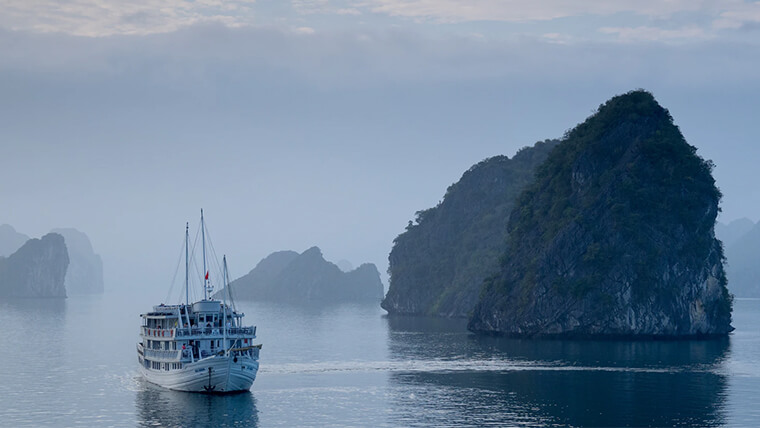 Source: Andre Ouellet
Swan Cruise
The yacht has two floors, decks decorated as a beautiful outdoor bar, and a romantic lighting system. Bedrooms are designed mainly with blue color to bring a fresh feeling of the sea.
- Price: $222 - 296 / pax / 2 days 1 night tour
- Phone number: 0974 00 10 62
- Address: No.44 Ham Tu Quan Street, 1st Floor, Bach Dang Building, Hoan Kiem District, Hanoi
Athena Luxury
This Bai Tu Long Bay cruise is designed with 3 luxurious floors and offers many different service subdivisions such as restaurants, bars, café, and sauna. Staying at Athena Luxury, you will have a luxurious, airy, and comfortable feeling, like at home. Some activities loved by tourists there include fishing, squid fishing, evening music programs, kayaking, and so on.
- Tour price: $181 - 366 / person / 2 days 1 night tour
- Phone number: 0243 923 39 88
- Address: Room 406, No.1 Dinh Le Street, Hoan Kiem District, Hanoi
3 - Recommended overnight Bai Tu Long Bay tours
In order to fully explore the beauty of Bai Tu Long, you should take the time to experience 3N2D on the bay. And below is our suggested itinerary: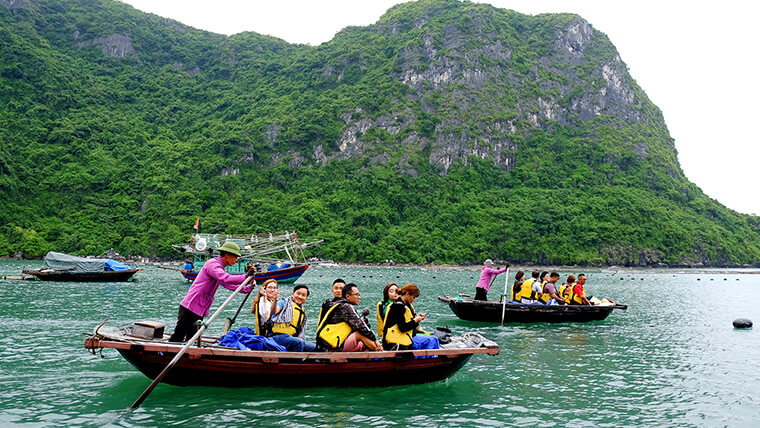 Source: VnExpress
Day 01:
08:30 - 12:30: Reaching to Bai Tu Long from Hanoi
12:30 - 14:30: Having lunch and enjoying the bay on the boat
15:00 - 17:00: Exploring Pair La Island; Kayaking through limestone mountains, admiring the bay and swimming.
17:30 - 18:30: Enjoying tea and watching the sunset on the bay
19:00 - 20:30: Having dinner
20:30 - 22:30: Guests can choose the entertainment options on the yacht or try a squid fishing tour.
Day 02:
06:30 - 07:00: Practicing tai chi on the yacht, watching the sunrise over the sea.
07:00 - 08:00: Having breakfast and coffee
08:00 - 11:30: Exploring Bai Tu Long Bay, visiting Thay cave or swimming
11:45 - 13:30: Having lunch
14:00 - 16:00: Visiting and exploring the life of fishermen in the Vung Vieng fishing
16:30 - 18:30: Resting, taking time for yourself
19:00 - 20:30: Dinner and admiring the bay at night
20:30 - 22:30: Joining group games, listening to music, enjoying coffee or fishing at night.
Day 03:
06:00 - 07:00: Enjoying the view of the bay in the early morning, breathing fresh air
07:00 - 08:00: Having breakfast
08:00 - 09:30: Visiting and exploring Thien Canh Son cave
10:00 - 12:00: Having lunch or enjoying the sea view before returning to the mainland.
12:30 - 15:30: Returning to Hanoi.
Look for Bai Tu Long Bay map
Bai Tu Long Bay Vietnam is a must-visit destination in the north. offering a wealth of natural beauty and activities to enjoy from boat tours and kayaking to swimming and cave exploring. The area is also home to charming fishing villages that offer a glimpse into traditional life in the region. Don't miss the opportunity to experience all that Bai Tu Long Bay has to offer on your next trip to Vietnam.