Hanoi and Saigon are the two largest economic spearhead cities in Vietnam. Hanoi is the capital of Vietnam, located in the North, with an area of 3,324.92 km². It is often known as a "crowded land" with more than 8 million people living and working here (2019).
Ho Chi Minh City has another dear name - Saigon, located in Southern Vietnam, which is 1730km from Hanoi. The topography of the city is lower along the direction of Northwest - Southeast. Saigon is the most populated city in Vietnam, with nearly 9 million people living according to the General Statistics Office of Vietnam in 2019.
Here is a comparison between Hanoi and Saigon based on 13 features:
1 - History
The name of Hanoi has appeared in Vietnamese history since 1010. The King at that time was Ly Thai To who transferred the capital from Hoa Lu, Ninh Binh to Dai La Citadel and changed Dai La into Thang Long. The name of the Vietnamese ancient capital - Thang Long citadel - remained during the Ly, Tran, and Le dynasties. By 1831, King Minh Mang under the Nguyen Dynasty had established Hanoi province consisting of Thang Long Citadel and some surrounding areas. On April 25, 1976, during the 6th National Assembly session, Hanoi was officially selected as the capital of Vietnam. Over a millennium, Hanoi has witnessed and experienced many historical ups and downs with the country and people of Vietnam.
In terms of history, Hanoi and Ho Chi Minh had gone through many ups and downs, and have recovered for several decades after the American war in Vietnam.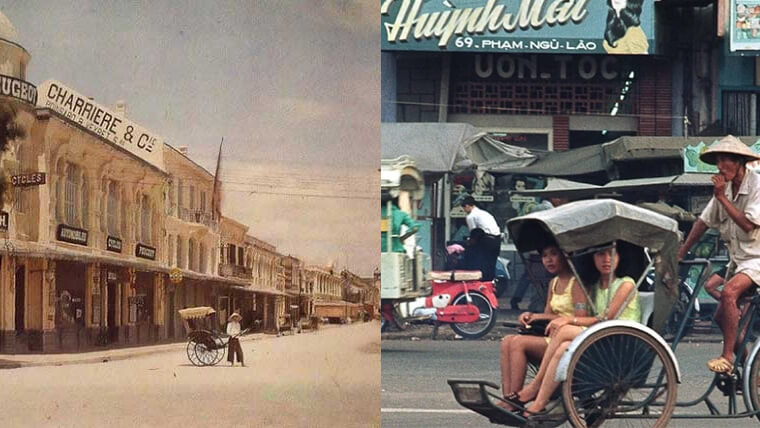 Source: Internet
Ho Chi Minh City or Saigon is "younger" than Hanoi. It was not until the beginning of the 16th century that Saigon was opened, brooded, and inhabited by Vietnamese people. Ho Chi Minh City has been the official name since July 1976 when it was renamed from Saigon by the National Assembly of the Socialist Republic of Vietnam. Currently, the name Saigon is still commonly used and is mentioned as the semi-official name of this city.
2 - Weather in Hanoi vs Ho Chi Minh city
Hanoi is characterized by a humid tropical monsoon climate with four seasons: spring, summer, autumn, and winter. In which, most of the time this city experiences Summer & Winter seasons, which are characterized by 2 main climate characteristics: hot & humid (from May to July) and dry & cold weather (from November to January). The annual average temperature is 23.6ºC, the highest is June (29.8ºC), and the lowest in January (17.2ºC). The annual average relative humidity is 79%. The average annual rainfall is 1800mm.
The weather in Hanoi vs Saigon is quite different. Ho Chi Minh City is influenced by the subequatorial monsoon tropical climate. In contrast to Hanoi, Saigon has only two seasons: the dry season (December - April) and the rainy season (May - November). The city has hot weather all year round, with high temperatures and plenty of rain. The average annual temperature is 27.6°C (the hottest month is April, the temperature is about 29.3°C - 35°C) the average annual rainfall is 1979 mm.
3 - Cuisine
Hanoi and Saigon are the remarkably important centers of Vietnamese cuisine and an amazing street food paradise in Vietnam.
The cuisines of these two beautiful cities are extremely diverse and sophisticated offering thousands of specialties. Hanoi cuisine is inclined towards traditional Vietnamese dishes, associated with the long culture and history of Vietnam. The dishes in Hanoi often have a frugal, light taste, but require a lot of ingenuity and sophistication in cooking. Typical dishes in Hanoi cuisine include beef noodle soup (beef Pho), Hanoi combo noodle soup (Bun Thang), Noodle with grilled pork (Bun Cha), popiah, fried spring rolls (Nem Ran), fresh green rice flakes from Vong village, vermicelli with fried tofu & shrimp paste (Bun Dau Mam Tom) and egg coffee.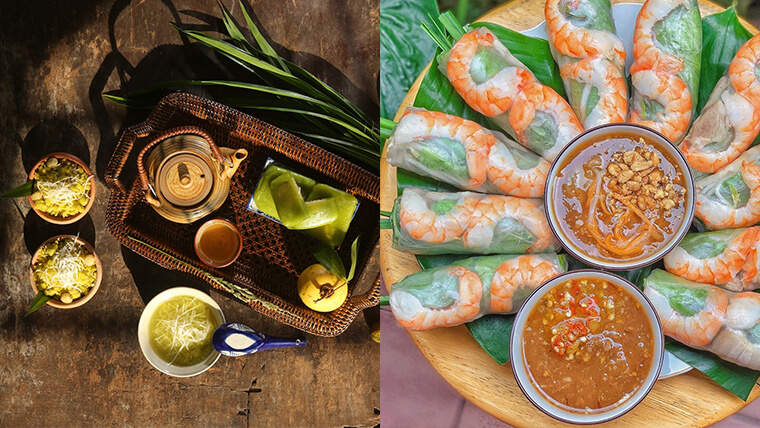 Source: Zing
Hanoi and Saigon cuisine reflects the difference in culture and lifestyle of Hanoians & Saigonese
Ho Chi Minh City's dishes have a more sweet & sour taste with lots of cooking methods thanks to the influence of Chinese, Indian and Thailand cuisine. This city is the best place for enjoying Vietnamese street food. Typical dishes in Saigon are: broken rice, spring rolls, Banh Canh (thick rice noodle soup), crab noodle soup, southern noodles with grilled pork and sweet-sour dipping sauce, southern sweet gruels,...
If we talk about the number of dishes, Ho Chi Minh City ones may be higher, but in terms of taste, Hanoi's dishes have more advantages.
4 - Shopping in Hanoi vs Ho Chi Minh city
Whether in Hanoi or Saigon, you have many options when shopping. Both cities have traditional markets where most of the people's buying and selling activities take place, as well as large shopping malls and convenience stores. The remarkable market in Hanoi is Dong Xuan market, meanwhile, Ben Thanh market is the symbol of Saigon.
It should be noted that when shopping at markets in Hanoi or Ho Chi Minh City, you also need to prepare cash in advance to pay and be able to bargain.
5 - Nightlife in Hanoi vs Saigon
Saigon is a modern, dynamic city at night and is considered a "sleepless city" of Vietnam. There are many eateries, bars, pubs, or places for overnight activities. Among the most outstanding experiences are Nguyen Hue walking street, Bui Vien street, cruise on Saigon river,...
Hanoi's nightlife is somewhat less busy. The busiest areas in Hanoi at night are Ta Hien Street, Hoan Kiem Lake pedestrian street, roads around West Lake, bars and clubs in the Hanoi Old Quarter,...
6 - Accommodation
Accommodation in Hanoi and Saigon are very diverse in types, segments, and price ranges. Types of accommodation such as hotels, resorts, homestays, hostels, apartments for rent are available in both cities.
In Hanoi, the Old quarter area in Hoan Kiem street, Ba Dinh and the West Lake district are the best areas to stay. Meanwhile, when visiting Saigon, you can choose to stay in Districts 1 and 3 for more luxury accommodation and support services.
7 - Tourist attractions in Hanoi and Saigon
The thousand-year-old capital attracts visitors with its historic sites and many sacred temples. Famous attractions are Ngoc Son Temple, Tay Ho Palace, Tran Quoc Pagoda, Ho Chi Minh Mausoleum, One Pillar Pagoda,...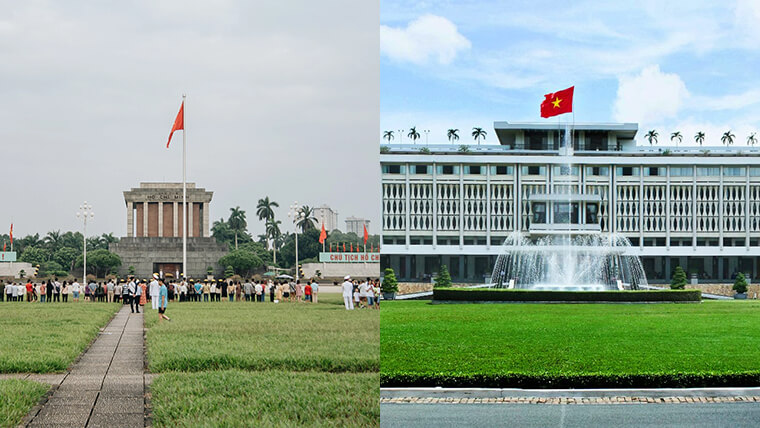 Source: Internet
Saigon is well-known for having many churches and museums such as Independence Palace, Vietnam History Museum, Ho Chi Minh Museum, Tan Dinh Church, Notre Dame Cathedral,...
Hanoi and Ho Chi Minh city are the hubs of cultural and historical sites in Vietnam where you need to spend several days exploring.
8 - Holiday
Hanoi is close to tourist destinations with majestic mountainous landscapes such as Ninh Binh, Sapa and Ha Giang or the stunning bays like Halong Bay or Lan Ha Bay.
Saigon is close to many beautiful river deltas, beaches and islands. Best places to visit from Ho Chi Minh city are Vung Tau beaches, Mekong River Delta and Phu Quoc islands.
9 - Traffic in Hanoi vs Ho Chi Minh city
The same thing for traffic in Hanoi vs Ho Chi Minh city is congestion at peak hour at 8.00 - 9.00 am and 16.30 - 19.00 pm.
Noi Bai Airport is located in the suburbs about 30km from the center of Hanoi. In Saigon, Tan Son Nhat airport is located in the city, about 8km from the center.
Public buses are the most popular forms of public transportation in both cities. The hop-on-hop-off travel bus is a great way to explore the cities. Especially since 2017, Ho Chi Minh City has put into operation the Saigon River bus routes, contributing to solving traffic overload and bringing new experiences for tourists. Taxi and ride-hailing services from Grab, Be and Go Jek are highly recommended for travelers.
10 - Pollution
The pollution in Hanoi vs Ho Chi Minh city is both high compared to the rest of the country. These two most modern and most developed cities in Vietnam are struggling with the serious situation of environmental pollution, especially air pollution when the overhigh amount of particulate matter due to the greenhouse gas emissions, industrial emissions, dust, pollen.. Without preventive measures, people in these two cities will face health problems related to the respiratory systems. The air pollution will be more severe on winter days due to the low humidity and dry weather. Traveling to these two cities, tourists should put on a mask when going out.
11 - Lifestyle of people in Hanoi vs Saigon
Source: Internet
Hanoians and Saigonese have lots of differences in characteristics and lifestyle. Hanoians seem like more conservative, traditional & hierarchical, with sarcastic humor and wordplay. In daily life, Hanoians tend to pay more attention to appearance and savings for the future.
Saigonese are much more active, friendly and open in thoughts & communication. They prefer to enjoy every moment of life rather than think of the future. It can be said that, if most northern people like dressing in formal suits, the southerners love casual clothing.
12 - Safety level between Hanoi and Saigon
Security in Hanoi is somewhat higher than Ho Chi Minh City. In Saigon, there are lots of robberies happening daily to both locals and travelers. In general, to all tourists visiting Vietnam, you need to be more careful when going out. It would be better to keep your passport and valuable belongings at the hotel rather than take them everywhere.
To those who are wondering which is better Hanoi or Ho Chi Minh, there is no absolutely right answer. Actually, both cities have good and not so good things.
The two cities of Hanoi and Saigon have their own unique beauty. An ancient & gentle Hanoi versus a dynamic and energetic Saigon are more attractive and enchanted to a complete travel experience in Vietnam.