Bars and clubs are the best places to immerse at night for fun and unique experiences in Hanoi. Best bars in Hanoi are mainly located in the main districts and areas such as The Hanoi Old Quarter, Tay Ho District, and Ba Dinh district. Here below is a list of the most popular bars.
1 - Skyline Hanoi - the best rooftop bar in Hanoi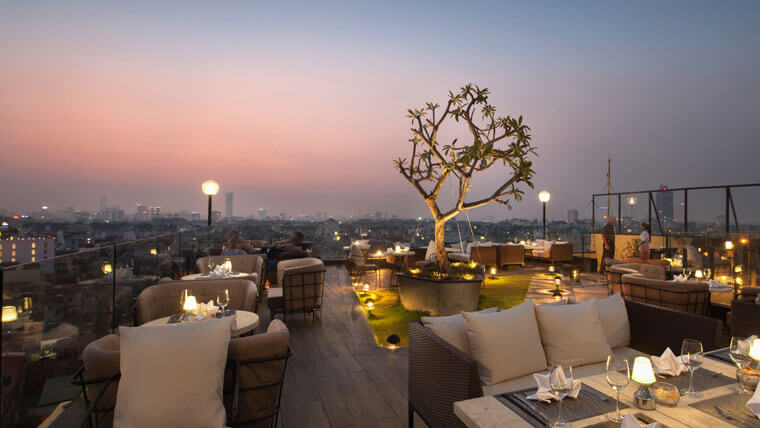 Source: Skylinehanoi
The Hanoi Skyline is on the top floor of the Hanoi Tirant Hotel. This bar offers guests a peaceful space, a cozy atmosphere, and high-end services. The bar's decor is simple but delicate and luxurious. Skyline is colored by green trees in the center of the lit-up space, etc. This Sky bar Hanoi offers a rich menu from familiar dishes to unique drinks. In terms of food, Asian to European dishes such as T-Bone beef ribs, fried spring rolls (dishes with bold traditional Vietnamese flavors),... are the most popular dishes. The Skyline will be an excellent place to watch fireworks during the holidays and New Year, etc.
- Address: No.38 Gia Ngu Street, Hang Bac Ward, Hoan Kiem District
- Hotline: 096 808 30 66
2 - Camelia Lounge - Top luxury bar in Hanoi
Camelia Lounge has an area of 500m2 on the third floor of the Melia Hotel, divided into five main areas: Cigar Lounge, Exclusive Lounge, Champagne Bar, romantic balcony, and the main bar. Camelia Lounge's space is regarded as the most opulent and extravagant in Hanoi. Every decorative detail, every line on the wall, is meticulously decorated. The bar area is decked out in sophisticated ceramic and bathed in the gleaming light of colossal chandeliers.
This is one of the best bars in Hanoi Old Quarter that offers unique Nikkei cuisine, which combines the sophistication and elegance of Japanese cuisine with freshness, stimulating the taste buds of Peruvian dishes. The bar's collection of 20 premium champagnes, serve diners with a truly luxurious and high-quality party.
Camelia Lounge offers guests a world-class Lounge music experience with music genres such as Electronic Lounge, Deep Vocal House, Vintage, Global Soul, Funky House, and more.
- Address: No.44 Ly Thuong Kiet Street, Tran Hung Dao Ward, Hoan Kiem District
- Hotline: 090 626 02 91
3 - Jigger Cocktail & Wine Bar - a must-try speakeasy bar Hanoi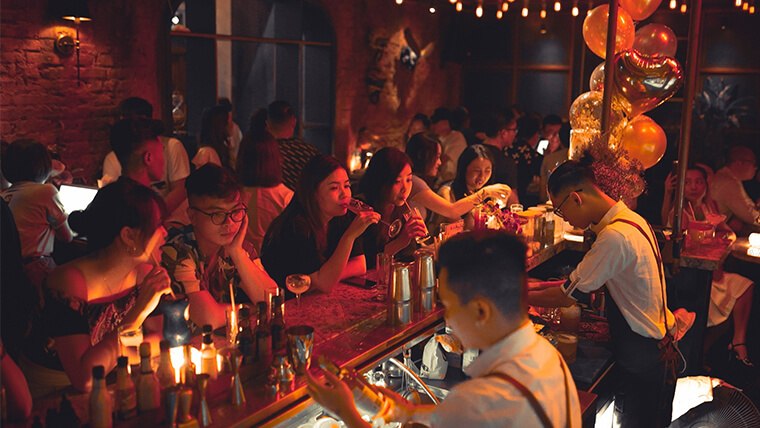 Source: Jiggercocktailbar
Jigger Cocktail & Wine Bar has a space that combines the distinct features of contemporary style with decorative details reminiscent of a classic European style. In the sparkle golden and red light, the tables and chairs are arranged closely together, creating a luxurious and cozy space. The bar has two floors, a shared space with a capacity of about 120 people, and private and luxurious space with a capacity of 12 people.
Jigger Cocktail & Wine nice Bar in Hanoi has an extremely diverse menu with over 50 cocktails prepared by professional bartenders. The most popular foods and beverages are Whiskey, Wine, Late Breakfast, Women Of Mystery, The Twisted Lips, Moon River, Unmask, etc.
Jigger Cocktail & Wine Bar has a vibrant music performance and professional DJ.
- Address: No.59 Nam Ngu street, Cua Nam ward, Hoan Kiem district
- Note: make a reservation at least 30 minutes in advance
- Hotline: 094 888 84 20
4 - The Mad Botanist - The famous Gin wine bar in Hanoi
The Mad Botanist is hidden on the third and fourth floors of He She Eat Dim Sum restaurant and has a stunning view overlooking the Hanoi St. Joseph Cathedral. The bar is designed with a luxurious and attractive interior with palm leaf motifs, beautiful geometrical patterns imitating the typical architecture of pubs in the 1920s.
There are 103 different types of Gin wine on the shelves at thís top of the Hanoi bar. The most popular dish here is the Lab Inspired Gin & Tonic. In addition, the bar offers a variety of cocktails, such as the Bacalao, which is made with Gin Sweet Muffin Tea, crafted fruit juice, and Maraschino Luxardo, etc. Visiting the Mad Botanist in the evening, ordering a glass of Gin, listening to soothing music, and admiring the city scene at night is an amazing night experience.
- Address: No.45 Ly Quoc Su street, Hang Trong ward, Hoan Kiem district
- Hotline: 024 2246 4123
5 - Binh Minh Jazz Club - a unique Hanoi bar specializing in Jazz music
Binh Minh Jazz was founded in 1998 by Vietnamese jazz artist Quyen Van Minh and has since become a popular hangout for jazz musicians. You will feel an intimate, cozy space from the gentle lighting and close-together sofas. There are numerous types of drinks including cocktails, imported beer, whiskey, coffee, and juice.
With its many green trees on campus, Binh Minh Jazz is highly recommended as the nicest and most peaceful place in the heart of the city. Every day from 21:00 to 23:00, jazz music is played at the bar.
- Address: No.1 Trang Tien Street, Phan Chu Trinh Ward, Hoan Kiem district
- Hotline: 024 3933 6555
6 - Nê Cocktail Bar Hanoi - Hanoi's best-known cocktail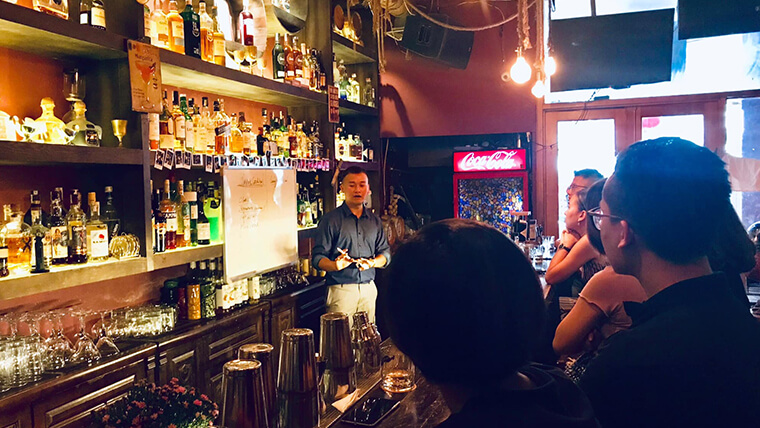 Source: Ne.cocktailbar
Nê Cocktail is the soul of bartender Pham Tien Tiep, who has long been known for his famous Phở-flavoured cocktail. Nê Cocktail is ranked five stars on Tripadvisor for its special drinks and cozy atmosphere.
The bar's decoration and interior details are selected and designed with exquisite sophistication and eye-catching, creating a gentle and friendly space.
Phở Cocktail - the signature drink of this bar is flavored with cinnamon, ginger, anise, onion, lemon, and chili, etc. Every Tuesday evening, the bar hosts a live jazz show at 9 pm.
- Address: No.3B Tong Duy Tan Street, Hang Bong Ward, Hoan Kiem District
- Hotline: 090 488 62 66
7 - The Hanoi Social Club - The well-known live music Hanoi bar
The Hanoi Social Club is built in the style of a French mansion, with golden walls, blue door frames, wooden furniture, etc. Entering this bar guests will be stamped with a red seal of Hanoi Social Club as a sign that they have begun "joining" in the vibrant space of the bar.
With a small beautiful space equipped with rattan chairs and papyrus carpets, the first floor is where live music programs are held. This floor is dedicated to showcasing the talents of young artists, with each having the opportunity to express their own compositions. An interesting night of music can be organized simply with a guitar, a harmonica, and a set of good-sounding speakers.
The second floor is quieter, with a small balcony overlooking the quiet Hoi Vu street, this is an ideal place for those seeking peace.
- Address: No.6, Hoi Vu Lane, Hang Bong Ward, Hoan Kiem District, Hanoi
- Hotline: 024 3938 2117
8 - Puku Cafe & Sport Bar - An vibrant place for sportaholics
Puka Cafe & Sport Bar is a unique Vietnamese-style cafe and sports bar in Hanoi. The bar is open all day. With delicate white walls and intricate architectural elements, the bar's first floor is very impressive with its design. The second floor is bright and airy with big windows.
Puku Cafe has a young and dynamic look thanks to its small beautiful decor and numerous green trees. This bar serves both drinks and popular Vietnamese dishes, Asian dishes, and European dishes upon request.
- Address: No.16-18 Tong Duy Tan Street, Hang Bong Ward, Hoan Kiem District
- Hotline: 024 3938 1745
9 - Grammy Bar - One of oldest bars in Hanoi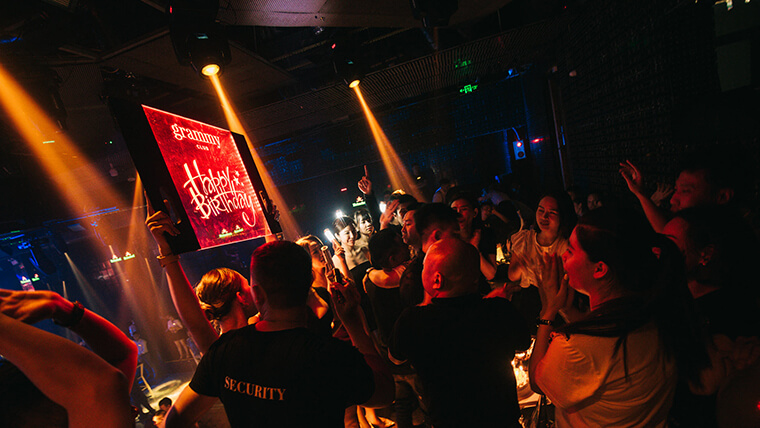 Source: GrammyClub
Grammy Club (formerly known as The New Square) is among one of Hanoi's first bars, with a lively atmosphere and a capacity of around 1000 people. The bar's interior is designed in a contemporary style, equipped with a modern sound system that brings a comfortable, luxurious, and classy entertainment space for the Grammy Club's guests.
In the dim lights of this long-standing Hanoi bar, you can enjoy the excellent live music performed by well-known Vietnamese and international DJs. Every week, the Grammy Club organizes events with famous singers.
The drinks available at Grammy Club are pretty diverse, ranging from cocktails, whiskey, juices, and soft alcoholic drinks.
- Address: No.360 Kim Ma Street, Ba Dinh District
- Hotline: 0913 51 53 51
10 - GC Bar
GC Bar in Bao Khanh street is one of the most prominent gay bars in Hanoi Vietnam and is most impressed by its special space. GC Bar is built with a spacious space with a generous layout. Black - red colors are used as the main color tones combined with sparkling lights, vibrant music to create a charming dim space leading at night in Hanoi. The pictures with ghostly and seductive beauty are the highlight of the bar space. Delicious drinks at varied prices have made GC bar the leading gay bar in the old town.
- Address: No.5A Bao Khanh, Hang Trong, Hoan Kiem, Hanoi.
- Hotline: 093 623 32 63
With that information on the recommended bars in Hanoi, hopefully, travelers can find it much easier and more convenient while looking for a nice place to spend time at night.