Many tourists who first come to Hanoi can't help but wonder why are there so many lakes in Hanoi? Hanoi city is rich in not only historical and cultural relics but also stunning lakes, many of which have been associated with the long course of the history of the city, making it a crucial part of the spiritual life of the residents. In modern life, these Hanoi lakes are also of great significance when they have become popular entertainment spots with plenty of enjoyable recreational activities.
1 - West lake - top 10 lakes in Hanoi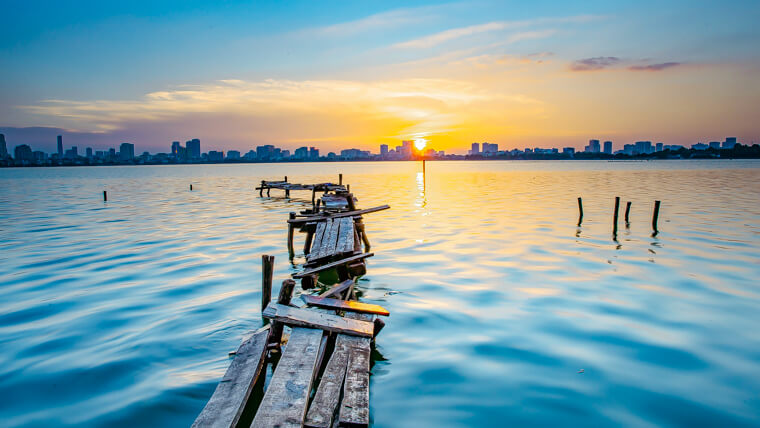 West lake is the biggest lake in Hanoi - Source: Phạm Tuấn Phan
Situated in the Northwest of the city center, West lake is the biggest natural freshwater lake in Hanoi with a total area of 500ha and a circumference of 18km. Around the lake are many famous religious architectural constructions which are not only the place of worship but also reflect the unique, outstanding architecture and design such as Tran Quoc pagoda, Quan Thanh temple, Van Nien pagoda, Ho Tay temple, and Tao Sach pagoda. In addition, the area around West lake features a number of luxurious hotels like Sunset Westlake Hotel, InterContinental Hanoi Westlake, and Somerset West Point Hanoi,... with modern facilities and first-class services.
Like at other famous lakes in Hanoi, you can join numerous activities around the West lake area, typically exploring West Lake water park with plenty of thrilling games, paddling a SUP in the middle of the lake, shooting beautiful photos in The West Lake valley, or simply wandering around Trinh Cong Son walking street to let your mind wander around the airy space with an incredible view of the West Lake. Trinh Cong Son walking street opens from 5pm-11pm on Saturdays and 8am-11pm on Sunday with a dozen vibrant musical performances and delectable street food.
2 - Truc Bach lake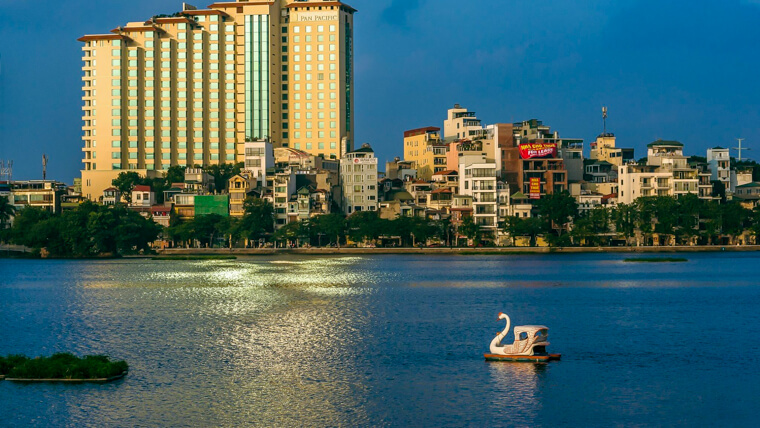 Truc Bach lake - Source: Hien Vu
Truc Bach lake is one of the three most well-known lakes in Hanoi, preceded by Hoan Kiem lake and West Lake. The lake is connected with the West Lake by Thanh Nien street. However, unlike the hectic and bustling West lake, Truc Bach lake boasts its gentility, charm, and peace with the romantic surrounding landscape. There are a number of historical sites and impressive architectural works surrounding this famous lake in Hanoi.
Particularly, Quan Thanh temple, one of the Four Sacred Temples of ancient Hanoi, is located in the Southwest of the lake; the ancient pagodas of Than Quang and Chau Long are situated in the west of the lake. The bank of Truc Bach lake is decorated with rows of colorful phoenixes and giant crape myrtles mirroring their stunning images on the calm water surface, creating a charming, idyllic scene.
As one of the most beautiful lakes in Hanoi, Truc Bach lake features ancient surroundings with charming old-style houses in small alleys and many glitzy cafes and eateries serving fine beverages and delectable specialties that attract flocks of locals and tourists at night. Riding a duck pedal boat is one of the most favorite activities on the lake so as to enjoy the surrounding natural landscape. After that, just take your time to relaxedly savor a cup of coffee in the Highlands or get to a couple of ice-cream shops and let your mind chill in the incredibly vast, airy space.
Currently, the plan of opening a pedestrian street combined with a night-time food zone around Truc Bach lake from 7pm to midnight every Friday, Saturday and Sunday has been considered to create more walking space for Hanoians.
3 - Top 10 lakes in Hanoi: Hoan Kiem lake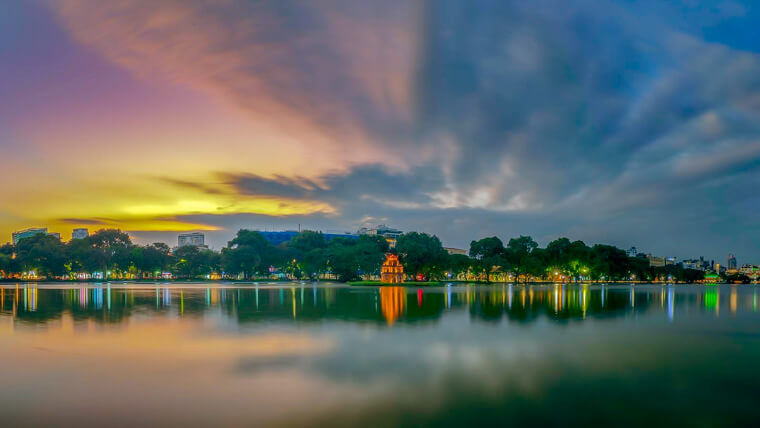 Hoan Kiem lake - Source: Phạm Hoàng Cương
Hoan Kiem lake is regarded as the heart of Hanoi. It is associated with the legend of the emperor Le Loi, who founded the Later Le dynasty, giving the sword back to a Golden Turtle God after defeating the Ming invaders. There was an approximately-200-year-old Great-Grandfather Turtle in the lake.
This famous lake in Hanoi consists of several outstanding architectural works, namely a one-hundred-year-old Turtle Tower with the harmonious combination of European and Vietnamese architecture, the ancient and holy Ngoc Son temple featuring the typical architectural characteristics of the constructions under many dynasties in Vietnamese history, and the bright red The Huc bridge symbolizing vibrant life and prosperity.
Like some other lakes in Hanoi, the surrounding area of the lake currently serves as a walking street every Friday evening and weekend with a myriad of active and dynamic activities such as street music performances and amusing folk games,... The lake is really close to Hanoi Old Quarter, therefore, you can easily take a stroll around the lake, then wander around the old streets in order to admire the ancient French architecture of rows of houses as well as indulge in the paradise of street food on the street vendors.
4 - Thien Quang lake
Thien Quang lake is situated in front of the main gate of Thong Nhat park, in Hai Ba Trung district, surrounded by four greenery-covered streets of Nguyen Du, Tran Binh Trong, Tran Nhan Tong, and Quang Trung. To the West of the lake is the system of three ancient, sacred Buddhist pagodas named Quang Hoa, Thien Hoa and Phap Hoa, recognized as scenic relic sites by the Ministry of Culture, Sports, and Tourism of Vietnam in 1989.
Thien Quang lake is one of the lakes in Hanoi Vietnam - Source: laodong
Thien Quang lake is a perfect place for people to rest, go fishing, take a stroll, and enjoy the airy space and cool, fresh atmosphere right in the middle of the busy city of Hanoi. It is planned to open the pedestrian street around this lake in Hanoi from the afternoon every Friday to Sunday with 6 zones for culture - spirituality, pedestrian - priority space, organizing activities, historical exhibition, commercial activities, and musical performances.
5 - Bay Mau lake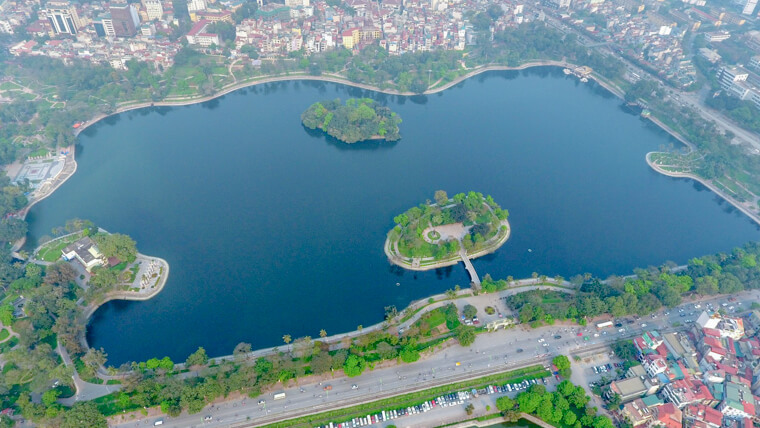 Bay Mau lake covers more than a half of Thong Nhat park - Source: @zing.vn
The 28ha Bay Mau lake is a freshwater lake located in Thong Nhat park in Hanoi. In the middle of the lake are two islets: Thong Nhat islet and Hoa Binh islet. There is a curved bridge connecting the Thong Nhat islet with the flower garden while it is compulsory to get to the Hoa Binh islet by swimming, by motorboat or by boat.
Around Bay Mau lake - one of the most impressive lakes in Hanoi, there is a running trail lined with green mature trees around Bay Mau lake that is perfect for running and playing sports. The lake is also a wonderful choice for sailing swan boats and taking a cool breeze. Currently, a bar right next to the lake named The Sipping Bar Waterfront has grabbed the attention of a wealth of guests because of its broad view of the lake. This cafe provides the service of duck pedaling, particularly, it consists of the combo of 2 optional drinks and 90 minutes of pedaling for up to 2 adults and 1 child, which costs 200,000 VND ($8.6).
6 - Ngoc Khanh lake - one of the best lakes in Hanoi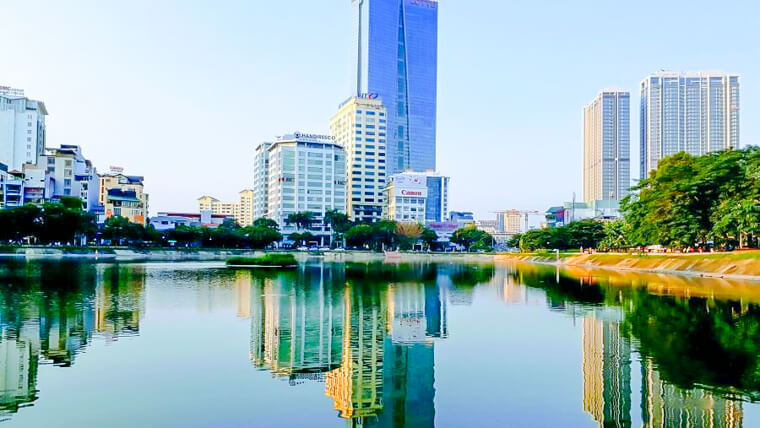 Ngoc Khanh lake - Source: diadiem247
Ngoc Khanh lake, situated in Ngoc Khanh ward, Ba Dinh district, covers an area of 3.6ha, surrounded by tiled sidewalks and lined green trees, which not only creates the spacious, airy space but also cool, fresh air, making it a perfect place for residents to take a leisurely walk, ride a bike or go fishing. Surrounding the area near the lake is a wealth of restaurants and eateries to meet the entertainment needs of the locals.
The project of opening a pedestrian street with a system of food stalls around Ngoc Khanh lake is under consideration with an expected area of around 12ha, including 3.6ha of water surface and a 3.8ha flower garden at Nguyen Chi Thanh street.
7 - Linh Dam lake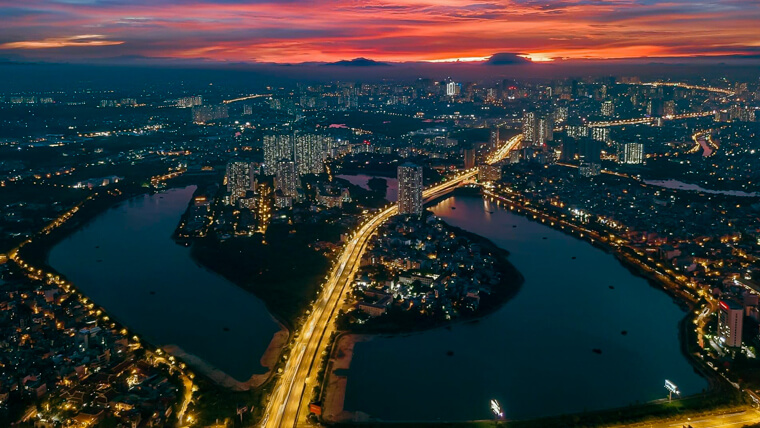 Linh Dam lake - Source: Trần Anh Tuấn
Linh Dam is among the largest lakes in Hanoi, covering a total area of 74ha. The lake has many different names such as Linh Duong, Phap Van, Dai Tu, and Dam Linh Duong. The name Linh Duong originates from its crescent moon shape and transparent water and the name Lien Dam stems from the fact that there were many blooming lotuses in the summer.
This lake in Hanoi is surrounded by rows of old green trees creating an airy space and a cool breeze, ideal for doing exercise or strolling around the lake. Linh Dam lake is one of the best places in Hanoi for watching glorious sunsets and the fanciful city at night under the shimmering lights.
8 - Lakes in Hanoi: Van Quan lake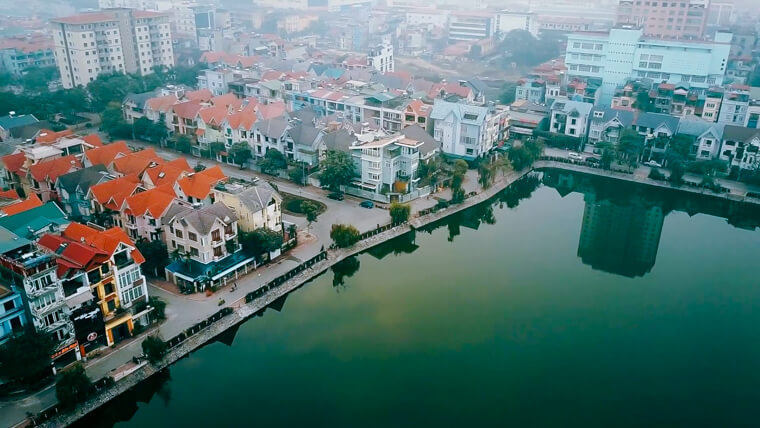 Van Quan lake - Source: @songohadong
Situated in Van Quan urban area in Ha Dong district, Van Quan lake has an area of 2,000m2, dubbed "the green lung" of the city. The area around the lake attracts a flock of people to come for exercise, walking, and sightseeing. This Hanoi lake is a favorite place for those who would like to immerse in the serenity and breathe in the fresh air.
Just take a sip of lemon tea or iced tea and admire the glorious sunset on the lake so that you feel comfortable and relaxed. Besides, sailing swan boats is an outstanding activity on the lake that is loved by many couples.
9 - Giang Vo lake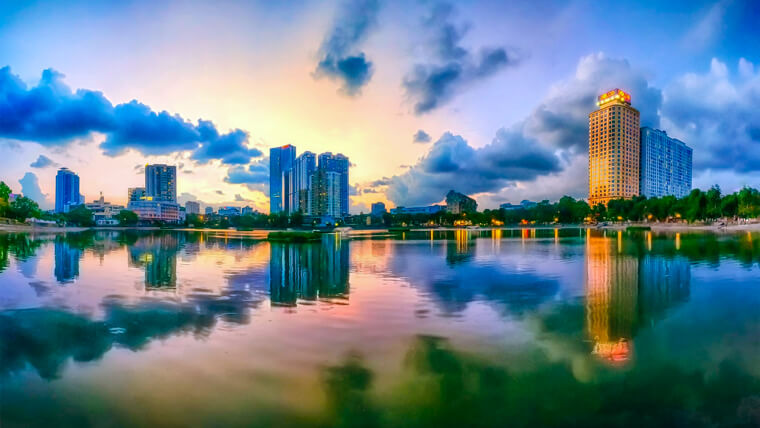 Giang Vo lake - Source: hien Duy Dang
With an area of 68,300m2, Giang Vo lake is one of the five largest and most beautiful natural lakes in Hanoi. It is dubbed as "an air-conditioner" with many rows of green trees around the lake. It is also considered a detention basin as the lake contributes to easing the high temperature as well as making the atmosphere fresher and cooler every summer. Many people come to the campus surrounding Giang Vo lake in order to not only breathe in the airy, large space, and enjoy the stunning landscape but also enjoy the palatable steamed snail in the stalls near the lake.
10 - Thu Le lake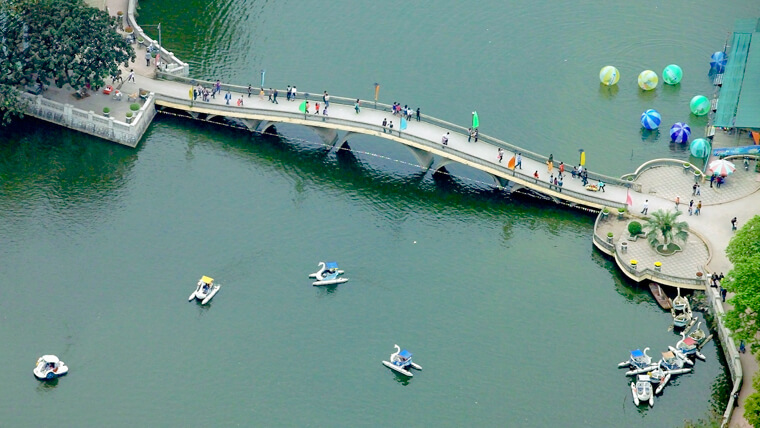 Thu Le lake is a part of Thu Le park - Source: vnexpress
Thu Le lake, also known as Linh Lang lake, is situated adjacent to Kim Ma street and Nguyen Van Ngoc street, next to the Daewoo hotel. In the middle of the lake is an oval-shaped land looking like a teardrop, which may be the origin of its current name ("Thu Le" means holding the teardrop inside).
One plus point of Thu Le lake compared to other lakes in Hanoi is the emerald lake water mirroring the shades of green trees surrounding the bank is a perfect condition for swan boat paddling. Because the lake is a part of Thu Le water park, you are able to easily have access to many entertainment services and facilities on the campus of the park, which is ideal for kids, particularly the kid's playground with a number of amusing games and activities such as seesaws, slides, merry-go-round, etc. In addition, a ghost house, mirror house, and cinema inside the campus are incredibly alluring to many people. Observing the rare, precious animals in the park (many animals here are listed in the Vietnamese Red Book) also gives you a lot of fun, especially for kids.
Below are the top most famous lakes in Hanoi that are absolutely worth a visit. Just take a stroll around the lake with your friends or lover in the early morning or late afternoon, you will feel extremely comfortable as if all stress and pressure are released.