Located on the bank of the Nhue River, about 10km from Hanoi city center, Van Phuc silk village (another name: Ha Dong silk village) is famous for its 1,000-year-old traditional silk weaving village. Currently, there are about 164 households producing and trading silk with nearly 200 looms in Van Phuc village.
I - What is the Van Phuc Silk Village address?
About 10km Northwest of Hanoi center, this silk village is located in Van Phuc Ward, Ha Dong District. This silk village is an ideal place for those who love and want to understand more about silk weaving in Vietnam.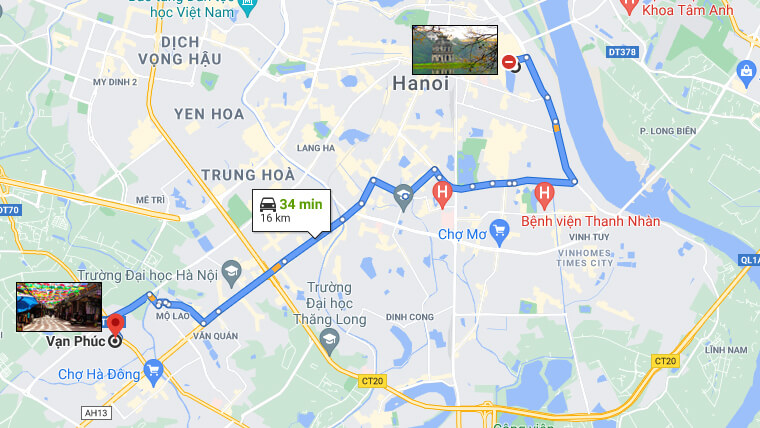 Google map photo - Source: Internet
You can get here by bus such as 3, 07, 14,… with stops near the silk village. Visit https://map.busmap.vn/hn for more information.
If you want to come by private vehicle, you can park your car or motorbike in the parking lot behind the gate to the silk village. Parking fee: 5,000 VND / motorcycle (0.22$) and 30,000 VND / car (1.32$).
II - Experiences in Van Phuc Silk Village tour
As soon as you turn to To Huu street, you can easily see the outstanding village gate welcoming visitors to the village, lighting up the whole street corner. Considered a symbol of the Ha Dong district, this gate was built in a simple architectural style with red bricks but still solidly and firmly lying peacefully under the green ancient canopy. For generations, the village gate has always been a shield to protect the peace of the people as well as to greet visitors here.
Right from the moment you step foot through the majestic village gate, you can see the two verses expressing faith and determination to preserve and protect the traditional profession left by the ancestors.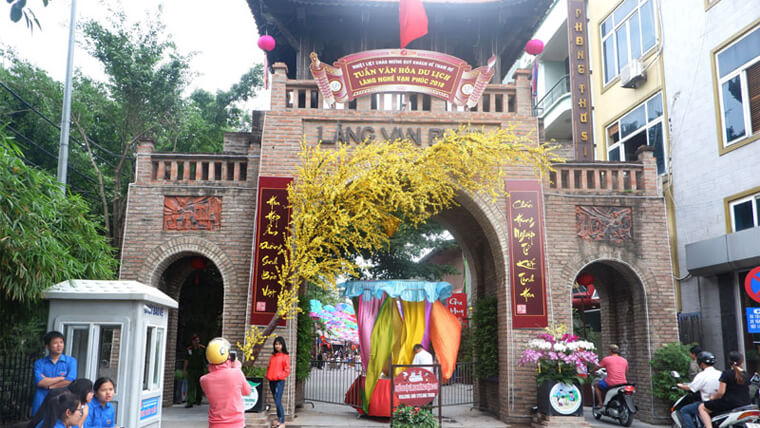 Van Phuc silk village gate - Source: Internet
Along the two sides of the road are silk stalls lying close together, filled with flowing dresses, soft silk scarves, simple bags or pillows and even original silks. The space is brilliant with purple, blue, red, yellow, brown, black, white, etc. with the bright smile of the shopkeepers here. Not only that, but you can also hear the bustling sound of the loom, the rattle of the shuttle - familiar sounds associated with the rhythm of life here.
1 - Visit Van Phuc Pagoda
Located just to the left of the Van Phuc silk village gate, the ancient Van Phuc Pagoda carries bold Northern architectural style with sophisticated and skillful carving details, communal roof, wooden bridge, and Quan Am Buddha sitting on a lotus platform. Inside the pagoda is a large yard paved with red bricks, green plant pots, ancient banyan trees. The atmosphere is quiet, sometimes the sound of knocking, chanting and praying is heard.
2 - Buy silk at Van Phuc silk village market
Buying silk in Van Phuc - Source: Vov
Van Phuc Silk Market is a place to introduce, promote and sell silk products to visitors. Each stall has its own decoration with vibrant, fresh colors and a variety of products such as towels, clothes, ao dai and other decorative items made from silk. More specifically, if in the past Van Phuc silk village Hanoi only used silk to sew blouses and shirts, now, local people also sew more vests, modern and trendy skirts. The market also sells scarfs, bags, blankets with diverse designs and combinations with many different fabrics besides silk, contributing to improving competitiveness and market demand.
3 - Wall murals
As an indelible mark for tourists when traveling to the village, the mural road is located in the center of the Van Phuc silk village with the village walls adorned with giant paintings. Recreating scenes of old craft villages, they were hand-painted by the local people and preschool teachers. This area is so airy and peaceful that you can even hear the chirping of birds in the canopy of an old tree, or even the sound of children reading at the kindergarten nearby.
You may be interested in: Hoi An Silk Village
4 - Vun Art Cooperative
In the campus of Van Phuc silk village, there is also a brand new destination that is very popular with tourists, which is the Vun Art Cooperative. Currently, this organization has two production and working offices with an area of ​​​​36m2 on the 2nd floor of the Van Phuc Silk Business Center and an art gallery. Vun Art organizes visitors to experience at the Experience House and the Temple of the Craftsmen, a space designed imbued with Vietnamese cultural architecture.
Not only aiming to become a leading brand in the field of gifts, but Vun Art in Van Phuc silk village also wishes to contribute a little to preserve and develop traditional weaving. At the same time, they also create jobs for people with disabilities and reuse waste materials to protect the environment.
Vun Art often focuses on the activities of adapting folk paintings to canvas paintings, following the principle of being faithful to the original but not binding, aiming to create aesthetic values ​​suitable to modern tastes. In addition, Vun Art in Van Phuc silk village is also a place to organize instruction and training in the craft of cloth mosaics for people with disabilities, becoming a bridge to help them contribute to the preservation of traditional Vietnamese cultural values. The paintings here all exploit themes related to the culture of Vietnam in particular and the world in general. The purpose is to preserve and spread traditional values, bringing unforgettable impressions of Vietnam's own values.
5 - Center for the Exchange of Creatures and Antiquities in Van Phuc silk village
Also known as Van Phuc Antique Market, the Center for Exchange of Antiquities and Creatures in the village usually opens on the 5th, 10th, 15th, 25th, and 30th days of the lunar calendar. This place attracts a large number of people and foreign tourists to visit to participate in the exchange of old and new items with a variety of designs, types and different ages. Most of the shops selling here often collect and resell old items and furniture on carts or on curbside tarps.
6 - Van Phuc high-quality silk preservation and development center
The Van Phuc High-quality Silk Preservation and Development Center has a large campus in Van Phuc silk village with many works such as the temple of the ancestors, the memorial house of Uncle Ho, etc. When coming here, you can see the silk weaving process to know that the artisans have to go through many stages, and take a lot of time and effort to complete traditional silk. Although the steps sound relatively simple, in order to masterfully perform and create quality products, workers must spend a lot of enthusiasm and effort with stages such as pulling cocoons, spinning silk, etc. Each stage requires care and close monitoring 24/24, even the stage performed by machines, to ensure the quality of the finished silk is up to standard.
Visiting the temple of the ancestors in Van Phuc silk village, you will be attracted by the ancient, quiet space containing the respect and gratitude of the artisans for the ancestors who built the village. Crossing the red curved wooden bridge that crosses a small stream, you will come to Uncle Ho's temple lying peacefully next to luxuriant trees.
7 - Cuisine
Not only owning high-class silk sheets, the silk village still has dishes full of Vietnamese homeland flavor such as black bean soup, coconut jelly, fragrant crispy donuts. There are shops with a diverse menu waiting for visitors to explore in Van Phuc silk village such as: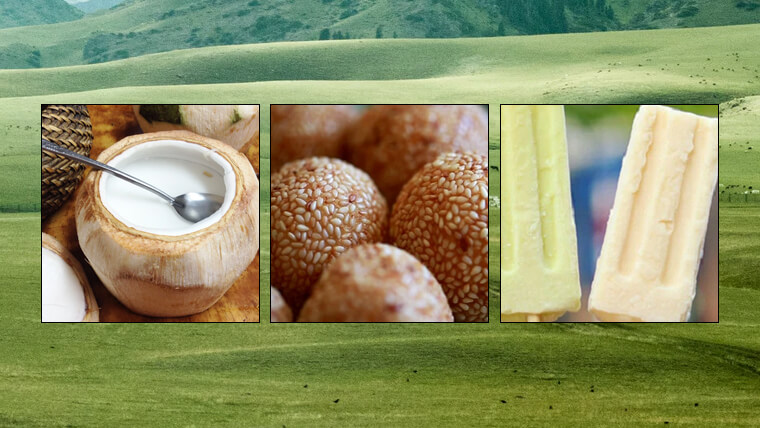 Coconut jelly, donuts, ice cream - Source: Internet
Aki Tea:
- Address: No.58 Van Phuc Ward, Ha Dong District
- Operating hours: 8am - 10pm
- Price: 15,000 - 50,000 VND / dish (0.66 - 2.2$)
Yeom Kyung Hwan - Hot pot for 1 person:
- Address: No.63 Van Phuc Ward, Ha Dong District
- Operating hours: 10am - 9:30pm
- Price: 350,000 VND / serving ($15.42)
Pizza Box:
- Address: No.63 Van Phuc Ward, Ha Dong District
- Operating hours: 8:30am - 10pm
- Price: 150,000 - 400,000 VND / dish ($6.6 - 17.6)
Tu Thuc - Duck specialties:
- Address: No.430 Van Phuc Ward, Ha Dong District
- Operating hours: 10am - 10pm
- Price: 100,000 - 250,000 VND / dish ($4.4 - 11)
For many generations, Van Phuc silk village has become the cradle of silk brocade in Vietnam, becoming a cultural symbol of Ha Dong land in particular and Vietnam in general in the eyes of international friends. When visiting here, you will surely experience a feeling of familiarity and closeness like being in the old Vietnamese villages.