Hanoi in April is a time of beauty and rejuvenation, as the city bursts into a colorful array of springtime blooms and festivals. The weather is mild and pleasant, perfect for strolling through the streets and admiring the stunning architecture of Hanoi's historic landmarks. The city's vibrant energy is contagious, with locals and visitors alike indulging in the mouthwatering cuisine and lively entertainment. From the breathtaking scenery to the cultural treasures, Hanoi in April is a true feast for the senses.
I - What is the weather in Hanoi in April like?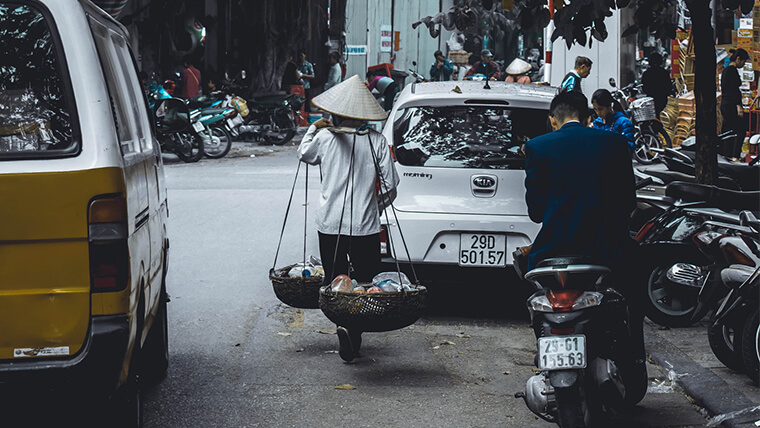 Source: Son Vu Le
In April, Hanoi begins to transition from the cool and dry winter season to the warmer and more humid summer season. The weather in Hanoi in April is generally pleasant, with warm temperatures and occasional rainfall.
The average temperature in Hanoi in April is around 23-26°C (73-79°F), with some days reaching highs of up to 32°C (90°F). The evenings can still be cool, with temperatures dropping to around 18-20°C (64-68°F).
Rainfall in Hanoi in April is moderate, with an average of 80mm spread over 12 days of the month. However, rainfall can be unpredictable, and occasional heavy rainstorms may occur.
Overall, April is a good time to visit Hanoi, as the weather is warm and comfortable, and the city is not yet crowded with tourists. It is advisable to bring light and breathable clothing, as well as a light jacket or sweater for cooler evenings. It is also recommended to check the weather forecast before traveling to ensure that you are prepared for any sudden changes in weather.
II - What to do in Hanoi in April?
1 - Visiting Hung Kings festival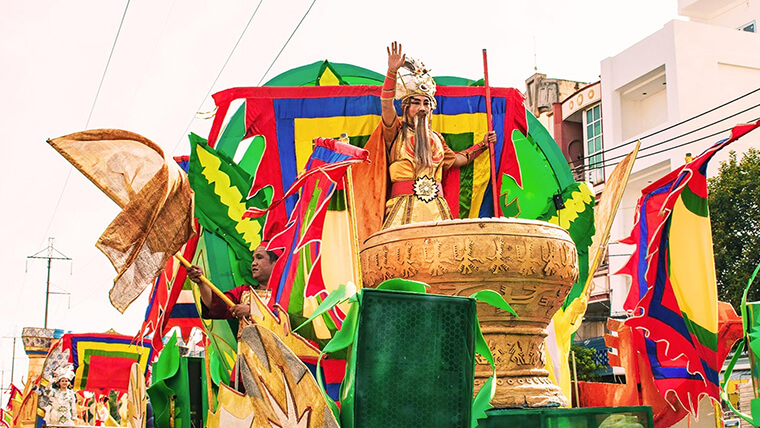 Visiting Hanoi in April - Source: Insidevietnam
The Vietnamese Hung Kings Festival is a national holiday celebrated in Vietnam to honor the Hung Kings, who are considered to be the founders of the country. The festival is held on the 10th day of the third lunar month, which usually falls in April on the Gregorian calendar, and is considered one of the major festivals of Vietnam.
The festival is a time for Vietnamese people to pay their respects to the Hung Kings, who ruled over Vietnam from 2879 BC to 258 BC. According to legend, the Hung Kings were the descendants of the Dragon and the Fairy and were responsible for building the nation of Vietnam.
During the festival, people in Vietnam participate in a variety of activities, including offering incense at temples and shrines dedicated to the Hung Kings, attending cultural and sporting events, and enjoying traditional Vietnamese foods such as Giay cake, Chung cake. The Vietnamese government recognizes the Hung Kings Festival as a national holiday, and it is also recognized by UNESCO as an intangible cultural heritage of humanity.
2 - Experiencing Thay Pagoda Festival in Hanoi in April
The Thay Pagoda Festival is an important annual event in Vietnam that takes place at the Thay Pagoda, located about 30 kilometers west of Hanoi city. The festival usually falls on the 7th day of the third lunar month, which is usually in April on the Gregorian calendar.
The Thay Pagoda, also known as Master's Pagoda, is a historic Buddhist temple that dates back to the 11th century. It was built during the reign of the Ly dynasty and is dedicated to Thich Ca Buddha, who is believed to have preached at the temple.
During the festival, people from all over Vietnam come to the Thay Pagoda to pay their respects to Thich Ca Buddha and to participate in a variety of cultural activities. These activities include traditional Vietnamese opera performances, martial arts demonstrations, and puppet shows.
One of the highlights of the Thay Pagoda Festival is the water puppet show, which takes place on a pond near the temple. The show features colorful wooden puppets that are controlled by puppeteers who stand waist-deep in the water. The puppets perform a variety of stories and scenes from Vietnamese folklore.
Another important part of the festival is the procession, during which a statue of Thich Ca Buddha is carried through the streets of the nearby village. The procession is accompanied by musicians, dancers, and other performers, and is a colorful and lively event.
3 - National Day atmosphere in Hanoi in April
Traveling to Hanoi on Vietnamese National Day and Labor Day can be an exciting and festive experience. These two holidays fall on the same day, September 2nd, and are celebrated throughout Vietnam.
In Hanoi, there are often parades, fireworks displays, and cultural performances to commemorate these important events. The city's main streets are decorated with flags and banners, creating a lively and patriotic atmosphere.
However, it is important to note that these holidays are also peak travel periods, and many locals may be traveling to visit family and friends. This means that accommodation and transportation may be more expensive and crowded than usual. It is advisable to book accommodations and transportation in advance to avoid any issues.
Despite the crowds and increased expenses, traveling to Hanoi in April during National Day and Labor Day can be a unique and memorable experience, allowing visitors to witness the pride and patriotism of the Vietnamese people.
4 - Visiting Ho Chi Minh Mausoleum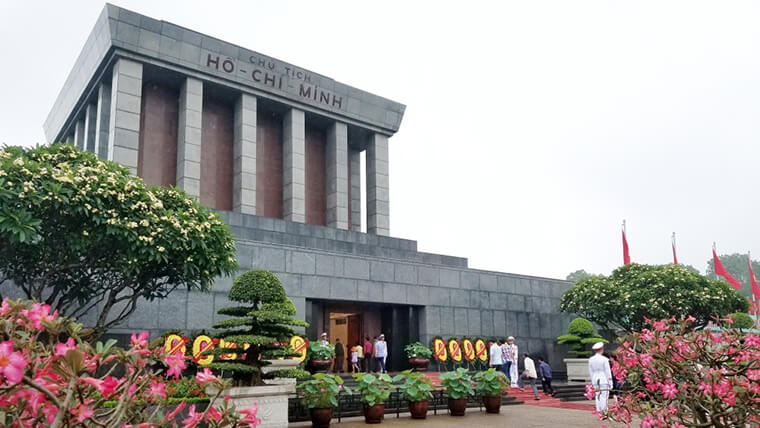 Ho Chi Minh Mausoleum - Source: Vietnammoi
The Ho Chi Minh Mausoleum is a solemn and historic site located in Hanoi, Vietnam. It is a large memorial dedicated to the founder of modern Vietnam, Ho Chi Minh, who played a significant role in the country's struggle for independence.
The Mausoleum is built of gray granite and was designed in a simple and austere style to reflect the modesty and simplicity of Ho Chi Minh's life. Inside, visitors can see the embalmed body of Ho Chi Minh, who passed away in 1969. The Mausoleum also houses exhibits on Ho Chi Minh's life and revolutionary activities. April is also the ideal time to visit Ho Chi Minh Mausoleum and learn more about Vietnamese history.
- Location: No. 2, Hung Vuong Street, Dien Ban Ward, Ba Dinh District
- Opening hours: 7:30 - 10:30 from Tuesday - Thursday and 7:30 - 11:30 from Saturday - Sunday. Closed every Monday and Friday.
- Ticket price: 25,000 VND/person/ ($1.07)
- Note: dress politely and the camera is not allowed inside the mausoleum
5 - Enjoy food in Hanoi in April
Some typical food of Hanoi you should not miss this time such as:
Bun cha is a popular Vietnamese dish that consists of grilled pork served with rice noodles, fresh herbs, and a dipping sauce. The dish is thought to have originated in Hanoi and is now enjoyed throughout the country and beyond.
The pork is marinated in a mixture of fish sauce, sugar, garlic, and other seasonings before being grilled over charcoal. It is then served with a bowl of rice noodles and a plate of fresh Vietnamese herbs, including lettuce, mint, and coriander. The dipping sauce is made with fish sauce, vinegar, sugar, chili, and garlic, and adds a sweet and tangy flavor to the dish.
Bun cha is typically eaten for lunch or dinner and can be found in small street-side stalls as well as in upscale restaurants. It is a delicious and filling meal that is both flavorful and healthy, making it a popular choice for both locals and tourists alike.
The coffee culture in Hanoi is a blend of traditional and modern styles, with a strong influence from French colonialism.
One of the most popular types of coffee in Hanoi in April is egg coffee, which is made with a mixture of coffee, egg yolks, sugar, and condensed milk. The egg gives the coffee a rich and creamy texture, and it is often served hot or cold.
Another popular type of coffee in Hanoi is ca phe sua da, which is Vietnamese iced coffee. It is made with dark roasted coffee beans and sweetened condensed milk, which is then poured over ice. The result is a sweet and strong coffee that is perfect for a hot day.
- Vietnamese steamed rice rolls (Banh Cuon)
Steamed rice rolls, also known as banh cuon, is a popular Vietnamese dish made of thin, delicate rice flour sheets filled with a savory mixture of pork, mushrooms, and other ingredients. The dish is often served for breakfast or as a light snack.
To make the rice rolls, a thin layer of rice flour batter is poured onto a cloth stretched over a pot of boiling water. The batter is spread evenly over the cloth and steamed until cooked. The cooked rice sheet is then carefully lifted off the cloth and filled with the pork and mushroom mixture before being rolled up into a cylinder.
Banh cuon is typically served with a dipping sauce made of fish sauce, sugar, vinegar, and chili, and topped with fried shallots and fresh herbs such as coriander and Vietnamese mint. The combination of flavors and textures creates a delicious and satisfying dish that is both light and healthy.
Banh cuon can be found in many street food stalls and restaurants throughout Vietnam, but is particularly popular in Hanoi, where it is believed to have originated. It is a must-try dish for anyone visiting Hanoi in April and looking to experience the country's unique and delicious cuisine.
Visiting Hanoi in April, you can feel the fresh, pleasant atmosphere, have the chance to attend many unique cultural festivals and learn more about the beauty and personality of the locals.