This list includes 3 main ways from Hanoi to Bangkok: plane, train and bus.
When you arrive in Bangkok, you need to prepare sufficient documents to facilitate entry / exit, including:
- Immigration declaration (please fill in all information and note that the hotel name and address must match your hotel booking)
- Copy of passport, ID card
- Air ticket / bus ticket leaving Bangkok
- Confirmed hotel reservation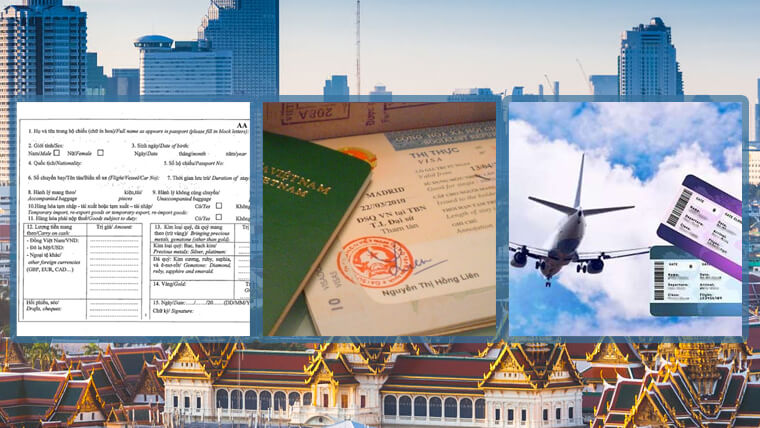 Source: Internet
1 - Hanoi to Bangkok Flights
This is the best way to travel to Bangkok from Hanoi, Vietnam. The travel time is only nearly 2 hours. Some recommended airlines companies:
Thai Airasia: 1,888,000 VND (~ $82)
Vietnam Airlines: 2,556,000 VND (~ $125)
Jetstar: 4,267,000 VND (~ $184)
Hahn Air: 5,198,000 VND (~ $224)
The tickets are available at Noi Bai airport (a bit more expensive and limited choice of seat class). Online air tickets are available at the official websites of airlines companies.
2 - Bus from Hanoi to BangKok
Traveling by bus to Bangkok through Laos is an interesting choice for more experience.
First, go to the Nuoc Ngam bus station and buy a ticket. The bus departs at 6pm every day with a fare of about 500,000 VND (~ $22). It takes 21 hours to get to Vientiane. On the way, you have a chance to admire the breathtakingly beautiful scenery along Vietnam - Laos border.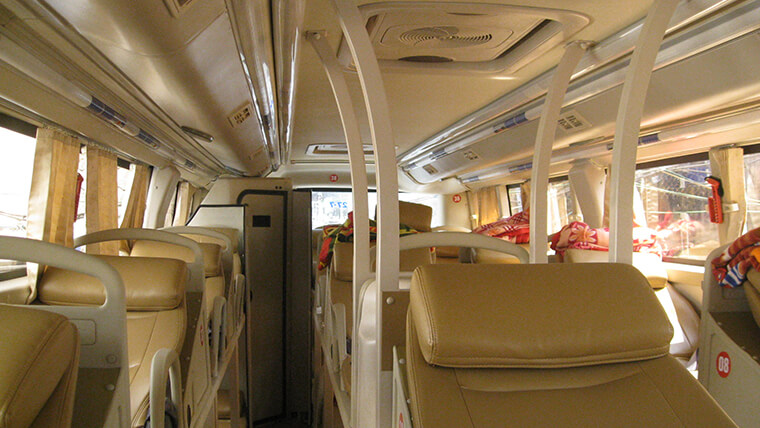 Source: Internet
Passing the Lao Bao border gate, you arrive in Laos' territory and Vientiane capital.
Next, you just need to cross the Laos - Thai friendship bridge with the ticket price of 150,000 VND (~ $6.5) to get to Thailand. You will complete the immigration procedures at the Nong Khai border gate.
To travel by bus from Hanoi to BangKok, you have 2 routes:
Vietnam - Laos (Vientiane) - Thailand (Bangkok)
Vietnam - Cambodia (Phnompenh) - Thailand
If you move on this route, you will have to connect the Vietnam - Laos route; Laos - Thailand.
Vietnam - Laos: 550,000 - 600,000 VND (~ $23.7 - 25.9)
Laos - Thailand: 417,800 - 464,224 VND (~ $18 - 20)
Currently, there are passenger cars running from Vietnam to BangKok, but you will have to connect that route, which is to take the bus from Hanoi to Ha Tinh, Vinh city, Ho Chi Minh City
Tuan Dung bus:
Route: Vinh - Ha Tinh - Laos - Bangkok
Ticket price: 2500 baht - 1.900.000 VND (~ $81.9)
Contact: 0983851222
Hien Dang bus:
Route: Ha Tinh - Laos - Bangkok
Ticket price: 2500 baht - 1.900.000 VND (~ $81.9)
Contact: 0947453999
Thai Duong bus:
Route: Ho Chi Minh City - Phnom Penh - Bangkok
Ticket price: 890,000 VND (~ $38.4)
Contact: 028 6684 6427
3 - Hanoi to BangKok train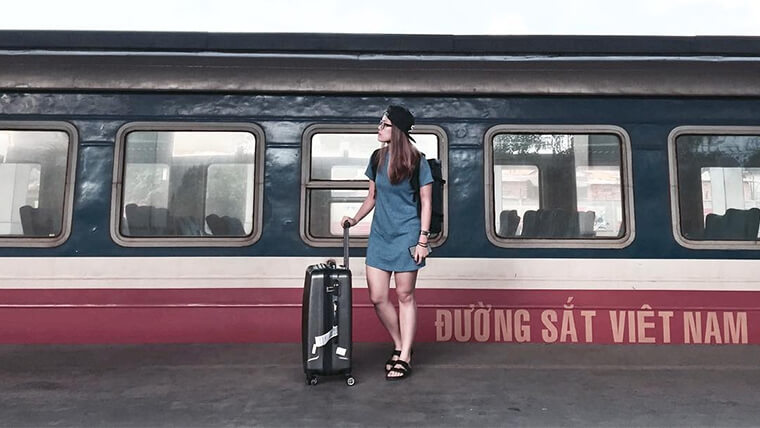 Source: Vietjetstar
Traveling by train is more comfortable than going by bus and you can also explore the landscapes along your journey.
You Go to the railway station to buy tickets from Hanoi - Vientiane. After getting off the train, take a car to Nong Khai. From here, you can take a bus from Nong Khai to Bangkok Nakhon Chai Airbus, and there will be a train direct to Bangkok Hualamphong.
If you are someone who likes experiencing new things, likes exploring, then travelling from Hanoi to BangKok by train or bus is also not a bad option. But your travel time will be longer than when you fly and with such a long distance, you will have to sit for a long time so it is very tiring.