Built by the French in the 1890s, Hanoi Botanical Garden covers an area of 33ha, but now less than a third after undergoing many changes. However, this place has not lost its beauty - the space here is like a small world formed with mountains, forests, and lakes, filled with lush green color. It has become a favorite place for young people and children to hang out, for adults and elders to exercise, and for research as well as recreational activities including picnics.
I - Where is the Hanoi Botanical Garden located?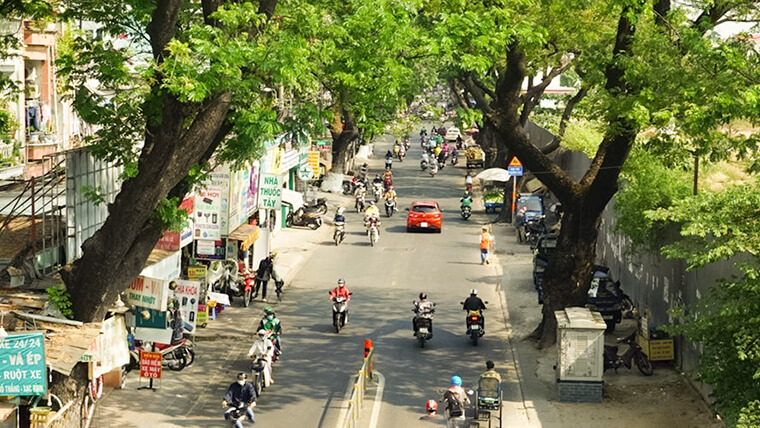 Source: laodong
Located in the northwest of the capital, Bach Thao Park is located at No.1 Hoang Hoa Tham Street, Ngoc Ha Ward, Ba Dinh District. The Botanical Garden is located right behind Ho Chi Minh Mausoleum and Presidential Palace, less than 500m from Quan Thanh Temple. There are two entrances here, you can enter through the gate on Hoang Hoa Tham Street or another in the middle of Ngoc Ha Street.
- Entrance fee: Free
- Parking fee: 5,000 - 15,000 VND / ticket (depending on vehicle)
- Opening hours: 5am - 10pm
II - What's in the Hanoi Botanical Garden?
1 - The green space of Bach Thao Park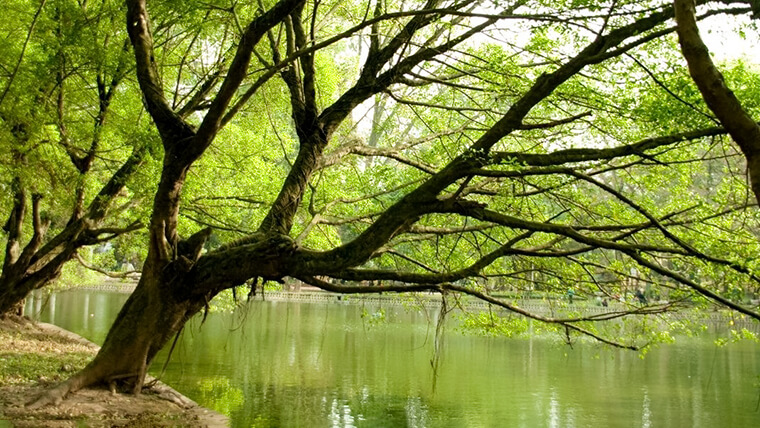 The lake in the botanical garden - Source: mytour
This place is like a small primeval forest in the heart of the Hanoi, converging all the natural scenes such as lakes, forests, rocky cliffs,… To have the delicate beauty as today, this place has received a lot of effort and enthusiasm from talented French architects. The green space of the park is also home to many rare and precious trees, some of which are so big that even 4 - 5 people cannot round them up. Because the trees in the park all have a very wide canopy, you can take a walk comfortably even on hot and sunny days of the summer.
On the small plot of the campus of Hanoi Botanical Garden, there are many precious wood species, typical for the tropical humid forests of the South. The number of local species accounts for over two-thirds of the existing tree species, the remaining one-third are imported ones from many continents in the world including Africa, America and Oceania. These tree species in Bach Thao Park also represent families and orders of higher vascular flora, notably gymnosperms and angiosperms.
Entering the Hanoi Botanical Garden, you will have a chance to enjoy the sound of the deep forest, admire the wilderness from the trees with long side roots, tangled vines, blooming orchid baskets and colorful ornamental plants. This is a paradise for nature lovers, filled with giant columnar trees in the areca palm family, and ancient trees that are witnesses of many events in the history of the capital. Because of the rare and abundant plants, as well as animals, this is also a place where students, young people and scientists come to learn more about biology.
2 - Other attractions in Hanoi Botanical Garden
It Attracts people not only because of its beauty and green space, but this park also has a very clean and spacious lake called Vi Danh. In the middle of it is a very simple and rustic small bridge crossing, with white and red colors standing out compared to the blue water surface. You can walk across this bridge to feel the atmosphere, take a closer look at the space, and check-in for some impressive photos.
In particular, a place that you cannot miss when coming here is a small hill called Nung Mountain, located right next to Vi Danh Lake. In Hanoi Botanical Garden, there is also a shrine dedicated to Huyen Thien Hac De God, who, according to legend, is a talented boy who helped King Ly defeat foreign invaders.
3 - Daily activities in Bach Thao Park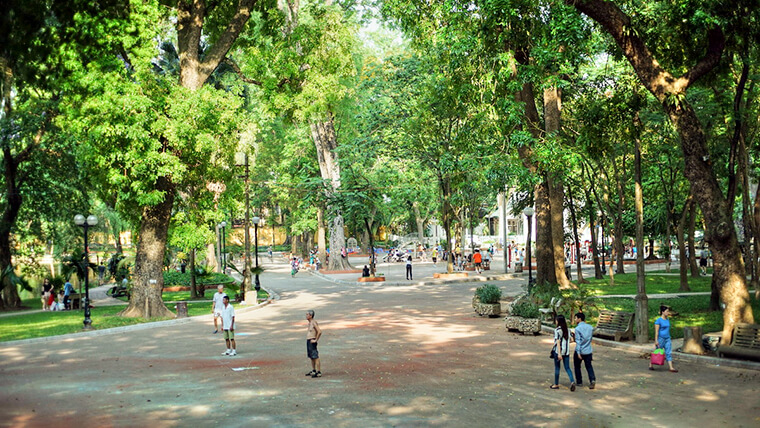 The locals do excercise at the park - Source: firstvietnam
This park is large and quiet enough for you to take time for yourself and have moments of relaxation, leaving the hustle and bustle out there. Therefore, it is always filled with locals, from the elderly to youngsters who come jogging and doing sports. The beautiful Hanoi Botanical Garden is also perfect for taking photos - especially in the morning with colorful costumes, in the green space and golden sunshine. In addition, you can bring tarpaulin and spread it on the grasslands, with food and water and you will have a fun picnic with family, friends or loved ones.
In Hanoi city, there are many green areas filled with trees, in which Bach Thao Park is one of the addresses with the largest area in the inner city. This place can give you a sense of peace and relaxation amidst fresh nature, suitable for exercise and organizing group activities, picnics,... Hopefully with the information provided above, you will have a comfortable weekend with many interesting experiences at Hanoi Botanical Garden.