It would be a bolt from the blue when visiting the best markets in Hanoi Vietnam. Because, food, instead of being presented in big supermarkets as Western countries, is sold in small vendors around markets, but the freshness is undeniably outstanding. It is not hard to find "meat" when they are still "alive" here.
The most popular markets are Dong Xuan market, Hang Da market, Hanoi night market, or smaller local markets as well as sidewalk vendors. You can also visit the Hanoi flea market at which there is a variety of second-hand goods & clothes at cheap prices, which can bring various experiences to tourists.
Strolling on the streets in all districts of the city, you can find plenty of Hanoi wet markets. street markets or fruit markets. In the early morning or late afternoon, along the small streets in the crowded urban areas, there are small markets selling meat, fish, seafood, vegetables, and fruits for people living around.
Not long ago, there was a Hanoi train market. Accompanied with Railway café, this market became a unique attraction tempting a lot of tourists' curiosity. However, to keep the safety of people around this railway area, the local authorities did close the market and cafe shops along the Hanoi train street.
I - Top 5 best markets in Hanoi Vietnam
1 - Old Quarter Night market
The night market in Hanoi Old Quarter is a bustling fair lying on a 3km route from Dong Xuan market gate to Hang Dao street, located 450 meters from the main part of the walking street around the Hoan Kiem Lake area. Hang Dao street, Duong street, and also Hang Ngang street become extremely uproarious and intense because of brightening and colorful mobile vendors. This Hanoi weekend market opens from 6pm to 11pm every weekend night (Friday, Saturday, and Sunday nights).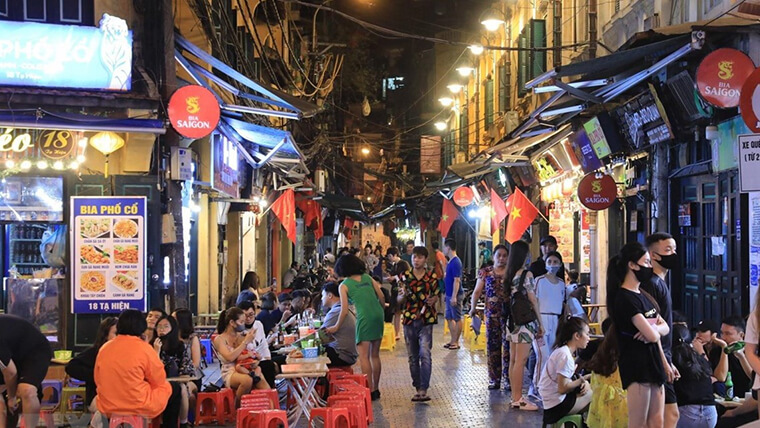 Source: Thanh Dat
You can easily get a variety of goods with reasonable prices only from 50,000 to 3000,000 VND ($2.15 - 12.9) such as clothes, shoes, souvenirs (postcards, keyrings, rice figures, handicrafts…), sunglasses, etc in this Hanoi market.
Especially every Saturday night, there are free traditional music performances held next to the fair like "Cheo", "Quan Ho", "Ca Tru", "Xam" presented by the Vietnamese Musician Association. You can watch many street performances of Vietnamese youngsters with traditional games like rope skipping, tugging, mandarin square capturing, portrait drawing,... along the streets to one of the best markets in Hanoi Old Quarter. All create such a vibrant and exciting space for tourists to enjoy.
More interesting information about Vietnamese traditional music
Tourists also can come to other crowded night markets in Hanoi such as Dich Vong market in Cau Giay District, Linh Nam market in Hoang Mai District, and Phung Khoang market in Ha Dong District. These markets open every day but they are quite far from the city center.
2 - Dong Xuan Market - the biggest market in Hanoi
Dong Xuan market is over 100 years old, having gone through a lot of ups and downs with Hanoi. After many times of restoration and remodeling (after the fierce battle in 1947 and severe fire in 1977), the market gets an appearance as today on the basis of old and typical design features of the 1890s.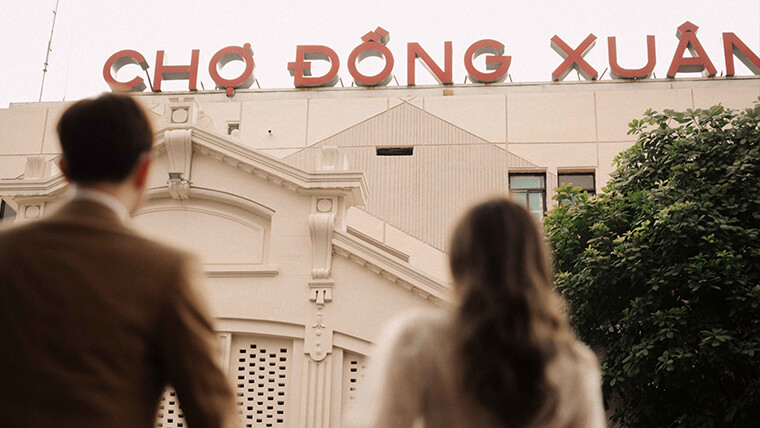 Dong Xuan Market - Source: Monamiwedding
You can enjoy shopping for a huge range of different products from 6am to 6pm. Dong Xuan is considered as a Hanoi fabric market where you can find lots of clothes, shoes and fabrics. More garment products and accessories are available on the second floor; the third floor is used for children's products such as toys, newborn products,...
There are also plenty of kiosks that sell sweets, souvenirs and Vietnamese food in this local market in Hanoi. All of these details create an impressive, vivid and colorful picture of Vietnamese daily life. However, you should be reminded that most products come from China with a cheap price and lots of fake goods, so you need to be checked carefully before buying & paying. After wandering around this biggest wholesale market in Hanoi, shopping and taking pictures, you can quench the hunger with well-known food such as:
Huyen Anh rib cartilage porridge:
A bowl of porridge here with a beautiful smell of sticky rice, covered by shredded meat and crispy Chinese doughnut costs only 35,000 VND ($1.5).
- Address: No.14 Dong Xuan street, Hang Ma Ward, Hoan Kiem District - opposite Dong Xuan Market in Hanoi main gate
- Opening hours: 3pm - 3am
"Bun Cha Que" Ms. Nga:
Delicious pork sticks with fish sauce and rice noodles create a savory dish for about 30,000 VND / serving ($1.29).
- Address: Dong Xuan Market Alley, 750m from Dong Xuan market
- Opening hours: 8am - 3:30pm
Ms. Am Shrimp cake:
You can enjoy crunchy shrimp cakes with fish sauce and pickled salad at a cheap price of only 12,000 VND ($0.52).
- Address: Dong Xuan Alley, 280m from the market gate.
- Opening hours: 10am - 5pm
Moreover, there are tons of mouthwatering street foods which tourists can give a try at a reasonable price in this Hanoi market from 10,000 to 30,000 VND ($0.43 - 1.3) such as: lime tea, sweet soup, snail noodles, eel glass noodles, etc. To have the best experience, tourists are advised to keep eyes on your property, learn how to bargain, and do price surveys before choosing the most suitable stores
3 - Hang Da Market in Hanoi
Hang Da Market is located in a very favorable position on Hang Da Street, Cua Dong Ward, Hoan Kiem District. A long time ago, Hang Da Market was a kind of small market mainly selling dried bull and buffalo skin, as well as food and popular Vietnamese vegetables. Been through ups and downs, nowadays, the market increases its size and product variety dramatically, which can meet various demands of different customers.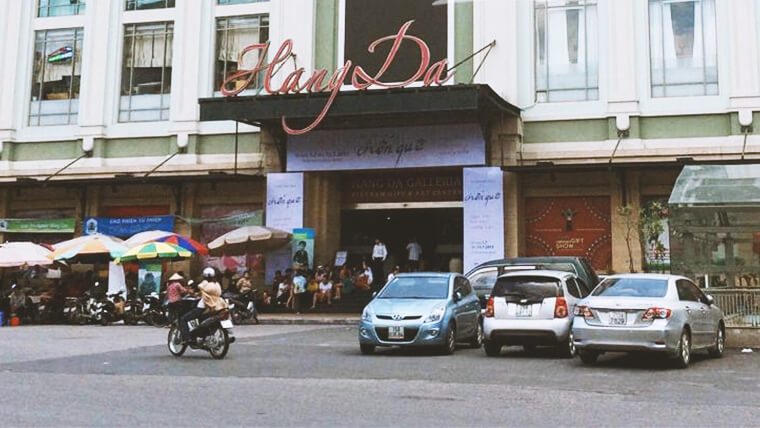 Hang Da Market - Source: Internet
Hang Da, among the most popular Hanoi markets, has been reconstructed into a modern five-floor building with 2 convenient basements. The first basement is used for second-hand clothes, fresh food, pottery, and ceramic. The second one is for parking. There is an event center on the first floor as well as a place for sweets, alcohol, clothes, and grocery stores. The second and the third floor is a shopping center with luxury brands. The fourth floor is a fitness center. The highest one is specialized for weddings.
Besides, there are a lot of street food vendors in and around this Hanoi market.
- Rice porridge at No.88 Thuoc Bac Street (price: 30,000 VND / bowl $1.3)
- Pate and chicken sticky rice at No.2 Luong Van Can (price: 60,000 VND / bowl $2.6)
- Bun Rieu at No.16 Khoai Street (price: 30,000 VND / bowl $1.3)
Other street foods such as fried sweet potato cake, fried banana cake, sweet soup, and ice cream are also very tasty with cheap prices: from 20,000 to 50,000 VND ($1 - 2).
4 - Cho Hom fabric market Hanoi
Located at No.79 Pho Hue Street, Ha Ba Trung Ward, Hom Market or Hom Duc Vien Market is famous for being one of the oldest and the most crowded markets in the center of Hanoi. Referring to the Hom fair, Hanoi people immediately think of the paradise of fabrics. It opens from 6am to 6pm every day.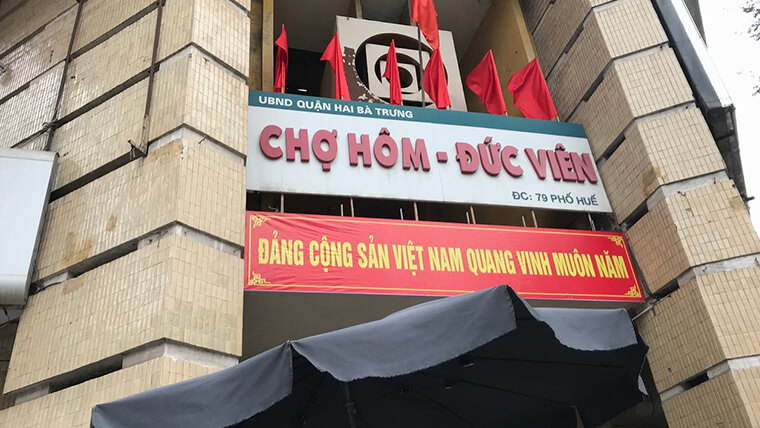 Hom Market - Source: Tripadvisor
This is the best Hanoi fabric market which consists of 02 separated floors: the first floor is the place for stalls selling ready-to-wear clothes and various accessories. The second floor is the convergence of stalls selling fabrics with different colors, materials, patterns, and in addition of household appliances and cosmetics. Commodities in the Hom market are mainly sourced from China, so the prices are also moderate. You can find thin bedding at this clothes market in Hanoi for about 200,000 VND ($8.7) or a scarf for 50,000 VND ($2.1).
After shopping, you can take a rest and enjoy plenty of tasty Hanoi street food inside this market. A bowl of Pho or rice porridge costs about 40,000 VND ($1.7). Other junk food, dried beef salad, roasted quails or clear rice cake should be good choices and a glass of sweet soup can make your day. The prices are about 10,000 VND ($0.4)
5 - Quang Ba - Biggest flower market in Hanoi
Located at No.236 Au Co Street, Quang An Ward, Tay Ho District, about 5km from the centre of Hanoi, Quang Ba flower market is one of the biggest night flower markets in the city. The market opens from 11pm to dawn and it's really crowded from 1am - 2am. When the whole city is deep in dreams, the market is bustling with gorgeous and colorful Vietnamese flowers.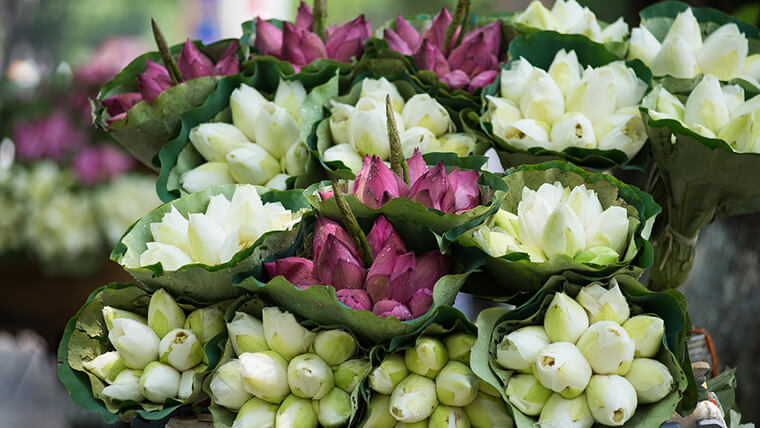 Source: Arrivalguides
You will be overwhelmed by the variety and abundance of flower stalls when coming to this Hanoi flower market. Not only some popular types of flowers like rose, chrysanthemums, lilies,… but also some imported varieties such as tulips wax flowers are sold in Quang Ba Market. In addition, the market also offers a lot of flower wrapping accessories such as wrapping paper and baskets which are very convenient.
Quang Ba is regarded as the best flower market in Hanoi where tourists can buy the cheapest flowers with 10,000 - 30,000 VND to have a 50-rose-bouquet or 250,000 - 300,000 VND / a bunch of 50 flowers for expensive flowers such as gladiolus and lily.
You also have the opportunity to better understand how hard the farmers grow flowers. They have to stay up almost all night to keep up with the beautiful flower baskets, roaming the streets of Hanoi in the morning. It is a pristine and idyllic beauty that you can hardly see anywhere.
II - Other remarkably interesting markets in Hanoi
1 - Thanh Cong Market – Paradise of street food
Located in the old residential dormitory of Bac Thanh Cong, Ba Dinh District, Thanh Cong Market is known as a "paradise of food" or "junk food supermarket", especially the area opposite the kindergarten A and A4 yard. It has more than 20 kinds of snacks stalls with all kinds of specialties from North to South. There are some highly recommended dishes you should try when visiting this indoor market in Hanoi:
Eel vermicelli
You can try water vermicelli, mixed one or stir-fried vermicelli which is very delicious and well seasoned at No.102A5 Thanh Cong, Ba Dinh District. The price for one bowl is from 30,000 - 50,000 VND /serving ($1.3 - 2.1).
Junk food
Junk food like salad, glass rice cake, pillow cake, or fried fermented roll is sold at 111A5 Thanh Cong, Ba Dinh Dist, Hanoi, near Thanh Cong market in Hanoi. Price ranges from 15,000 – 50,000 VND / dish ($0.6 - 2.1).
Smooth freshwater bivalve "Hue"
Smooth freshwater bivalve "Hue" at Dormitory A4 building, Ba Dinh District, Hanoi costs about 10,000 - 20,000 VND / bowl ($0.4 - 1.3).
Sweet soup
Sweet soup of all kinds as mixed soup, corn soup or mung bean sweet soup with the price from 12,000 - 15,000 VND / dish ($0.5 - 0.6)
In addition, Thanh Cong Market has many other mouthwatering dishes such as rice cakes, spring rolls, fried doughnuts, baluts or Vietnamese pancakes. You would have wonderful and enjoyable experiences when coming to this market.
You may concern: Top best food in Hanoi that you should not miss
2 - Hoang Hoa Tham Market - Unique Hanoi antique market
Hoang Hoa Tham Antique market is located at lane 456 Hoang Hoa Tham Street, Ba Dinh Dist, one of the must-see markets for antique enthusiasts. The founder is Mr. Kieu Quoc Khanh – a man with a strong passion for calligraphy. He was the one who came up with the idea of inviting people to sell and exchange in lane 456 in the Hoang Hoa Tham area.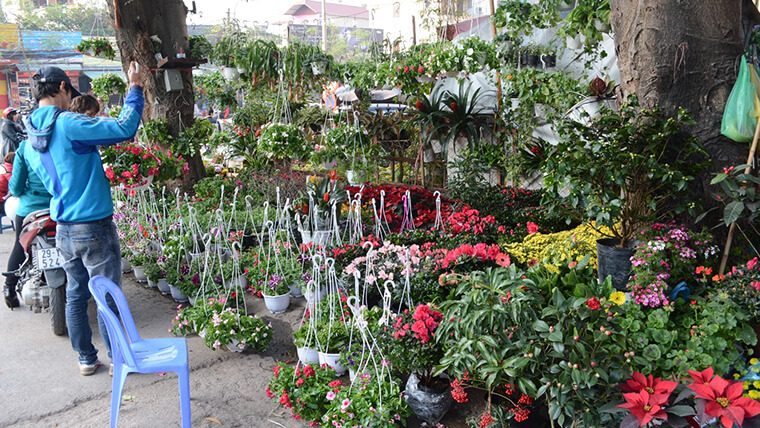 Source: VnExpress
This famous market in Hanoi has an area of about 400m2 with more than 20 stalls. Each booth is less than 1m2 wide, sellers don't need to pay any cost, they just need to bring their antiques and exchange them. Until now, every Saturday morning, the shopkeepers bring dozens of antiques to display such as ancient bowls with few chipped corners, ancient clocks, meticulously wood-carved paintings, or memories of war.
The prices have different ranges, the lowest is about from 1 million VND ($43.48) to tens of millions depending on what antique is that and how old it is. At the fair, you not only admire valuable items but also learn historical and cultural values that are still imprinted until today.
3 - Long Bien Market - the biggest wholesale market in Hanoi
Long Bien Market is located in Ba Dinh District, right at the foot of Long Bien bridge, behind Tran Nhat Duat Street. The market, established in 1992, is still one of the largest fruit markets. The market has a total area of ​​more than 27,000 square meters with hundreds of different stalls selling famous Vietnamese herbs, tubers, and fruits. This Hanoi day market usually starts from 10pm to 4am the next day on all weekdays.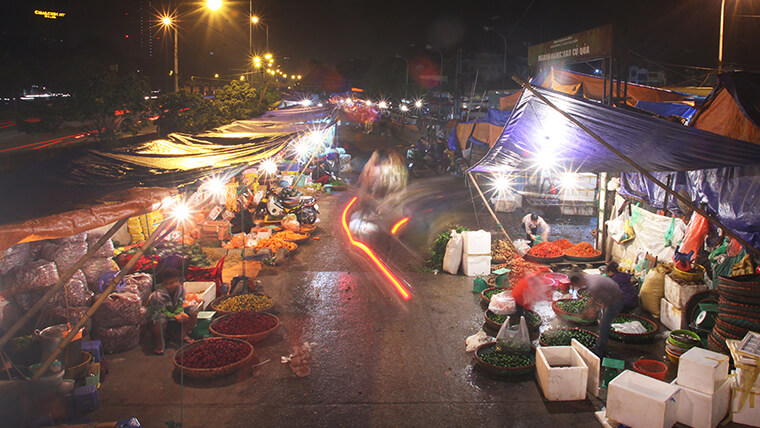 Long Bien Market - Source: VnExpress
The fruit products are sold in this market from all provinces across the country. Fruits go with their seasons, whatever fruit you need, this market can still offer. In summer, you can easily buy typical fruits such as mango, plum, ambarella, watermelon, mangosteen, lychee,...
In the winter, visiting Long Bien market Hanoi, you will find a lot of pomegranates on sale, orange, grapefruit,... they are all very fresh, watery, and delicious. The prices of the fruits here are clearly listed for easy selection. Because this is a wholesale market, there is a small note that you have to buy a large enough quantity, usually from 3kg and more or traders will not agree to sell.
4 - Hang Be Market - "Headquarters" of raw and cooked food
Located on Cau Go Street, Hoan Kiem District. Located right at the center of Hanoi, Hang Be market is extremely famous, having all kinds of different items. You can find not only raw and fresh food but also ready-to-eat food in Hang Be Hanoi food market. There are a variety of fresh foods such as vegetables, seafood like crabs, shrimps, squids, and so on. Everything is available even more qualified than other markets.
Hang Be - one of the must-visit markets in Hanoi which is also famous for cooked food such as Chung cake, five-color sticky rice, boiled chicken biting flower, and especially fish-sauce belly pork that brands this place. Prices range from 50,000 - 300,000 VND ($2.8 - 13.2).
In addition, you can find a lot of traditional dishes of Vietnam such as stewed pork, stewed fish, squid cake, Vietnamese pork sausage, spring rolls, nereididae cake with prices from 30,000 - 200,000 VND ($1.3 - 8.7).
5 - Hanoi souvenir market
Traveling to Hanoi, Vietnam, you do not miss taking the experience home with some souvenirs and little things as gifts for family and friends. The best places to get special souvenirs are the shops in Hanoi's old quarter streets. Along the ancient streets, there is a range of little shops in line creating a small market where you can see many cute things such as jewelry, accessories, hand fan, conical hat, Hanoi attractions' miniature,...
6 - Silk market Hanoi
If you are looking for Vietnamese silk fabric and silk products, Hang Dao street, Hang Bong street in Hanoi old quarter is highly recommended. These long-standing stores have existed for decades, you can find many high-class items with unique patterns, diverse forms, and sizes for foreigners.
It can be seen that each best market in Hanoi brings you different unique experiences of shopping and enjoying the exciting and bustling daily life of ordinary laborers. Therefore, come here and see for yourself, it's sure that you will have an unforgettable and wonderful time.