One of the unique features of Hanoi cuisine is street food because it is very diverse with many dishes, which are served in all places from street vendors, trolleys to sidewalk eateries. But because of that diversity, you should also pay attention to food hygiene and safety issues, and choose for reliable eating places.
I - Top 12 best street food in Hanoi
1 - Vietnamese Donuts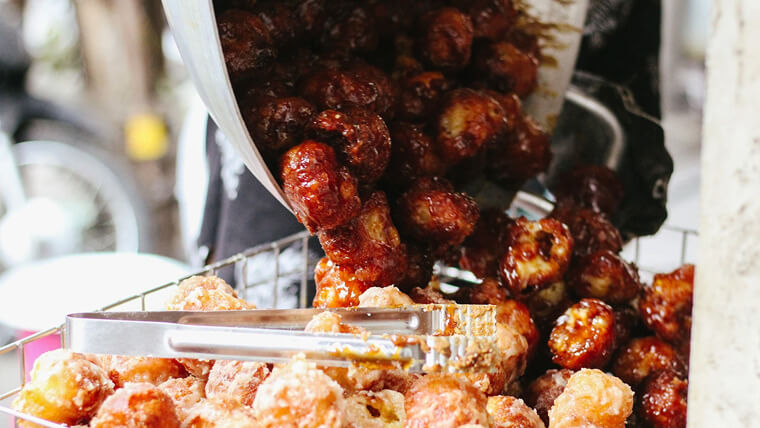 Vietnamese Donuts - Source: Kenh14
Donut is a kind of rustic snack made from glutinous rice flour, molded into the shape of a ball and fried in oil until it turns golden brown. There are many types of donuts but the two most familiar are sweet and salted donuts.
Sweet donuts are coated with a layer of sugar, honey or roasted sesame on the outside and a sweet green bean filling inside with or no fillings. Salted donuts have similar fillings to dumplings' or fried spring rolls', including vermicelli, ground pork, and wood ear mushrooms. Eaten with sweet and sour fish sauce, this Hanoi street food will be even more delicious when served with raw vegetables, papaya and carrot, just a few pieces of this are enough to warm your stomach and help you continue the journey.
- Price: 3,000 - 10,000 VND / 1 serving ($0.13 - 0.44)
2 - Pillow cake - Banh goi
Pillow cake looks like an improvement from donuts but has more unique features. Made in a more sophisticated way, the crust is skillfully kneaded from flour with a little unsalted butter to both keep the thickness just right and flexible enough to not break when stuffing. The filling of this famous street food in Hanoi is a mixture of ingredients such as ground meat, vermicelli, pepper, carrots and quail eggs, giving it a rich flavor with a golden and crispy outer shell when fried. Pillow cake is present in breakfast, late afternoon snacks and sometimes even as a substitute for the main meal thanks to its unique attractive taste.
- Price: 10,000 VND / 1 serving ($0.44)
3 - Bo bia (rolls)
Imported from the cuisine of Chaozhou, China, this roll dish has two types namely salty and sweet.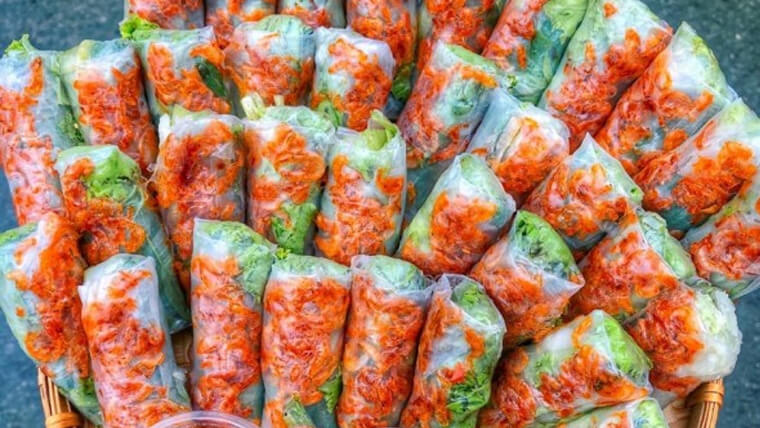 Bo bia is one of Hanoi best street foods - Source: Internet
In Hanoi, you can easily find sweet Bo bia stalls because this dish is extremely simple, made from rice paper rolls with a malt bar, adding a little sesame and grated coconut. The fatty taste of coconut rice, the sweet sweetness of malt candy and the soft chewiness of the rice paper wrap will surely make you mesmerized. Sweet Bo bia can't be found in luxury stores, only along the sidewalks or at school gates, but it has contributed to enriching the street food life that is already very special in Hanoi.
- Price: 5,000 VND / serving ($0.22)
4 - Different types of sweet soups - top best street food in Hanoi
Known as a popular cooling dish in hot summer, sweet soups have a sweet taste and include broth and toppings. With mixed sweet soup, toppings can be made from green sticky rice, corn, coconut and other familiar ingredients. Stepping into any sweet soup shop in Hanoi, you can find dozens of different types of sweet soup such as mixed, black bean, longan, sweet potato, lotus seed,… Prices vary depending on the type of sweet soup and the store but most of them are very cheap.
- Price: 10,000 VND / serving ($0.44)
You may find it interesting: Top popular Vietnamese che
5 - Banh Duc Nong (Vietnamese hot steamed rice cake)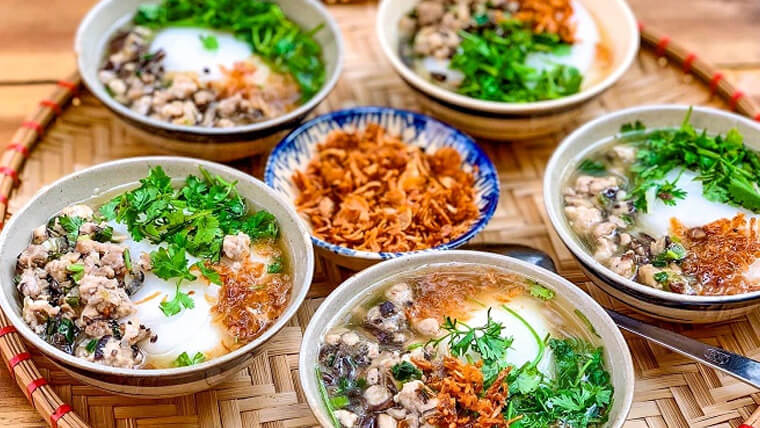 Vietnamese hot steamed rice cake - a portion of famous street food in Hanoi - Source: VnExpress
The hot steamed rice cake is usually a dish that Hanoi people look for when the weather starts turning cold. Made from plain rice and tapioca flour, this dish is processed in a sophisticated and meticulous manner, to cook and stir the ingredients with reasonable consistency and flexibility.
The filling of steamed rice cake is similar to the filling of donuts, including wood ear mushroom, meat, fried onions, and is served with chili garlic fish sauce and herbs. The hot, soft, delicious steamed rice cake, fragrant with onions and meat, are always the ideal choice for stuffing the stomach, especially when the temperature drops.
- Price: 20,000 VND / serving ($0.88)
6 - Pork ribs rice porridge - Hanoi street food
Although there are many types of porridge mixed with different toppings, pork ribs rice porridge still maintains its traditional and typical position in Hanoi cuisine. One bowl with the porridge is cooked finely and warmly mixed with the ribs, especially the freshly cooked ribs, that taste like melt in the mouth, will bring an unforgettable taste in the cold days, and has long been a part of Hanoi. Depending on the improvisation, the skill of the owner and the preferences of diners, each rib rice porridge shop has its own flavor.
- Price: 20,000 VND / serving ($0.88)
7 - Banh trang tron (Vietnamese rice paper salad)
Originally a specialty of Saigon, since its appearance in Hanoi, rice paper salad has been loved by many people and is a must-try dish in your Hanoi street food tour. The ingredients and the way to eat this dish are both simple, you just have to mix the rice paper, dried shrimp, dried beef, dried squid, chili powder, laksa leaves, quail eggs and mixed water and enjoy. An important factor in making this dish is the seasoning and sauce, with a unique feature of Hanoi that it is not as sweet as the original due to little or no sugar.
- Price: 15,000 VND / serving ($0.66)
8 - Baked quail eggs
This dish is made by baking quail eggs in a small bowl with other ingredients such as sausages, fried onions, green onions, cotton balls, and dried shrimp. When eating this street food in Hanoi, you roll each spoonful of smooth fat eggs into your mouth and just like that, the ingredients with the sweet, salty, spicy, fatty tastes will blend together with the aroma of a freshly baked egg cup.
- Price: 10,000 VND / serving ($0.22)
9 - Grilled corn and grilled sweet potatoes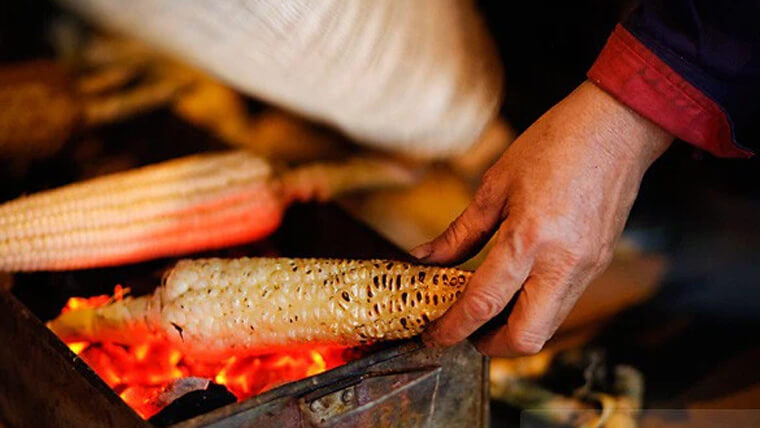 Grilled corn and sweet potatoes in winter - Source: Kenh14
Coming to Hanoi on winter days, you will easily spot many people sitting on the sidewalk with corns, sweet potatoes and a charcoal stove emitting a lot of smoke, from dusk until late at night. Just need a little charcoal, corn, sweet potatoes, a grill and about 10 - 20 minutes, you will have right in your hand the grilled corn and sweet potatoes, which are both warm and juicy. This Hanoi street food will be more delicious when the owner chooses the soft type of sweet potato as well as the fresh corn that has just been harvested.
- Price: 10,000 VND / serving ($0.22)
10 - Snail dishes
Dishes from snails are often an attractive choice for gathering with friends, especially when it starts to get cold. There are many delicious dishes from snails such as boiled snails, sea snails with cheese sauce, tamarind sauce, Thai sauce or nail snails stir-fried with morning glory,... There are more and more different types of snail dishes with the changes in sauces, spices, and ways to prepare fish sauce, resulting in the difference in prices of each snail dish.
- Price: 30,000 VND - 100,000 VND / serving ($1.32 - 4.4)
11 - Grilled fermented pork rolls - top 12 best street food in Hanoi
Grilled fermented pork rolls are an interesting and familiar snack to a lot of Hanoians, especially among the youngsters. Although still the same nem chua but with a different recipe, the owner will grill it until fragrant and eat it with vegetables or put it in a rice paper roll and dip it with dipping sauce. This dish has a special attractive flavor from the greasy taste flowing from the meat on the embers, blending in the aroma of banana leaves, guava leaves, making Nem not only delicious but also strangely fragrant.
- Price: 8,000 VND / serving ($0.35)
12 - Quay (fried breadsticks)
Not too luxurious and complicated, this Hanoi street food is one of the familiar dishes of Hanoians, made from dough shaped into long fingers, then deep-fried until golden brown. Fried breadsticks can be dipped with different dipping sauces, including sweet and sour fish sauce, or used to eat other dishes such as porridge or pho soup. Dipping the crispy pieces of fried breadsticks into the broth of pho and then biting into it will help make the whole bowl of pho never boring.
- Price: 3,000 VND / serving ($0.13)
II - The best places to enjoy street food in Hanoi
Some places that you can visit to eat the full menu of street food above are as follows:
1 - Dong Xuan Market - explore all day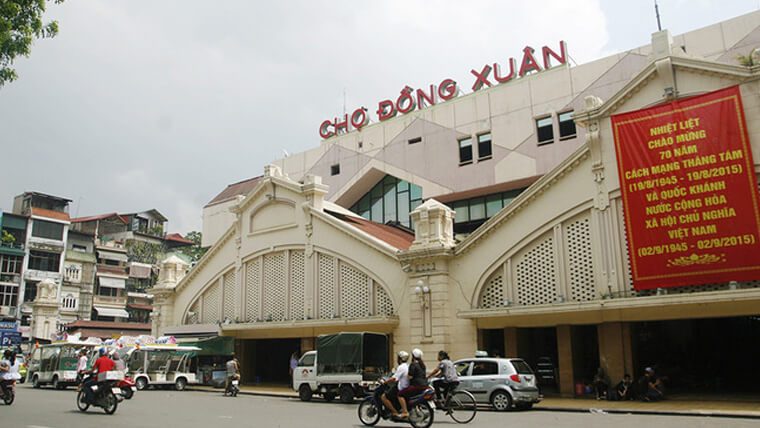 Dong Xuan market - Source: Internet
Located right in the Hanoi Old Quarter, Dong Xuan Market is a large shopping area that opens from about 7am - 7pm with tons of tasty street food. Dong Xuan Market Lane - a small alley about 200m long next to Dong Xuan Market has a variety of dishes with reasonable prices such as donuts, pillow cakes, sweet soup, shrimp cakes and also very typical vermicelli and pho.
For more experience on street food in Hanoi, you can visit Dong Xuan night market, which usually happens every Friday, Saturday and Sunday night. This market extends about 3km from the beginning of Hoan Kiem Lake to the end of Dong Xuan Market. In addition to clothes, shoes and souvenirs, you will also be able to find delicious street food..
2 - Ta Hien Street - evening discovery
Dubbed the "street that never sleeps", Ta Hien Street is located in the heart of the old town, filled with eateries along the sidewalks that are full of options for visitors to choose and enjoy. In addition, drinking Hanoi beer, taking check-in photos and chatting with friends are also a feature of Ta Hien street.
3 - The area around West Lake - explore all day - the best place to enjoy street food in Hanoi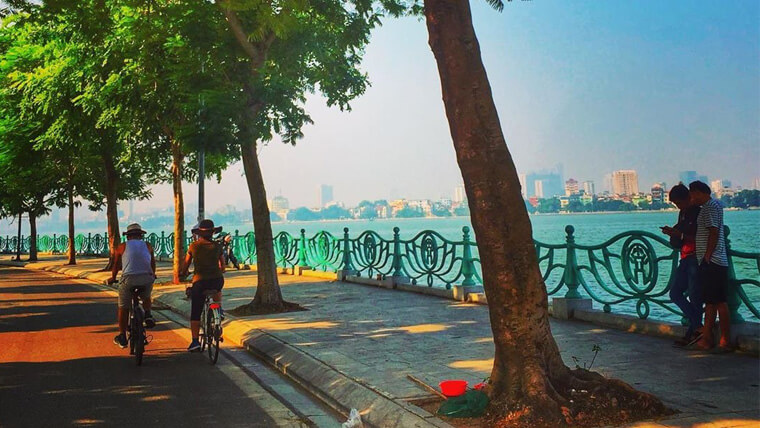 West Lake - Source: Internet
If you want to both walk around the streets of Hanoi and enjoy street food, then West Lake is a place not to be missed. Strolling around West Lake with countless shops will give you more diverse options, especially places like Vong Thi salty donuts, Ho Tay shrimp cakes, Thuy Khue spring rolls or fresh snail shops.
III - Hanoi street food tour providers
Some units provide Hanoi street food tours that you can choose to make the journey to enjoy street food more convenient:
Hanoi Street Food Tour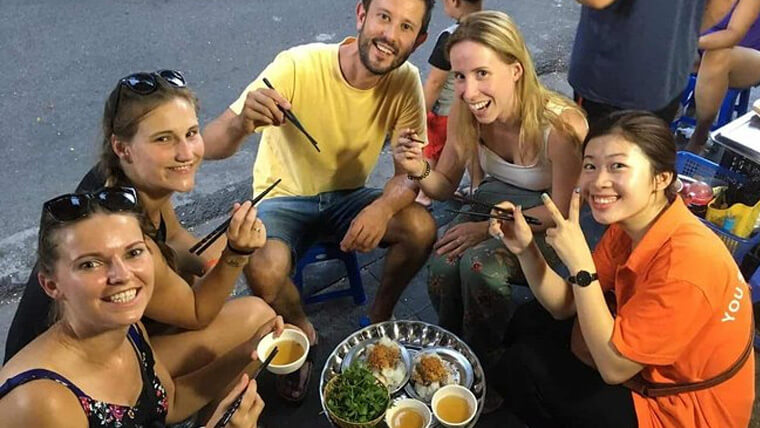 Hanoi Street Food - Source: Viator
You and the group will walk together to enjoy familiar dishes in the Hanoi Old Quarter area or by taxi if required.
- Duration: 3.5 - 4.5 hours
- Reference price: 520,000 - 635,000 VND / person ($23 - 28)
- Address: No.37 Huyen Alley, Hang Trong Ward, Hoan Kiem District
- Contact: (+84) 974 805 797 - info@hanoiexploretravel.com
- Website: https://hanoiexploretravel.com/product/hanoi-street-food-tours
Ha Food Tours
Visitors can join the Tour with a motorbike journey to famous places and then enjoy famous street food in Hanoi in about 04 hours.
- Reference price: 560,000 - 865,000 VND / person ($25 - 38)
- Address: 3rd floor, No.9 Phu Doan Street, Hang Trong Ward, Hoan Kiem District
- Contact: (+84) 936 332 839 - (+84) 972 943 505 - info@hafoodtours.com
- Website: https://hafoodtours.com/hanoi-food-tours/
Hanoi Urban Adventure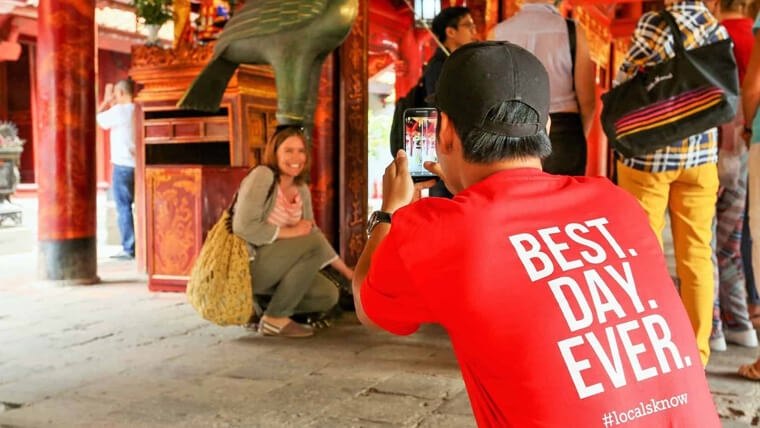 Hanoi Urban Adventure - Source: Hanoi Urban
The evening food tour starts at 5pm with a total tour time of about 3 hours. The tour's itinerary helps you discover a special cafe that uses recycled materials to protect the environment, walk around the alleys and small markets of the streets, and enjoy rustic dishes and beautiful landscapes at night in Hanoi. This is an ideal choice for you to experience the street food in Hanoi.
- Reference price: 795,000 VND / person ($35)
- Address: No.3B Hang Tre Street, Ly Thai To Ward, Hoan Kiem District.
- Contact: (+84) 904 193 308 - info@urbanadventures.com
-Website: https://www.urbanadventures.com
Hanoi Female Vespa Tour
Joining the Hanoi Female Vespa Tour, you will experience visiting the streets of Hanoi by Vespa motorbikes driven by the guides who are girls wearing traditional Ao dai.
- Duration: 4 hours
- Reference price: 1,820,000 VND / person ($79)
- Address: No.6 To Tich Street, Hang Gai Ward, Hoan Kiem District
- Contact: (+84) 975874987 - info@femalevespatours.com
- Website: http://www.hanoifemalevespatours.com
So you've got yourself a handbook full of the best street foods in Hanoi to enjoy, addresses of food streets and information of Hanoi discovery tours. Hope you will have interesting and unique experiences during your time in the beloved capital of Vietnam.