I - Hoa Lo prison history
The Hanoi prison is located at No.01, Hoa Lo, Hoan Kiem District, Hanoi, known as Hanoi Hilton Prison. It is a tragic and heroic historical relic of the Vietnamese. The prison was built by the French in 1896, with the French name Maison Centrale. This place held many politicians, great revolutionaries of Vietnam who opposed the French government, and American pilots during the resistance war against the US. Under the French colony, those who were sentenced to less than 5 years or execution were held here. Those who were sentenced to more than 5 years would be transferred to Son La prison, Con Dao prison, etc.
Initially, Hoa Lo prison was designed and constructed to keep 500 prisoners, after that, to increase the capacity of keeping space, it was expanded gradually. And especially, this prison would imprison up to 2000 persons in the period of war from 1950 to 1953.
II - Stories about the Hanoi prison
1 - Life of prisoners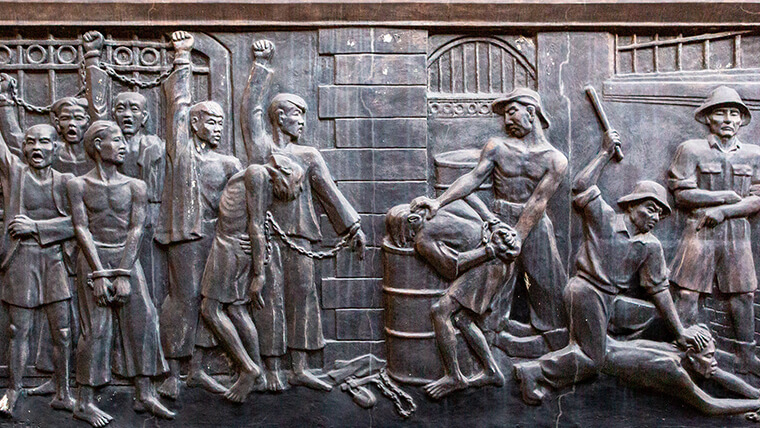 Source: Nick John
During the French colonial period, the revolutionists and patriots sent to prison suffered a "hell on earth in the heart of Hanoi" life. They had to live in a harsh, dirty environment, having minimum survival conditions such as food and clothing. The guards forced prisoners to do hard labor, brutally beat them, and even killed those who opposed.
Male prisoners were locked in dark cells, locked in shackles. The female prisoners were more relaxed, without the handcuffs so they can take care of their children.
2 - Hanoi Hilton torture
At that time, Hoa Lo was considered the most fearful prison in Southeast Asia The French colonialists equipped this prison with brutal and cruel torture equipment, especially the medieval guillotine - the horror of prisoners under death penalty. The guillotine was designed with two 4m high wooden pillars and a large sharp blade locking the latch on top. Below are two semicircular planks assembled for prisoners to put their heads into and the front is an iron drawer that holds the prisoners' heads. This murderous weapon continued to execute many patriotic Vietnamese soldiers.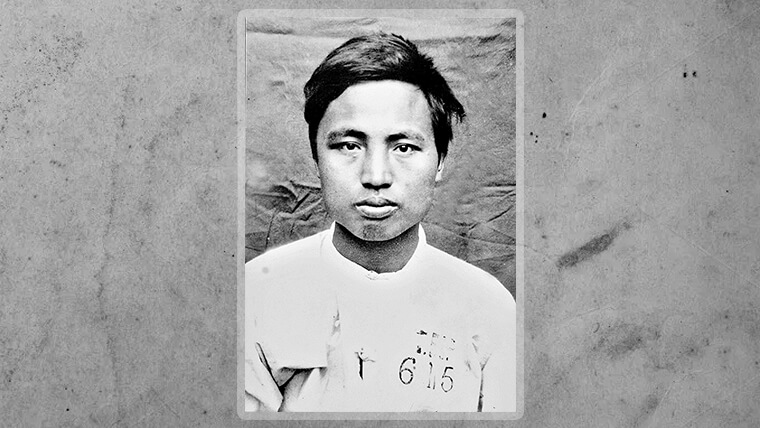 There are also cells in the prison called "cachot" - a place to keep prisoners with intentions to oppose. Inmates were pinned to their feet, unable to move in dimly lit, air-deficient cells. They had to eat, drink, have personal hygiene on the spot. People who were sent into this cell soon became sick, scabies and even mad.
3 - Fight for better treatment
It can be said that the prison had fostered the Vietnamese soldiers a steel-like spirit of, always ready to fight the enemy regardless of circumstances.
One of the prominent struggles at Hoa Lo prison was the "Don't wear to fight for the right to wear" struggle. In the years 1942-1945, the prison guards made an excuse of economic hardship to minimize the meals and clothes of male prisoners. They only had one pair of pants, wore it every day, the pants became a shirt when it was cold, and also performed as a rag. To fight for their rights, the male prisoners got undressed, with the explanation to the guards that "There is only one pair of pants, nothing to wear when it is washed". On the third day, only when the Governor of Tonkin Jean Maurice came down to talk to the prisoners and expressed dissatisfaction with the prison guards, the male prisoners were given full clothes. This was just one of the many struggles for Vietnamese prisoners of war for better treatment.
4 - Escapes from the Hanoi Hoa Lo prison
The most prominent escape of the Vietnamese soldiers was the escape on the evening of March 9, 1945. Hundreds of prisoners tried to escape, of which the most common way was to cross the wall. Six years later, on Christmas Eve 1951, the infamous escape took place. 17 Vietnamese soldiers who were prisoners under death penalty, escaped through the sewers. However, only 5 of them were successful, the rest were captured.
III - Architecture of Hanoi Hilton prison
The prison was very solid with 4 surrounding stone walls which were 0.5m thick and 4m high. There were also many nails on the wall, sharp shards of glass, high voltage wires so that no prisoners could escape.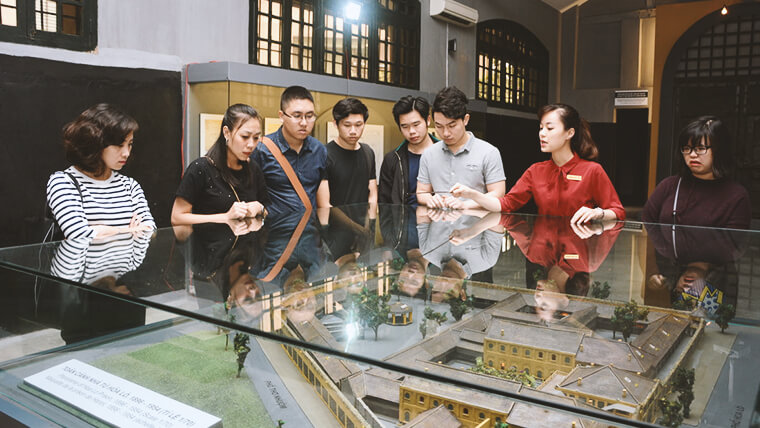 The prison was divided into 4 zones: zones A, B, C and D. Zone A and B were where the people under consideration and the prisoners of danger were kept. Zone C was for French and foreign prisoners. Area D in the prison was for criminals sentenced to death waiting for the trial date.
IV - How to visit Hoa Lo prison museum?
1 - How to get to there
Address: No. 01, Hoa Lo, Hoan Kiem District
Visitors can get there by motorbike, taxi, or bus route 34, 38 (get off at 44B Ly Thuong Kiet), line 45 (get off at 59 Ly Thuong Kiet).
Cost: if riding a motorbike, the parking fee for motorbike in Hanoi prison memorial is 5,000 VND ($0.2) / motorbike. If taking the bus, the fare is 7,000 VND ($0.3)
2 - Hoa Lo prison entrance fee information
Ticket: 30,000 VND / person ($1.2)
- Those who have 50% ticket price off: pupils, students, people with severe disabilities, the elderly, people under social policies.
- Free admission ticket: children under 15 years old, people with meritorious services to the revolution, people with extremely severe disabilities.
In 2019, Hoa Lo prison's managers introduced the automated audio narration system with French and English language. This system is connected with headphones that help you lessen outside noise and get information clearly & effectively. The service may cost nearly $2 per person.
3 - Opening hours information
Opening hours: 8:00 - 17:00
Dresscode: polite outfit
4 - Places to visit near the Hanoi Hilton prison
- Hanoi Book Street
Located at the address on December 19 street, Hoan Kiem district, about 250m from Melia Hanoi hotel. Hanoi Book Street has free entry and is a place where visitors can visit, take pictures and explore a variety of books from Vietnam and abroad.
- Quan Su Pagoda
Quan Su Pagoda is located at No.73 Quan Su Street, just over 100 meters from the Hoa Lo prison Hanoi Vietnam. Quan Su Pagoda is a spiritual place, welcomes many tourists from all over the world to visit and pray for peace every year.
- The Cathedral
St. Joseph's Cathedral is located at No.40 Nha Chung, 850m from the prison. With ancient and majestic French architecture, this is a favorite destination of many tourists, around which there are many cafes and delicious restaurants.
4 - Dining place near the Hanoi Hilton prison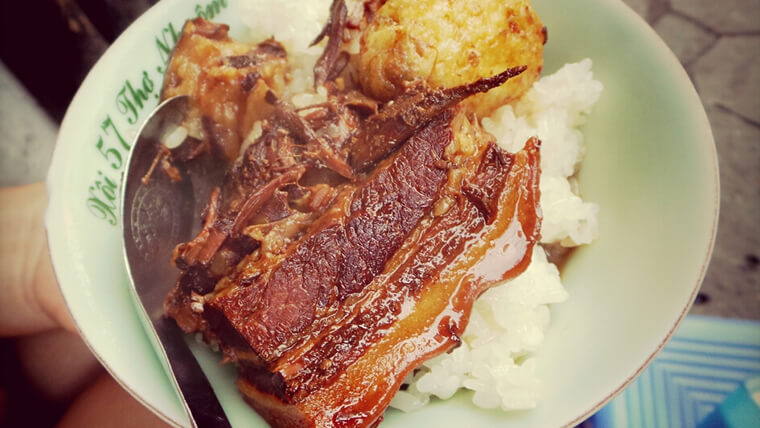 - Ba Thu sticky rice: No.57 Tho Nhuom ($0.6 - 1.2/portion)
- Banh beo at Do market: No.64A Quan Su ($0.6 - 2/portion)
- Namaste Hanoi- Indian cuisine: No.46 Tho Nhuom, Hoan Kiem District ($4.5 - 13.5/dish)
- Gong Cha Milk Tea: No.56 Ly Thuong Kiet, Hoan Kiem District ($1.7 - 2.5/glass)
- Cong Caphe: No.68 Quan Su, Hoan Kiem District ($1.2 - 2.5/dish)
This is our suggest for a Hoa Lo prison tour:
- Morning: visit the Hoa Lo prison and Quan Su pagoda
- Noon: Have lunch with Banh Beo in Do Market No.64A Quan Su
- Afternoon: Have fun at Hanoi book street, drink coffee and watch the street in Cong Caphe.
FAQs
1 - How long was McCain in prison camp?
John McCain was imprisoned in Vietnam for 6 years, from 1967 to 1973
2 - What hotels are near Hoa Lo prison
Some nice hotels to stay are:
- Somerset Grand Hanoi Hotel - 160m
- Meliá Hanoi Hotel - 200m
- Movenpick Hanoi Hotel - 350m
3 - The online Hoa Lo Prison tickets are available?
You can buy e-ticket via website http://hoalo.vn
This article is also to answer for the following related keywords: Hoa Lo prison price, Hoa Lo prison vietnam war, Hoa Lo prison cost, Hoa Lo prison entry fee, Hoa Lo prison Hanoi entry fee, Hoa Lo prison museum price, Hoa Lo prison hours, Hanoi prison opening times, Hanoi prison museum price, Hanoi prison price, Hanoi Hilton Vietnam war.