1 - History of Hoan Kiem Lake Hanoi
This lake has existed for a few thousand years with a long history. Previously, there were a number of names such as: Luc Thuy Lake (Blue Lake) or Thuy Quan Lake (Marine Lake) - because the court used to be a parade ground. At the beginning of the 15th century, the lake was renamed Hoan Kiem (returning the sword) and was divided by Lord Trinh into two parts - Ta Vong and Huu Vong - at the end of the 16th century. In 1884, Huu Vong was filled by the French to expand the capital, and Ta Vong was retained as Hoan Kiem Lake today.
Legend has it that the name "Lake of the Returned Sword" is associated with the return of the golden sword for the golden turtle of King Le Thai To. During the fight against the Ming Dynasty of China, the Dragon King (Long Vuong) had given King Le Thai To a golden sword. After defeating the Chinese army, in early 1428, while King Le Thai To was boating on the lake, a Golden Turtle (Kim Quy) surfaced to ask for the magic sword back.
2 - Where is Hoan Kiem Lake Vietnam
The lake is located in the heart of Hanoi Capital, surrounded by 3 streets of Hang Khay, Le Thai To and Dinh Tien Hoang. This is an ideal, brilliant rendezvous with festivals in the windy spring before the summer comes followed by the charming autumn with gentle drizzles, and also in the cold winter. This is a place that attracts a lot of tourists to visit and explore in Hanoi.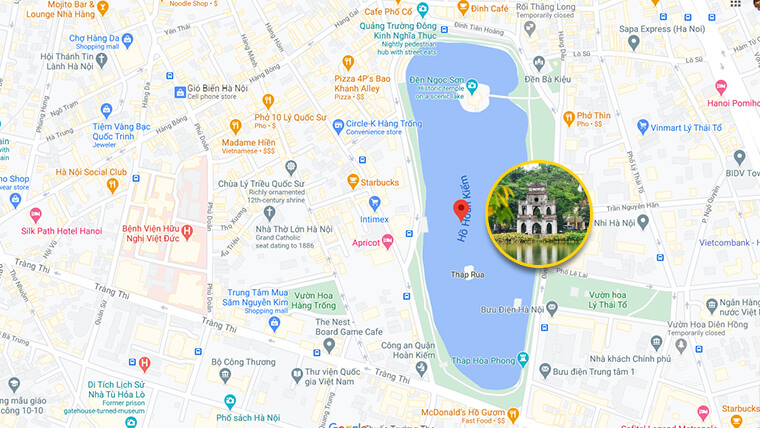 Hoan Kiem Lake or Sword Lake Hanoi on the map - Source: Internet
Best way to get there:
- Walking: If you are staying at hotels in Hanoi Old Quarter, it just takes a few steps away from the lake and many other beautiful tourist destinations such as The Huc Bridge, Hanoi Opera House, Ngoc Son Temple, St Joseph Cathedral,...
- Cyclo: This is a great way to stroll around the lake, you can leisurely see all the sceneries, feel the local life vibe, and also listen to cyclo drivers tell interesting stories. To avoid being ripped off, you should try to make a good bargain with the cyclo drivers before starting a short ride around Hoan Kiem Lake.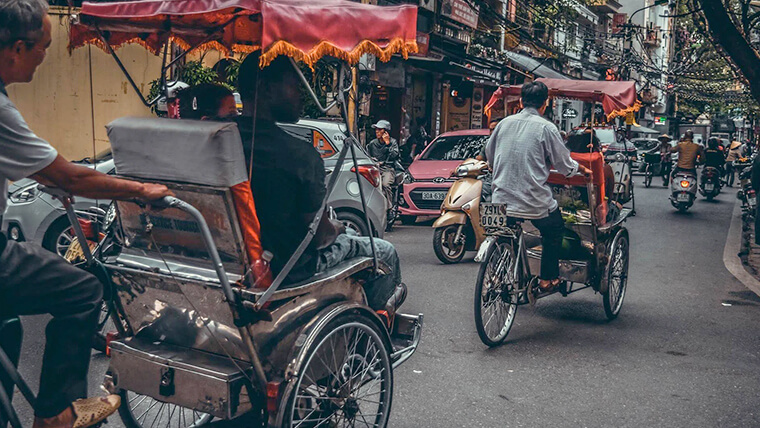 Source: Internet
- Motorbike: For those who are keen on driving and exploring in their own way, renting a motorbike might be the best option. Motorbike renting fee in Hanoi is about 100,000 VND - 200,000 VND / motorbike/ day ($4.4 - 8.8).
- Electric cars: The 8-seat electric cars are highly recommended for groups. The driver takes you through 13 old streets, some pagodas, and famous monuments around the lake. Operating time is from 8:30am - 4:30pm & 7pm - 11pm with the average price of under 20,000 VND / person / 45 mins ($1).
>> You may need: An overview of transportation in Hanoi
3 - Places to visit around Hoan Kiem Lake Hanoi
The scenery around the lake is adorned with many historical monuments such as The Huc Bridge, Turtle Tower, Ngoc Son Temple (Jade Mountain Temple), the monument of King Ly Thai To,… Busy streets under rows of green trees and newly built works ensure the harmony of the landscape for the lake.
Ngoc Son Temple
Ngoc Son Temple is connected to the bank by a small, bright red bridge namely The Huc (meaning "welcome the sunlight of dawn"). The shrimp-shaped bridge has a distinctive red color, made of durable wooden material that does not degrade over time.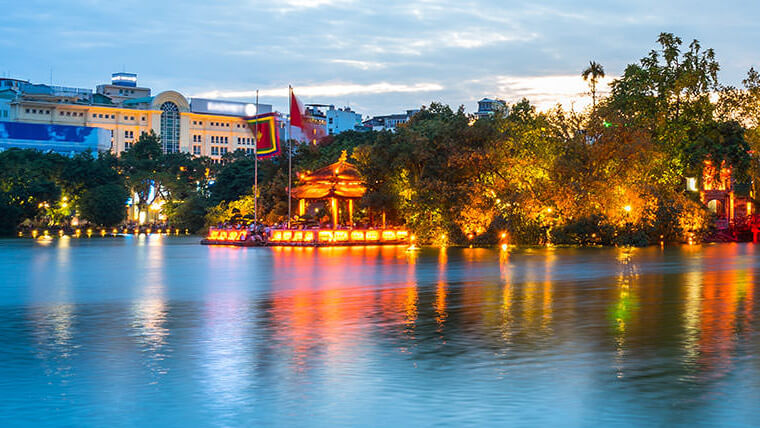 Hoan Kiem Lake & Ngoc Son Temple in Hanoi - Source: Shutterstock
Ngoc Son Temple is a sacred temple of Hanoi, welcoming thousands of tourists visiting and praying for blessings. Its buildings, such as the Ink Brush Tower (Thap But), the Ink-slab Pedestal (Dai Nghien),.. all have symbolic meaning, representing the beliefs of the Hanoians.
Turtle Tower
When viewed from above, the lake is like a colorful picture as the lake is surrounded by purple Giant Crape-myrtles with red flowers of the Royal poinciana. In the heart of the lake is a small island with Turtle Tower, which is linked to the legend of Hoan Kiem Lake.

Turtle tower - Source: Peter Borter
The island was first used as a fishing site and later in the 1400s, a tower was built to help King Le Thanh Tong fish more comfortably. In 1886, while Vietnam was under French occupation, a musician was allowed by the government to build a tower in the middle of the lake in memory of King Le Thai To. The three-story tower was completed and was originally named Ba Ba Kim Tower.
Hoan Kiem Lake walking street at weekends
The most vibrant and exciting area in Hanoi is the walking streets. Strolling around the lake for fresh air in the early morning, you can see a lot of people doing exercise or Tai Chi. This is also an ideal place to experience nightlife in Hanoi, specially at weekend. When the street lights go on, it is crowded with lots of cultural and artistic activities, folk games, and vibrant entertainment areas for young people.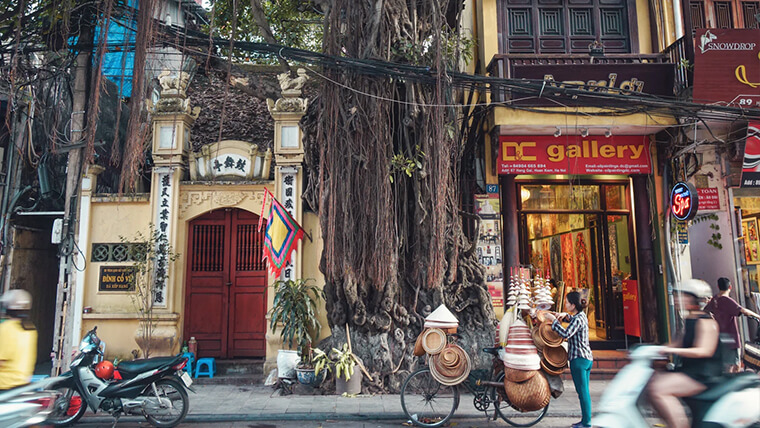 A corner of Hanoi Old Quarter - Source: Kenh14
Hanoi Old Quarter
Next to the Hoan Kiem Lake Hanoi Vietnam is the Hanoi Old Quarter, which is the cross point of Hang Dao, Hang Than, Hang Bong and Hang Ma streets. You can visit the old streets with much long-standing architecture.
Dong Kinh Nghia Thuc square
If you planned to travel here during the Lunar New Year, spending time in the Countdown at Dong Kinh Nghia Thuc square located right next to the lake is a great idea. This is a chance for you to gather, have fun and enjoy the vibrant atmosphere.


Heineken countdown - Source: Internet
4 - Top-rated restaurants near Hoan Kiem Lake
In Hanoi - a hub of food and drink in Vietnam, there are thousands of food stalls and great restaurants. Some for local and vegetarian foods around the lake.
Pho Thin Bo Ho - a famous Pho soup restaurant in Hanoi
This restaurant was opened in 1954 by Mr. Bui Chi Thin (1928-2001). 66 years have passed through 3 generations, but Pho Thin Bo Ho still retains its old simplicity. It has a clear and sweet but not too fat broth, tender and chewy pho noodles. The beef is marinated with pepper, ginger, garlic, and a little fish sauce to soften, helping the meat to absorb more spices and aroma.
Although located in a small alley near the "Lake of the Restored Sword", this restaurant has become a "legend" with Pho Hanoi lovers, as well as attracting people from all over the world to come and eat. In 2019, Pho Thin Bo Ho was chosen to serve 3,000 reporters during the US-North Korea Summit.
- Address: No.61 Dinh Tien Hoang Street, Ly Thai To Ward, Hoan Kiem District, Hanoi
- Opening hours: 6am - 1pm; 5pm - 10:30pm
- Price: 40.000 VND - 55.000 VND / bowl ($1.76 - 2.42)
Vi Quang restaurant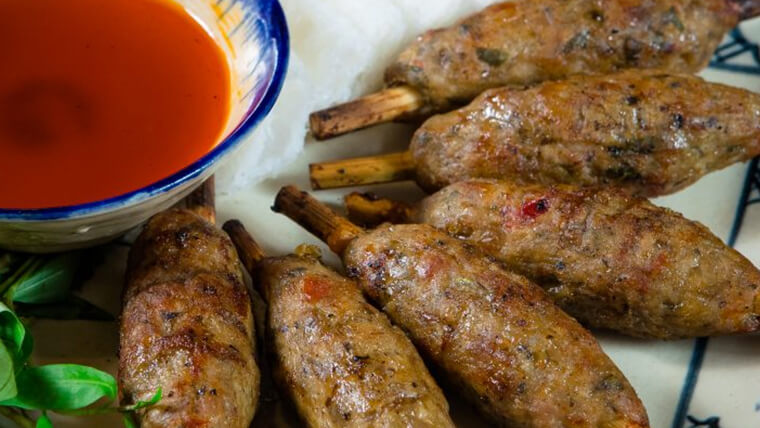 Source: Viquang
In Hanoi, if you want to enjoy the typical Central cuisines, Vi Quang will be the best restaurant near Hoan Kiem Lake. Established in February 2014, Vi Quang Restaurant lets you experience the original taste of Quang Nam, Da Nang with a menu that includes Central specialties such as Quang noodles, grilled fish, Khot cake,...
- Address: No.35 Tran Hung Dao Street, Phan Chu Trinh Ward, Hoan Kiem District, Hanoi
- Opening hours: 9am - 10pm
- Price: 10,000 VND - 400,000 VND / dish ($0.43 - $17.6)
Nang Tam Vegetarian Rice restaurant
For vegetarians, this is an ideal eating place. This restaurant is just 750m from Hoan Kiem Lake. It has an impressively diverse menu with corn soup, beef wrapped in guise leaves, snowball flowers, fried sweet potatoes, coconut salad…The combination of mock meat and vegetables is very healthy and attractive in color, with reasonable prices. Along with that is a spacious, quiet space to allow you to enjoy the dish to the fullest.
- Address: No.79A Tran Hung Dao Street, Phan Chu Trinh Ward, Hoan Kiem District, Hanoi
- Opening hours: 10am - 9pm
- Price: 80,000 VND - 120,000 VND/ dish ($0.43 - 5.28)
5 - Some nice hotels near Hoan Kiem Lake Hanoi
Aquarius Legend Hotel - 3-star hotel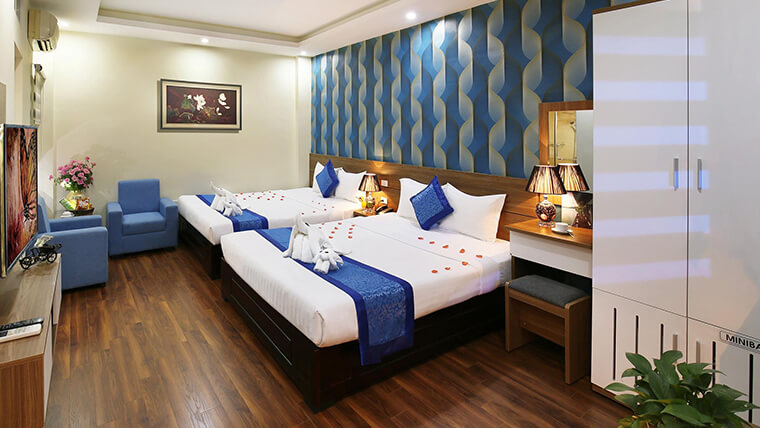 Source: Agoda
Staying here, you can easily go downtown for sightseeing, dining, and shopping or get to the water puppet theater, Dong Xuan Market, Hanoi Opera House,...
- Address: No.90b Nguyen Huu Huan Street, Hang Bac Ward, Hoan Kiem District, Hanoi
- Room rate: $57.45 / night.
Apricot Hotel - 5-star hotel
Apricot Hotel is designed in neoclassical and luxurious style, offering modern accommodation with free WiFi access. Featuring views of Hoan Kiem Lake, this 5-star hotel has a stylish rooftop bar that serves a fine selection of drinks. The hotel also offers you two dining options - you can enjoy a delicious selection of Vietnamese and Western dishes, and special diet meals can also be prepared. Apricot Hotel is 300m from 19th century St. Joseph's Cathedral and a 13-minute walk from Hanoi Opera House.
- Address: No.136 Hang Trong Street, Hoan Kiem District, Hanoi
- Room rate: $100 - 120 / night.
Thaison Palace Hotel - 3-star hotel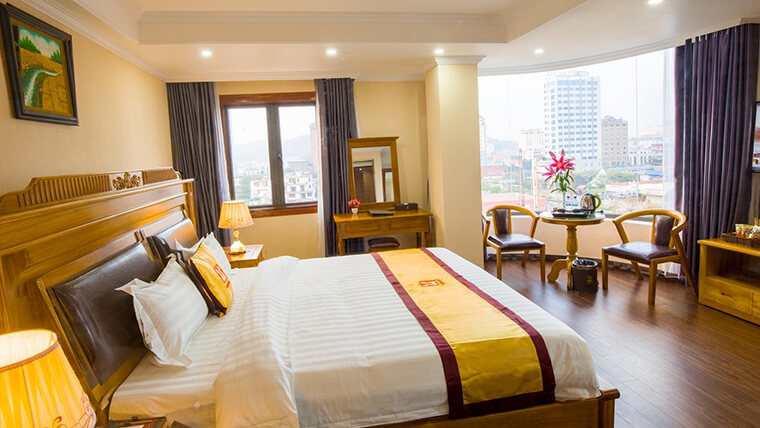 Source: Booking
Thaison Palace Hotel is just 0.4 km from Hoan Kiem Lake Hanoi. This is a good staying place for travelers as the hotel provides all kinds of services like massage and spa. There are also entertainment activities or delicious meals at restaurants, and a free morning buffet is gratefully offered to guests.
- Address: No.9 Hang Voi Street, Ly Thai To Ward, Hoan Kiem District, Hanoi
- Room rate: $55.13 / night.
Spring Flower Hotel - 3-star hotel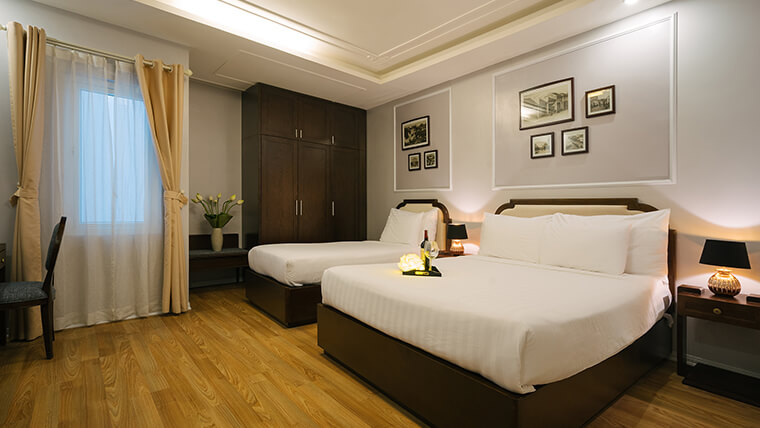 Source: Agoda
Spring Flower Hotel is located in the Old Quarter area, 0.6 km from the lake. It is very convenient for you to go to places such as the Vietnam History Museum, Ho Chi Minh Mausoleum, Ho Chi Minh Museum, and One Pillar Pagoda.
- Address: No.45 Hang Bo Street, Hoan Kiem District, Hanoi
- Room rate: $50.44 / night.
Angel Palace Hotel - 3-star hotel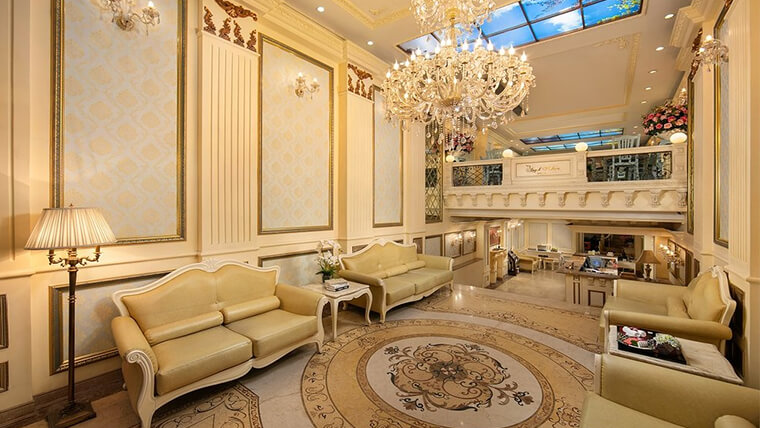 Source: Tripadvisor
It is an ideal place to explore Hanoi Old Quarter and tourist destinations surrounding Hoan Kiem Lake such as the city's southern gate, Hoa Lo prison,... Guests are also served a daily buffet breakfast with both Western and Asian dishes.
- Address: No.173 Hang Bong Street, Hoan Kiem District, Hanoi
- Room rate: $34.48 / night.
Above is the presentation about Hoan Kiem Lake, there are still many interesting things to discover, perhaps you have to return many times to be able to see all the attractions of this place. This is a perfect destination, imbued with a national identity that you definitely cannot ignore.